Disclosure: This article may contain affiliate links. We will make a small commission from these links if you order something at no additional cost to you.
I've been to a lot of waterfalls in Pennsylvania and around the world, but I don't think I've ever visited a set of waterfalls quite like Rosecrans Falls and McElhattan Falls in Clinton County.
Located a short distance off I-80 near Loganton, these two waterfalls face each other, creating one of the most unusual hollows you'll find anywhere. In fact, I can't think of anywhere in Pennsylvania where two waterfalls come together in such a way.

Another thing that makes this area so unique is that the two waterfalls are different types and have different levels of water flow since they are on two different creeks. However, they are both roughly the same height, at around 20 feet tall.
Facing the waterfalls from downstream, McElhattan Falls will be on your left. This waterfall is directly downstream of McElhattan Reservoir (also known as Warren H Ohl Reservoir), which supplies water for parts of Clinton County and flows along McElhattan Creek. It should be noted that this waterfall lies entirely on private property and should only be observed from a distance.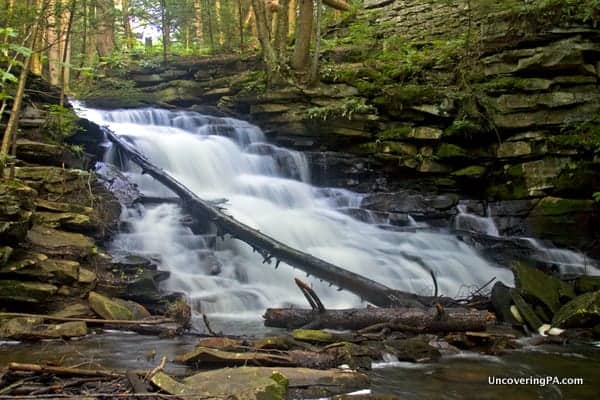 Depending on the flow of the water, this waterfall can either have a series of steps or appear to be more of a cascading waterfall. There is a very long fallen tree stretching across this waterfall that seems to have been there for a very long time, based on photos that I've seen.
Opposite McElhattan Falls, Rosecrans Falls (which is on public property) is more of a classic waterfall. Here, water cascades over near vertical steps to a small pool below. While it probably isn't deep enough for swimming, there were a few people cooling off below the falls during my visit.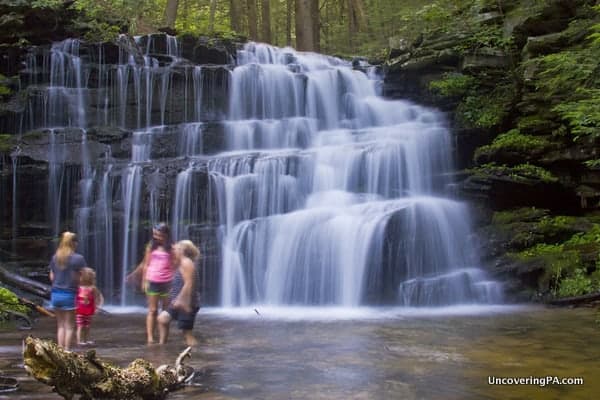 McElhattan Falls typically has heavier water flow than Rosecrans Falls. The advantage here is that you are likely to catch at least one of the waterfalls at optimal flow. If water levels are high, McElhattan Falls might be flowing a bit too much, but Rosecrans Falls should be at ideal levels. In times of lower flow, the opposite is likely to be true.
Overall, the closeness of these two waterfalls really makes them something special. If you love waterfalls, add a visit to Rosecrans Falls and McElhattan Falls to your must-see list.
How to get to McElhattan Falls and Rosecrans Falls
Getting to McElhattan Falls and Rosecrans Falls is rather difficult as the shortest routes would require traipsing through private property. It should be noted that this property is now marked with "No Trespassing" signs and the owner has also installed cameras. Please respect the owner's property rights.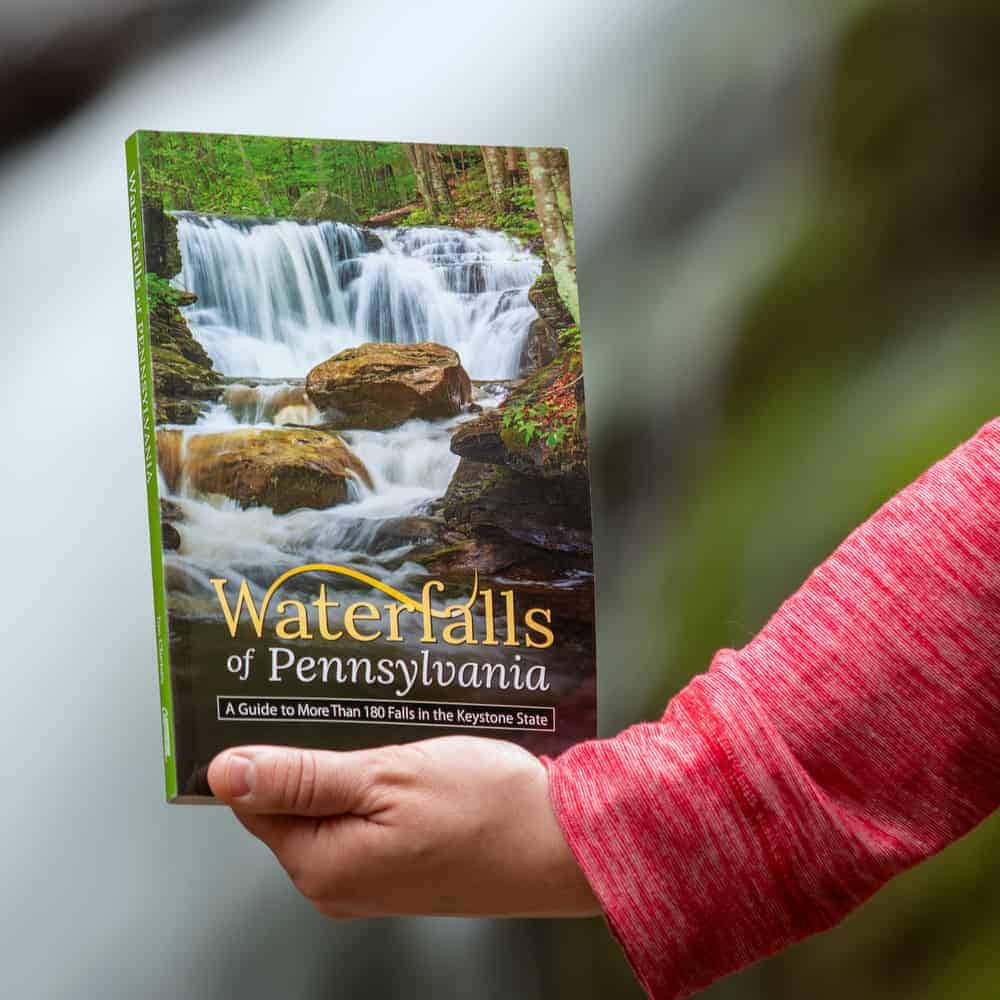 "Waterfalls of Pennsylvania" by Jim Cheney
If you love PA waterfalls, you won't want to miss this brand-new waterfall book from Jim Cheney, author of Uncovering PA, featuring more than 180 great waterfalls. Order it now on Bookshop.org or Amazon.
As best I can tell, the waterfalls are on state forest land. However, note that you should make sure to stay well clear of the cabin above the waterfalls when visiting to not intrude on their property.
For those interested, the waterfalls are located at the following coordinates: 41.075554, -77.323587.
Want to see more of Pennsylvania's best waterfalls? Check out our Pennsylvania Waterfalls page! Also check out other nearby sites such as the Piper Aviation Museum, Logan Mills Covered Bridge, and Yost Run Falls.
[Click here for information how to use the coordinates in this article to find your destination.]
See map below for other area attractions.