Disclosure: This article may contain affiliate links. We will make a small commission from these links if you order something at no additional cost to you.
The Laurel Highlands region in southwestern PA is home to many fantastic hiking areas, but sadly, many of them can get a bit crowded. However, one great spot to visit if you want to get away from it all is the Quebec Run Wild Area.
The Quebec Run Wild Area is a 7,500-acre parcel of land in Fayette County that's maintained as part of Forbes State Forest. At less than 30 minutes from popular destinations like Ohiopyle State Park, Fort Necessity National Battlefield, and Laurel Caverns, as well as Coopers Rock State Forest in West Virginia, it's not hard to reach, but it's far enough off the beaten path that you are unlikely to encounter many people.
In fact, on the October weekday I visited, when Ohiopyle was relatively crowded, I didn't see another person during my entire time here. Of course, if you visit on a weekend, there will likely be more people, but you certainly are going to be able to find some peace and seclusion here.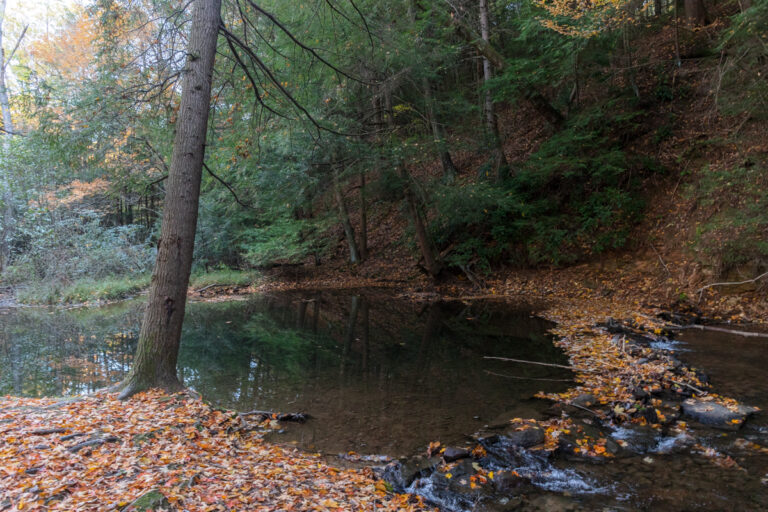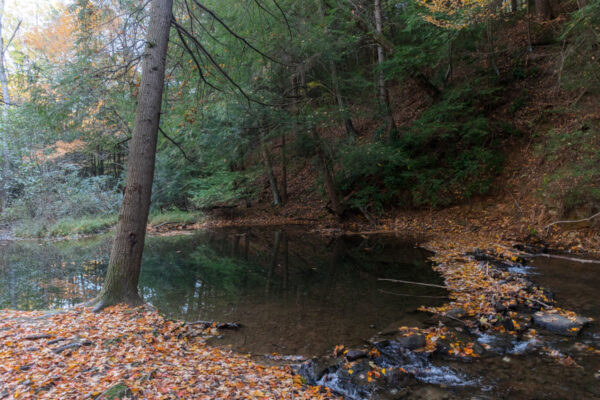 The Quebec Run Wild Area features approximately 25 miles of interconnected trails, which means that you can make a variety of loop hikes here. It's also a great spot for primitive camping as you can easily create a short backpacking trip using some beautiful camping spots in the area, a few of which I passed during my hike.
What's described below is a fabulous 2.6-mile hike with only a few hundred feet of elevation gain, which is a great introduction to this area, but just know that you can easily add other trails to this to make it as long as you'd like.
Parking in the Quebec Run Wild Area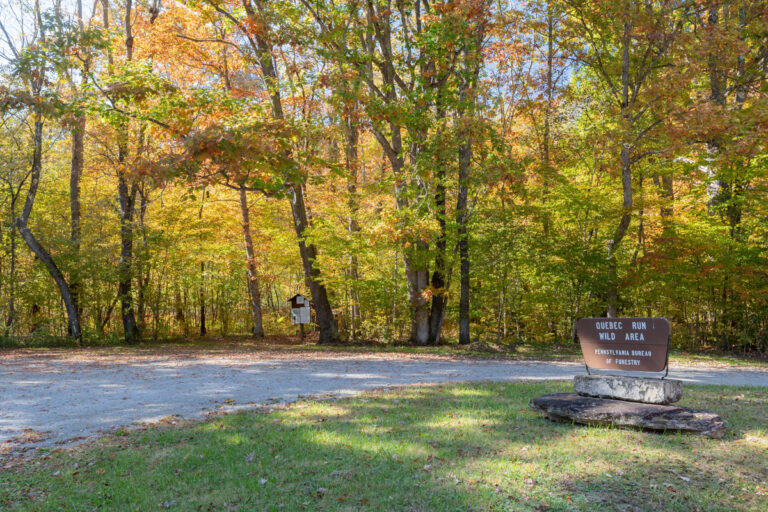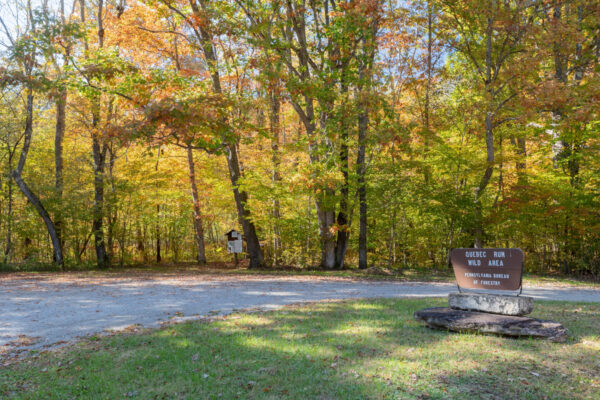 There are seven parking areas for the Quebec Run Wild Area, but the one we'll be utilizing for this hike is the Mill Run Lot on the area's eastern side. This lot is just about the closest to the major attractions in the area and is easy to reach, even in a standard car, from Route 30.
This lot can be found along Quebec Road (T345) at the following coordinates: 39.763803, -79.663634.
This is a gravel lot with ample room for parking.
[Click here for information on how to use the coordinates in this article to find your destination.]
Hiking in the Quebec Run Wild Area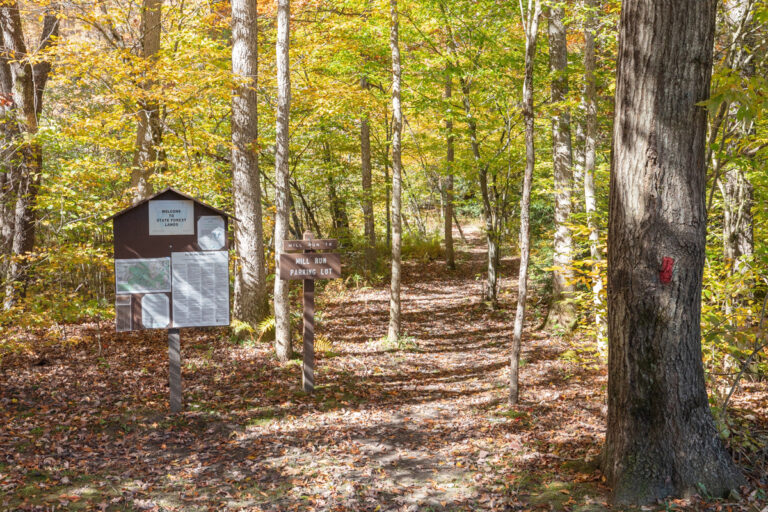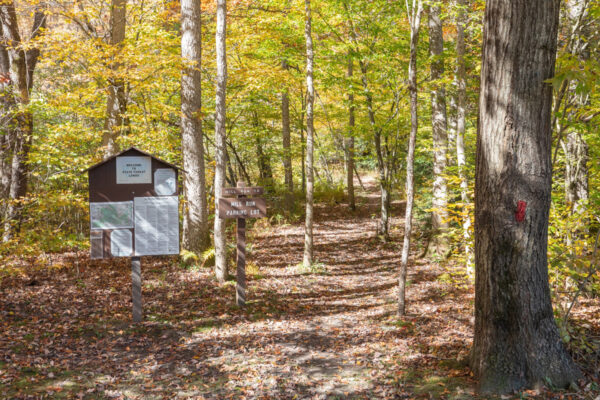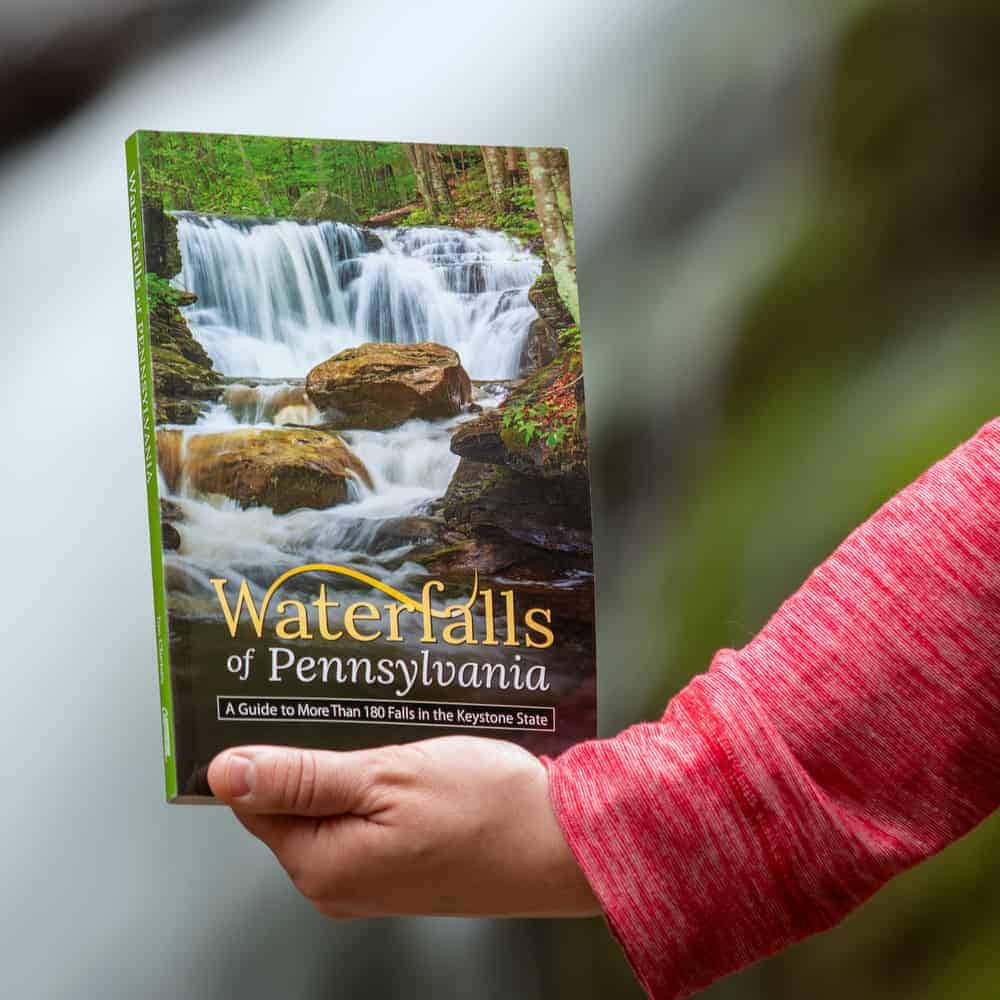 "Waterfalls of Pennsylvania" by Jim Cheney
If you love PA waterfalls, you won't want to miss this waterfall book from Jim Cheney, author of Uncovering PA, featuring more than 180 great waterfalls. Order it now on Bookshop.org or Amazon.
The approximately 2.6-mile hike that I completed from this parking area utilizes portions of the Mill Run Trail and the Grist Mill Trail. and offers a great introduction to this parcel of public land. I say approximately for the distance because my GPS batteries died in the middle of the hike, and I didn't notice for a short distance, so my GPS data is close but not exact for a small portion of this hike.
When I did this hike in October 2022, I completed the loop in a counterclockwise direction, starting on the Mill Run Trail. That's primarily because the Mill Run Trail leaves directly from the parking area while the Grist Mill Trail is a couple hundred yards up the road.
That being said, if I was to do the hike again, I would definitely consider doing it in a clockwise direction because the majority of the most beautiful spots on this hike can be found along the Mill Run Trail, and I prefer to save the best for the second half of the hike if possible.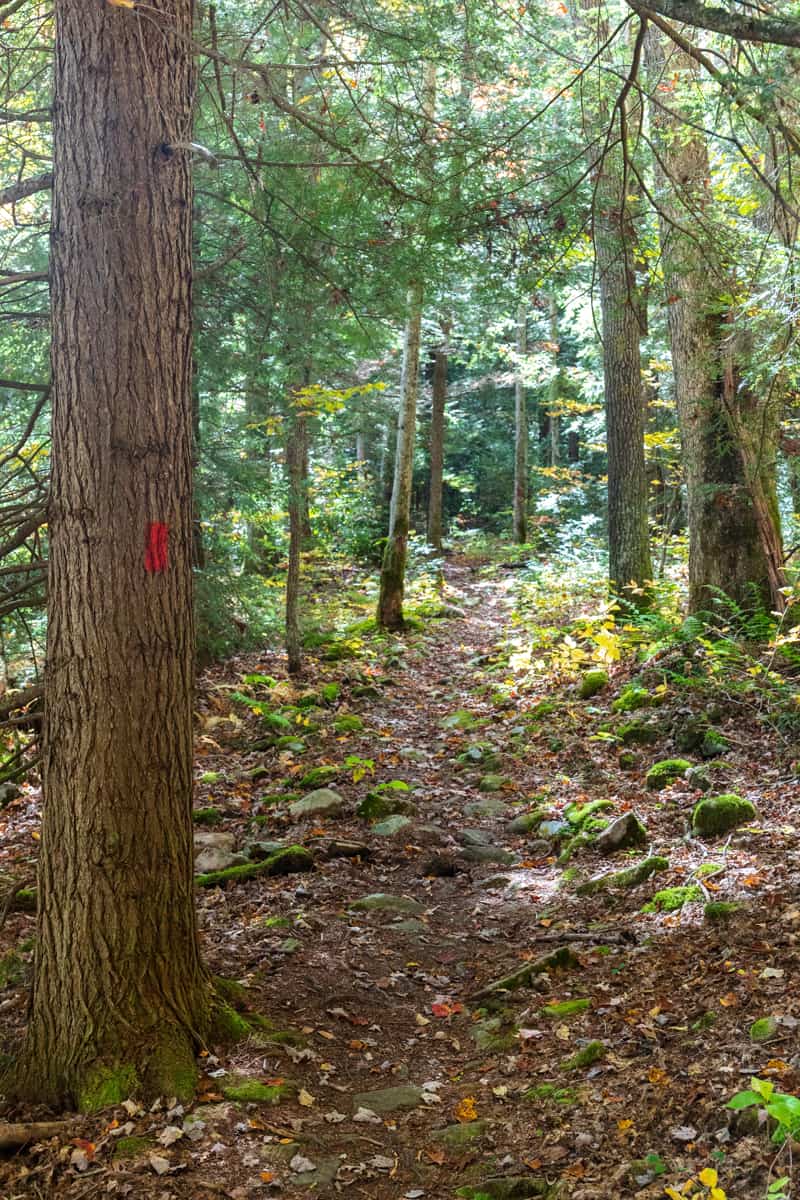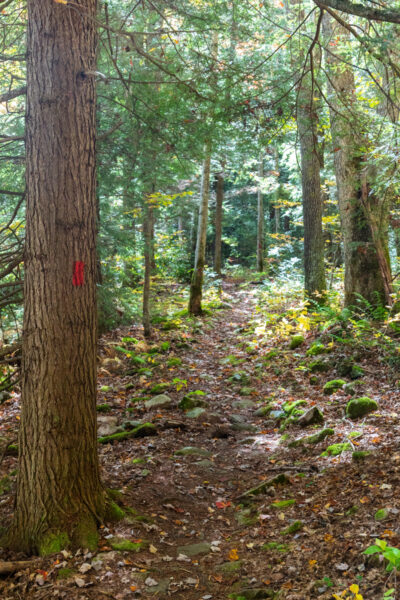 However, since I completed the hike in a counterclockwise direction, I'll describe it that way here but feel free to do it in the opposite direction.
To start the hike, you'll want to look at the right side of the parking area (with your back to the road). There is a small sign here that denotes that this is the trailhead for the Mill Run Trail.
As soon as you leave the parking area, you'll start climbing the first of three small hills on this hike. The hills get progressively larger as you go through this hike, but the largest only has about a 200-foot elevation gain over about half a mile, so this trail is relatively easy overall.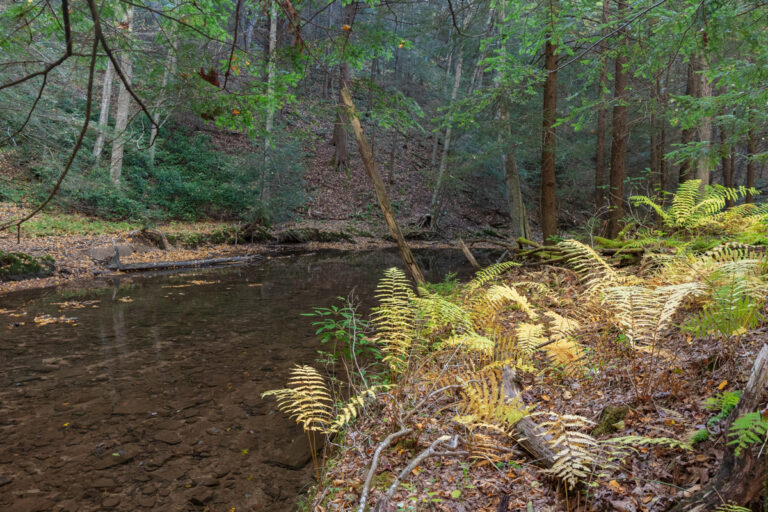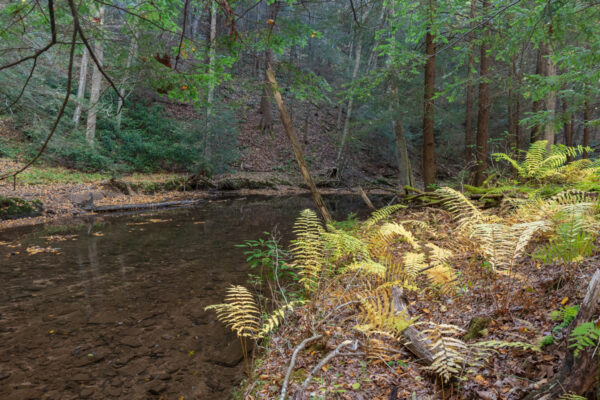 Still, there are a few spots, especially on this first hill, where the trail is a bit narrow, so make sure to watch your step.
While the trail follows closely to Mill Run for the entire hike, for most of the first third of the hike, it's high above the stream with only sporadic views of the water. However, when this stream comes into view, it's clear how beautiful it is.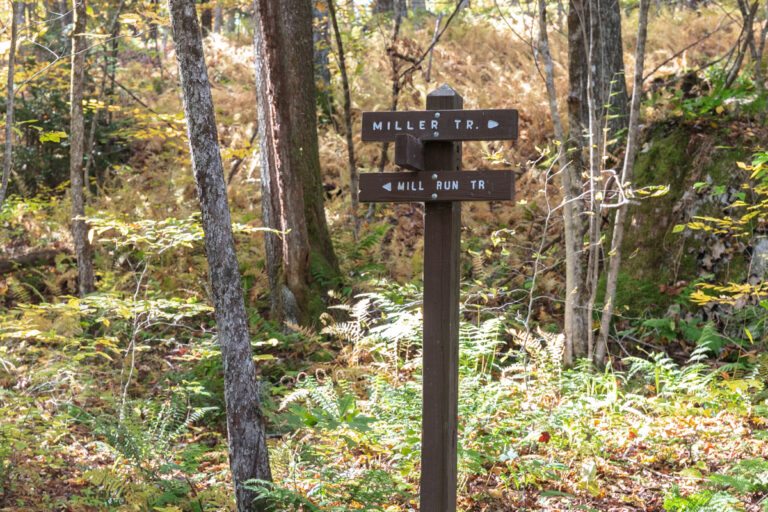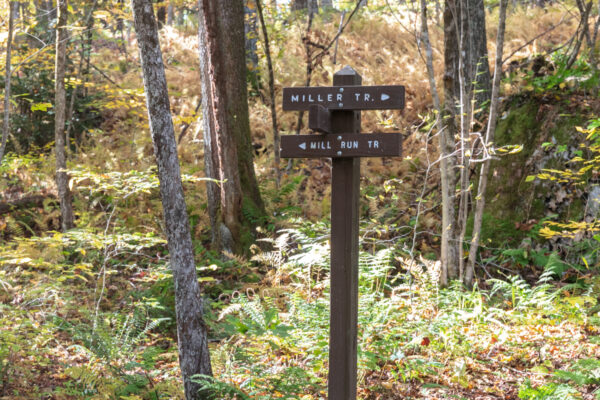 As you hike, you'll notice that the red blazes are a bit sporadic. However, I found that the trail was easy to follow, and anywhere that might be questionable with the trail direction was well marked. There were also signs anywhere that trails met, which made hiking in the Quebec Run Wild Area quite easy.
The trail itself alternated along the entire course between a wide trail through an open forest and a relatively narrow trail lined primarily with beautiful ferns. This variety really added to the hike and made it a lot of fun to follow.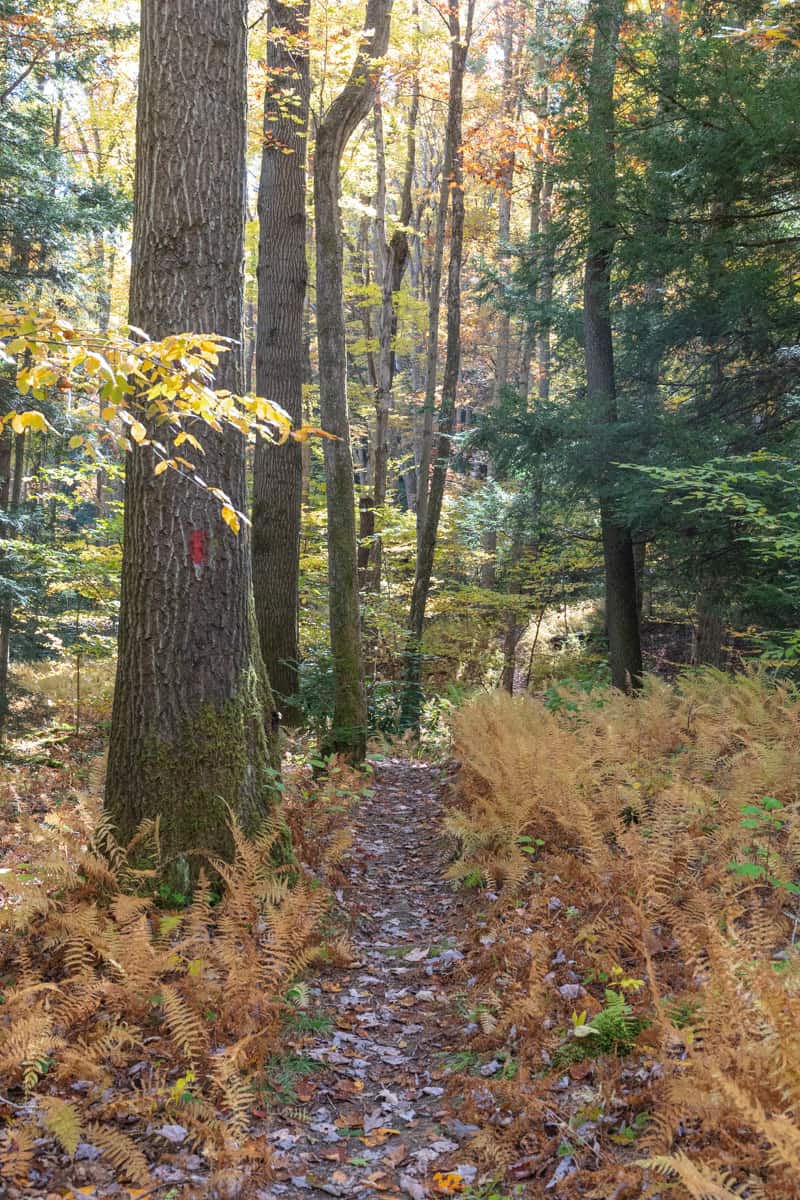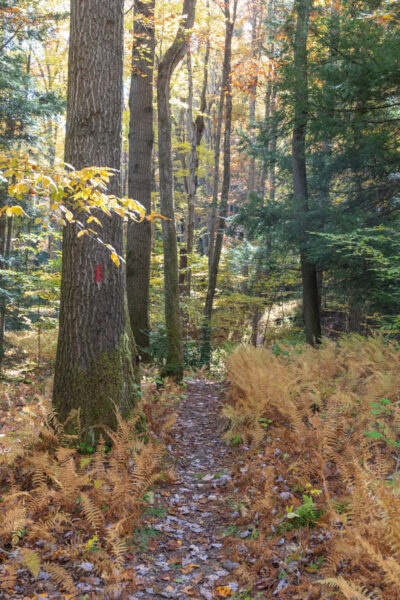 Without question, my favorite portion of this short loop through the Quebec Run Wild Area was the middle part when I was hiking close to Mill Run and Quebec Run. Both of these waterways are incredibly beautiful, and while there are no specific highlights along them, such as tall waterfalls, they are still quite scenic.
About 1.5 miles after leaving the parking area, you'll reach the confluence of Mill Run and Quebec Run. Shortly after that, along the banks of Quebec Run, you'll come to a wide-open area that features one of the most beautiful camping spots I've come across in my travels around PA.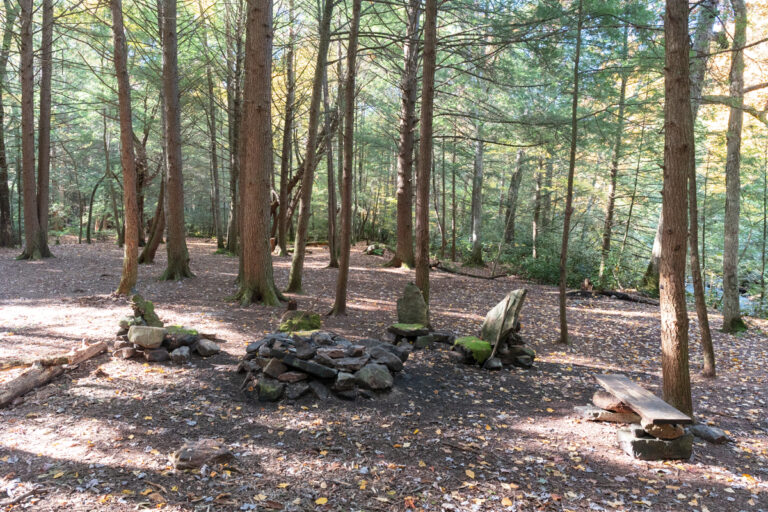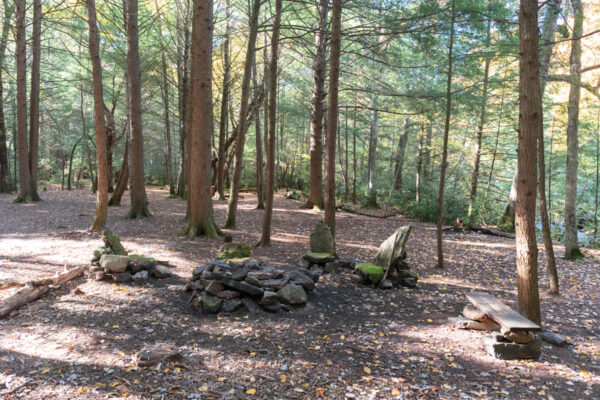 Backpack-style camping is allowed in the Quebec Run Wild Area, and no permits are needed as long as you are staying only one night in each spot. If you were looking to get your feet wet with backpacking, this loop and this camping spot would be a great introduction.
Even if you aren't camping, this is a perfect spot to take a little break and enjoy the beauty of Quebec Run. During my hike, I stopped briefly, enjoying a primitive "chair" made of large stones with eating a snack and simply listening to the peacefulness of the birds chirping and bubbling water.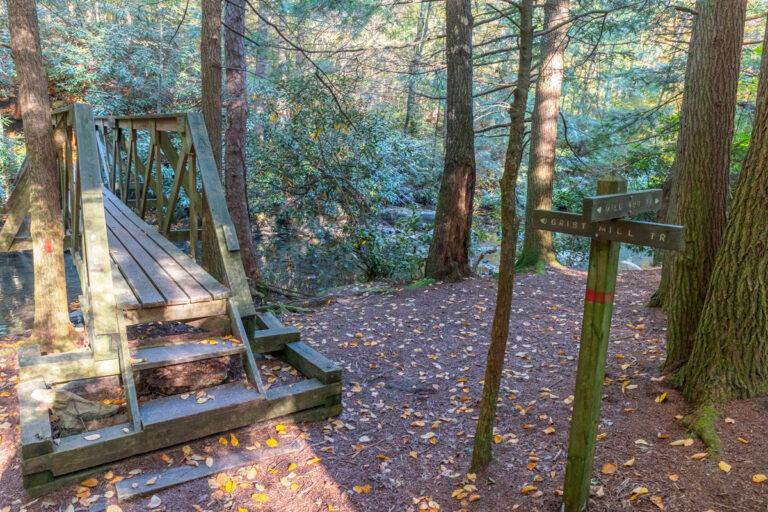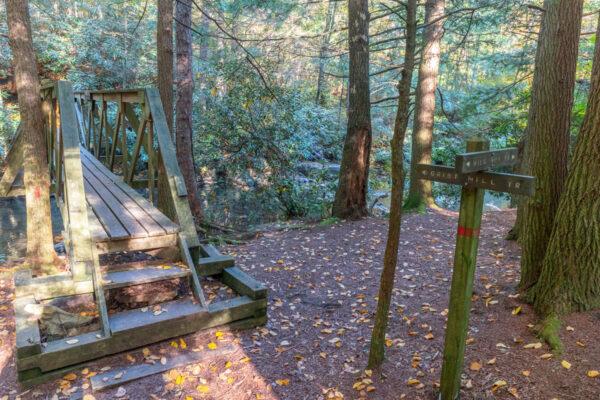 Just beyond this camping area, you'll see a wooden bridge over Quebec Run. While the Mill Run Trail continues following the stream you'll want to cross this bridge to pick up the Grist Mill Trail to complete the loop.
I did find this spot a bit confusing when I was hiking, not because the trail was hard to follow, but because the Grist Mill Trail runs in both directions from this point, but you have to hike a bit before you reach the split in this trail.
Along the way, you'll pass the ruins of what I'm assuming was a grist mill, though there's no signage or anything regarding the stone foundation.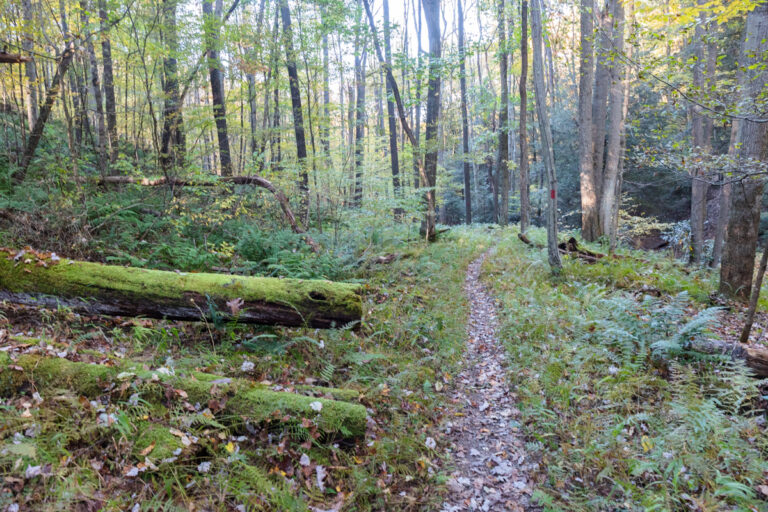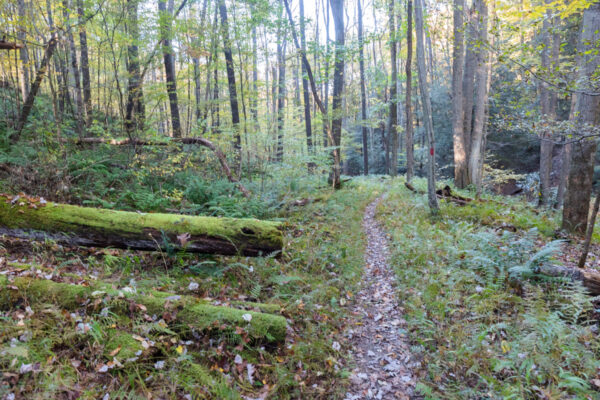 Once you reach the split in the Grist Mill Trail, turn left to continue on this loop.
The Grist Mill Trail heads uphill for about 200 feet from Quebec Run over the course of about half a mile. While it isn't hard hiking, this is the most challenging of the hills on this loop.
The trail is through the woods and doesn't follow closely to any of the streams in the wild area. And, while this is a beautiful forest and it's interesting to see how it changes with the elevation, it's a rather unexciting portion of the trail.
Continue to follow the red blazes of the Grist Mill Trail for about a mile until the trail ends back at Quebec Road.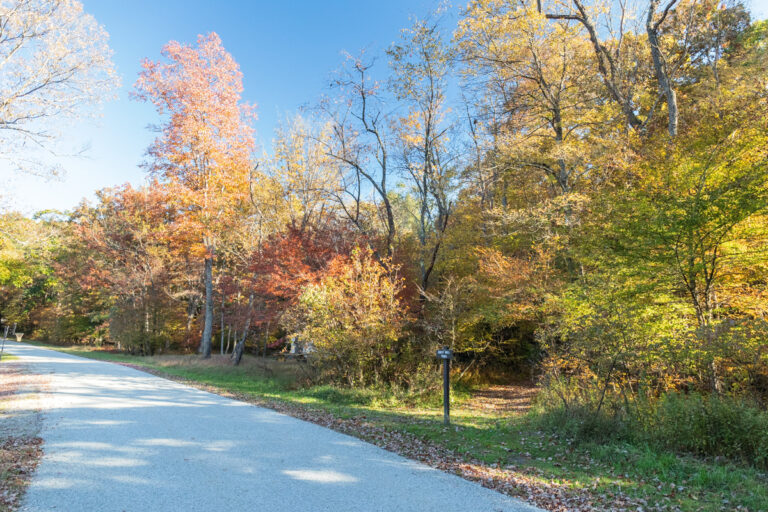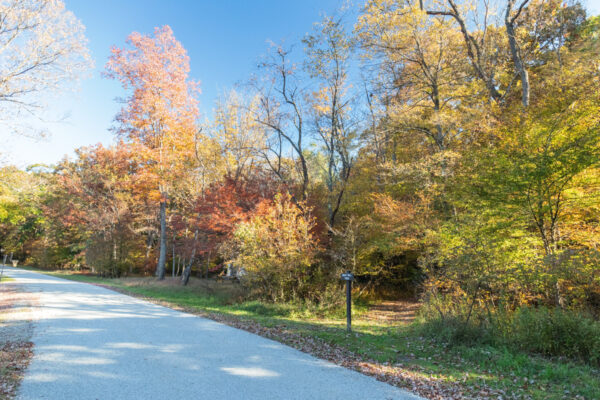 Once back at the road, head left and walk about 150 yards back to the parking area to complete this loop.
Overall, while this portion of the Quebec Run Wild Area lacks any major highlights, this is still a fabulous hike if you want to get away from the crowds of other nearby areas and see one of the most beautiful sections of forest within the Laurel Highlands.
I know that I can't wait to return to this area and explore even more of the beauty within this portion of Forest State Forest.
For more information and a map of the area, check out the wild area's brochure put out by the state.
Looking for more things to do nearby? Check out Friendship Hill National Historic Site, the Jonathan Run Trail, and Mount Davis.