Disclosure: This article may contain affiliate links. We will make a small commission from these links if you order something at no additional cost to you.
There are more than 120 state parks in Pennsylvania, but Ohiopyle State Park in the
Laurel Highlands
is among my absolute favorites.
I've visited this great park more than just about anywhere in PA, so I thought it was finally time to share with you a few of my favorite things to do in Ohiopyle State Park.
If you love natural beauty and outdoor adventure, there are plenty of incredible things to do within the park's boundaries from chasing majestic waterfalls to casual bike rides and thrilling rafting. This is, without a doubt, a bucket list destination in PA.
So, without further ado, here are my picks for the best things to do in Ohiopyle State Park.
Ohiopyle Falls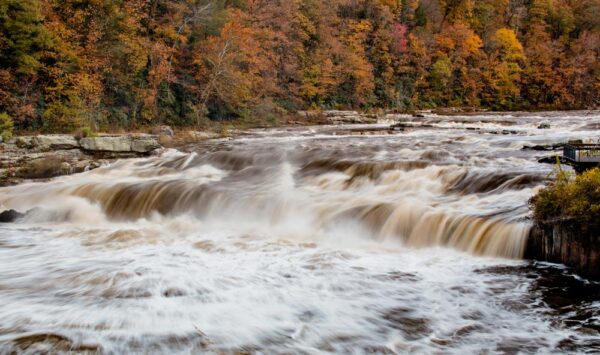 There might be no more powerful or historic waterfall in PA than Ohiopyle Falls.
Ohiopyle Falls sits in the heart of Ohiopyle State Park and is roughly 15-20 feet tall. It spans the entire width of the mighty Youghiogheny River. There are several viewing areas located within steps of a large parking lot, some of which are handicapped accessible.
You can also cross to the far side of the river for even more great views of this beautiful waterfall.
Cucumber Falls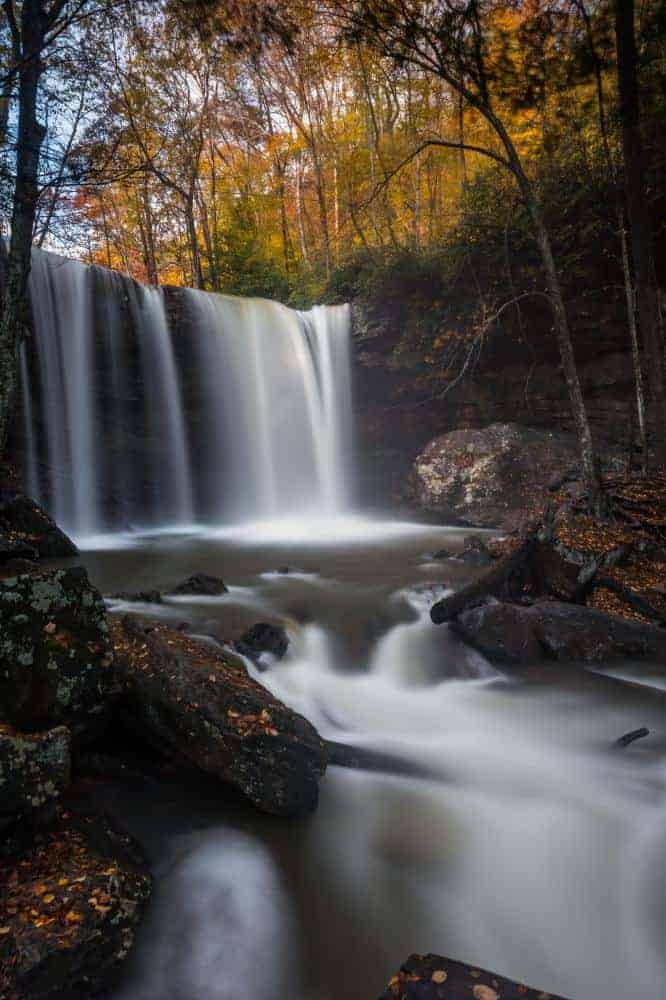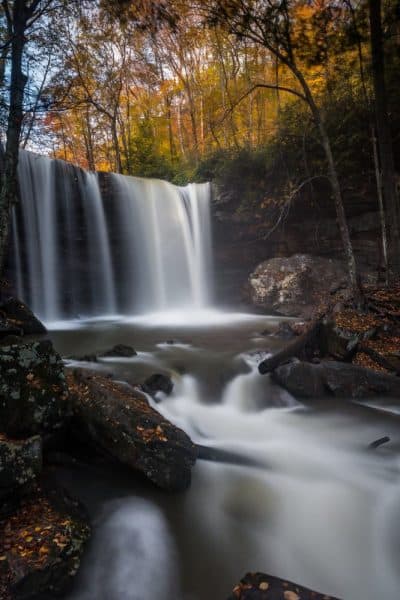 I've visited many waterfalls in western Pennsylvania, but I don't think there are any that I like more than Cucumber Falls.
Cucumber Falls is a 30-foot waterfall that flows over a large ledge, making it one of the few waterfalls in PA you can go behind. If you'd rather stay in front of the veil, there are many great views of this waterfall, both from near the base of the falls and near its crest.
In fact, while it's not handicapped accessible, those that can handle about 100 yards of relatively flat but uneven terrain can get to a nice view overlooking this beautiful waterfall.
White Water Rafting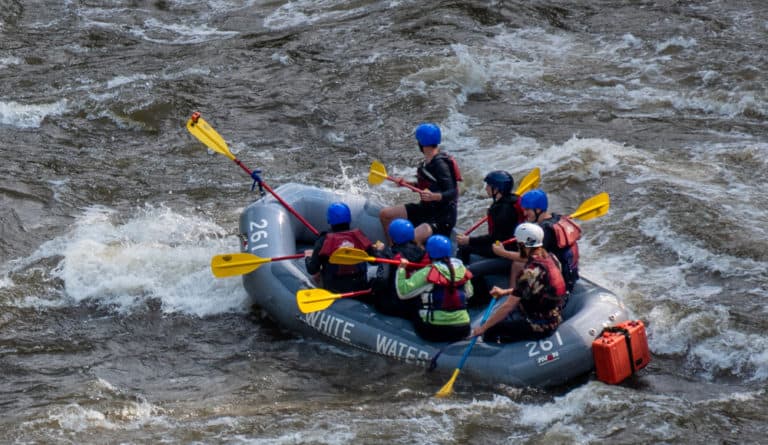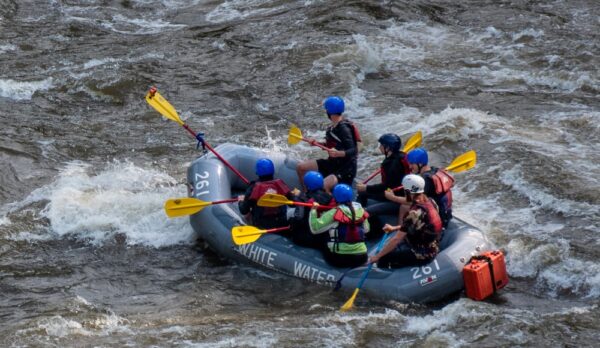 Did you know that Ohiopyle was the first place on the east coast where you could go white water rafting?
Today, white water rafting trips continue to be one of the most popular things to do in Ohiopyle State Park. They take place along several parts of the Youghiogheny River, both above and below Ohiopyle Falls.
The lower section, below the falls, is the most popular and challenging with Class III, IV, and even V rapids. The middle section, which is located above the falls, is on the easier side with primarily Class I and II rapids.
Several rafting companies operate out of Ohiopyle and offer trips daily throughout the season.
Bike the GAP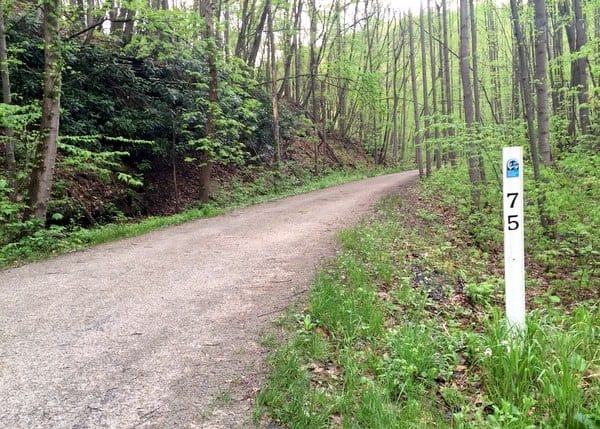 If you prefer something a bit tamer, Ohiopyle State Park sits smack dab in the middle of the popular Great Allegheny Passage (GAP). This 150-mile rail trail runs from Pittsburgh to Cumberland, Maryland, and offers miles of easy bike riding in both directions from town. This is easily one of the most beautiful rail trails in PA.
My recommendation is to head north from the park towards Connellsville. This section crosses the Youghiogheny River twice over very impressive bridges and goes past several seasonal waterfalls in Ohiopyle State Park.
If you don't have a bike, you can rent one from outfitters in town or simply go for a walk along this beautiful trail.
Jonathan Run Trail
The Jonathan Run Trail is one of the best hikes in Ohiopyle State Park. Depending on how much water flow there is in the park, there are either two or three waterfalls that are visible from this 1.7-mile trail.
The two main waterfalls along this trail are each about 10-15 feet in height and are quite beautiful to see in person. There is also a side waterfall along Fechter Run that only flows when water levels in the park are high.
It's worth noting that while both of the waterfalls on Jonathan Run can be seen from the trail, getting to the base of them requires a rather steep hike down unofficial trails. Otherwise, this trail is relatively easy to hike.
Sugar Run Falls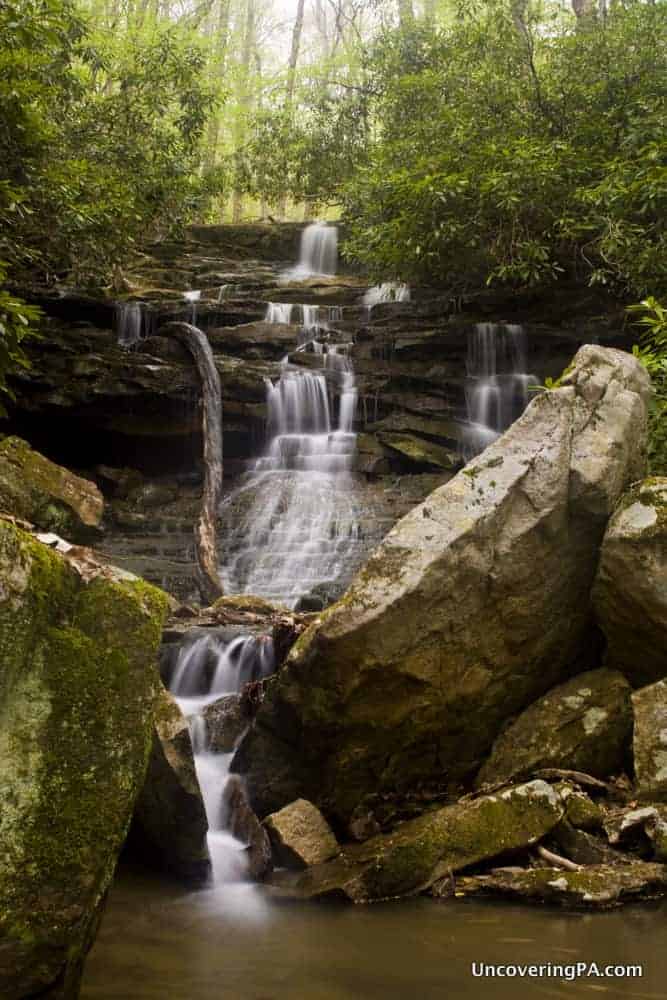 Sugar Run Falls is a 25-30 foot waterfall that is located near the end of the Jonathan Run Trail along the Sugar Run Trail.
While it's just steps from the Great Allegheny Passage, it is hidden from view by dense underbrush. Still, if you are hiking the Jonathan Run Trail or biking the GAP, this is a great spot for a quick little diversion.
Of course, you can also reach this waterfall by hiking roughly 1.6-miles one way on the Sugar Run Trail.
Explore the Town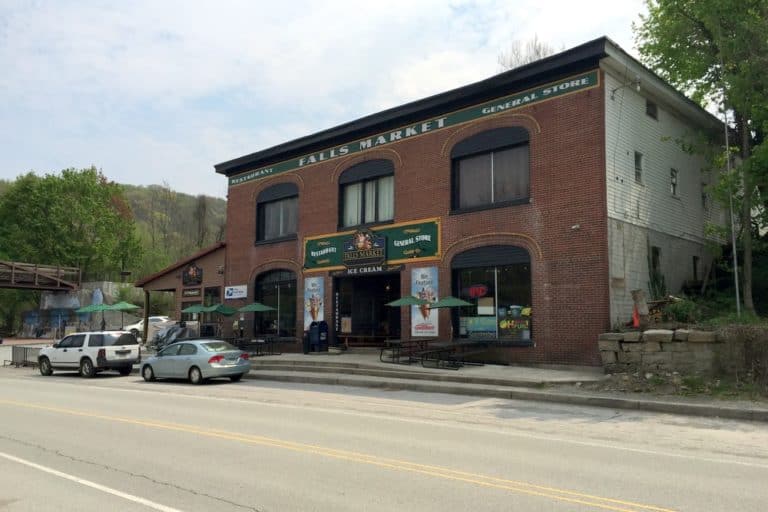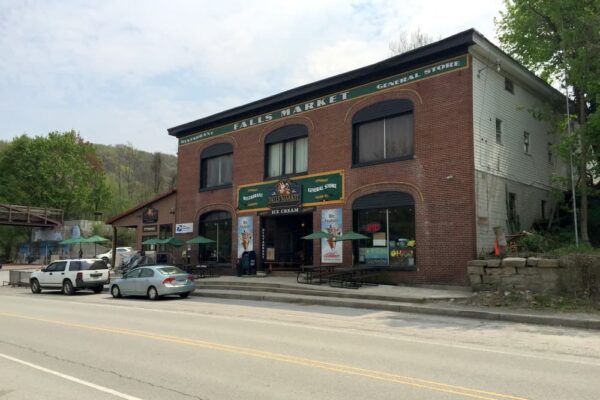 Ohiopyle State Park is unique in that it surrounds the small community of Ohiopyle, Pennsylvania. This provides many opportunities for food and activities within this beautiful community.
In addition to the normal park amenities, you'll find a playground, a handful of shops, a putt-putt golf course, and more, all open seasonally.
There is also a nice selection of restaurants in Ohiopyle. Some are only open in the summer months or only on summer weekends, but there is always somewhere good to eat in town throughout the year.
Baughman Rock Overlook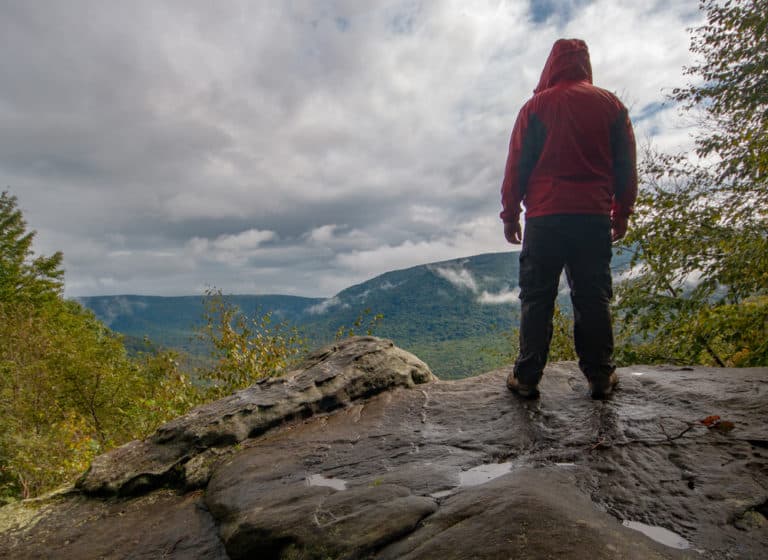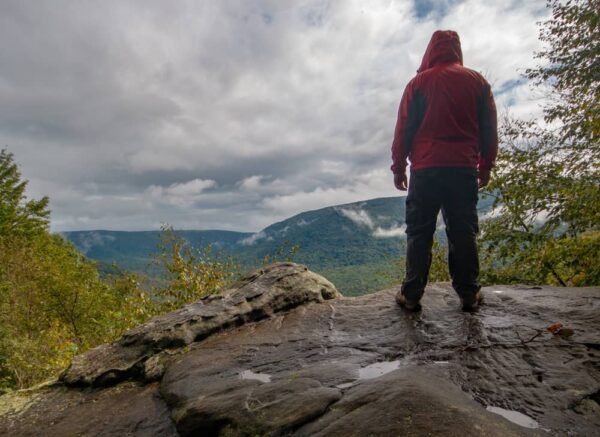 If you want great views in Ohiopyle, there is no better spot than Baughman Rock Overlook.
Located east of town, Baughman Rock can be reached via that Baughman Trail, but most visitors park in the dirt parking area about 50 yards from the overlook. While the distance to the overlook is short, note that you have to go up a roughly 30-degree slope on the rock to see the view.
The view from Baughman Rock overlooks the beautiful woodlands surrounding Ohiopyle State Park. In the distance, a small portion of the Youghiogheny River is visible, but otherwise, the view is simply mountains and trees.
This is a great spot to catch the sunrise if you are in the park early in the day. This is also a great spot to see fall foliage in the Laurel Highlands.
Natural Waterslides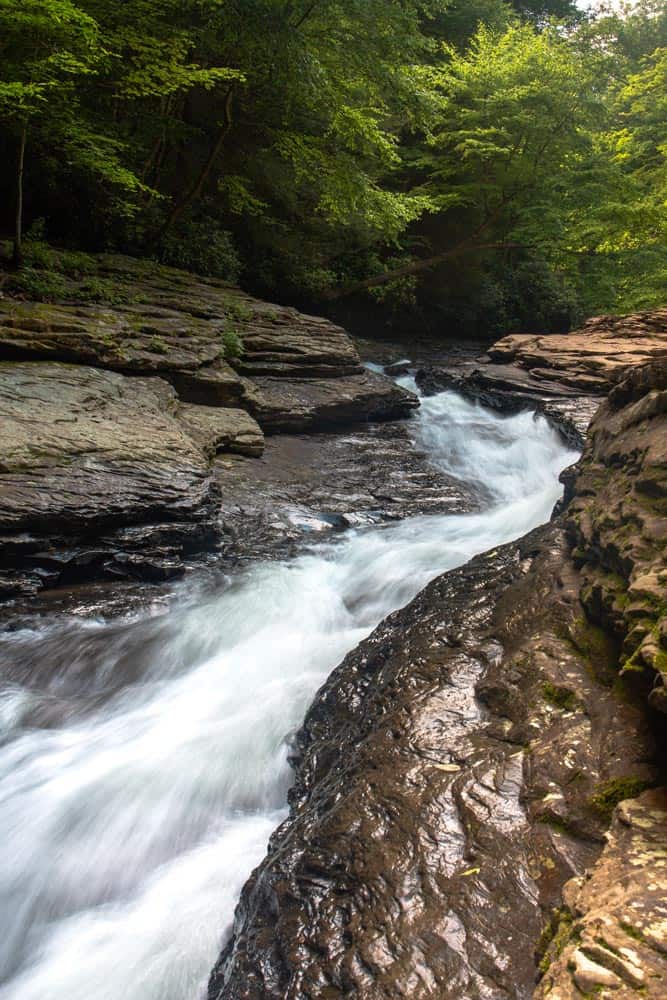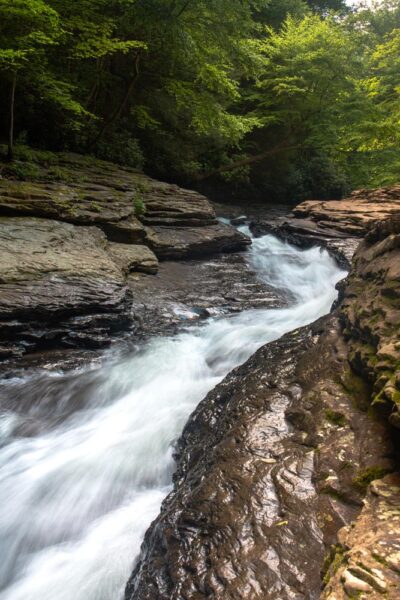 The Natural Waterslides is a narrow channel cut into the bedrock by Meadow Run near its confluence with the Youghiogheny River and is one of the most popular things to do in Ohiopyle State Park.
During the warmer months of the year, adventurous visitors flock here to slide down the creek and into a small pool at the end of the slide. It should be noted, however, that I've heard this is can be a rather painful ride, so slide at your own risk.
When water levels are especially high, this is also a popular spot for white water kayakers to visit.
Ferncliff Peninsula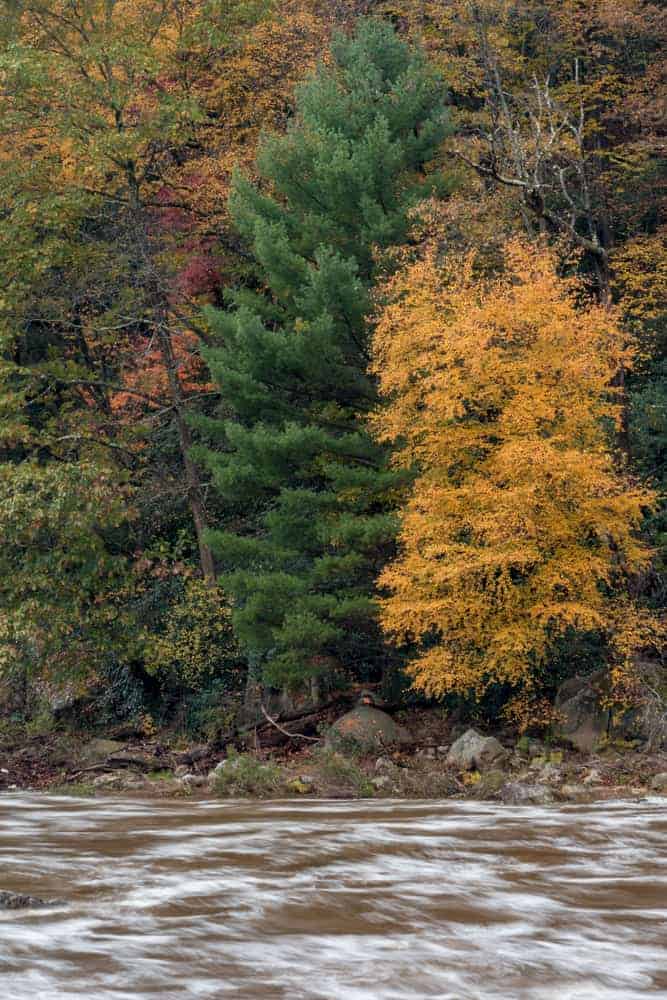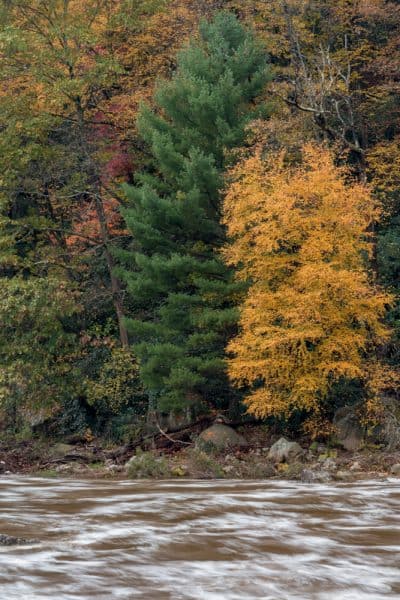 The Ferncliff Peninsula is located at a 180-degree bend in the Youghiogheny River just opposite the town of Ohiopyle.
In addition to great views of Ohiopyle Falls and white water rafters going down the river, the Ferncliff Peninsula features several miles of hiking trails. The most popular is the 1.7-mile loop of the entire peninsula on the Ferncliff Trail.
This trail offers the chance to see the beauty of this National Natural Landmark. If you look closely, you might even be able to see the remnants of a hotel that was once located here.
The Visitor Center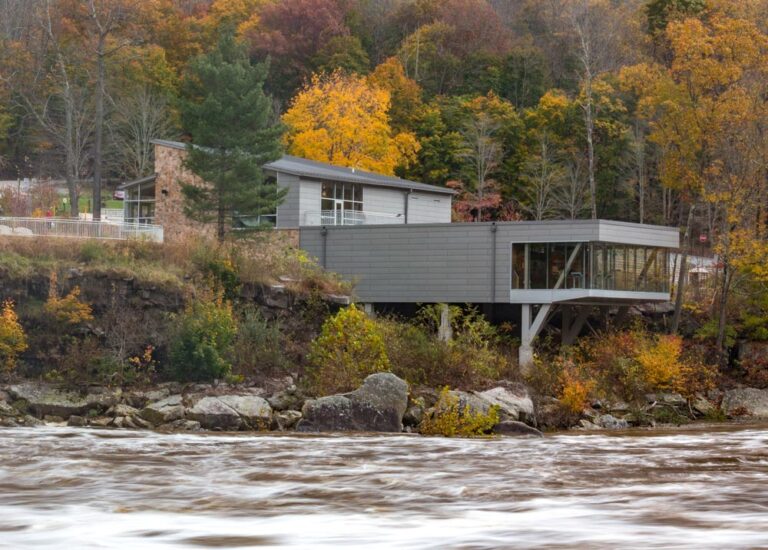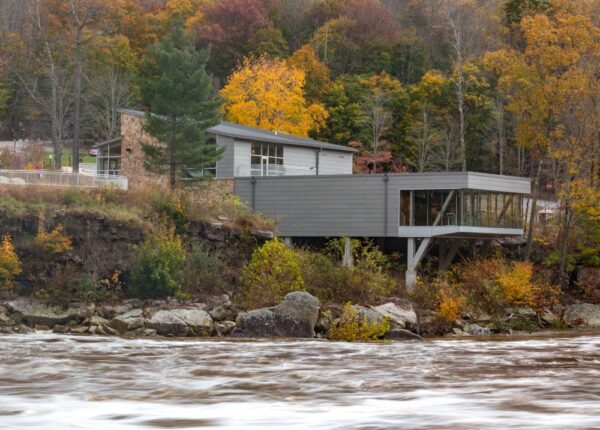 The Ohiopyle State Park Visitor Center is located just steps from Ohiopyle Falls and is a worthwhile place to spend a few minutes while visiting the park.
In addition to a ranger's stand for those needing maps and information, there is also a small gift shop on the upper level.
In the basement, there is a fantastic museum that offers information about the history and ecology of Ohiopyle State Park and the surrounding area. Some of these displays have been designed for kids, but they are interesting for all visitors.
There is also an incredible view of Ohiopyle Falls from the glass windows in the museum.
Laurel Highlands Trail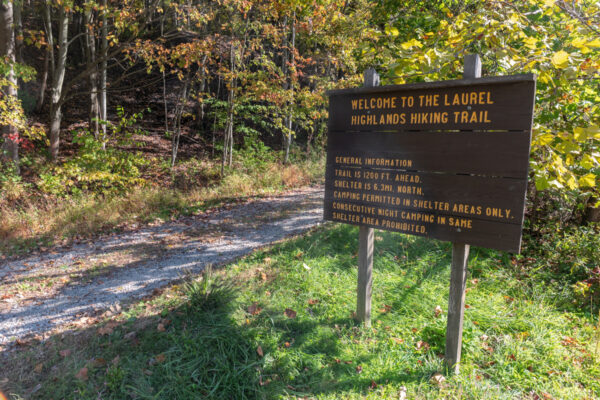 The Laurel Highlands Trail is a 70-mile long-distance hiking trail that runs from Ohiopyle State Park to an area near Johnstown, PA.
The section of the trail leaving the park is steep, but once you reach the ridgeline, it's a fairly moderate hike for the rest of its distance.
This trail starts on the far side of the train tracks from town and offers a great day hike to several vistas for those looking for a challenging hike within the park.
The Cascades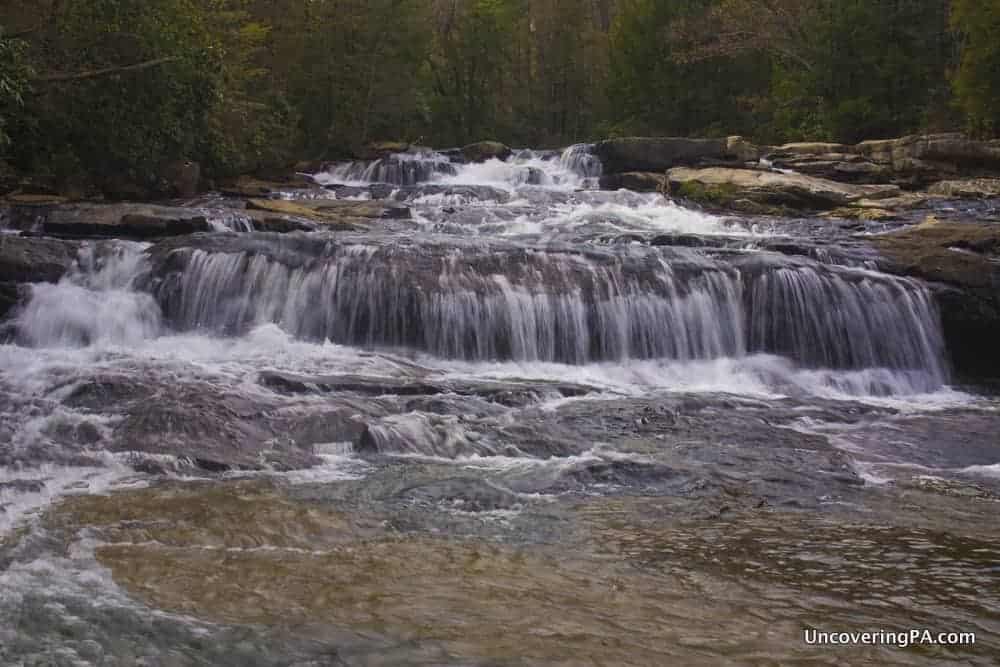 The Cascades is another of the park's waterfalls. Located along the Meadow Run Trail, this is definitely a spot to check out if you are looking for off-the-beaten-path things to do in Ohiopyle State Park.
This waterfall spans the entire width of Meadow Run and features many smaller drops and cascades that total approximately 10-15 feet in height. This spot can be viewed from shore or you can get your feet wet and head into the middle of the stream to see it even more closely.
The Meadow Run Trail, which you take to reach this spot, is a beautiful 3-mile loop trail that offers great views of the creek and the surrounding forest.
Kentuck Campground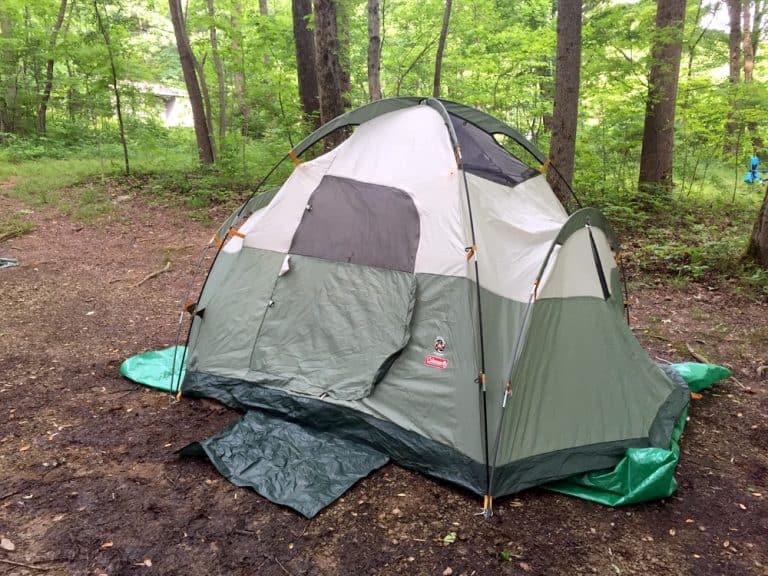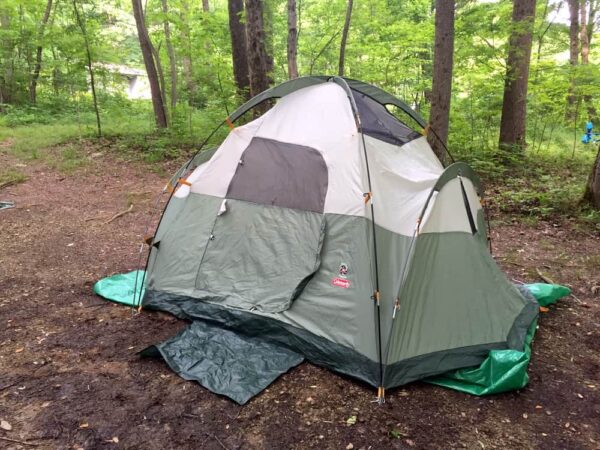 Located on the hillside above the Youghiogheny River is the Ohiopyle State Park Campground, which is known as the Kentuck Campground.
This large camping area features 200 wooded camping sites, each with room to pitch a tent, a fire pit, and a picnic table. Some spots are also capable of handling RVs and have hook-ups. Scattered throughout the campground are several bathhouses and playgrounds.
For those that are looking for a nicer place to stay, there are several cabins within the campground. There are also nearby hotels such as Nemacolin Woodlands Resort and the Summit Inn. You can also find places to stay in the Laurel Highlands on Airbnb.
Fallingwater and Kentuck Knob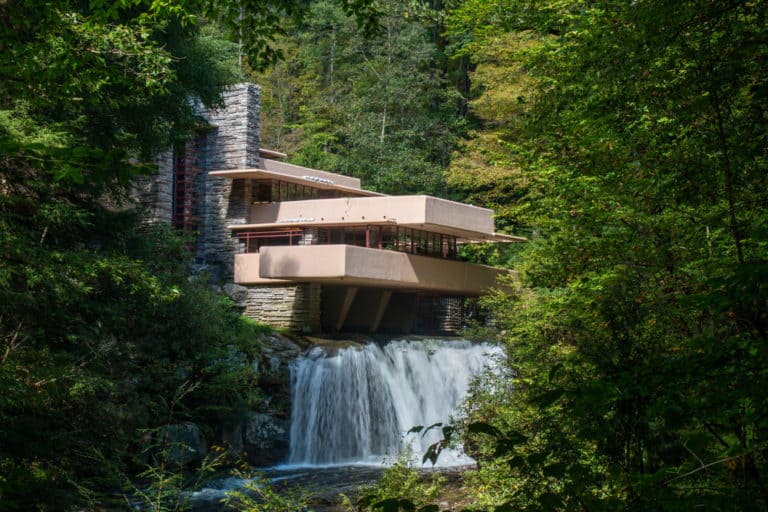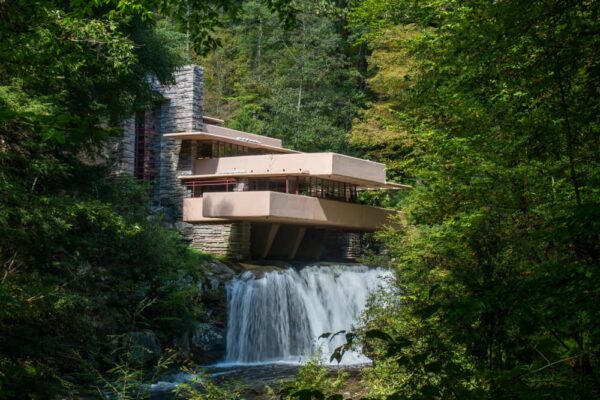 Both Fallingwater and Kentuck Knob are located just outside the park's boundaries, but these two homes designed by Frank Lloyd Wright are so special that I decided to include them here.
Fallingwater might be Wright's most well-known design because this home is built directly over a waterfall on Bear Run. Tours of the home as well as passes to simply see the grounds around the home are available.
Nearby Kentuck Knob is another of Wright's designs and is located near a nice vista overlooking the park. Despite not being nearly as well known, many consider this to be their favorite Wright home.
Looking for more fun things to do nearby? Check out East Park Falls in Connellsville, Laurel Caverns, the Quebec Run Wild Area, and Fort Necessity National Battlefield. We also have a list of our favorite places to visit near Ohiopyle on a Rainy Day.