Disclosure: This article may contain affiliate links. We will make a small commission from these links if you order something at no additional cost to you.
Pennsylvania is home to more than 120 state parks, and while some of these are well known, others are often very quiet. Reeds Gap State Park in Mifflin County is among the latter.
Reeds Gap State Park is in an isolated area about 25 minutes from Lewistown. If you're looking for things to do in Mifflin County or want a quiet spot to enjoy the outdoors, this is a great park to visit.
Reeds Gap is located at a natural water gap in the mountains created by Honey Creek. In the 19th and early 20th centuries, it was a gathering spot for local residents to hear traveling evangelists. In 1938, it became a Pennsylvania State Park.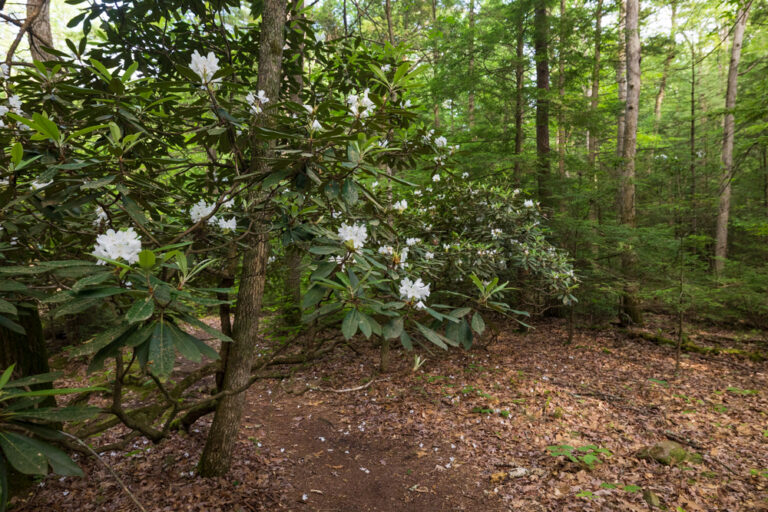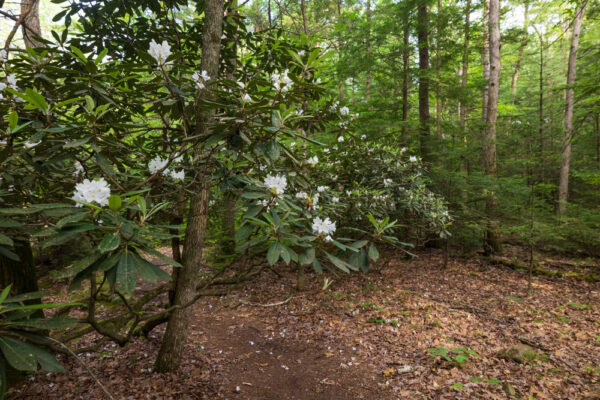 Today, this 220-acre park is home to several picnic pavilions, a nice playground, and a rustic camping area. There are also three miles of hiking trails in the park, primarily along Honey Creek.
Honey Creek is a beautiful stream that is great for fishing. Looking at it, it's hard to imagine how it could possibly be responsible for carving a gap in the mountains, but alas, it did.
There is a great and seemingly unnamed trail that follows the banks of Honey Creek through Reeds Gap State Park. A series of bridges across the stream allows you to customize this hike to make it either a short or a medium distance hike.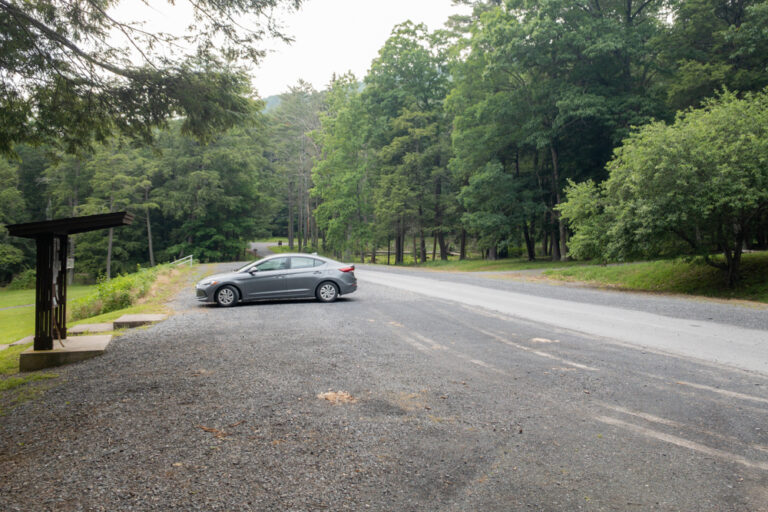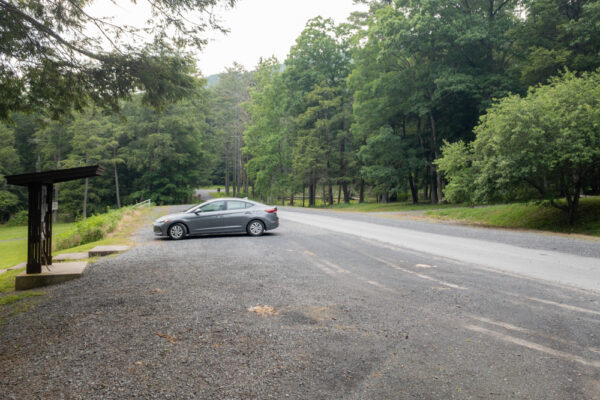 I started the trail from Parking Lot A, which is the first parking area you'll encounter if you turn into the park off of New Lancaster Valley Road. If this lot would happen to be full, you could just as easily do this hike from parking lots B, C, and E as the trail runs near these parking areas.
For those that use coordinates, Parking Lot A can be found here: 40.722003, -77.475859.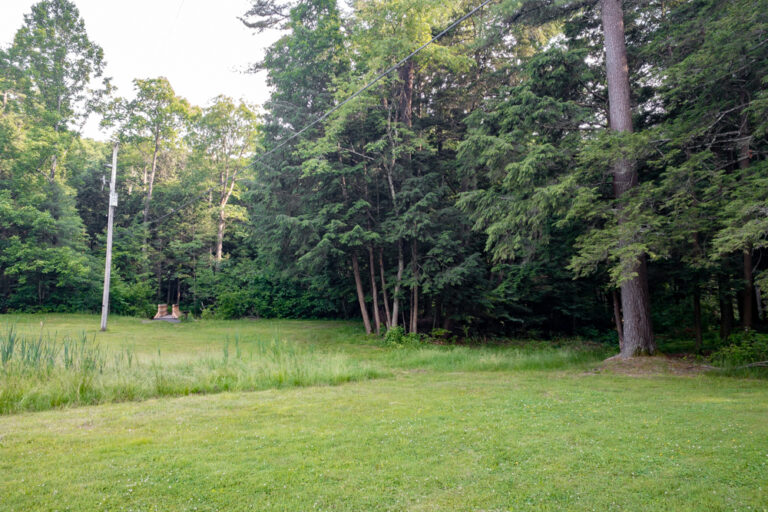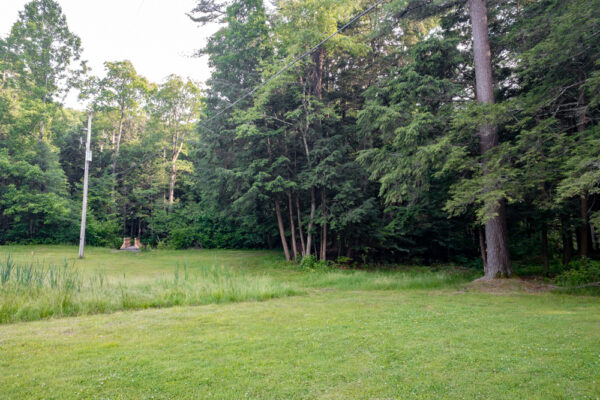 From the parking lot, head down the hill away from the road. While there are no markers for the trail, follow the paved path to the western end of the building. Across what the park's map calls the Play Field, you'll see a wooden bridge that crosses Honey Creek.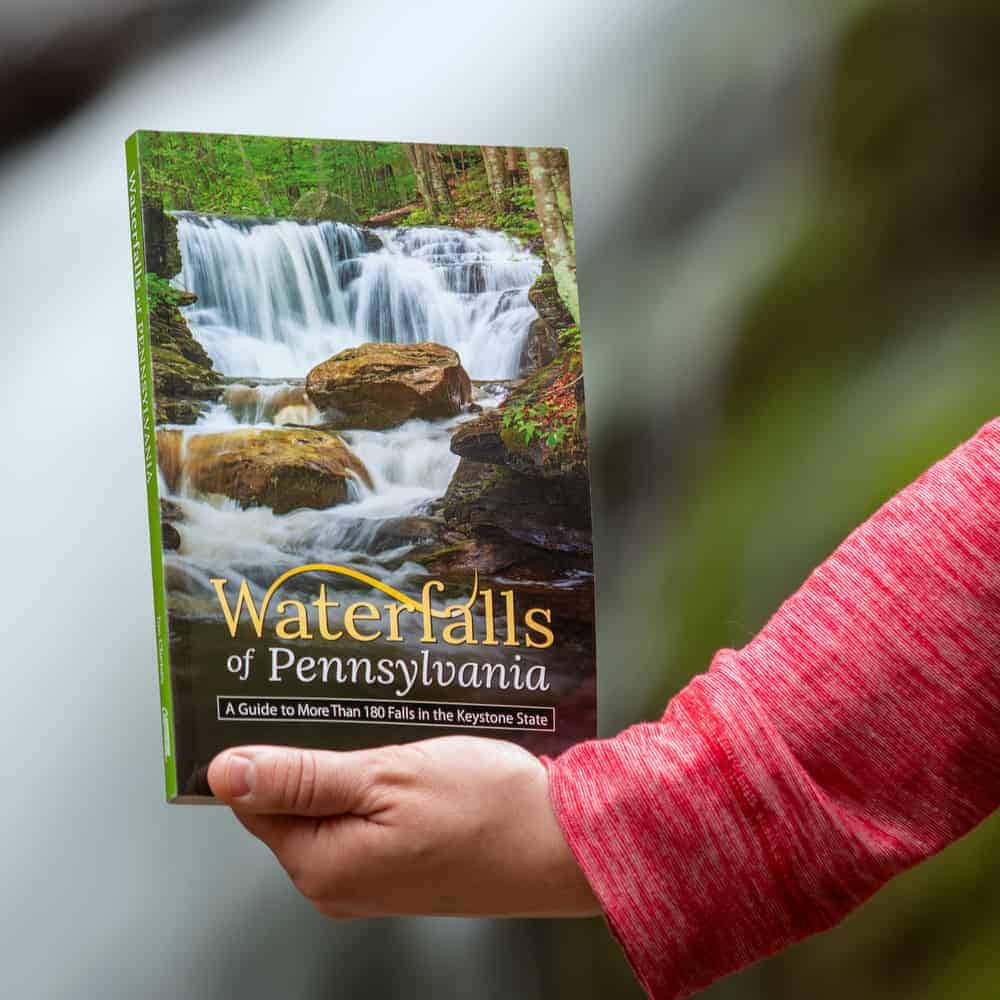 "Waterfalls of Pennsylvania" by Jim Cheney
If you love PA waterfalls, you won't want to miss this waterfall book from Jim Cheney, author of Uncovering PA, featuring more than 180 great waterfalls. Order it now on Bookshop.org or Amazon.
After crossing the bridge, you could head right to visit the ruins of the historic dam, but I've never had a chance to do that portion of the trail. Instead, I headed left and walked upstream along Honey Creek.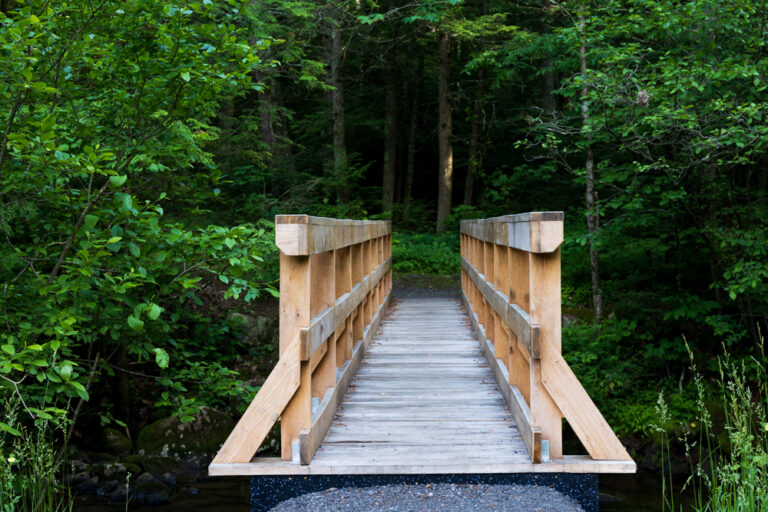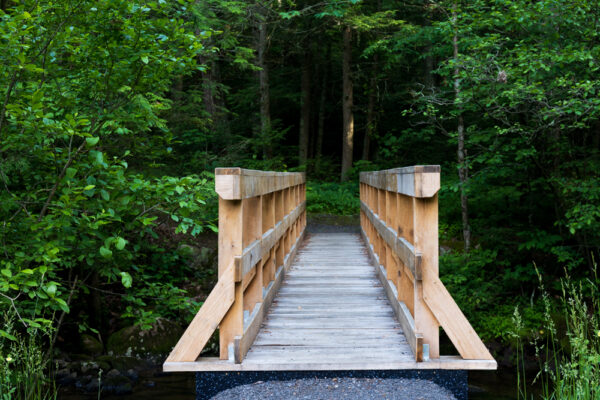 While, for some reason, this trail isn't named, it is well established and has plenty of yellow blazes to keep you on track.
The trail winds its way through the woodland on the far side of the creek, passing a small picnic pavilion. I don't know if was because it was a beautiful evening but this trail was one of the most pleasant hikes I've done in a while.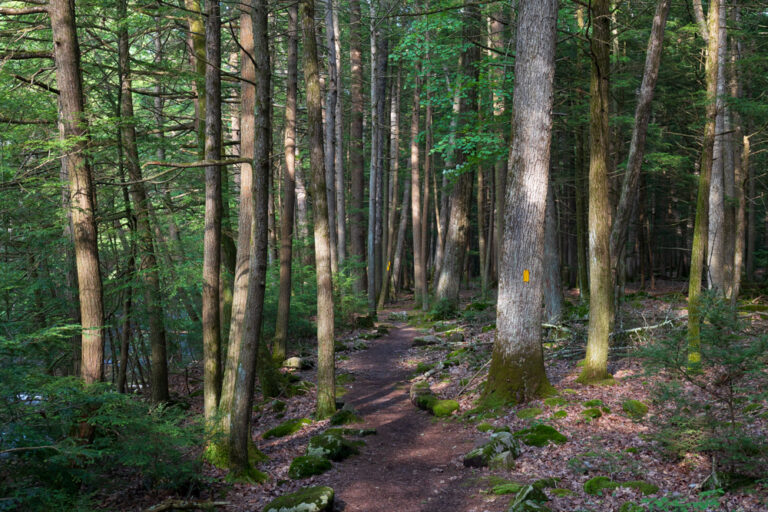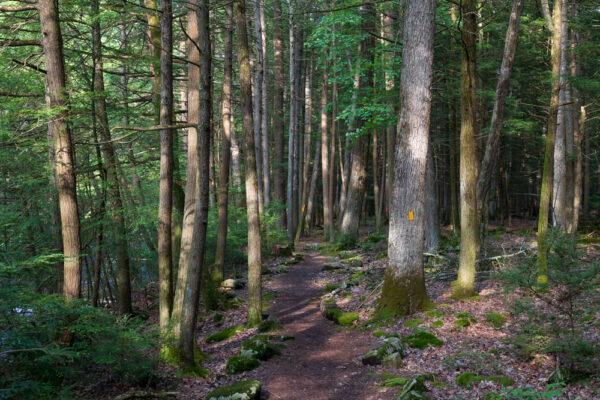 Eventually, the trail winds its way to the edge of the park's rustic campground. Here, the trail follows the campground's road briefly and passes close to several campsites.
Just beyond the campground, you'll come the first of three bridges that cross Honey Creek. If you're ready, you can take this bridge across the creek for the loop back to your vehicle.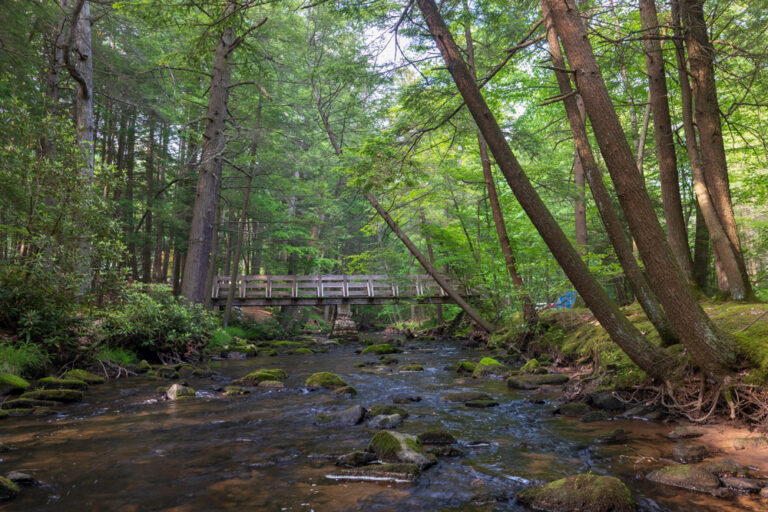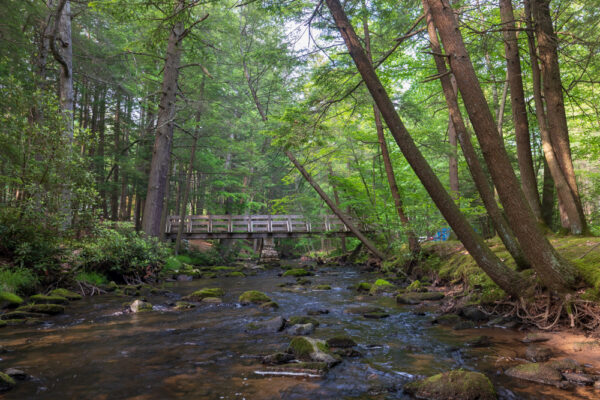 Otherwise, you can do as I did and continue hiking on this side of Honey Creek and take one of the other two bridges across the stream.
Once you do decide to cross the creek, turn left and hike downstream on the yellow-blazed trail. This side of the trail is a bit more meandering and, while it's not difficult, there are a few tiny rises here and some spots with more rough footing.
The trail also features a few random little turns and whatnot that take you back and forth from the road to the stream.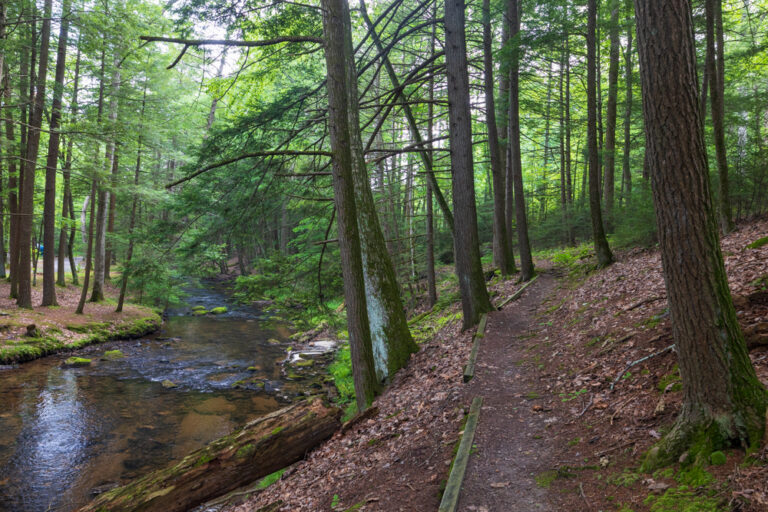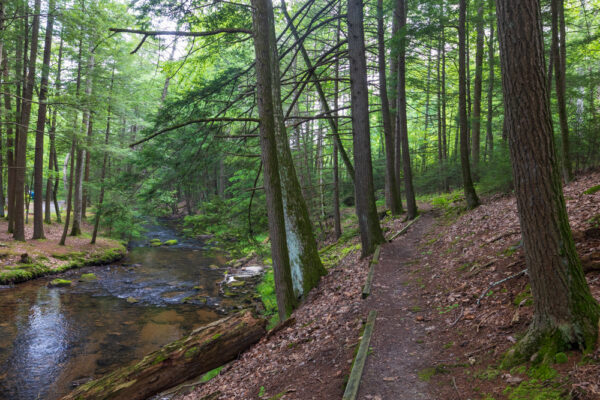 While this side of the trail features great views and a few neat little bridges, it's not as scenic as the opposite bank of the stream. So, in the future, I'd almost be tempted to do this as an out-and-back hike and simply retrace my steps on the far side of the stream.
Nevertheless, the loop is still very pleasant and you can't really go wrong with either option.
Ultimately, this unnamed hiking trail in Reeds Gap State Park is a beautiful and easy hike that's perfect for the whole family.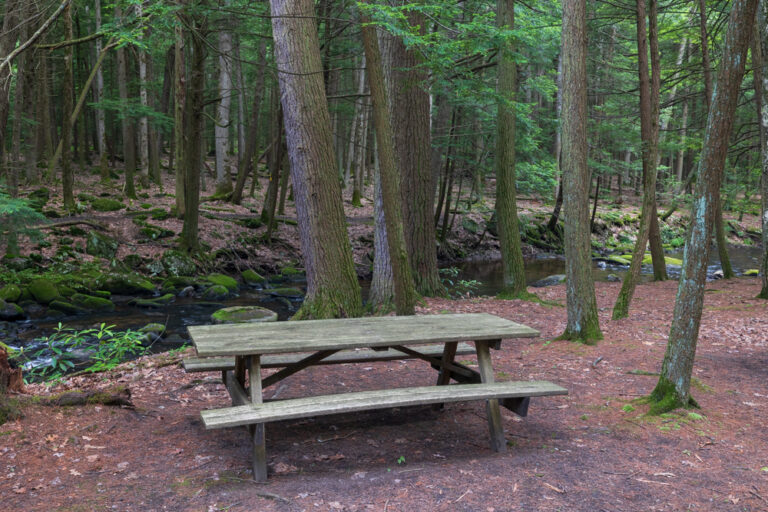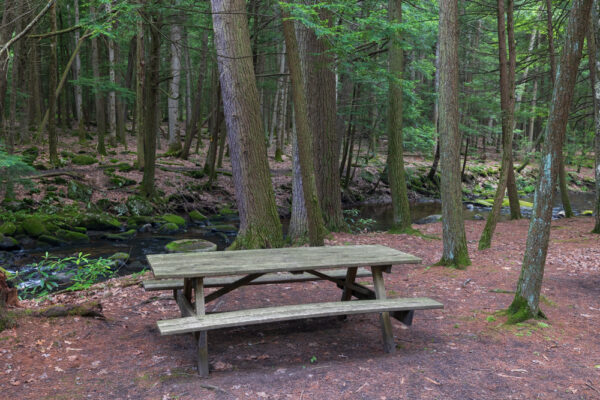 While there's no mileage listed for this trail on the park's map, using the map's scale, I'd estimate a loop using the first bridge would be about half a mile, a loop using the second bridge would be about 3/4 of a mile, and a loop using the far bridge would be a little over a mile.
Another option, for those looking for a longer hike, would be to combine this trail with a longer (and also seemingly unnamed) trail that connects to either end of this hike but is entirely in the adjacent Bald Eagle State Forest.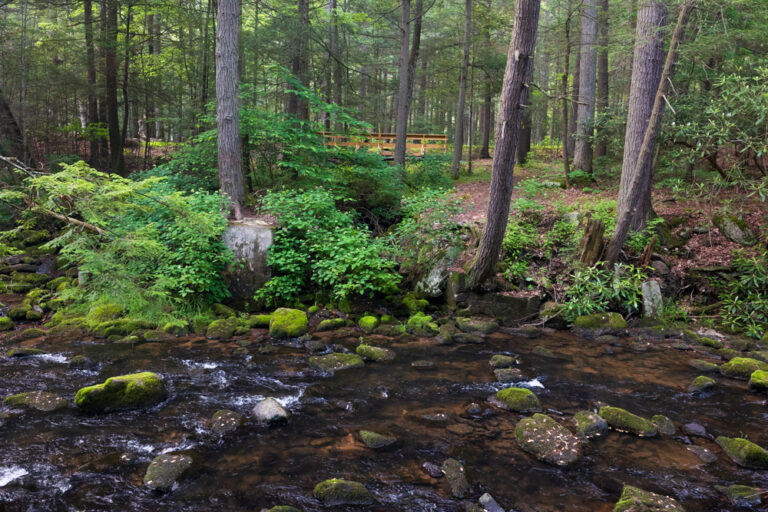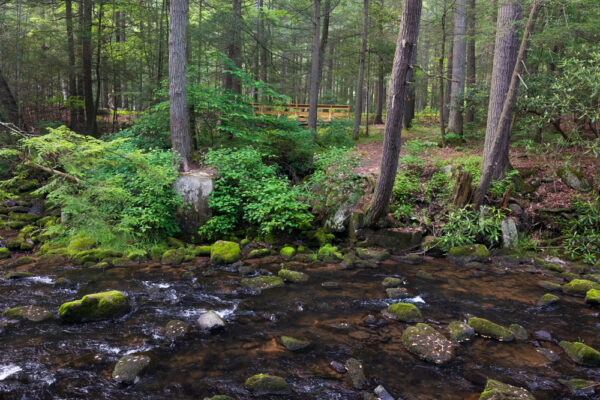 While I haven't done this extra trail, it does show on the map for Reeds Gap State Park if you're interested.
No matter what option you choose, however, you can't really go wrong hiking through the pleasant and lightly-trafficked Reeds Gap State Park.
Looking for even more places to visit nearby? Check out Poe Valley State Park, Rusty Rail Brewing Company, Poe Paddy Tunnel, and Shy Bear Brewing.
[Click here for information on how to use the coordinates in this article to find your destination.]