Disclosure: This article may contain affiliate links. We will make a small commission from these links if you order something at no additional cost to you.
Hidden away deep in Bald Eagle State Forest, you'll find one of my favorite historic railroad tunnels in the Alleghenies: Poe Paddy Tunnel.
Poe Paddy Tunnel can be found a short distance from Poe Paddy State Park within the Penns Creek Wild Area of Bald Eagle State Forest. The tunnel actually crosses county lines with the most accessible end being in Centre County and the opposite side being in Mifflin County.
While it can take a bit of time to drive to this area, it is easily accessible via a short and flat walk from the closest parking area, which makes it a really neat spot to visit even if you don't want to go for a long hike.
However, for those that are looking for a bit more of an adventure, this tunnel is located along the Penn's Creek Rail Trail, which runs congruent with the Mid State Trail for 2.5 miles to the east beyond the tunnel.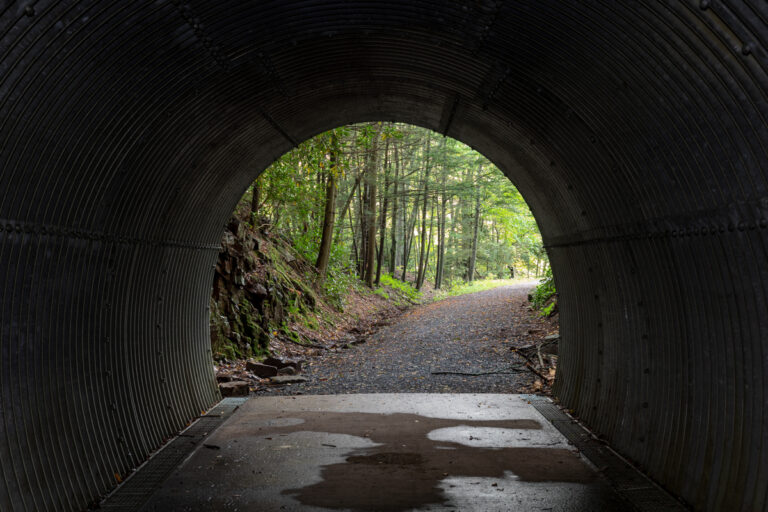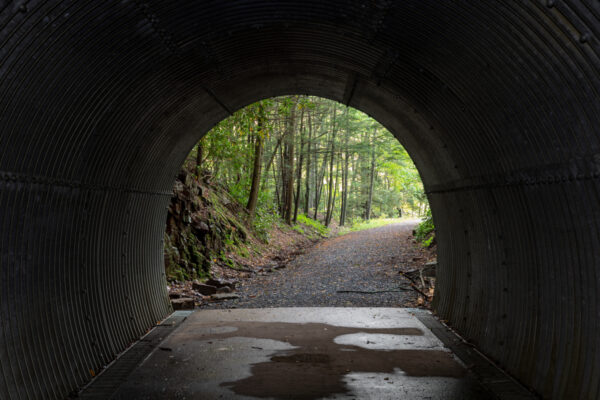 There is also a section of the Penn's Creek Rail Trail that is just over five miles in length to the west. Unfortunately, though, there is a bridge connection missing over the creek so these two sections aren't connected (The other section contains the equally fabulous Coburn Tunnel.)
These two sections of old rail bed were initially built by the Lewisburg, Centre and Spruce Creek Railroad in 1877. The line was owned by several companies and in use until it was abandoned in 1970.
Over the years, the Poe Paddy Tunnel became a destination despite not being on any official trail. And, in 2013, the tunnel was closed for long-needed repairs, reopening to the public in 2015.
How to Get to Poe Paddy Tunnel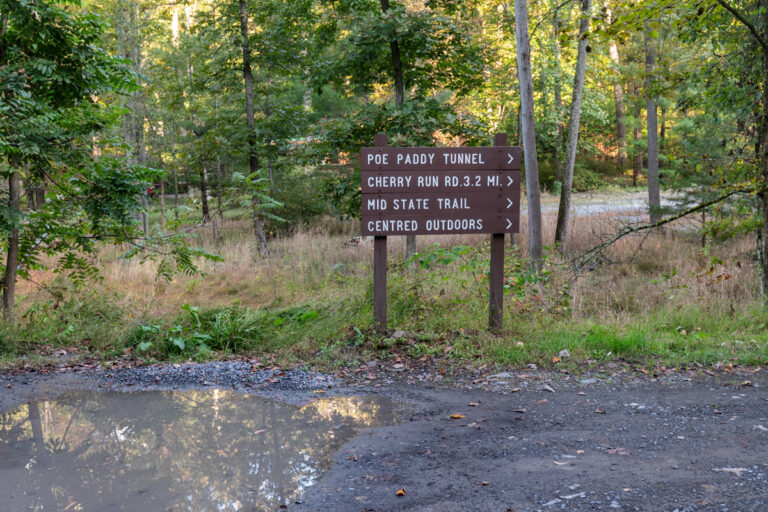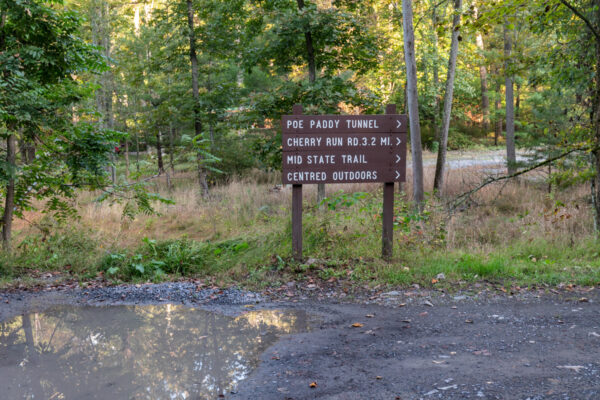 The Poe Paddy Tunnel is located along the northern edge of Bald Eagle State Forest and is only a short distance from Poe Paddy State Park.
The closest parking area for the tunnel can be found along Tunnel Spur Road in Centre County at the following coordinates: 40.837580, -77.408815. You can also use the following address, which is located just before the parking area: 192 Tunnel Spur Rd, Woodward, PA 16882.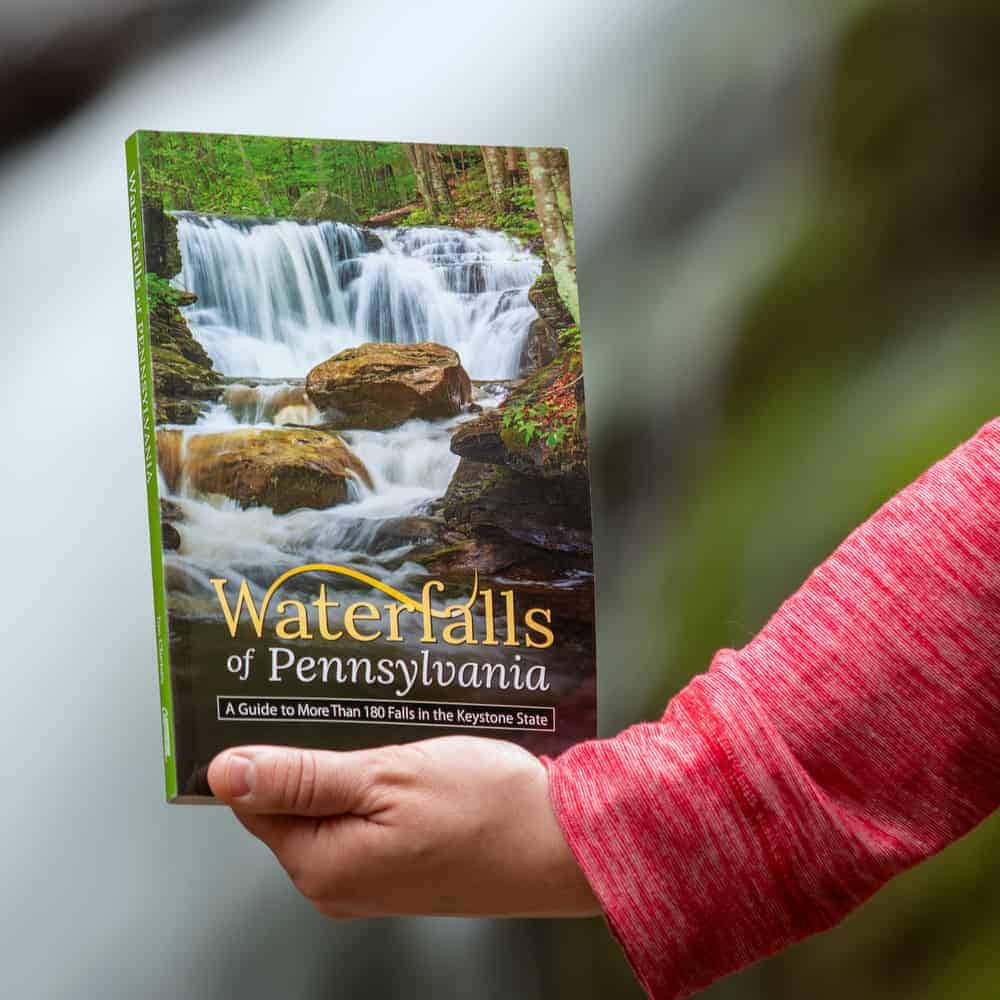 "Waterfalls of Pennsylvania" by Jim Cheney
If you love PA waterfalls, you won't want to miss this waterfall book from Jim Cheney, author of Uncovering PA, featuring more than 180 great waterfalls. Order it now on Bookshop.org or Amazon.
There is no actual parking lot here, but there is room to pull off the road near the sign pictured just above.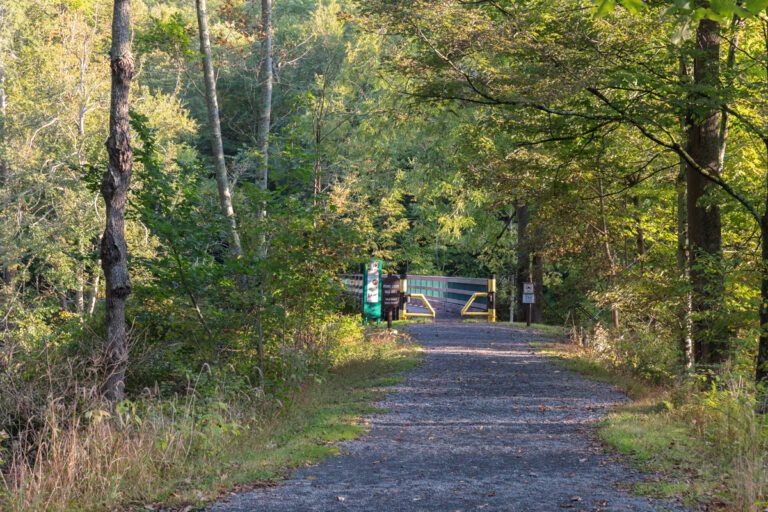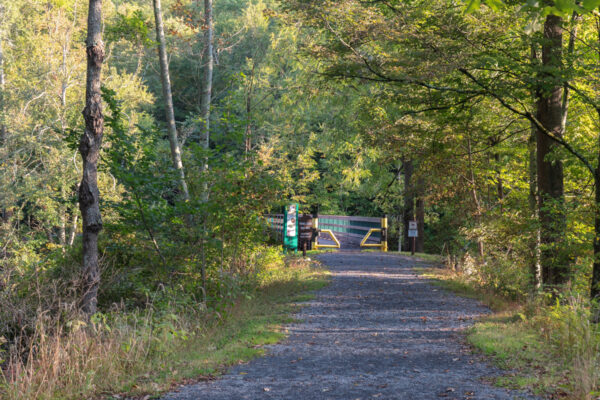 It should be noted that reaching this spot requires several miles of driving on unpaved roads through the forest. As of the summer of 2022, this route was passable in a car (if you use Poe Valley Road and pass Poe Valley State Park). Access via Pine Swamp Road is not recommended for cars and access via Poe Paddy Drive (passing Penn's View Overlook) is not recommended for any vehicle.
It's also worth noting that these gravel roads are not maintained in the winter, so please don't visit if it's icy or snowy out.
From the parking area, follow the trail into the woods and away from the road. There are privately-owned cabins along the trail, so make sure to stick to the path.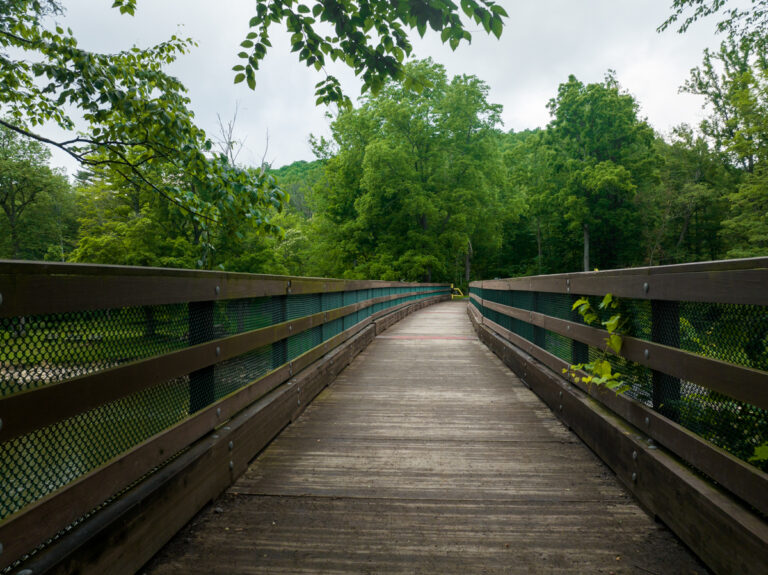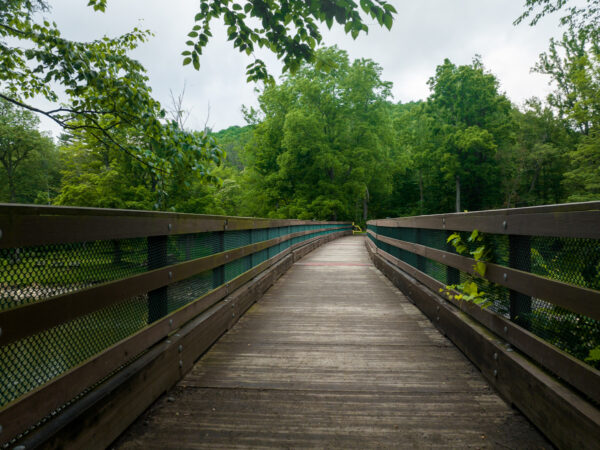 After walking on this wide and flat path for a few hundred feet, you'll come to a beautiful bridge over Penn's Creek. This 100-foot bridge is an old railroad crossing that has been converted to carry people and bicycles over the creek.
Make sure to take a minute to stop and enjoy the incredible beauty of the stream and the mountains that surround you as this is one of the best non-overlook views in Bald Eagle State Forest in my opinion.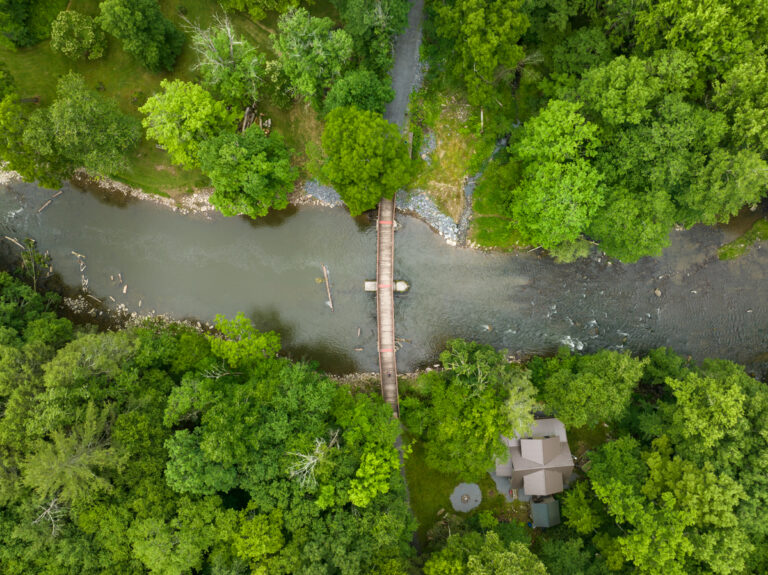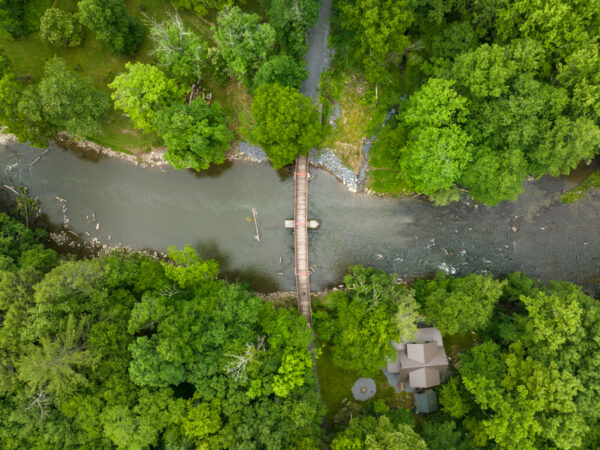 Beyond the bridge, the forest and hillside quickly close in, and you reach the tunnel within another minute or two of walking. All told, it's only about a five-minute walk to the front entrance of Poe Paddy Tunnel.
The entrance that you see today is a modern construction to keep the tunnel safe for visitors and opened in 2015.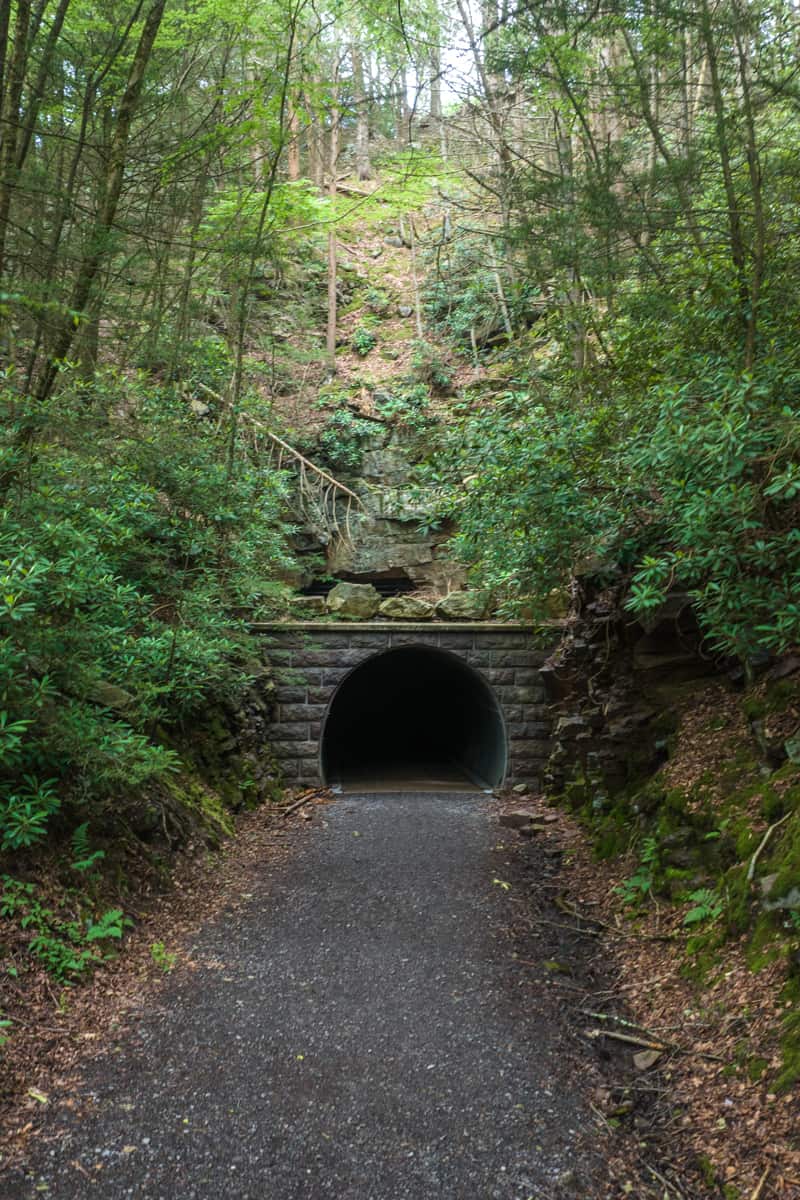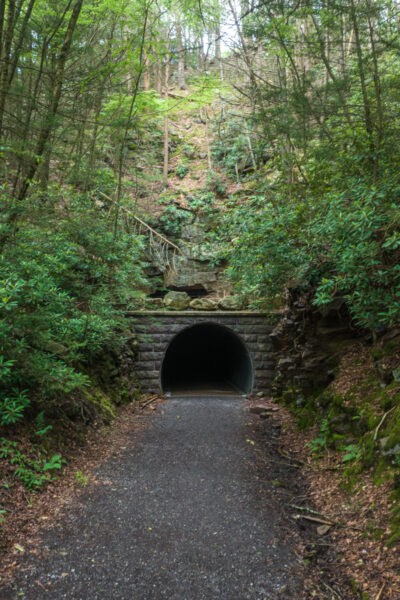 Since the entrance to Poe Paddy Tunnel is relatively small (only allowing one train and having been constricted further by the modern safety updates), the tunnel looks especially unique amidst the steep hillsides. This is definitely a different sort of sight from other abandoned tunnels in PA, such as the Abandoned Pennsylvania Turnpike.
Another unique feature of Poe Paddy Tunnel is that, because of the recent improvements, the surface of the interior of the tunnel is concrete and the walls and ceiling are made of corrugated steel. While this makes the interior not nearly as interesting as some other tunnels, it does mean that you can get by with just a cell phone's flashlight if you are walking through the tunnel (Though a strong flashlight is definitely recommended, especially if on a bicycle).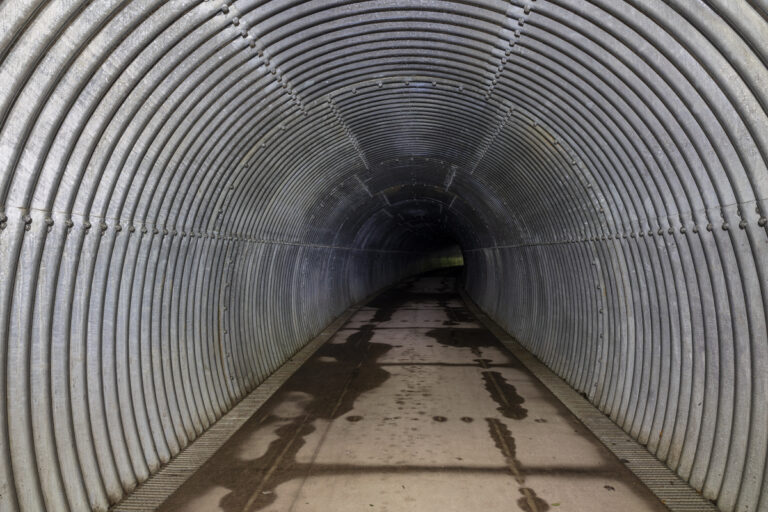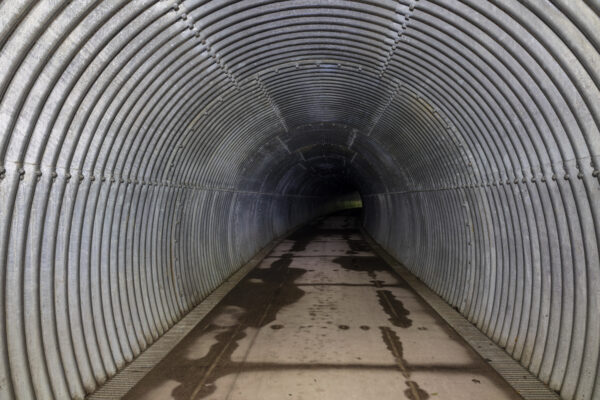 The far end of the tunnel is a bit less than 100 yards from where you entered, though a curve in the tunnel means that the far end can't be seen from the outside.
Interestingly, the two ends of the tunnel look quite different. On the Mifflin County side, there is a double layer of stone construction, with the upper layer likely being an original portion of the tunnel. Above the main entrance, you'll notice some slits in the tunnel's face that allow bats to enter and exit a totally separate area of the tunnel.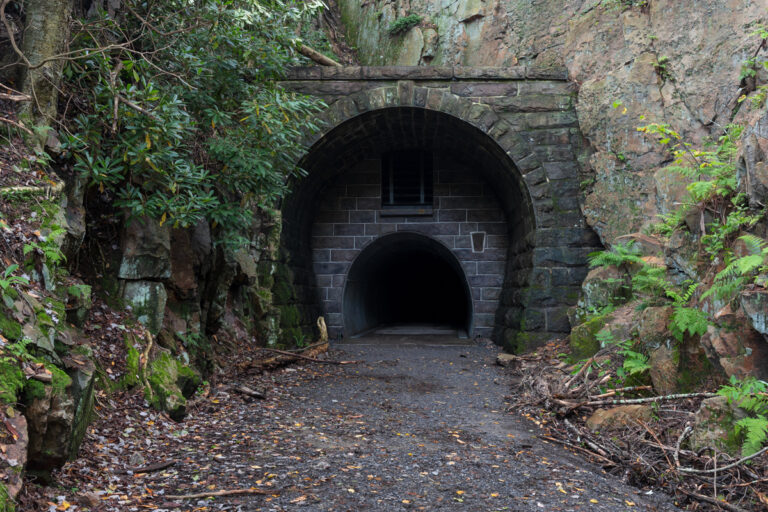 Once you've finished enjoying this area, you could continue walking or bicycling further on this trail (the next parking area is about 2.5 miles from the tunnel), or you can do as I've always done and simply turn around and head back to your car.
Because of its location deep in Bald Eagle State Forest, you'll never just happen to find yourself very close to Poe Paddy Tunnel. However, the drive to reach this spot is quite beautiful, and if you love railroading history, this is definitely a fantastic spot to check out.
[Click here for information on how to use the coordinates in this article to find your destination.]
Looking for more spots to visit nearby? Check out Reeds Gap State Park, my favorite hiking trails in Centre County, the best things to do in State College, and the hiking trails in Shingletown Gap.