Disclosure: This article may contain affiliate links. We will make a small commission from these links if you order something at no additional cost to you.
There are few things that I enjoy more than a spectacular vista, and there a few more impressive scenic overlooks in Pennsylvania than Hawn's Overlook and Ridenour Overlook.
These two great vistas offer incredible views of Raystown Lake in Huntingdon County, PA, and are easily accessed from the same parking area. Without a doubt, they are a must for anyone visiting Raystown Lake, the largest lake entirely within Pennsylvania.
For those looking for great views near Huntingdon, here's a bit of information to help you visit both of these incredible overlooks.
How to Get to the Overlooks at Raystown Lake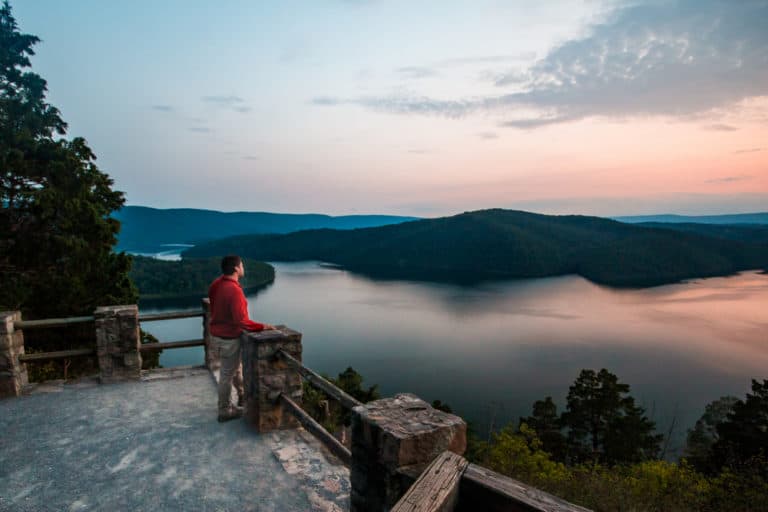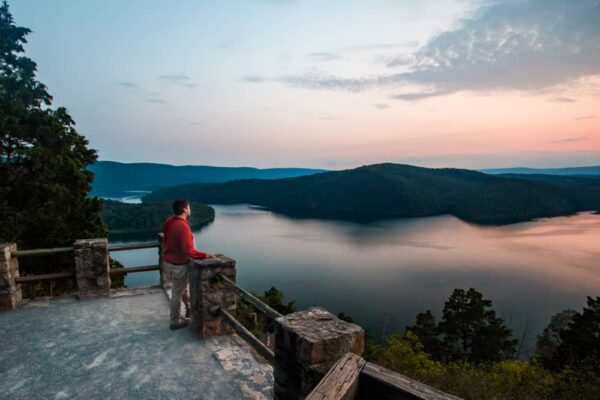 Hawn's Overlook and Ridenour Overlook are located at the end of the curiously-named Henderson Overlook Road. I say it's a curiously-named road as neither of the overlooks here is known as Henderson Overlook.
This road to the overlooks has a gate along it, though I don't believe it's actually gated on a nightly basis. Nevertheless, the area does close shortly after sunset each evening, so don't try and visit after dark.
There is no opening time listed for the overlook, but I've visited for sunrise in the past and had no issues arriving shortly before sunrise when I did.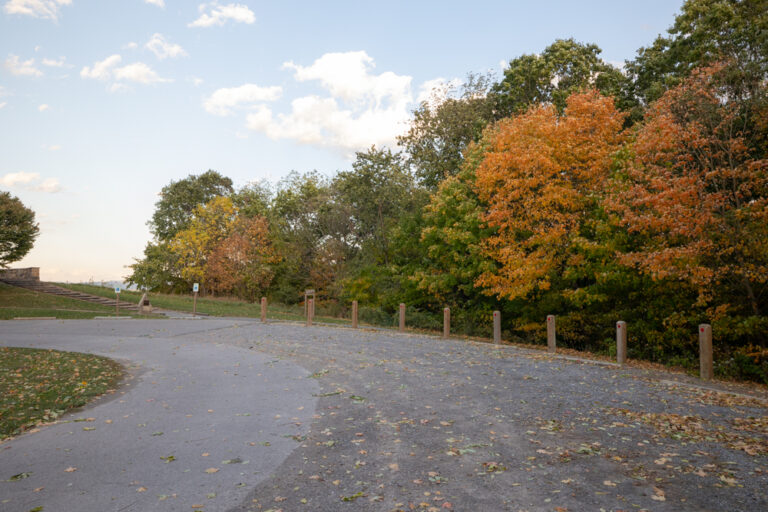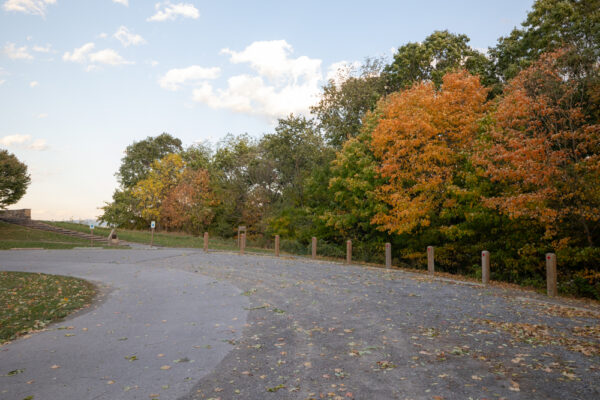 It is my understanding that the road to the overlooks is not maintained in the winter and thus the gate is closed to traffic when road conditions make it unsafe to visit the overlooks.
At the end of Henderson Overlook Road, this is a large gravel parking lot. This parking area can be found at the following coordinate: 40.431389, -78.016842.
There are a couple of paved handicapped parking spaces located here as well.
Ridenour Overlook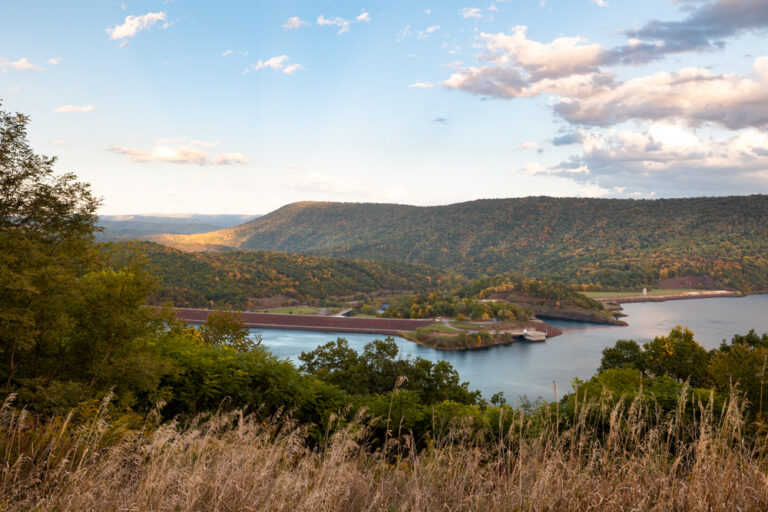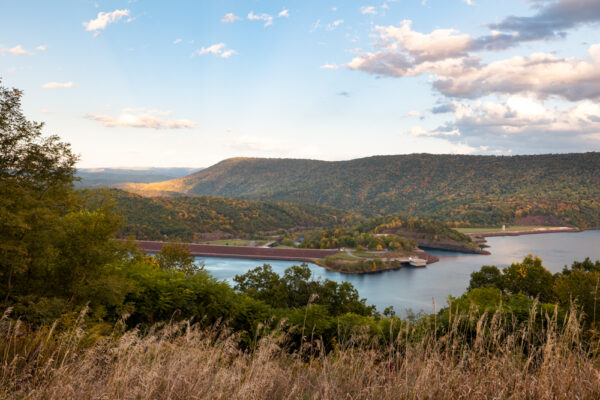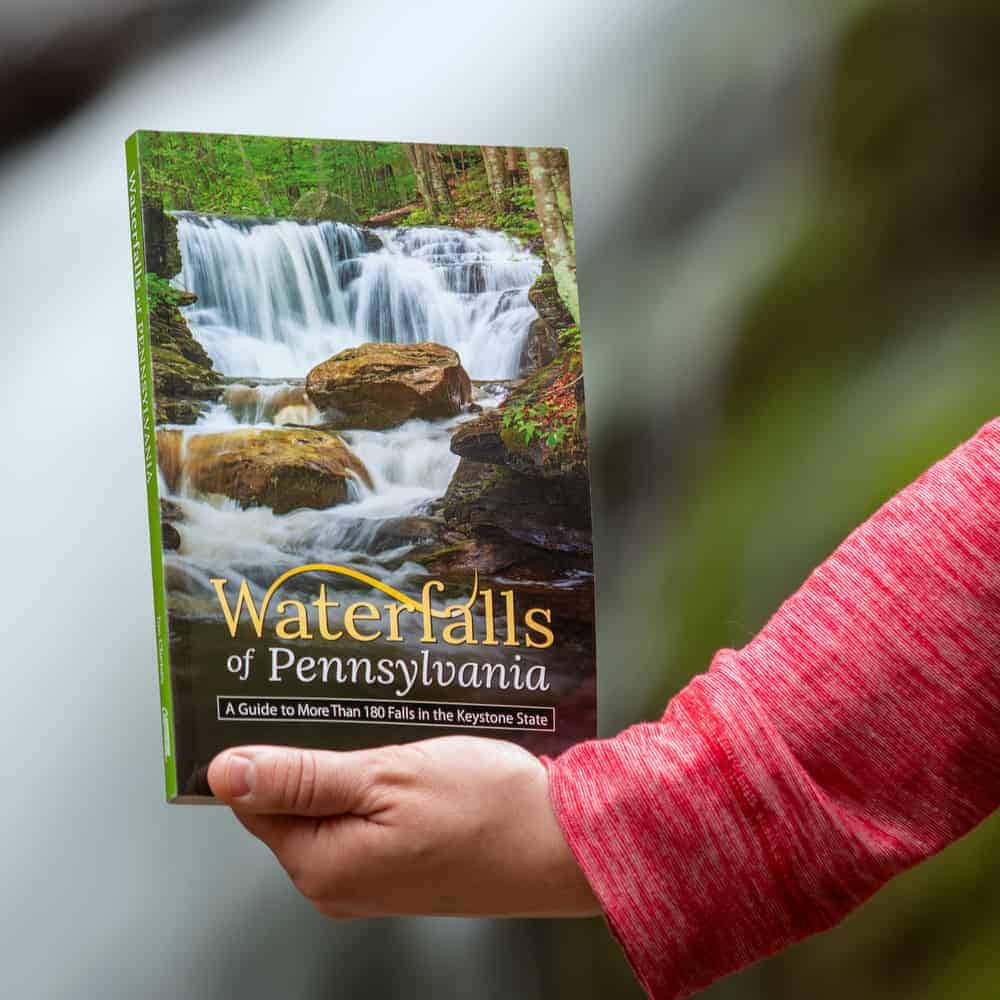 "Waterfalls of Pennsylvania" by Jim Cheney
If you love PA waterfalls, you won't want to miss this waterfall book from Jim Cheney, author of Uncovering PA, featuring more than 180 great waterfalls. Order it now on Bookshop.org or Amazon.
Ridenour Overlook is located directly adjacent to the parking area for the two overlooks. It can be easily visited within a few steps of your car and is fully accessible for those in wheelchairs.
The view from Ridenour Overlook faces to the north and northeast and offers a great view of the Raystown Lake Dam and the northern end of Raystown Lake more than 400 feet below. If you look closely, you can even see the Raystown Dam Pagoda Overlook near the dam.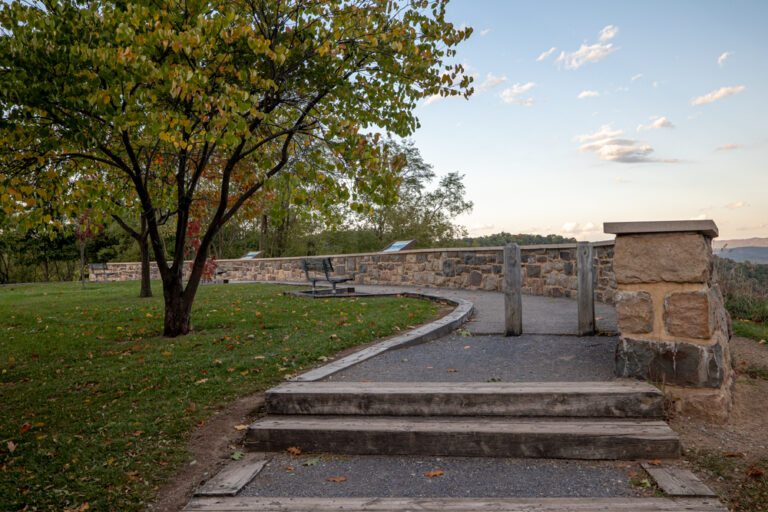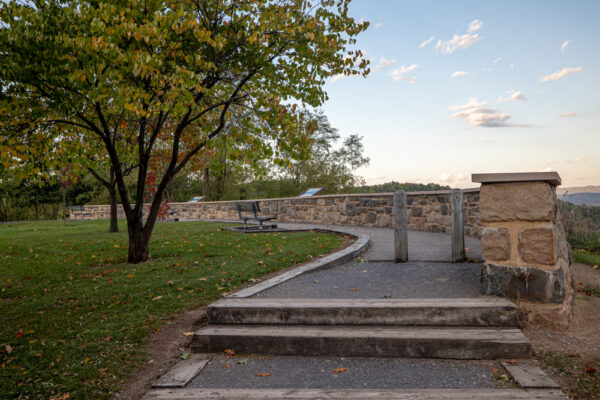 Beyond the dam, there is a great view of the Allegheny Mountains in the distance.
While this is a great view at any time of day, it's especially great at sunrise as you can watch the sun come up over the mountains and the lake. If you're lucky, you might even be able to enjoy the view above fog that has settled on the lake. This is a truly special sight to see.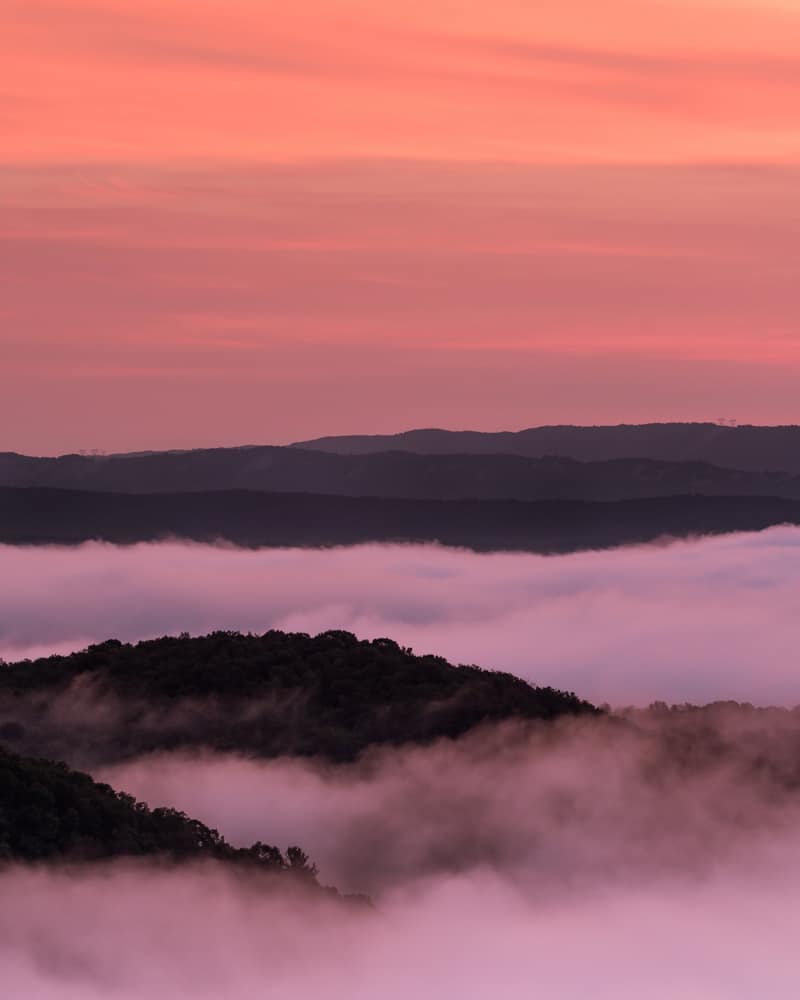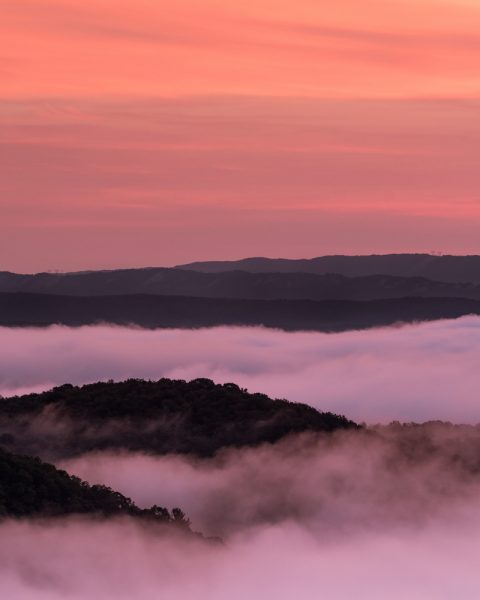 At the overlook, there are a few benches to sit while enjoying the view, as well as a bit of signage that offers information about what you can see from this spot.
Hawn's Overlook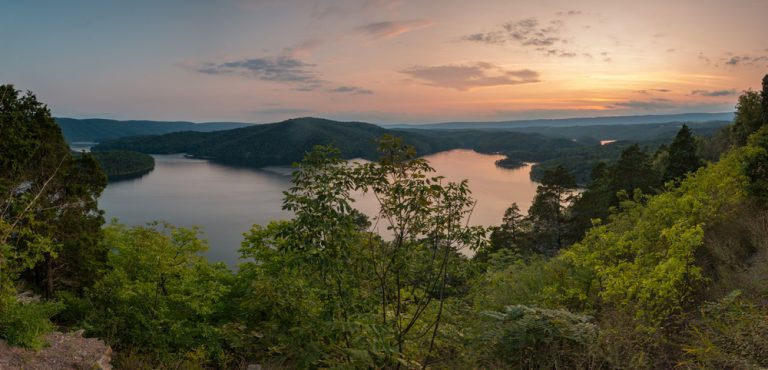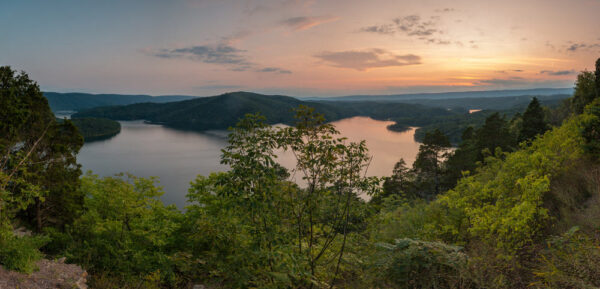 Once you've had a chance to enjoy Ridenour Overlook, I highly recommend taking the short and easy walk to Hawn's Overlook. In my opinion, Hawn's Overlook is even more spectacular than Ridenour Overlook and is among the best scenic overlooks in the entire state.
A 300-yard gravel path leads from the parking area to Hawn's Overlook. You can access this trail from both a set of stairs in the parking lot or from a flat path from Ridenour Overlook.
It is likely that this crushed-stone path is fully wheelchair accessible, but I can't say 100% for sure.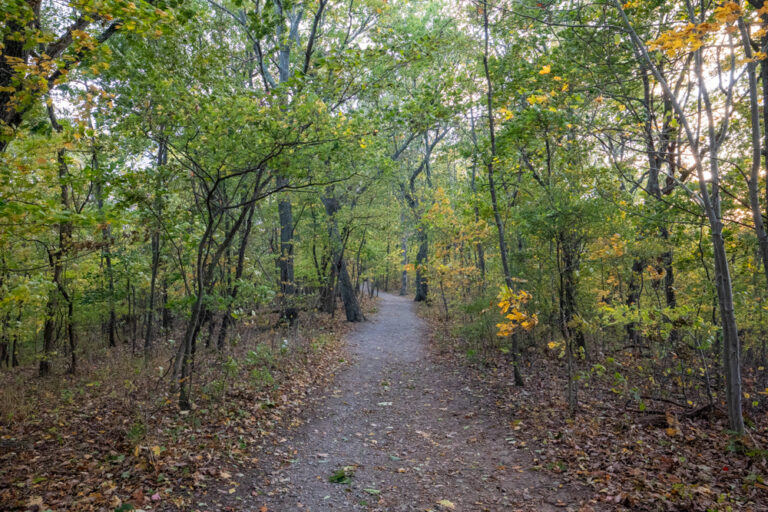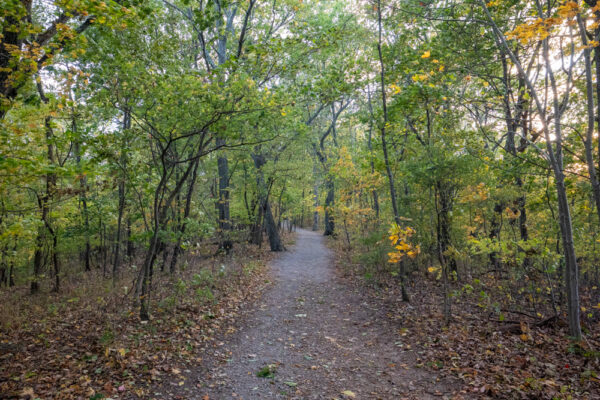 The trail passes through a beautiful forest on the hillside over Raystown Lake. While the trail loses about 50 feet of elevation on the way to the overlook, it's not noticeable and shouldn't pose an issue for anyone.
The view from Hawn's Overlook is simply breathtaking. In fact, there are very few vistas in PA that have such an unobstructed view over the valley below. (Big Mountain Overlook near McConnellsburg is one that does come to mind.).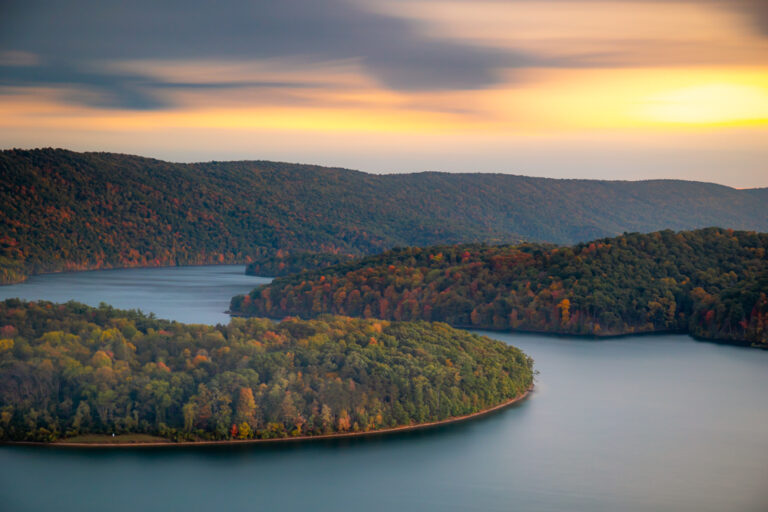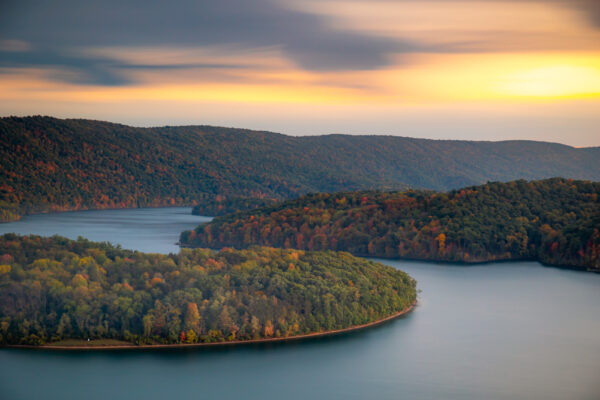 The view from Hawn's Overlooks looks to the south and southwest, though it's nearly a 180-degree view. This makes it a perfect spot to view the sunset from (just make sure to have some kind of flashlight for the walk back).
Raystown Lake sits far below and it's possible to see several islands and peninsulas that jut out into the lake. From here, boats in the lake look almost like toys as they traverse this scenic lake.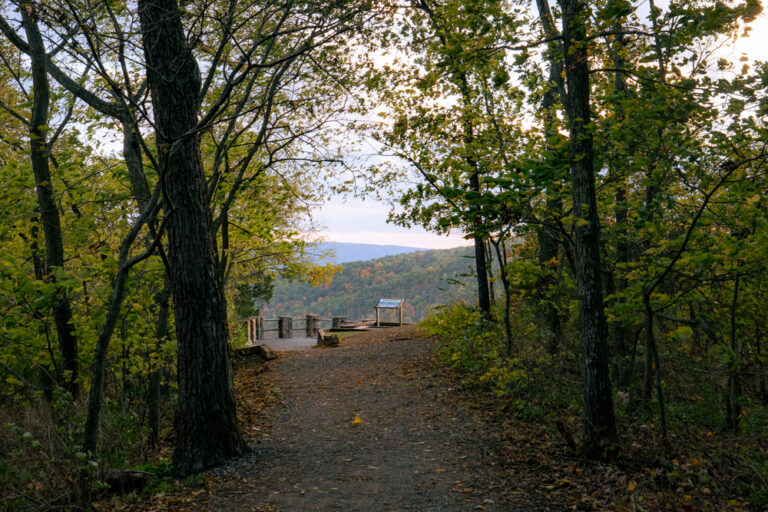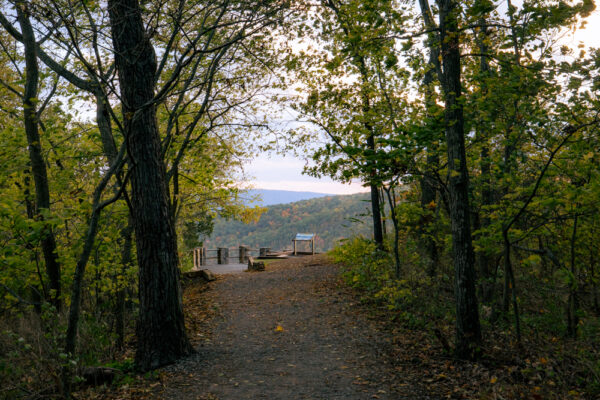 At the overlook, there is a stone-pillar fence that protects visitors from the steep hillside, as well as an information sign and a single bench.
For those that use coordinates, you can find Hawn's Overlook here (though you likely won't need them): 40.429698, -78.018976.
Final Thoughts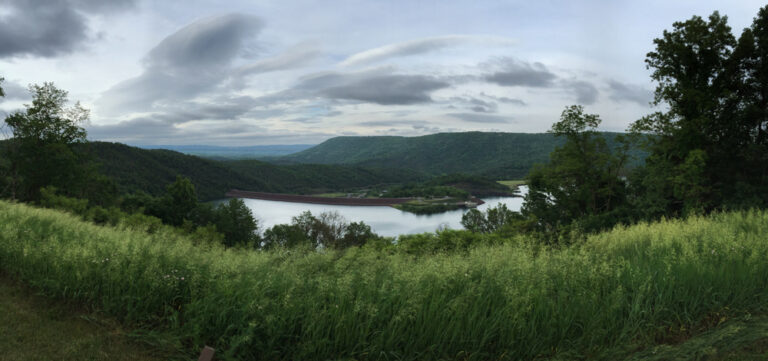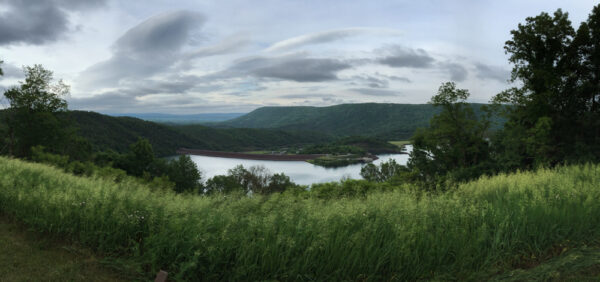 Hawn's Overlook and Ridenour Overlook in Huntingdon County, PA are two of the state's most impressive vistas. If you are visiting Raystown Lake or nearby Huntingdon (which is only 10 minutes away), these overlooks are well worth taking the time to see.
I'd even go so far as to say that they are worth detouring to see if you are anywhere near the area. They are just that spectacular.
Of course, if you do detour here, take some time to see some of the area's other attractions including the Swigart Museum, Trough Creek State Park, Indian Lookout, and Lincoln Caverns.
[Click here for information on how to use the coordinates in this article to find your destination.]