Disclosure: This article may contain affiliate links. We will make a small commission from these links if you order something at no additional cost to you.
When I travel, I always enjoy finding great new Pennsylvania overlooks. So, when I discovered that there were three incredible vistas in Rothrock State Forest in Huntingdon County, I knew I had to check them out.
All three of these overlooks are located along or just off of Colerain Road, which starts at Route 45 north of Spruce Creek northwest of Huntingdon, PA.
Two of these overlooks are roadside vistas, including one of the most incredible roadside overlooks I've come across in Pennsylvania. The third, Indian Lookout, is located along a trail and can be easy or hard to reach depending on how you get to it.

To help you visit these incredible overlooks, I've listed them in the order in which you come to them while traveling from Route 45, along with information on specifically how to get to them.
For all of them, the journey starts at the intersection of Route 45 and Colerain Road north of Spruce Creek, PA at the following coordinates: 40.626902, -78.113445.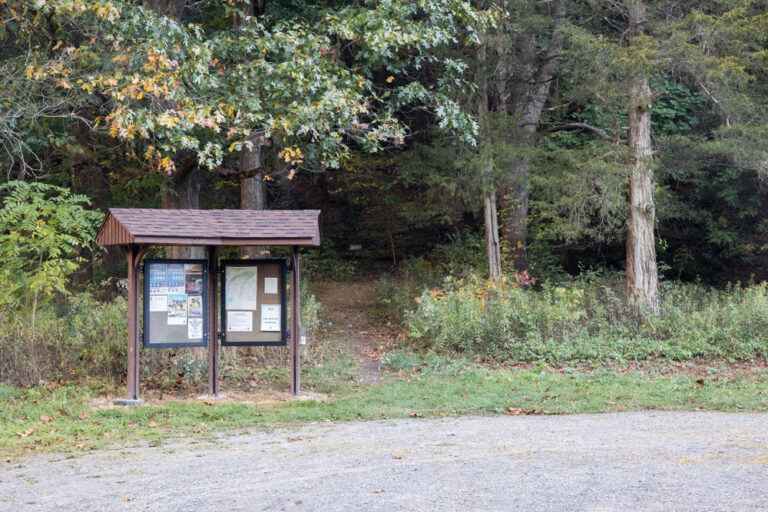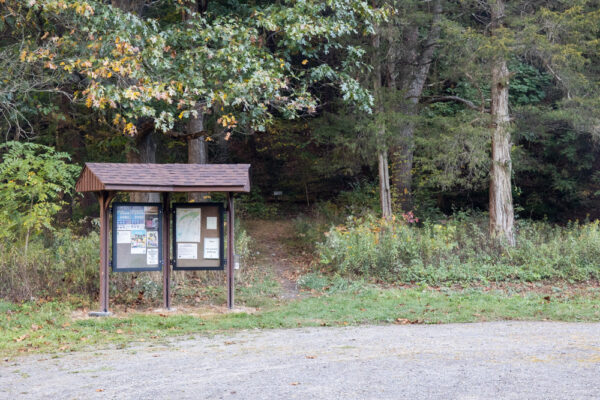 Just after turning onto Colerain Road, it crosses Spruce Creek and turns into a gravel road. The rest of the road, at least as far as the turnaround point, is in great shape, and I had no problem driving this road in a regular car in October 2020.
As soon as you cross Spruce Creek, you'll notice a large parking area and a trailhead. This is the start of the Yellow Arrow Trail. Indian Lookout is located along this trail near the top of the mountain.
If you want to go for a challenging hike, you can follow this trail for a little less than a mile to the overlook. However, be aware that this trail is very steep, gaining about 700 feet in elevation in that distance.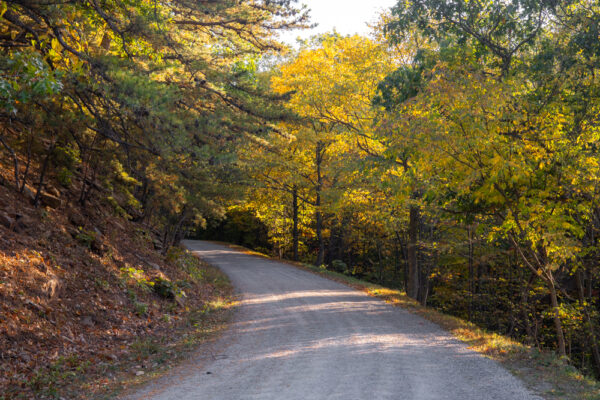 Because of this elevation gain, I'll discuss how to much more easily reach this vista from the top of the mountain later in this article.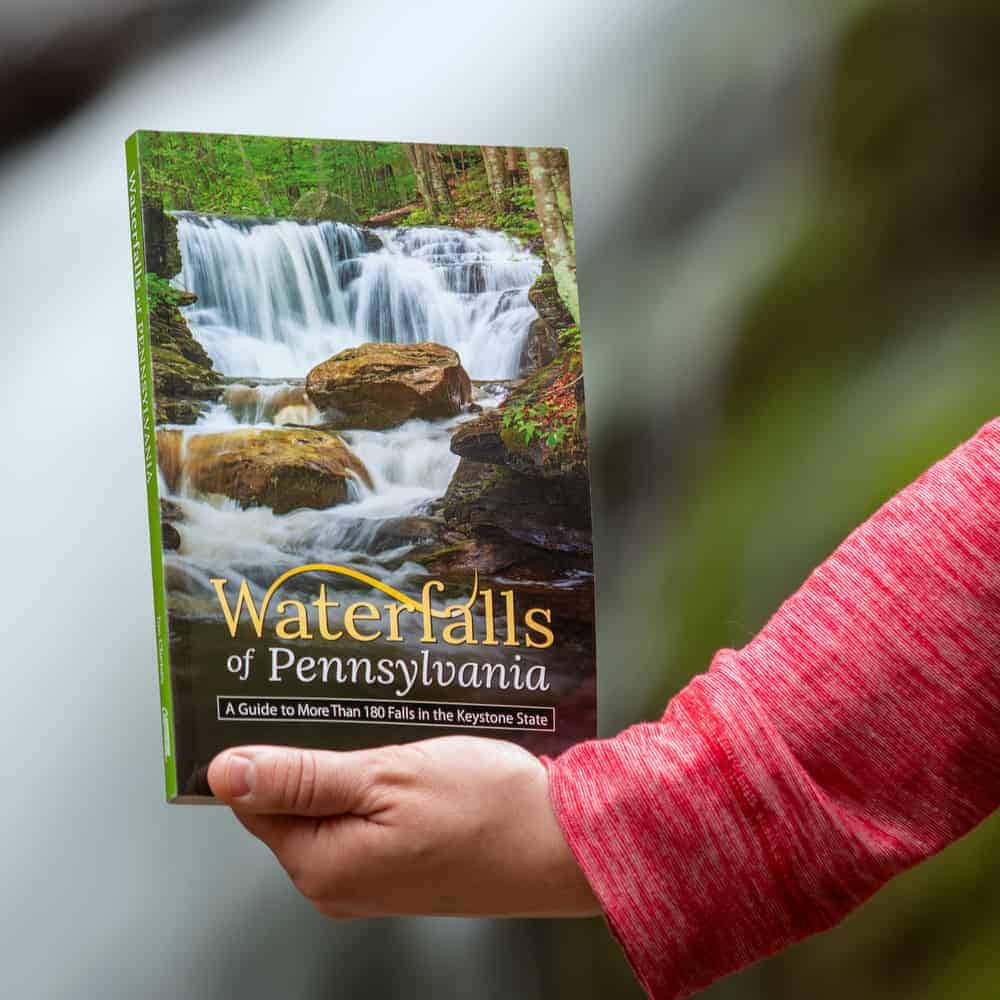 "Waterfalls of Pennsylvania" by Jim Cheney
If you love PA waterfalls, you won't want to miss this waterfall book from Jim Cheney, author of Uncovering PA, featuring more than 180 great waterfalls. Order it now on Bookshop.org or Amazon.
As you continue driving up Colerain Road, you'll pass through a beautiful portion of Rothrock Forest as the road heads uphill. This road is well maintained, but can be a bit narrow in spots and does have a few potholes, so make sure to exercise caution while driving it.
Spruce Creek Lookout

About 1.3 miles after turning off of Route 45, you'll reach a hairpin turn in the road and a beautiful view over the valley below. This is Spruce Creek Lookout and can be found at the following coordinates: 40.616574, -78.122440.
At this point, the road is wide enough that you can pull your car over to the side of the road so that you can get out and enjoy this impressive view. From here, you can see to the west for many miles and enjoy the views over the valley far below.
It's worth noting while parking and driving through this lookout that this was the one point in the road where conditions were a bit rough during my visit. While I was able to handle it without any issues in a regular car, just be a bit more careful in this spot when driving.
Indian Lookout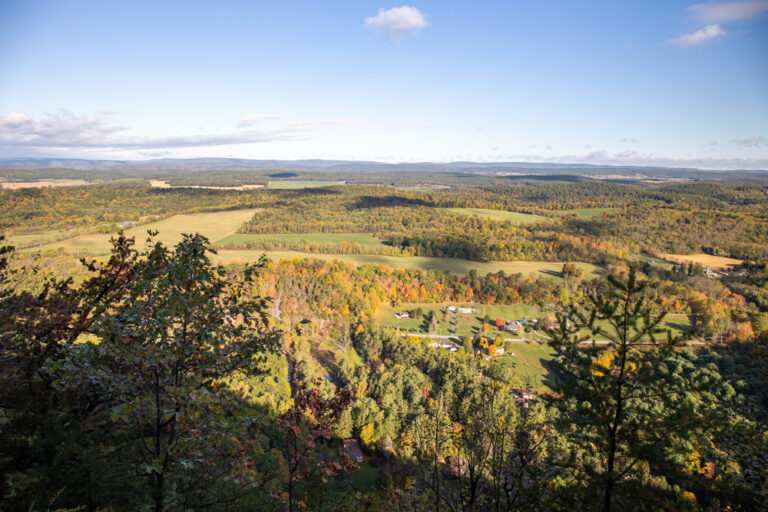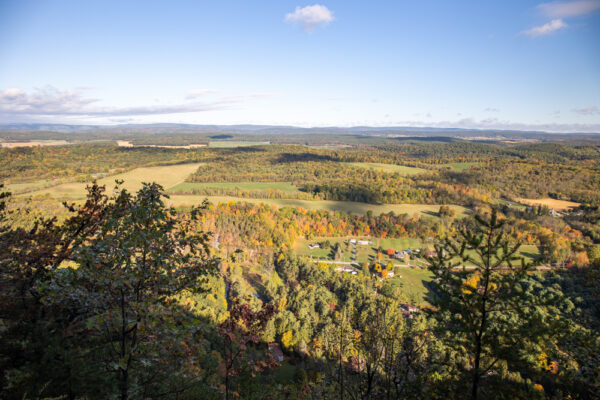 Once you've had a chance to enjoy Spruce Creek Lookout, continue heading up the road to the parking area for Indian Lookout. (Don't confuse Indian Lookout with Indian Wells Overlook in a different part of Rothrock State Forest.)
This parking area is a decent size pull off on the right side of the road and can be found at the following coordinates approximately 1.1 miles past the aforementioned lookout: 40.622672, -78.103292.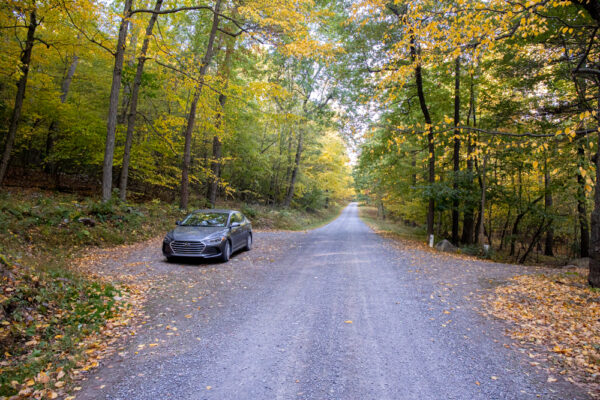 Across the road from this pull off, you should see the upper trailhead for the Yellow Arrow Trail. Not surprisingly, the trail here is blazed yellow.
From the road, the trail heads slightly downhill, though it's not a significant elevation loss, and passes through a beautiful forest. All told, it's a little over a tenth of a mile from the road to the overlook.
Just before reaching the overlook, the trail heads uphill somewhat steeply, but only gains about 25 feet of elevation. At the top of this small hill is where you'll find Indian Lookout.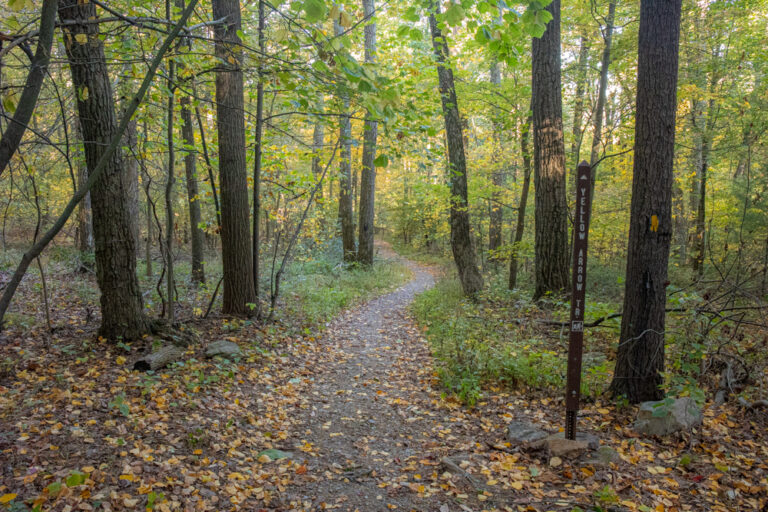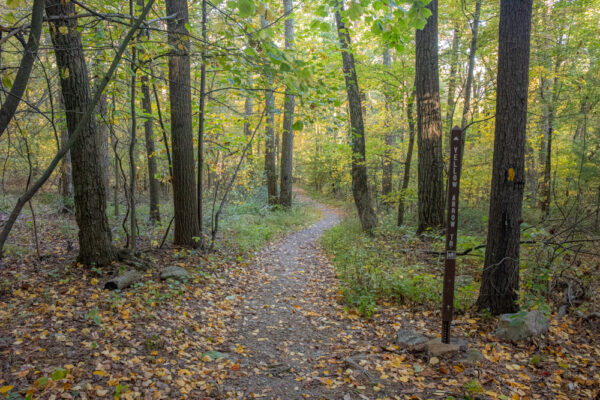 Indian Lookout is an incredibly impressive vista, and you have a nearly 180-degree view looking towards the north and the west. There is a rocky outcropping here at the edge of the cliff, though a stone pillar fence is present to remind you not to get too close to the edge.
Once you've finished enjoying this beautiful spot, simply retrace your steps for the slightly uphill hike back to your vehicle.
Colerain Road Overlook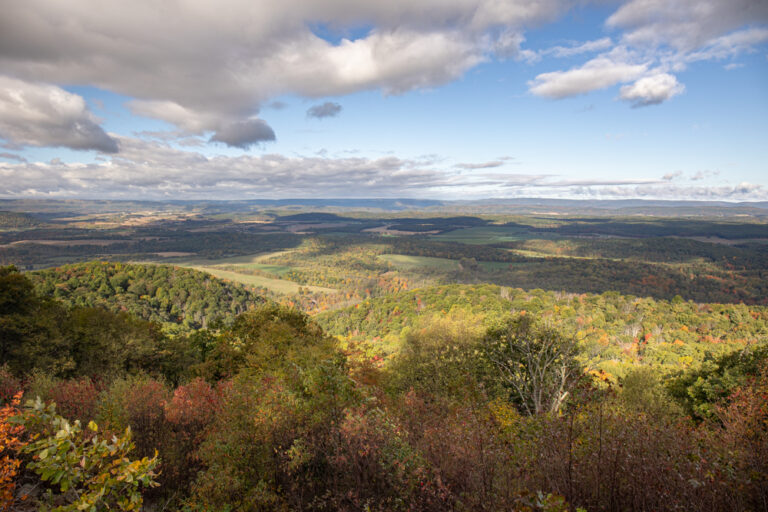 Once back at your car, continue following Colerain Road up the hill.
Soon, the road splits. Make sure to bear right to stay on Colerain Road.
After driving approximately a mile from the Indian Lookout parking area, you'll come to an expansive view that's right along the road at the following coordinates: 40.630321, -78.087424.
This is, in my opinion, one of the most incredible roadside vistas in all of Pennsylvania. In fact, since there aren't many trees or bushes blocking your view, you can actually enjoy this spot without even leaving your car. However, the view is so incredible that you likely will want to get out for a few minutes.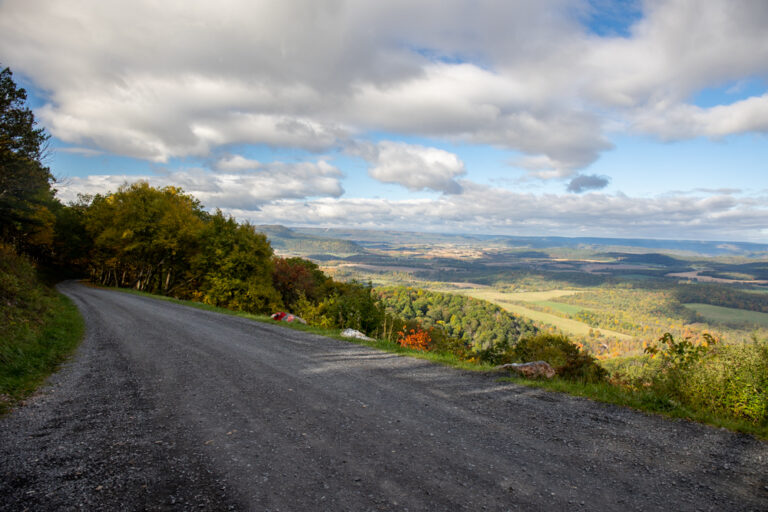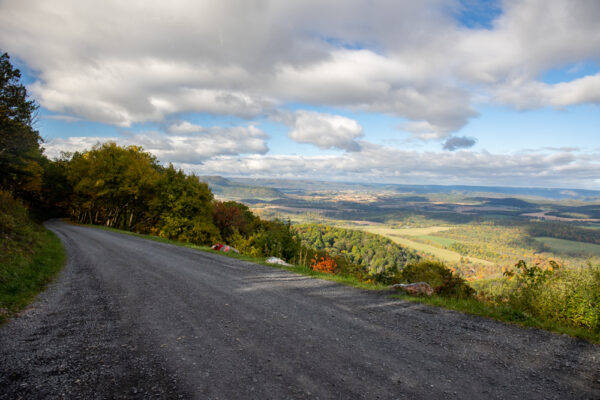 Unfortunately, there's no official parking area here, but the road is wide enough that you should have no issues simply pulling over to the side of the road.
The view from the Colerain Road Overlook is incredibly expansive and is at least 180-degrees in scope. It looks primarily to the northwest.
At this spot, you are more than 1,100 feet over the valley floor far below, and there is nothing impeding the view to the horizon from this spot.
If you look away from the vista, you may notice a steep path heading up to the top of the ridgeline a short distance above you.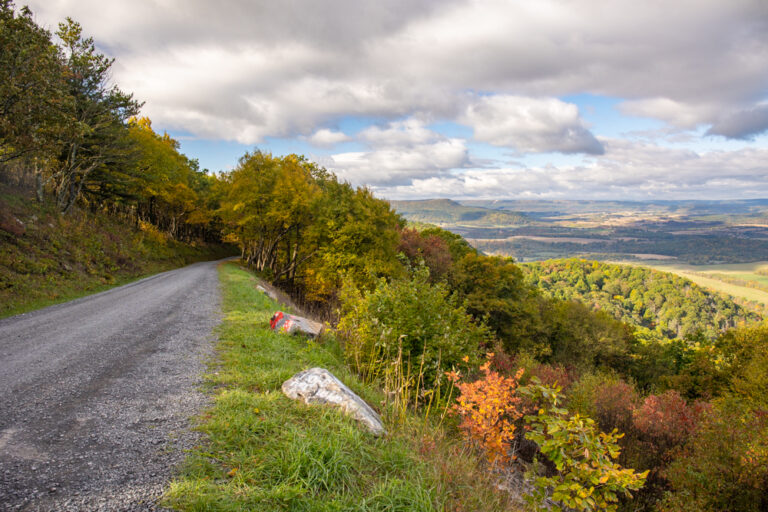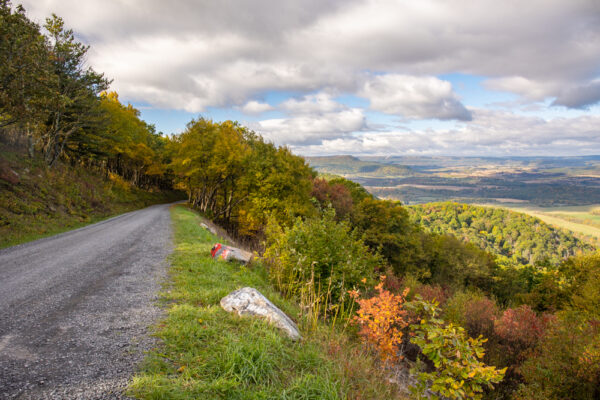 This very sketchy path leads to the Mid State Trail, an over 300-mile trail that stretches from the PA/NY border to the PA/MD border. Unfortunately, there are no views along this ridgeline, so I don't recommend climbing the hillside here.
Once you've finished enjoying the view, continue driving for a couple of hundred yards along Colerain Road. You'll soon come to a spot where you can easily turn around and head back the way you came to get back to Route 45.
This turn around spot is where the Mid State Trail crosses Colerain Road, so if you are looking for a bit of a hike, this is a good spot from which to pick up the trail.
Final Thoughts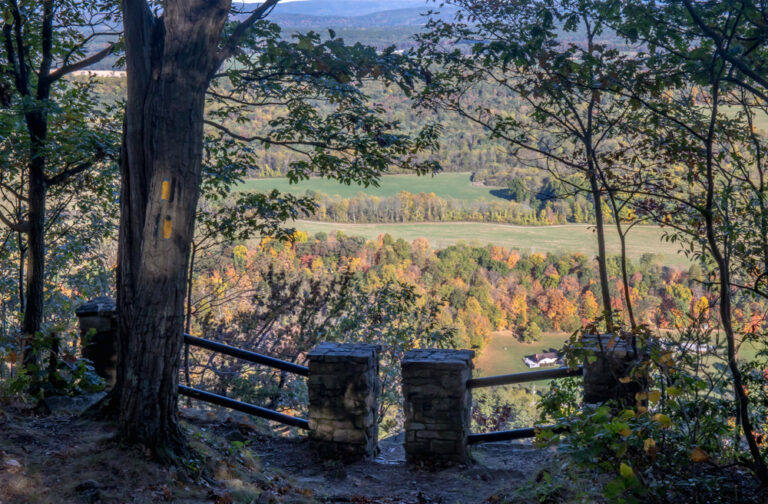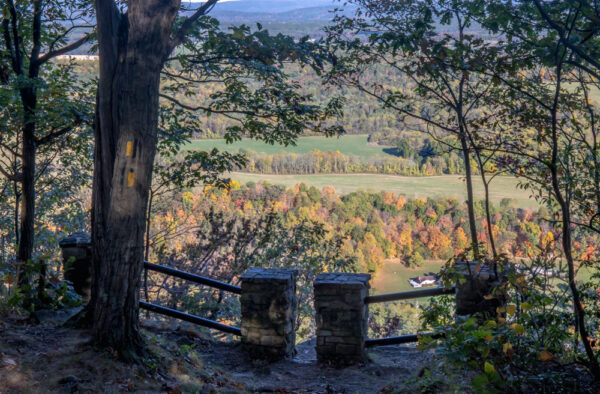 Overall, these three vistas along Colerain Road in Rothrock State Forest are some of the best you'll find anywhere in the Alleghenies.
Whether you want to tackle a difficult hike to reach Indian Lookout, you are looking for a short and easy hike to the overlook, or you simply want to enjoy two of the finest roadside vistas in all of Pennsylvania, I highly recommend taking a few minutes to check these out.
Even better, they can be easily reached while traveling through the region. The turn off onto Colerain Road from Route 45 is located only 20 minutes from Huntingdon and 30 minutes from State College.
If you find yourself in the area, I highly recommend checking out these three incredible overlooks.
Looking for more places to visit nearby? Check out Hawn's Overlook, Lincoln Caverns, Stone Mountain Hawk Watch, and Shaver's Creek Environmental Center.
[Click here for information on how to use the coordinates in this article to find your destination.]