Disclosure: This article may contain affiliate links. We will make a small commission from these links if you order something at no additional cost to you.
There are few more remote waterfalls in Pennsylvania than Round Island Run Falls. That's not because it's an especially difficult hike but because of the driving distance from the main roads and communities. Nevertheless, this is a fantastic spot to visit.
Round Island Run Falls, which is also known as Three Falls because of its three drops, is located within Sproul State Forest near the Quehanna Wild Area in Clinton County, PA. Reaching this beautiful spot requires a 15-mile drive along narrow forest roads and a slightly over one-mile hike to see. However, those that do make the trek are rewarded with an incredibly beautiful spot.
While driving and hiking to the falls, keep your eyes out for Pennsylvania's famous elk herd. While I've never personally seen elk here, I've heard from other visitors to the falls that they are commonly seen in the area.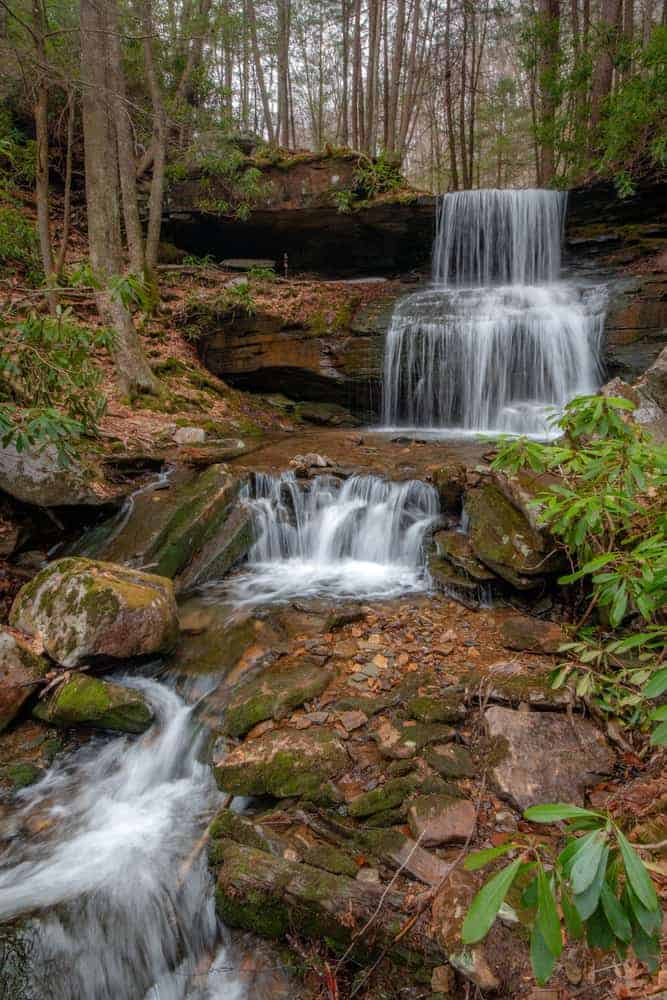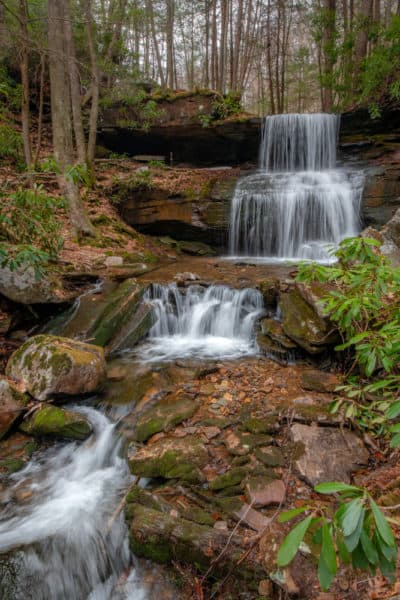 It's worth noting that there are several ways to access Round Island Run from the Quehanna Wild Area. However, one of the two main ways a GPS may send you is severely rutted in places and definitely not passable in a car, and I'd even hesitate to take a higher-clearance vehicle on the road. I've put full driving directions at the bottom of this article, so please check those out before heading out to visit this waterfall.
While there is a Round Island Falls Trail that (sometimes) has a wooden marker, there is nowhere to park nearby. Because of that, it's best to park under the large power lines a bit further down the road. This won't significantly increase your hiking distance or difficulty, but there is plenty of room to park without issue at the power lines. (Again, more info below)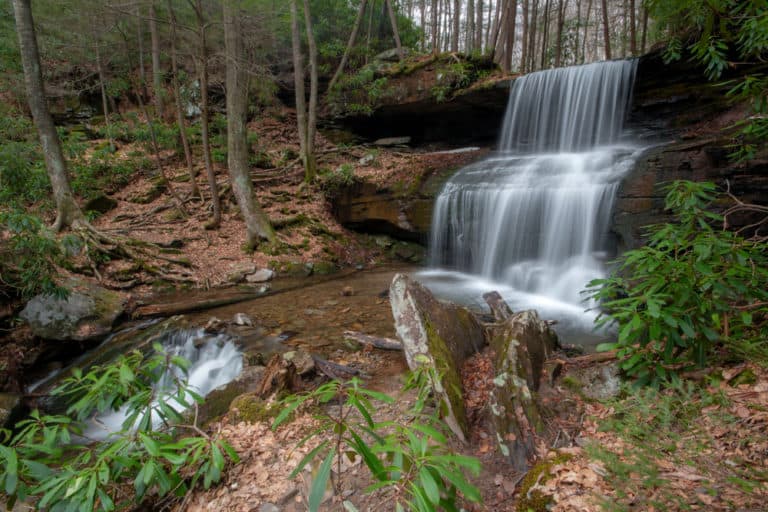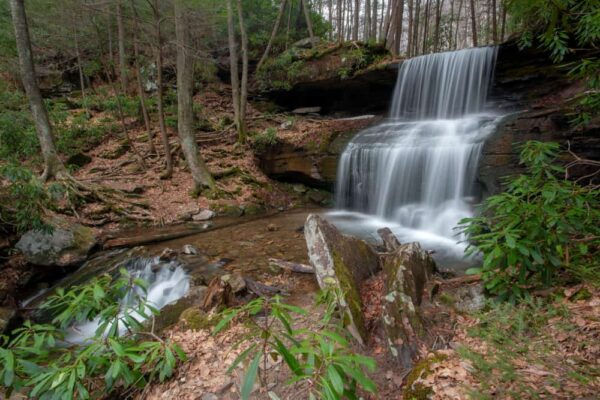 From the parking area under the power lines, head to the west (to the left if facing away from the direction you came in). Walk on the right side of the power lines, past a yellow gate, and follow an obvious ATV trail along the edge of the woods.
The trail crosses a small stream and goes up and back down a small hill. This portion of the trail can get quite soggy, so be prepared to possibly get your feet wet.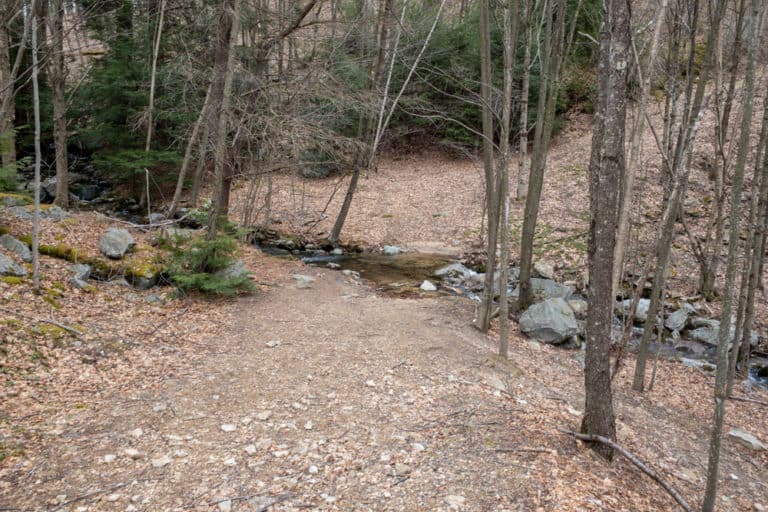 In 0.4 miles, you'll reach the top of a steep, rocky hill. At the bottom of this hill, you'll find Round Island Run. At the stream, take the obvious trail to the right and head downstream along the waterway. Follow this trail for half a mile as it passes through an incredibly beautiful forest and along this scenic waterway.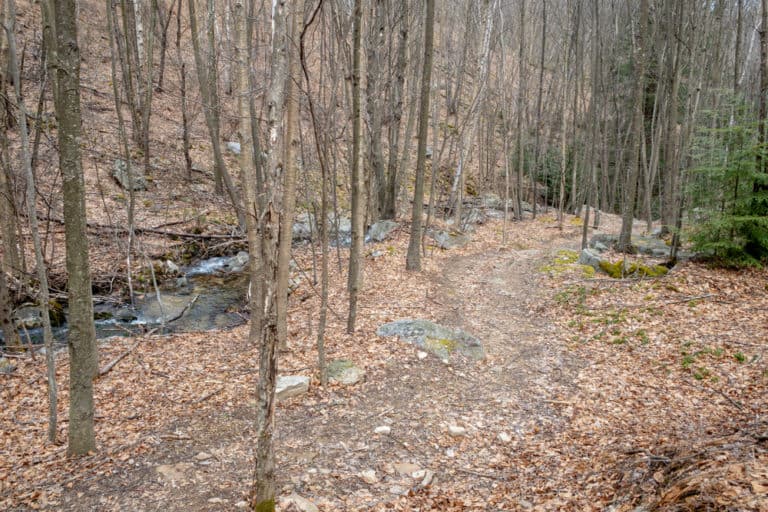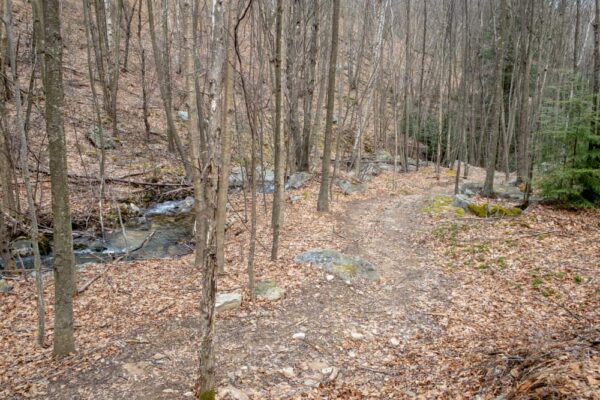 After 0.5 miles, you should be able to hear Round Island Run Falls off to your left. Look for the narrow trail with a rope strung up to a tree on the left side of the trail you are following. Carefully make your way down to the base of the hillside where you'll find Round Island Run Falls.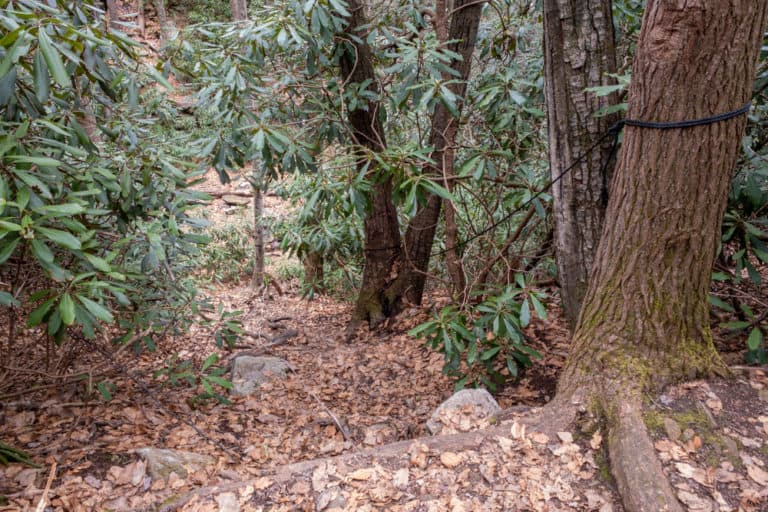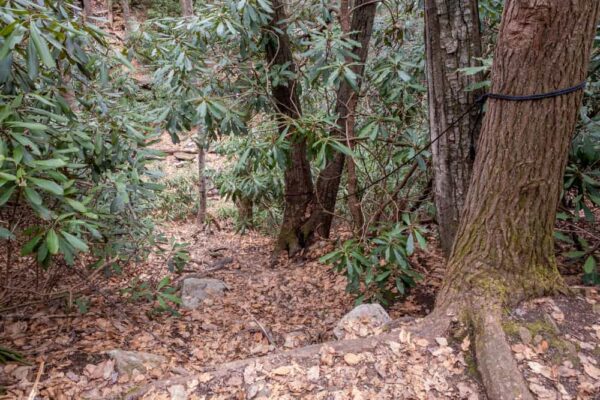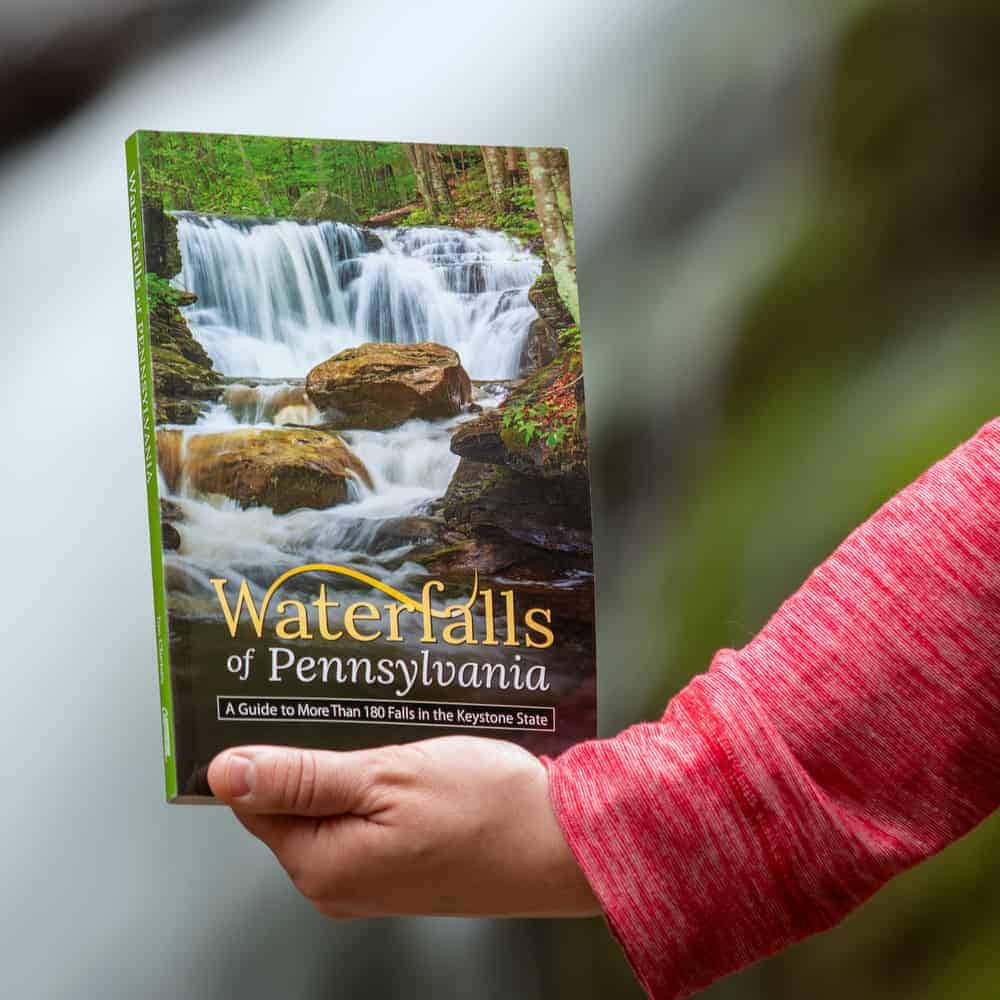 "Waterfalls of Pennsylvania" by Jim Cheney
If you love PA waterfalls, you won't want to miss this waterfall book from Jim Cheney, author of Uncovering PA, featuring more than 180 great waterfalls. Order it now on Bookshop.org or Amazon.
Round Island Run Falls features three beautiful drops. Two are part of the main falls and the third is just a few feet downstream. All told, the waterfall is about 20-25 feet tall.
There are ample places from which to photograph or simply enjoy this beautiful waterfall. There are even a few user-created places to sit scattered around the open area near the falls.
When at the waterfall, it is possible to get behind the uppermost tier of the falls for an interesting look behind the veil of the Round Island Run Falls. If you opt to do this, use extreme caution as the rocks can be slippery and a fall would send you over the second tier of the falls and 10 feet into the water below.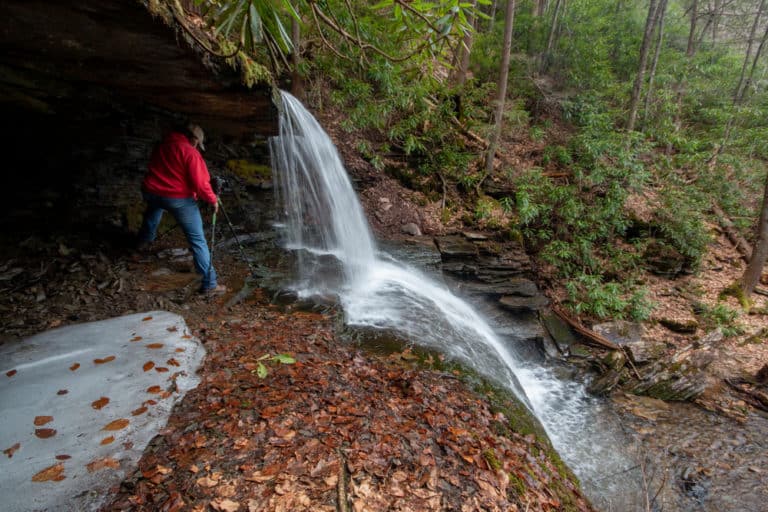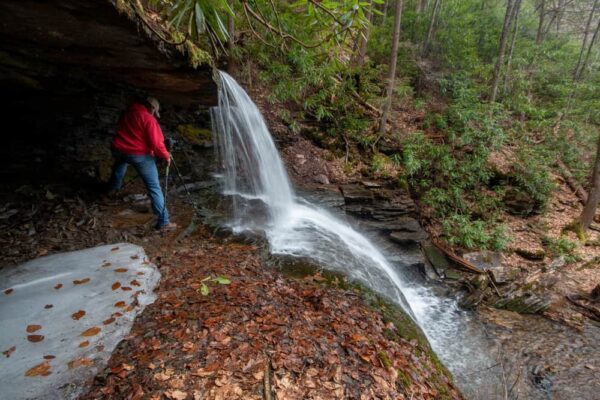 This area is approximately 6-feet tall, so most people can get underneath without issue. But again, if you do, use extreme caution and stay away from wet rocks.
Once you've had a chance to fully enjoy this beautiful spot, simply return the way you came to reach your car.
Without a doubt, Round Island Run Falls is one of the most isolated waterfalls in PA and one that requires some planning to reach. However, those that take the time to explore this beautiful portion of the state are sure to enjoy their visit.
Driving to Round Island Run Falls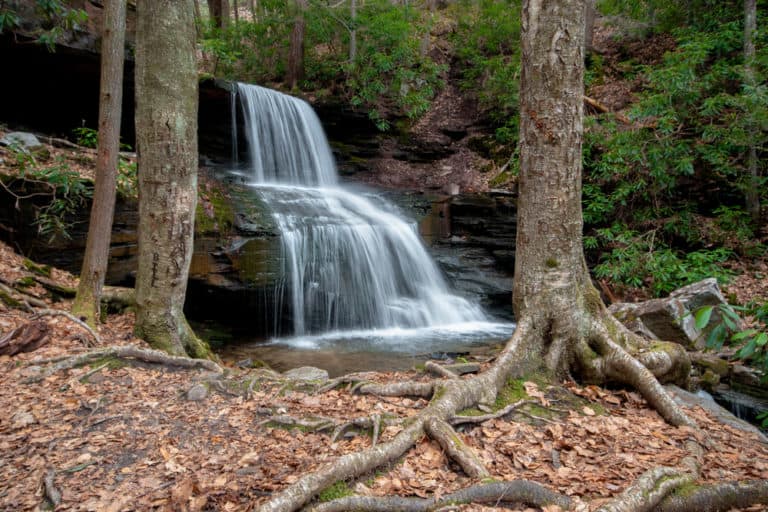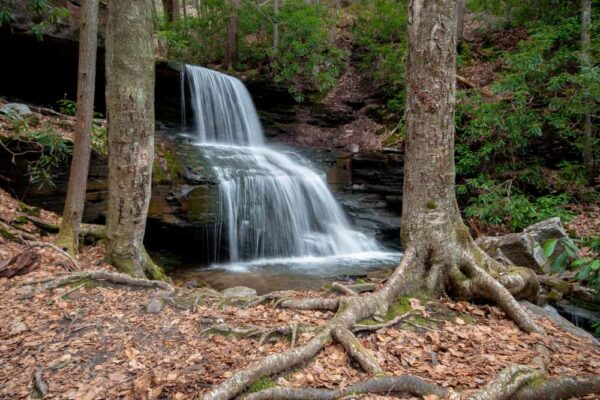 Round Island Run Falls is located in Clinton County's Sproul State Forest and reached via the Quehanna Highway.
When driving to the waterfall, DO NOT take 3 Runs Road unless you are in a high-clearance, 4WD vehicle and feel comfortable with some sketchy conditions. While the bad portion of the road is only about a mile long, it's easily the worst section of roadway I've encountered in Pennsylvania and completely impassable in a standard car.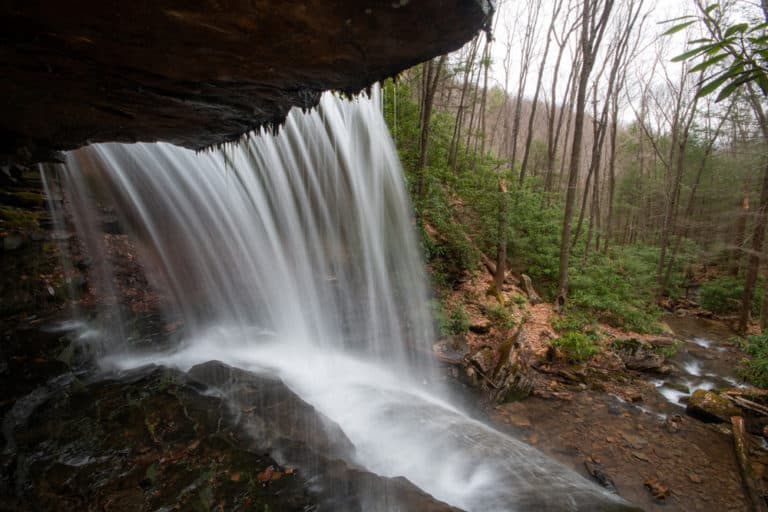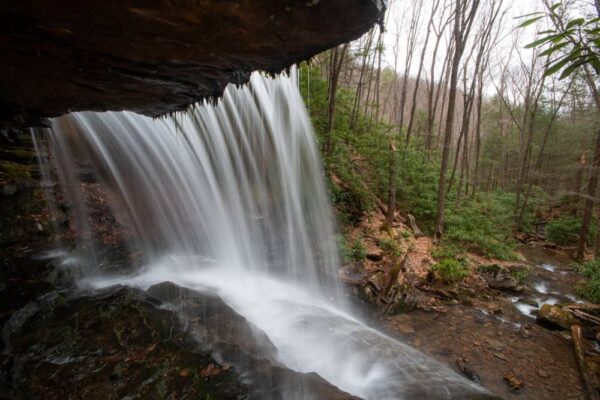 Instead, access the waterfall from Pottersdale Road (regardless of what your GPS may tell you).
From Karthaus, head north on Quehanna Highway for 2.7 miles. Turn night onto Pottersdale Road. Travel for 5.5 miles and turn left on Keating Mountain Road. Travel for 2.25 miles and turn left onto Dutchman Road.
After 1.7 miles, turn right onto Round Island Ridge Road. In 2.2 miles, park in the large power line clearing on your left.
The parking area can be found at the following coordinates: 41.268438, -77.998122.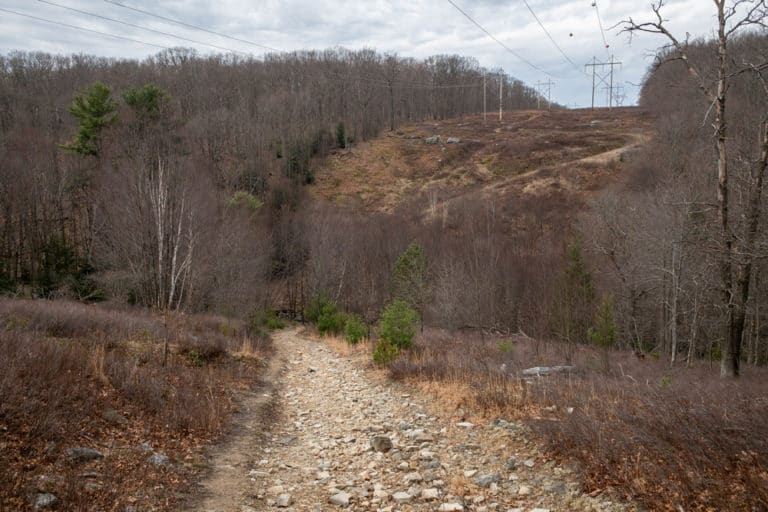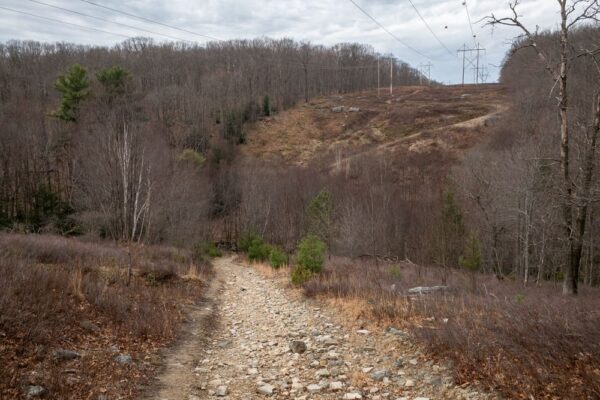 From here, hike using the directions above for 1.2 miles to reach Round Island Run Falls. The waterfall can be found at the following coordinates: 41.271806, -78.005944.
Keep in mind that the roads used in the driving directions above were passable and in good condition in the spring of 2019. It is not maintained in the winter, and there are no guarantees as far as future road conditions, so use your best judgment. This isn't somewhere you'd want to get stuck.
While in the Quehanna Wild Area, you can also check out Table Falls, the abandoned nuclear jet bunkers, the Marion Brooks Natural Area, and Kunes Camp.
[Click here for information on how to use coordinates to find your destination.]