Disclosure: This article may contain affiliate links. We will make a small commission from these links if you order something at no additional cost to you.
There are hundreds of incredible waterfalls in Pennsylvania, but there are only a select few that you can walk behind. So, if you've always wanted to go behind the veil of a waterfall, these spots are for you.
Even better, these also represent some of the most beautiful waterfalls in PA, so not only can you go behind them, but you can also enjoy the incredible natural beauty of the state at the same time.
Here are my picks for the best waterfalls to stand behind in Pennsylvania.
Note: All of the PA waterfalls listed here are accessible to walk behind without swimming. However, that doesn't mean that it's always safe to do so. Please take current conditions into account, and be very careful as wet rocks can be very slippery. Go behind these waterfalls at your own risk.
Buttermilk Falls in Indiana County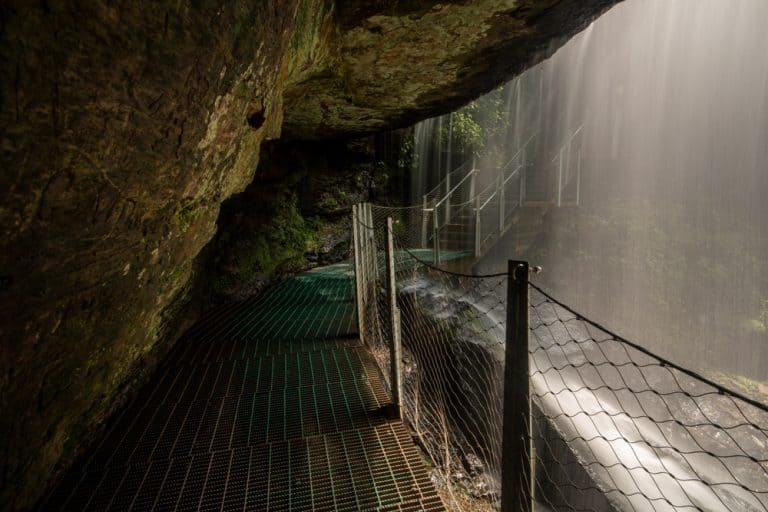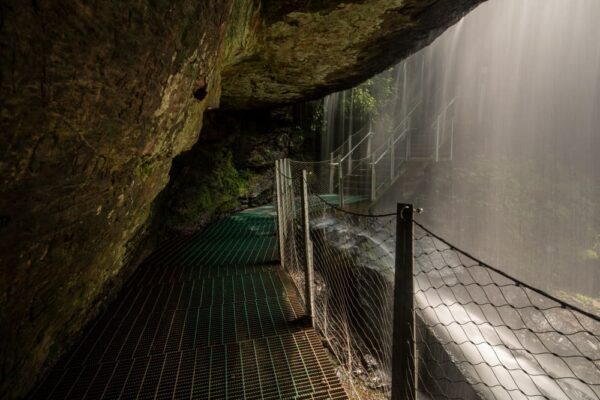 Without a doubt, Buttermilk Falls in Indiana County, PA is the easiest and safest waterfall in PA to walk behind. That's because in 2017 a bridge over the creek and a walkway that leads behind the falls were built.
This path leads under the veil and directly behind the falls, offering a great view of both the waterfall and the rock behind it. While this path undoubtedly takes away a bit from the natural beauty of this spot, it adds a ton of accessibility for those wanting to go behind a waterfall in Pennsylvania.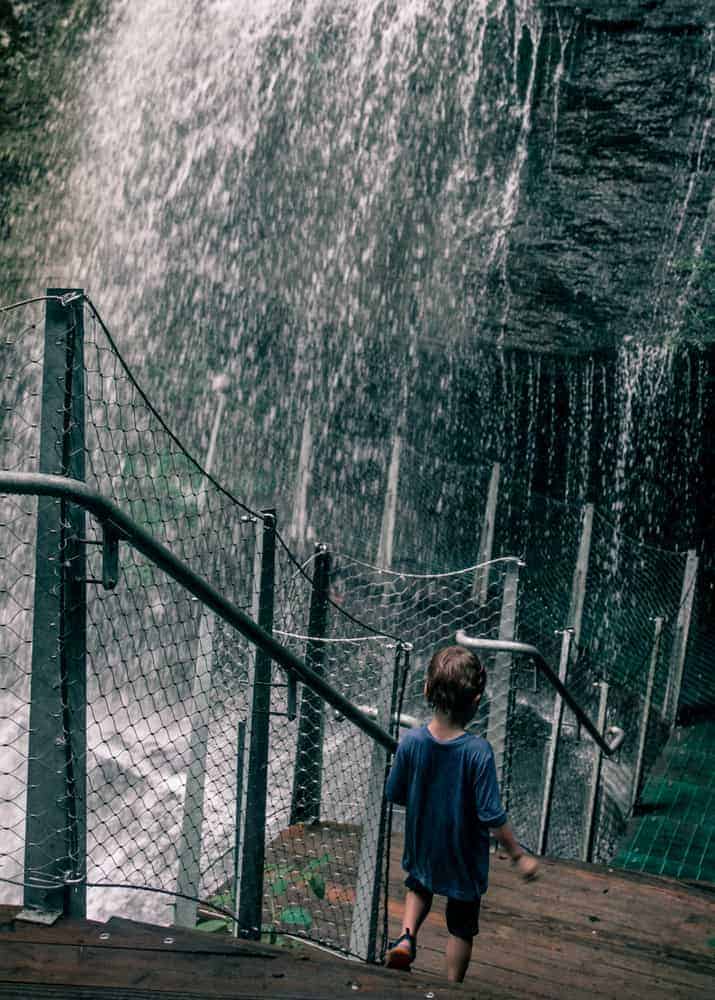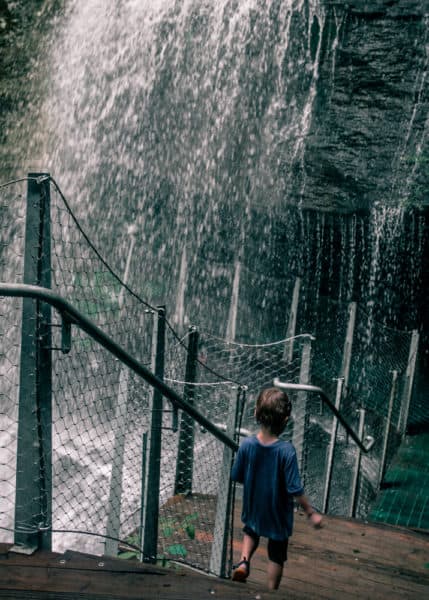 Even cooler, the land where Buttermilk Falls is located was once owned by the grandfather of TV's Mister Rogers. A young Fred would often come to this property and enjoy this beautiful spot. Ruins of the cabins can be seen on the property.
Cucumber Falls in Ohiopyle State Park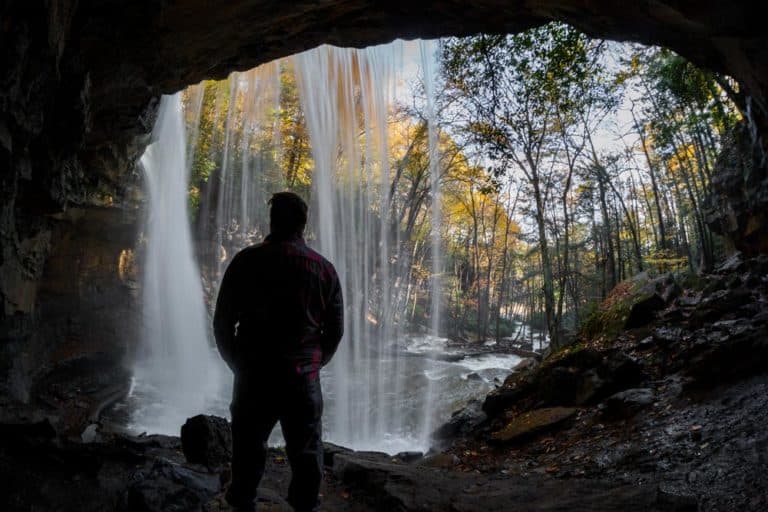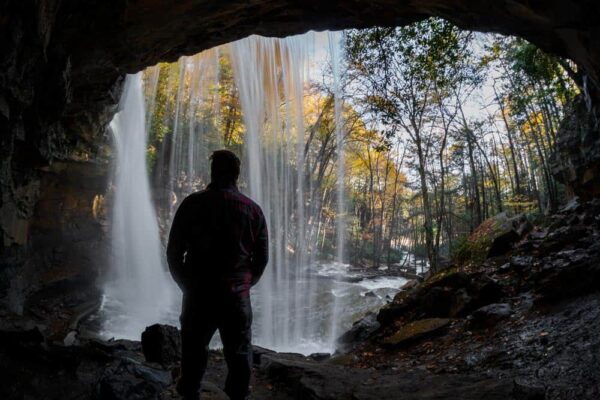 Cucumber Falls is one of my favorite spots in western Pennsylvania and is a highlight of Ohiopyle State Park.
There are many great spots to explore around the base of Cucumber Falls ranging from spots for those that can't walk very far to places for the adventurous. One such spot is the well-worn path that leads directly behind the waterfall.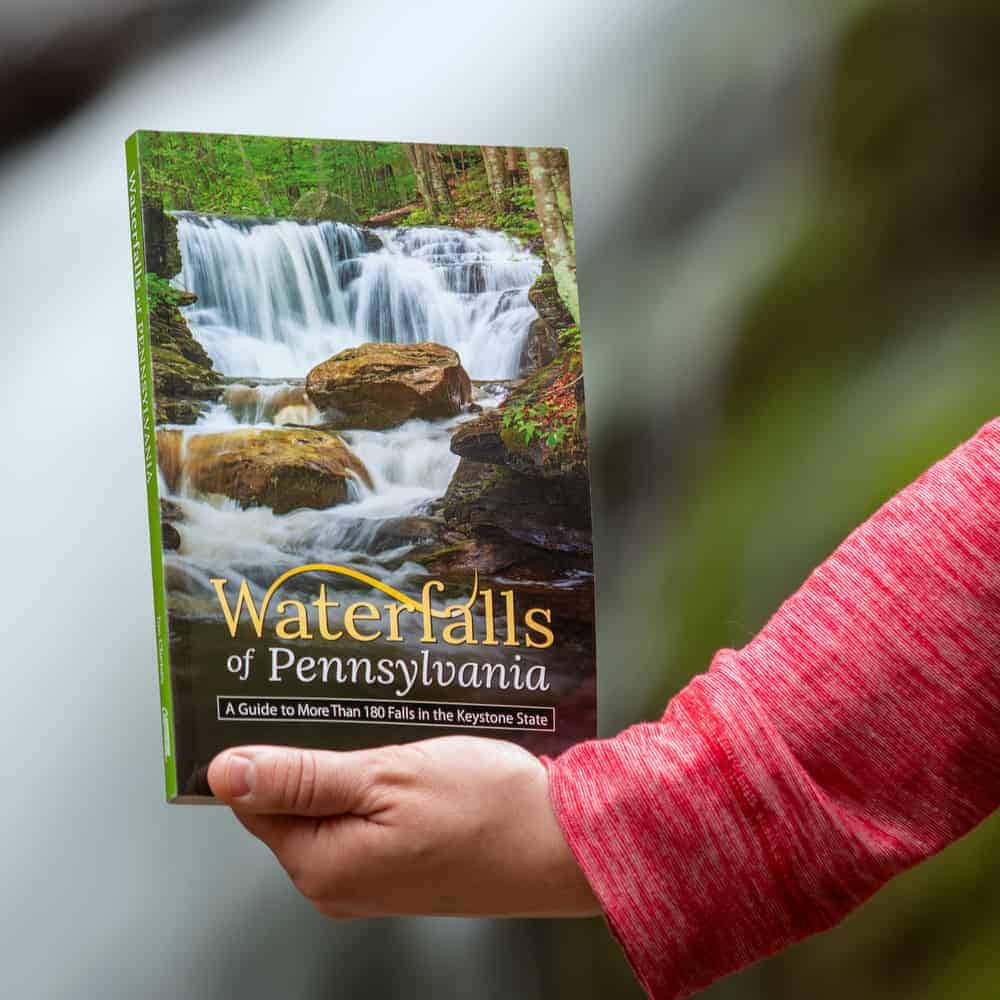 "Waterfalls of Pennsylvania" by Jim Cheney
If you love PA waterfalls, you won't want to miss this waterfall book from Jim Cheney, author of Uncovering PA, featuring more than 180 great waterfalls. Order it now on Bookshop.org or Amazon.
Since Cucumber Falls is a plunge waterfall, the rock overhang that this 30-foot waterfall plunges from offers a great spot to head behind the veil.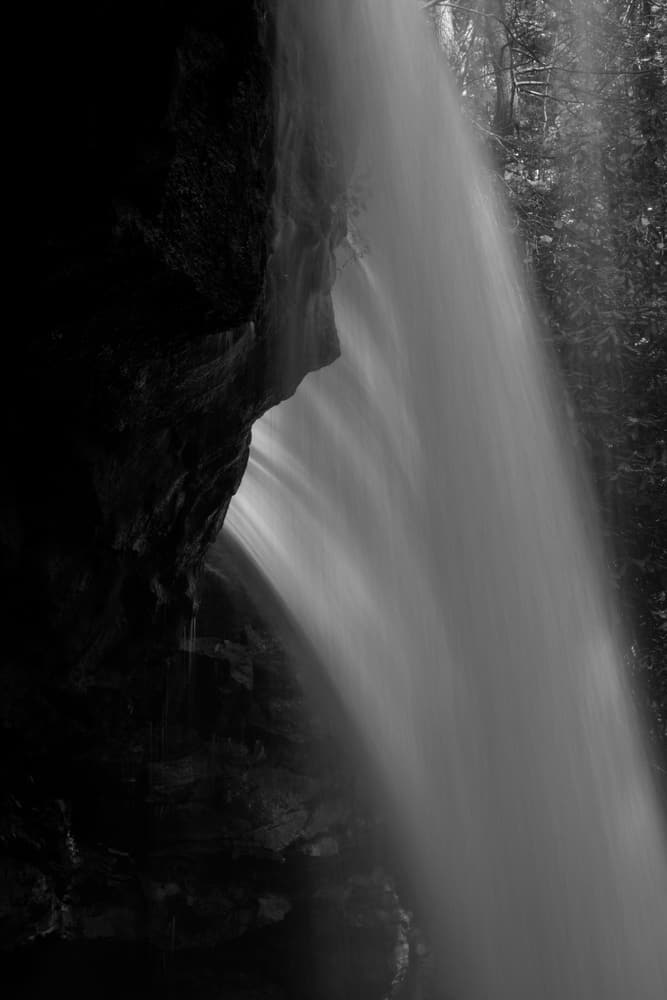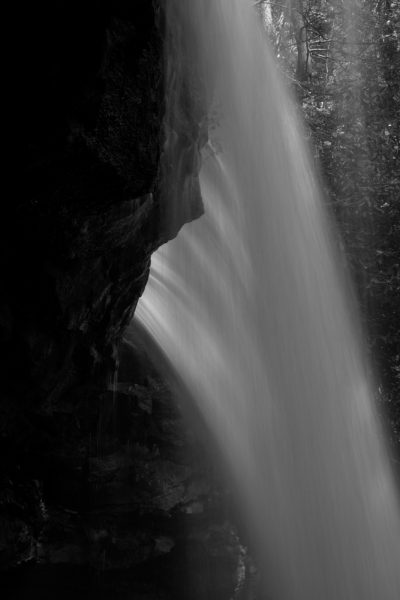 The path behind the waterfall follows the cliff line along the edge of the hollow surrounding the falls and is quite large and is big enough for a lot of people to enjoy this area.
However, it's worth noting that just because a well-worn trail leads back there, it is unofficial and a bit of scrambling is necessary to get behind the falls.
Round Island Run Falls in Sproul State Forest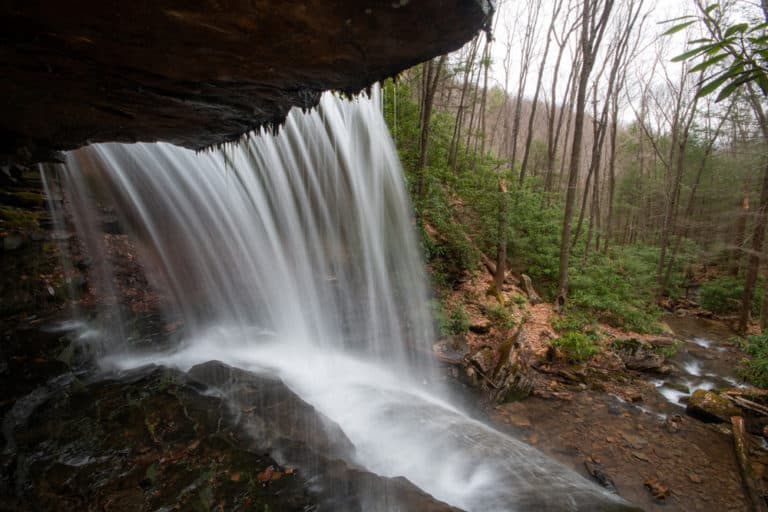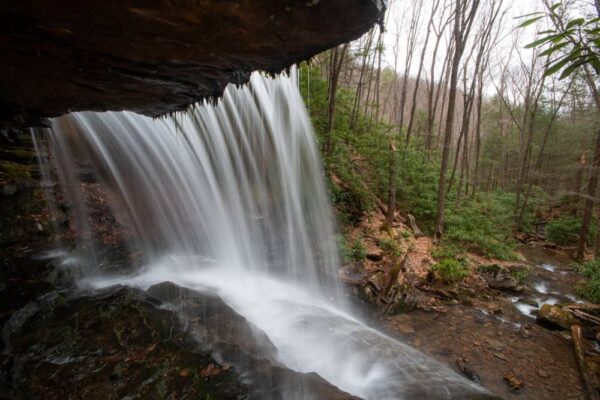 Round Island Run is located in Sproul State Forest in Clinton County, PA, and is one of the most isolated and most beautiful waterfalls in PA. However, those that make the adventurous trip to get there are rewarded with an incredibly beautiful waterfall that you can go behind.
Round Island Run Falls is also known as Three Falls because of the three drops that the waterfall makes. One of these drops, the uppermost one, flows over an overhang that you can go behind.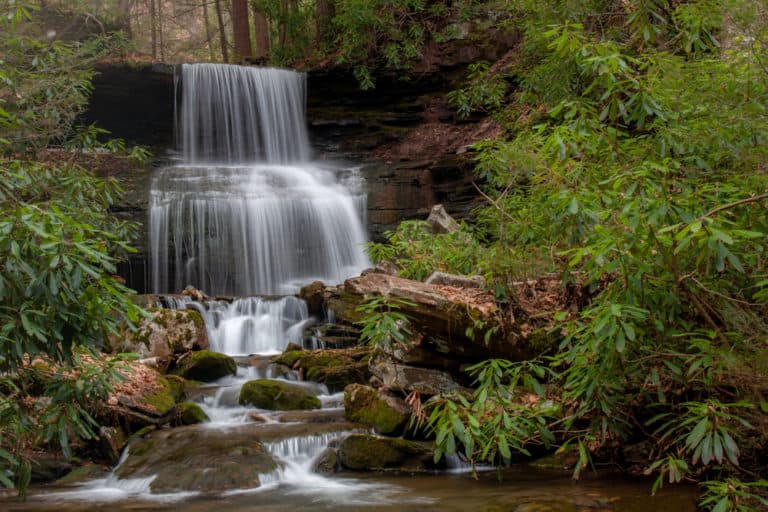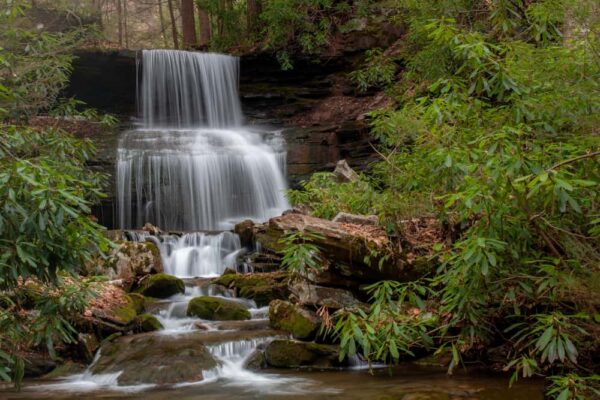 At roughly 6-feet in height, this overhang is tall enough for most people to stand underneath and enjoy the incredible view looking out over the stream and the beautiful forest that surrounds the waterfall.
Note that of the waterfalls listed in this article, this is probably the most treacherous to go behind, so it's best to just hang out on the edge of the overhang should you opt to visit the area.
Buttermilk Falls in Beaver County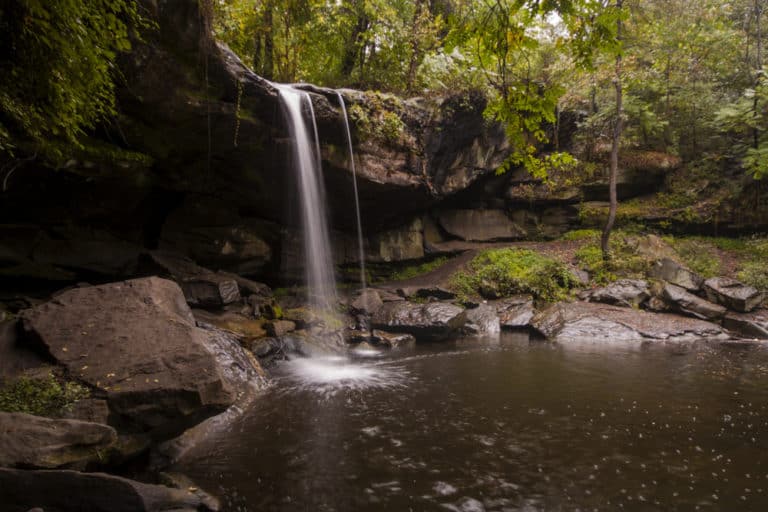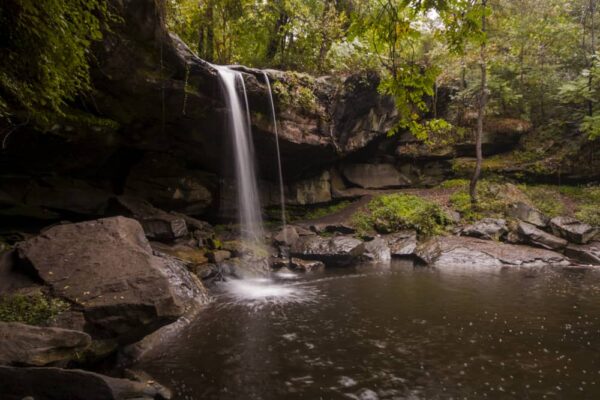 Located in Beaver County, Buttermilk Falls, also known as Homewood Falls, is a beautiful and easily accessible waterfall for those that want to stand behind a waterfall in PA.
A five-minute hike through an abandoned quarry will bring you to the base of this beautiful waterfall. It plunges approximately 20 feet over a large overhang, and there is a fairly large area behind the falls that you can walk under.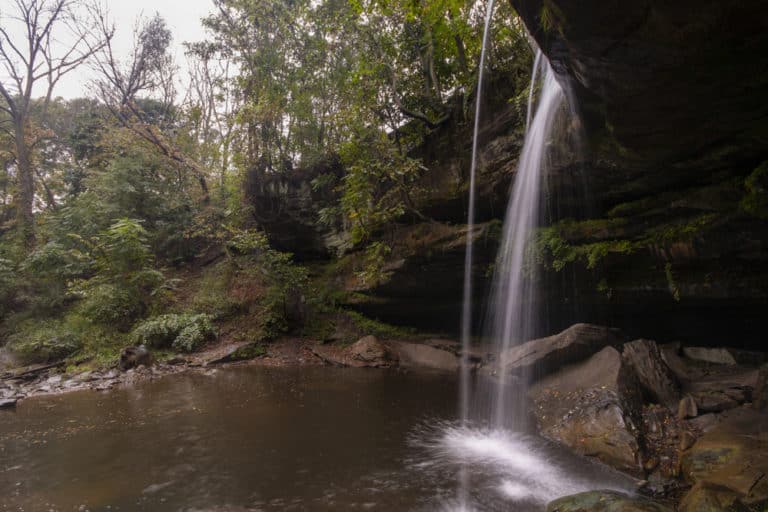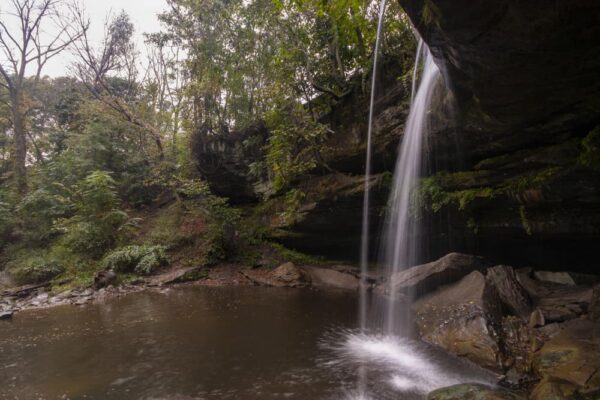 If you want and easy-to-walk-behind a waterfall, but want it to look more natural than the other Buttermilk Falls mentioned above, this is probably your best bet as the land around the hollow is relatively flat.
Of course, as stated before, use extreme caution as wet rocks can be very slippery.
B Reynolds Falls in Ricketts Glen State Park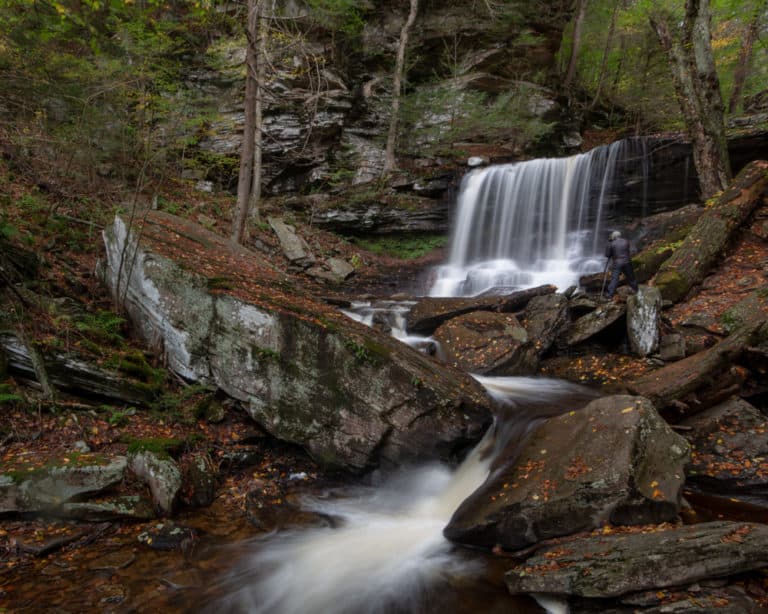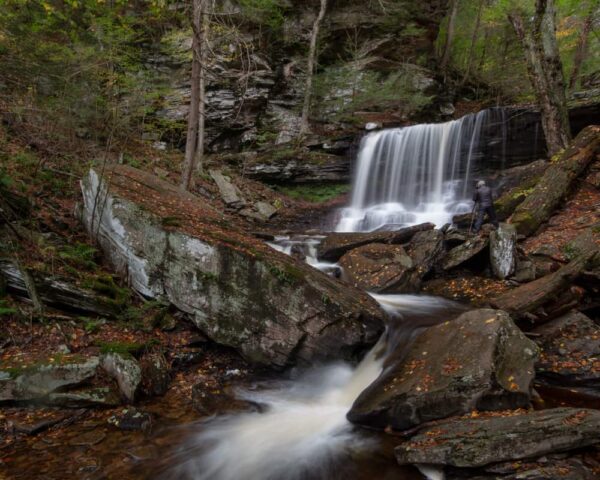 Ricketts Glen State Park is one of the most popular destinations for waterfall lovers and his home to more than two dozen great waterfalls.
One of the waterfalls in the Glen Leigh section of the park is B Reynolds Falls. While this is not one of the largest or most impressive waterfalls in the park, it's the only one you can easily go behind.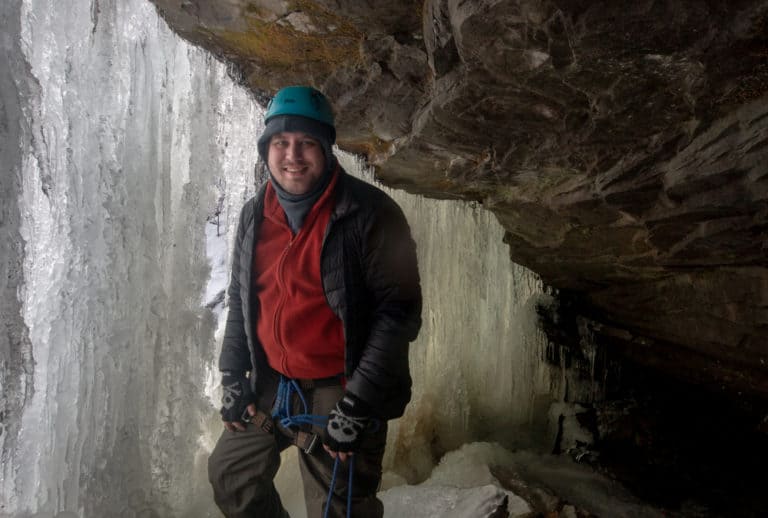 The Falls Trail leads directly to the side of the waterfall, and within a few steps, you can be under an overhang behind the veil of the falls.
This spot is even cooler in the winter when the waterfall is completely frozen, creating an incredible ice cave behind the falls.
Frankfort Mineral Springs Falls in Raccoon Creek State Park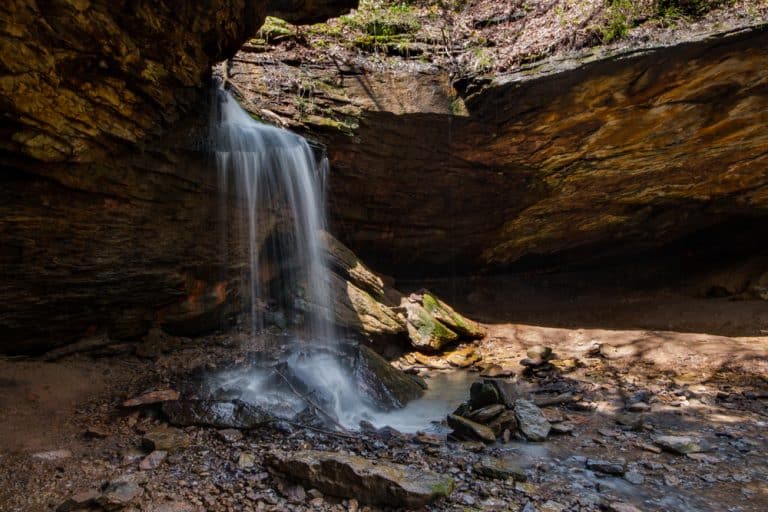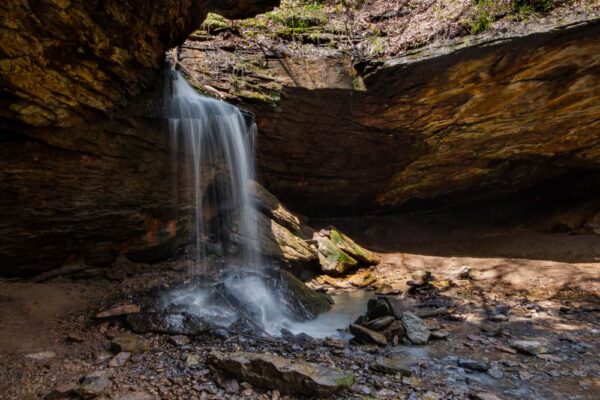 Frankfort Mineral Spring Falls might be the smallest waterfall on this list, but that doesn't make this spot in western PA's Raccoon Creek State Park any less fantastic to visit.
This waterfall is at the end of a short trail and is located next to a spring that was once the focal point of a health resort in the mid-19th century.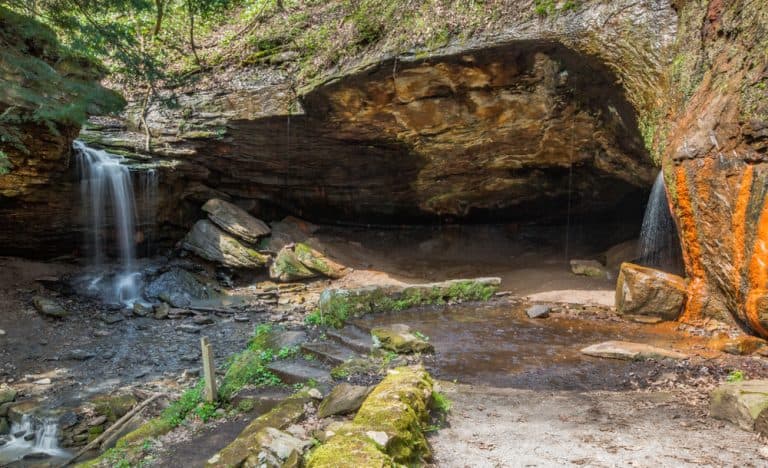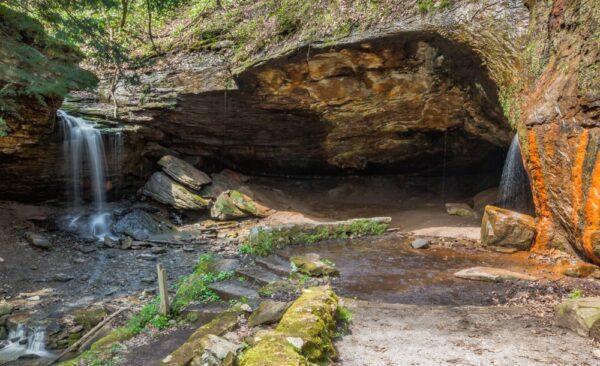 Today, visitors check out this spot for its great natural beauty and the chance to go behind the veil of this 8-10 foot waterfall, which is relatively easy to do.
While there, make sure to take note of the spring coming out of the rocks to the right of the waterfall and the ruins of the abandoned resort.
Adams Falls in Linn Fun State Park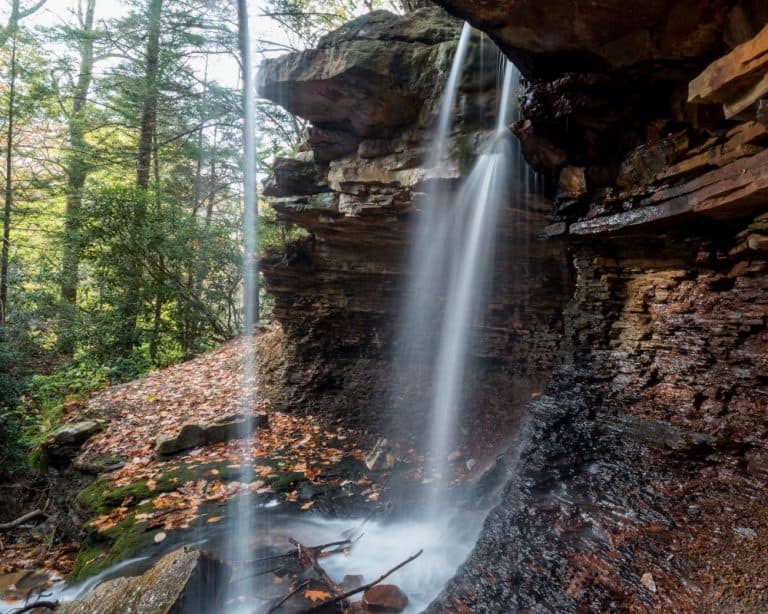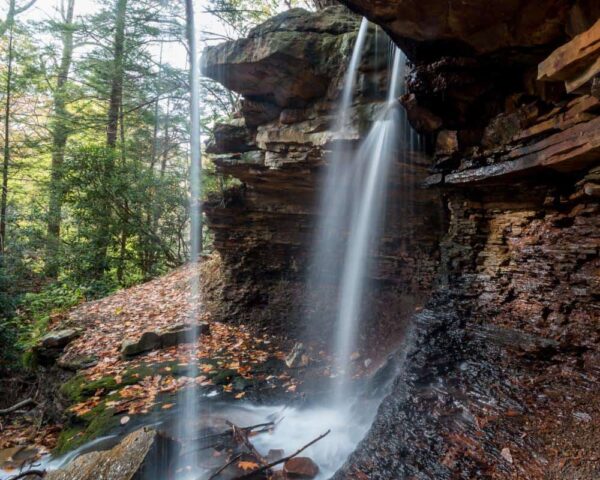 Adams Falls is located within Linn State State Park in the Laurel Highlands.
Of all the waterfalls on this list, this one is the most seasonal, so if you want to see if flowing well, you'll definitely want to head here in the springtime or after a lot of rain.
This 15-foot waterfall plunges off of a ledge a short distance upstream of Raccoon Creek. There is a small cave behind the waterfall where you can get a peek behind the veil of this beautiful waterfall.
Cave Falls in Jim Thorpe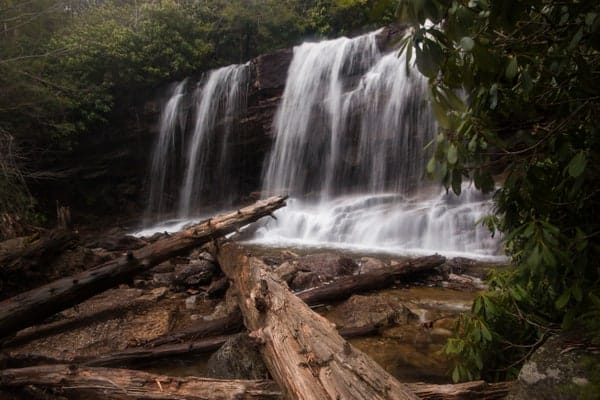 While the main trail up Glen Onoko near Jim Thorpe is sadly closed for now, there are still trails that you can legally use to access the third waterfall at the top of the glen.
Known as Cave Falls, this is the smallest of the three waterfalls in the glen but does feature an impressive overhang that creates a small cave behind the waterfall.
This cave isn't overly deep, but is rather wide, as is the waterfall that flows over it. It might be a bit challenging to get in here without getting wet during times of higher water, but it's a nice spot to check out if you want to go behind a waterfall in eastern PA.
Kildoo Falls in McConnells Mill State Park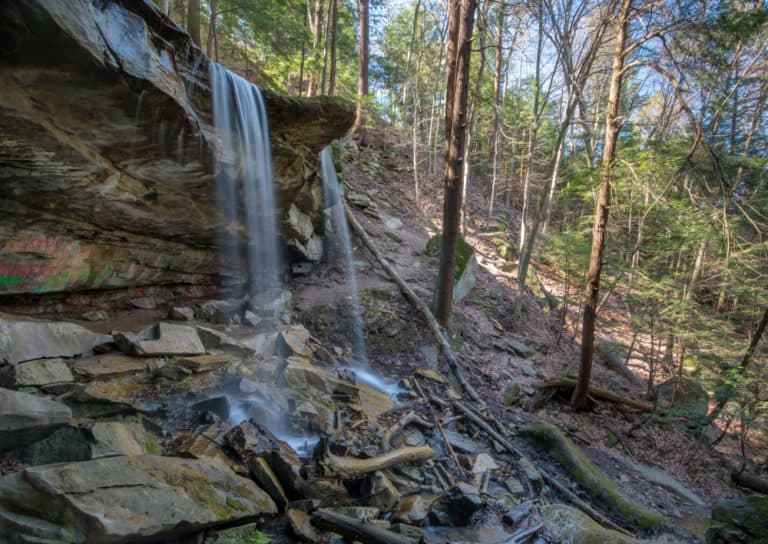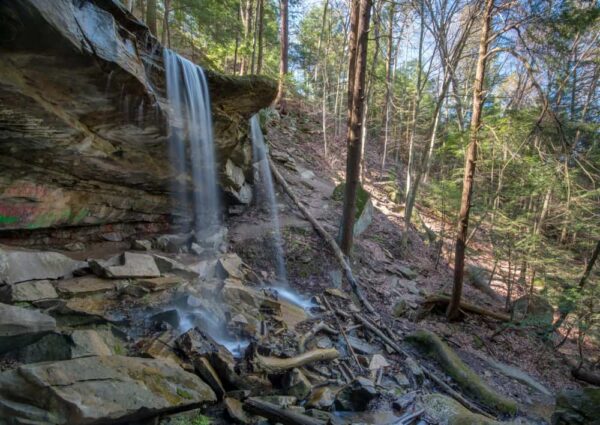 McConnells Mill State Park is one of western PA's most beautiful parks and is home to several waterfalls. However, of these waterfalls, there is only one you can go behind: Kildoo Falls.
Kildoo Falls is located just below Kildoo Bridge near McConnell's Mill Covered Bridge. While it's only about 12 feet tall and only flows well after a lot of rain, this is still a great spot to check out if you are exploring the park and want to go behind a waterfall.
It's also a rather unique waterfall since there are typically two distinct streams of water flowing over its crest.
The area behind Kildoo Falls isn't overly large but is definitely big enough for a person or two to check out. Just make sure to stay away from the top of the falls as its very slippery and a few people have fallen off over the years.
Great Passage Falls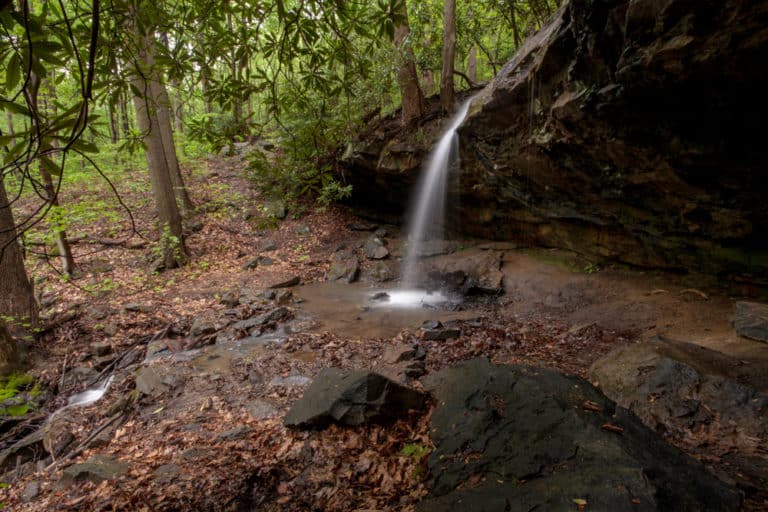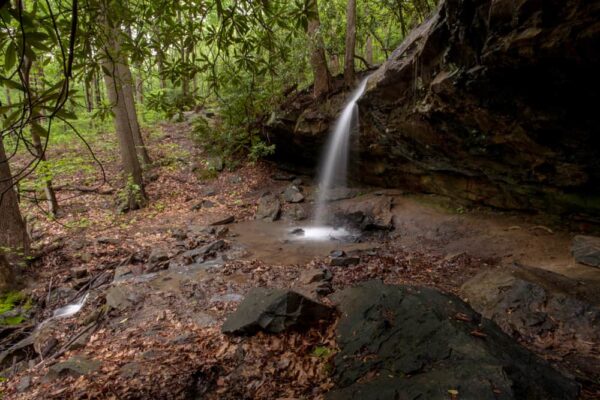 Great Passage Falls is located along the popular Great Allegheny Passage trail near Connellsville, PA. Of all the waterfalls on this list, this is probably the least known, even if there are many that bike this trail throughout the year.
Great Passage Falls is 12-15 feet tall and plunges off a rockface about 100 feet from the rail trail. While I've only visited in the spring, I'd guess that this waterfall is fairly seasonal since the stream doesn't have a name and doesn't appear on Google Maps.
From the rail trail, a short trail heads to the base of the waterfall and to the area behind it for those that want to go behind this Pennsylvania waterfall.
Do you know of other waterfalls you can go behind in PA? Let us know in the comments below.
Looking for more great things to do in Pennsylvania? Check out our favorite PA state parks for waterfall lovers, our Pennsylvania Bucket List, and the best waterfalls to visit near Philly.