Disclosure: This article may contain affiliate links. We will make a small commission from these links if you order something at no additional cost to you.
When I'm traveling to the different corners of Pennsylvania, I always enjoy searching out the many covered bridges found throughout the state.
These beautiful artifacts are almost always stunning and provide an excellent opportunity for photography or simply a good excuse to see a more rural area of the state. While hundreds of covered bridges have disappeared from Pennsylvania over the years, nearly 200 hundred still remain in the state.
There are many counties that have more covered bridges than Schuylkill County, but what makes the county unique is how easy it is to visit their two bridges. In fact, the bridges are both located in the small village of Rock only two miles from each other, and only a 10-minute drive off Interstate 81.
Both bridges were built in the 1870s, and, like so many others in Pennsylvania, were designed in the Burr Truss style patented by Theodore Burr.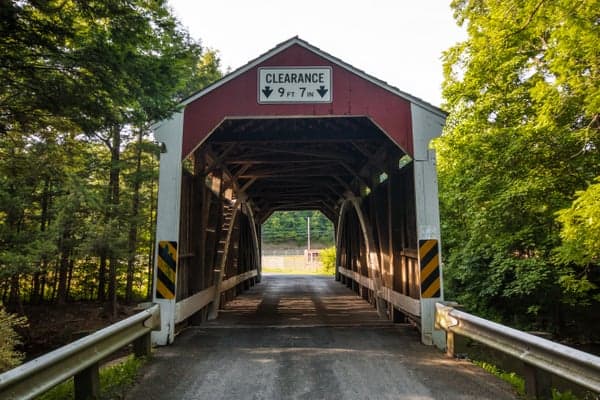 When driving from 81, the first bridge you'll come to is Zimmerman Covered Bridge. Located just off Rock Road (State Route 895) and behind a dirt bike track, this bridge spans Little Swatara Creek.
The bridge was built in 1875 and restored in the late 1990s. The red-barn color of the bridge is typical of others in the area, but it's still quite striking. At only 50-feet long, Zimmerman Covered Bridge isn't as big as some around the state. However, what it lacks in length, it makes up for in accessibility and setting.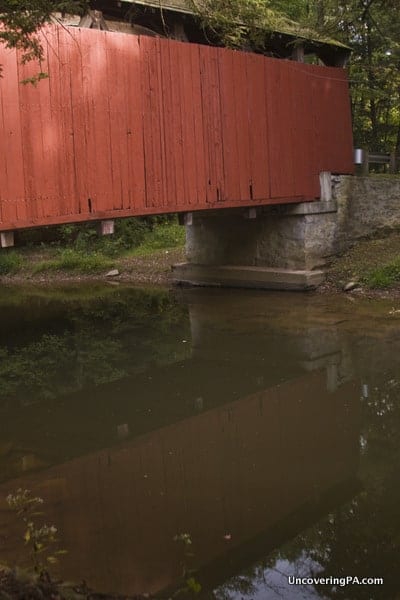 True, the roar of the dirt bikes just a few hundred yards away might detract from the scene while you are there, but the beautiful wooded photos you can get make the bridge seem like it's in the middle of a secluded forest. After all, you can't tell from my photos that a dirt bike race was happening just next door.
Zimmerman Covered Bridge is accessible to traffic, and there is a small pull off on the side of the bridge opposite the dirt bike track. The bridge can be found at the following coordinates: 40.544174, -76.325551.
The dense foliage can make it hard to see anything but the front face of the bridge as you approach it. However, getting a better angle for photographs and viewing isn't that difficult.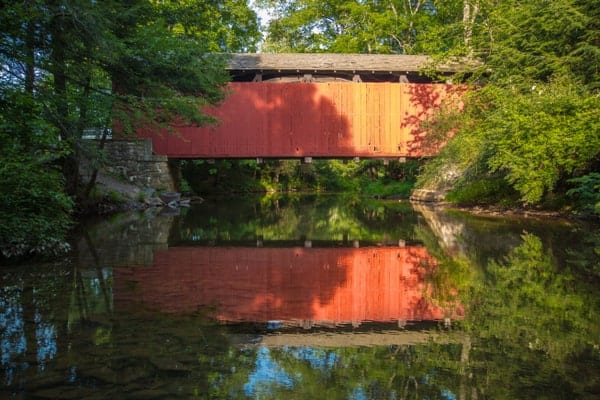 As you face the bridge, with the dirt bike track over your left shoulder, you'll notice a small trail that goes into the brush just to the right of the bridge. This trail is somewhat marked by a small sign denoting this as a stocked fishing stream. Follow this trail for about 50 yards and you'll come to a small clearing that will offer a nice vantage point back towards the bridge.
From this point, the water is often shallow enough if you want to wade in the water for your photograph, or you can get a nice shot from the bank.
Once you've had your fill of Zimmerman Covered Bridge, head the short distance over to Rock Covered Bridge.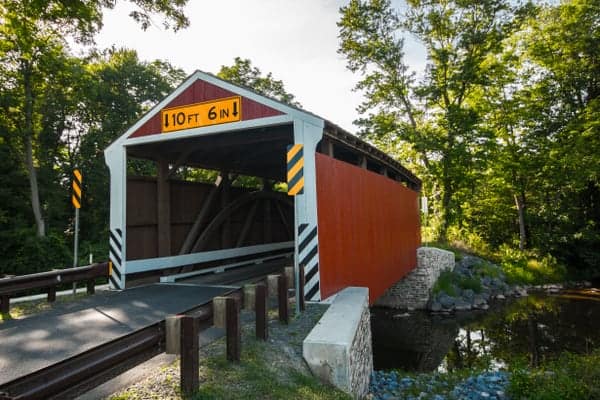 Located less than five minutes away, Rock Covered Bridge crosses Lower Little Swatara Creek just a few miles upstream from Zimmerman Covered Bridge. Built in 1870, this 35-foot long bridge looks very similar to its neighbor.
Rock Covered Bridge was completely restored in 2014-2015 and is in very good condition. The bridge even has some small lights that I'm told come on at night. It is located next to a small parking area and a handicap-accessible fishing platform. The coordinates for Rock Covered Bridge are: 40.544732, -76.295052.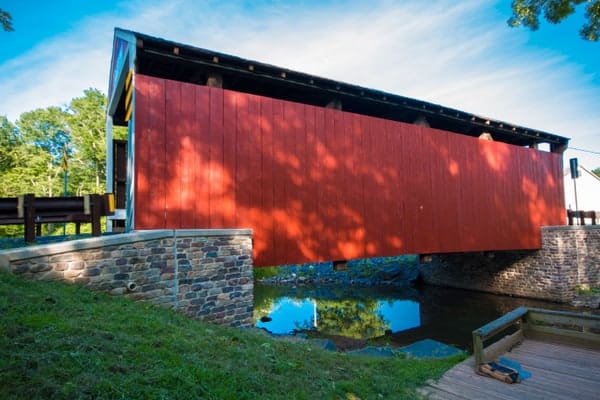 These two covered bridges are located very near to each other just a short distance off of Interstate 81. If you are traveling the highway and want to see two of Pennsylvania's best covered bridges, this makes a great little detour.
Looking for other attractions in the area? Check out Jerry's Classic Cars and Collectables Museum, Muhammad Ali's Fighter's Heaven, Sweet Arrow Lake Park, and the Yuengling Brewery Tour.
[Click here for information on how to use the coordinates in this article to find your destination.]
See map below for other area attractions.