Disclosure: This article may contain affiliate links. We will make a small commission from these links if you order something at no additional cost to you.
There are many great places to go hiking near State College, PA, but few offer as many unique amenities as Shaver's Creek Environmental Center.
Shaver's Creek Environmental Center is located in northern Huntingdon County and is run by Penn State University. This 7,000-acre property is part of the Penn State Experimental Forest, which includes a 72-acre lake, and is open to the public for most of the year.
It offers some really interesting free amenities for the public including hiking trails, a raptor center, a visitor center, and more.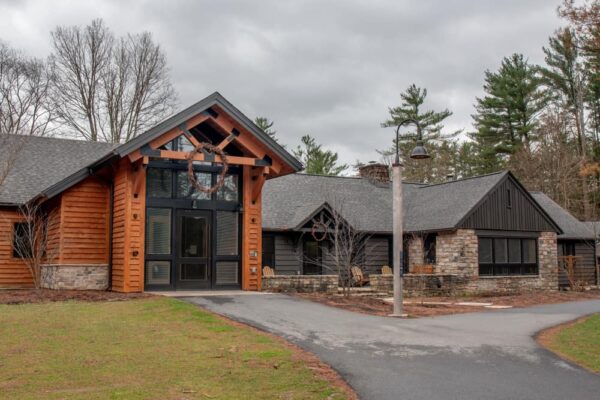 Start your visit to Shaver's Creek, as I did, with a stop at the visitor center. This building is not only a great place to get information on the trails and activities that can be found here, but also features some great displays.
Most of the displays are located within a large room known as the Lizinger Discovery Room. In this space, you'll find tanks filled with a wide variety of local animals including native snakes, turtles, and frogs. There is even a tank featuring the official amphibian of Pennsylvania, the hellbender.
Around the tanks, there is information about each animal, as well as other information about the local area that is good for both kids and adults.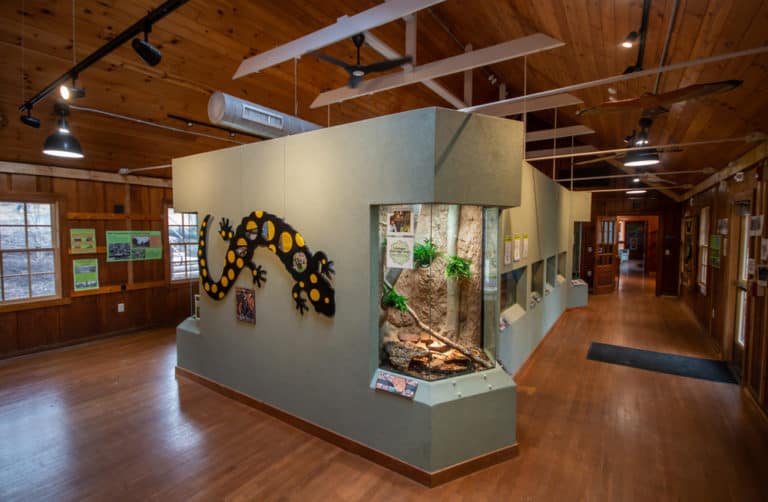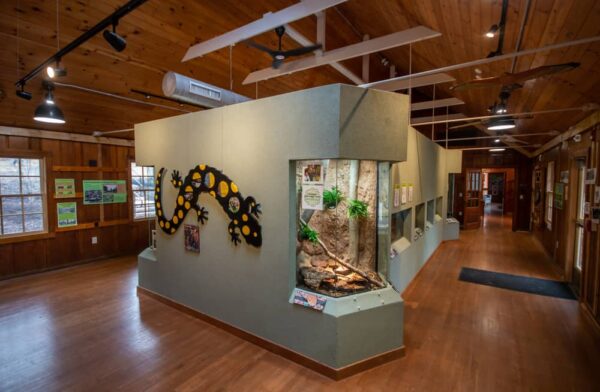 The center also features rotating displays, books, and more that are mostly designed to teach children about the environment, but still offer some interesting information for adults as well.
Just up the hill from the visitor center is the Raptor Aviary. In total, there are approximately two dozen native raptors and owls on display here. These birds are all permanently disabled and unable to be released into the wild, so its great they can have a home at Shaver's Creek.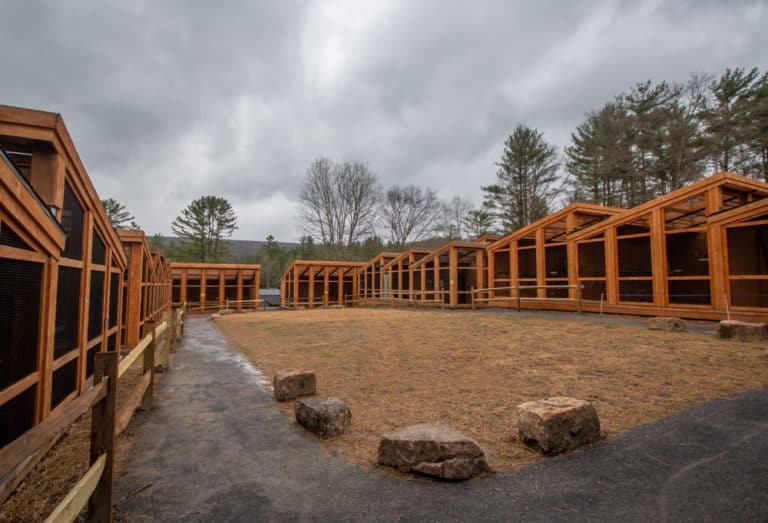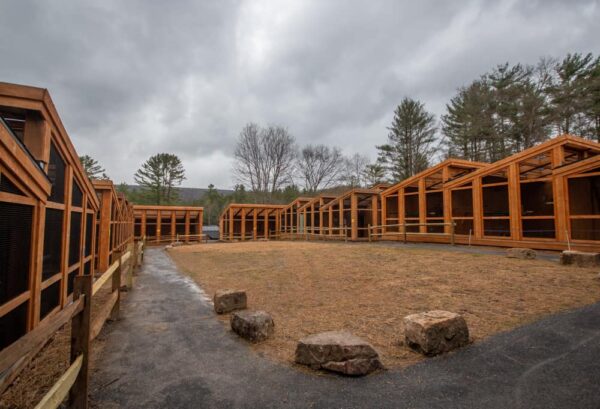 The cages here are very nicely done and seem quite large. They also feature a bit of information about each animal, which really adds to the experience of visiting.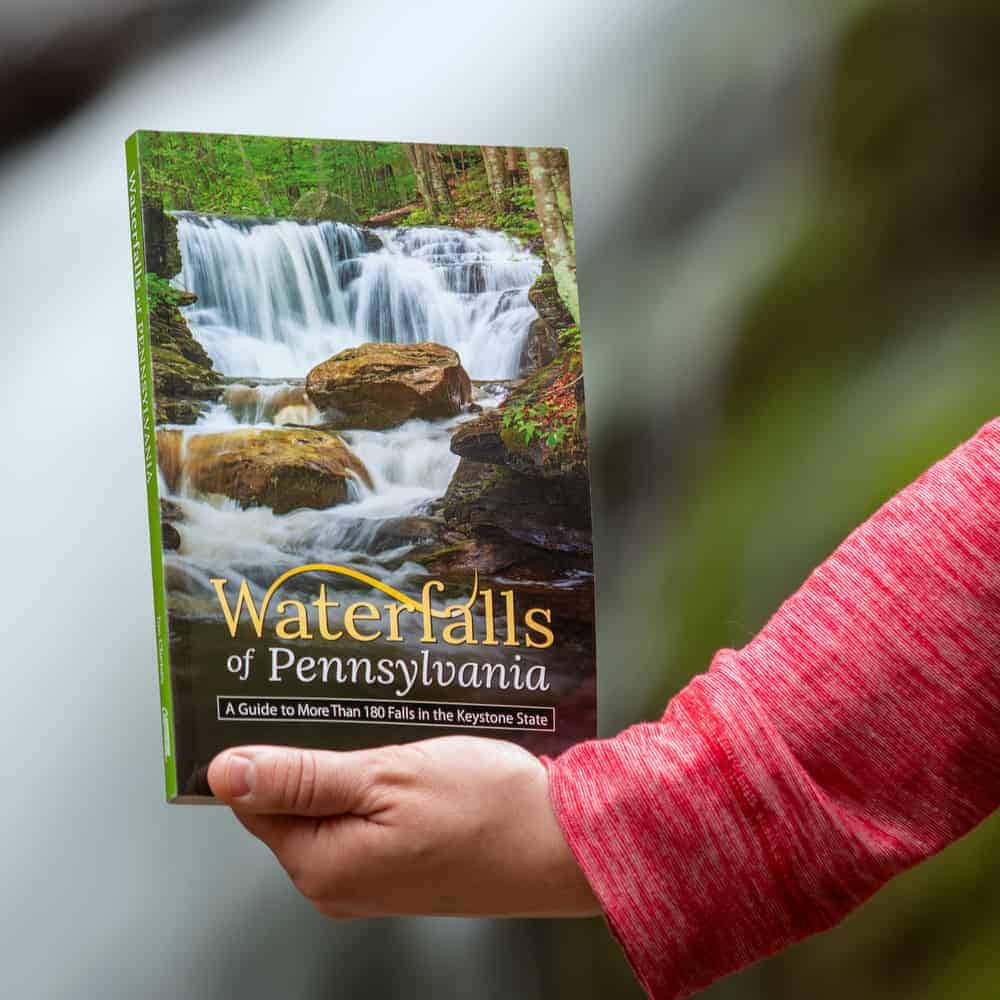 "Waterfalls of Pennsylvania" by Jim Cheney
If you love PA waterfalls, you won't want to miss this waterfall book from Jim Cheney, author of Uncovering PA, featuring more than 180 great waterfalls. Order it now on Bookshop.org or Amazon.
If you are visiting Shaver's Creek, you definitely don't want to miss this unique aspect for the center.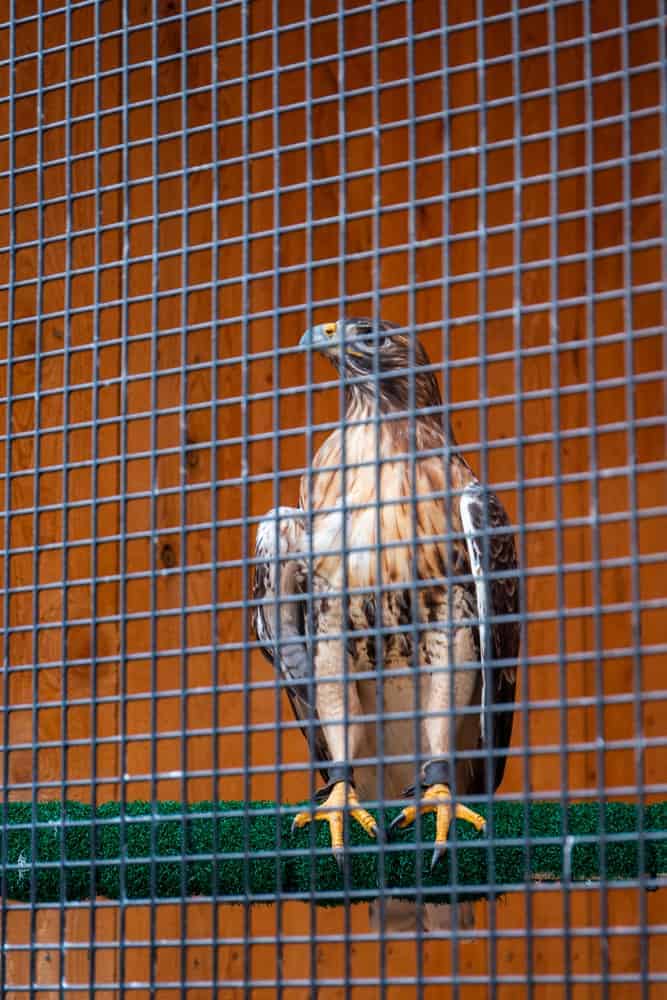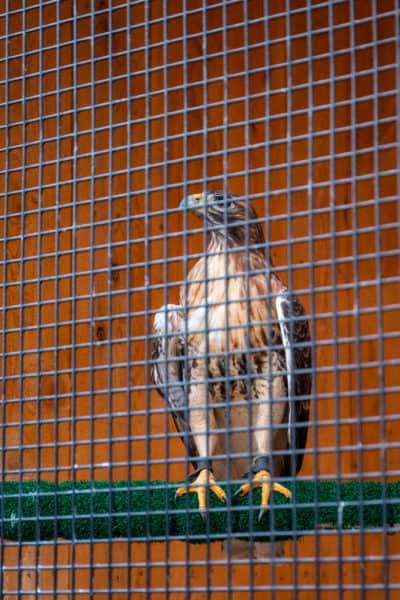 Shaver's Creek Environmental Center is also home to approximately six miles of interconnecting trails that lead through a small portion of its 7,000 acres.
For the most part, these trails are relatively easy and offer great opportunities to get out into nature. Each is well marked with a colored, wooden marker that is placed on trees along the trail.
Depending on which trails you follow, you can explore the shores of Lake Perez, several smaller streams that pass through the area, and this beautiful woodland.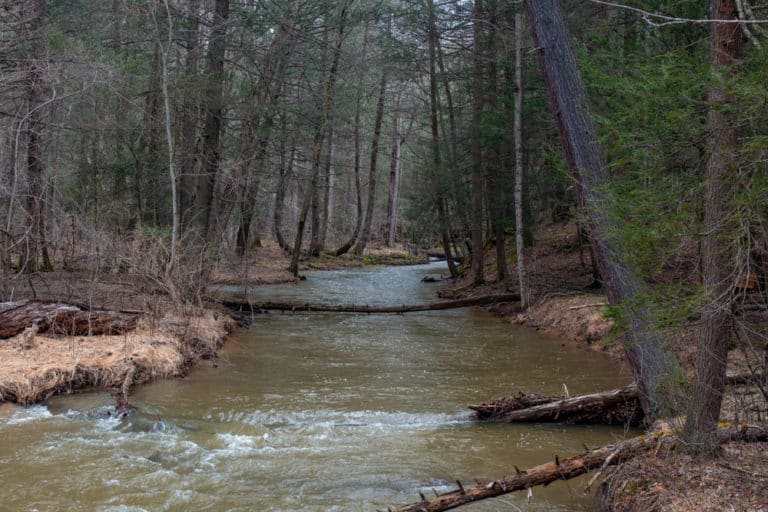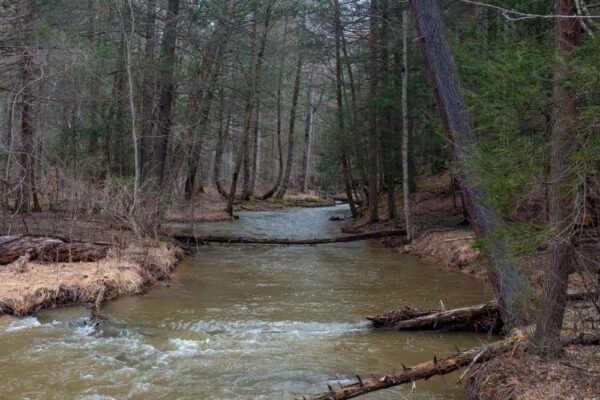 During my visit, I opted to hike a roughly half-mile loop that comprised the Boardwalk Trail and a small portion of the Lake Trail. Part of this trail down to the lake is listed as being both wheelchair and stroller accessible, so it offers a great option for those looking for an accessible trail or simply an easy, but beautiful hike.
This loop takes you down from the visitor center to the lake, across several bridges and a nice boardwalk to a pier overlooking Lake Perez.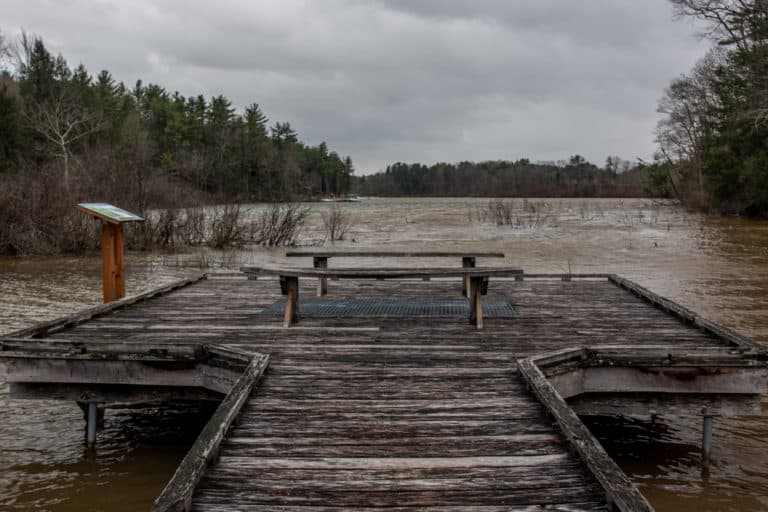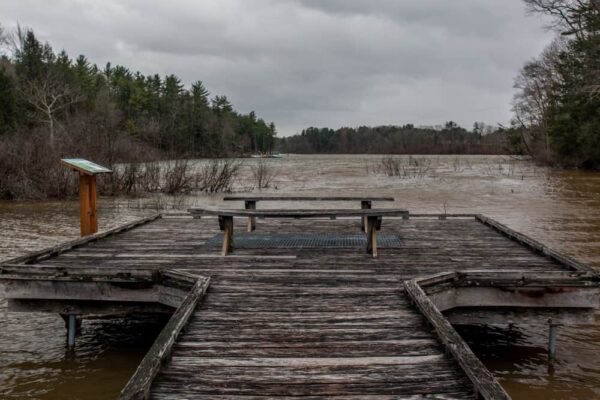 When I hiked the trail, I opted to loop back via the Lake Trail, which is not handicapped or stroller accessible but is a relatively easy hike. If you can do so, I'd recommend doing the loop as I did as it takes you through even more great scenery.
I also did a second hike along the Point Trail. This third of a mile trail is a bit steeper than the other hike I did, but still should be fairly easy for most visitors.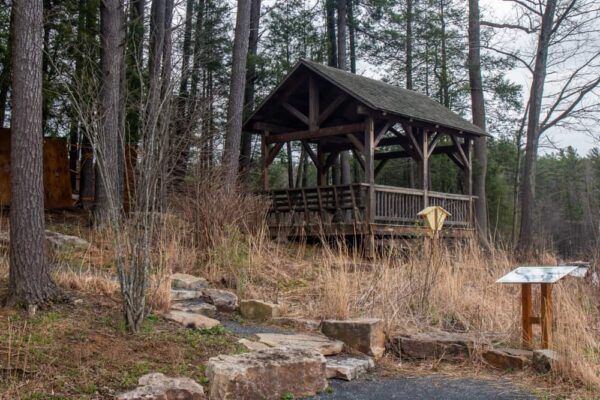 The Point Trail heads downhill toward a small pavilion that overlooks Lake Perez and offers great views of the area. There is also a beautiful bridge, known as the Troll Bridge, that the trail passes.
A short diversion off of this trail takes you to the Sugar Shack, where Shaver's Creek has maple syrup demonstrations in the spring.
In the end, I did less than a mile of Shaver's Creek six miles of hiking trails, so there's a lot more to explore and discover here. I know I can't wait to visit again and see even more.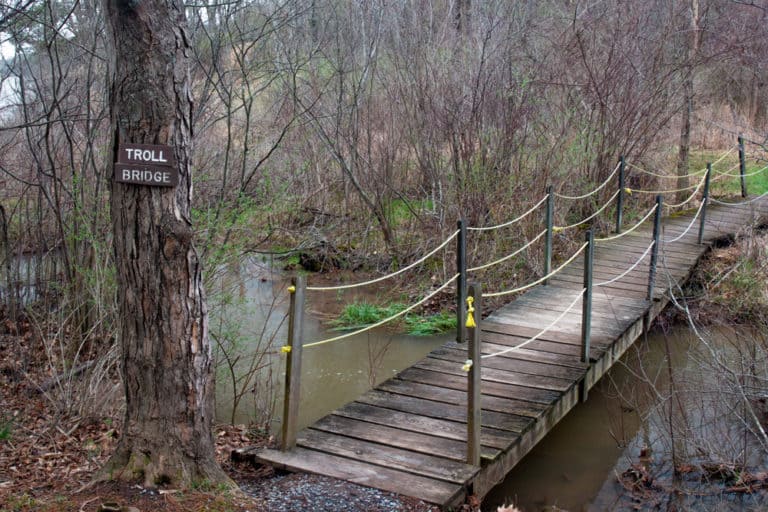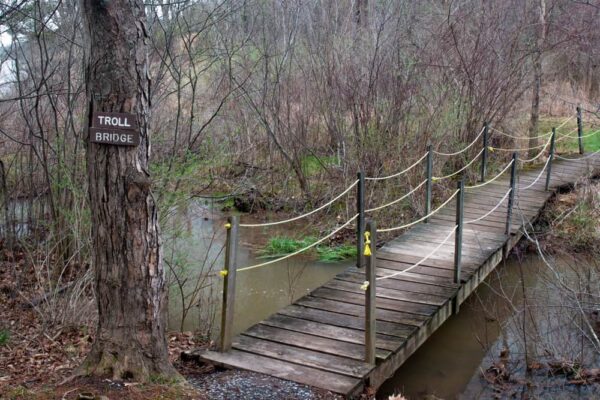 Ultimately, Shaver's Creek Education Center is an excellent destination for families or anyone that loves the outdoors. While the trails here aren't overly difficult, it's still a beautiful area to explore, and the benefits of the free Discovery Room and Raptor Aviary set this apart from the hiking opportunities available at nearby public lands.
If you are looking for a great place to explore in the Alleghenies, you won't want to miss the fantastic Shaver's Creek Environmental Center.
Looking for more great places to visit nearby? Check out the ruins of Scotia, Discovery Space, the overlooks in Rothrock State Forest, the Alan Seeger Trail, and Greenwood Furnace State Park.
---
Shaver's Creek Environmental Center
Hours: Daily: 10am-5pm
Closed mid-December to mid-January

Cost: Free

Website: ShaversCreek.org

Address: 3400 Discovery Rd
Petersburg, PA 16669
See map below for other area attractions.
---