Disclosure: This article may contain affiliate links. We will make a small commission from these links if you order something at no additional cost to you.
During my travels in PA, I've had a chance to do many incredible hikes in State College and Centre County, and I'm excited to share a few of my favorites with you.
Located in the center of Pennsylvania (hence the name "Centre County"), this area is incredibly varied with several great state parks, two huge state forests, and land owned by Penn State University, all of which are waiting to be explored.
So, the next time you are looking for great hiking near State College, here are the spots you'll definitely want to check out.
Mount Nittany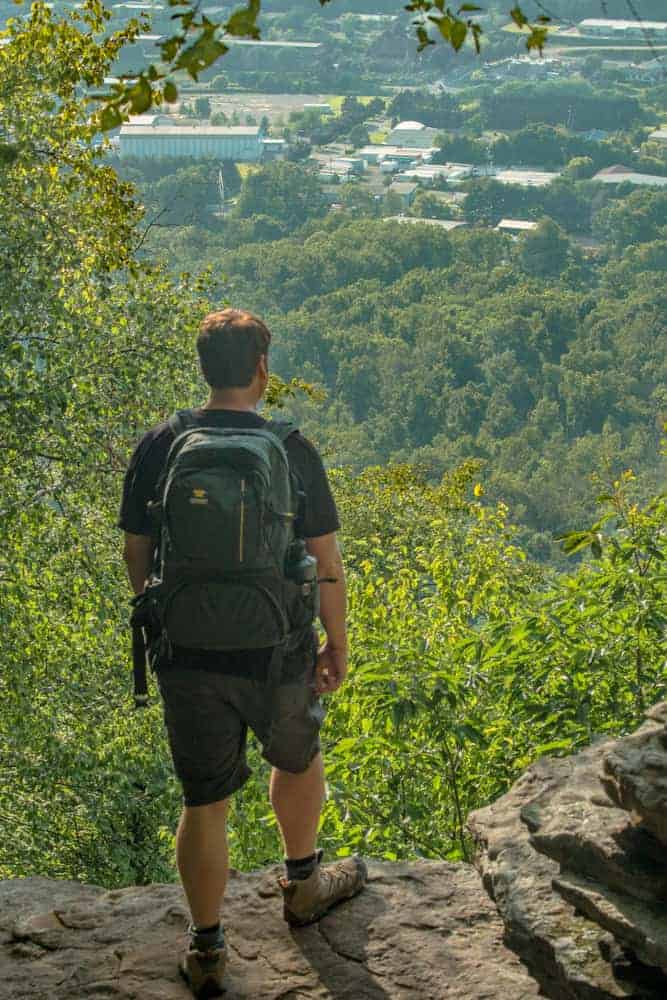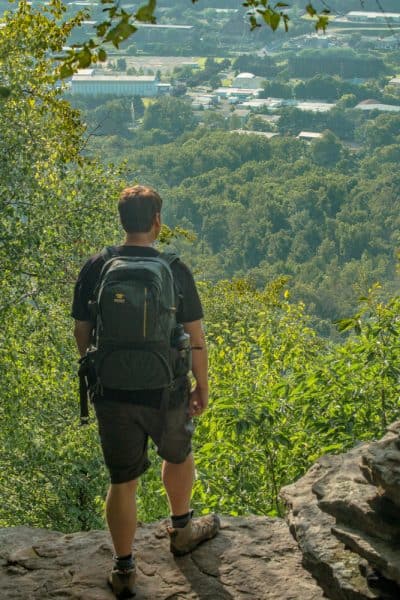 If you have time to do only one State College hiking trail, make it Mount Nittany.
Mount Nittany is a revered spot in this part of Pennsylvania, both for its prominence in the landscape and for giving its name to the Penn State sports teams. A trail starts from near its base and heads up to the top of the mountain before doing a loop of the peak.
The trail is moderately difficult to the top but easy once it flattens out. Along the way, you'll find great vistas offering views of the area around State College, including a fantastic view of Beaver Stadium.
Allegheny Front Trail to Ralph's Vistas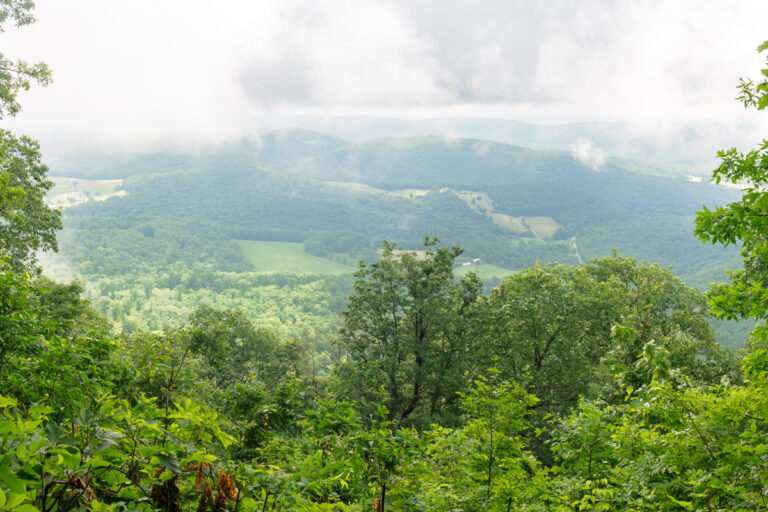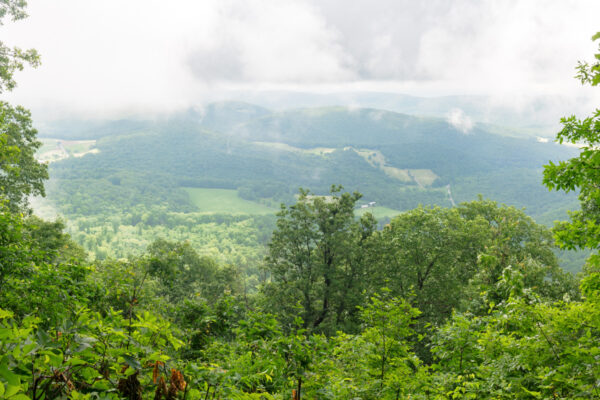 The Allegheny Front Trail is a 42-mile backpacking trail through Moshannon State Forest in western Centre County, and you could certainly hike this entire trail if you had a few days. However, if you're looking for a short hike in the area, consider the hike to Ralph's Majestic Vista and Ralph's Pretty Good View.
This hike is relatively easy as it has minimal elevation change and is one of the most beautiful hiking trails near State College that I've had a chance to check out. This is in part because of the two overlooks and a cool rock outcropping that you pass on this relatively short hike.
While you'll come to Ralph's Majestic Vista first, make sure to keep hiking to Ralph's Pretty Good View because the second one is, somewhat ironically, much better.
The Trails in Shingletown Gap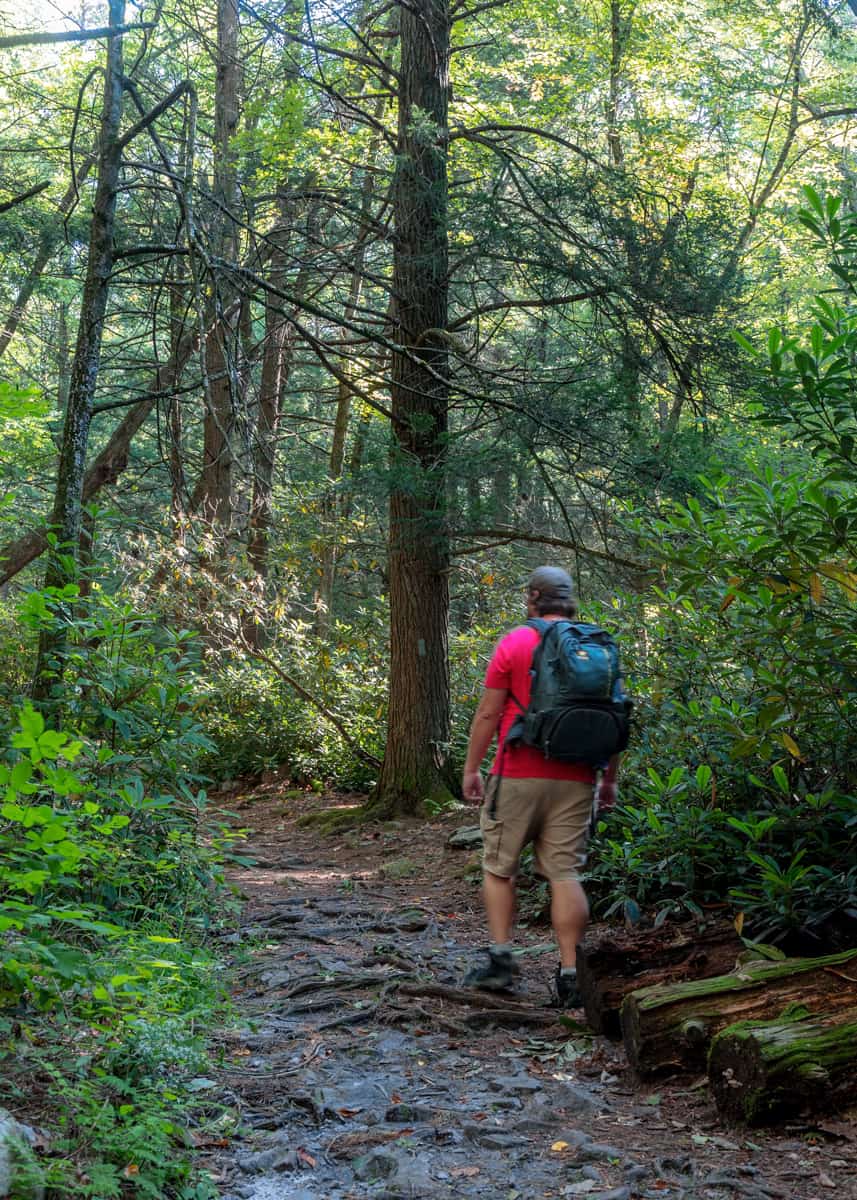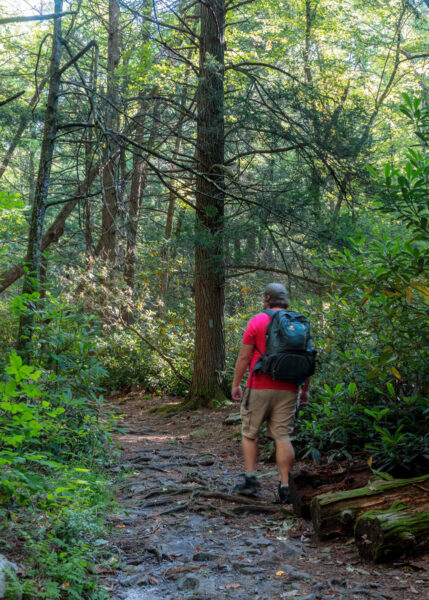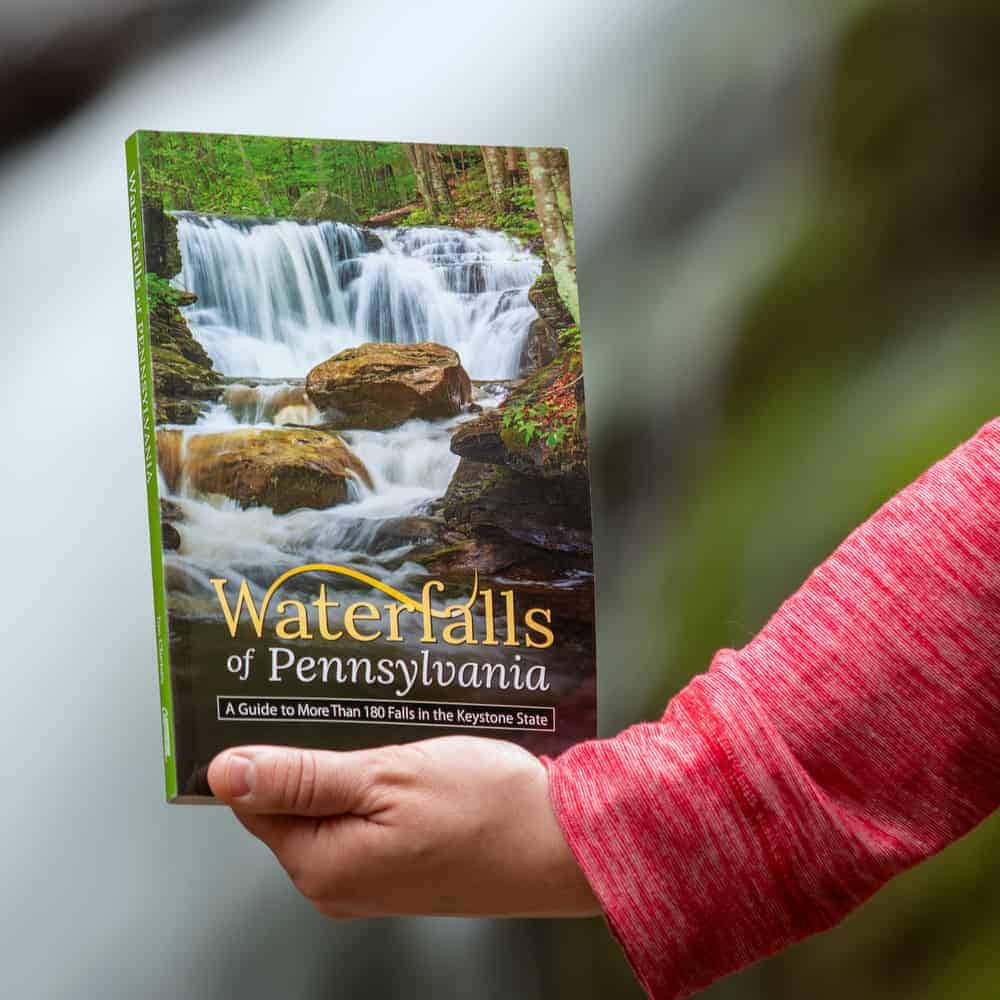 "Waterfalls of Pennsylvania" by Jim Cheney
If you love PA waterfalls, you won't want to miss this waterfall book from Jim Cheney, author of Uncovering PA, featuring more than 180 great waterfalls. Order it now on Bookshop.org or Amazon.
Shingletown Gap is located on the northern end of Rothrock State Forest and is one of my favorite places to go hiking near State College.
There are a variety of trails here, though many of them aren't overly well marked (so make sure to bring a GPS with you). None of the trails are overly difficult, though, and the first part when hiking along Roaring Run is both especially beautiful and relatively easy.
You can hike up and back along Roaring Run making the hike as short as you'd like, or you can combine trails together to make a full-day hike through this area.
Shingletown Gap is also home to some of the best mountain biking trails near State College, as well.
Bog Trail at Black Moshannon State Park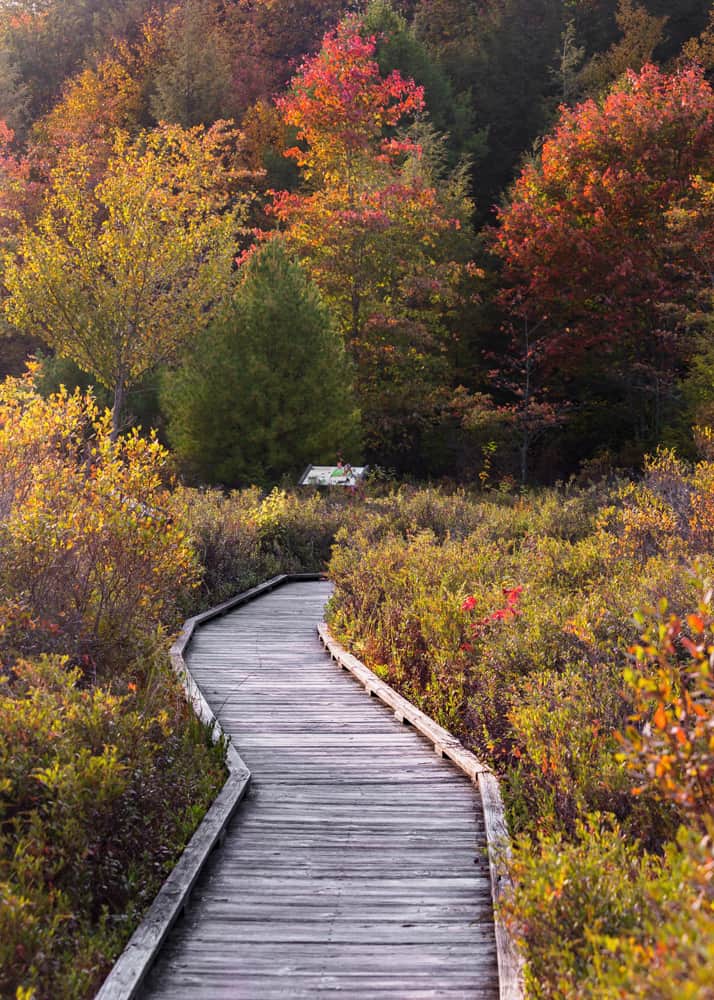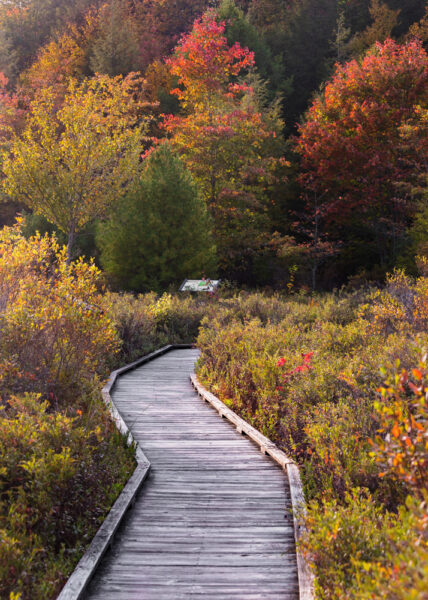 Black Moshannon State Park is crisscrossed with great trails (some of which are featured further down this list), but probably the most unique hike here is the Bog Trail.
The Bog Trail is an ADA-accessible boardwalk that passes along the shores of the park's lake. The lake here is unique because the water is nearly black in color due to the vegetation that can be found within this bog.
This boardwalk passes through the bog and features several information panels to help you learn more about this unique landscape. There are also several great spots to get views of the lake and its wildlife.
Even if you are looking for a more challenging trail, if you find yourself in the park, this is definitely worth a quick detour to see.
Chuck Kieper Trail to Yost Run Falls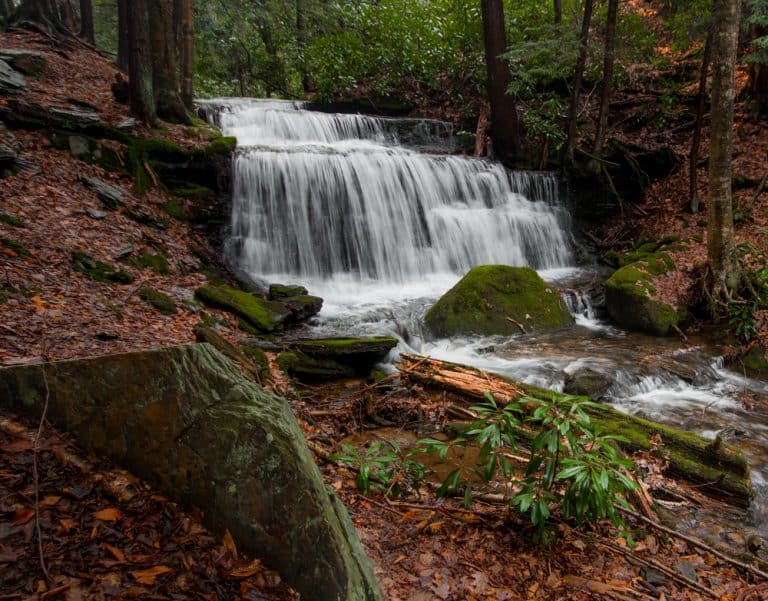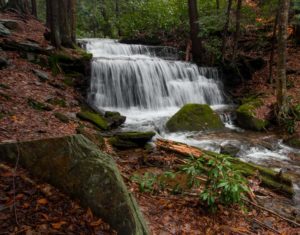 If you're looking for waterfalls near State College, the Chuck Kieper Trail leads to both Yost Run Falls and Kyler Fork Falls, which are located only steps from each other in Sproul State Forest.
The hike to reach these waterfalls is about 1.5 miles one way and is relatively easy, though it can be muddy at times. That being said, the Chuck Kieper Trail is a 53-mile loop trail, so you could do a backpacking trip as well if you wanted to go on a longer hike in Centre County.
The two waterfalls here aren't overly tall, but they are incredibly beautiful thanks to the moss-covered rocks that surround them. They also look shockingly similar despite being on two different streams.
Alan Seeger Trail in the Alan Seeger Natural Area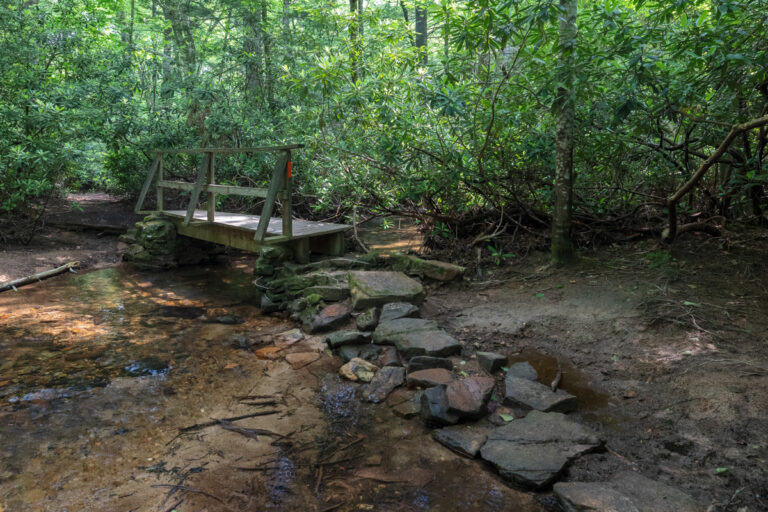 The Alan Seeger Natural Area is located south of State College in Huntingdon County but is worth the drive through Rothrock State Forest to check out.
An easy 0.8-mile trail loops through this 390-acre natural area and through one of the best-preserved strands of old-growth forest in Pennsylvania. Along the way, you won't just pass tall trees, but also over several beautiful bridges and through tunnels of rhododendron.
It's worth noting that a portion of this hike is on the 85-mile Standing Stone Trail, so this is another hike that you could extend should you be looking for something longer than I've listed here.
The Ruins in the Scotia Barrens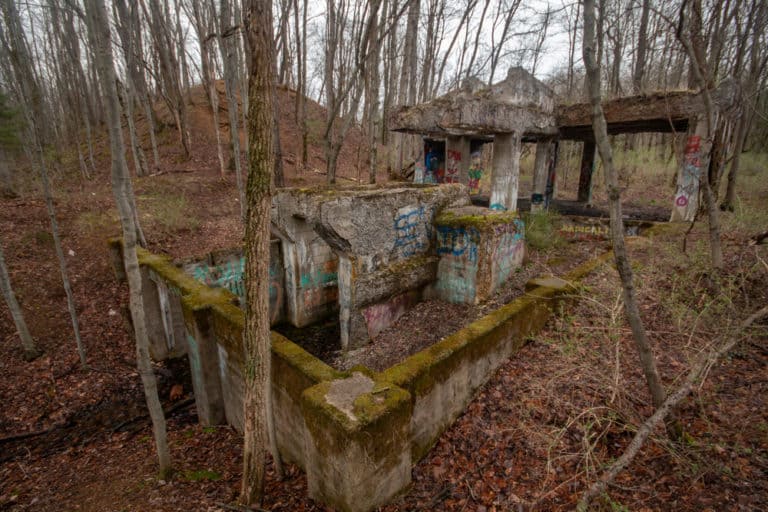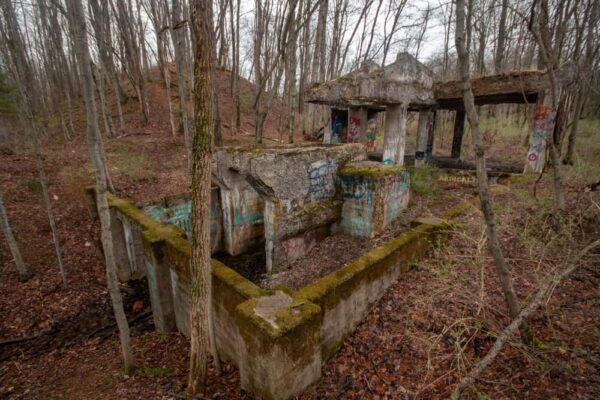 Located deep within the Scotia Barrens west of downtown State College, you'll find the ruins of the community of Scotia. This was a thriving community in the late 1800s thanks to an iron ore mining operation owned by Andrew Carnegie.
Today, little is left, but you can still hike the easy trails to some interesting ruins, mostly from the industrial parts of the community. While this isn't a long hike, the chance to walk around these pieces of our industrial past makes it an interesting one.
You are also walking through an interesting landscape that is actually its own microclimate. Plants grow here that you won't find anywhere else in this region.
Indian Wells Overlook in Rothrock State Forest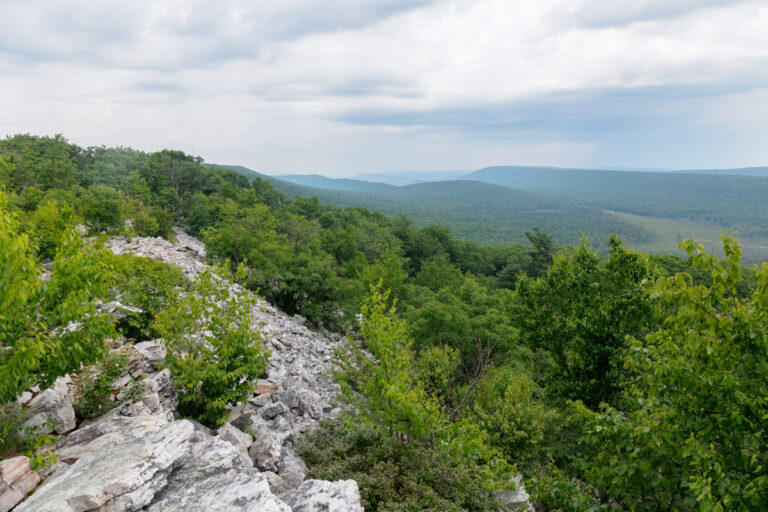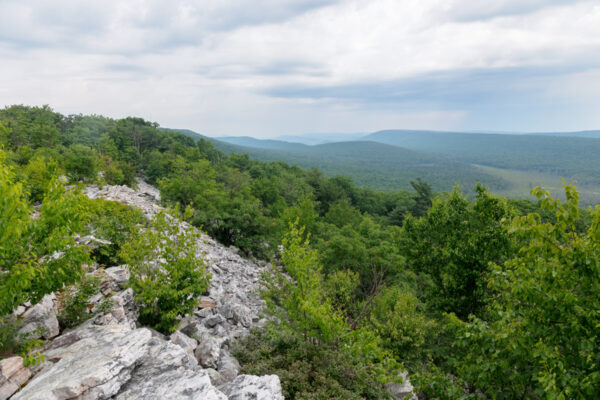 If you're looking for hikes near State College, PA that lead to great overlooks, this is the perfect one for you.
Indian Wells Overlook can be found about three-quarters of a mile from the road in Rothrock State Forest. Most of the hike is on the Mid State Trail, which is the longest hiking trail in all of Pennsylvania.
The hike to reach the overlook is a lot of fun on its own as it passes through some areas that require you to literally hike on the tops of boulders. So, while the hike isn't overly difficult from an elevation standpoint, it does require some challenging footwork.
Once at Indian Wells Overlook, you'll enjoy a breathtaking and uninterrupted view over Rothrock State Forest that is truly awe-inspiring. This is definitely one of the most beautiful scenic overlooks in Pennsylvania.
Penn's Creek Rail Trail in Bald Eagle State Forest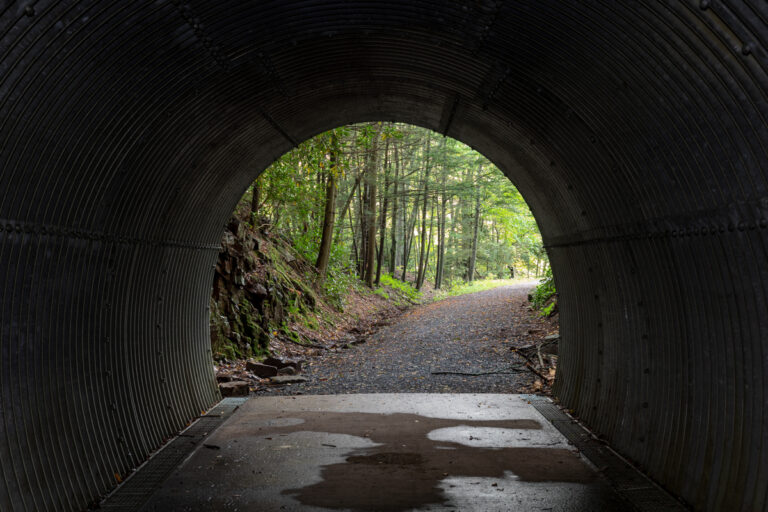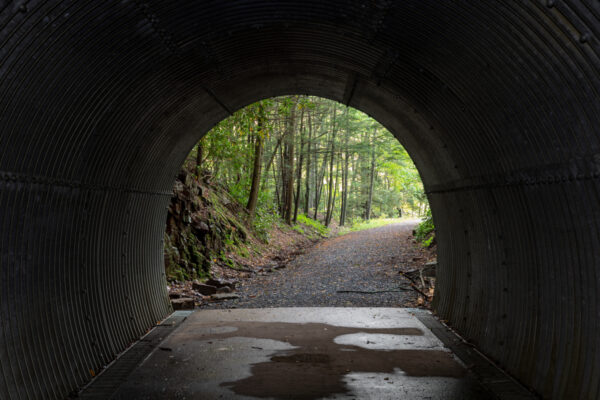 It might seem a bit strange to include a rail trail on a list of the best hiking trails near State College, but the first portion of this trail from near Poe Paddy State Park is definitely worth a quick hike to see.
That's because within a few hundred yards from the start of the trail, you'll pass over an incredible bridge over Penn's Creek and through the historic Poe Paddy Tunnel. These are spots that definitely shouldn't be missed in Bald Eagle State Forest.
Beyond the tunnel, the trail continues for several more miles. Interestingly, despite being a rail trail, this is also part of the path for the aforementioned Mid State Trail.
Lake Trail at Shaver's Creek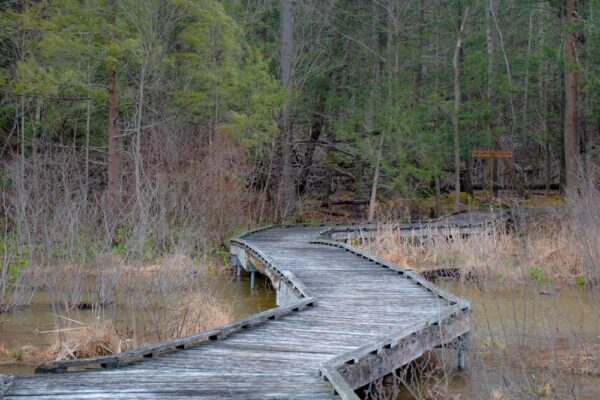 Shaver's Creek Environmental Education Center is a parcel of land owned by Penn State and located in northern Huntingdon County.
There are a total of approximately six miles of trails within this land, with the Lake Trail, which encircles Lake Perez, being three miles in length. This trail offers a great chance to explore the beauty of this area and is well worth the distance. However, if you are looking for a much shorter loop, you can combine a small portion of the Lake Trail with the Boardwalk Trail for a hike of about half a mile.
While at Shaver's Creek, make sure to also check out the fantastic nature center and aviary, both of which are free to visit.
Blueberry Trail at Black Moshannon State Park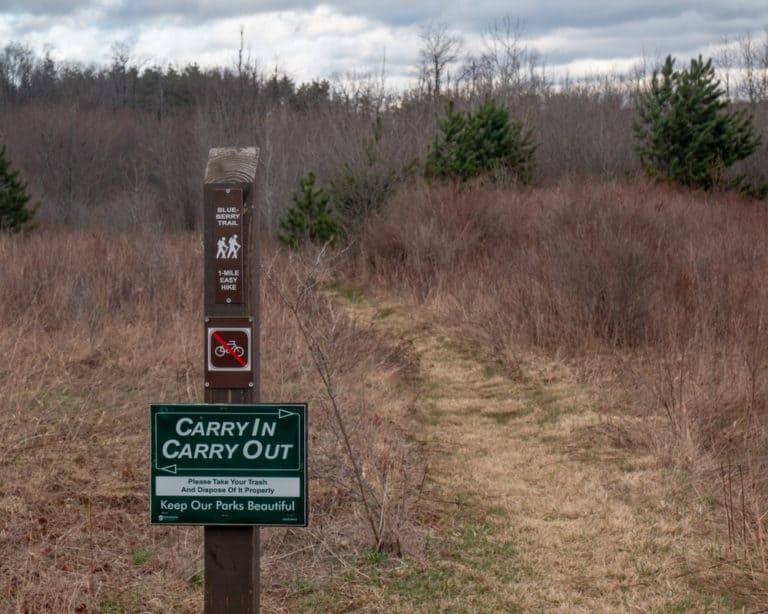 The Blueberry Trail is another fantastic hike in Black Moshannon State Park. And, unsurprisingly, this trail is known for its many berries during the summer months (Don't eat any berries you aren't 100% sure about.)
This trail is a mile-long loop trail that starts and ends near the Mid-State Airport on the southwestern edge of the park. It passes through part of the park's bog, which means that it can be muddy at times, but there are also wooden planks spaced along the trail as well to help keep your feet dry.
If you want to add some distance to your hike, this trail intersects with other trails in the park.
Nature Trail at Poe Valley State Park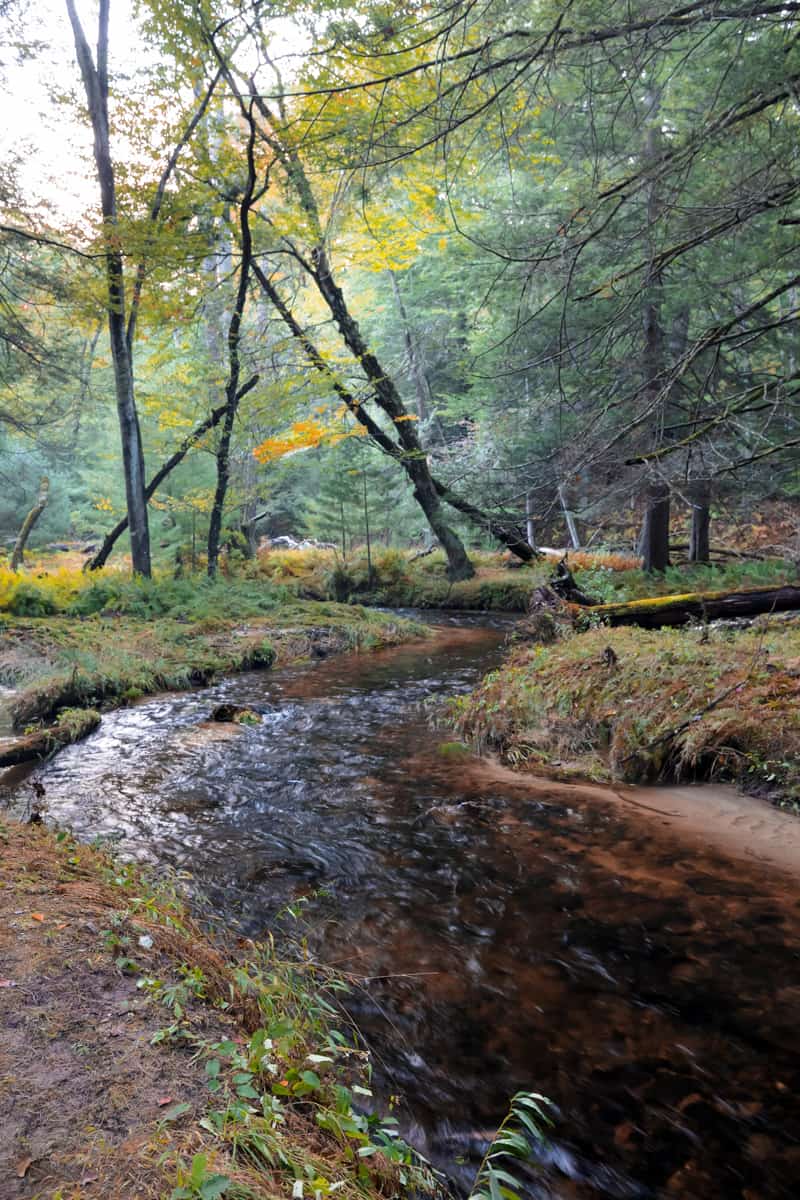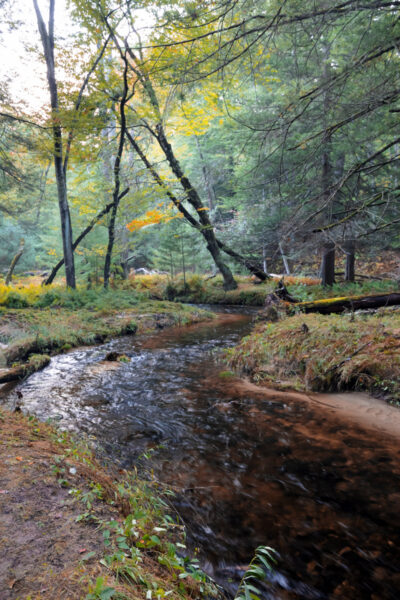 Located deep in Bald Eagle State Forest, Poe Valley State Park is a beautiful and peaceful spot to check out.
There are several miles of trails within the park, as well as connections to trails within the state forest. However, the only loop hike entirely within the park is the beautiful Nature Trail.
This one-mile trail is a relatively easy hike but is quite stunning, especially the portion that runs along Big Poe Creek. In fact, this is one of my favorite short hikes in all of PA because of the beauty of this waterway.
Lake View Trail in Greenwood Furnace State Park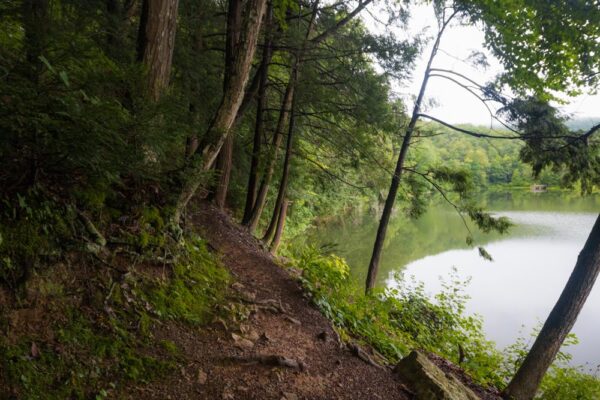 Greenwood Furnace State Park is located in a beautiful valley just south of the Centre County/Huntingdon County line. This park is home to several historic buildings, a popular lake (with a swimming area), and some great hiking trails near State College.
My favorite hike utilizes the Lake View Trail and several other trails for a short hike around the park's six-acre lake. This trail is relatively easy, though there is a bit of tricky footing in a few spots.
Those looking for an even longer hike can use the park to easily access both the Mid State Trail and the Standing Stone Trail.
Penn's Creek Rail Trail at Coburn Tunnel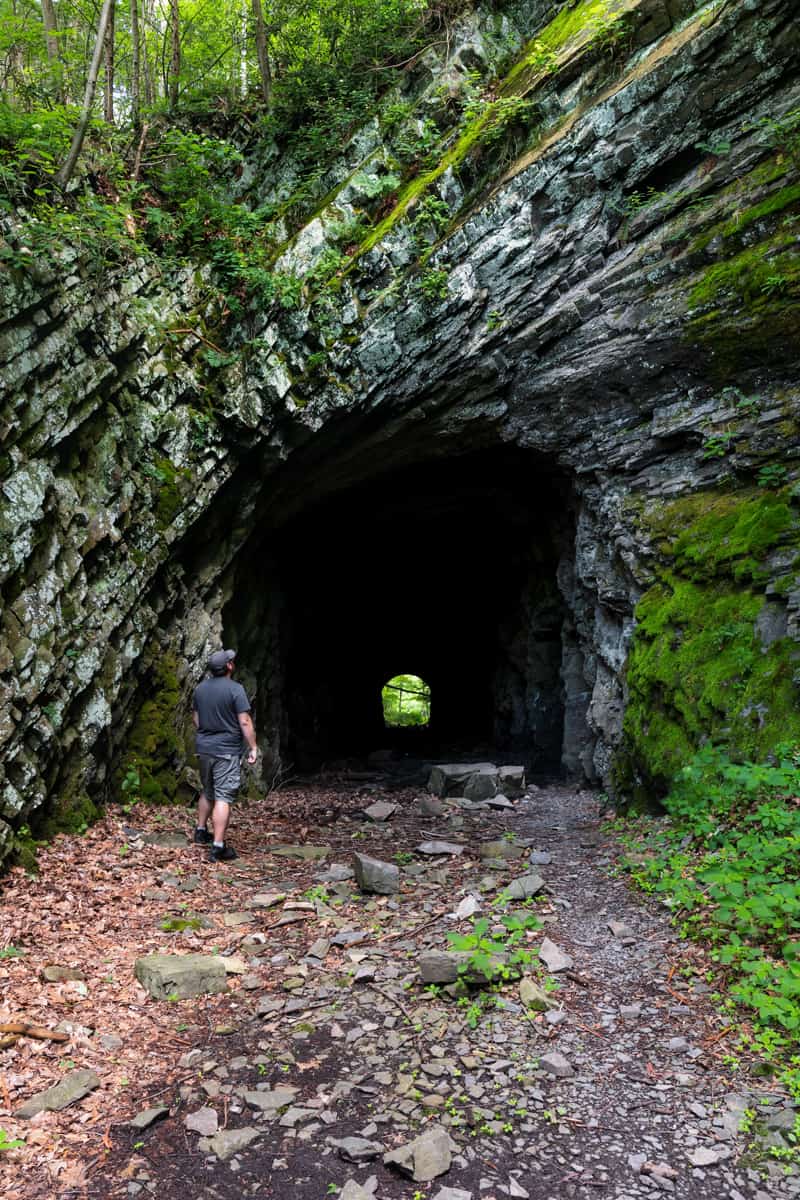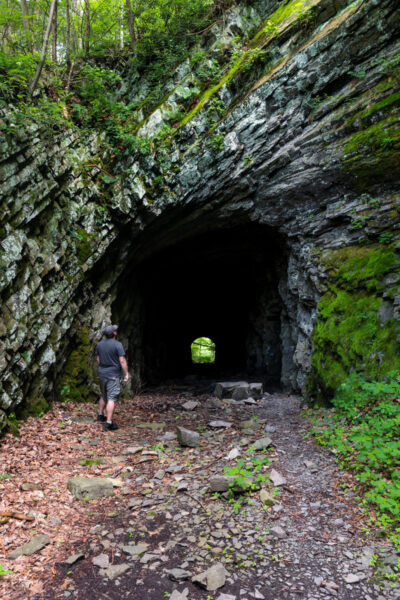 While I mentioned the Penn's Creek Rail Trail above, the section with the Coburn Tunnel is a totally separate section from the part with the Poe Paddy Tunnel, so I'm including it as a separate entry here.
The Coburn Tunnel is a historic railroad tunnel that's located at a bend in Penn's Creek just outside of Coburn, PA. Unlike Poe Paddy Tunnel, this tunnel hasn't been rehabilitated at all, so the entrance and inside showcase the cut rock just as it would have looked over a hundred years ago. Just note that this also means that rock falls can happen here on occasion, so enter at your own risk.
If you do decide to enter the tunnel, you can hike through it, and then continue following the Penn's Creek Rail Trail across a very narrow wooden bridge, continuing for several miles until you reach a portion of the creek with no bridge. If you'd rather not enter the tunnel, you can also drive around the bend to access the remainder of the trail.
Lakeside Trail in Bald Eagle State Park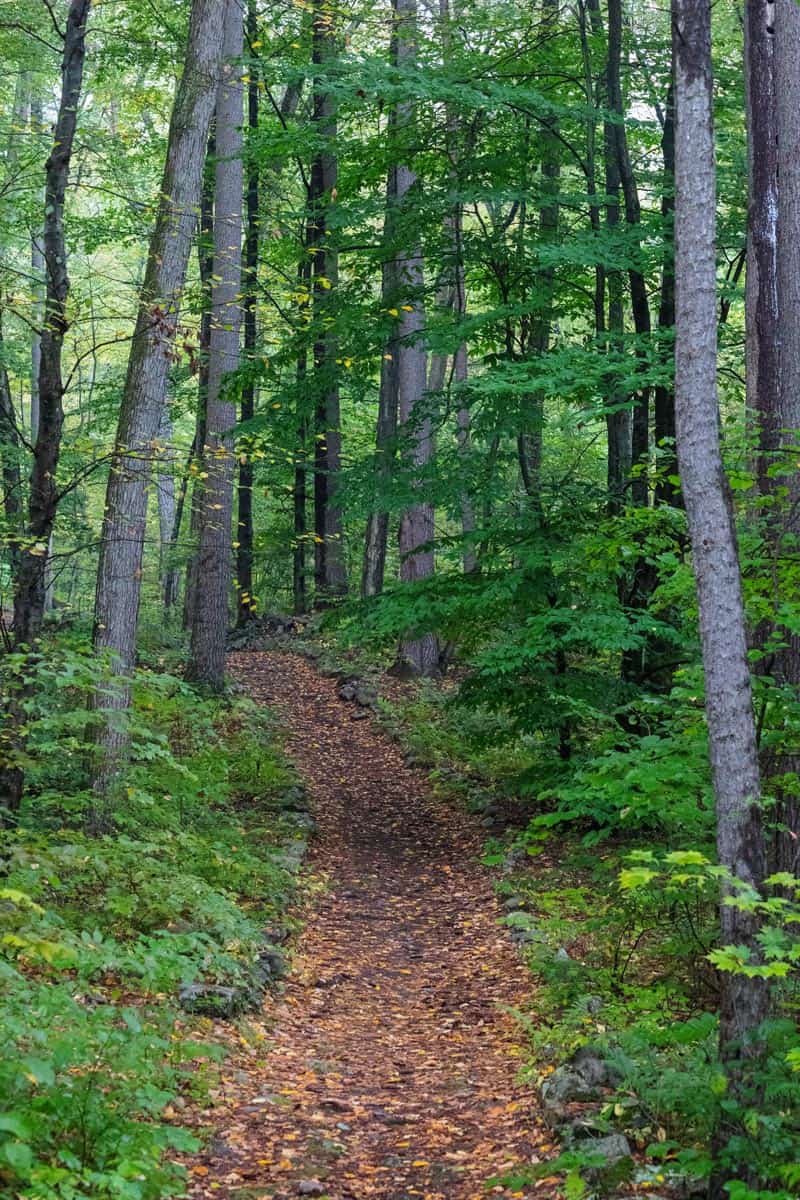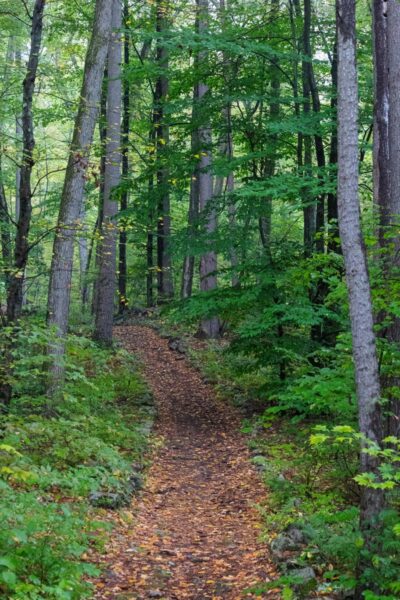 At 5,900 acres in size, Bald Eagle State Park (not to be confused with the aforementioned Bald Eagle State Forest) is one of the largest state parks in PA. Somewhat surprisingly, however, there are only about 15 miles of trails within the park despite its large size.
The longest of these trails is the Lakeside Trail which is 5.6 miles in length and runs along the southern shores of Bald Eagle Lake. This trail is rocky and muddy in spots but overall is a fantastic hike. It can be accessed both from the park's campground and from the boat launch on the southern end of the lake.
Those looking for a shorter hike can try some of the trails on the northern shores of the lake including the Skyline Trail and the Butterfly Trail.
Mid State Trail in Penn-Roosevelt State Park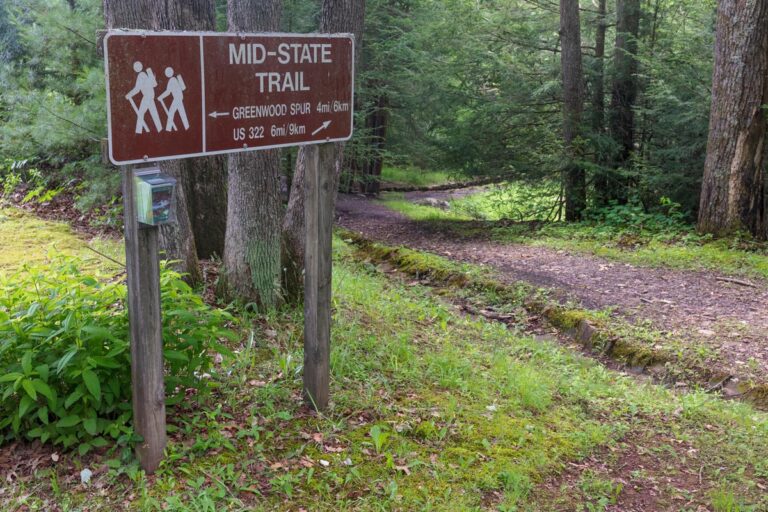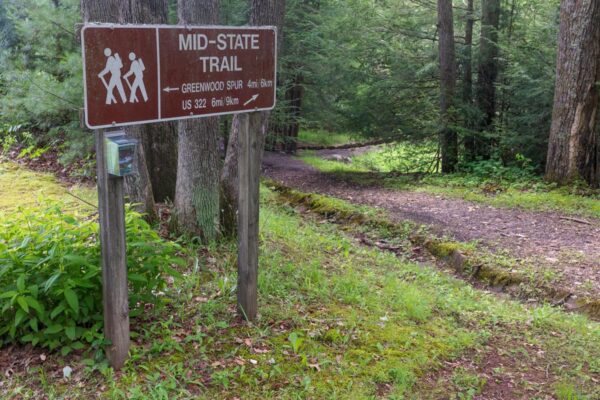 If you are looking for a great spot to pick up the Mid State Trail near State College, either for a short or a long hike, Penn-Roosevelt State Park is a great spot to visit.
This small park is home to little more than a small pond, a few picnic tables, and a trailhead for the Mid State Trail, but this also makes it an incredibly peaceful spot to visit for a hike or a picnic.
Even if you aren't looking for a long hike, the area around the park is neat to explore thanks to some historic stonework that was done here below the pond.
Star Mill Trail at Black Moshannon State Park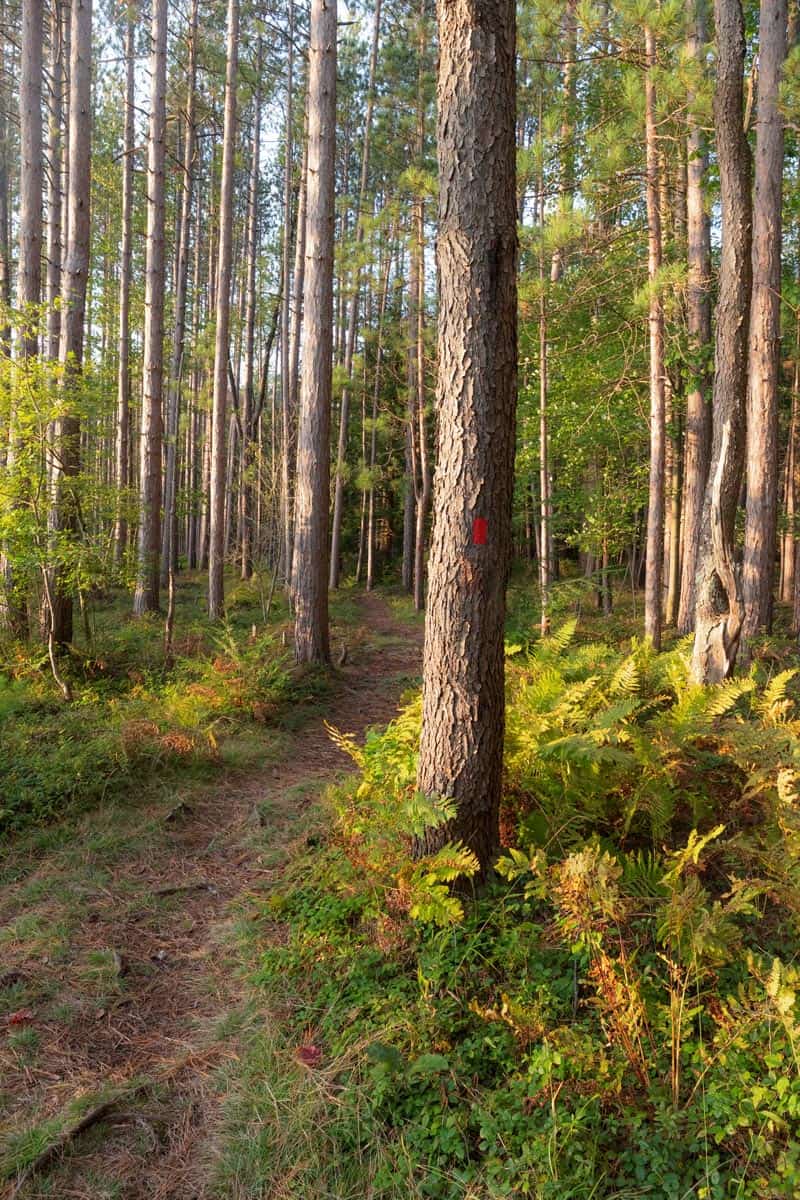 While there are a lot of great trails in Black Moshannon State Park (some of which I've noted above), I think my favorite medium-distance hike is the Star Mill Trail.
This two-mile-long loop trail can be found on the eastern side of the park's lake. This is a very easy trail to hike but provides phenomenal views of Moshannon Lake and the forest that surrounds it.
You could also hike this as an out-and-back hike of about the same length if you just wanted to enjoy the portion of the trail along the lake.
What are your favorite State College hikes? Let us know in the comments section below.
Looking for more things to do nearby? Check out the best breweries in State College, Columbus Chapel and Boal Mansion, and the great overlooks in Bald Eagle State Forest.