Disclosure: This article may contain affiliate links. We will make a small commission from these links if you order something at no additional cost to you.
Located just 15 minutes south of State College, you'll find one of the top hidden gems of the Allegheny Mountains: Shingletown Gap.
Shingletown Gap is located at the northern tip of Rothrock State Forest, a nearly 100,000-acre parcel of land that spans the region and is crisscrossed with many fantastic trails.
There are a number of great trails in this gap that allow you to do a hike of just about any length and pass small waterfalls, abandoned foundations, vistas, and even some incredible balds atop the mountains. Overall, this is definitely the type of place that any outdoor lover is sure to enjoy.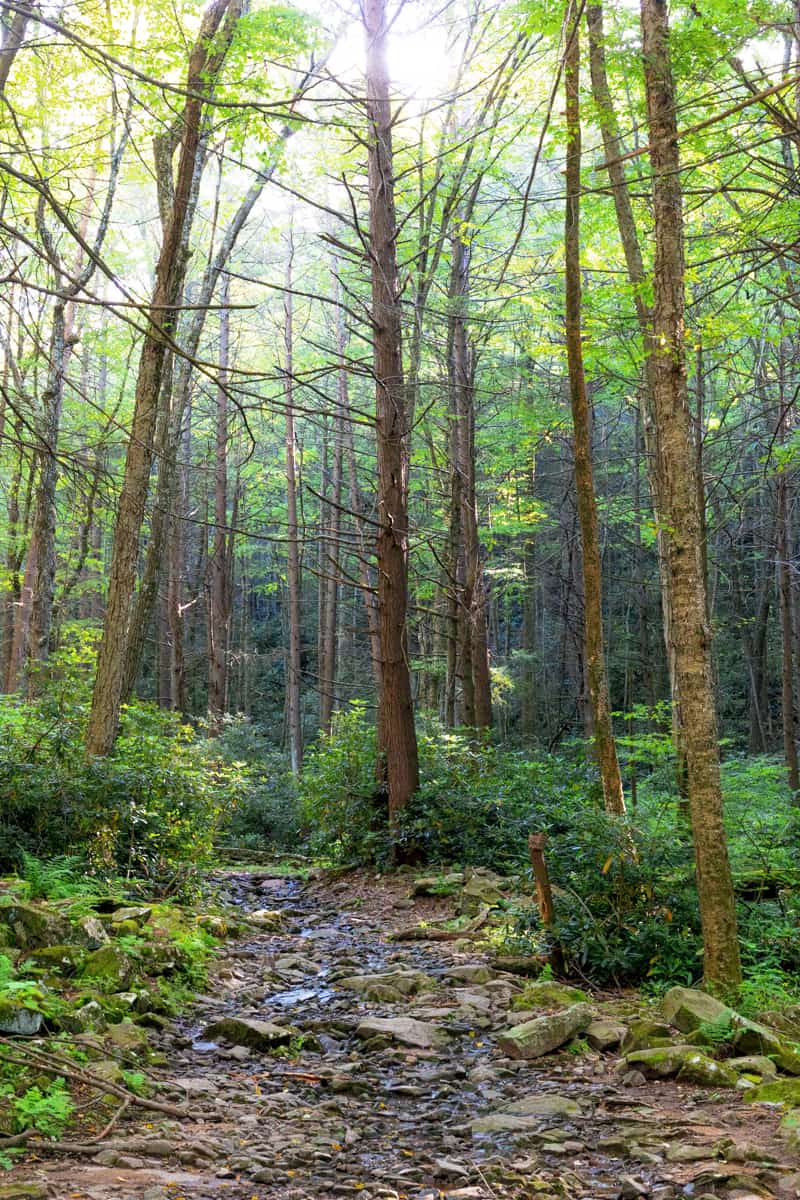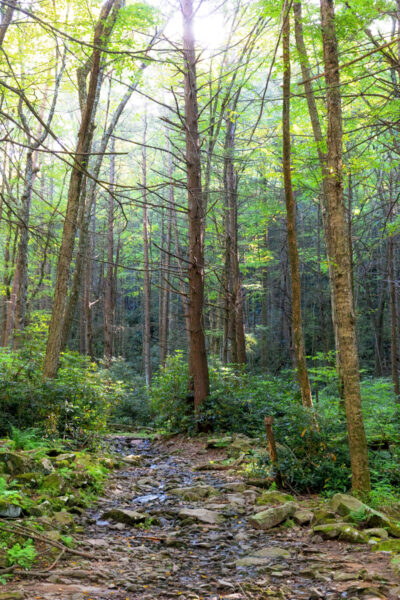 It's worth noting, however, that the trails in Shingletown Gap aren't overly well marked in places and there is no map at the trailhead, unlike what you'll find at nearby Mount Nittany. If you are planning on heading out here, I recommend having, at a minimum, the official Rothrock State Forest map. However, I personally found the Rothrock State Forest map from Purple Lizard to be much more helpful (though I'm not 100% sure that all the trails shown on there exist or are marked).
As an example, my intention was to do a loop hike with the Lower Trail, the Red-White Trail, and the Blue-White Trail, which I estimate would have been about two miles. However, the trail connecting the two sides of Roaring Run isn't marked, causing me to miss the loop.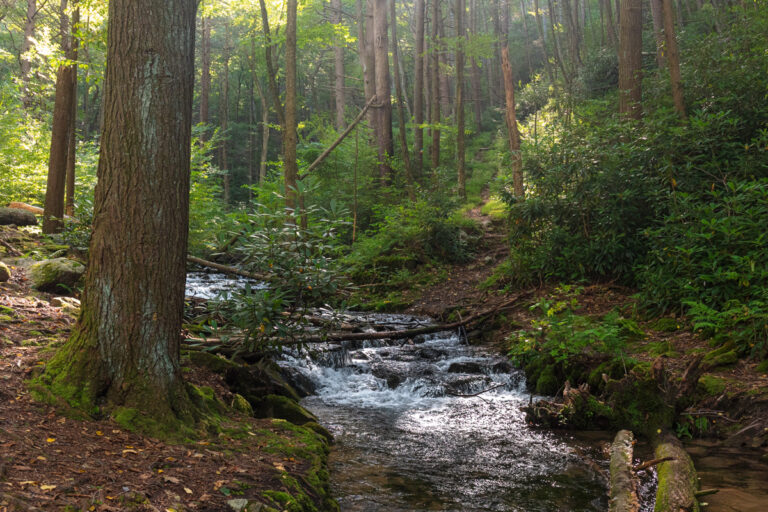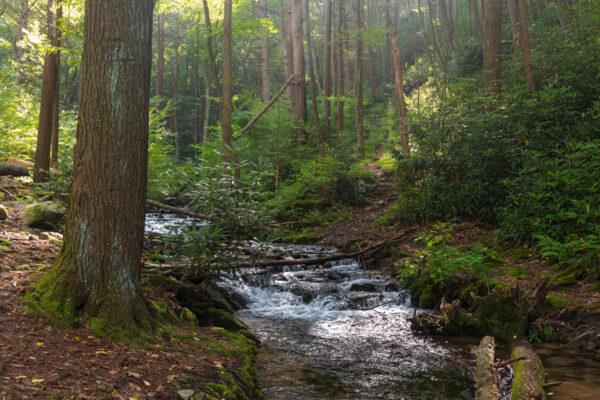 This resulted in me doing the approximately 7-mile hike that I'm going to describe here. And, while the trails I hiked were marked well enough that I never got lost and I saw some beautiful scenery, I definitely hiked a lot more than I was anticipating (which wasn't helped by accidentally leaving my hiking GPS at home).
If the hike described here is too long, you can either simply treat it as an out-and-back hike or try to find one of the side trails I missed to make it a shorter loop.
Parking for Shingletown Gap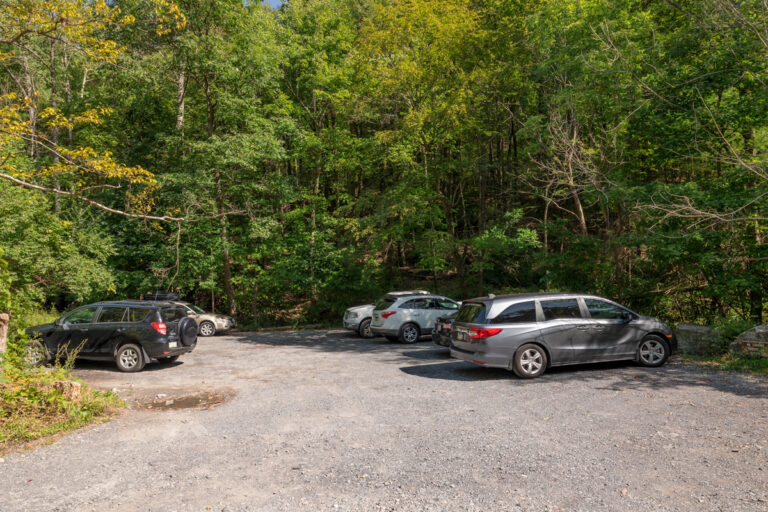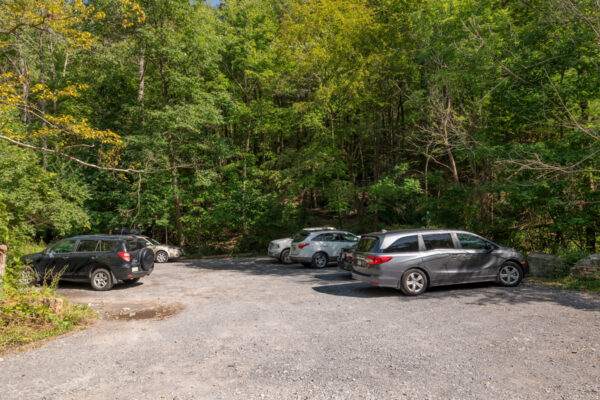 While there are several places within Rothrock State Forest where you can access the trails through Shingletown Gap, the best parking area can be found along Mountain Road, which is off of Shingletown Gap Road (Route 45).
The road back to this parking area is quite narrow in places, so make sure to use caution when driving back here and watch for cars coming the other way. This road is in decent shape, but it is a bit rough in places, so make sure to watch for potholes.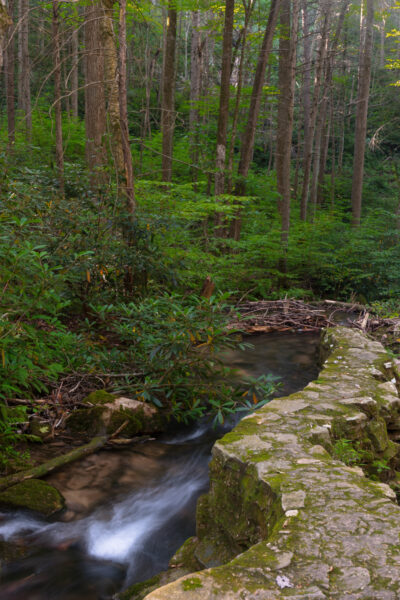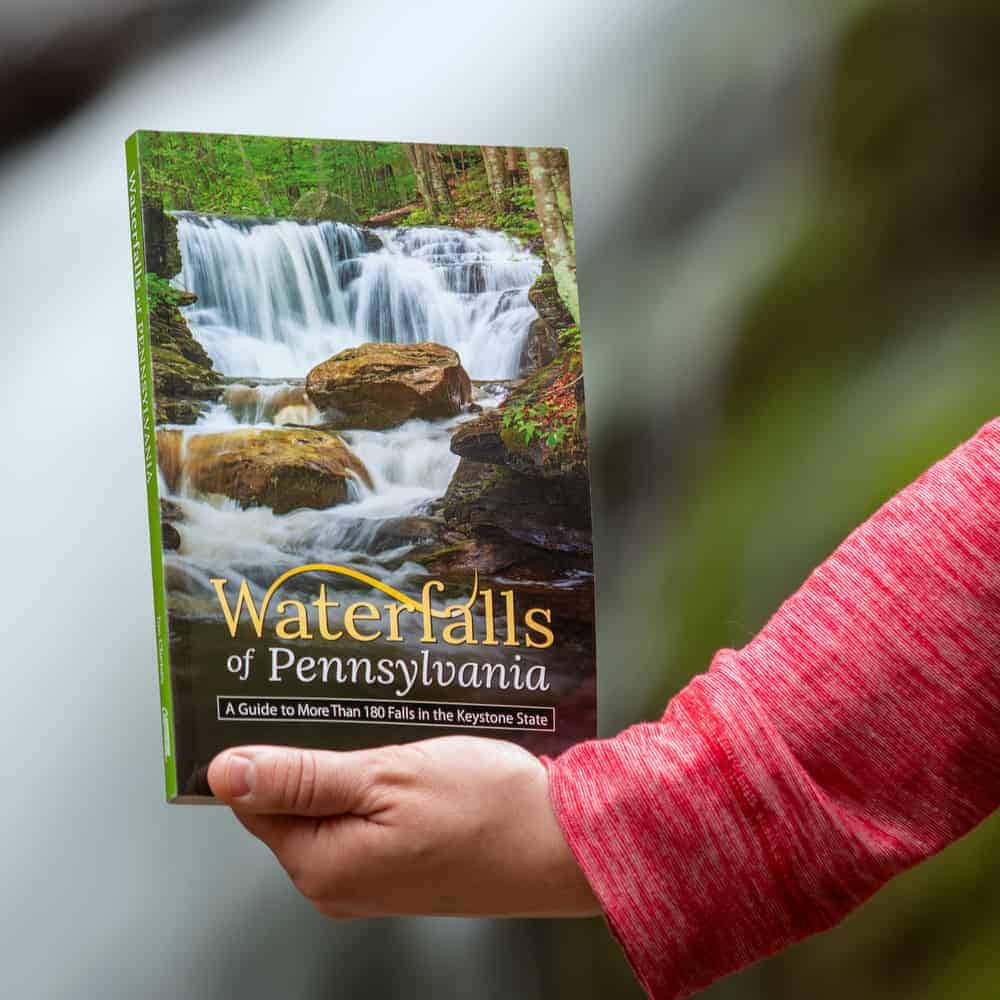 "Waterfalls of Pennsylvania" by Jim Cheney
If you love PA waterfalls, you won't want to miss this waterfall book from Jim Cheney, author of Uncovering PA, featuring more than 180 great waterfalls. Order it now on Bookshop.org or Amazon.
The parking area, which can accommodate roughly 10-15 cars, can be found at the following coordinates: 40.754020, -77.818070.
I recommend arriving early on popular hiking days as this lot can fill up later in the day.
[Click here for information on how to use the coordinates in this article to find your destination.]
Hiking in Shingletown Gap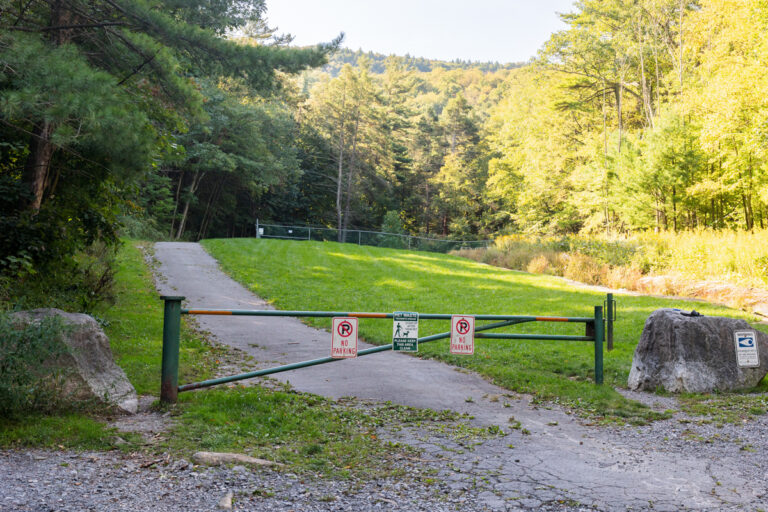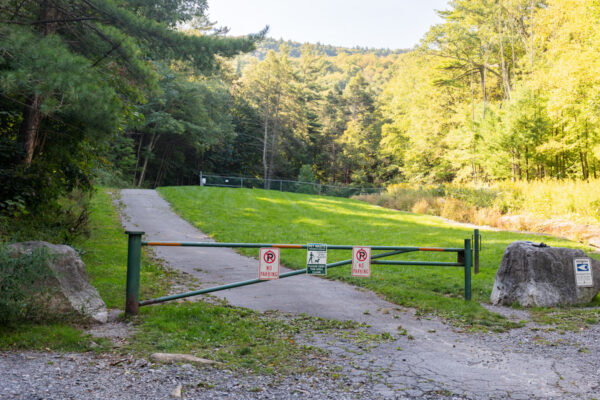 As I stated above, there are a lot of trail options here meaning that you can, in theory, create loop hikes of anywhere from a couple of miles to all-day hikes. However, considering some of the trail turns, especially along the Lower Trail, aren't well marked (as of October 2021), those not wanting to do the entire 6-7 mile hike listed here might be better off just treating this as an out and back hike.
And, while there is beauty along this entire loop, in my opinion, the best parts of the hike occur while hiking along Roaring Run on the Lower Trail, so hiking out for a bit and then turning around would be a great option here.
The trailhead for Shingletown Gap is next to the parking area and starts with a wide paved trail with a gate across it. The first 50 yards or so pass some sort of water processing facility, but the trail soon reaches the treeline with a sign announcing your entrance into Rothrock State Forest.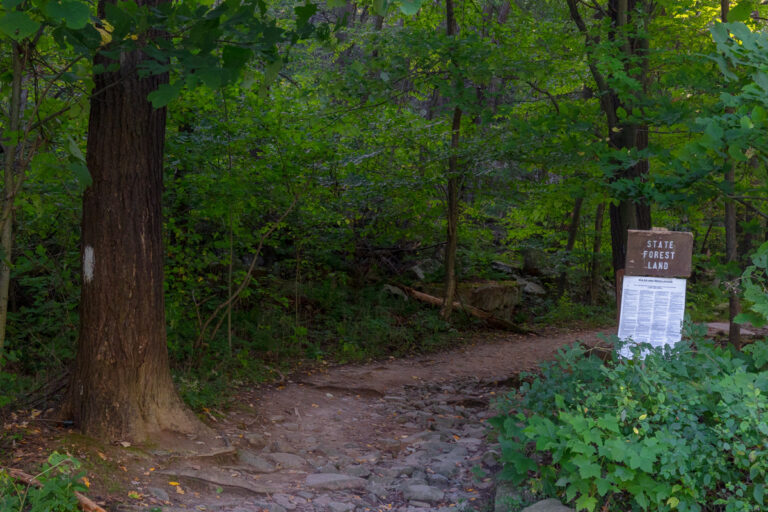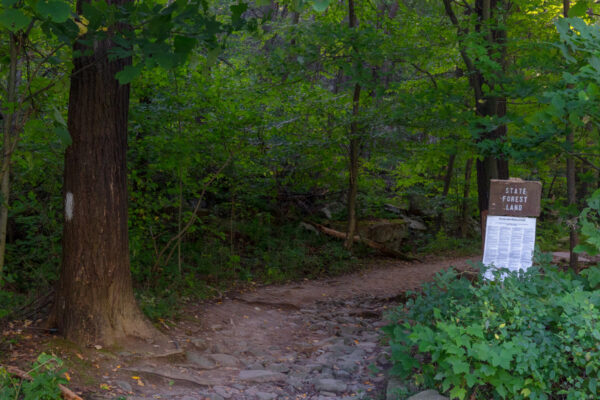 Shortly after the trail enters the woods, you'll have the option of heading to the left or the right. While there are other hiking loops that you can do to the right, I opted to head left.
Soon after starting on the Lower Trail, the beauty of Shingletown Gap becomes fully evident.
Roaring Run flows adjacent to the trail and features many small waterfalls and cascades as the water tumbles down the mountainside. In some places, old stone walls along the stream can be seen, but, for the most part, Roaring Run flows naturally.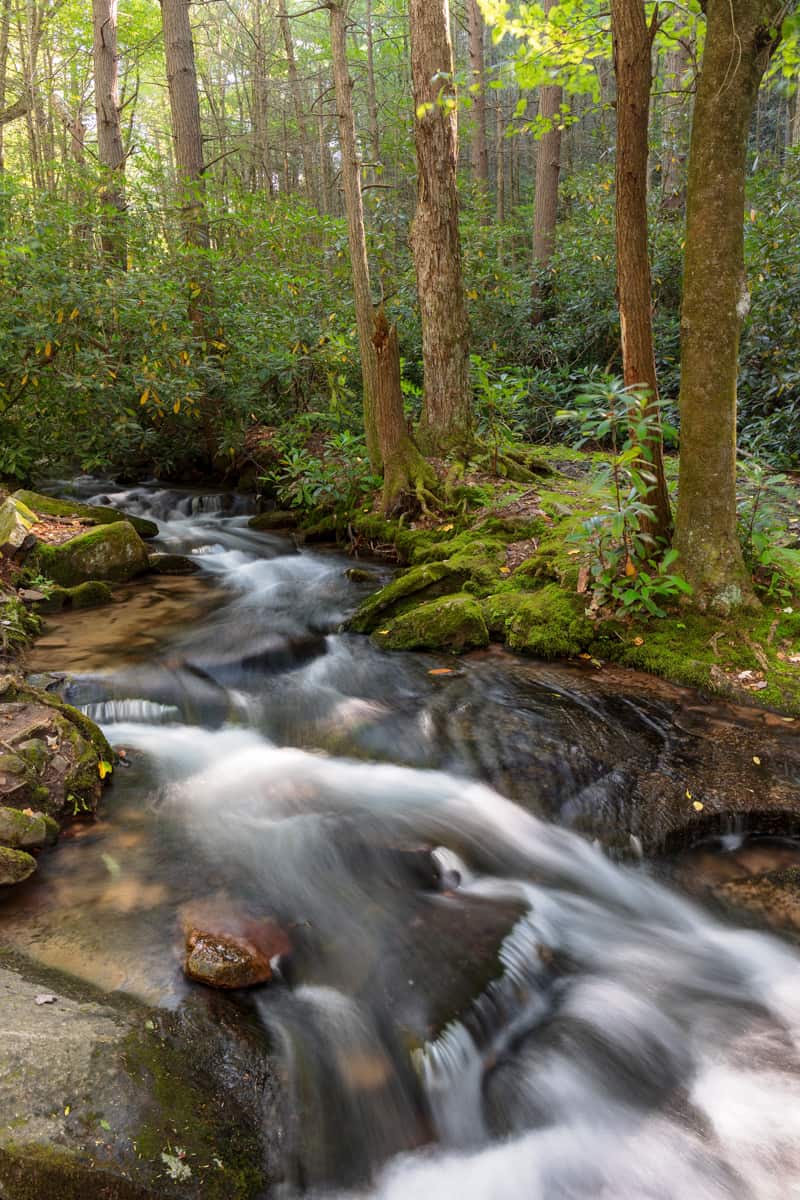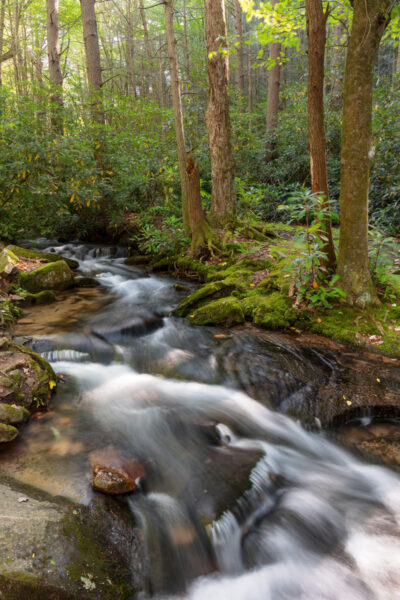 Make sure to take some time in a spot or two to enjoy this beautiful waterway.
The Lower Trail is sporadically marked with light blue blazes, but following this trail is quite easy as it's well worn and follows close to the stream.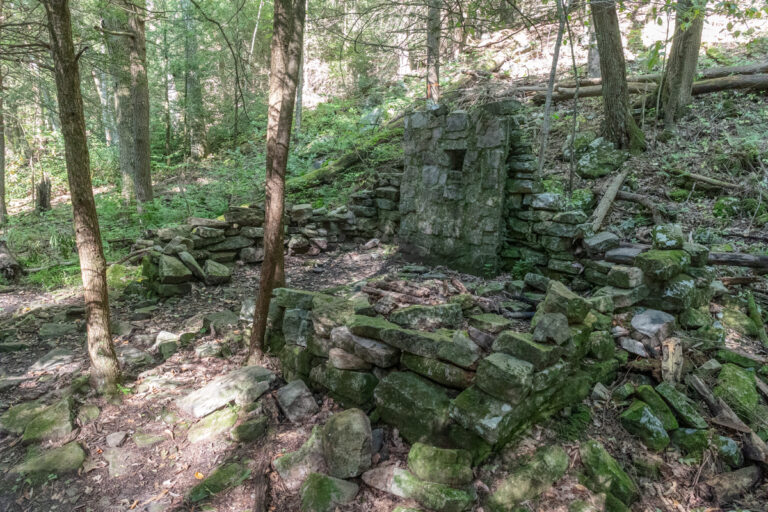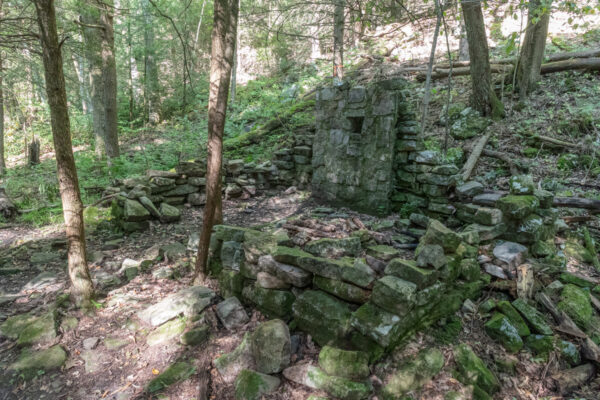 One of the trail's highlights comes about a half-mile from the parking area where you'll see the stone foundation and walls of an abandoned building. I'm guessing this was a hunting camp at some point, but I'm not entirely sure as to its function.
The trail continues to follow the stream for over two miles and, while it's quite rocky in some places, it's a fairly easy and flat hike. That being said, when water levels are higher, Roaring Run can spill onto the trail, so shoes that can get wet are recommended unless it's been especially dry.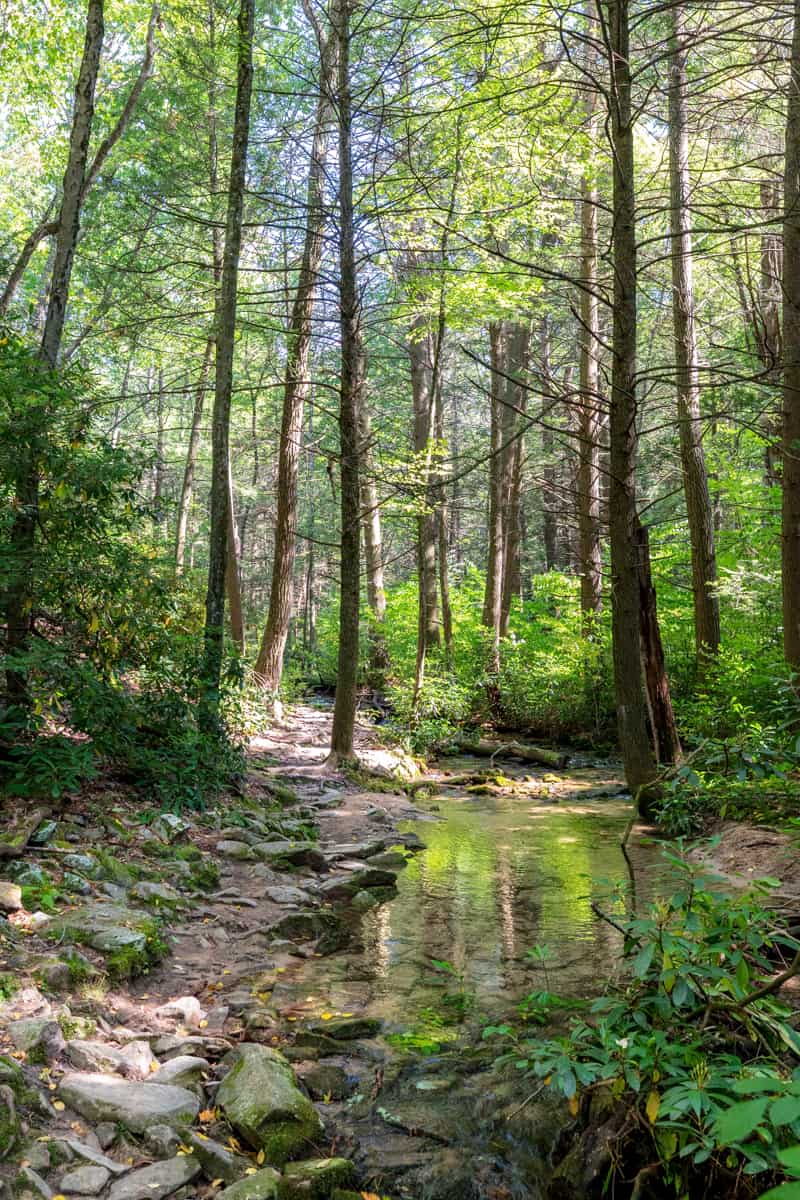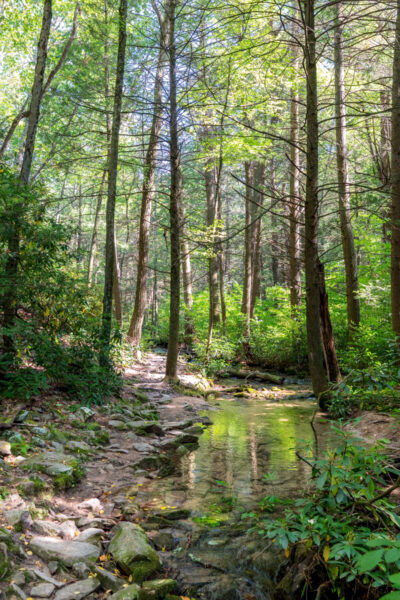 It's also worth noting that starting about a mile from the parking area, mountain bikers are also able to use the Lower Trail, so make sure to keep an eye out for people on bicycles.
According to both the Purple Lizard Map that I had with me and the official state forest map, there are several turns to both the left and the right along the Lower Trail. The trails, especially those heading to the right and over Roaring Run are, I believe, unmarked, so they can be hard to find.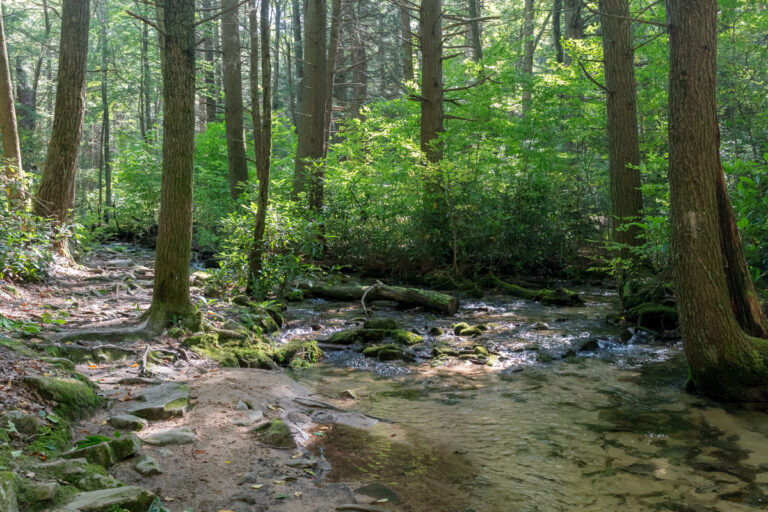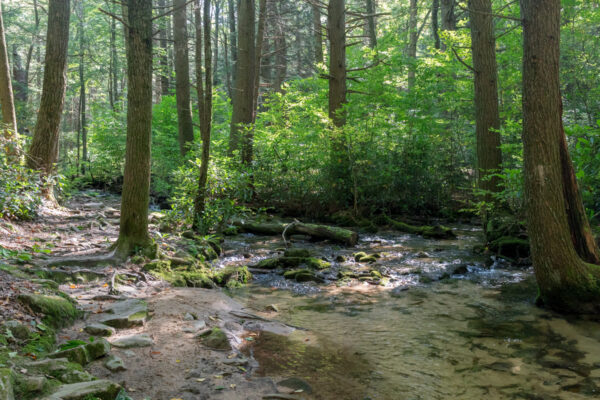 The further you continue along Roaring Run, the more the trail and the stream level out. In this spot, there are incredibly clear pools filled with small fish and even some areas of naturally-occurring sand.
This is truly a unique and special place.
If you, like me, hike for 2.1 miles along the Lower Trail, you'll come to a small clearing, the first such along the trail. At this point, the trail obviously heads not only straight but also to your left and right.
For those that use coordinates, this clearing can be found here: 40.754814,-77.783351.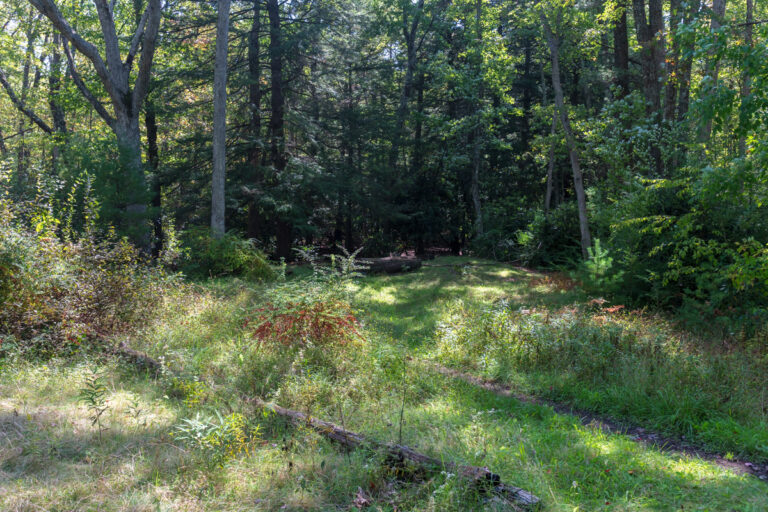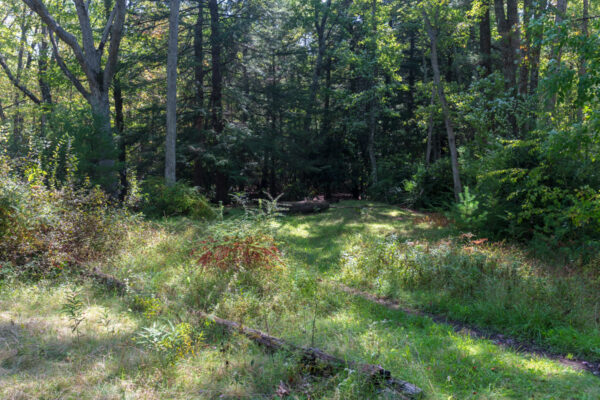 Having already hiked further than I intended to, I decided to go all-in and head to the left to do a loop up to the ridgeline along the Sand Spring Trail.
It should be noted that as you climb the hillside, the trail splits are better marked, and I had no trouble hiking on this upper portion of the trail system.
Shortly after turning left onto the Sand Spring Trail, you reach the trail's namesake, a small bubbling spring filled with sand. This is a neat spot to stop for a moment to enjoy this unique sight.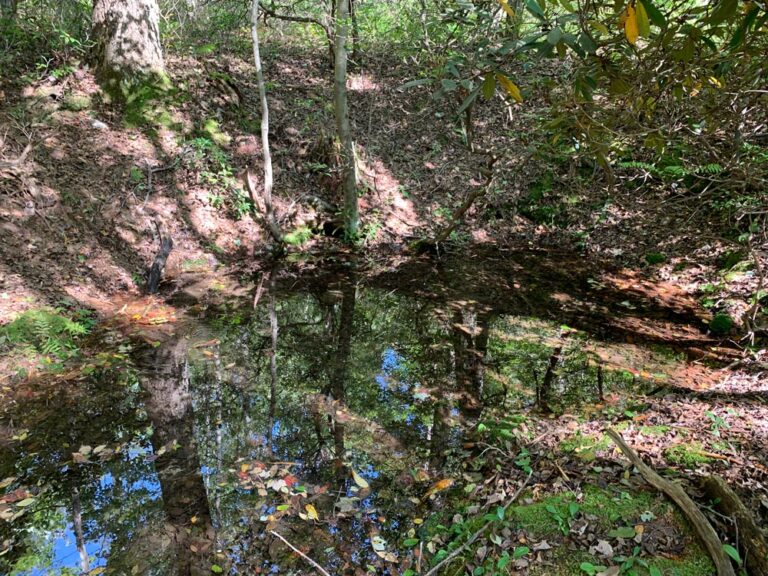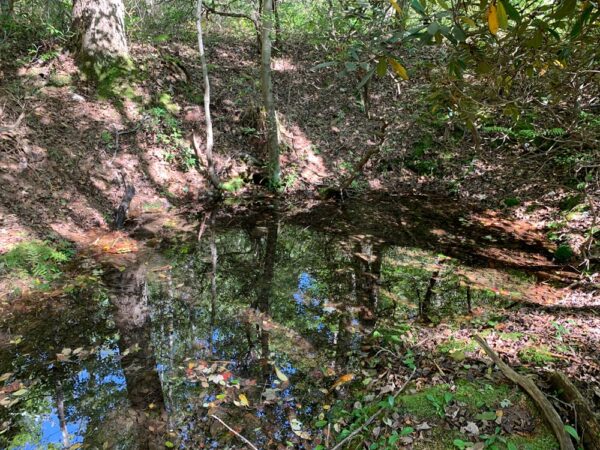 Continuing on up the trail, you'll soon reach a split in the trail.
For the shortest loop, you'll want to continue straight, but I opted to take the more narrow trail to the right as I wanted to see Bald Knob.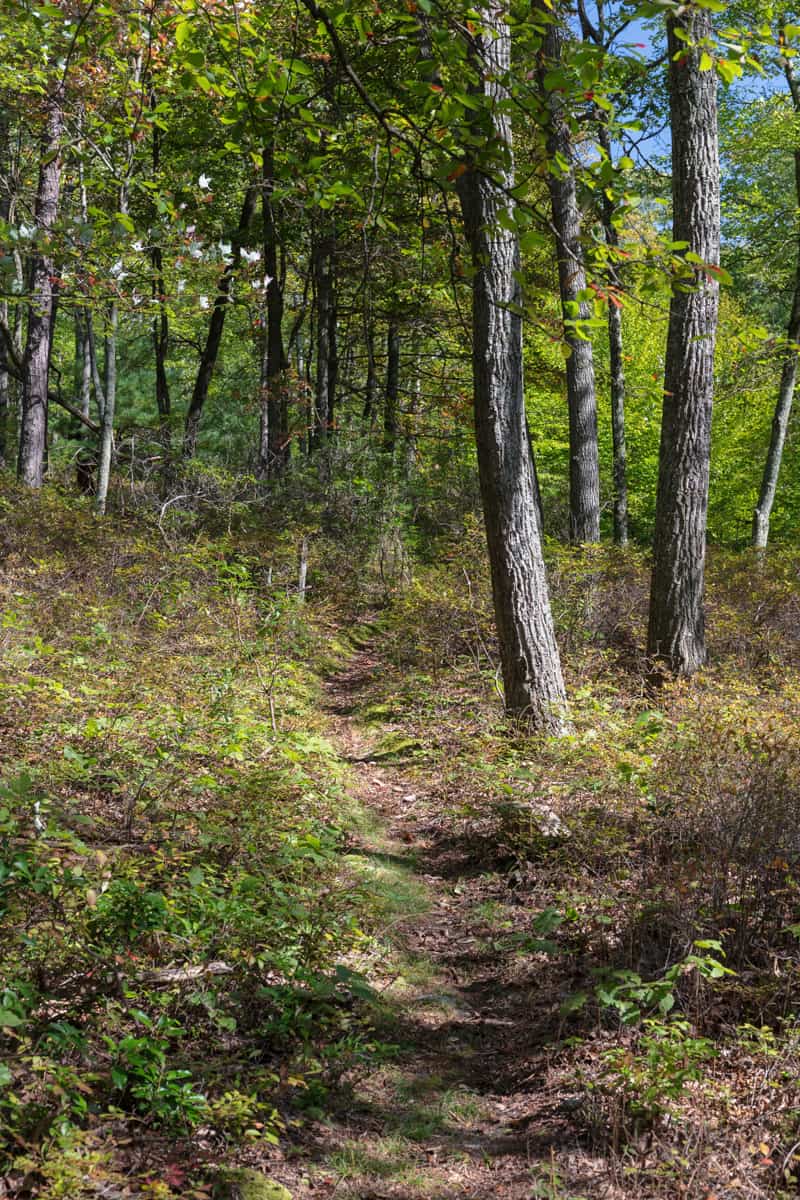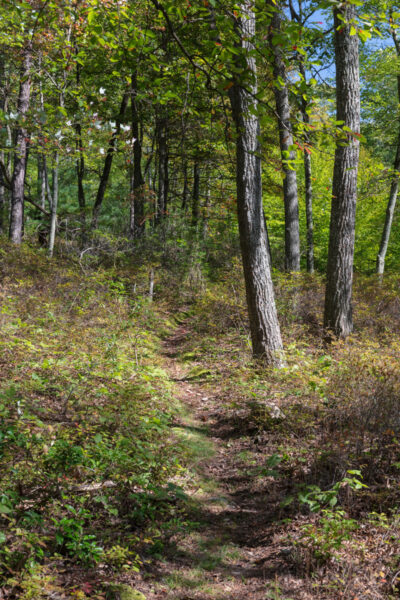 This more narrow trail, which I believe is actually the official continuation of the Sand Spring Trail, climbs somewhat steeply before reaching the ridgeline. Once atop the ridge, head to the right, climbing another small hill, to reach Bald Knob.
For those that use coordinates when hiking, Bald Knob can be found here: 40.760356,-77.774127.
Bald Knob is a very unique ecosystem that is totally unlike the lush valley along Roaring Run that you were hiking in only a few minutes prior. The rocky hilltop is largely lacking a tree canopy, and the boulders are covered in mountain laurel, ferns, and moss.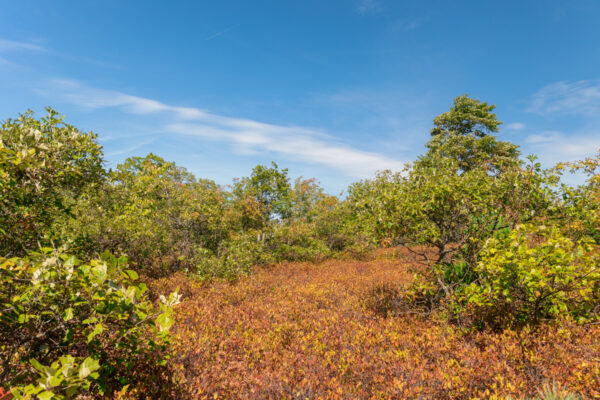 It's truly a beautiful environment, especially in the early fall when many of the plants are various shades of yellow and orange.
As a word of warning, the Bald Knob area is crisscrossed with dozens, if not hundreds of small game trails and breaks in the foliage. It would be very easy to get turned around in this area and lose your sense of direction as none of these are marked in any way.
Make sure to use caution if you decide to leave the main trail and hike into the area around the knob.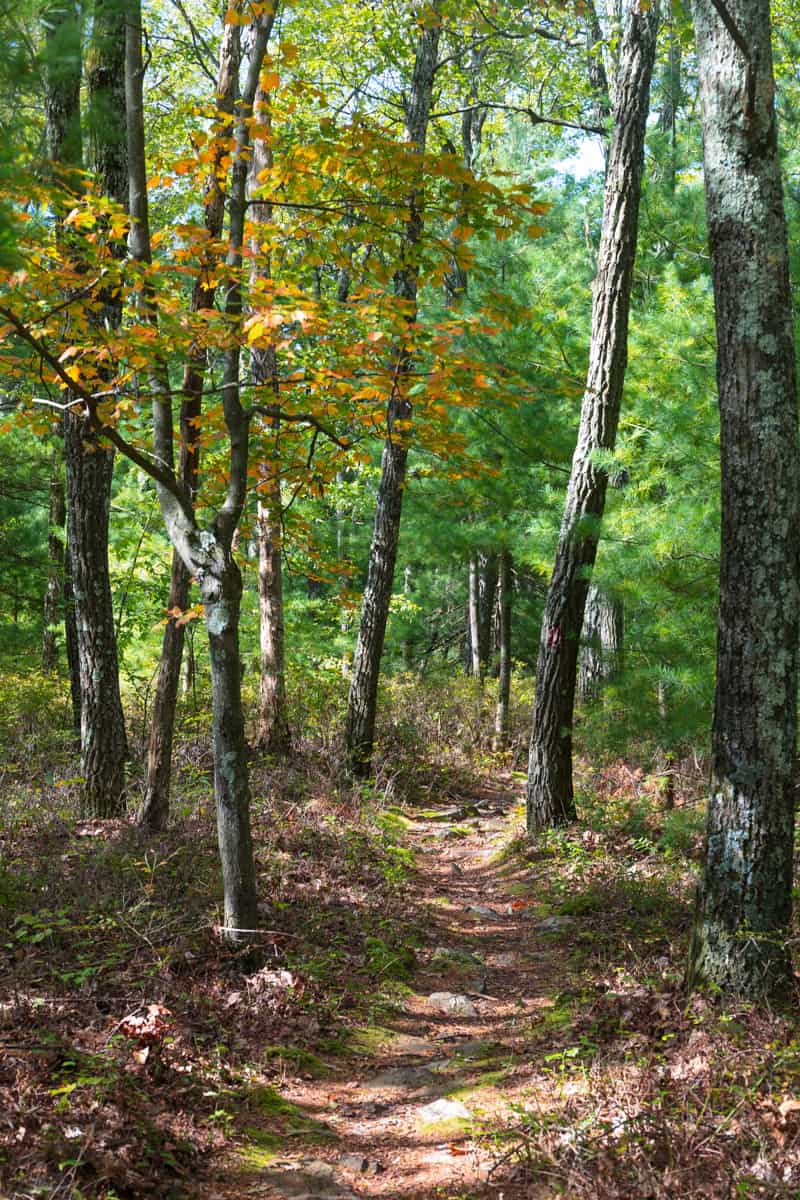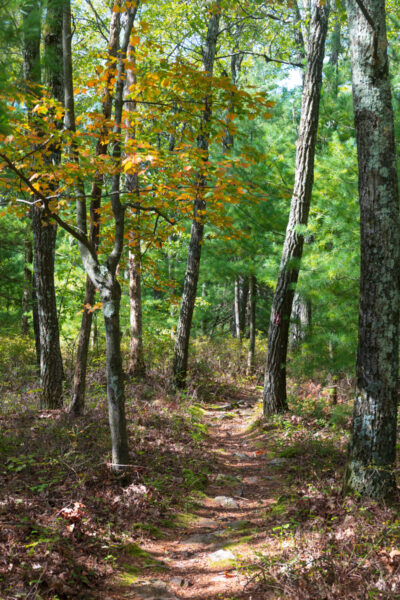 Once you've enjoyed Bald Knob, return to the Bald Knob Ridge Trail, the trail you hiked in on, and follow it the way that you came. When you reach the well-marked split with the Sand Spring Trail, continue straight on the ridgeline.
This trail will run for about two miles, following the ridge of the mountain, and is quite an easy hike, save for the spots that are strewn with rocks.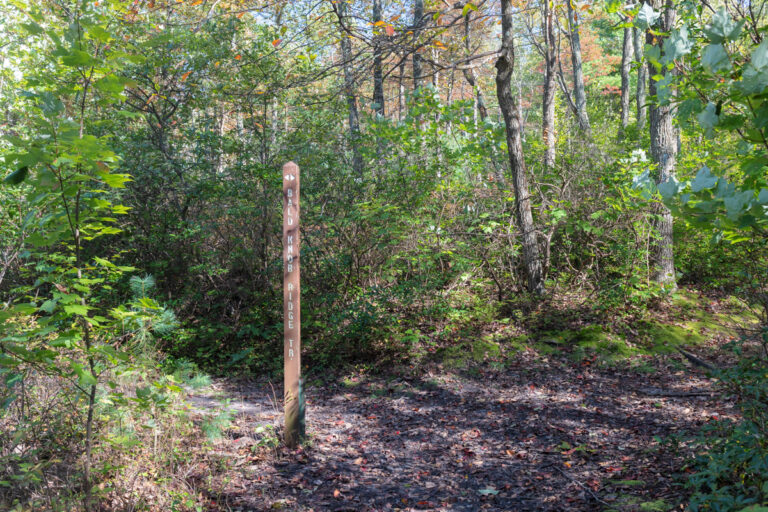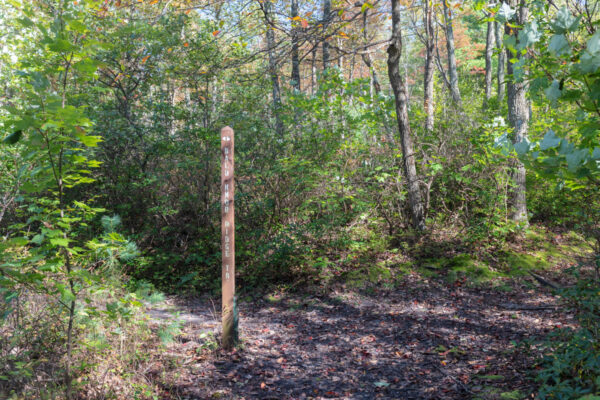 Along the way, you may notice slight views through the trees towards the town of Boalsburg. I'm sure these views would be quite lovely during the winter or early spring, but when there is foliage on the trees, there are no openings large enough to provide any sort of view.
After about two miles of hiking on the Bald Knob Ridge Trail, the trail will make a 180-degree turn and start heading very steeply downhill. Make sure to take your time here as the trail really does get quite steep in spots. Do not take the turn off onto the Jaunt Trail, but continue heading downhill for a little bit further.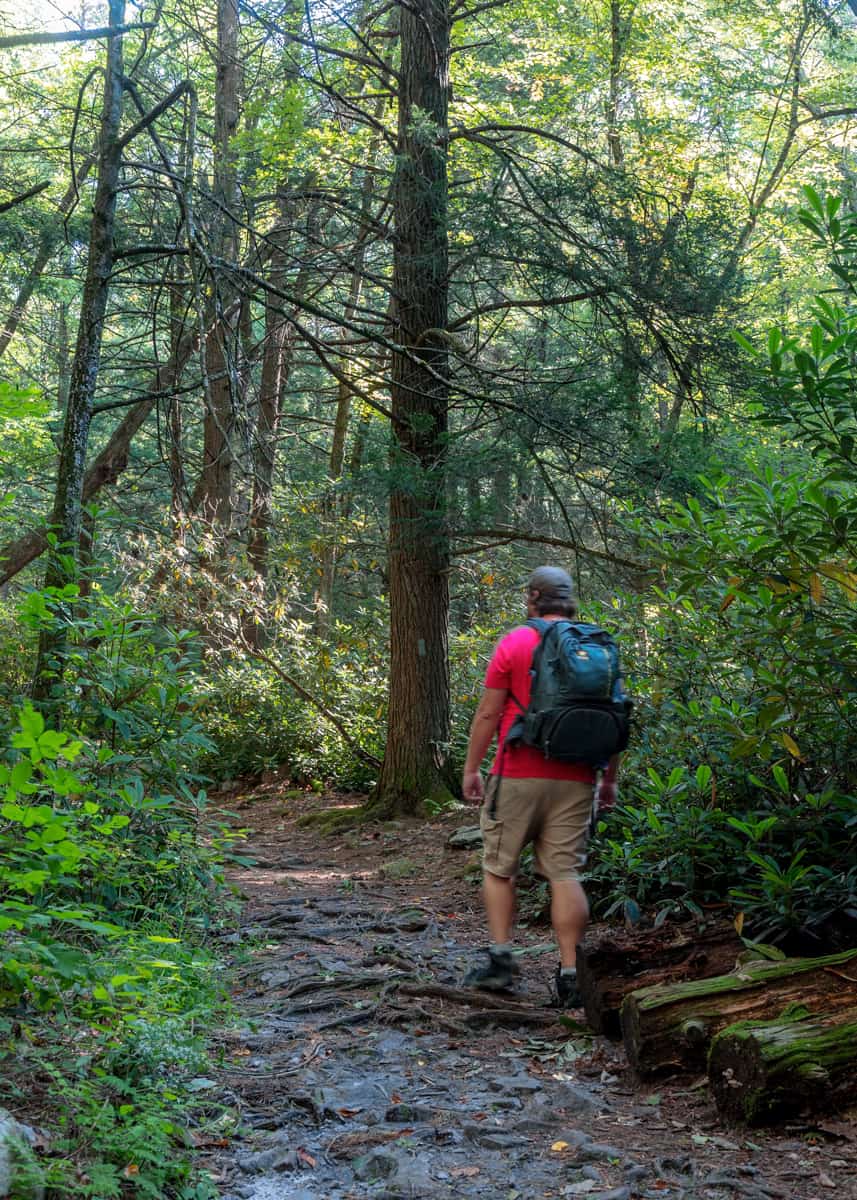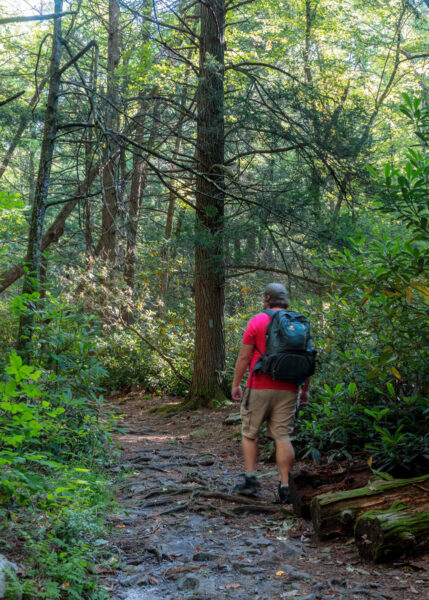 Once your knees are fully worn out from the steep descent, the trail will return to the Lower Trail. At this point, turn to the right to follow Roaring Run downstream for the 0.75-mile hike back to your vehicle.
Overall, Shingletown Gap is a hidden gem and one of the best hiking areas near State College. It's definitely somewhere that I highly recommend checking out. If you do the full hike listed here, you'll actually get to see two unique ecosystems which will almost make it feel like you are hiking in two totally different places.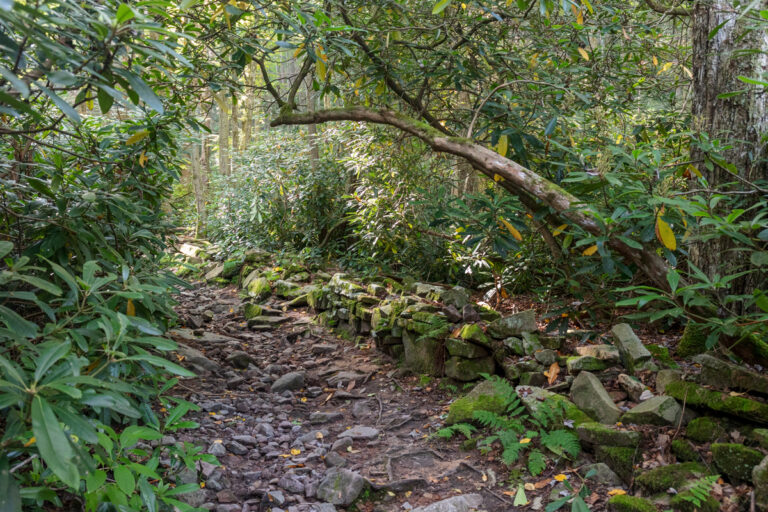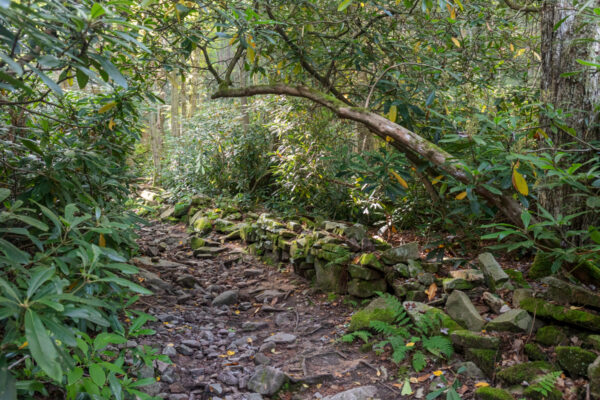 That being said, some of the turns aren't well marked (especially from the Lower Trail), so you might be better served to do an out-and-back hike here along Roaring Run (However, Sand Spring and Bald Knob were both very cool to see.)
If you do plan to head further into the trails, I definitely recommend bringing a good map as that was invaluable for me to figure out exactly where I was and make sure that I didn't get lost.
Looking for even more places to visit nearby? Check out Indian Wells Overlook, the Scotia Barrens, the Alan Seger Natural Area, and Columbus Chapel and Boal Mansion.