Disclosure: This article may contain affiliate links. We will make a small commission from these links if you order something at no additional cost to you.
When visiting Philadelphia, getting a cheesesteak is a must. However, with hundreds of choices, where do you get the best cheesesteaks in Philly?
During my many visits to the city, I've had the chance to try many great, and a few not-so-great cheesesteaks. To help you navigate the rather overwhelming list of places in Philadelphia to get a cheesesteak, I decided to share a few of my favorite places for this delicious sandwich.
Whether you are looking for the best Philly cheesesteak near Independence Hall or are looking for the most authentic cheesesteaks in South Philadelphia, you won't want to miss the great places listed below.
Where to Find the Best Cheesesteaks in Philly
Jim's Steaks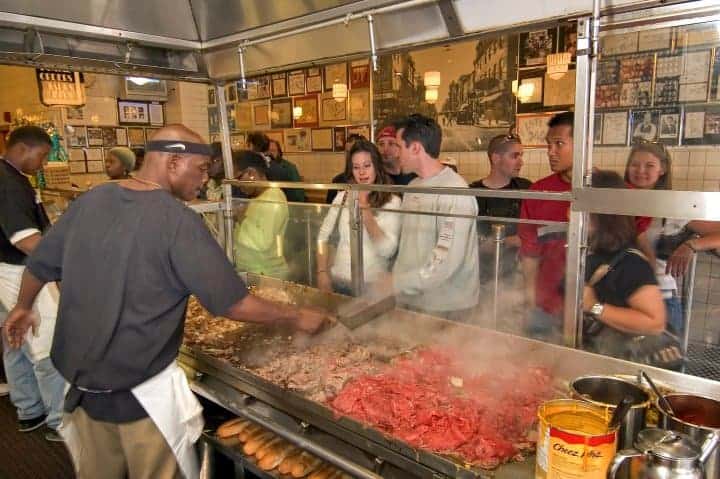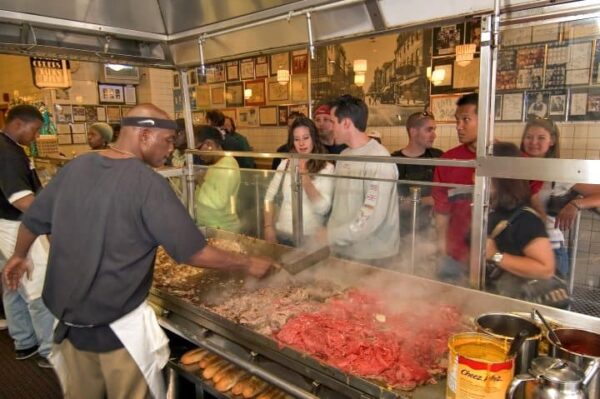 Jim's Steaks is one of the oldest places to get a cheesesteak in Philadelphia, opening in 1939, just a few years after the cheesesteak was first invented. Their first location is still open in West Philadelphia on North 62nd Street.
However, most visitors to Philly will find their South Street location much more convenient. This restaurant is located in the busy shopping, dining, and nightlife corridor along South Street and is about half a mile from Independence Hall.
While often mentioned in the same breath as the famous Pat's and Geno's, Jim's is generally considered to have much better cheesesteaks.
Address: 400 South St, Philadelphia, PA 19147
John's Roast Pork
Despite the name, John's Roast Pork is probably the best place to get a cheesesteak in South Philly. Once not known outside of the local area, John's has gained more and more popularity and press in recent years.
John's features a small interior that only has room for those ordering with all seating outside (both covered and uncovered).
It's worth noting that John's Roast Pork is only open until 7pm each day. So, if you want to visit one of the best cheesesteak places in Philly (or to try their equally fabulous roast pork sandwich), make sure to plan for lunch or an early dinner.
Address: 14 E Snyder Ave, Philadelphia, PA 19148
Dalessandro's Steaks and Hoagies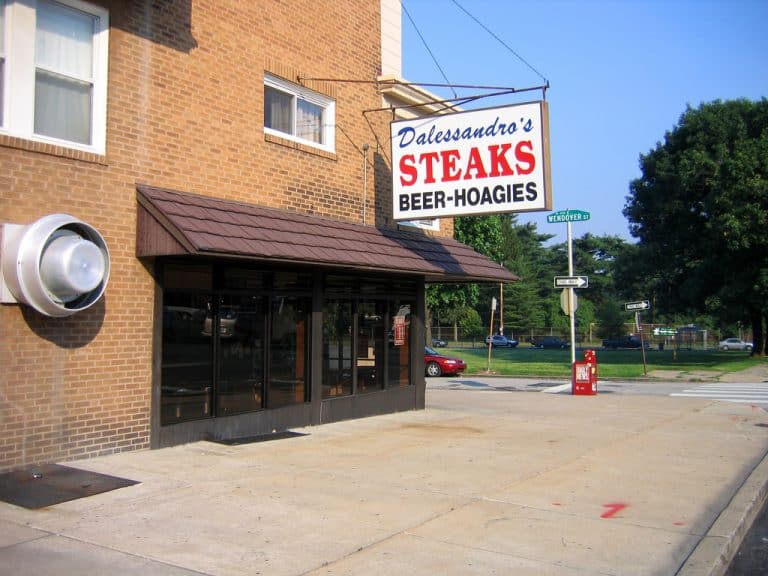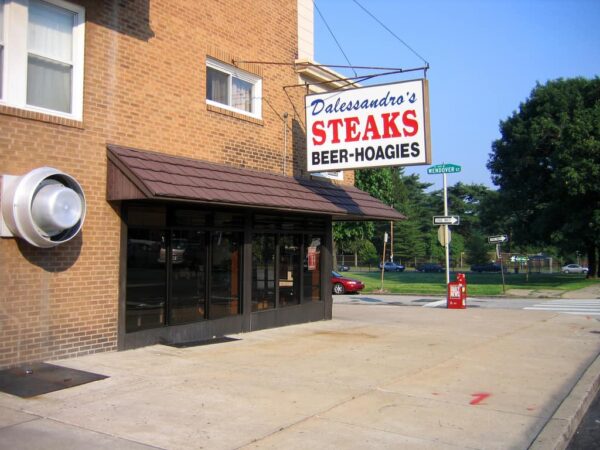 Dalessandro's Steaks and Hoagies feels more like a neighborhood deli than a traditional Philly cheesesteak restaurant, but they also put out some of the best sandwiches in the city.
Located in northwest Philly, this is the perfect place to stop for a filling meal after a day exploring the beautiful Wissahickon Gorge. However, even if you aren't in the area, it's worth the drive up to the Roxborough neighborhood just to sample this delicious sandwich, which often finishes near the top of polls for the best cheesesteaks in Philadelphia.
Address: 600 Wendover St, Philadelphia, PA 19128
Tony Luke's Cheesesteaks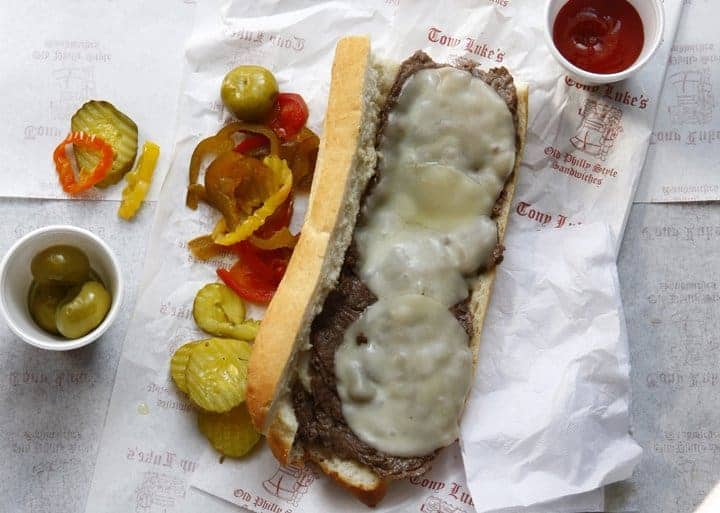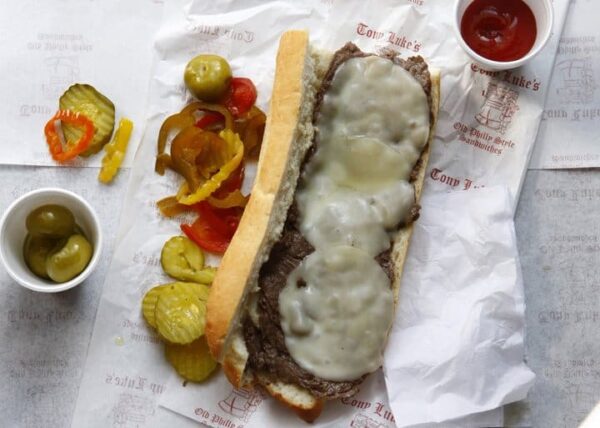 Tony Luke's is another South Philly staple and is one of the best-known spots in the city. Unlike many of the other well-known establishments, Tony Luke's opened in the early 1990s, but has quickly gained a reputation for both their cheesesteaks and their roast pork sandwiches.
Tony Luke's has 20 locations, but their best and original location is on East Oregon Avenue in South Philly.
While visiting, take some time to check out the many pictures on the wall of owner Tony Luke, Jr. and the celebrities that have stopped by in the past.
Address: 39 E Oregon Ave, Philadelphia, PA 19148
Little Pete's Steaks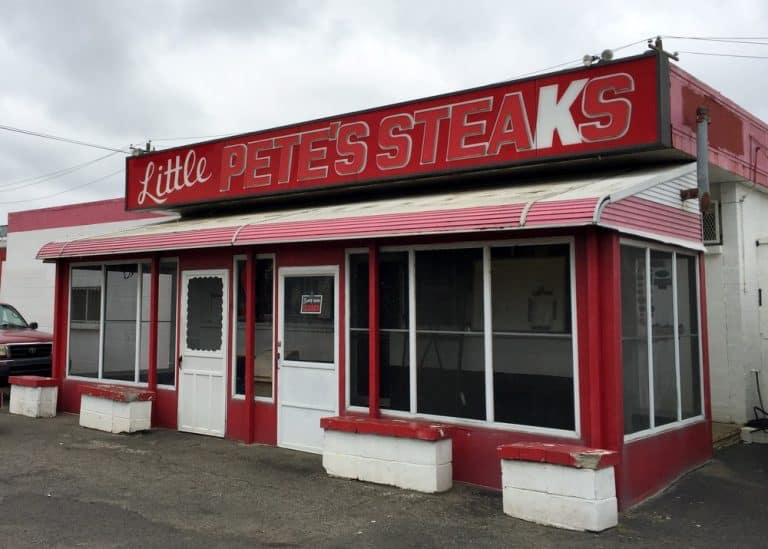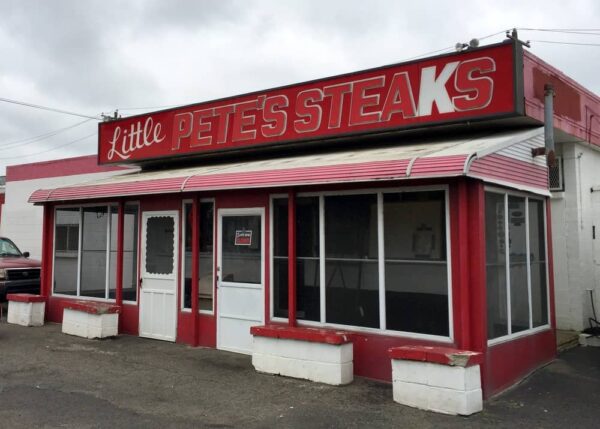 Little Pete's Steaks might be the least-known place on this list, but that doesn't mean its not one of the best places to get a cheesesteak in Philadelphia, PA. What Little Pete's lacks in ambiance and location (it's in a hard to find spot between an industrial area and I-95) it makes up for with delicious cheesesteaks.
Little Pete's also doesn't advertise much, and they don't appear to have a website or social media presence. Compared to other places that seem to revel in what famous people have been there, Little Pete's simply focuses on making some of Philly's best cheesesteaks.
Make sure to get here early, though, as Little Pete's closes at 2pm each day.
Address: 6701 State Rd, Philadelphia, PA 19135
Sonny's Famous Steaks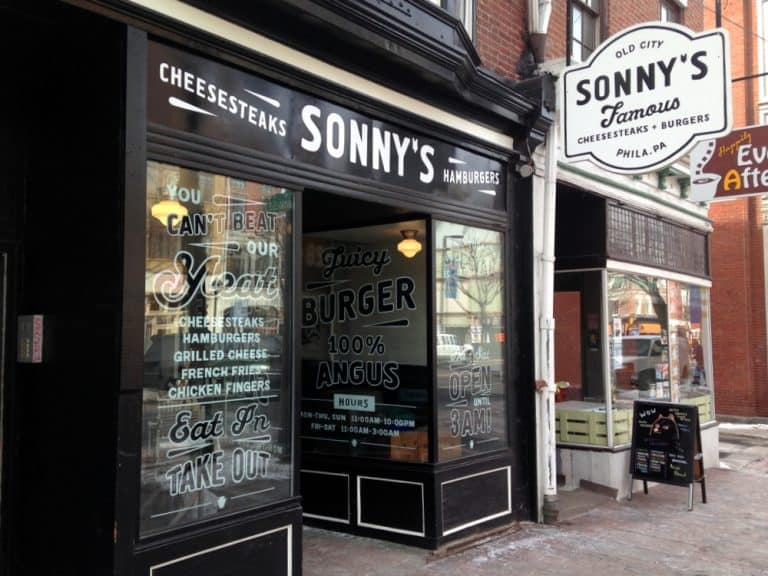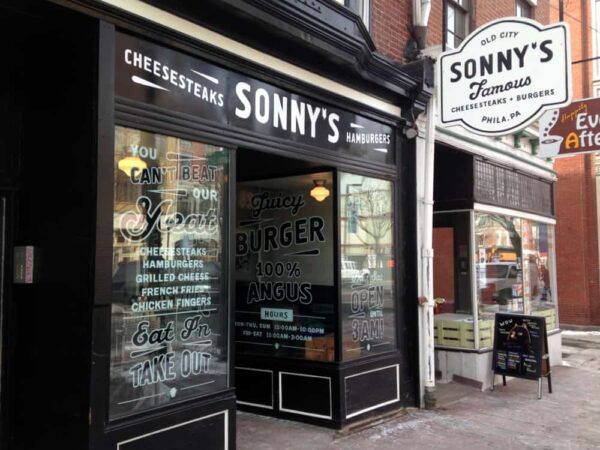 If you're looking for a great cheesesteak near Independence Hall and Philly's Old City, Sonny's Famous Steaks is a great choice. Located on Market Street between 2nd and 3rd Street, just around the corner from the Benjamin Franklin Museum and Christ Church, Sonny's offers cheesesteaks in a great location.
Sonny's Famous Steaks was named the best cheesesteak in Philadelphia by GQ Magazine in 2014. While I personally don't think it's the city's best, it's definitely a great spot if you want a cheesesteak while touring the sites in Independence National Historical Park.
Nearby Campo's is another popular choice, but Sonny's offers both a better cheesesteak and a better overall experience.
Address: 228 Market St, Philadelphia, PA 19106
McNally's Tavern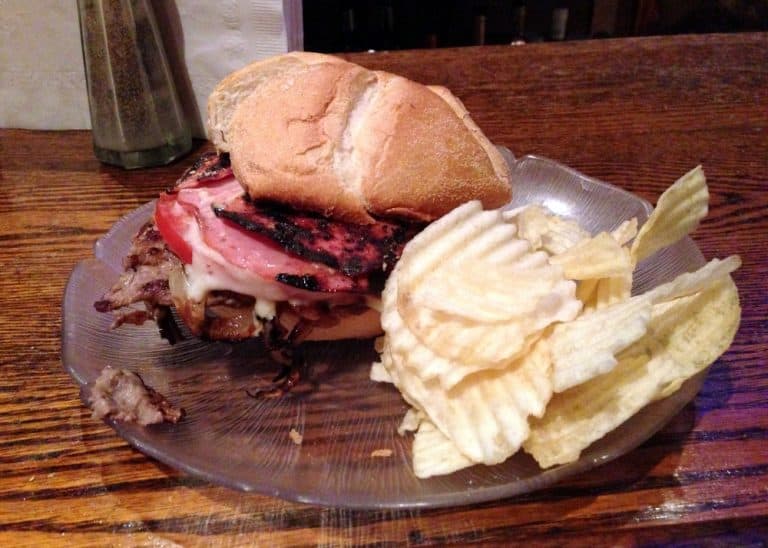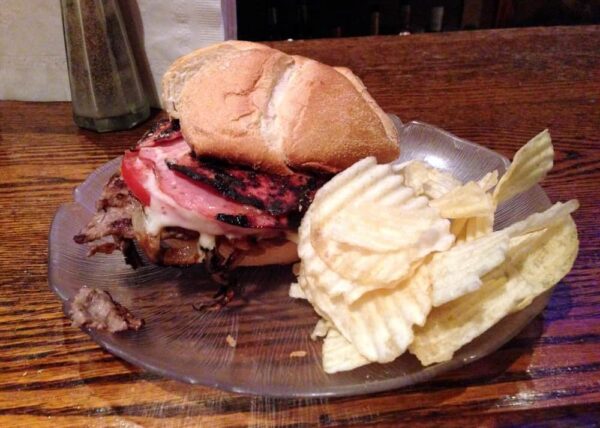 McNally's Tavern in Philly's Chestnut Hill might be an unconventional choice as they don't serve a traditional cheesesteak. However, if you want to try something a little different, their Schmitter might be the best twist on a Philly cheesesteak that you'll find in the city.
McNally's Schmitter includes traditional cheesesteak elements like steak, cheese, and onions, but adds salami, tomatoes, and their special Schmitter sauce, which somewhat resembles Russian dressing. Also, unlike traditional cheesesteaks, the Schmitter is served on a kaiser roll.
All in all, it adds up to an amazing twist on this classic Philly sandwich.
Address: 8634 Germantown Ave, Philadelphia, PA 19118
Where do you think serves the best cheesesteak in Philadelphia? Share your favorite in the comments below.
How to Order a Cheesesteak in Philly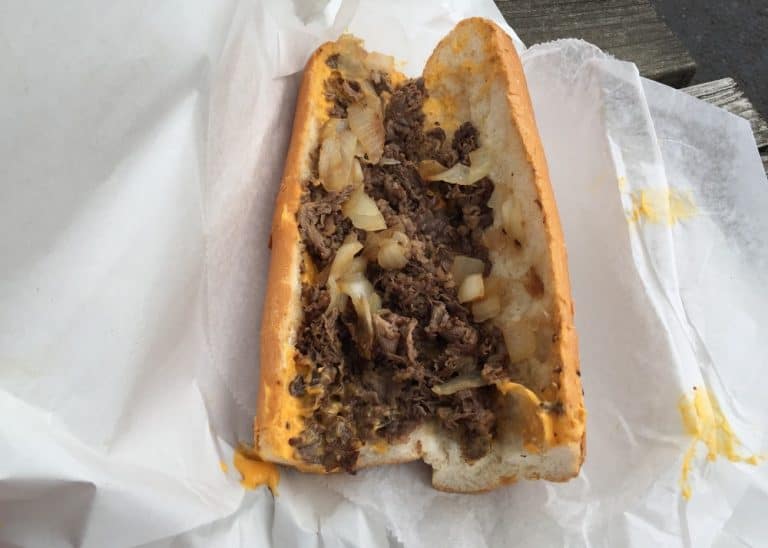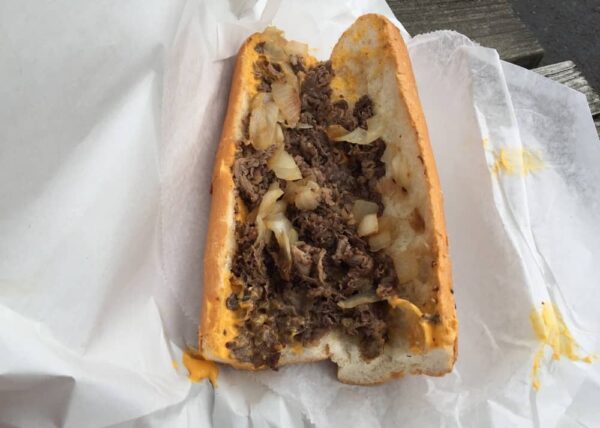 Most cheesesteak places in Philly are no nonsense and lack a bit in the cheery customer service category. Because of this, it's best to understand how to order a cheesesteak before you step inside.
At most traditional cheesesteak places, you'll have three cheese choices: Cheez Whiz, provolone, and American. Cheez Whiz is the traditional choice, and adds a nice sauce to the sandwich as it melts. To be honest, I thought Cheez Whiz sounded disgusting until I tried it.
You also have the choice of getting the sandwich with or without grilled onions. This is ordered simply by saying "wit" or "witout". To order, simply say "one Whiz wit," "one American witout," or any of the other possible combinations.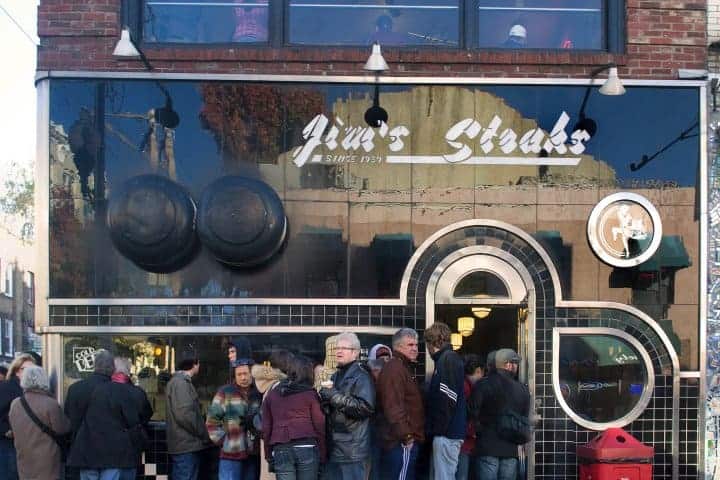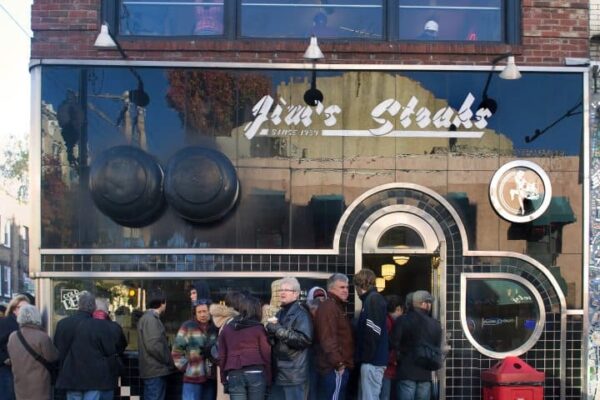 It's also worth keeping in mind that many cheesesteak places have very long lines during meal times. However, these lines tend to move quickly. If you want to avoid the lines, try visiting mid-afternoon or in the morning.
Finally, note that most, but not all, of the best Philly cheesesteak restaurants only accept cash. However, many do have ATMs on site.
Check our list of the best breweries in Philly, Pizzeria Beddia, the best restaurants in Reading Terminal Market, and where to eat in nearby Bucks County, PA.
Looking for even more iconic food? Check out the home to the original Buffalo wings in Buffalo, New York on our sister site.
---
See map for other area attractions.