Disclosure: This article may contain affiliate links. We will make a small commission from these links if you order something at no additional cost to you.
Back in the 18th century, when German and Swiss German immigrants settled in Pennsylvania, they brought much of their culture with them. From town names to Pennsylvania's great beer and Christmas markets, many different aspects of German culture are still evident in the state.
However, none seem to have had as much national effect as Pennsylvania's love of pretzels.
In fact, Pennsylvania is so in love with the pretzel, that it's said that while the average American eats 1.5-2 pounds of pretzels each year, Philadelphians eat 12 times that amount. Therefore, it shouldn't come as much of a surprise that 80% of America's pretzels are produced in Pennsylvania.
It should come as even less of a surprise that America's largest manufacturer of pretzels, Snyder's of Hanover, is located in Pennsylvania.
Started in 1909, Snyder's of Hanover has been making great pretzels for a really long time. They even claim to still use many of the same recipes that the original owners did.
Snyder's factory is located in a ridiculously large warehouse on the outskirts of Hanover. Much more industrial looking than the factories of the nearby Martin's Potato Chips and Utz Potato Chips, the utilitarian structure belies the tasty treats made inside.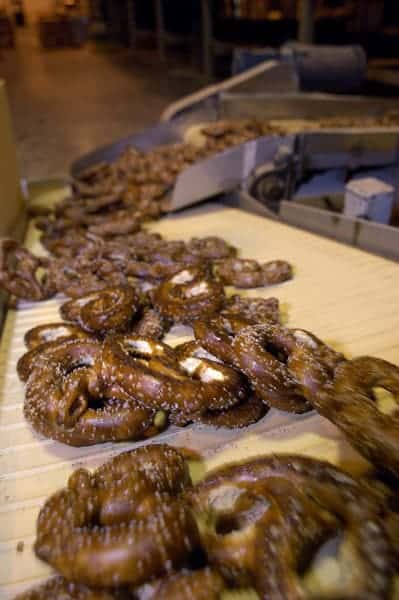 What drew me out to Snyder's of Hanover, though, was their factory tour. Located in York County, the "Factory Tour Capital of the World", Snyder's of Hanover is one of the most popular tours in the region, as was evidenced by the size of our tour group: around 25 people.
Tours through the Snyder's of Hanover factory run in a hallway above the factory floor. This has the benefit of allowing you to get a great overview of the facility, but makes you feel less connected to the factory itself.
As we were led on our 30-minute tour through the factory, our tour guide did a good job of explaining what we were seeing. However, given the large size of the group and the less than panoramic windows looking over the factory below, it was often hard to find the part of the factory she was referring to.
Overall, I enjoyed the Snyder's of Hanover Factory Tour. However, due to the group size and the separation from the factory floor, I found it to be not as well done as the tours at Martin's or Utz. On the other hand, my wife appreciated the overview of the factory floor that the tour provided, proving that, just like with the competing brands of snack foods, it may be a matter of personal taste.
All that being said, I think the Snyder's of Hanover Factory Tour is a great activity, especially if combined with several other factory tours in York County.
Taking the Snyder's of Hanover Factory Tour
Snyder's of Hanover Factory Tours are offered Tuesday-Thursday every half hour from 10am to 2pm. Reservations are required at least 24 hours in advance and can be made by calling 1-800-233-7125, extension 28592 between 9am and 5pm Monday through Friday.
Tours are given free of charge.
Tours of the factory leave from inside the factory store. The store offers a great selection of Snyder's of Hanover products, including some hard-to-find ones and seconds. However, many of the prepackaged goods are the same price you'll find them for in stores, so make sure to shop carefully.
---
Snyder's of Hanover Factory Tour
Hours: See Above

**Tours are currently unavailable

Cost: Free

Website: SnydersofHanover.com

Address: 1350 York Street
Hanover, PA 17331
See map for other area attractions.
---