Disclosure: This article may contain affiliate links. We will make a small commission from these links if you order something at no additional cost to you.
One of my favorite things about the increasing number of breweries in PA is that there is almost always one in any town that I visit. And, while many of these breweries offer good food and decent beer, few have had such a great combination of delicious food and high-quality beer as Chatty Monks Brewing Company in West Reading, Pennsylvania.
Located along the happening Penn Avenue just across the Schuylkill River from downtown Reading, Chatty Monks occupies a narrow two-story building amidst a collection of other restaurants and shops.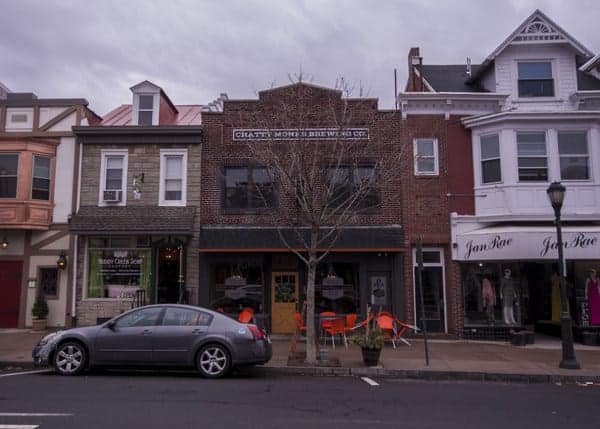 The inside of the restaurant is very nicely decorated, but surprisingly small. I imagine that Chatty Monks gets very crowded during busy times of the week. However, if you're looking for somewhere delicious to eat and (or) some great craft beer, you can't do much better than Chatty Monks.
Chatty Monks Brewing's taproom and restaurant has been open in West Reading since June 2014. In that time, they've amassed quite a following that has required them to renovate the restaurant's second floor and even contemplate expansion.
The newly renovated second floor of the restaurant provides both additional seating for diners, as well as a space for events. Called the Abbey Bar, this space is decorated with 100-year-old church pews and is very tastefully decorated.
The restaurant's main floor is also nicely decorated, with an inviting bar and several tables. As noted above, this is likely a very difficult place to get a seat during popular dining hours due to the restaurant's small size.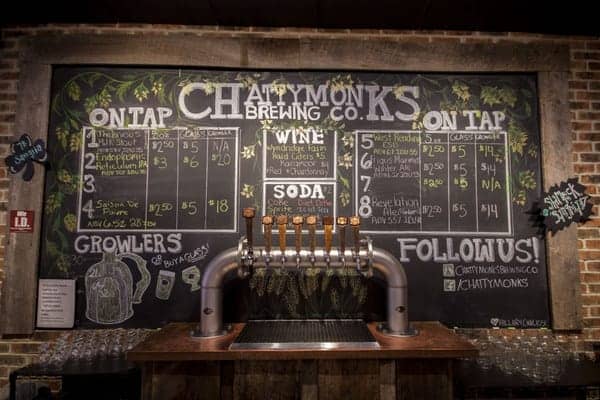 During my lunchtime visit, I had the chance to try several beers, as well as their fish and chips.
Despite their name, Chatty Monks Brewing produces far more than just Belgian-style ales. This ensures that every craft beer lover should be able to find something that they'll enjoy in the ever-rotating selection of beers available.
During my visit, I had a chance to sample all three of their flagship beers (Revolution Ale, Endoplasmic Reticulum IPA, and Theloneous Milk Stout) as well as their Saison de Poive. All four beers were great examples of each respective style and tasted quite delicious.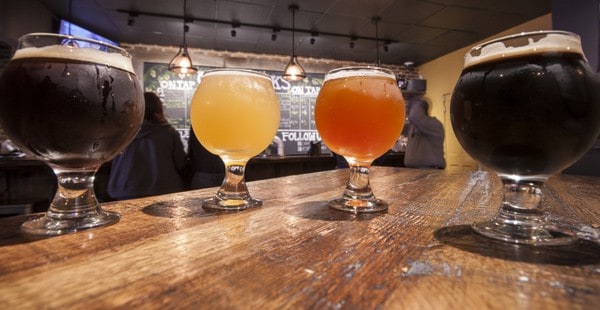 The fish and chips that I ordered came out quickly and was a nice size portion. The fish and chips comes with a sweet relish tartar sauce and a slightly spicy tartar sauce that features Sriracha. There is also a light dusting of hops sprinkled on top of both the fish and the fries.
Fish and chips is one of my go-to dishes when dining at brewpubs, so I've eaten my fair share of it over the years. I'm not exaggerating when I say that this fish and chips was easily the best that I've ever had. There's no doubt that I would visit again just to eat this, but I obviously wouldn't be able to resist the urge to also get some of their delicious beer.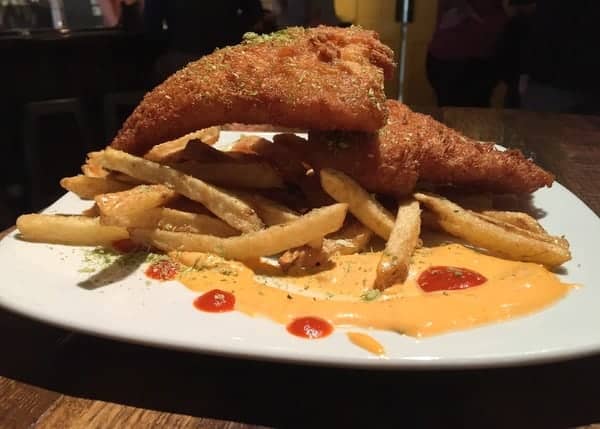 Whether you are planning to visit the Reading area or are looking for a great craft beer road trip, you certainly won't be disappointed with a visit to the fantastic Chatty Monks Brewing in West Reading, PA.
Note: My meal at Chatty Monks Brewing was hosted by the brewery. However, the opinions expressed are my own.
Looking for more things to do near Reading, PA? Check out the Reading Pagoda, the Reading Public Museum, and the trails at Nolde Forest.
---
Chatty Monks Brewing
Hours:

Tuesday: 4pm-10pm

Wednesday & Thursday: 12pm-10pm
Friday: 12pm-12am

Saturday: 11am-12pm
Sunday: 11am-10pm

Website: ChattyMonks.com

Address: 610 Penn Avenue
Reading, PA 19611
See map below for other area attractions.
---