Disclosure: This article may contain affiliate links. We will make a small commission from these links if you order something at no additional cost to you.
Located on Route 11 about halfway between Bloomsburg and Berwick in Columbia County, PA, you'll find one of the state's most incredible personal collections at Bill's Old Bike Barn.
Bill's Old Bike Barn is the collection of William Morris and has grown out of his custom cycle shop which sits in front of the museum. The museum started with one room in 1998 but has grown to over 50,000-square feet today.
I know it sounds cliche, but Bill's Old Bike Barn really does have something that will interest anyone that loves historic artifacts. While the collection is centered around motorcycles, you'll also find huge collections of nostalgic items from both a hundred years ago and from recent decades. There are also many displays that would be the type of thing you'd expect to see in the local historical society museum.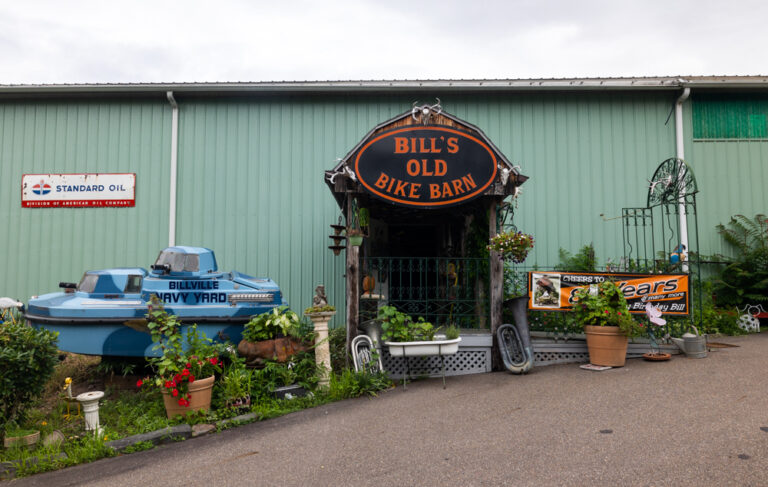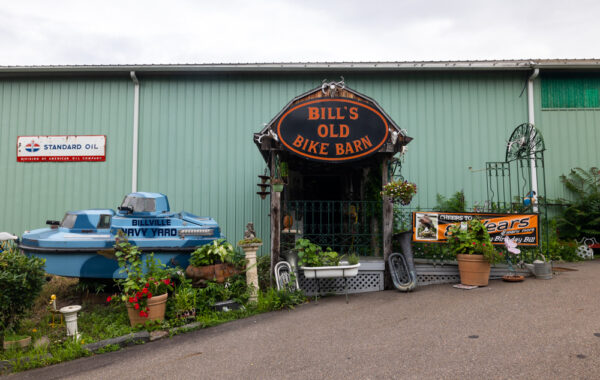 After paying your admission (cash only) visitors are provided with an audio wand for their self-guided tour.
This audio tour consists of over 100 stops throughout the museum. While that means that you likely won't have time to listen to all of them, it also means that in just about any area of the museum that you are interested in, there is narration provided by Bill to tell about the significance of the items in the display case.
The first room that you enter is filled almost entirely with motorcycles and motorcycle-related items. In fact, Bill's Old Bike Barn claims to have the largest collection of vintage motorcycles on the east coast. Of course, I have no way of proving or disproving that, but suffice to say that if you love motorcycles, you won't leave disappointed.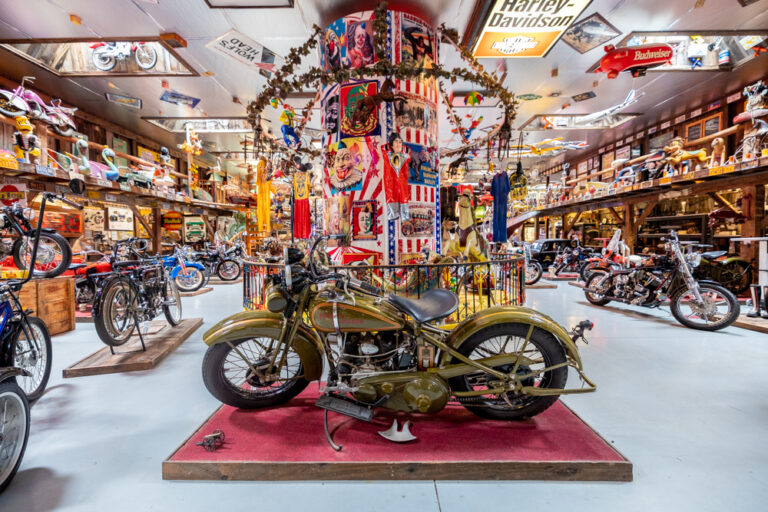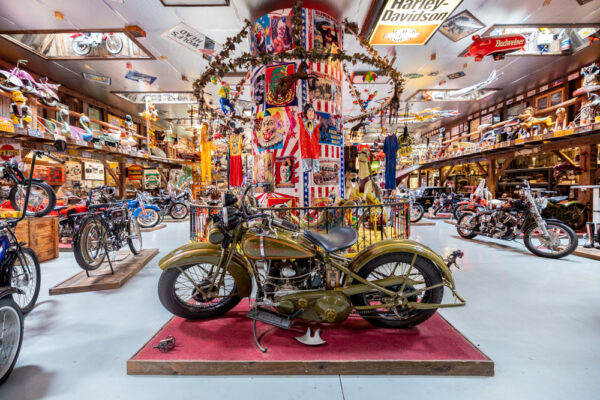 All told, there are approximately 200 different motorcycles in the collection, including some very rare pieces both due to their age and the style of the motorcycle (Ever seen a tank motorcycle?). Many of the items are described in detail in the audio narration, meaning you can learn more about some of the best items in the collection.
However, don't think that Bill's Old Bike Barn is just motorcycles. In fact, half of the museum's space is dedicated to a huge range of items unrelated to these two-wheeled vehicles.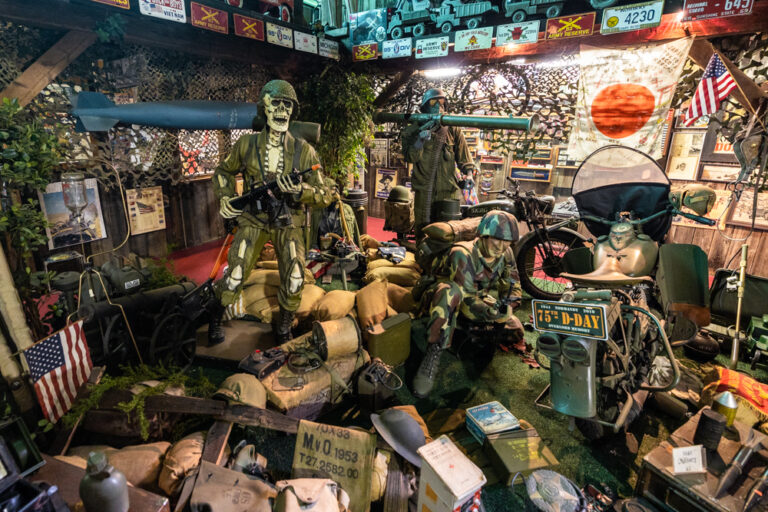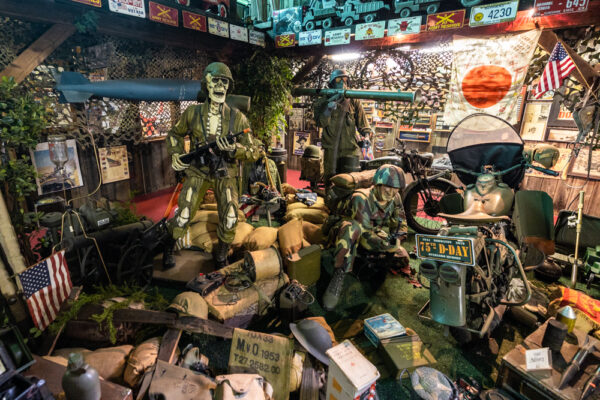 One of the museum's other two rooms features a wide variety of items, though the overall focus seems to be military items, including trophies taken from the battlefields of World War 2, uniforms, weapons, and much more. (If military history is your thing, check out the nearby Stuart Tank Museum in Berwick.)
Of course, there are also a few motorcycles sprinkled throughout the display here as well as some antique bicycles.
In addition to wheeled transportation and military items, you'll really come to appreciate the breadth of Bill's collection within this room. Really, if you can collect it, you'll probably find at least a few items related to it within the collection at the museum.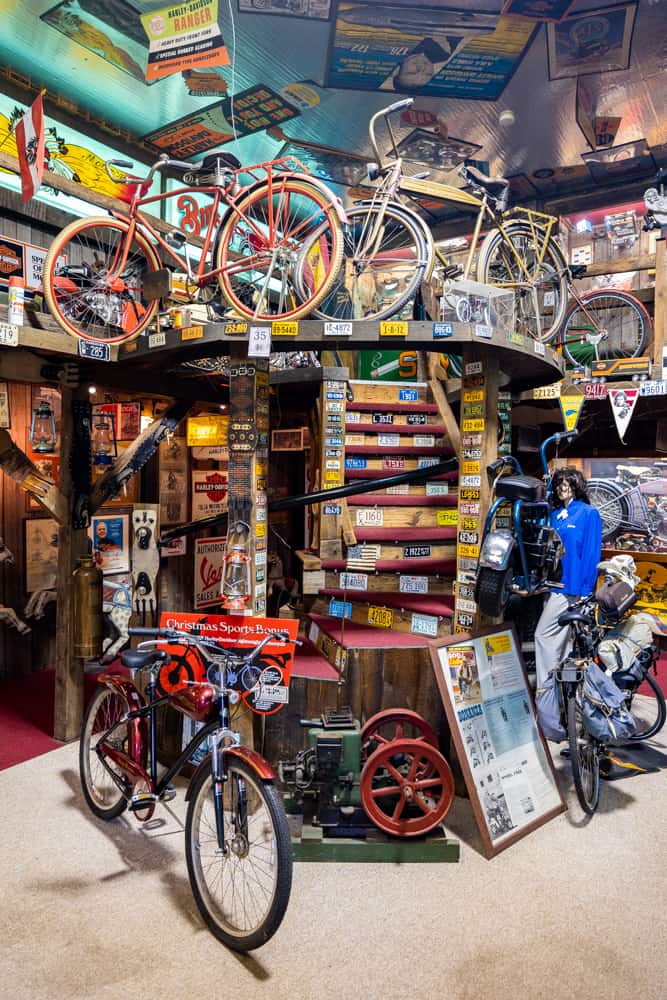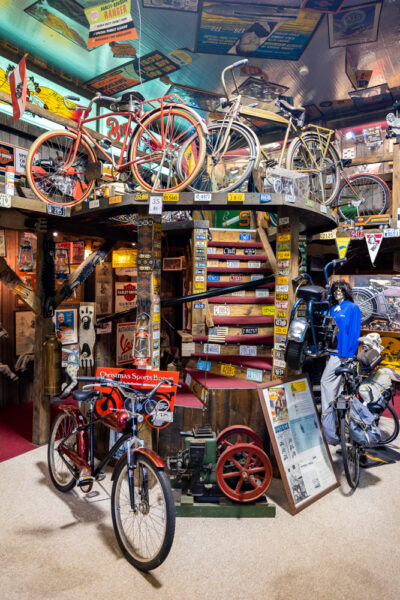 In some ways, the museum almost makes you feel like a treasure hunter as you scour the many display areas within the museum looking for items that pique your interest. And trust me, you'll find many items that do.
The third and probably largest space in the museum is known as Billville. In this area, you'll find a miniature town, complete with many fun storefronts.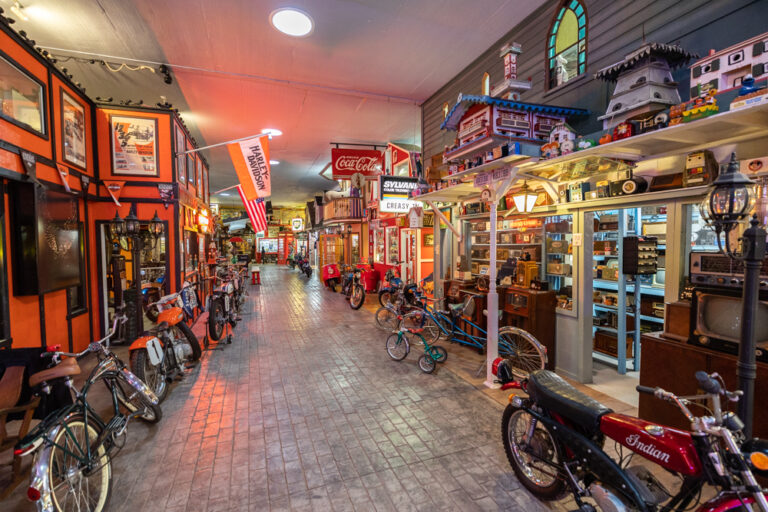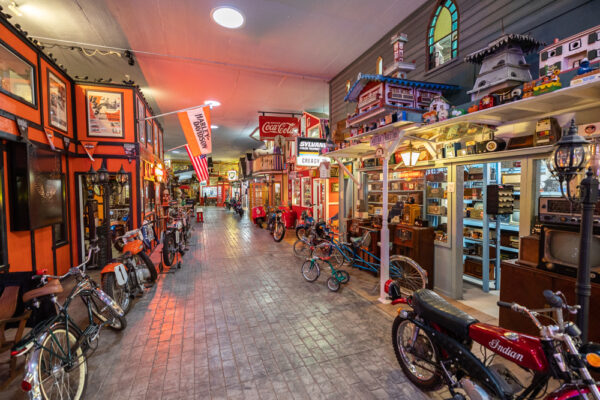 Inside each small building, you'll find collections that typically relate to the subject matter of the store.
For example, the motorcycle shop is actually a recreated autobody shop from a Harley Davidson dealership that was bought out in years past. Other recreated shops in this area include a cigar store, music shop, police station, and much more.
Some of these recreated stores can be entered while others you simply enjoy through the front windows. Some of these storefronts are even actual spots from around the Bloomsburg area that were bought and recreated within the space, such as the dentist's office.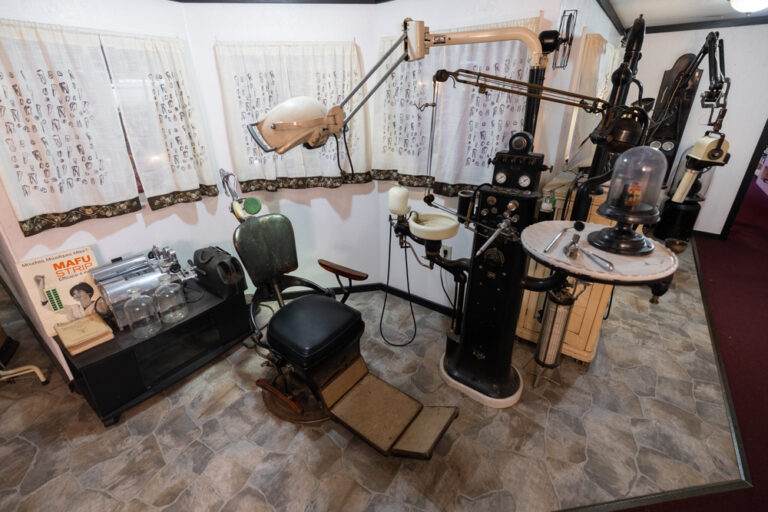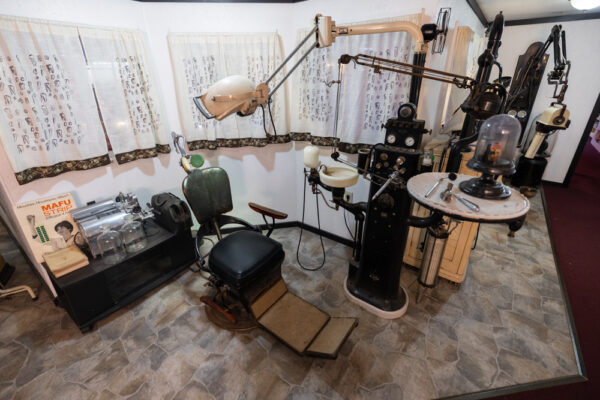 As you're walking through Bill's Old Bike Barn, you'll likely notice that there are displays along the wall of the second-story walkways. This is especially true in Billville where you'll find a large number of items on display on the second story of the storefronts.
Probably my favorite spot up here is the small covered bridge that is built into the wall. This can be well seen from below but is neat to walk through from the upper level.
It's worth noting, however, that, to the best of my knowledge, the second story of Bill's Old Bike Barn is not handicapped accessible. While there is still plenty to see on the museum's first floor, I thought that this was something worth noting.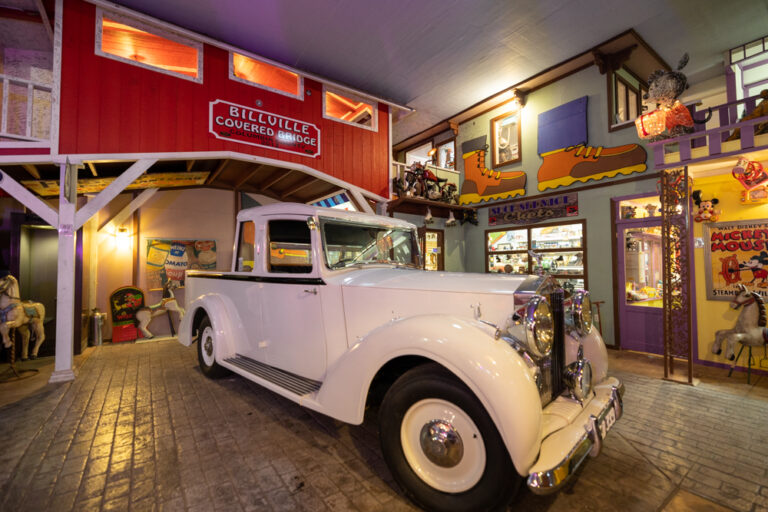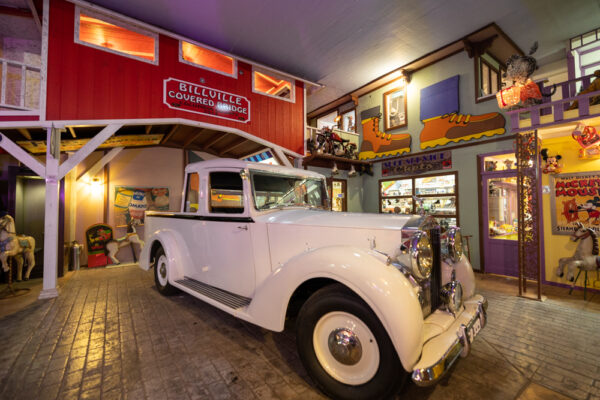 Ultimately, Bill's Old Bike Barn is a really fascinating place to explore. While the main focus here is on motorcycles and related memorabilia, there really is a lot here that any lover of history and nostalgia will enjoy.
If I had one criticism, it's that there is a lack of signage around the museum to explain the individual items (though the included audio narration does solve this issue to an extent).
There also isn't much rhyme or reason for the various displays cases within Bill's Old Bike Barn, though they do tend to each have a specific theme. Fortunately, again, the audio guide offers some good insight into the pieces in many of these display areas.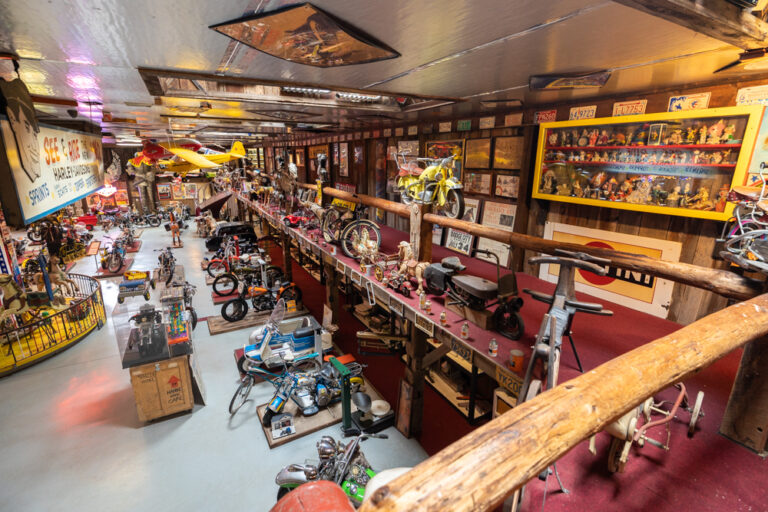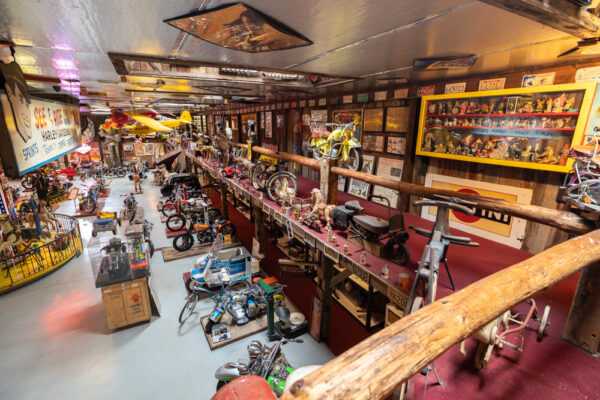 However, this hodgepodge feel is part of what makes Bill's Old Bike Barn so much fun to visit. In addition to seeing a ton of cool things, there is also a sense of adventure to be had while looking through the thousands upon thousands of items on display. That means that you could literally spend all day here and not see everything this spot has to offer.
Because of that, I definitely recommend this fun and unique spot as somewhere really neat to check out when exploring the Susquehanna Region of Pennsylvania.
Looking for more places to explore nearby? Check out Knoebel's Amusement Park, Little Shickshinny Falls, and the Hooded Grave Cemetery.
Looking for more amazing personal collections in PA? Visit the American Treasure Tour, Mercer Museum, Isett Heritage Museum, the Boal Museum, and the Maridon Museum.
---
Bill's Old Bike Barn
Hours: Thursday – Friday: 10a-6p
Saturday: 9:30a-3p
Sunday: 1p-5p

Cost: $5
Cash Only

Website: BillsBikeBarn.com

Address: 7145 Columbia Blvd
Bloomsburg, PA 17815
See map below for other area attractions.
---