Disclosure: This article may contain affiliate links. We will make a small commission from these links if you order something at no additional cost to you.
Note: As of late June 2017, I have received reports that there are now "No Trespassing" signs at this waterfall. However, I have not personally confirmed this. Please respect private property where posted. If you have any further information on this, please contact me.
Other nearby accessible waterfalls include Yoder Falls, Buttermilk Falls, and Hinkston Run Falls.
Most waterfalls that I visit in Pennsylvania are located a good distance outside of the closest town. However, with Paint Falls and Little Paint Falls, reaching them is quite simple as they are located right in the middle of the small town of Paint, in Somerset County, Pennsylvania.
Despite being in the middle of a town, there is little to tell you that the falls are there. In fact, there is no signage whatsoever about the waterfalls, even though they are located just down a short, but steep hill from the town's main street and within spiting distance of the main highway through town.
However, the in-town location of the waterfalls isn't the only thing that makes them special. What makes these waterfalls unique is that, despite being on different streams, there are two waterfalls within 50 yards of each other. That's right, just downstream of Paint Falls, Little Paint Creek tumbles its way down Little Paint Falls.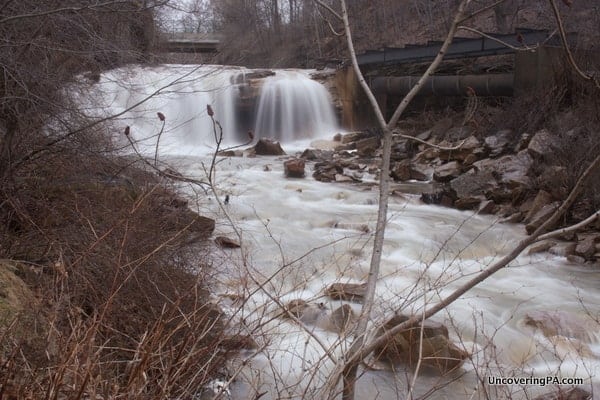 Unfortunately, the beauty of Paint Falls (which is also known as Sandy Falls in some sources) is seriously marred by the remnants of area's industry past. On the other hand, the flow of the creek usually creates a nice cascade, and the 12-foot height and 30-foot width are nothing to scoff at.
A quick look at the falls and the dark red color of the rocks will tell you that the creek has been severely damaged by mine runoff. Even worse, a large pipe runs along the far side of the creek, marring the view of the waterfall. To top it off, there is a decent amount of trash near the waterfall.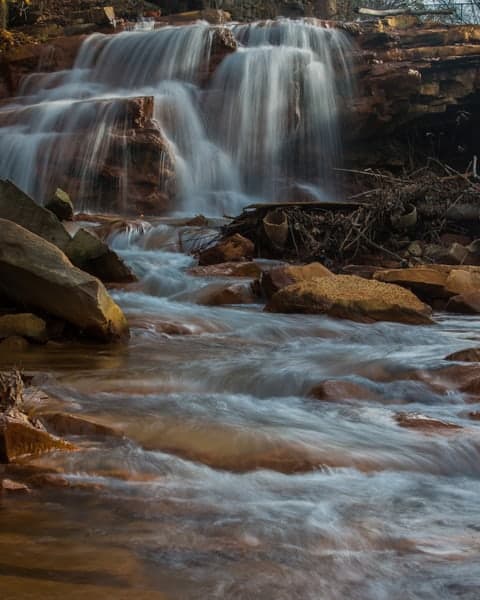 Fortunately, the abandoned trailer which used to sit next to the falls has been removed since my first visit. It also appears that there was a bit less trash in the area during my second visit in November 2016.
Paint's second waterfall, Little Paint Falls is more scenic than the first, but easy to miss. Located just past the railroad bridge, Little Paint Falls is just a few feet above where Little Paint Creek flows into Paint Creek. The waterfall is roughly the same height as Paint Falls, but only about 15 feet wide.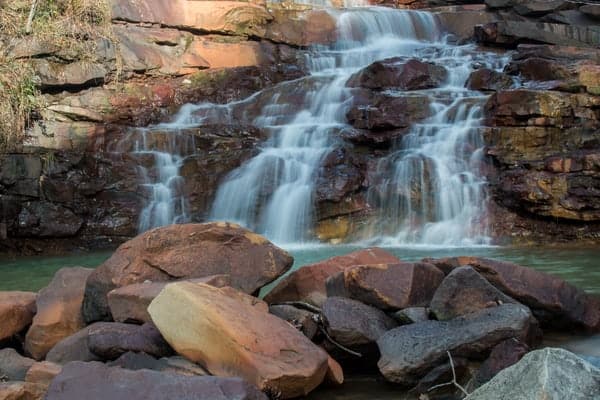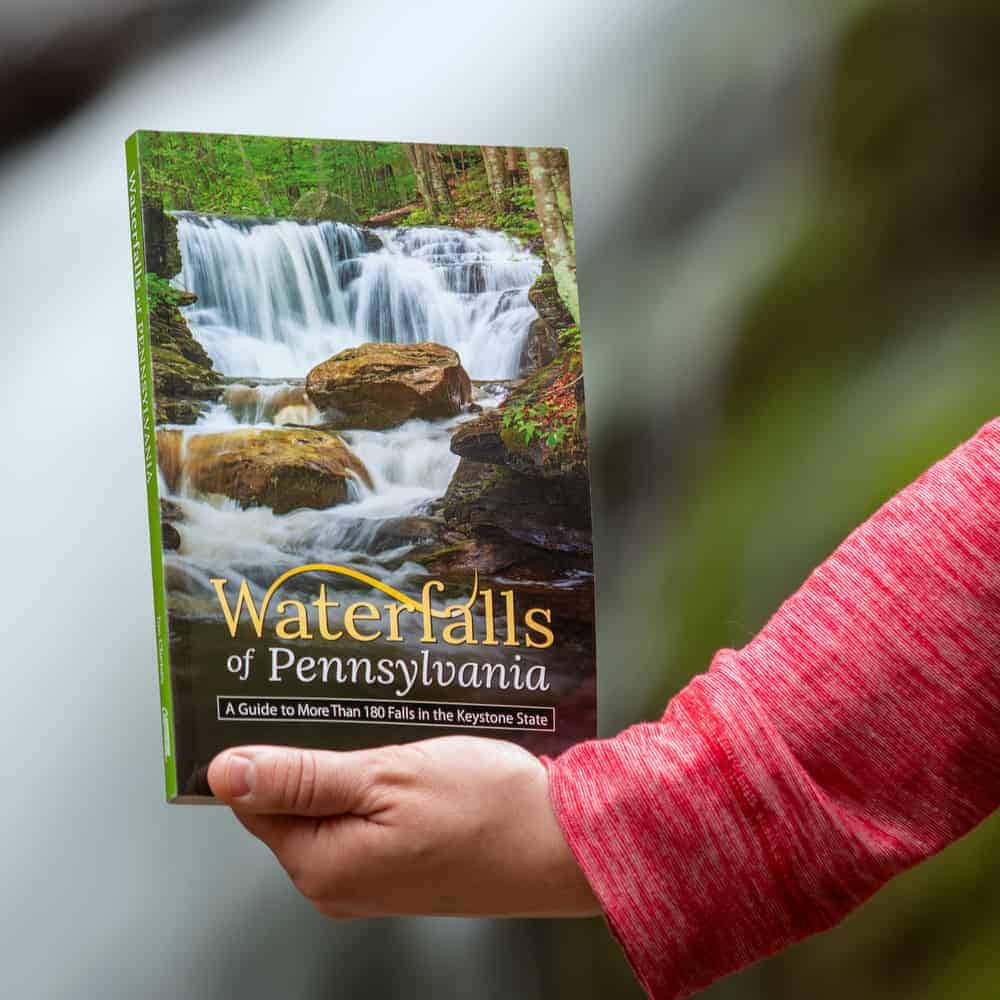 "Waterfalls of Pennsylvania" by Jim Cheney
If you love PA waterfalls, you won't want to miss this waterfall book from Jim Cheney, author of Uncovering PA, featuring more than 180 great waterfalls. Order it now on Bookshop.org or Amazon.
The awkward angle of the land and the surrounding brush make it a bit difficult to get a good view of the falls without getting your feet wet. While this waterfall isn't marred by as many red rocks or a large drainage pipe, there is still evidence of main drainage on this creek.
It's unfortunate that both of these waterfalls have been changed so much by mine runoff over the years. If the borough invested a bit of time and money into cleaning up the area and making it a nice park, it would definitely be one of the region's best local parks and a draw to downtown Paint.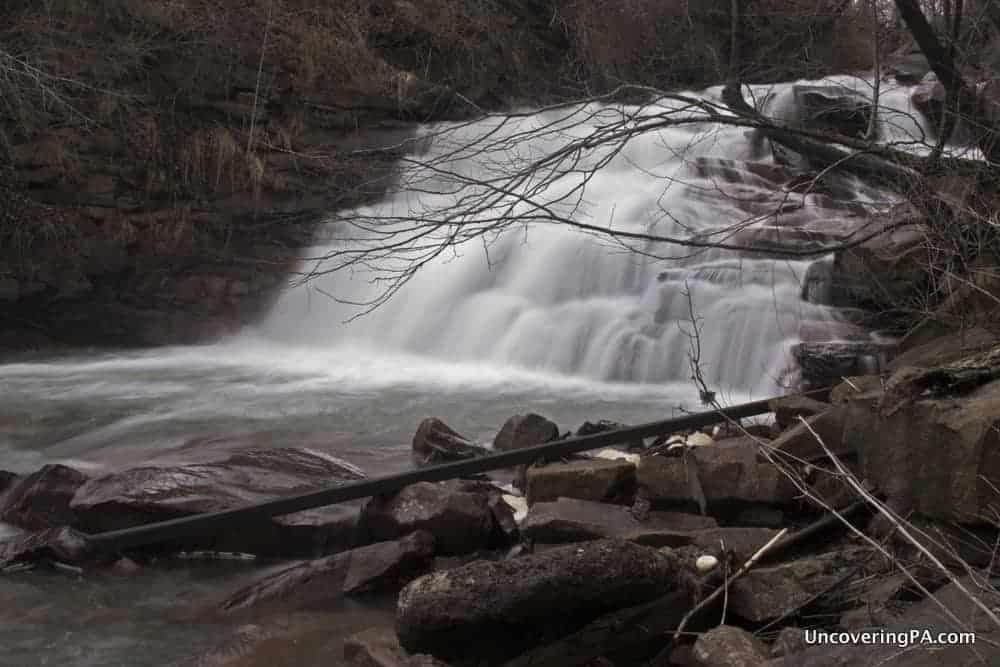 For now, these two waterfalls will remain hidden in plain sight. And, while they are far from the most beautiful waterfalls in Pennsylvania, their accessible location makes them worth visiting for travelers to the area.
How to Get to Paint Falls and Little Paint Falls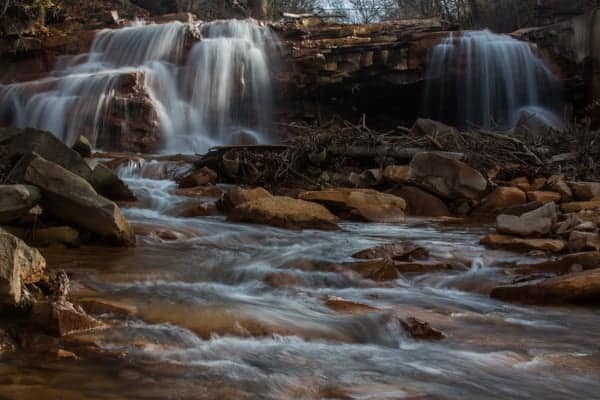 As stated above, both waterfalls are located in a small gorge right in downtown Paint, Pennsylvania. The parking area for the waterfalls is only 2.5 miles off of Route 219, about halfway between Somerset and Ebensburg, and about 15 minutes from downtown Johnstown.
Parking is located behind the Westminster Orthodox Presbyterian Church (which may now be vacant) located at 717 Main Street, Windber, PA 15963. Find a spot at the back of the lot, near a gated access road that runs steeply downhill towards the railroad bridge.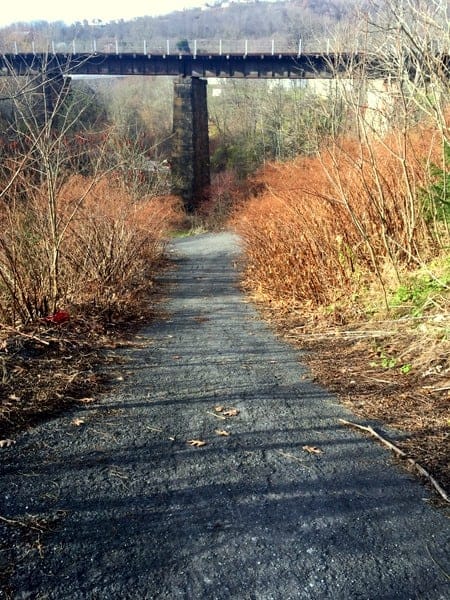 Note: As of late June 2017, I have received reports that there are now "No Trespassing" signs at this waterfall. However, I have no personally confirmed this. Please respect private property where posted. If you have any further information on this, please contact me.
It's worth noting that I have no idea what the ownership situation of the land and parking area is. There were no signs about parking or trespassing when I visited in April 2014 and again in November 2016, but it's best to use your own discretion when visiting. And, of course, always respect private property during your travels.
Once you've parked your car, walk past the gate and walk down the steep hill to the bottom.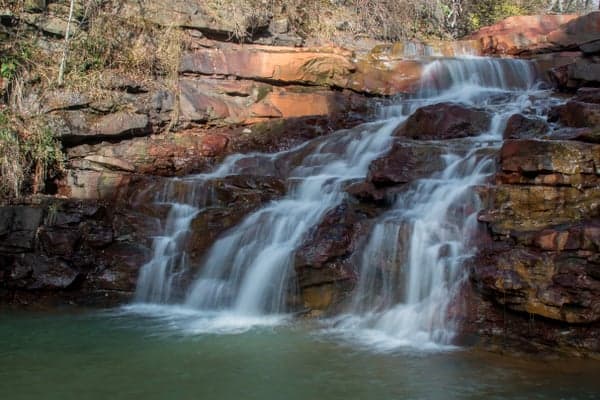 At the bottom of the hill, you are within a few yards of both waterfalls. To see Little Paint Falls, keep heading straight, going underneath the large railroad bridge above you. The waterfall will be on your right just after the bridge.
Paint Falls is located to the left at the bottom of the hill. Walk through the clearing and the waterfall will be right there in front of you.
Want to see more waterfalls in Pennsylvania? Visit our Pennsylvania Waterfalls page to see visit recaps and recommendations for dozens of waterfalls around the state.
Article updated on December 7, 2016 with additional information and photos.
See map for other area attractions.