Disclosure: This article may contain affiliate links. We will make a small commission from these links if you order something at no additional cost to you.
Ohiopyle State Park in
southwestern Pennsylvania
is one of my favorite outdoor destinations in PA.
The area is beautiful, and there are a ton of things to do in Ohiopyle State Park. However, I'd be lying if I didn't say that the main attractions for me are the beautiful waterfalls in the park. In fact, it's one of the best state parks in PA for waterfall lovers, a fantastic spot to go camping, and offers some great whitewater rafting.
If you look at the park map, it can be hard to find all the waterfalls in Ohiopyle State Park, because they aren't all on the map.
So, to make sure you don't miss any of these eight great waterfalls, I decided to put together a resource where you can find out more about them, along with photos and a video of all the waterfalls in the park (scroll down to the bottom if you want to see the video I put together of the waterfalls of Ohiopyle State Park).
Ohiopyle Falls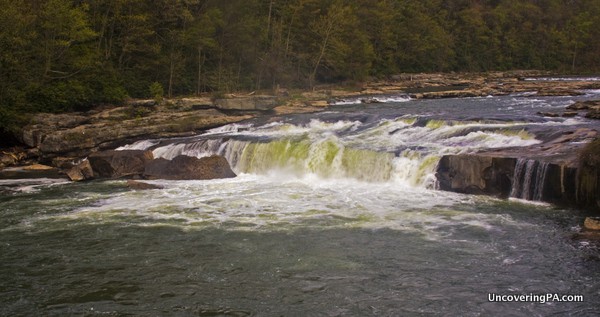 It's pretty much impossible to visit Ohiopyle State Park without visiting Ohiopyle Falls. I mean, it's right next to the visitor center, so there's a very, very good chance that you won't miss this one.
Ohiopyle Falls stretches the entire length of the Youghiogheny River (the world's hardest to pronounce river name). The waterfall is quite powerful and drops roughly 20 feet, though it can appear shorter during periods of high water.
More so than any other waterfall in Pennsylvania, this one reminds me a bit of Niagara Falls. It also has an amazing history and is basically the reason we fought the Revolutionary War. If you want to read the story, and find out more about the waterfall, check out my full article about Ohiopyle Falls.
The Cascades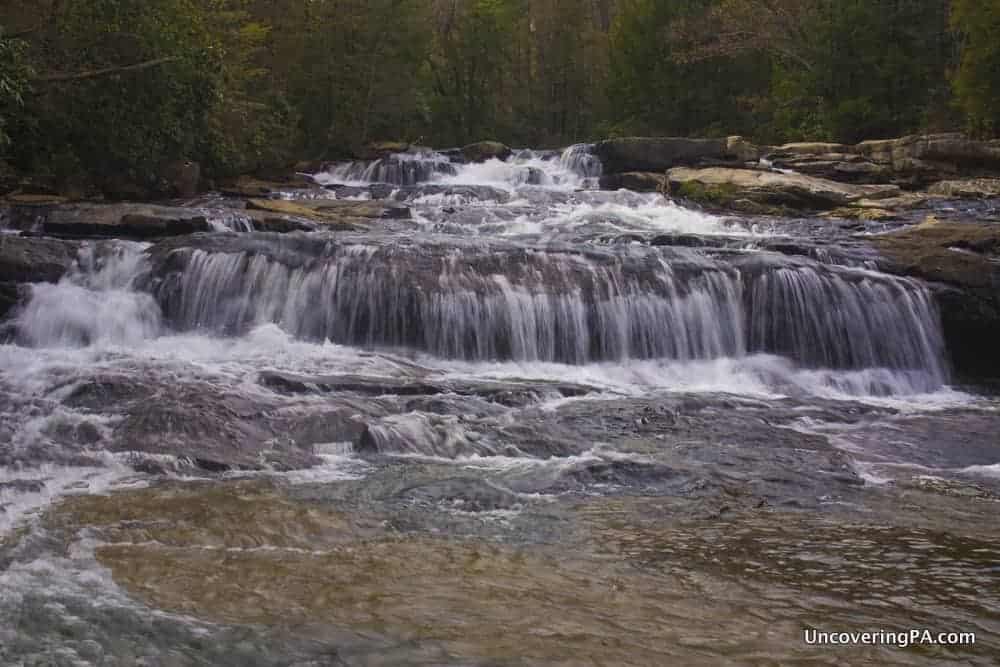 Meadow Run is a popular area of the park for the natural water slides. And, while it's easy to see why, few people take the time to hike further up Meadow Run to one of the most beautiful areas of the park: The Cascades.
The Cascades are a series of drops along the length of the run. While they are called cascades, they are really a series of waterfalls along the waterway. Meadow Run is about 100 feet wide here, which makes for a really impressive scene.
Since this is a much more serene area of the park, The Cascades is a great place to visit to enjoy a waterfall a bit more peacefully than you can elsewhere in the park.
To reach the Cascades, park at the Meadow Run Trailhead parking area, near the Park Office, and hike for roughly a mile to reach the Cascades on Meadow Run.
Cucumber Falls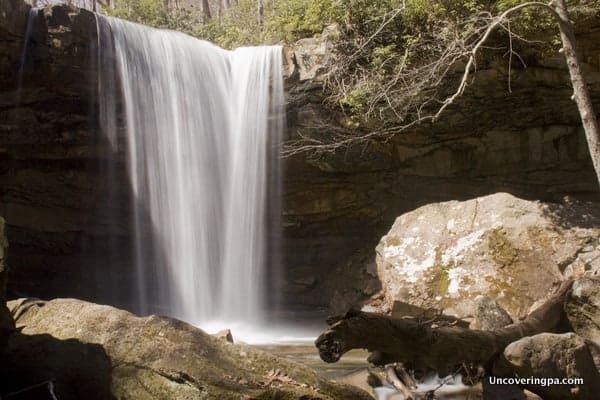 While Ohiopyle Falls probably sees more visitors, Cucumber Falls is likely the overwhelming favorite for many. This easy-to-reach waterfall is one of the most beautiful waterfalls in all of Pennsylvania and is very popular with visitors.
Cucumber Falls is located less than 100 yards from the parking area, and drops 30 feet in a single, very impressive drop. During the summer months, it can get quite crowded here, and many enjoy going behind the waterfall for a unique experience.
Find out how to get to Cucumber Falls in my full article about it.
Upper Jonathan Run Falls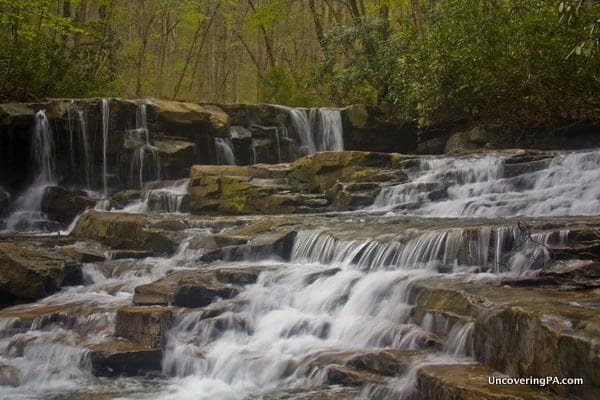 Upper Jonathan Run Falls is located along the Jonathan Run Trail, an underutilized trail in the park's northwest corner. The waterfall is located just past the intersection of the Jonathan Run Trail with the Kentuck Trail. Getting to it requires descending a steep bank along an unmarked trail. Those less adventurous can get a bit of a view of it from the trail.
Upper Jonathan Run Falls drops about 8 feet, before doing a right turn and falling a few more feet in some small cascades. This waterfall is quite beautiful, and looks good at times of high or low water.
This waterfall isn't hard to find but is easy to miss if you don't know where to look. See my full article for directions to Upper Jonathan Run Falls.
Lower Jonathan Run Falls
Of all the waterfalls in Ohiopyle State Park, Lower Jonathan Run Falls is the hardest to reach. Sitting down a very steep embankment, getting down to the bottom of this waterfall should only be attempted by very experienced hikers. Remember, what you go down, you have to come back up!
Fortunately, the waterfall can be seen a bit from just below the trail, especially during the winter and spring, so you should be able to enjoy it at a distance if you can't go down to the bottom.
If you can make it down to the bottom, you'll be able to enjoy one of the most peaceful spots in all of Ohiopyle State Park. This 15-foot waterfall has a single drop. It sits a few hundred yards down the trail from Upper Jonathan Run Falls and about a hundred yards up from where the Jonathan Run Trail ends at the Great Allegheny Passage.
More information about the waterfall and the hike to reach it can be found here.
Fechter Run Falls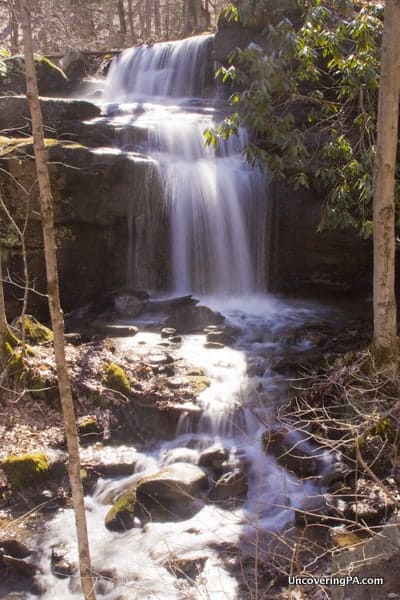 If you've walked the Jonathan Run Trail between Upper and Lower Jonathan Run Falls, you may have seen Fechter Run Falls across the gorge.
Located just above where Fechter Run empties into Jonathan Run, this waterfall can look difficult to reach. However, it's quite simple.
Just upstream from Upper Jonathan Run Falls, cross the footbridge over the creek, and you'll notice Sugar Run Trail branching off to your right. Climb the small hill, and you'll cross a very small footbridge over Fechter Run. After crossing the bridge, head downhill off the trail for about 100 feet to reach this waterfall.
Fechter Run is heavily affected by water flow, so if it hasn't rained in a while, it's possible that this waterfall may be little more than a trickle.
More information about visiting can be found in my article about the Jonathan Run Trail.
Sugar Run Falls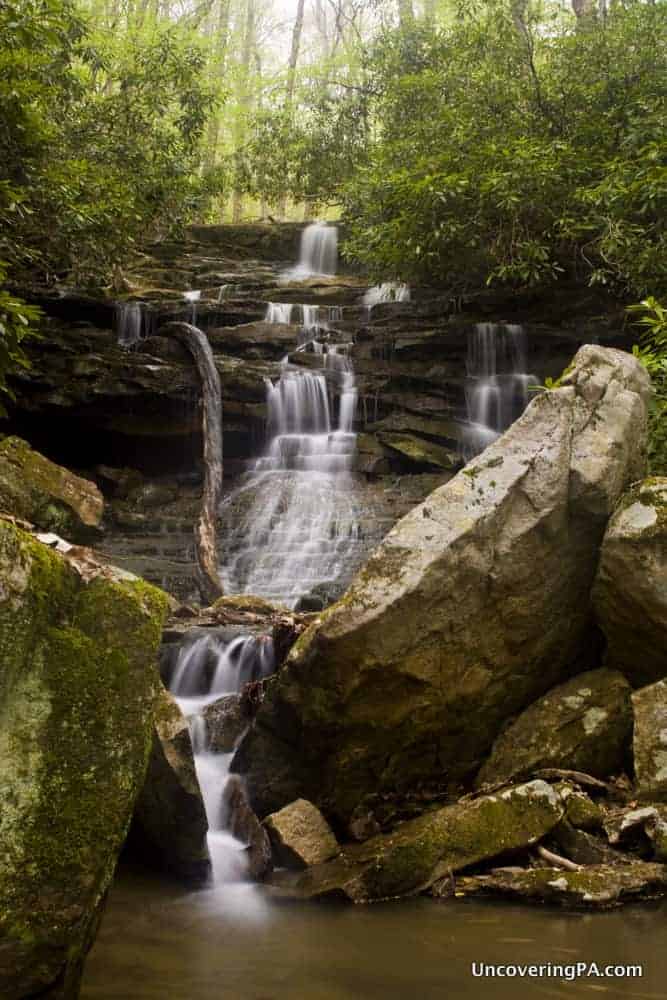 Sugar Run Falls requires the longest hike of any of the waterfalls listed here, but is definitely worth the time to visit, especially when water levels are above normal.
Despite being on the park map, finding Sugar Run Falls can be difficult if you don't know where to look. From the end of the Jonathan Run Trail, turn left onto the Great Allegheny Passage (GAP) and walk for a few minutes. Soon, you'll come to a small trail off to your left, with the marker pointing you to Mitchell Field. Sugar Run Falls is less than a minute up this trail.
Sugar Run Falls is one of the more beautiful waterfalls in Ohiopyle State Park and is easy to visit. In fact, you can even visit it by bike, as it is right off the GAP, roughly three miles upstream of the town of Ohiopyle.
The Natural Waterslides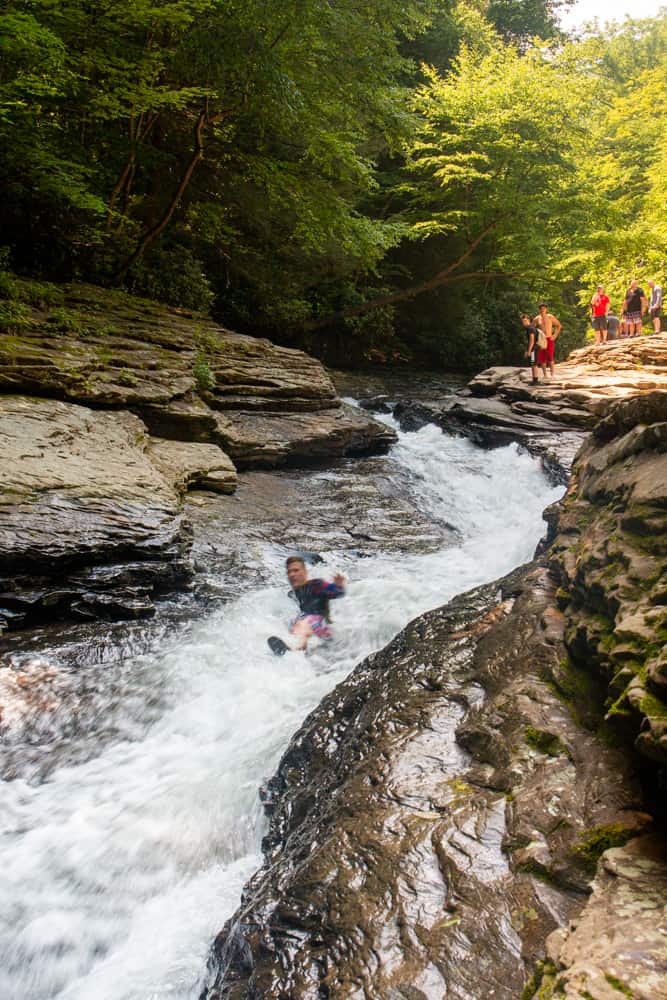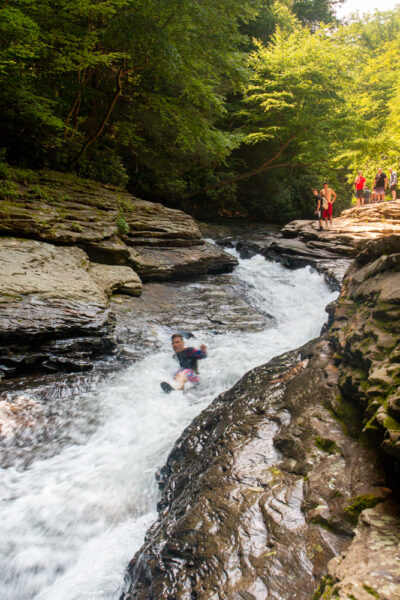 While the Natural Waterslides aren't a traditional waterfall, it is an area where water flows quickly down a slope.
This waterfall is located downstream of the Cascades on Meadow Run and is a short distance upstream of where the stream flows into the Youghiogheny River.
At this spot, the waters of Meadow Run have carved a trench in the rock that twists and turns as it makes its way down the hillside. This is not only a beautiful spot, but is also popular with swimmers in the summer months, hence the name.
Looking for more places to visit nearby? Check out Great Passage Falls and East Park Falls near Connellsville, Stewarton Falls, and Laurel Caverns.
See map below for other area attractions.