Disclosure: This article may contain affiliate links. We will make a small commission from these links if you order something at no additional cost to you.
Tucked away a short distance off of Route 22 in Indiana County is one of Pennsylvania's most storied waterfalls: Buttermilk Falls. Don't let the fact that Buttermilk Falls shares its name with at least ten other waterfalls in Pennsylvania fool you, this is a very special waterfall.
Why you might ask? Well, the land was once owned by Fred McFeely, grandfather of everyone's favorite neighbor, Mister Rogers. As a child, Fred Rogers would often spend time at his grandfather's cottage on the property and fondly recalled his time at Buttermilk Falls as an adult.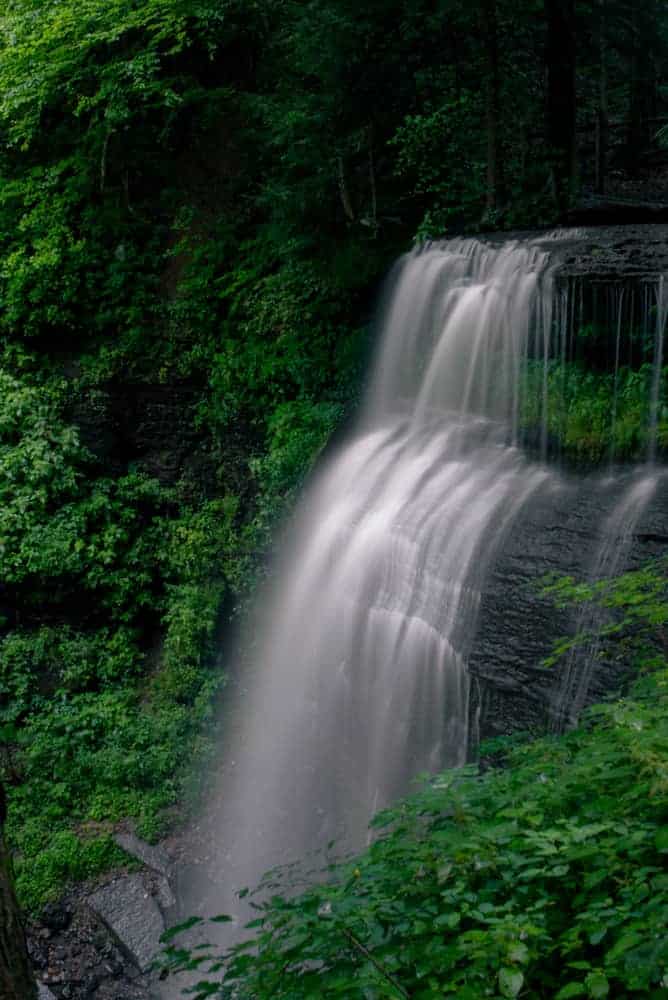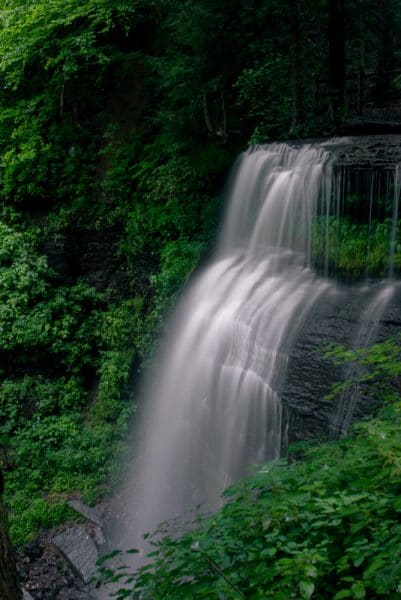 Take some time to look for the stone foundations of the cottage as well as several retaining walls from the property. These can be found just upstream of the waterfall.
The viewing area is located only a short five-minute walk from the parking area for Buttermilk Falls. While there is a small amount of an elevation change, the walk itself isn't difficult, making this a great waterfall to visit even if you aren't much of a hiker.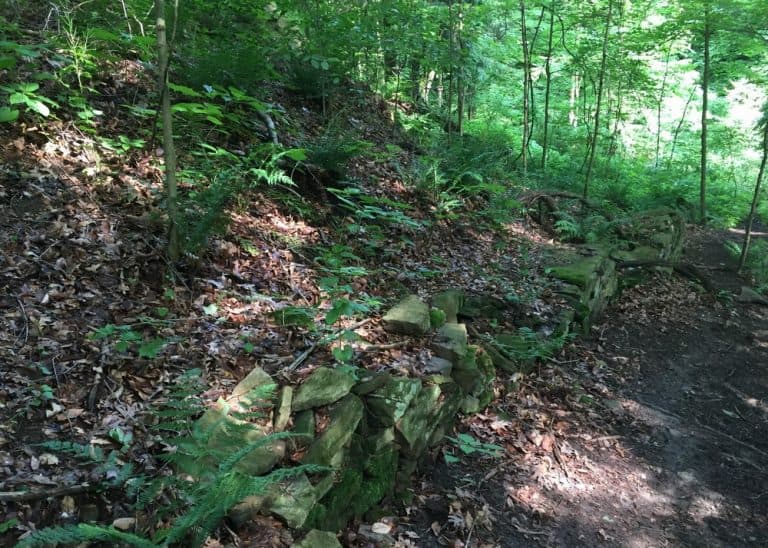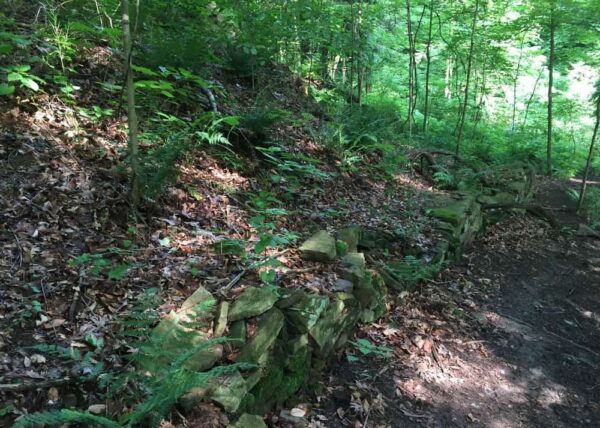 The main viewing area offers a view from above Buttermilk Falls. While this spot is great throughout the year, the trees can block the view of the waterfall a bit during the middle of the summer.
This used to be the only sanctioned viewing area. However, thanks to a construction project completed in 2017, it is also possible to safely cross Hires Run and walk to the bottom and behind Buttermilk Falls.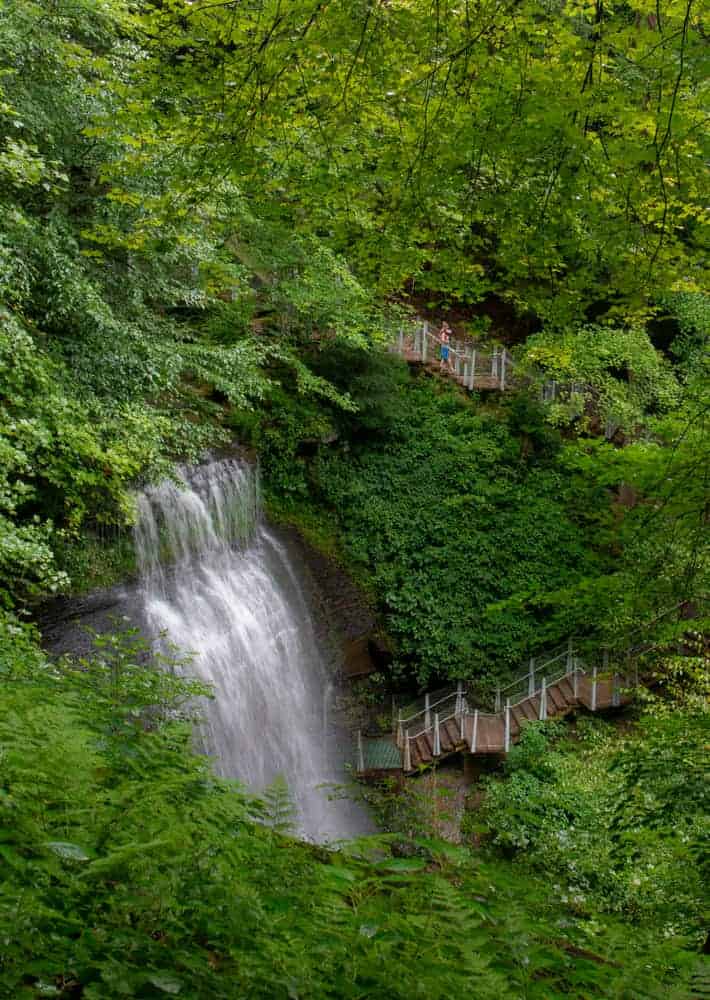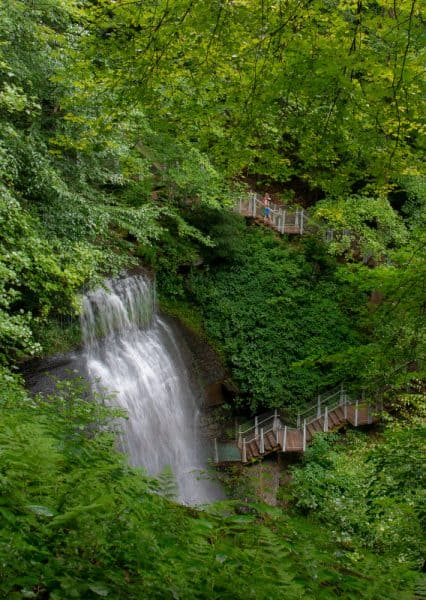 While this new pathway does take away some of the natural beauty of the falls, the fact that it finally allows safe access to the bottom of the falls makes it a neat feature.
To cross the stream, pass around the gate just up from the main viewing area. For some reason, it's a tight squeeze around the gate and a short, but steep trip down to stream level (a few more steps here would be great). Once at the bottom of the hill, cross the large, triangular-shaped bridge before descending the stairs to the bottom of Buttermilk Falls.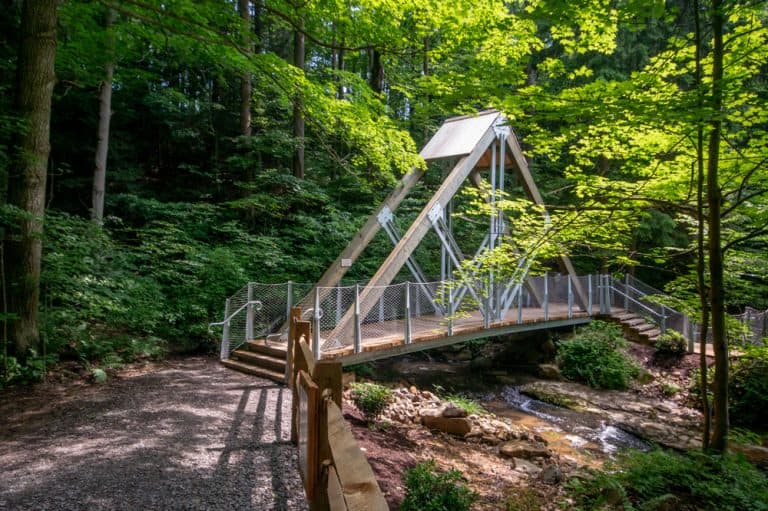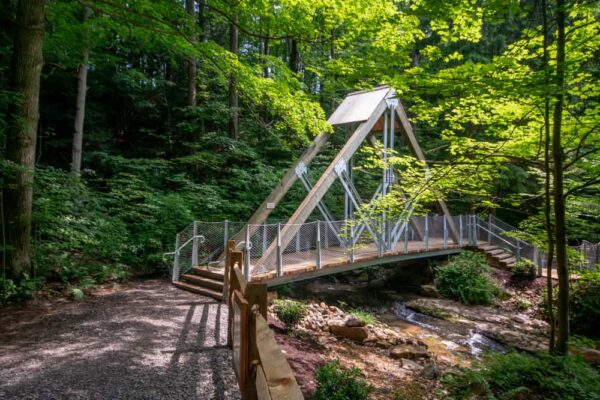 At the bottom of Buttermilk Falls, the pathway continues behind the waterfall, offering a unique vantage point behind the veil of water. Again, while this walkway does distract from the natural beauty of the waterfall, it's great that the waterfall is much easier for people to enjoy.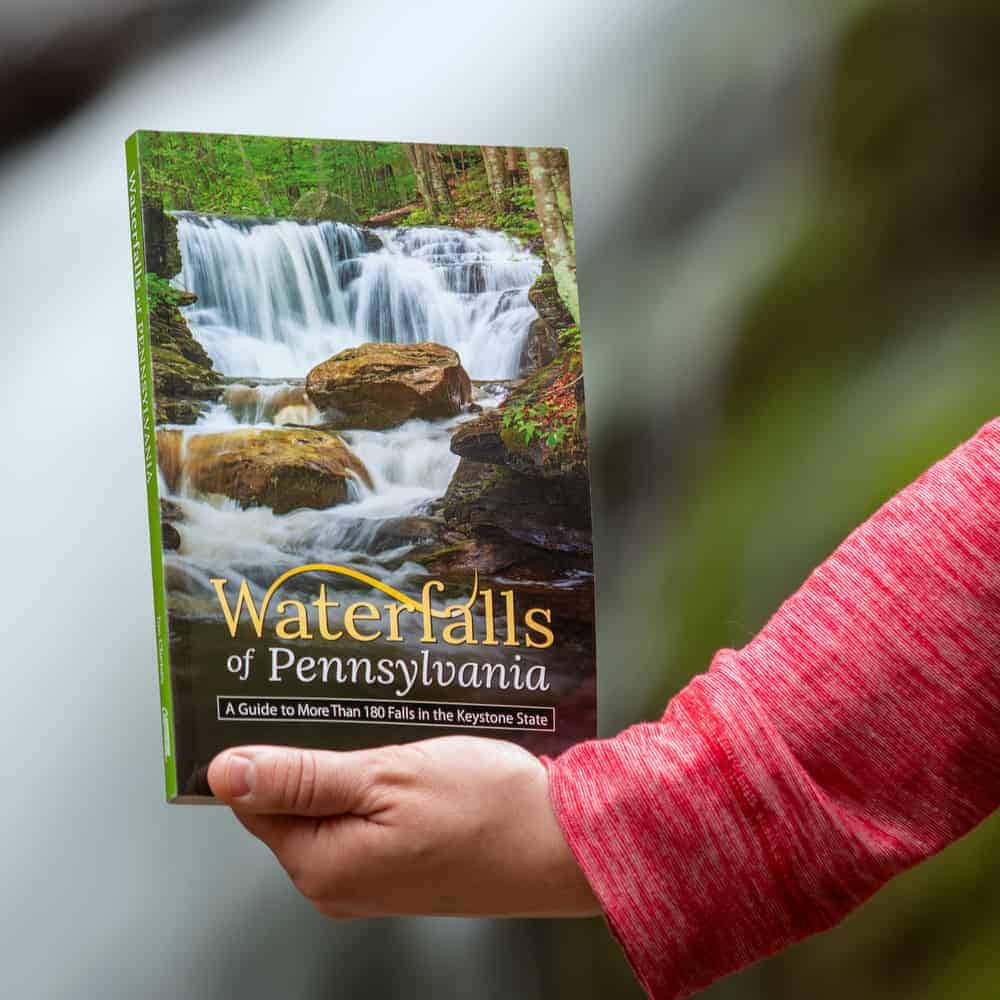 "Waterfalls of Pennsylvania" by Jim Cheney
If you love PA waterfalls, you won't want to miss this waterfall book from Jim Cheney, author of Uncovering PA, featuring more than 180 great waterfalls. Order it now on Bookshop.org or Amazon.
Note that depending on the level of water at Buttermilk Falls, it may be impossible to get behind the veil of water without getting at least a little wet. On a recent visit, my young son loved running back and forth through this sheet of water and ended up quite soaked by the time we were ready to continue on our trip.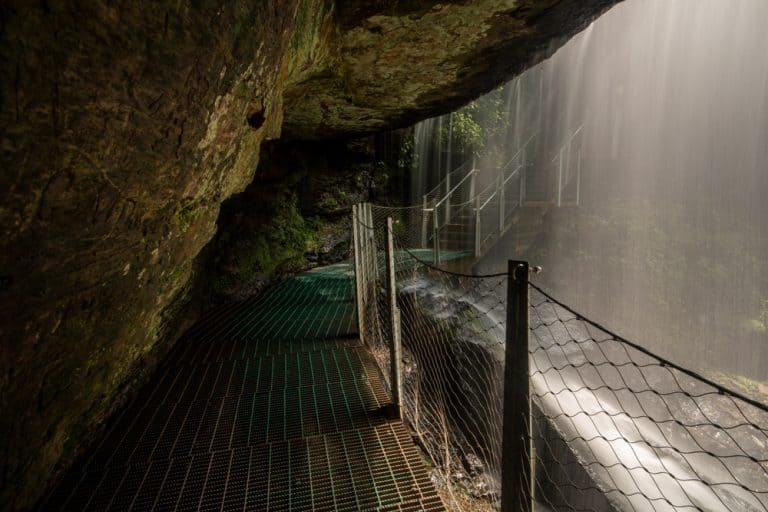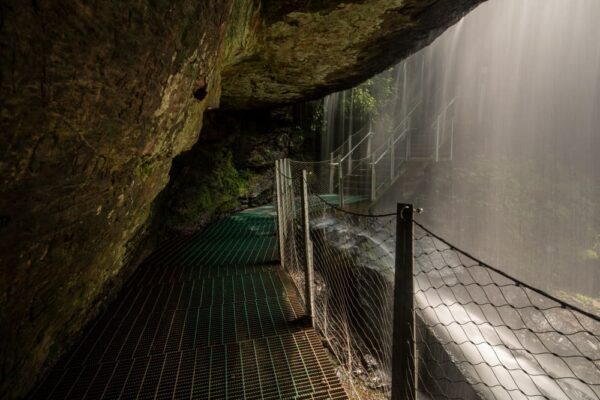 Overall, Buttermilk Falls is a great destination for anyone looking for a waterfall that's impressive, easy to visit, and has a unique history. While it might not be the best choice for those looking for little evidence of infrastructure, it's great for those looking for a waterfall you can go behind in Pennsylvania.
Getting to Buttermilk Falls in Indiana County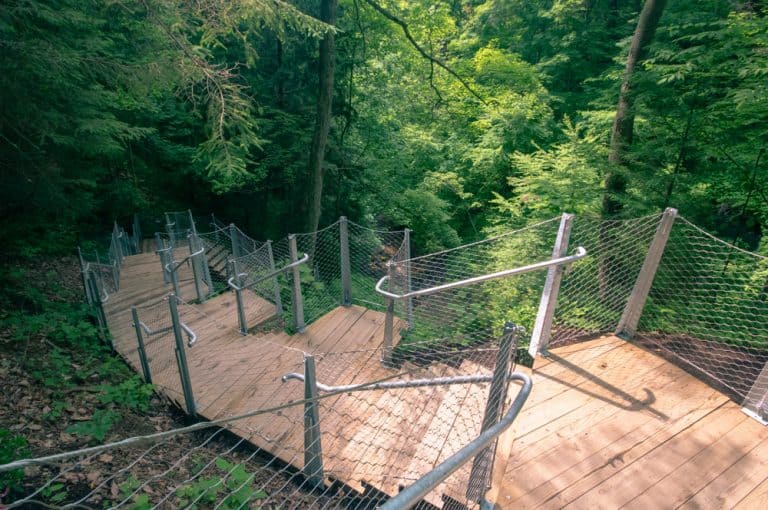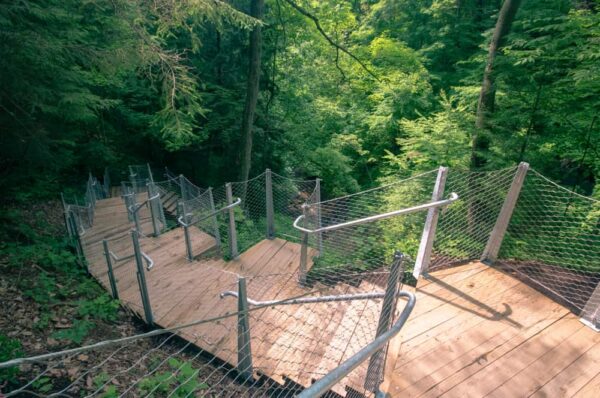 Visiting Buttermilk Falls in Indiana County is relatively straightforward. It is located about 2.2 miles off of Route 22 about 10 miles east of Blairsville. If you are traveling across Pennsylvania on Route 22, this is a great stop to make on your way to your main destination.
The area around the waterfall has been preserved as the Buttermilk Falls Natural Area (not to be confused with the area of the same name, around a similarly named waterfall, in Beaver County).
Parking is located just above the trailhead and close to a small plaque about Mr. Rogers' time at the waterfall and primitive, but clean bathroom facilities.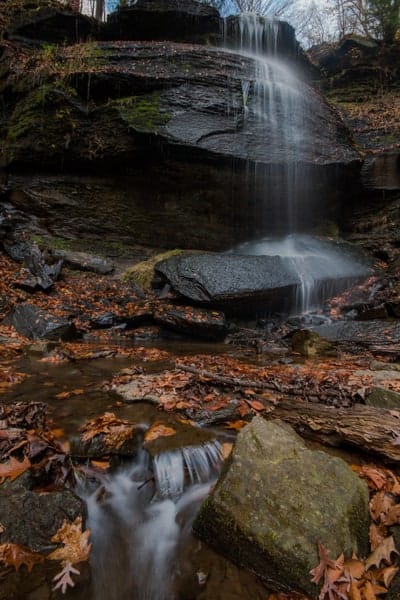 To get to Buttermilk Falls, follow the trail next to the Mr. Rogers sign down the path for roughly five minutes. You will soon arrive at a wooden platform which offers the best viewing platform for those not looking to descend to the bottom of the waterfall.
The waterfall's parking area is located at 570 Valley Brook Rd, New Florence, Pennsylvania 15944, or at these coordinates: 40.419236, -79.067699.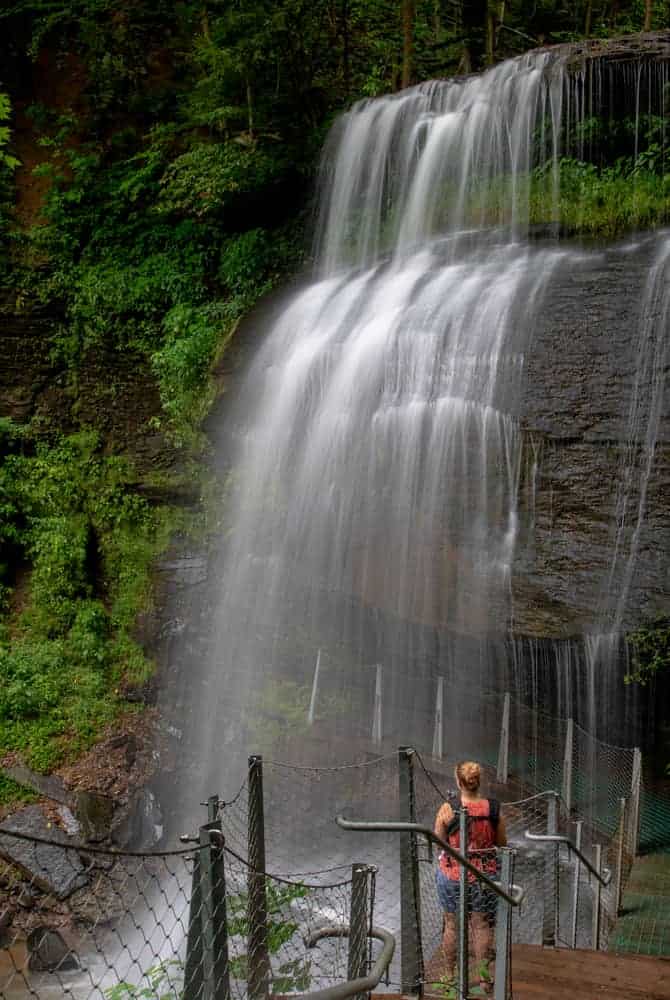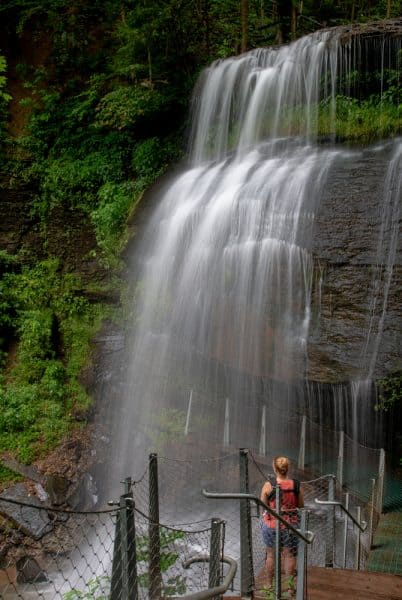 Want to see more of Pennsylvania's best waterfalls? Check out our Pennsylvania Waterfalls page! You can also check out the nearby Hinkston Run Falls and Yoder Falls.
You can also see more waterfalls named Buttermilk Falls in Beaver County, Luzerne County, and Carbon County among others.
[Click here for information about how to use the coordinates in this article to find your destination.]
See map below for other area attractions.