Disclosure: This article may contain affiliate links. We will make a small commission from these links if you order something at no additional cost to you.
I was first introduced to Turkey Hill ice cream when I was a high schooler in Northern Virginia. It wasn't long before their Chocolate Peanut Butter ice cream was my top ice cream choice. To this day, some 15-ish years later, Turkey Hill's Chocolate Peanut Butter ice cream is my go-to choice.
So, I was super excited to be invited to visit the Turkey Hill Experience in Columbia, Pennsylvania.
The Turkey Hill Experience isn't a Turkey Hill ice cream factory tour. Instead, it's a museum and interactive exhibit rolled into one. The highlight, though, is that you can make your own ice cream flavor: both virtually and in real life!
It all starts on an interactive computer, where you can pick the flavorings, inclusions, and syrups that you want to add to your ice cream. From there, it's on to picking your packaging for your ice cream and then to making a video commercial for your treat.
The whole process is fairly intuitive, and any kid that has experience with a smartphone or tablet should be able to figure out the steps with little difficulty.
Of the three steps, I was most nervous about the commercial. I mean, how was I supposed to know what to say? Fortunately though, they offer a handful of different scripts that you can read to make your commercial. In the end, I really enjoyed acting silly and making my own commercial.
Want to see my video? You're in luck! Take a peek below at my awesome Turkey Hill Experience commercial. I think you'll agree that I have potential to be a great spokesman for Turkey Hill ice cream!
While making the product virtually is fun, why stop there? In fact, with the Turkey Hill Experience's Taste Lab, you can create your virtual ice cream and eat it right there!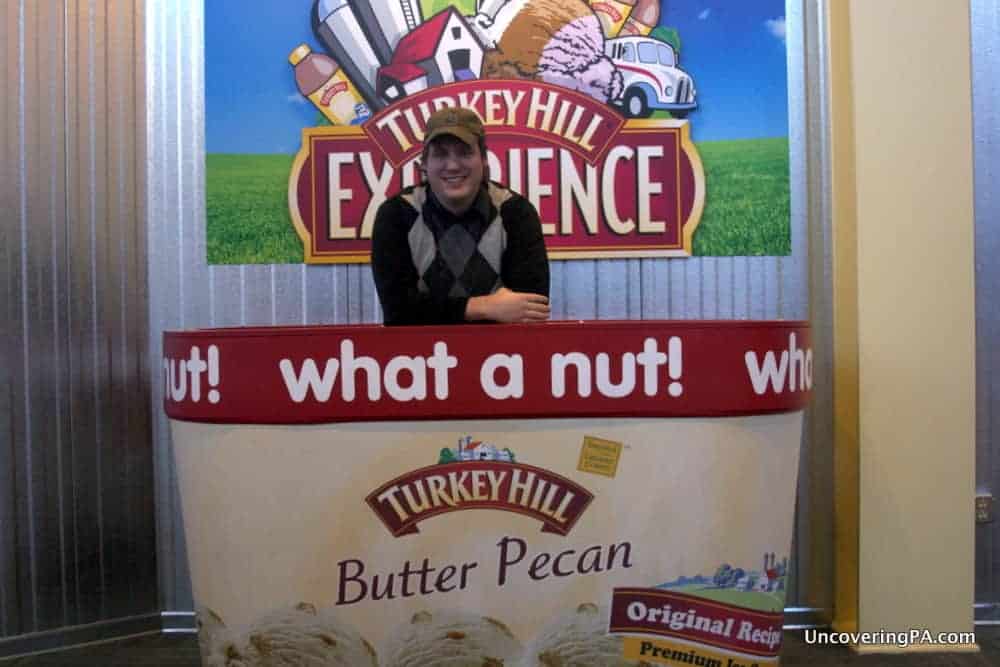 Of course, I had to pick the coldest day in a very long time to visit this ice cream paradise. However, I'm willing to eat ice cream no matter what the weather. That's the kind of dedication I bring to this site!
Entering the Taste Lab feels a bit like walking into one of those "create your own" frozen yogurt shops that pop up everywhere, but does work a bit differently.
You start with a batch of vanilla Turkey Hill ice cream and then add your choice of about 10 different flavorings. I chose to flavor mine with chocolate, but there are more exotic choices, such as apple, cotton candy, cinnamon, and many more.
Next, it's time to pick your inclusions. There are about 15 different things on the wall to pick from, including a variety of nuts, candies, and dried fruits. While the virtual creation can only contain two inclusions, there is nothing to stop you from adding three or even four (like I did) to complete your masterpiece.
Lastly, you add a syrup or two before mixing it all together and then putting it in a blast chiller for a few minutes.
While you're waiting for your ice cream to cool down, you are given a brief slide show about the history of the Turkey Hill Dairy and how ice cream is made. The presentation is well done, but tends to repeat the information covered in the museum you just visited.
However, it's worth hearing it again just to taste the fantastic ice cream that you made. Walking out of the room with a pint of ice cream and a spoon was quite an enjoyable experience, but I wished I had a pair of sweatpants, a couch, and a TV to enhance my ice cream feast.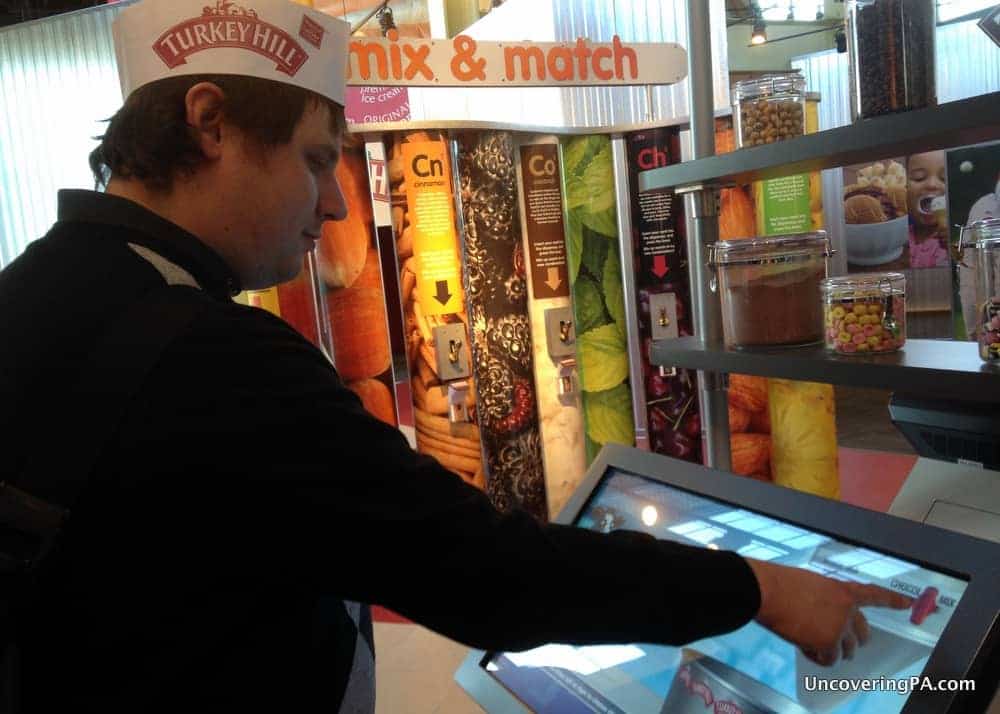 I learned a lot about the history of the company and how ice cream is made through their interactive exhibits, and got to eat a ton of ice cream.
While you can visit the museum without doing the Taste Lab, I would highly recommend that you pay the little bit extra to make your own ice cream. Not only does it help you learn more about the process of making ice cream, but it's a lot of fun too.
However, if you don't have a chance to do the Taste Lab, you can still create your own virtual flavor and make a silly commercial. There is even a small ice cream area where you can get a complimentary scoop.
I had a great time visiting the Turkey Hill Experience in Lancaster County, Pennsylvania. In many ways, it reminds me of the Crayola Experience in Easton, PA. Both are not factory tours, but offer the chance to learn more about the company's products and enjoy some great interactive elements.
Visiting the Turkey Hill Experience
The Turkey Hill Experience is located in a large building in Columbia, near where Route 30 crosses the Susquehanna River in Lancaster County.
Tickets from the Turkey Hill Experience are $11 for both adults and kids. If you want to do the highly recommended Taste Lab, prices are $19.95 per person.
If you have your heart set on doing the Taste Lab, it may be worthwhile to book ahead on their website so that you have a reservation. Hours for the Turkey Hill Experience and the Taste Lab can be found there as well.
If you are looking to make a day of your time in Columbia, the Turkey Hill Experience offers a combined ticket with the nearby National Watch and Clock Museum. Combined tickets run $4-5 more than the cost of a Turkey Hill Experience ticket, but do provide a good value if you want to check out the National Watch and Clock Museum as well.
Note: My visit to the Turkey Hill Experience was hosted by Turkey Hill. However, the opinions in this article are my own and were not subject to review.
---
Turkey Hill Experience
Hours: Vary, see website

Cost: $11 per person
Tickets are also available for the Taste Lab and Tea Discovery

Website: TurkeyHillExperience.com

Address: 301 Linden Street
Columbia, PA 17512
See map for other area attractions.
---