Disclosure: This article may contain affiliate links. We will make a small commission from these links if you order something at no additional cost to you.
Only a short distance east of downtown Pittsburgh, you'll find one of the most interesting and historically important abandoned places in PA: the Westinghouse Atom Smasher.
Located in a residential area of Forest Hills, the Westinghouse Atom Smasher is an iconic piece of the United States' nuclear history. Today, however, it lies on its side, surrounded by piles of rubble composed of the building that once supported it.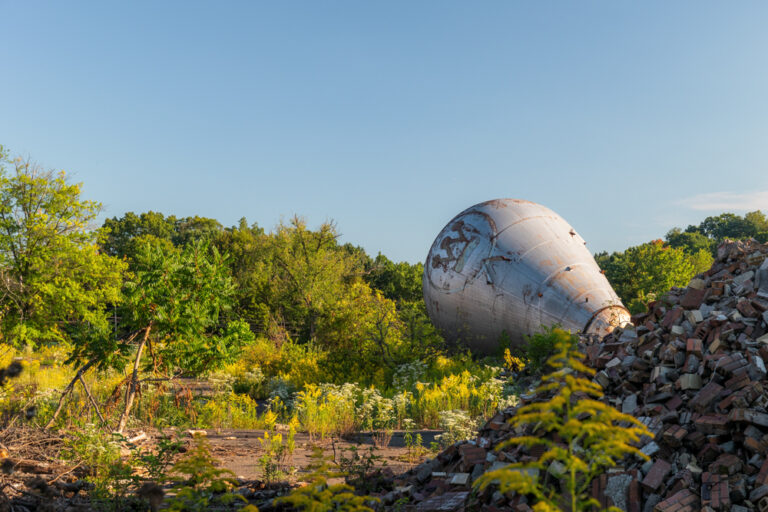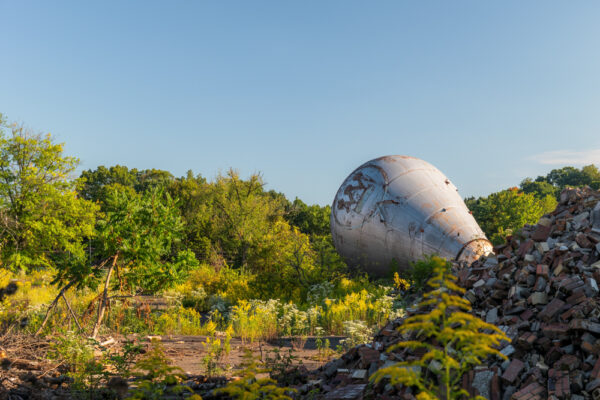 Hopefully, it will one day be preserved within the collection of a museum, but, for now, it can be seen laying on the ground about 100 feet from a chainlink fence that surrounds the property. (Please only enjoy this spot from the public roadway and don't try to get a closer look. All photos in this article were taken from outside of the fence, so you don't need to trespass to see it.)
I have full information on how to find this fascinating spot, but, first, it's worth learning about its history.
The History of the Westinghouse Atom Smasher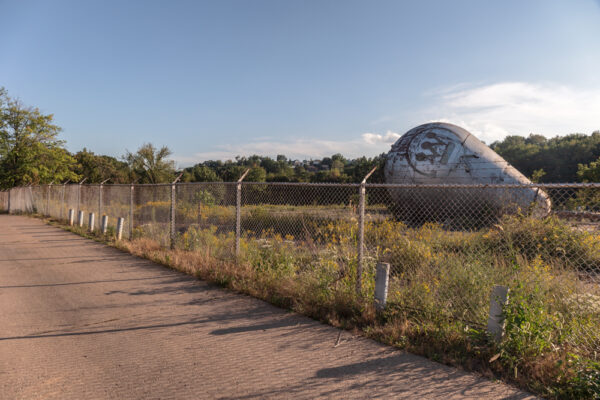 The Westinghouse Atom Smasher (which we would now call a particle accelerator) is a 5 MeV Van de Graaff electrostatic nuclear accelerator, the first industrial one of its kind in the world. It was put into operation in 1937 at the research laboratory for the Westinghouse Electric Corporation.
The Westinghouse Atom Smasher was instrumental in studying the practical uses of nuclear technology to create energy. Some of the research done here may have even been used by those building the first nuclear weapons at the Mahanntan Project in the 1940s.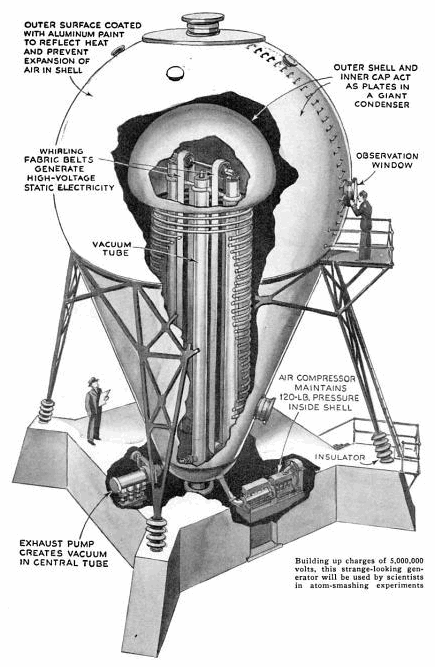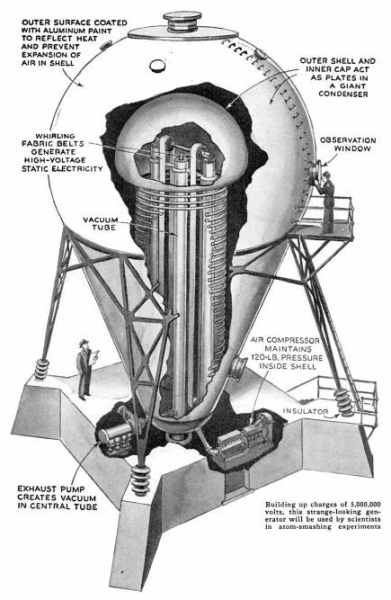 What you see on the ground is actually the tank that surrounded the delicate machinery inside. This 65-foot tall and 30-foot in diameter shell was covered in aluminum paint, which gave it its silver appearance.
Inside the large pear-shaped shell, there were several tubes that would have allowed various particles to be accelerated to very high speeds during experiments conducted at the site. While there is a lot more to it than that, of course, I'm not exactly a nuclear engineer, so I'll leave it at that. (If you want to know more about how it worked, here's a Wikipedia article to read.)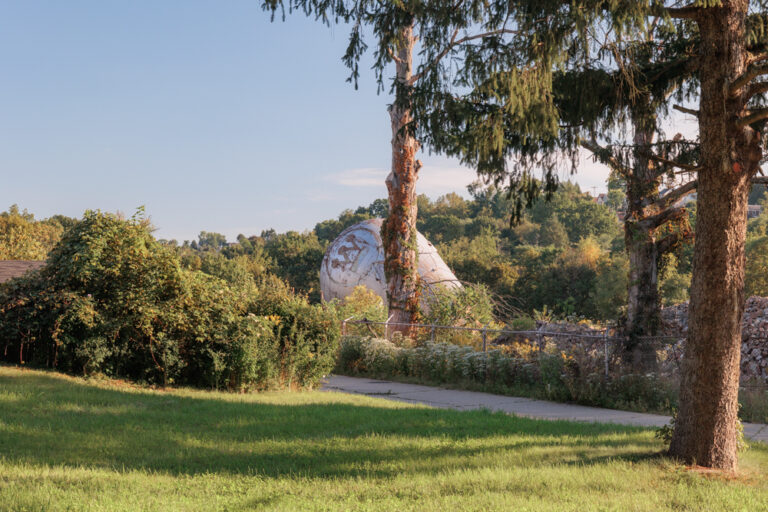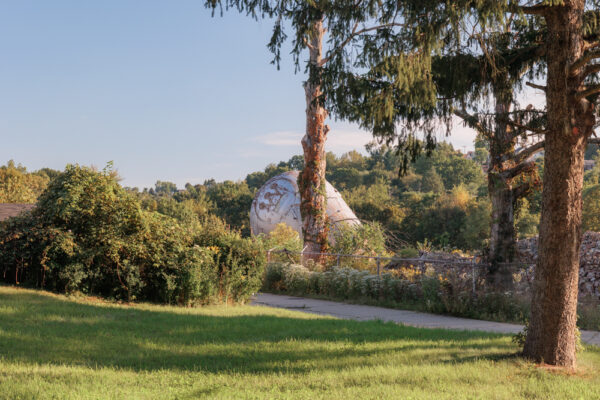 While the Westinghouse Atom Smasher was technically in operation until 1958, the atom smasher didn't see much, if any, use after the start of World War 2. However, it continued to sit atop the building for many more decades to come.
In fact, it would be nearly 60 years after it was decommissioned before the long-abandoned building it sat atop was demolished in January 2015. Interestingly, at the time of publication in early 2022, you can look at Google Streetview and still see the atom smasher standing atop the building as the images haven't been updated since 2011.
Since 2015, Pittsburgh's Westinghouse Atom Smasher has sat on its side about 100 feet from the barbed-wire-topped chainlink fence that surrounds the property.
Still a dull silver in color, it looks like a giant lightbulb sitting in the middle of a large concrete pad. You can even still see the large Westinghouse "W" affixed to the side in red paint.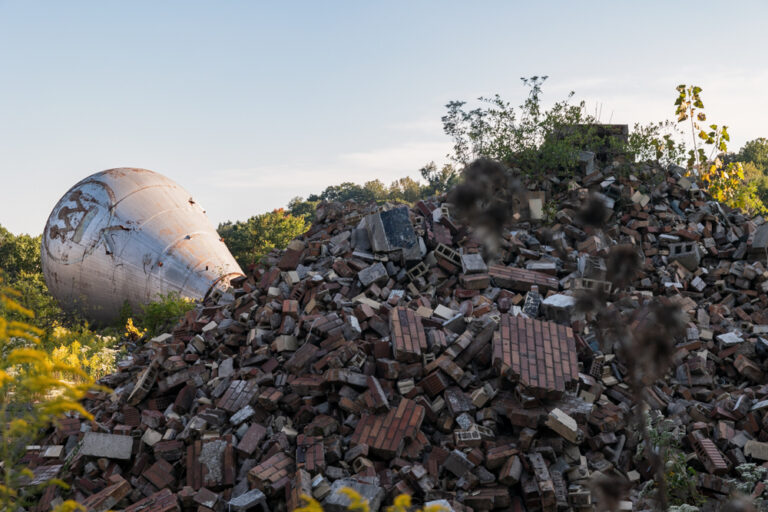 Surrounding the atom smasher are large piles of bricks and other building materials that have been strangely left sitting in the middle of this barren landscape.
Across the narrow alley, are the garages of residential homes. This is certainly an interesting place to find one of the country's most historic pieces of nuclear history decaying.
How to See the Westinghouse Atom Smasher Near Pittsburgh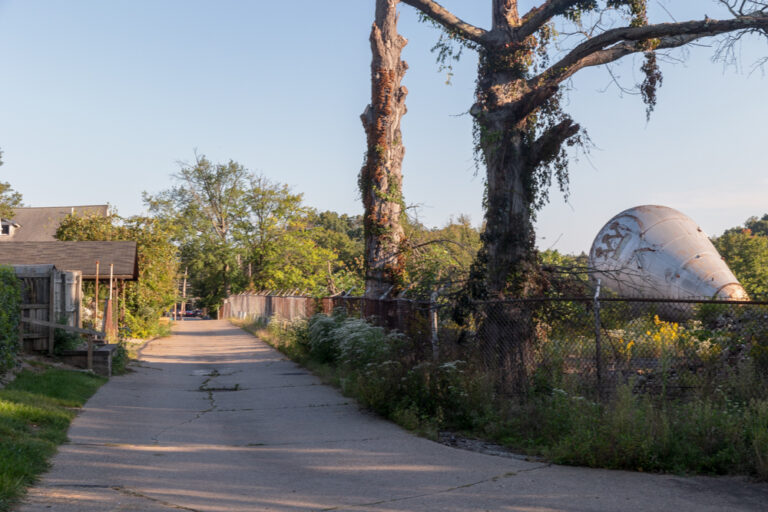 The Westinghouse Atom Smasher can be found approximately 10 miles east of downtown Pittsburgh near the border of Forest Hills and Chalfant in Allegheny County, PA.
As stated above, it is hidden away behind a residential neighborhood and just over a small treeline from the Lincoln Highway (Route 30), though it's not visible from that road.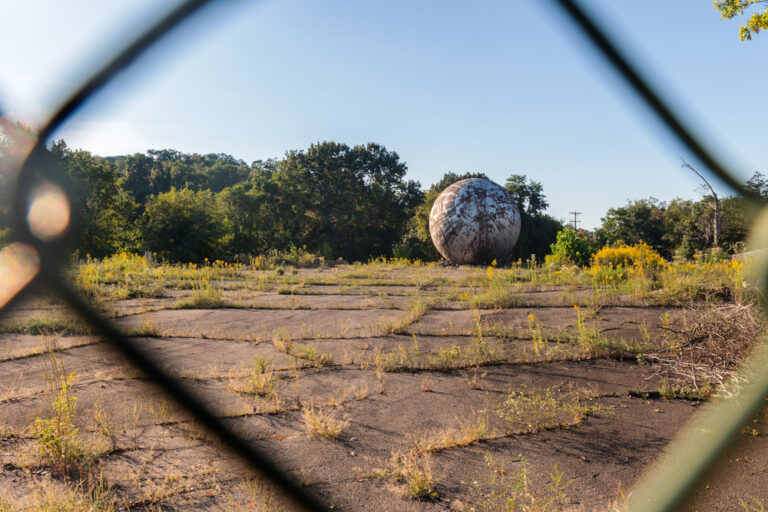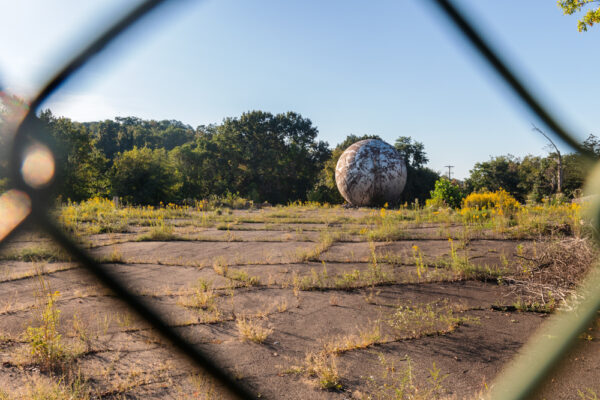 It can be found at the following coordinates along Service Road 1: 40.411198, -79.842909. If you'd rather use a street address, head to 364 Avenue A, Pittsburgh, PA 15221, and then continue walking down Avenue A until you see the atom smasher off to your left.
It's worth noting that Service Road 1, where you'll view the Westinghouse Atom Smasher from, is a narrow alley and there is nowhere to park along it. So, if you want to get out of your car for a look, you'll want to find parking on one of the nearby residential streets. Do not park on Service Road 1 or bother any of the nearby homes.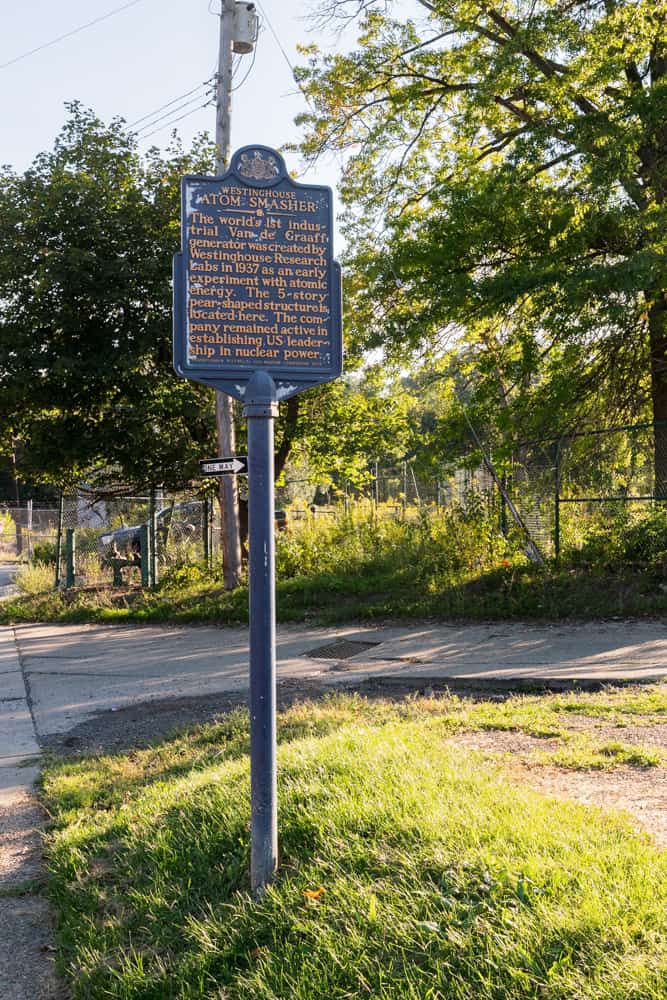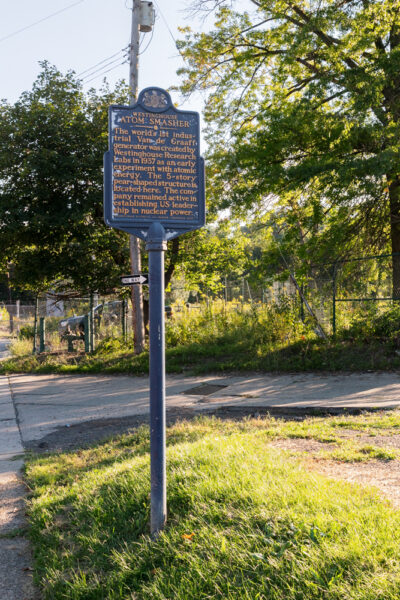 Keep in mind that the site is completely surrounded by a chainlink and barbed wire fence, and there are signs indicating that the area within the fence is private property. Please only enjoy this unique historical spot from outside of the surrounding fence.
While visiting the area, make sure to visit the four-way intersection of Service Road 1, West Road, Avenue F, and North Avenue. Here, you'll find a Pennsylvania historical marker tells a bit of the story about the importance of this site, though the text hasn't been updated since the building was torn down.
Looking for more places to visit nearby? Check out the abandoned Carrie Furnace, Braddock's Battlefield History Center, the Center for PostNatural History, and the best Pittsburgh breweries.
[Click here for information on how to use the coordinates in this article to find your destination.]