Disclosure: This article may contain affiliate links. We will make a small commission from these links if you order something at no additional cost to you.
Pittsburgh and the rest of Allegheny County are an area that's rich in history. However, few know that a battle was fought in the region many years ago.
Known as the Battle of the Monongahela, this battle occurred in present-day Braddock and North Braddock in July 1755. It was fought between the British Army and the French and their Native American allies during the French and Indian War.
British General Edward Braddock was leading a band of 1,300 troops to take over Fort Duquesne at the confluence of Pittsburgh's Three Rivers (Point State Park today). The troops included several famous figures in American history including George Washington, Thomas Gage, and Daniel Boone.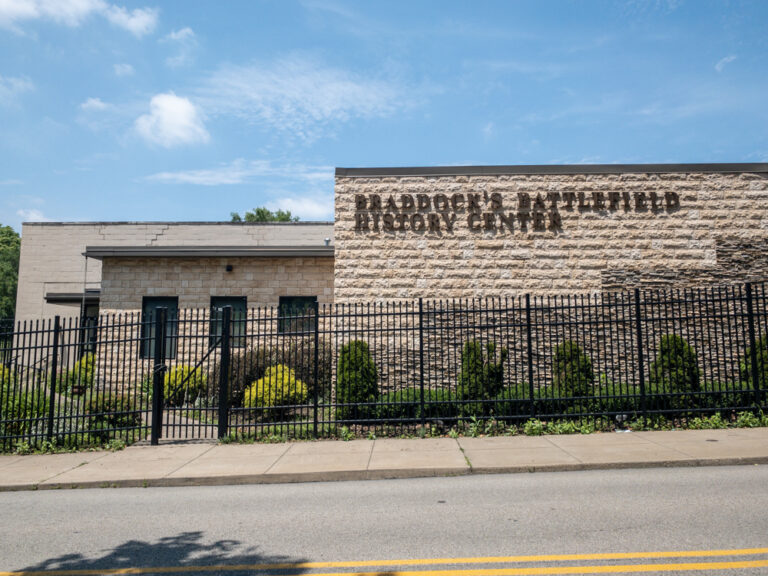 However, Braddock's troops were ambushed shortly after crossing the Monongahela River and were swiftly defeated by the opposing French and Native American forces.
In the end, the British were repelled and General Braddock was mortally wounded. (You can visit his grave in Fayette County near Fort Necessity National Battlefield).
Today, the battlefield isn't preserved at all. However, in addition to a few historical markers in the area, visitors can check out Braddock's Battlefield History Center in North Braddock to learn more about the events that happened here.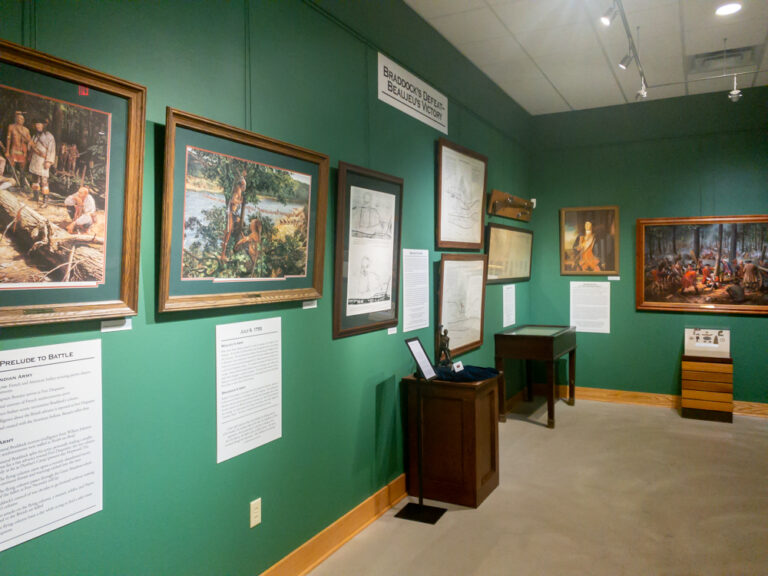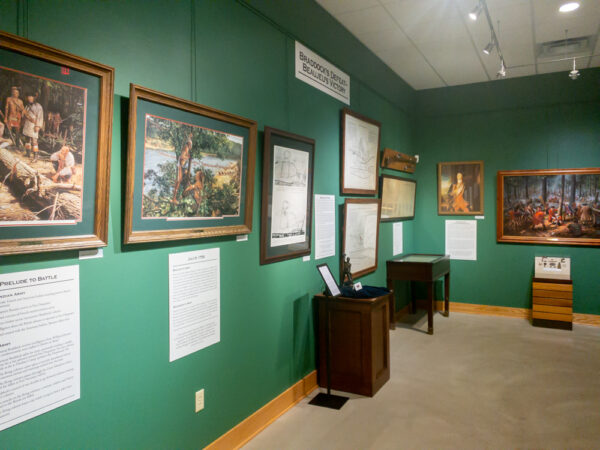 Braddock's Battlefield History Center was first opened in 2012 by Robert T. Messner, a retired Pittsburgh lawyer. In 2019, the history center was donated to Fort Ligonier. Fort Ligonier, which is located in Westmoreland County, was a French and Indian War-era fort that was in service from 1758-1766.
While the fort was constructed after Braddock's failed expedition, its connection to the war makes it a logical organization to run this museum in Pittsburgh.
It's worth noting two things upfront that the Braddock's Battlefield History Center.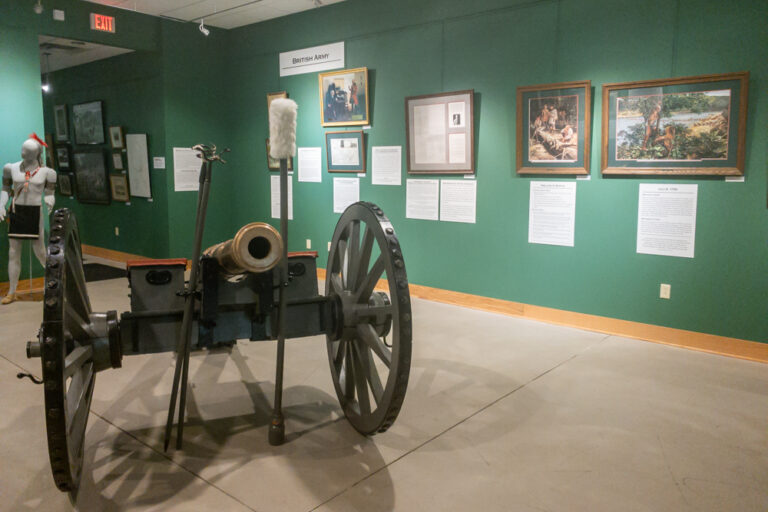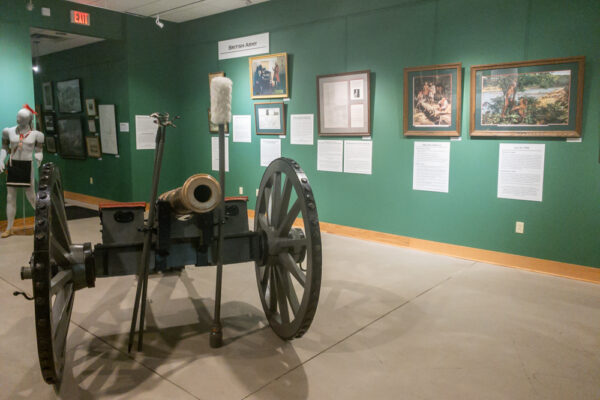 First, this is a rather small museum. It consists of one large room, as well as a smaller room with a video. Even taking the time to read all the text and watch the film, you'll probably only spend about an hour here.
The second part worth noting is that this is a museum for history lovers. At the time of my visit in the summer of 2021, the museum had very few artifacts from the battlefield and no interactive elements. Most of what you see here consists of signage and paintings.
So, if you only have a passing interest in history or have impatient children with you, this might not be the museum for you. (There are plenty of other great things to do with kids in Pittsburgh.)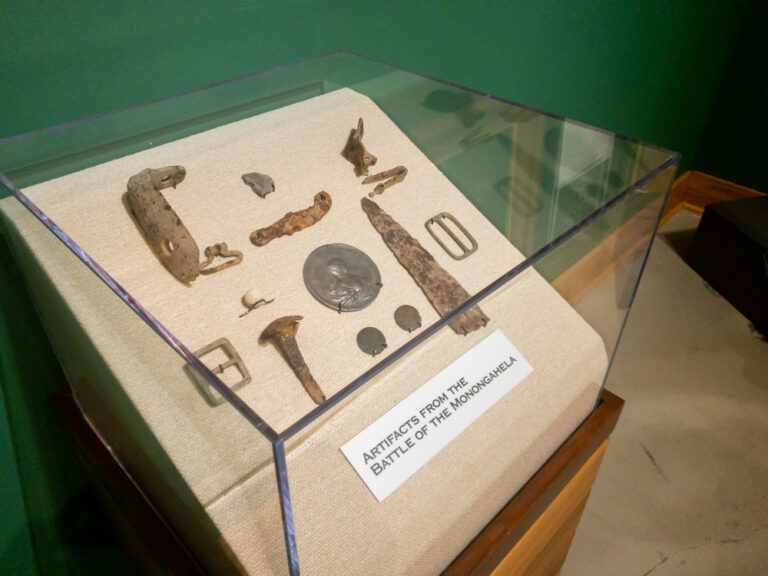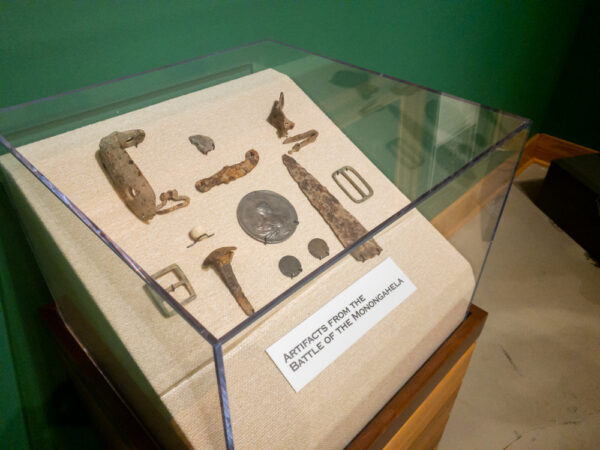 However, if you, like me, love history and enjoy learning about the French and Indian War, this is definitely a neat museum.
As I said above, the museum consists primarily of one large display room. Along the walls of the museum, signage offers insight into the battle, those that participated in it, and its impact on American history.
Large prints of paintings illustrate much of the text and offer a visual way to understand the battle. These paintings are very well done and are quite beautiful to look at even apart from their ability to explain the history of the battle.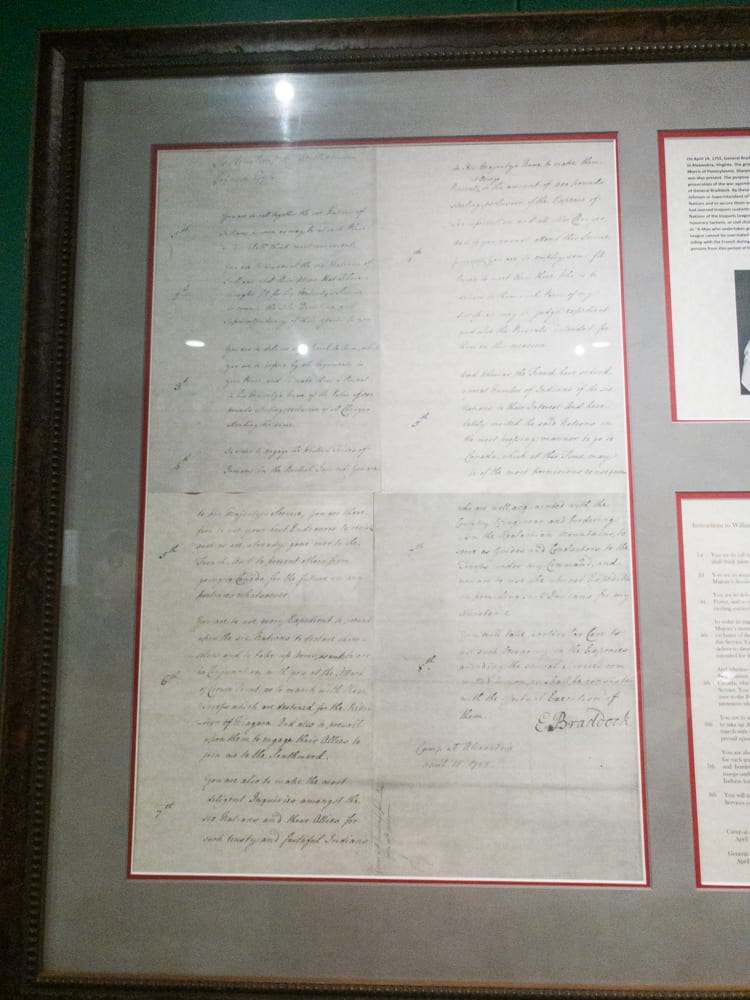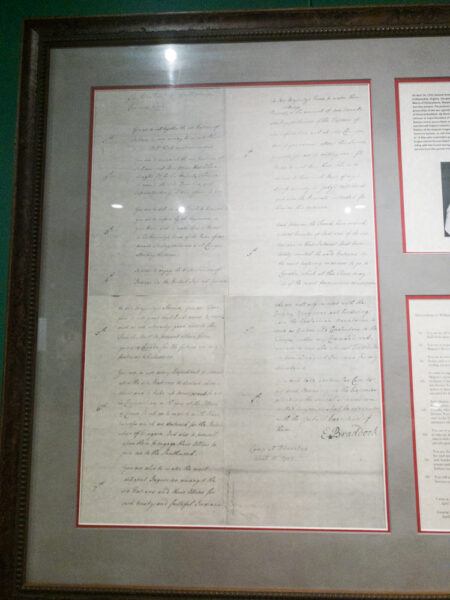 In addition to the paintings, there are also maps that showcase the battlefield and give a chance to understand what happened during it and why the British were so easily routed by a smaller force. There is also a nice collection of replica uniforms that can be found throughout the space.
In addition to the printed text and visual diagrams, there are a handful of artifacts from the battlefield that are on display. While signage could have been better here, these items do add a lot of interest to the museum.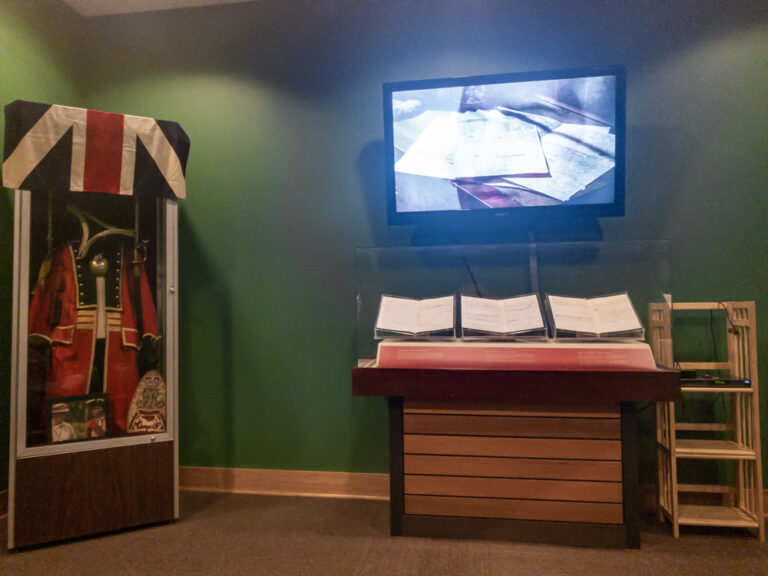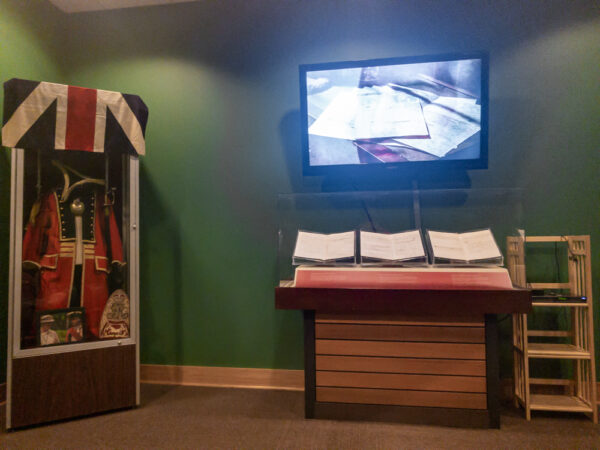 Another great aspect of the museum is its film. This video is very well done and offers a great look into this little-known period of time. Make sure to save 15-20 minutes during your visit to see the film as it really brings the battle to life.
Overall, Braddock's Battlefield History Center is really a neat spot for history lovers to check out. While it might not be for everyone due to its text-heavy approach, those looking for more information about the French and Indian War and Pittsburgh/American history, won't want to miss this hidden gem.
Looking for more places to visit nearby? Check out the Westinghouse Atom Smasher, the Center for PostNatural History, the Fort Pitt Museum, and the Heinz History Center.
---
Braddock's Battlefield History Center
Hours: Thursday-Saturday: 11am-4pm

May-November

December-April: by appointment only

Cost: Adults: $5, Children: $3

Website: BraddocksBattlefield.com

Address: 609 6th St.
Braddock, PA 15104
See map for other area attractions.
---