Disclosure: This article may contain affiliate links. We will make a small commission from these links if you order something at no additional cost to you.
There are many awesome waterfalls in the Laurel Highlands: Cucumber Falls, Jonathan Run Falls, and Cole Run Falls just to name a few. However, there are some that get overshadowed by these frequently visited falls. Adams Falls is one of these.
I was able to find very little information on Adams Falls when I was researching waterfalls in the Laurel Highlands. However, given that it's located only 15 minutes outside of the town of Ligonier and an even shorter drive from the Compass Inn Museum, I figured I'd take a chance and check it out.
Truthfully, I had basically no idea what to expect going in. I didn't even know what trail to take or where in Linn Run State Park to find the trailhead. That's not usually a recipe for a successful hike, but Adams Falls is so easily accessible that I had no trouble finding it. In fact, if you are coming from Ligonier, the Adams Falls trailhead is at the first parking lot you'll come to in the park. It is located at approximately the following GPS coordinates: 40.168976, -79.233788.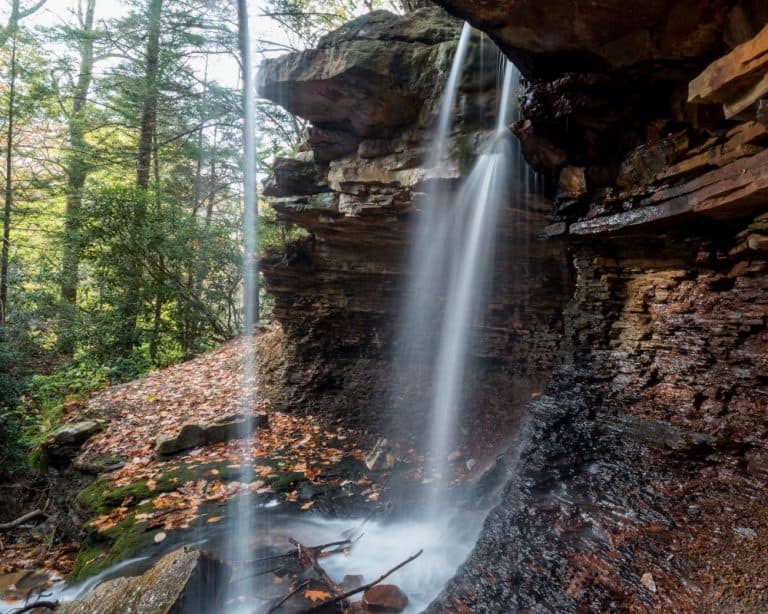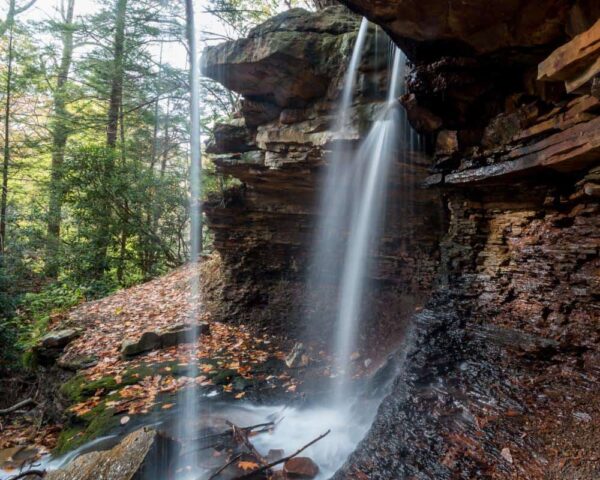 After hiking along the one mile long Adams Falls Trail for about three minutes, I came to the top of the falls.
Adams Falls offers a single plunge of about 15 feet down to a shallow, rocky area below. Viewing is from the top of the falls and many signs warn you not to venture to the bottom of the falls. However, if you must, cross over the bridge and take the relatively easy looking "trail" down the hill to your far right.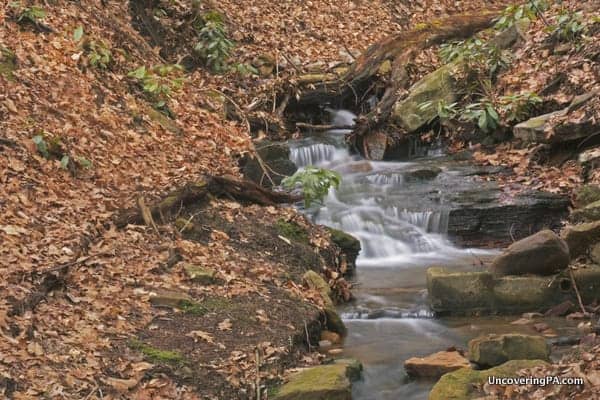 Looking at the falls, it wasn't hard to see why Adams Falls gets overlooked. While many other waterfalls in the region offer great vantage points and good water flow, Adams Falls doesn't flow well even after the heavy rains have overfilled many of the other area waterfalls.
However, like I said above Adams Falls in Linn Run State Park has one big thing going for it: accessibility. You could conceivably make it to the top of the falls from downtown Ligonier in 20 minutes. Not too bad for a remote waterfall in a state park.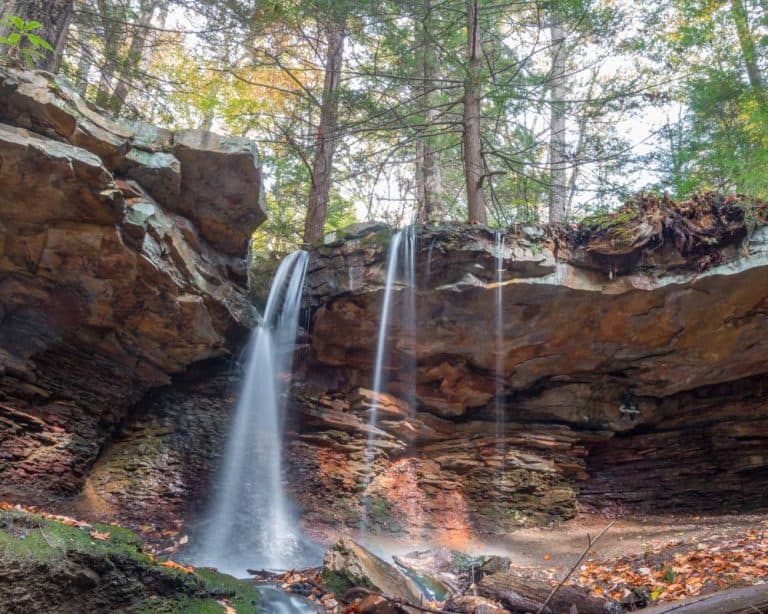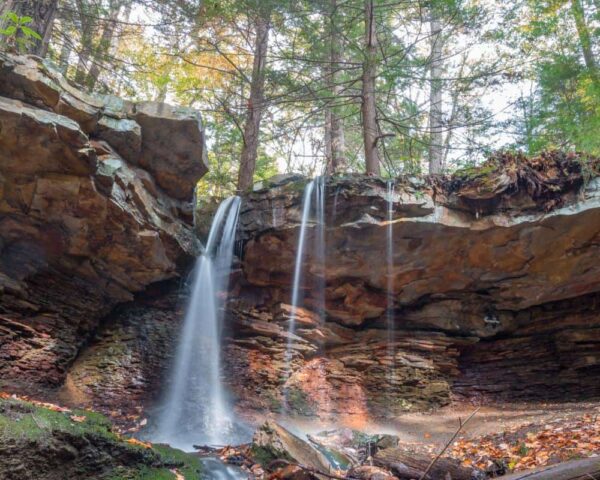 Overall, Adams Falls is a nice little waterfall for anyone looking for something short and accessible. It's certainly not the most amazing waterfall in Pennsylvania, but it's definitely worth visiting for anyone who loves the beauty of falling water.
Once you're done checking out Adams Falls, head over to the trailhead for the Flat Rock Trail, which is another great trail in Linn Run State Park or take a short drive to see the incredible Beam Rocks and Spruce Flats Bog.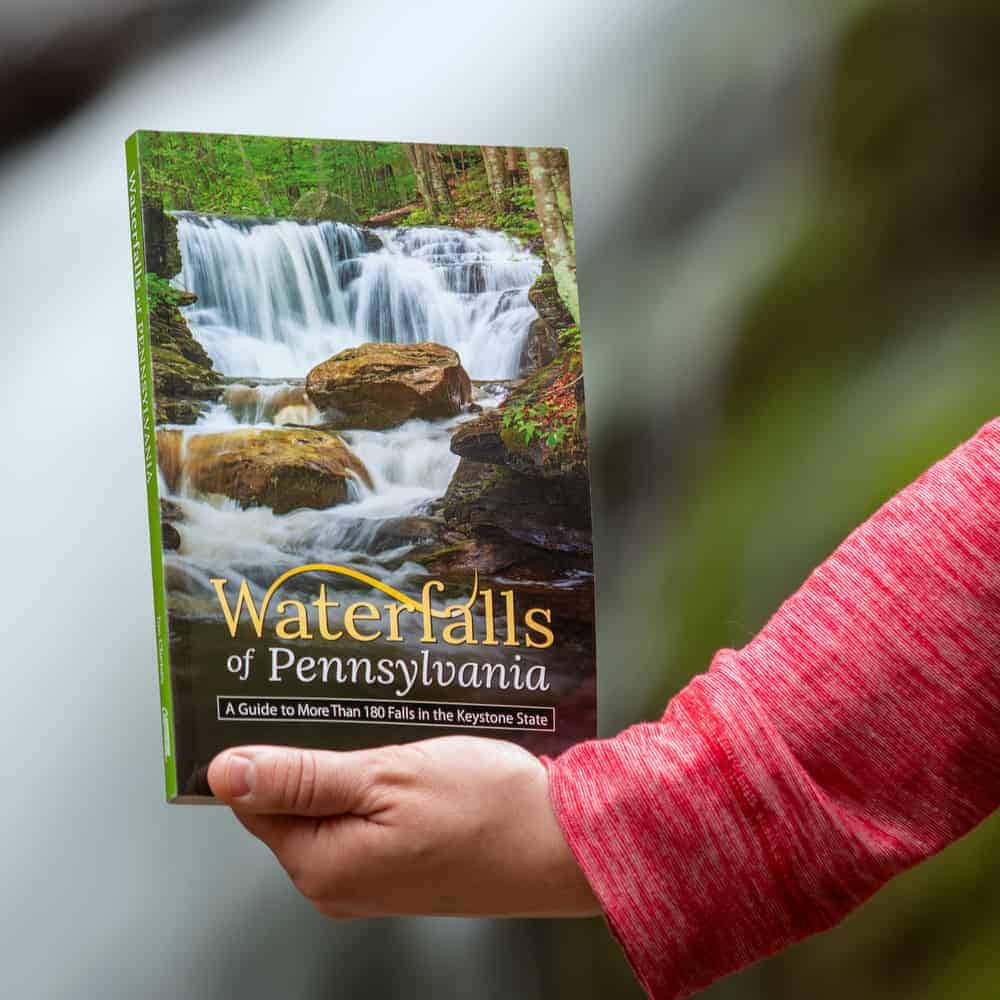 "Waterfalls of Pennsylvania" by Jim Cheney
If you love PA waterfalls, you won't want to miss this waterfall book from Jim Cheney, author of Uncovering PA, featuring more than 180 great waterfalls. Order it now on Bookshop.org or Amazon.
Note: Click the link if you are looking for information about how to get to Adams Falls in Ricketts Glen State Park.
[Click here for information on how to use the coordinates in this article to find your destination.]
Want to see more of Pennsylvania's best waterfalls? Check out our Pennsylvania Waterfalls page!
See map for other area attractions.