Disclosure: This article may contain affiliate links. We will make a small commission from these links if you order something at no additional cost to you.
Pennsylvania is home to many amazing waterfalls. While some of these are along well-defined paths and well-known to many, others are hidden in the woods and unknown even to many locals. Little Shickshinny Falls is one of these unknown waterfalls.
Little Shickshinny Falls is located near Shickshinny, Pennsylvania, a small community along the Susquehanna River in Luzerne County. It can be found on Little Shickshinny Creek in the middle of State Game Lands #260.
While it's hidden, however, that doesn't mean it's hard to get to. In fact, this waterfall only requires about 5-10 minutes of hiking to reach, making it a great spot to visit for those who are short on time or traveling through the area on their way to spots like Wilkes-Barre or Ricketts Glen State Park.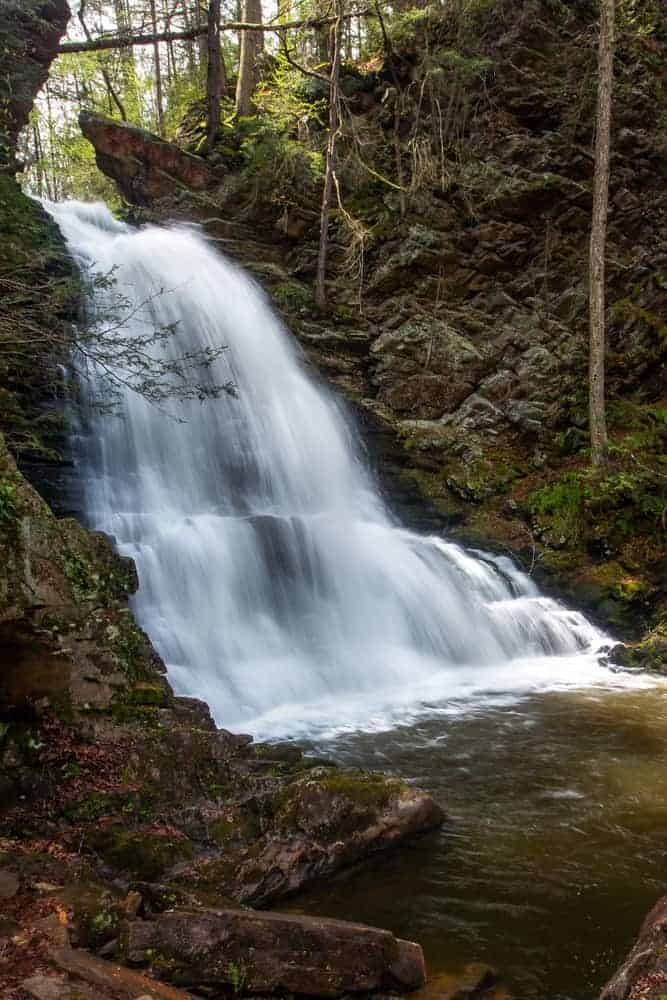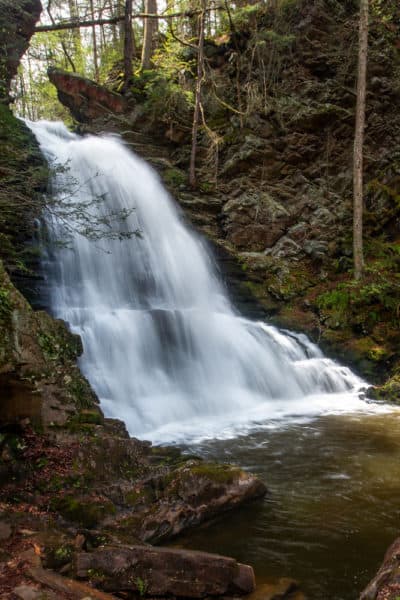 The easy-to-follow, but unmarked trail leads down the hillside towards the waterfall. If water levels are high, part of the trail turns into a bit of a stream, so be prepared to possibly get your feet wet on the hike in.
The trail to Little Shickshinny Falls leads directly to the upper part of the waterfall, which is a man-made dam.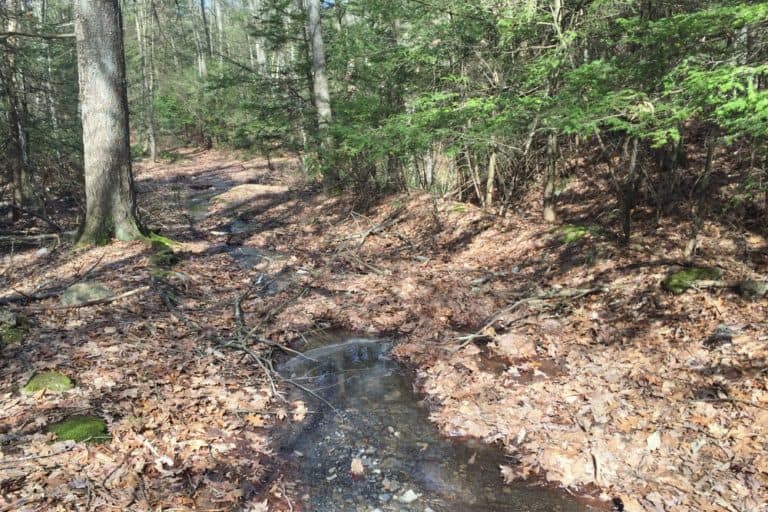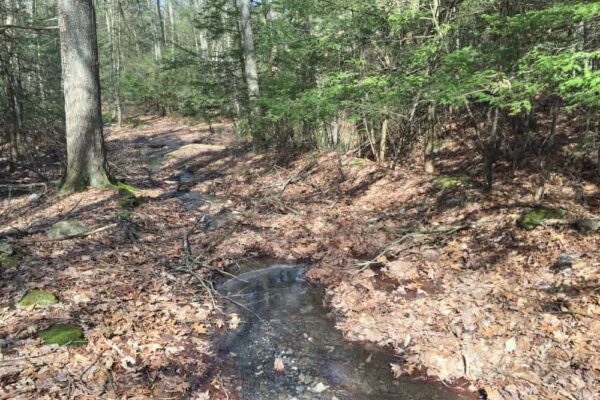 This upper falls is about 8-10 feet tall and is very cool because of the historic foundations and walls that are still there. I'm assuming that this was a mill of some sort, but I've been unable to find any definitive information about it online.
Just downstream of the upper fall is the main part of Little Shickshinny Falls. While getting to the top of Little Shickshinny Falls is relatively easy, getting to the base of the falls is more challenging and caution is encouraged.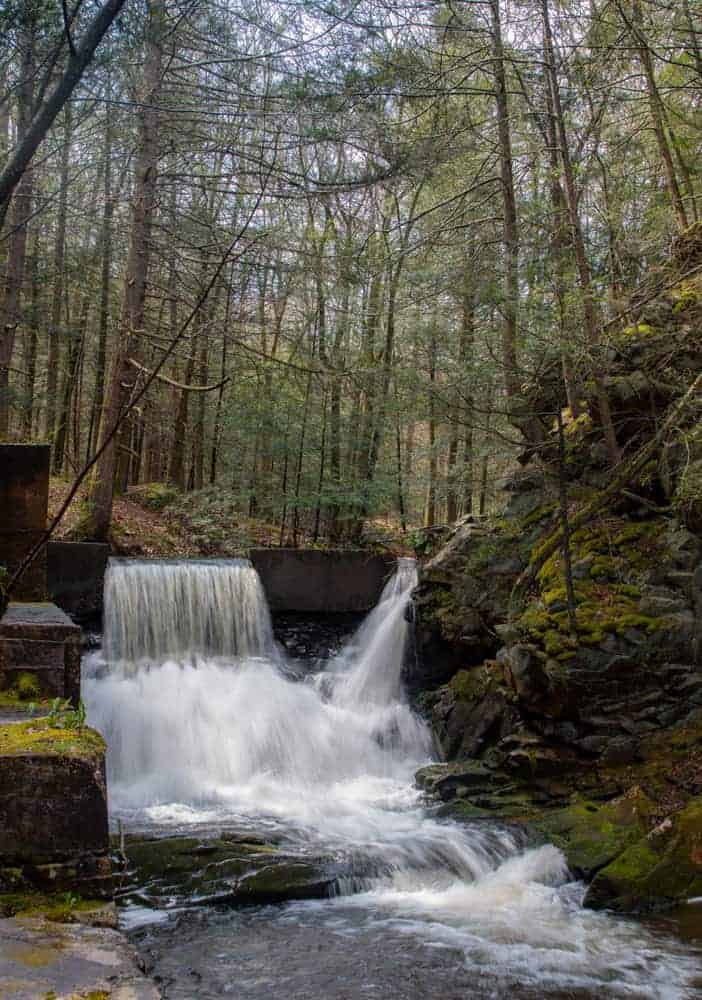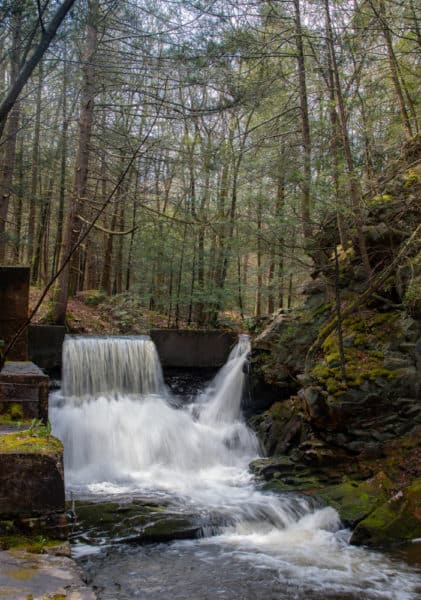 That's because the path down is narrow and the rocks can be kind of slick. If you opt to head towards the base of the falls, use extreme caution climbing down.
However, if you are able to reach the base of Little Shickshinny Falls, you will be rewarded with a fantastic view of this 25-30 foot waterfall as it crashes through a narrow slit in the rock walls.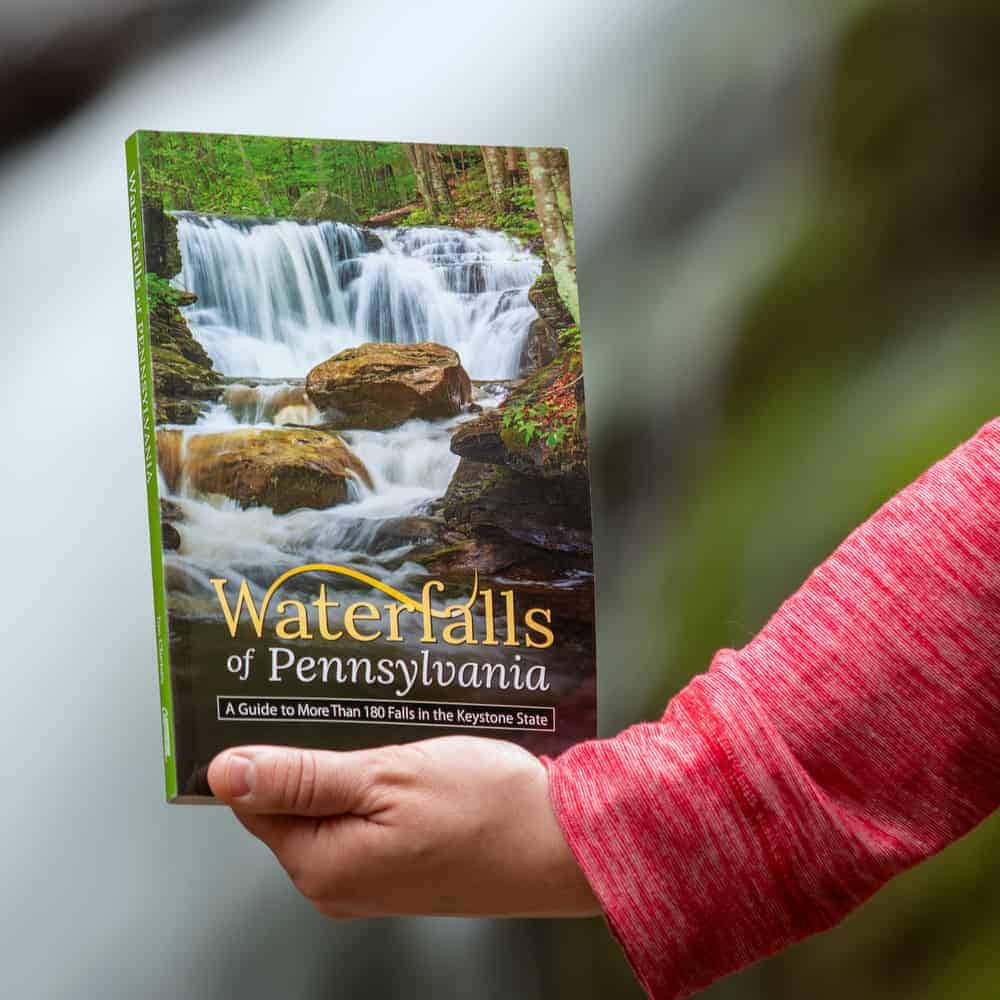 "Waterfalls of Pennsylvania" by Jim Cheney
If you love PA waterfalls, you won't want to miss this waterfall book from Jim Cheney, author of Uncovering PA, featuring more than 180 great waterfalls. Order it now on Bookshop.org or Amazon.
While there are certainly more impressive waterfalls in Pennsylvania, this is still an incredible spot to enjoy.
After you've enjoyed Little Shickshinny Falls, and if you are feeling especially intrepid, there is another small waterfall about 100 feet downstream of the main waterfall that is also quite beautiful. However, getting to the base of this 8-10 foot waterfall is even more challenging, so don't attempt it if you aren't comfortable descending somewhat sketchy hillsides.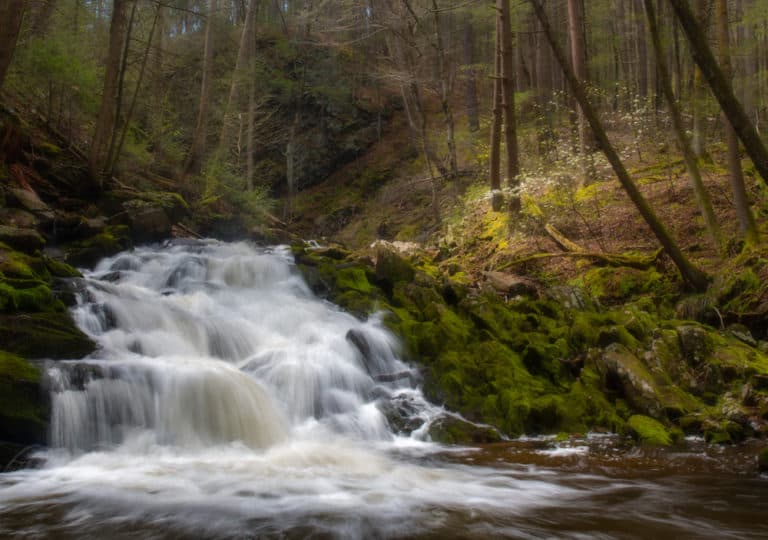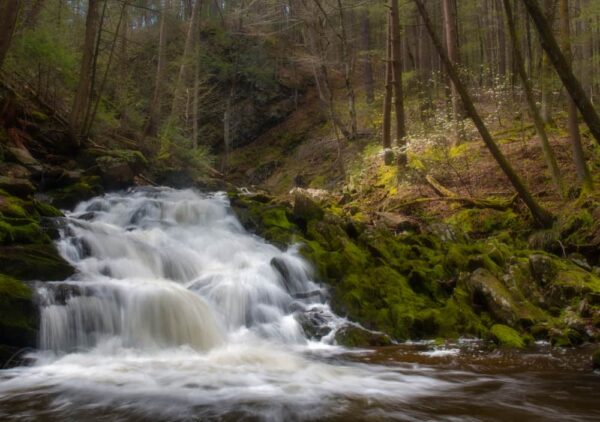 Without a doubt, Little Shickshinny Falls in Luzerne County is a hidden gem of northeastern Pennsylvania. If you are looking for a fun and beautiful spot to visit with a bit of history, don't miss this great waterfall.
How to Get to Little Shickshinny Falls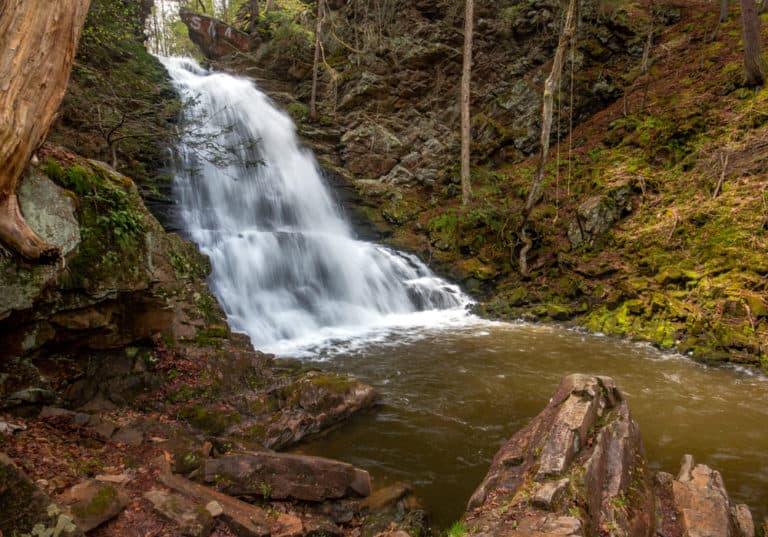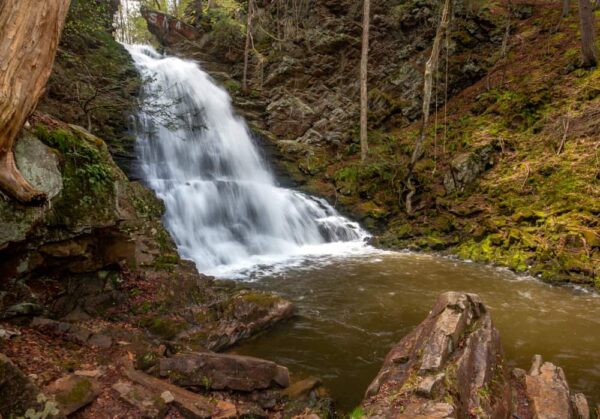 The parking area for Little Shickshinny Falls is a state game lands parking lot along Shickshinny Valley Road, approximately 1 mile from Main Street (Route 11) in Shickshinny, Pennsylvania. This dirt parking area can be found at the following coordinates: 41.147958, -76.169814.
This is the same parking area you use to access the hidden waterfalls on Paddy Run.
From the parking area, walk towards the road and turn right (heading away from town). After just a few feet, you'll see a gated trail on the side of the road you parked on.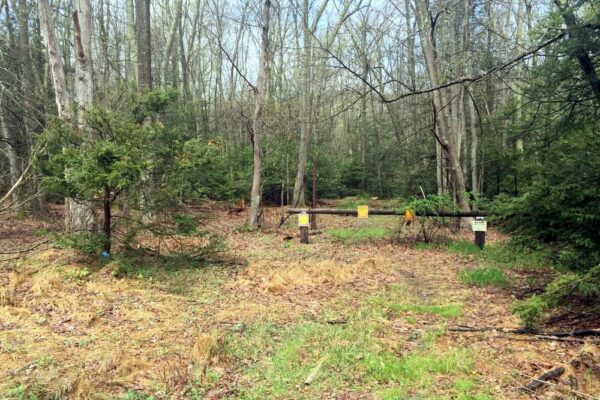 Walk past the gate and follow this unmarked trail downhill for about five minutes to the top of Little Shickshinny Falls.
For those that use coordinates, Little Shickshinny Falls can be found at the following coordinates: 41.148722, -76.172917.
As stated above, getting to the top of Little Shickshinny Falls is fairly easy, but caution is urged if you try to reach the bottom of the waterfall.
Looking for more things to do nearby? Check out the abandoned Concrete City, Bill's Old Bike Barn, the waterfalls of Ricketts Glen State Park, and the Stuart Tank Museum.
[Click here for information on how to use the coordinates in this article to find your destination.]