Disclosure: This article may contain affiliate links. We will make a small commission from these links if you order something at no additional cost to you.
Without a doubt, Pittsburgh is one of my favorite places to visit in PA. Whether I explore the city by myself or with my family, I'm always amazed at how many great things there are to do in and around Pittsburgh and Allegheny County.
If you are looking for fun things to do in Pittsburgh with kids, I decided to put together this list based on my experience that features a few of my family's favorite things to do when we visit this western Pennsylvania city.
Check out my picks below, and then let me know which of your favorite things for kids to do in Pittsburgh I missed.
Pittsburgh Zoo and PPG Aquarium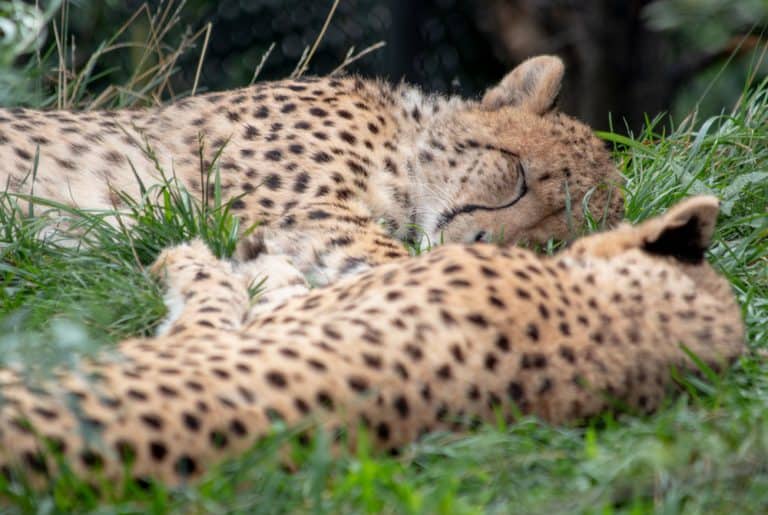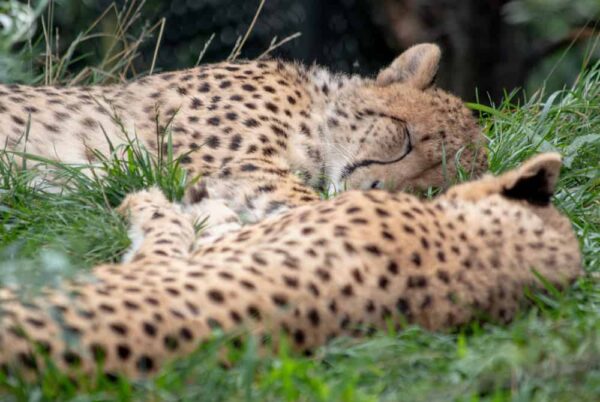 The Pittsburgh Zoo and PPG Aquarium is the largest zoo and aquarium within Pennsylvania.
Located within Highland Park, this spot features more than 4,000 total animals in its 77 acres including tigers, lions, gorillas, giraffes, and many more exotic species.
Within the aquarium, kids and adults can explore underwater worlds featuring animals like penguins, sea lions, and even a walk-through polar bear enclosure.
What really pushes this over the edge as an amazing place for those in Pittsburgh with kids is the large playground that features many imaginative ways for children to play.
Children's Museum of Pittsburgh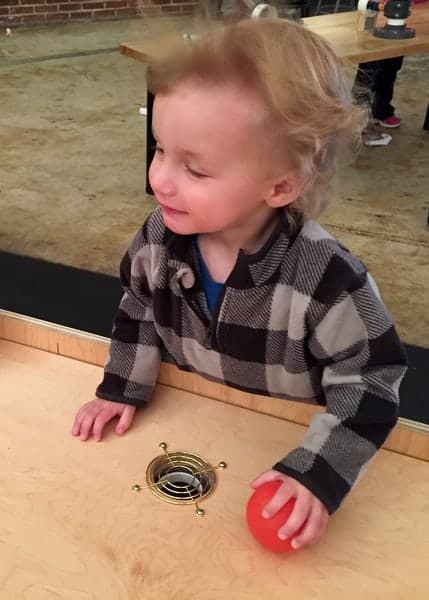 The Children's Museum of Pittsburgh is an amazing indoor destination for kids in Pittsburgh.
Opened in 1983, this museum features a bit of something for kids of all ages (I even had a ton of fun as an adult). The museum's three floors of exhibits include a giant playground, science experiments, art displays, a large water table, and much more.
Scattered throughout the museum, you'll also find many props from the Mister Rogers' Neighborhood television show, which is a really neat touch.
Randyland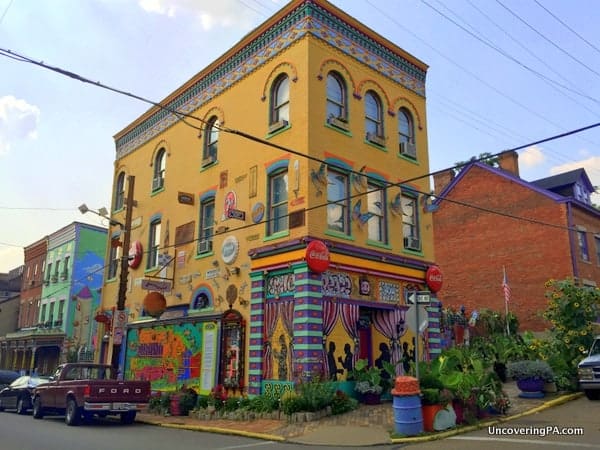 There might be nowhere in Pennsylvania that exudes joy more than Randyland. The creation of local artist Randy Gilson, Randyland is a colorful work of art that is fun for both kids and adults to visit.
In the backyard yard of his home in Pittsburgh North Side, Gilson has combined items found throughout the area with whimsical colors to create a bright and cheerful space that's a ton of fun to explore.
If you get lucky, Randy himself might even be there and able to regale you with stories from his life and to tell you about his unique art.
Carnegie Museum of Natural History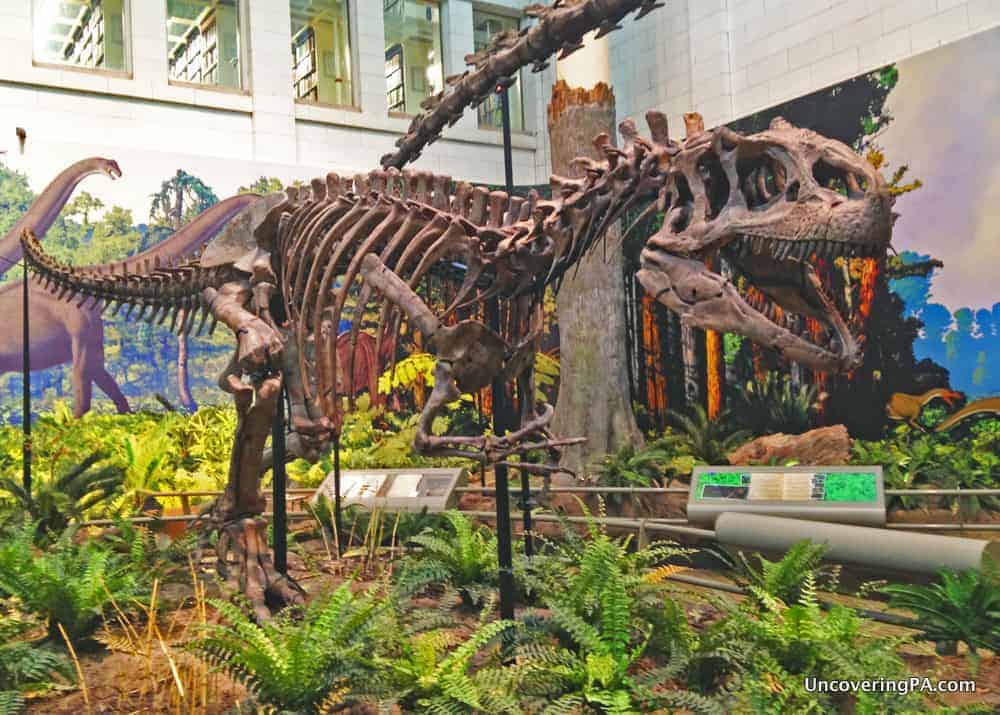 The Carnegie Museum of Natural History offers a fantastic opportunity for kids to learn about everything from dinosaurs to world cultures.
Located in the Oakland neighborhood near the University of Pittsburgh, the museum features three floors of exhibits that delve into many interesting topics. My personal favorite room is the Dinosaurs in Their Time exhibition which features many dinosaur fossils, including an incredible T-rex.
Admission to the museum also allows you to visit the Carnegie Museum of Art, another of my favorite things for kids to do in Pittsburgh.
Fall Run Park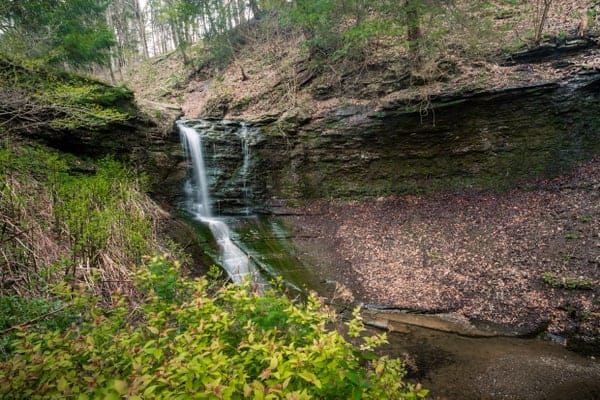 Looking for a great hike near Pittsburgh to do with kids? Fall Run Park is a great choice.
Located about 15 minutes from downtown Pittsburgh, this park features a relatively short and easy trail that leads to a beautiful waterfall. Along the way, there are several stream crossings and beautiful scenery to be seen.
While there are certainly bigger waterfalls near Pittsburgh, Fall Run Park is a great outdoor destination in the region.
Carnegie Science Center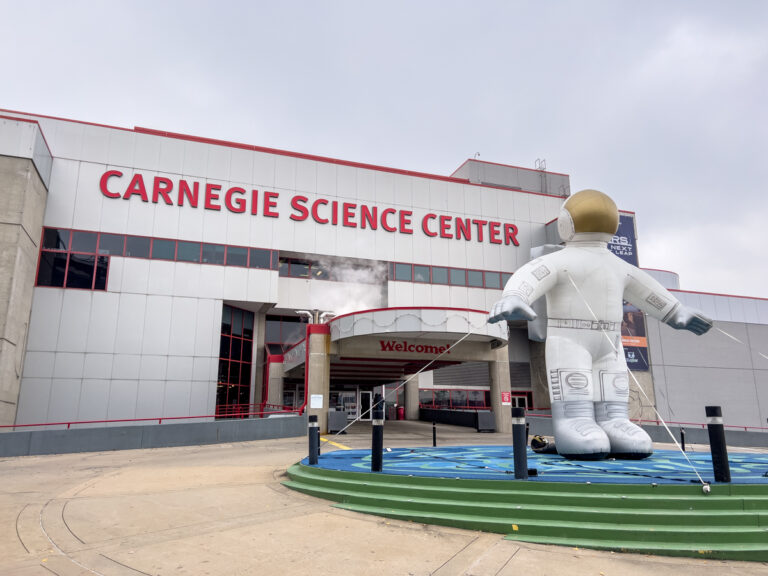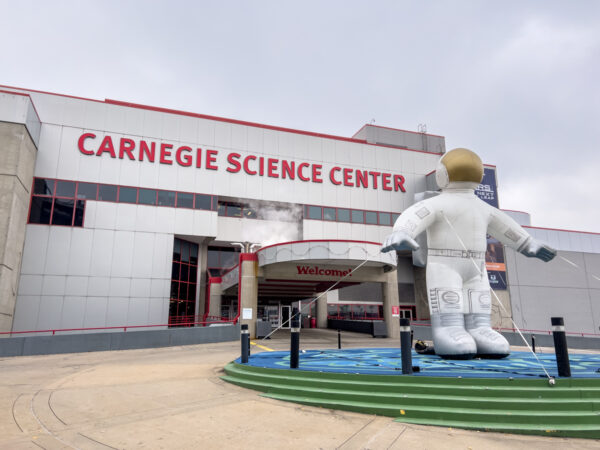 Have kids that love science? The Carnegie Science Center on Pittsburgh's North Shore should be on your list of places to visit.
The most visited museum in Pittsburgh, the center features four floors of interactive science exhibits, as well as a planetarium. Topics highlighted in the museum include sports activities, space exhibits, and even a large robotics room.
Outside the museum, visitors can tour the 1940s-era submarine, the USS Requin.
Phipps Conservatory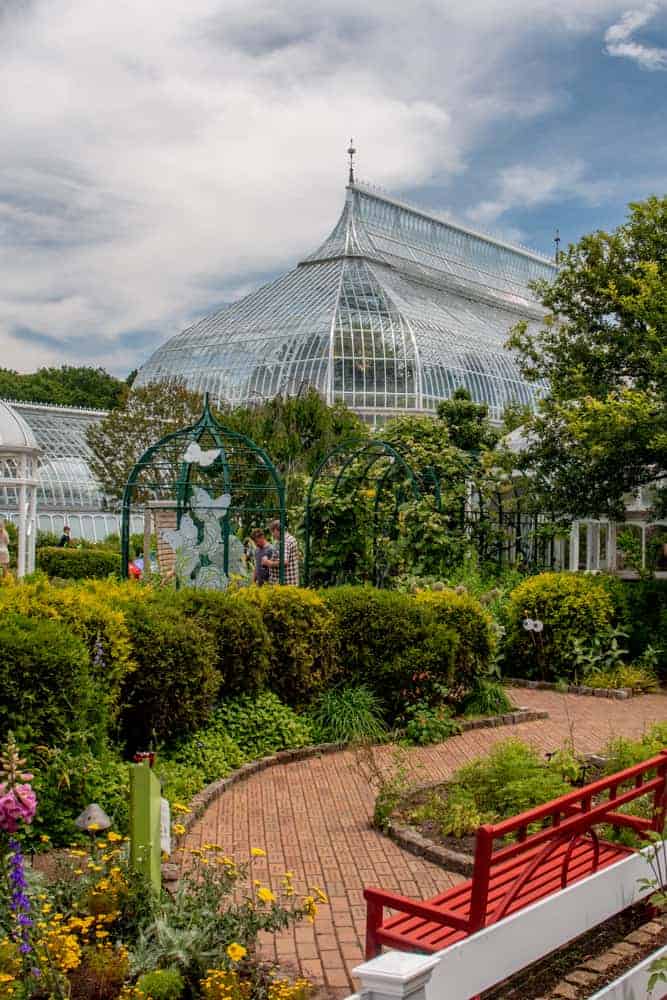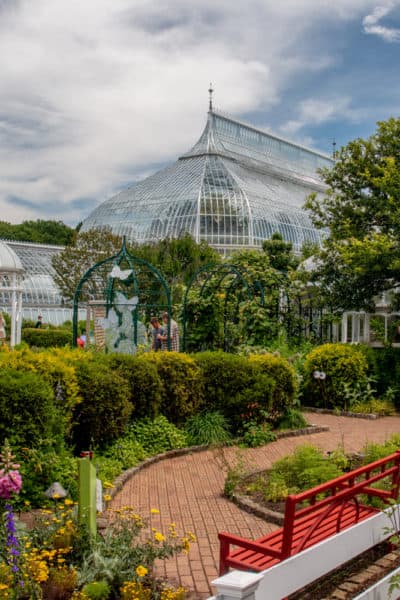 Phipps Conservatory is an incredible botanical garden in Pittsburgh. Without a doubt, kids that love beautiful and unique plants will love coming to this beautiful place and seeing what they have on display.
In addition to the indoor displays, Phipps features several outdoor spaces including the Children's Discovery Garden. In this area, kids can explore a garden created to awaken their senses and to attract birds, butterflies, and bees.
Heinz History Center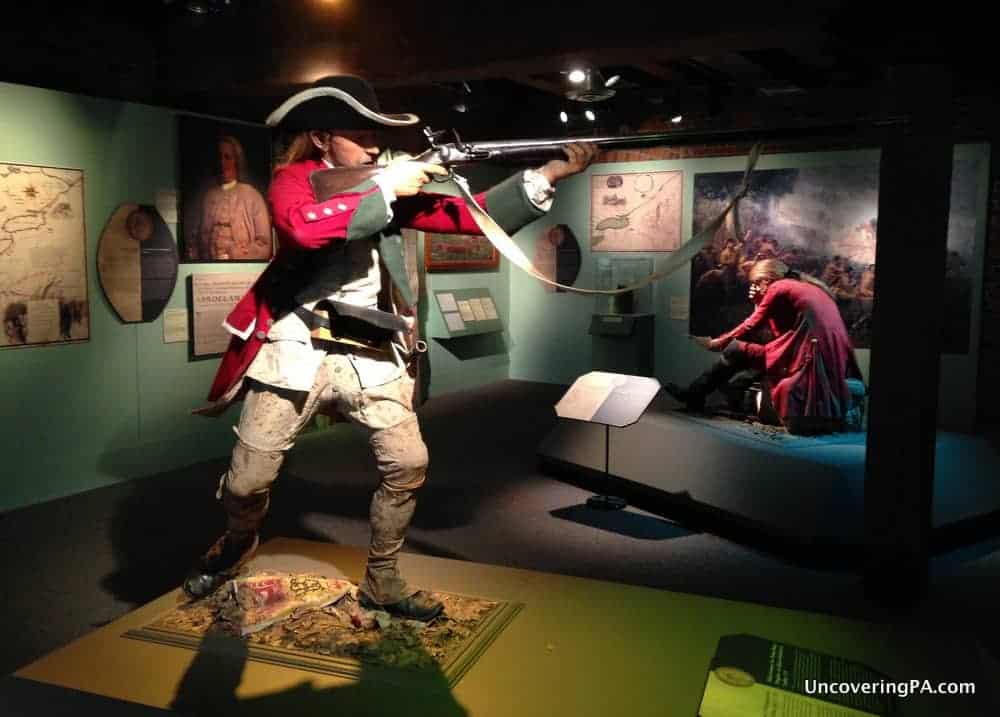 The Heinz History Center offers a great overview of the history of Pittsburgh and the people and events that shaped the region. Throughout the museum, kids that love history will no doubt enjoy learning more about the city's past.
The center also features a two-story history-inspired play area known as Kidsburgh. There are many activities here including an imaginary ice cream shop, a pretend cow to milk, and an interactive model of the city.
Of course, kids also will enjoy the two-story spiral slide that's within the museum!
Duquesne Incline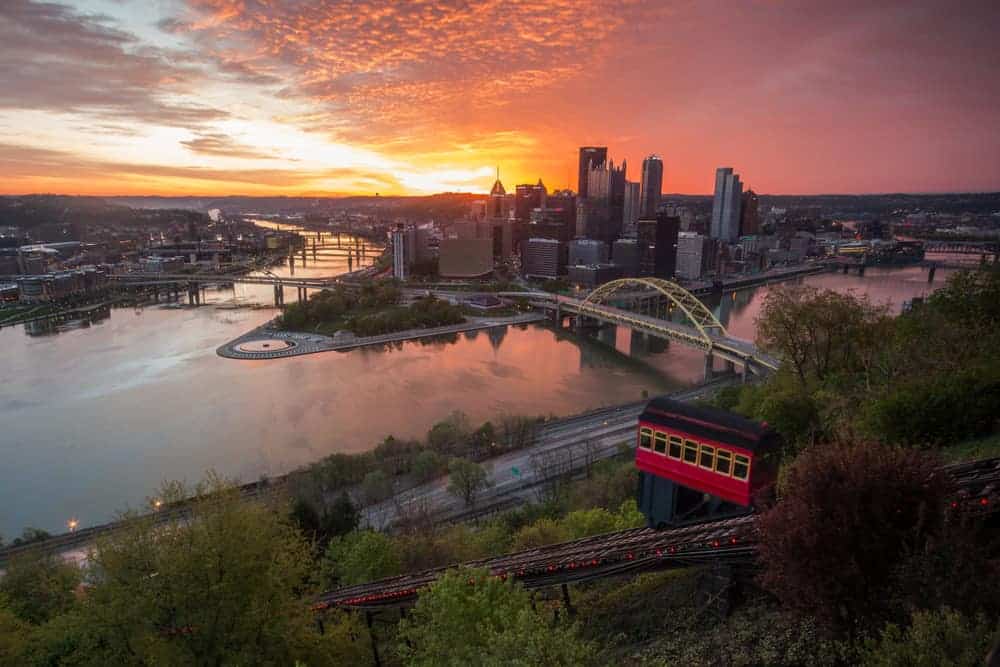 No visit to Pittsburgh is complete without a ride on the Duquesne Incline to the top of Mount Washington. Kids especially love this unique mode of transportation that is part train and part elevator and heads up the mountainside.
At the top of the hill, take a few minutes to explore the small museum that highlights the incline's history, and then step into the machine room for a look at how this interesting mode of transportation works.
National Aviary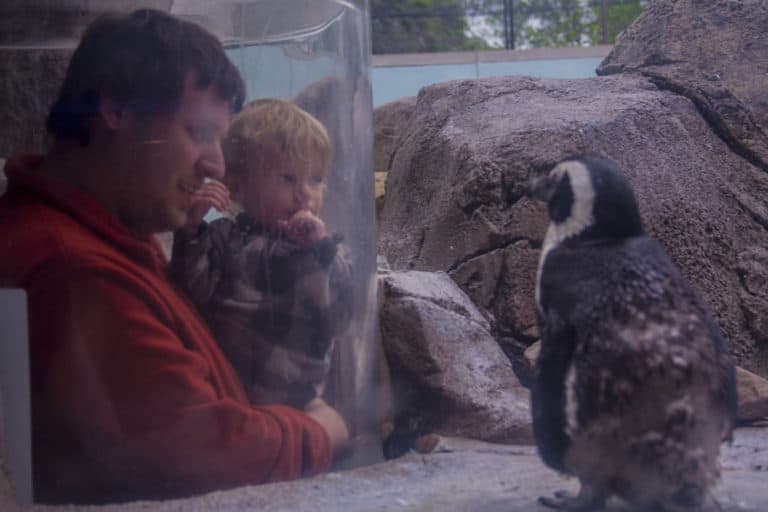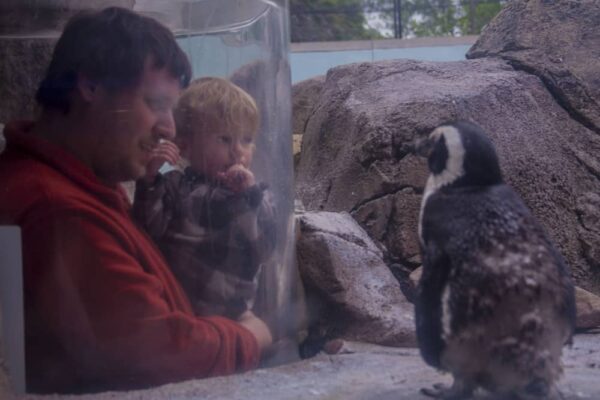 Kids that love birds won't want to miss the National Aviary. This museum features more than 600 animals from 200 species in what is the largest aviary in the United States.
The aviary features a mixture of cages for some of the larger birds, as well as large rooms that visitors can walk through and see birds and other animals up close. Popular species on display include penguins, Malaysian flying foxes, and even sloths.
Spray Parks
If you are looking for free things to do in Pittsburgh with kids, the city's eight spray parks are a great choice, at least during the summer months.
These parks are located primarily in residential areas, but both locals and visitors are able to spend time enjoying these great spots to cool off on a hot day.
Designed for kids of all ages (and even accommodating to kids in wheelchairs), these parks combine different types of spray nozzles and activities to create and fun and safe place for kids to play.
Gateway Clipper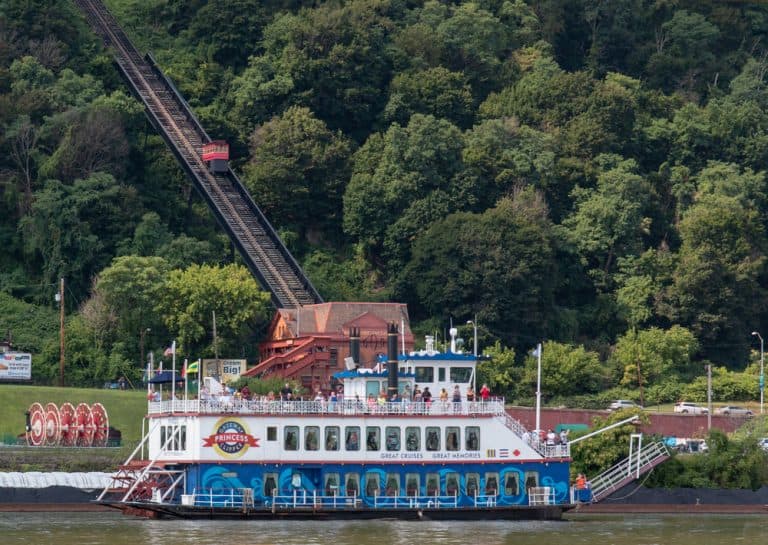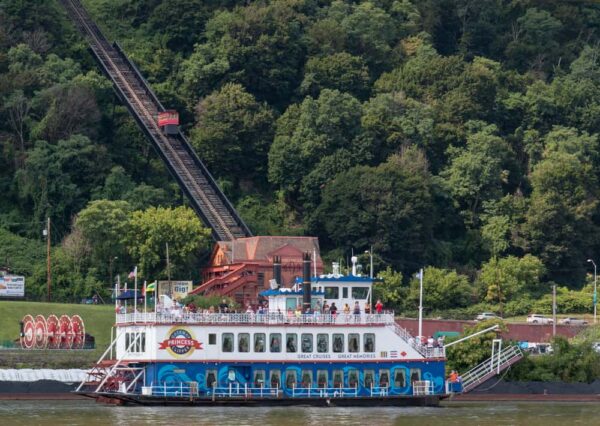 Pittsburgh is a city known for its waterways, so there's really no better way to tour the city than from a boat.
The Gateway Clipper is a fleet of boats that run regular sightseeing, dinner, and other specialty cruises through the heart of downtown Pittsburgh.
The boats leave from Station Square and travel all three rivers while offering narration about what you can see from the boat, as well as the city's history. If possible, hop aboard for a sightseeing tour at sunset for fantastic views of Pittsburgh's lights as they turn on.
Gravity Hill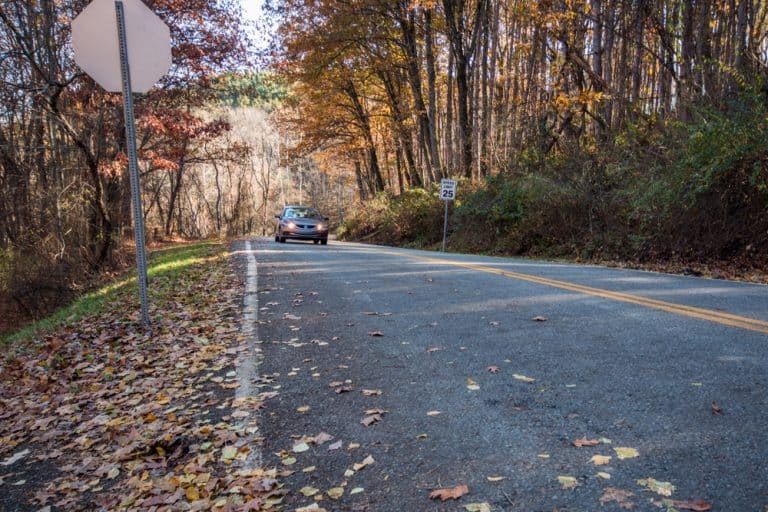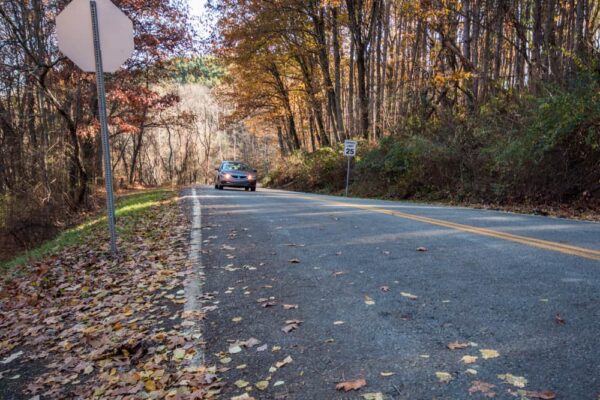 Did you know that there is a place you can seemingly defy gravity in the Pittsburgh area? Located in North Park, Gravity Hill is an optical illusion, but it does really look and feel as if your car is rolling uphill.
While it's fun for adults, kids will especially get a kick out of this unique activity. Just be careful as Gravity Hill is on a public road.
Pinball Perfection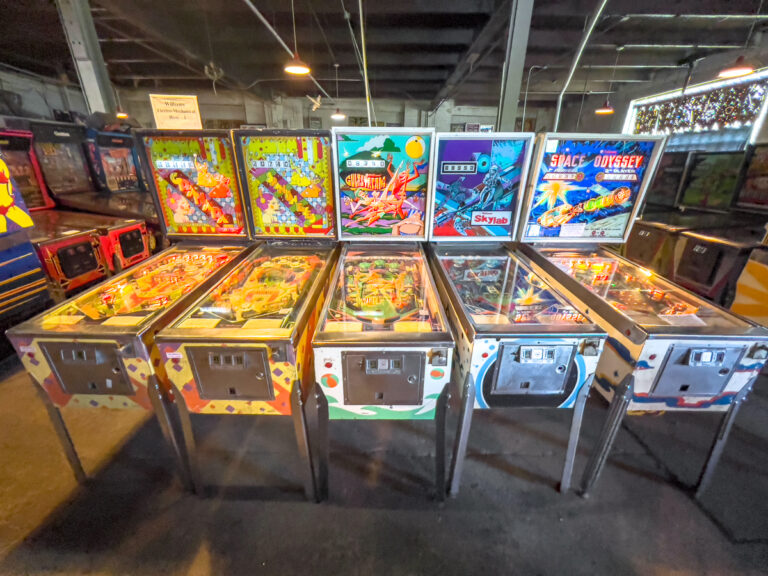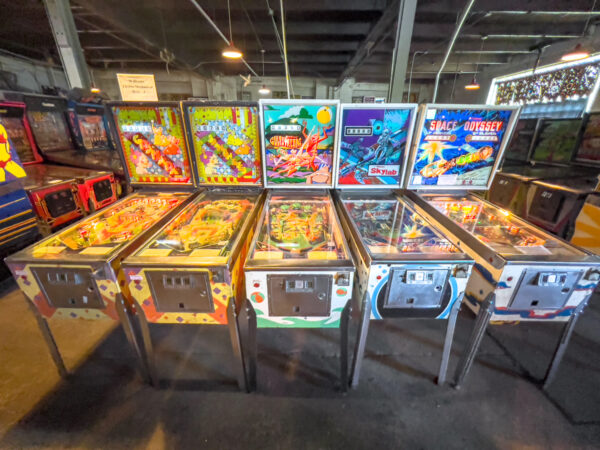 If you have kids that love games, Pinball Perfection near Pittsburgh is a great place to visit.
The site has nearly 300 pinball machines and claims to be the largest pinball museum in the country. Of course, this isn't any old museum, as you are encouraged to play many of the classic machines they have in their collection.
This is a great spot to spend a few hours or a whole day.
Tour-Ed Mine and Museum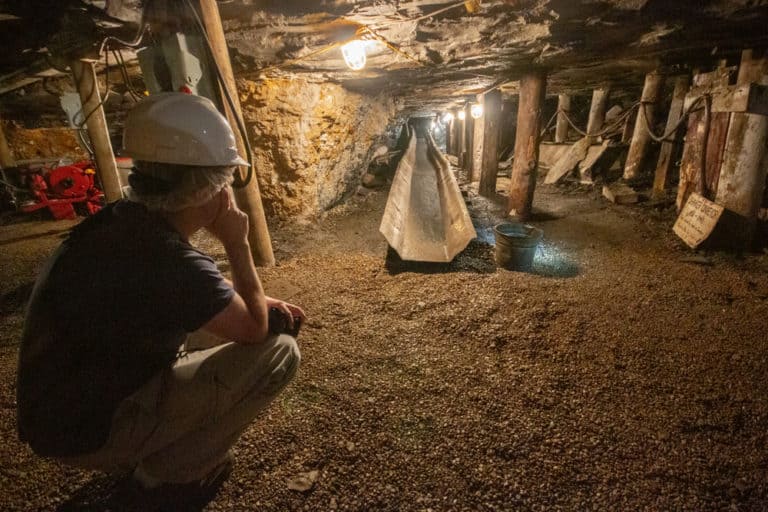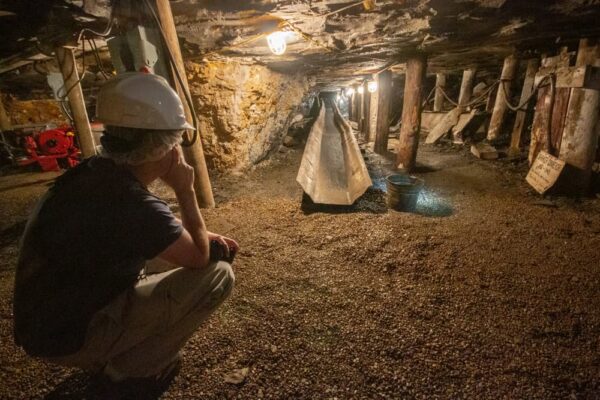 While Pittsburgh is known for its steel, other raw materials that were needed for the industry were often mined nearby. One such spot was a coal mine known today as the Tour-Ed Mine and Museum.
Here, visitors can head deep underground into an authentic coal mine and learn about the history of mining in the region and how miners performed their jobs. There are even pieces of machinery in the mine that still operate, which offers a great look into this hard job.
It's a great way to not only explore a unique underground area but also to learn more about the history of the Pittsburgh region.
Moonshot Museum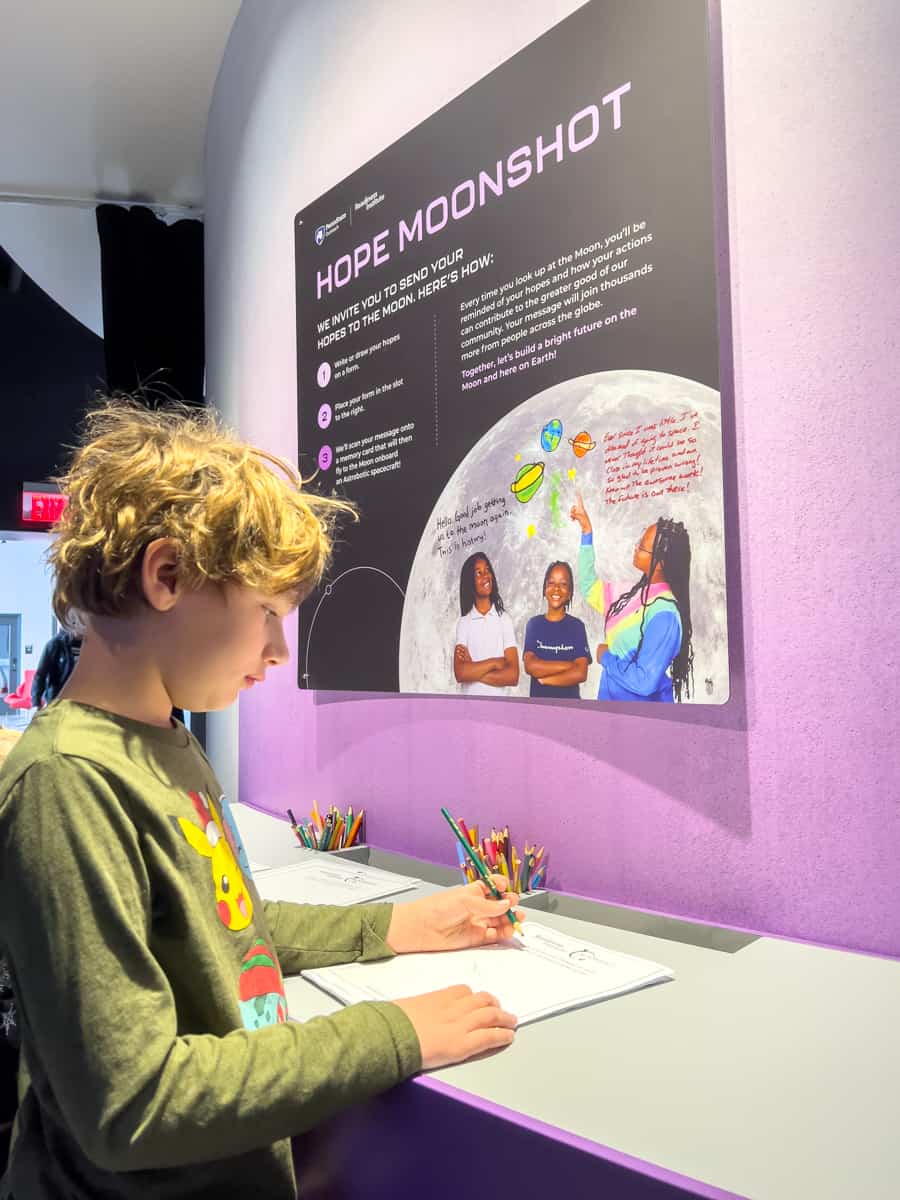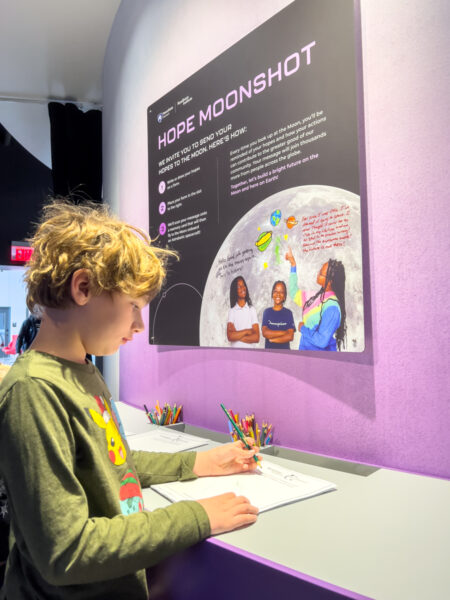 Pittsburgh is a leader in space robotics, and the Moonshot Museum does a great job telling this story and the future of space travel.
This small museum features dozens of interactive elements that are fun for kids of all ages, but also in-depth enough to interest adults as well. You can even write a note that will be digitized and sent to space on a future mission.
The highlight here is the view into the Clean Room Workshop where you can often see them working on the next lunar rover or lander.
Kennywood Park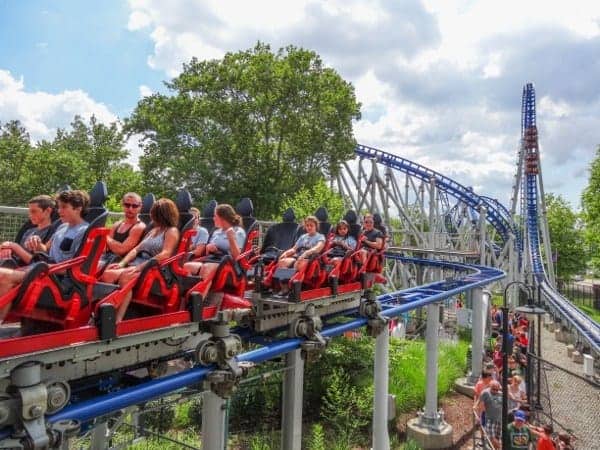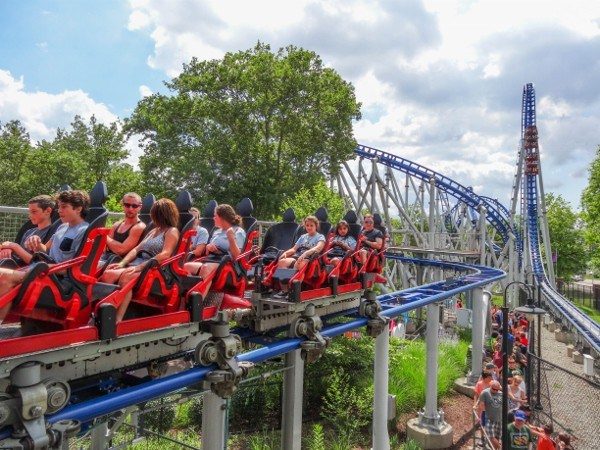 Located just outside of the city, Kennywood is a fantastic amusement park that is sure to thrill both kids and adults.
For younger kids, there are two children's areas: Kiddieland and Thomas Town. Both offer fun rides and activities for the smallest visitors to the park. Thomas Town is a newer area and is themed around the popular Thomas the Tank Engine.
For older kids, there are dozens of high-adrenaline rides throughout the park, including eight roller coasters.
Highland Park Super Playground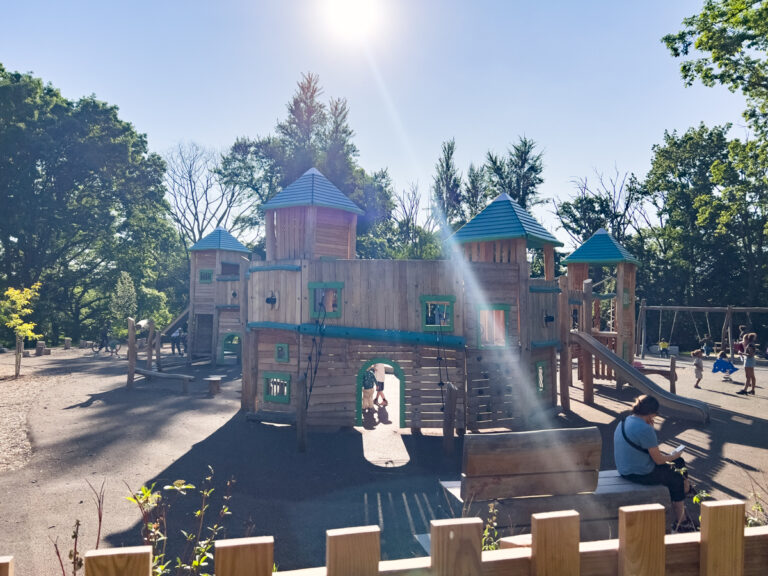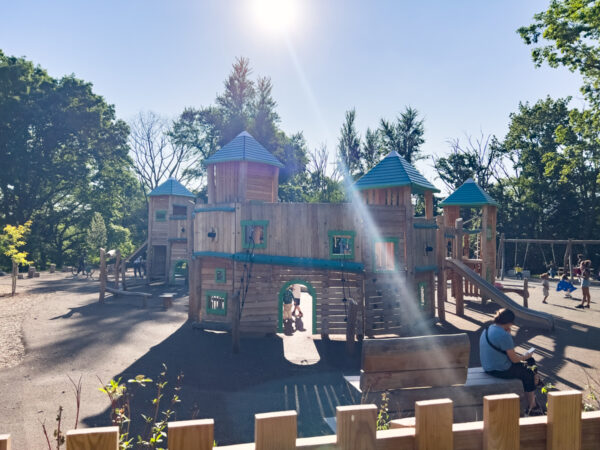 The Highland Park Super Playground is located in eastern Pittsburgh and is one of the largest playgrounds in the city (if not the largest).
Made almost entirely of wood, this retro playground encourages kids to use their imagination as they explore the castle-like structure, and its many bridges, walls, and slides.
If you are looking for free and fun things to do with kids in Pittsburgh, this is a great stop.
PNC Park Tour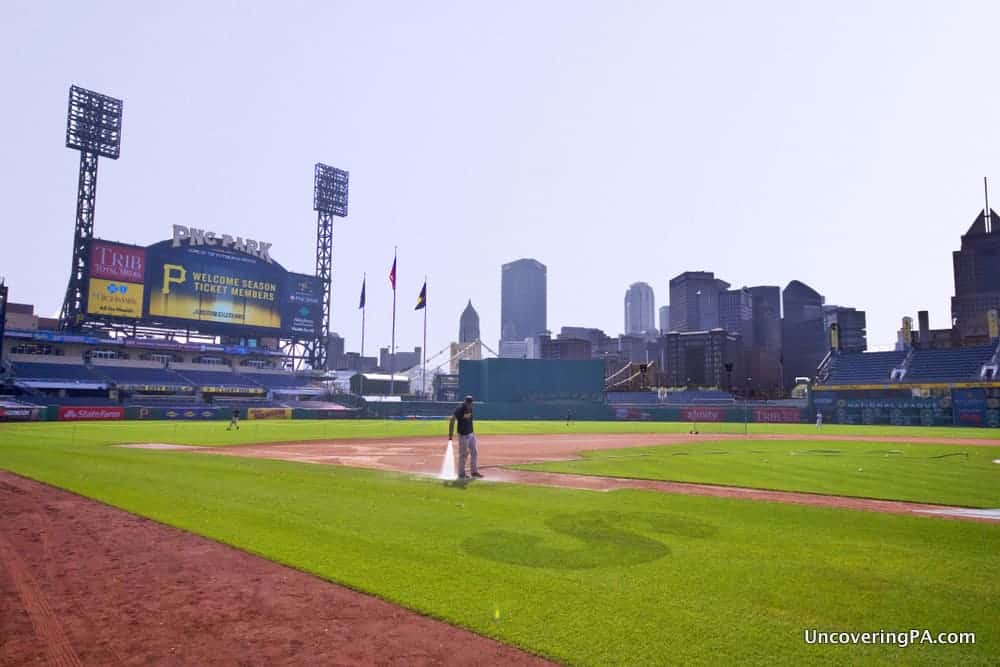 If you are exploring Pittsburgh with kids that are sports fans, you won't want to miss a tour of PNC Park, home of the Pittsburgh Pirates baseball team.
The park is considered one of the best stadiums in all of professional baseball, and tours offer the chance to learn more about the club and to go behind the scenes of the stadium.
Highlights of the tour include access to the dugout, locker room, and press box (Note that stops can vary based on the team's schedule).
Mister Rogers' Statue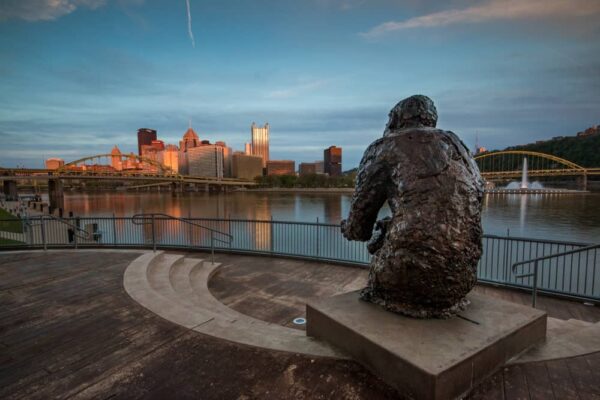 Known officially as the Tribute to Children, this giant statue of Pittsburgh-area native Fred Rogers is a great spot for families visiting the city.
While the statue of Mister Rogers is kind of interesting, it's still neat to see this homage to one of TV's icons. The memorial not only offers great views of Pittsburgh's skyline but also plays audio clips of songs from Mister Rogers' Neighborhood.
Allegheny Observatory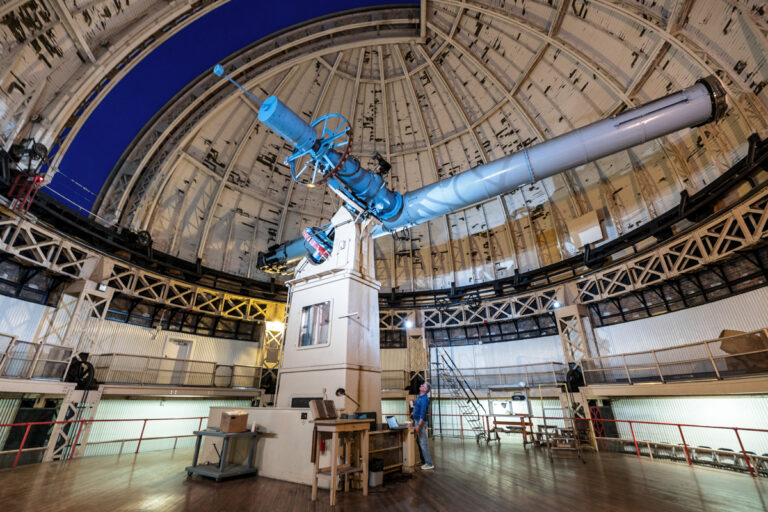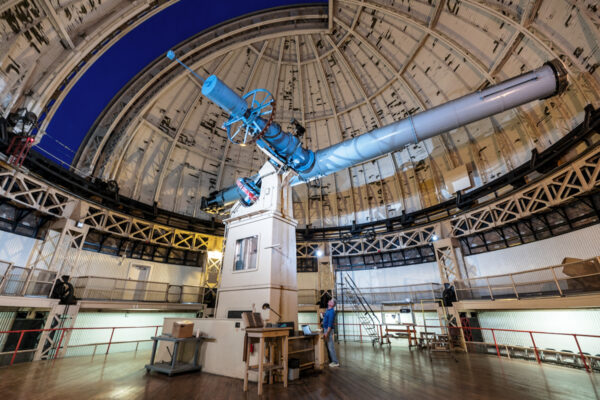 Believe it or not, Pittsburgh is home to its very own observatory.
Located within Riverview Park, Allegheny Observatory features giant telescopes and other research tools that it uses to scan space as part of the University of Pittsburgh.
Free tours of the observatory are offered on Thursday and Friday nights from April through October and offer views of celestial objects on clear nights.
If you are looking for kids' activities in Pittsburgh, you can't do much better than this observatory.
Frick Park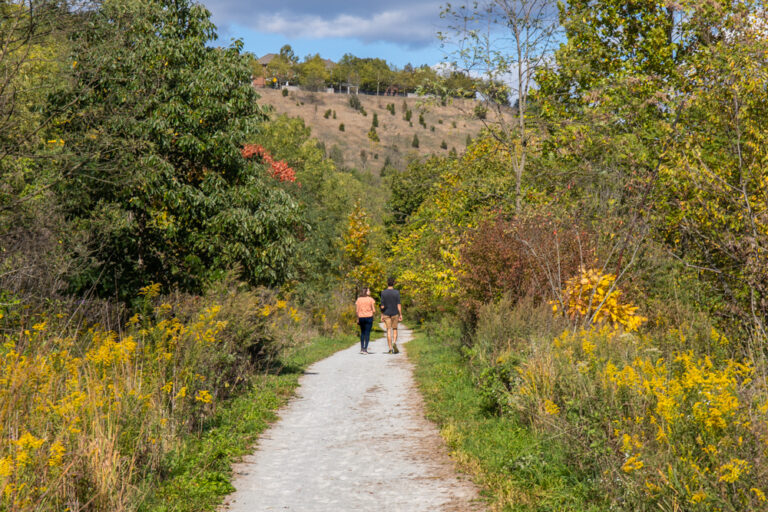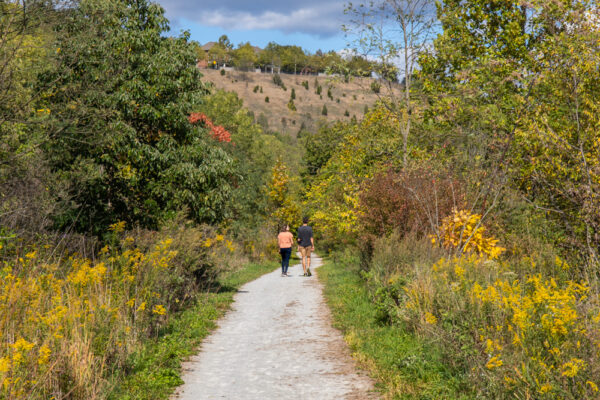 Frick Park is more than 600 acres in size, making it the largest park in the city. Within its grounds, there are miles of hiking trails, playgrounds, basketball courts, and more.
If you need somewhere for the kids to burn off energy while exploring the many great attractions in and around Pittsburgh, this is a perfect spot to visit.
Do you have a favorite thing to do in Pittsburgh with kids that didn't make our list? Let us know in the comments below.
Looking for more places to visit with kids in the region? Check out the Pennsylvania Trolley Museum, Idlewild Park, and Laurel Caverns. You can also check out our weekend in Pittsburgh itinerary which is perfect for families.