Disclosure: This article may contain affiliate links. We will make a small commission from these links if you order something at no additional cost to you.
The Delaware Water Gap National Recreation Area is filled with amazing waterfalls. Some of these are very well known, while others are rarely visited. However, none are as little known, yet easy to reach as the waterfalls at Camp Hidden Falls.
Camp Hidden Falls is a former girl scout camp that was purchased with conservation funds and turned over to the National Park Service in early 2018. While the land is open for visitors, don't expect any signs marking the area, infrastructure, or maps to help you find your way.
However, despite these shortcomings, this is a neat place to explore that features several beautiful waterfalls and even a few ruins of the structures that once stood at the camp.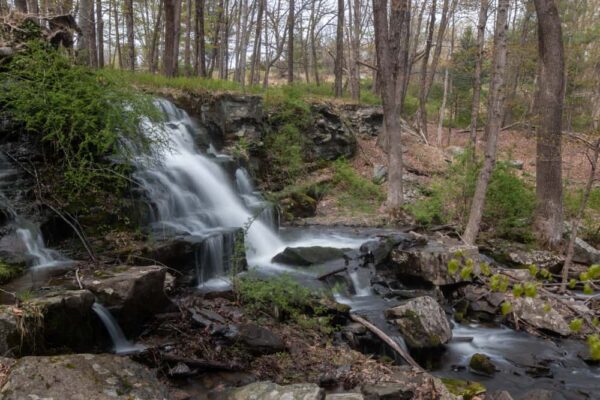 Camp Hidden Falls is located just west of the main portion of the Delaware Water Gap National Recreation Area, not far from the Pocono Environmental Education Center.
While this land is over 1,000 acres in size, the lack of a map makes it hard to figure out exactly where the park's property ends, so I opted to stick to one section of the land that I knew was public property and I knew had a few waterfalls on it.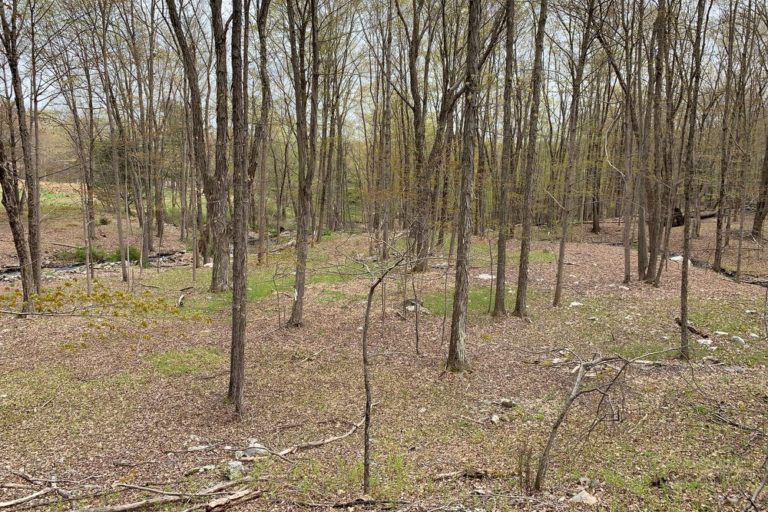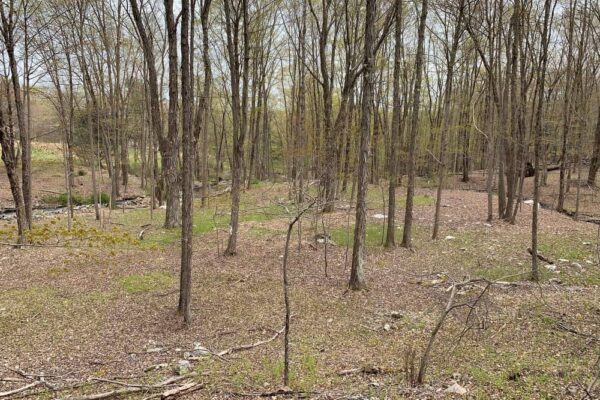 All told, there are said to be eight waterfalls at Camp Hidden Falls. However, I was only able to find three. Whether that's because I looked in the wrong spot for the rest or because they are rather small, I'm not sure, but the spots I did find are definitely worth exploring.
From a pull-off along Sunset Lake Road, it's less than 100 yards to see these three beautiful waterfalls (Full details on where to park at the bottom of this article).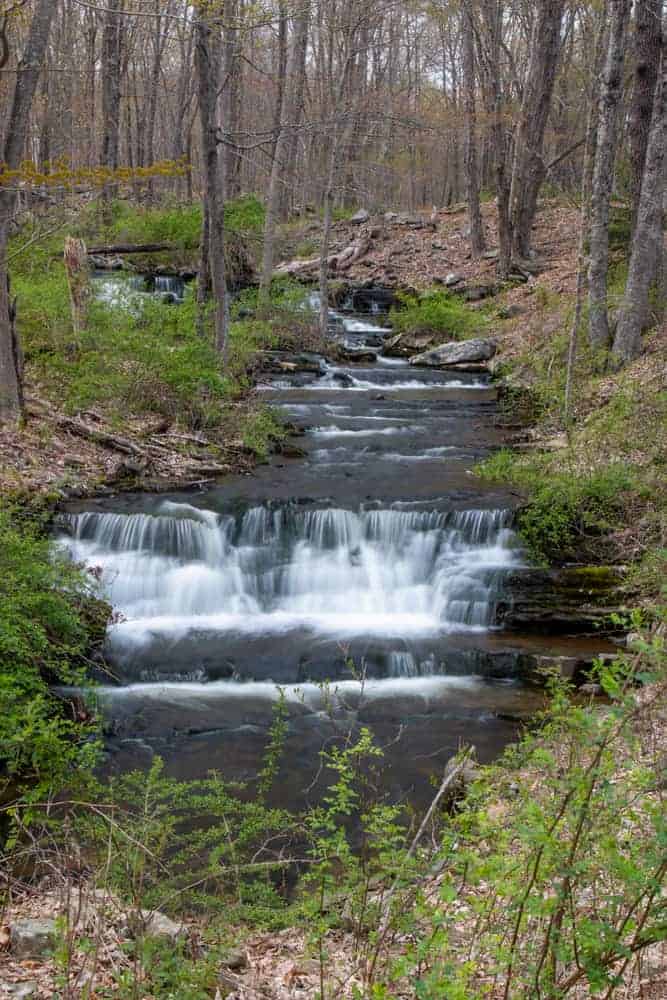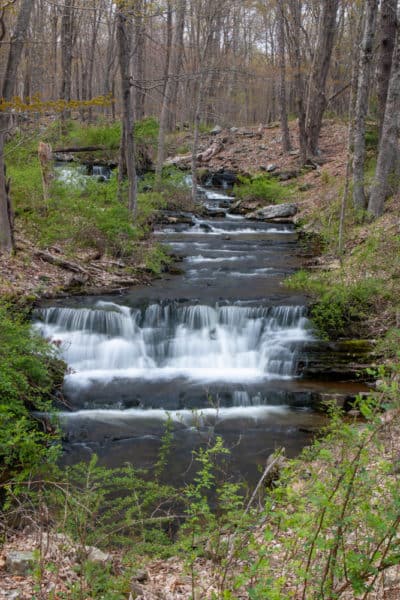 The uppermost of the three falls is quite small, with two drops adding up to only about 6 feet. This small waterfall is quite beautiful though and is located just upstream from an old wooden bridge that crosses this seemingly unnamed waterway.
The other two waterfalls that I found are located just downstream of this small waterfall and bridge. There are no trails, but it seemed easiest to make your way downstream on the same side of the stream that you parked on.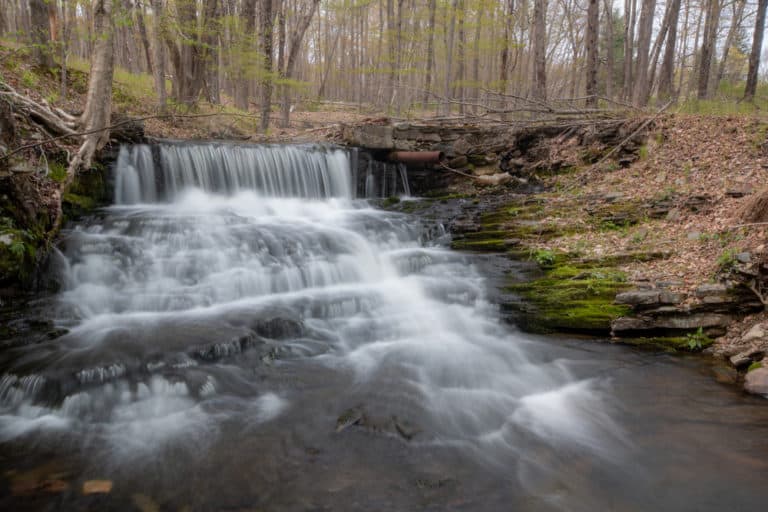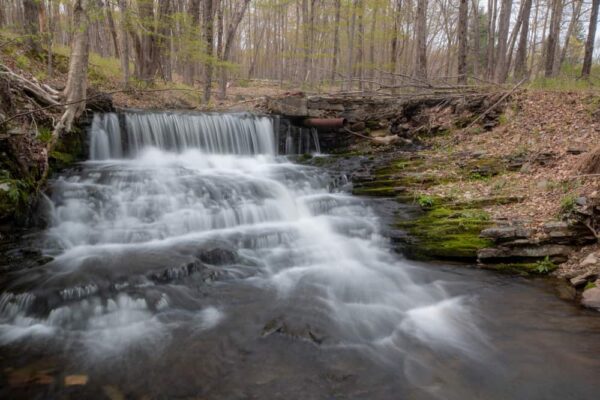 About 150 feet downstream from the bridge, you'll see an old dam waterfall that is maybe five feet tall. Another hundred feet downstream is the largest waterfall.
I've dubbed this Camp Hidden Falls, after the girl scout camp as I believe it is the largest waterfall on the property at approximately 10-12 feet in height.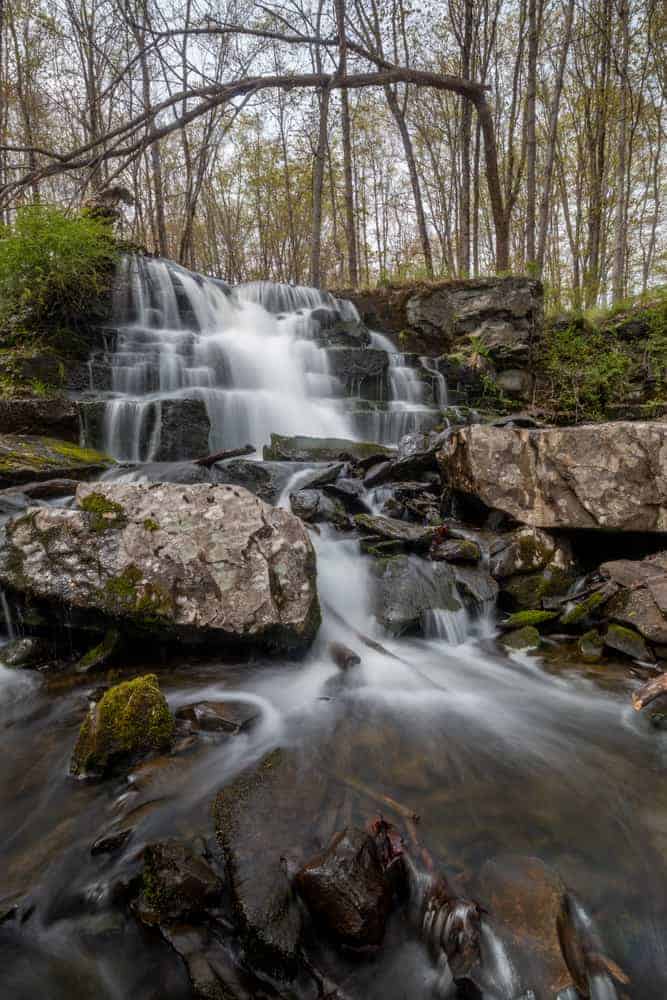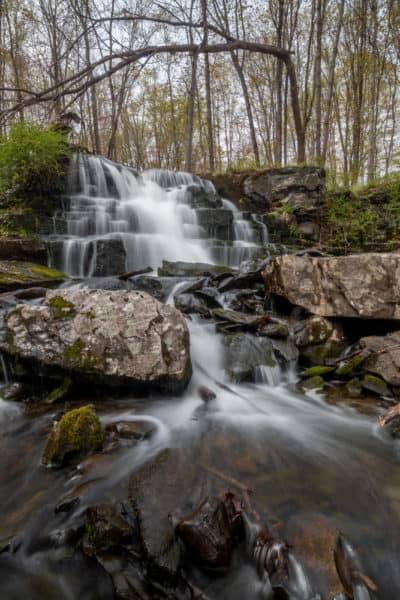 This is definitely a beautiful waterfall and while the two upstream are nice to see while you are in the area, this is the main star of the property.
Given the proximity of this waterfall to the nearby houses, I believe that this waterfall lies on the edge of the property line, so don't explore further downstream.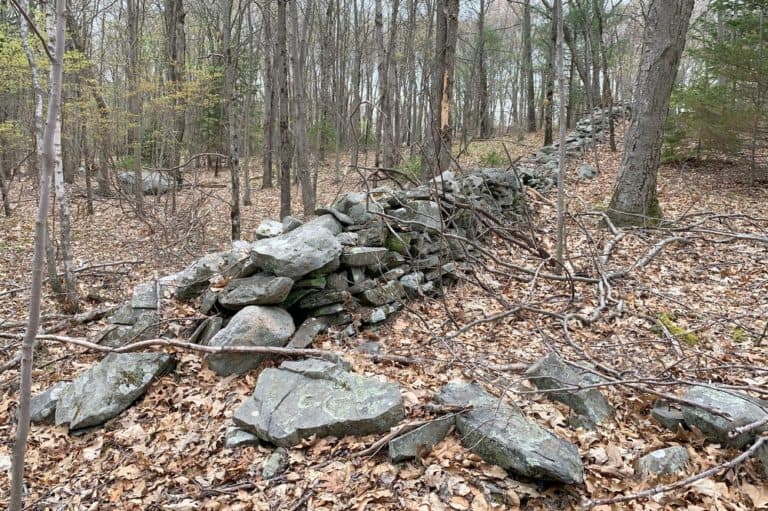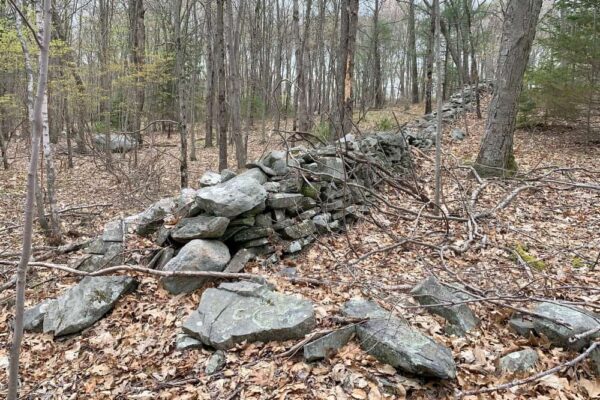 However, the area upstream is beautiful and worth exploring if you are looking for some more adventure.
While there don't seem to be any more waterfalls between this spot and the dry lake bed, there are still old rock walls, foundations, and even the dam ruins that are fun to check out.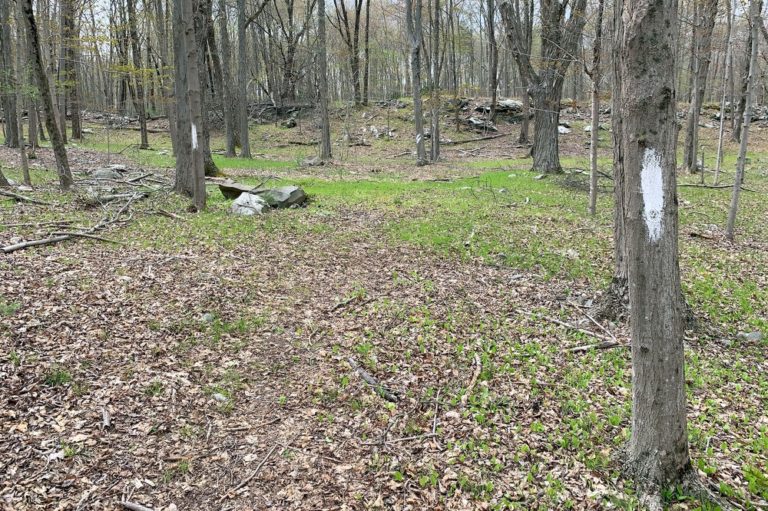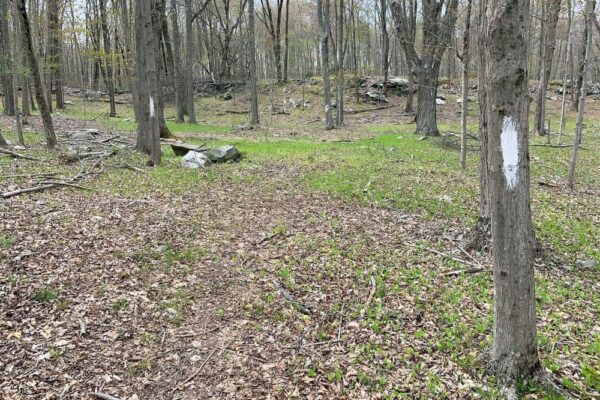 Along the way, you can follow some old blazed trails that were created when this was a camp, but don't rely too heavily on them as they are faint and sporadic. If you opt to explore the property, I definitely recommend having a handheld GPS of some kind so you don't get lost.
Regardless of whether you explore more of the property or simply stick to the three waterfalls near the parking area, the Camp Hidden Falls area of the Delaware Water Gap is a ton of fun to check out if you are looking for somewhere away from the crowds or in lieu of other popular nearby spots like Dingmans Falls, Raymondskill Falls, and Bushkill Falls.
How to Get to Camp Hidden Falls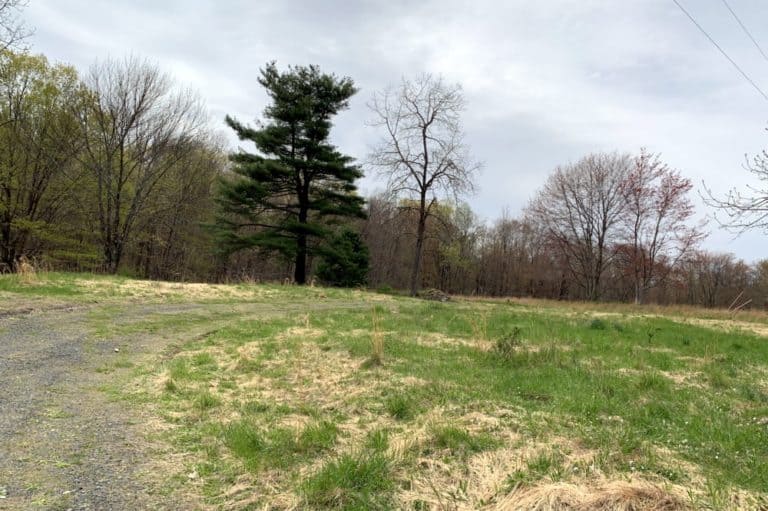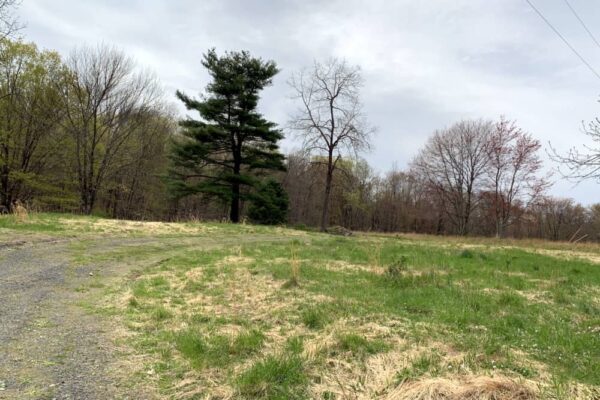 Camp Hidden Falls is part of the Delaware Water Gap National Recreation Area in the Pocono Mountains of northeastern PA.
Currently, there is no official parking area, but I did find a nice pull-off on public property at the following coordinates: 41.177768, -74.933759.
From here, simply walk away from the road and towards the creek. The three waterfalls on this part of the property are all within about 200 feet of the wooden bridge, with the small waterfall just above the bridge being the uppermost one.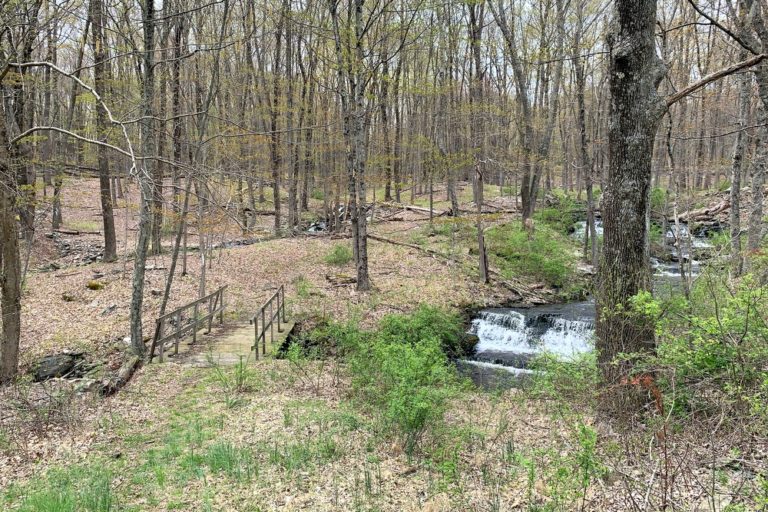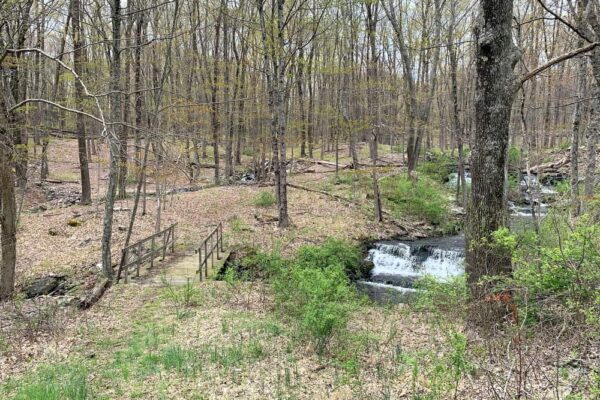 The main waterfall that I've dubbed Camp Hidden Falls can be found at the following coordinates: 41.177139, -74.934500.
Looking for more places to visit nearby? Check out Resica Falls, Marshall's Falls, and the Cliff Park Trails.
[Click here for information on how to use coordinates to find your destination.]