Disclosure: This article may contain affiliate links. We will make a small commission from these links if you order something at no additional cost to you.
There are many fantastic waterfalls in the Poconos that I've visited throughout my travels, but none are quite like Marshall's Falls.
Marshalls Falls is located on land that has been owned by Monroe County since 2008. However, due to funding issues, little has been done to turn the area around this waterfall into a park (though things do seem to be moving slowly in the right direction).
In fact, at the time of publication, there is no infrastructure beyond a nice wooden bridge that crosses the Marshall's Creek just downstream of the falls. However, the park is on public land and visitors are allowed to visit it. (Note that future construction work at the park may shut it down briefly, so please respect any signs you see in the future.)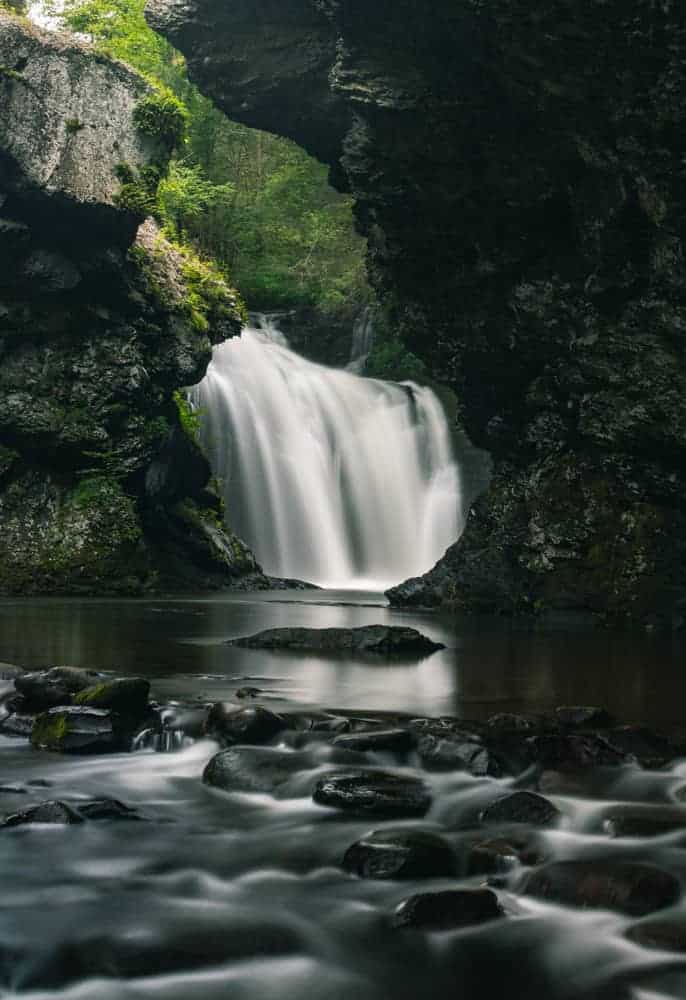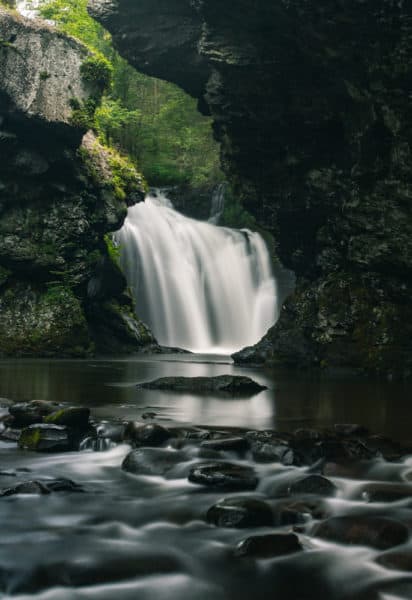 Plans for this 15-acre park include a parking lot, hiking trails, and signage. However, for now, the park is still a perfect spot to enjoy this beautiful waterfall.
What makes Marshall's Falls so unique is that it drops through a narrow rock chasm, into a small and narrow gorge surrounded by 25-foot rock walls. This creates an incredibly dramatic waterfall that peeks out from the gorge walls that surround it.
Marshall's Falls can be viewed from both above and below. Care obviously needs to be taken above the waterfall as a tumble here wouldn't be a good idea.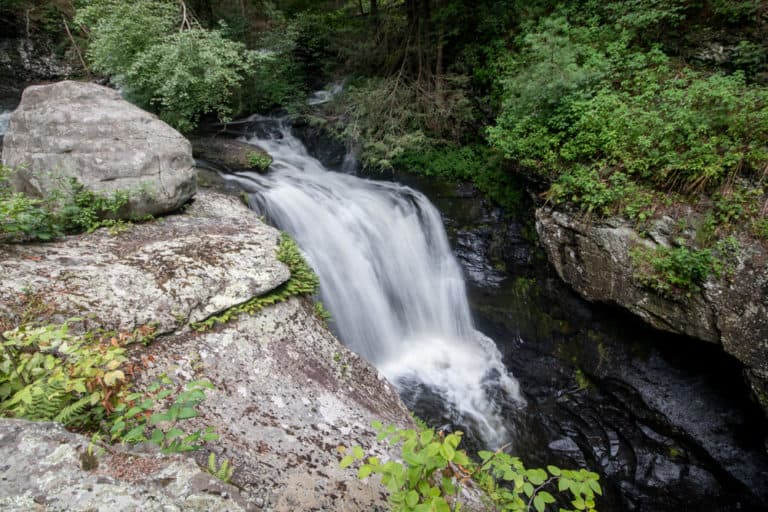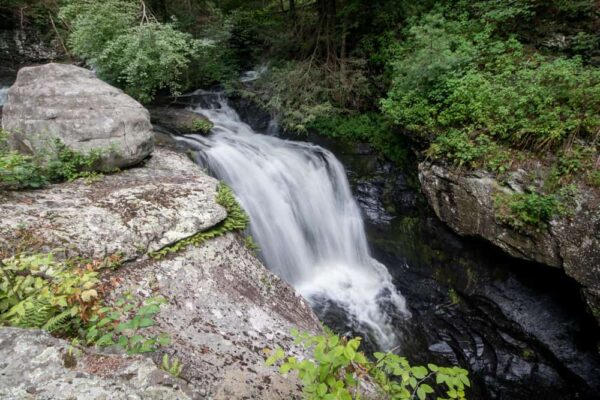 If you park in the area mentioned at the bottom of this article, the trail will take you first to the top of the waterfall. Take a minute to check out this vantage point, but, again, please be careful if you decide to peer over the edge.
Above the falls, you can see the remnants of bridge supports that once spanned this mini gorge.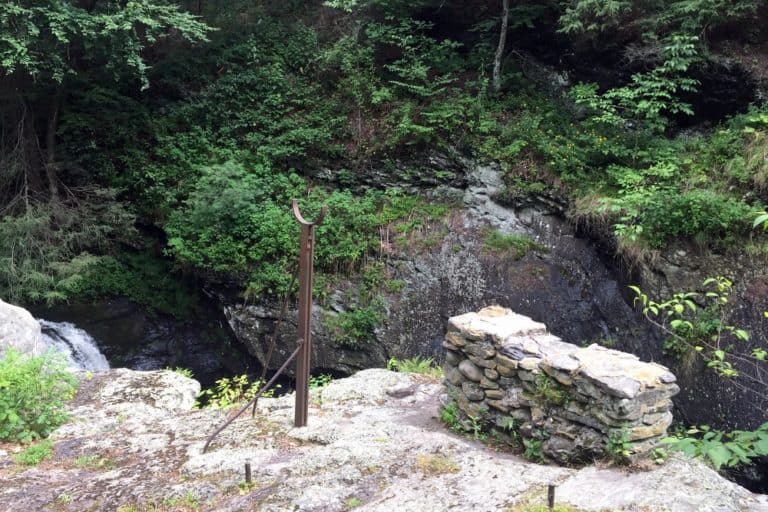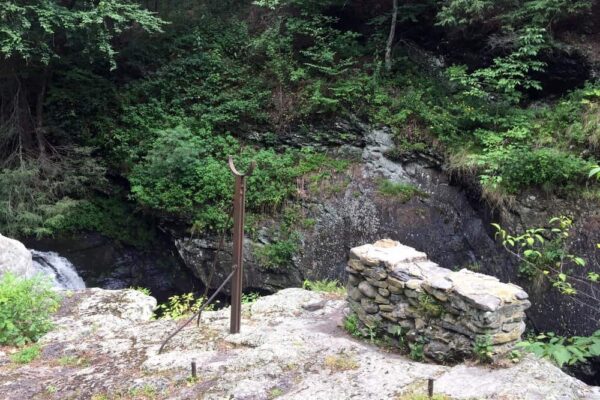 To reach the bottom of the falls, head through a narrow cut in the rock. This cut appears to be man-made, and it likely was a way of diverting water for a mill that once stood on this spot.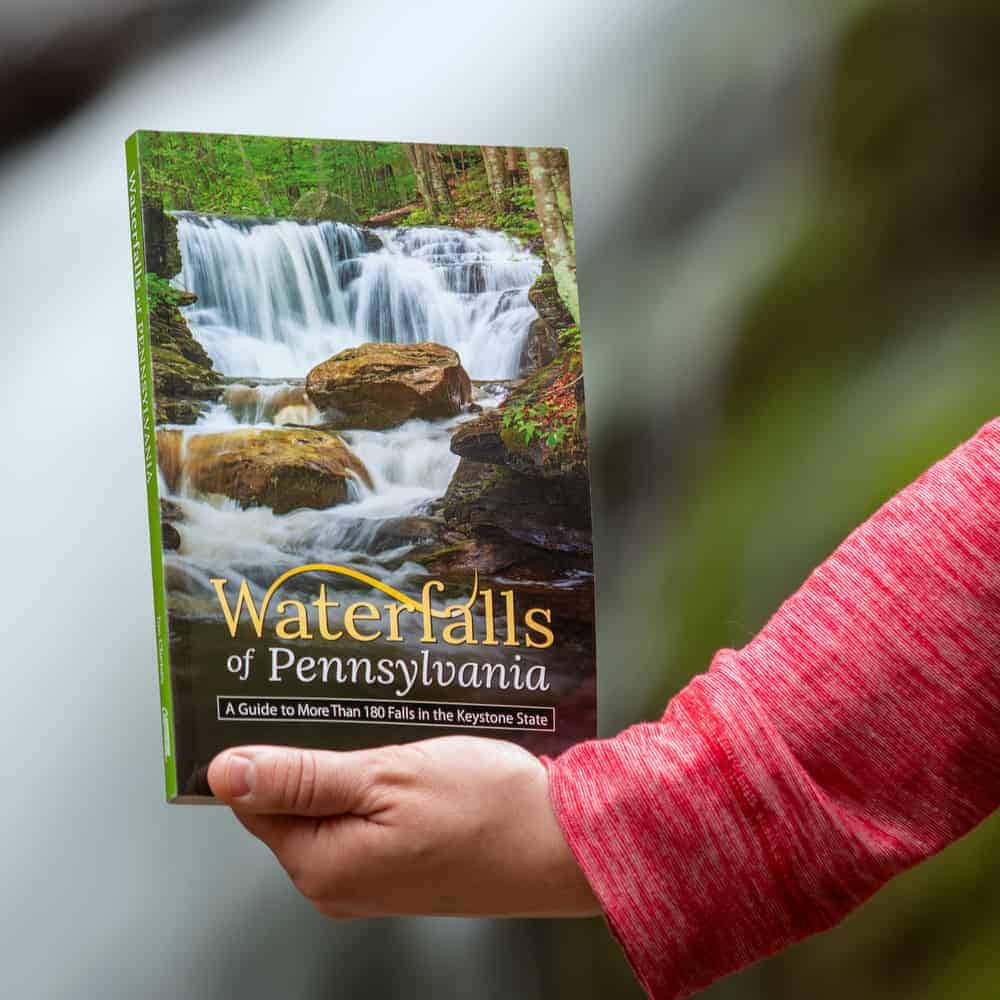 "Waterfalls of Pennsylvania" by Jim Cheney
If you love PA waterfalls, you won't want to miss this waterfall book from Jim Cheney, author of Uncovering PA, featuring more than 180 great waterfalls. Order it now on Bookshop.org or Amazon.
Today, though, it just creates a really neat passageway for the trail to the base of Marshall's Falls.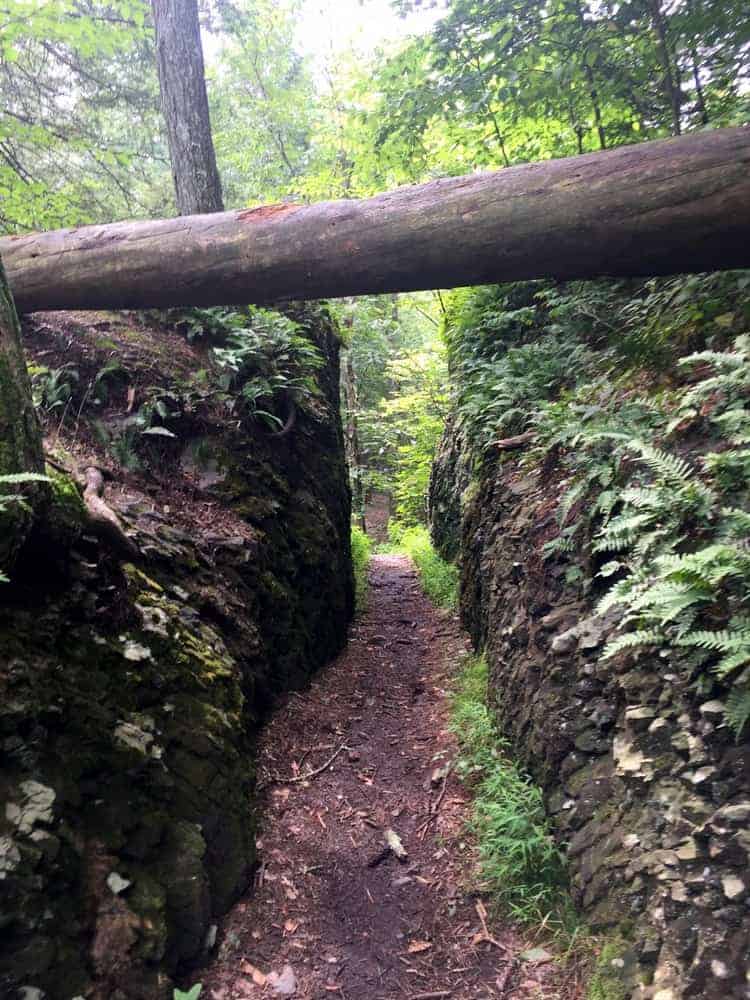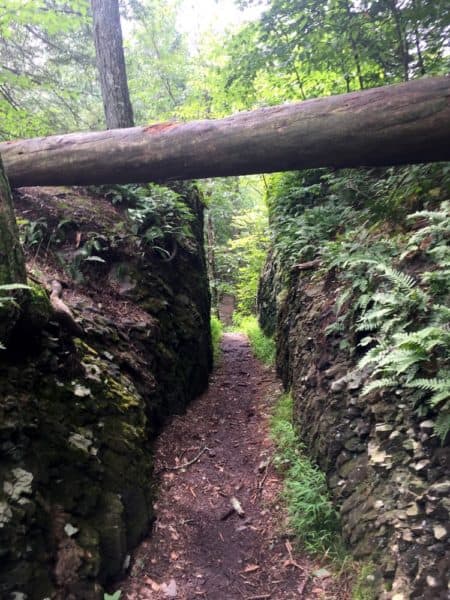 Once you reach the bottom of the falls, you might be wondering where it went. From the side of the creek that the trails are on, it's impossible to see Marshall's Falls as it's hidden behind the towering rock walls.
Fortunately, a wooden bridge has been recently constructed over Marshall's Creek so you can get a view of the falls without getting your feet wet.
From the far side of the creek, the true beauty of Marshall's Falls can be seen. Standing in this spot offers a great view of the waterfall as it flows down and through this small gorge. The waterfall almost feels like it's playing peek-a-boo as it moves in and out of sight as you maneuver through this area.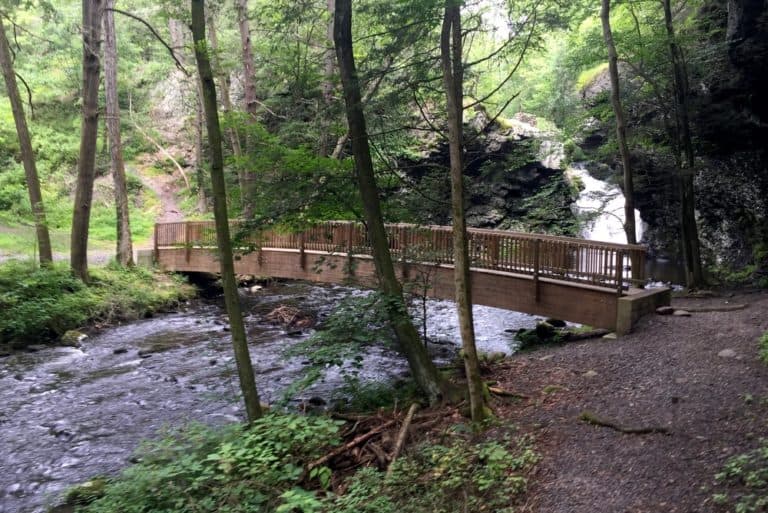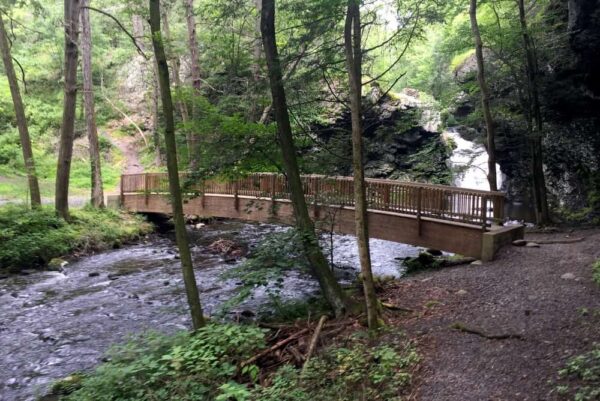 In fact, the rock walls that surround and nearly shroud the falls from view are like nothing I've seen in the nearly 200 PA waterfalls I've been to. It almost reminds me more of something you'd expect to see in the slot canyons of the western United States.
Without a doubt, Marshall's Falls is a hidden gem of Monroe County and really of the entire Poconos region. Hopefully, the infrastructure will soon be added so that this park can be enjoyed easily by more people. However, until then, the adventure of finding the falls is part of the fun of visiting the area.
How to Get to Marshall's Falls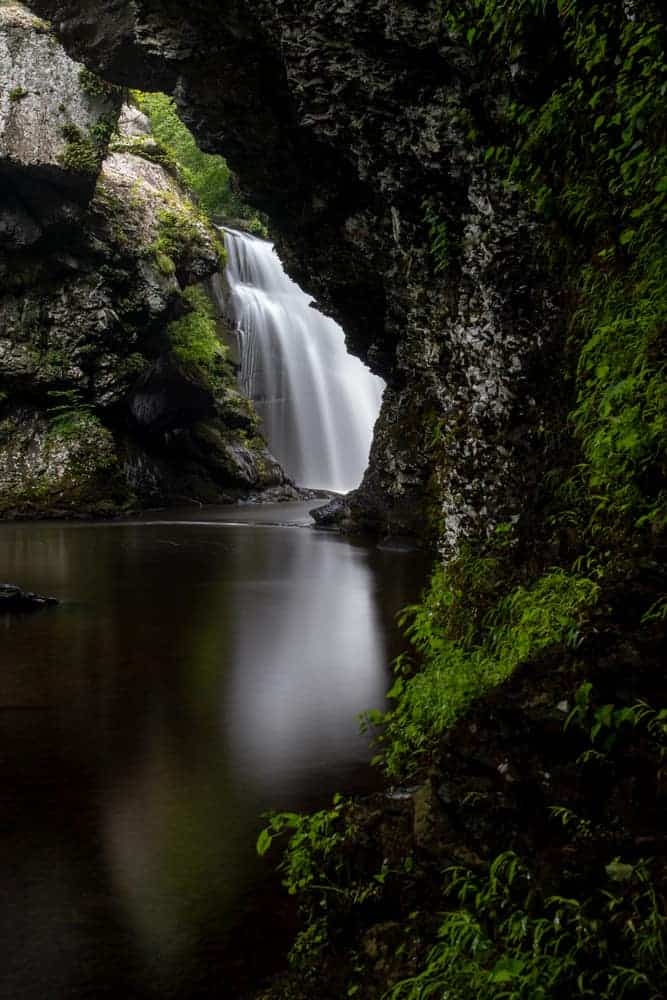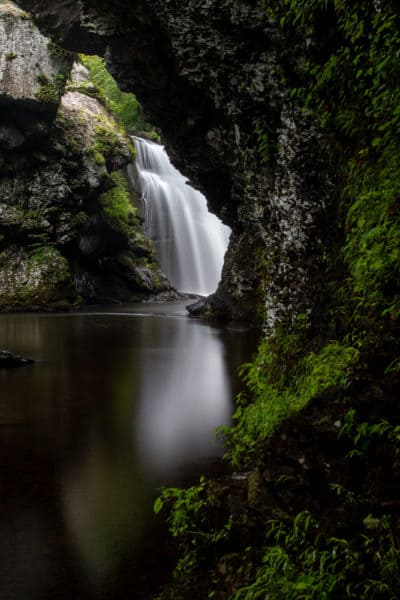 Note: At this time Marshall's Falls is closed to the public pending completion of the park.
Until the parking area for Marshall's Falls Park is built, parking is definitely the most challenging part of visiting this site.
In truth, the parking area listed here only has enough room for one car, and even that is a bit tight. You may be able to find other spots to park along the road, but use extreme caution if you do and respect any signage you see.
The parking area for the park can be found at a bend in Marshall's Creek Road at the following coordinates: 41.052690, -75.137147. The pull-off will be on the right side of the road while traveling away from Route 209.
Be extremely careful exiting and reentering your car here as this is somewhat of a blind curve in the road.
From this tiny pull-off, you'll see an obvious, but unmarked trail that heads into the woods. This will lead to the top of Marshall's Falls is less than 100 yards.
Note that there is a parking lot near the golf course that people sometimes park at when visiting the falls, but the lot is on private property. Parking is not allowed here.
Looking for more things to do in the Poconos? Check out Resica Falls, downtown Stroudsburg, the Pocono Indian Museum, and Rattlesnake Falls.
[Click here for information on how to use coordinates to find your destination.]