Disclosure: This article may contain affiliate links. We will make a small commission from these links if you order something at no additional cost to you.
Located just outside of downtown Reading is one of Pennsylvania's most surprisingly impressive museums: the Reading Public Museum.
To be perfectly honest, when I decided to visit this Berks County museum, I really wasn't expecting too much. However, what I found here really blew me away in regards to both the quality of the museum and how well curated the displays are.
The Reading Public Museum was the brainchild of local schoolteacher, Dr. Levi Mengel. Dr. Mengel believed that sensory learning was important in the sciences and amassed an impressive collection for his science classes. After purchasing over 2,000 items from the 1904 World's Fair in St. Louis, Mengel opened a small museum for his students in a school building in 1907.
However, he quickly outgrew that space, and in 1913, the Reading Public Museum was opened to the public. Over the coming years, Mengel acquired more pieces, including some exceptional art, which necessitated a move to the current building in 1929.
This large, stone building sits elegantly in West Reading, a borough that borders downtown Reading, PA. Aside from an addition to accommodate a gift shop and ADA requirements, the building remains as it did when it was first constructed in the 1920s.
Over 100 years after it was founded, the museum's collection has expanded to include 300,000 items related to natural history, world cultures, and art. Even with over 20,000 square feet of exhibit space, the Reading Public Museum is able to showcase only a small portion of its expansive collection. However, the museum has done an excellent job of curating the collection to cover a wide variety of topics while still providing enough depth to please any critic.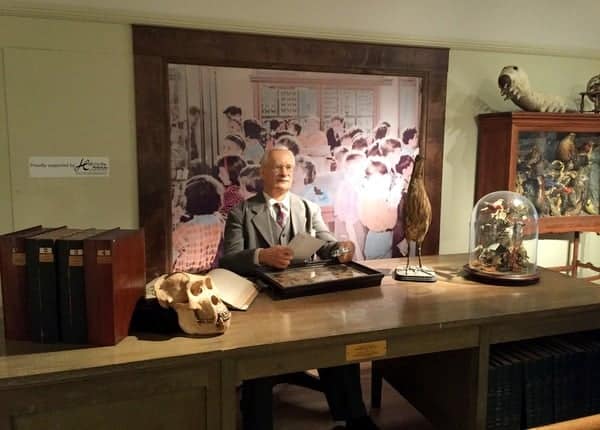 The museum's first floor features the museum's entrance and gift shop. There is also a small section dedicated to the founder of the museum, Dr. Levi Mengel, which even includes an animatronic Mengel welcoming visitors to the museum. There is also a small temporary exhibition gallery that features a rotating selection of works on paper and a large auditorium, which is home to a fantastic painting titled "Smokey Range" by Christopher High Shearer. Shearer was a widely known artist from Berks County who served as the museum's first curator.
The second floor focuses on the museum's cultural and scientific collections. I was especially impressed with both the World Cultures Gallery and the Ancient Cultures Gallery. The World Cultures Gallery features a small, but diverse collection of items from Asia, Africa, and Papua New Guinea. Most of these items were collected in the 1920s and offer a great overview of the regions' art and culture.
The Ancient Cultures Gallery is home to items from Egypt, Greece, and Rome. However, as great as this collection is, it's likely that most notice little in the room other than the museum's popular Egyptian mummy. Named Nefrina by the museum, the mummy is one of the museum's most popular exhibits, and it's very interesting to get an up-close look at this ancient body.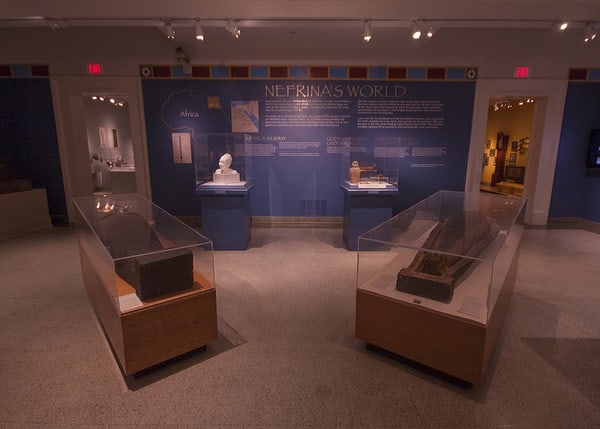 A few years ago, the museum had a scan done on Nefrina at the local hospital It is now known why she died, and a facial reconstruction expert has created a bust of her head, which is quite interesting to compared to the mummy herself.
The galleries behind the mummy feature excellent collections of Pennsylvania German items from the region and armor from all over the world. I found it fascinating to compare how armor changed over the years in Europe, and how European armor compared to armor from countries like Japan and Africa.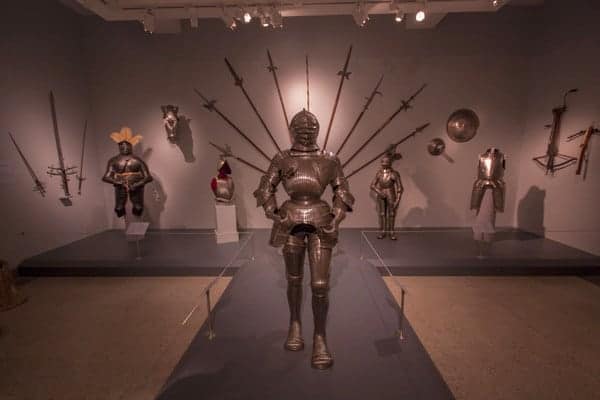 The opposite wing of the museum's 2nd floor features cultural items from the Americas and several scientific exhibits.
The first gallery is home to the museum's Native American collection. What I liked about this space was how the museum compared and contrasted three different Native American tribes, to show how culture and environmental factors affected how they lived. This gallery focused on the Delaware, a tribe that once lived in eastern Pennsylvania, as well as the Montagnais and Inuit tribes.
The Reading Public Museum also has a fantastic collection of items related to pre-Columbian Latin American cultures. I especially enjoyed the museum's amazing collection of ancient gold jewelry, and the amazing (and real) shrunken head that was on display.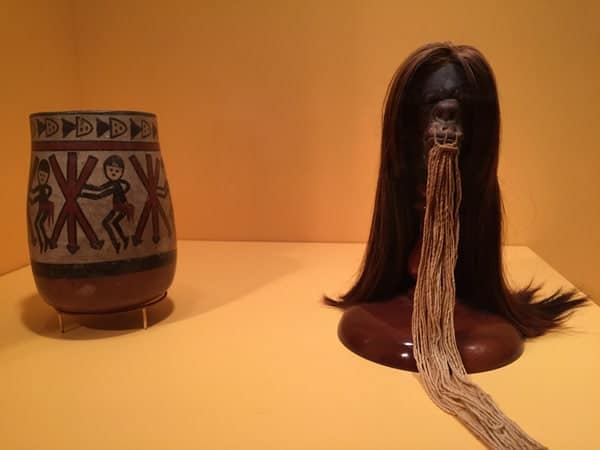 Further back, the museum features a great display on earth science and a section of taxidermied animals, many of which can be found in Pennsylvania. This section of the museum is the closest to the collection that Mengel had when he started the museum in 1907.
The top floor of the museum is split into two different areas. One of the wings features the Reading Public Museum's largest temporary exhibition space, while the other half features portions of their art collection.
The temporary exhibits at the Reading Public Museum change every three months. The museum brings in top-rated travel exhibits from all over the world, and unlike some museums, does not charge extra for visitors seeing these rotating exhibits.
The permanent collection on the museum's third floor is home to their art gallery. The art here ranges from European pieces dating back hundreds of years to modern works by some of the 20th century's most well-known artists.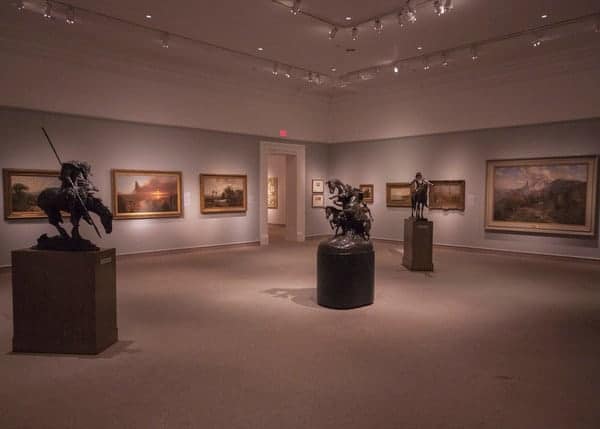 The art galleries here are separated into roughly three different styles: European, American, and Modern and Contemporary. Strolling through these galleries, it's amazing to see how artistic expression has changed over the years.
The collection here is of enough quality to be enjoyed by art enthusiasts, but small enough to provide a nice sample for those who only have a marginal interest in art. Well-known artists who have works in the museum include N.C Wyeth, Edgar Degas, George Bellows, Milton Avery, Andy Warhol, Keith Haring, and many more.
Throughout the museum, they have done a great job incorporating interactive activities for children. These activities allow them to understand concepts of the exhibits, even if they aren't interested in the specific artifacts.
The museum makes a point to bring in temporary exhibits that children will enjoy, with exhibitions having including Legos, lessons on exercising, and dinosaurs.
In addition to the Reading Public Museum's main building, there is also a planetarium and a 25-acre arboretum. While I unfortunately didn't have much of an opportunity to experience either of these areas, they offer a great way to make an entire day out of a visit to the museum and its grounds.
Overall, I can't express enough how impressed I was with the Reading Public Museum. Far from being a small local museum, the facility is on par with the quality of some of the best museums in Pennsylvania. However, the museum's smaller size results in both a lower price and a less intimidating experience for museum visitors.
If you're looking for places to visit in Berks County, PA, you can't do much better than the Reading Public Museum.
Looking for more places to visit nearby? Check out the Reading Pagoda, Nolde Forest Environmental Education Center, and Chatty Monks Brewing.
Note: My visit to the Reading Public Museum was hosted by the facility. However, the opinions expressed in this article are my own.
---
Reading Public Museum
Museum Hours: Daily: 11am-5pm
Planetarium: Daily at 2pm, 3pm, 4pm
Arboretum: Daily: Sunrise to Sunset

Cost: Adults: $10, Children: $6
Planetarium Cost: Adults: $8, Children: $6

Website: ReadingPublicMuseum.org

Address: 500 Museum Road
Reading, PA 19611
See map for other area attractions.
---