Disclosure: This article may contain affiliate links. We will make a small commission from these links if you order something at no additional cost to you.
There are a ton of great Christmas things to do in PA, but unfortunately, many of them can be a bit on the expensive side. So, when I learned that Scranton had a free holiday light show, I knew I had to check it out.
Known officially as the Holiday Light Spectacular, this drive-through Christmas light display is located in Scranton's Nay Aug Park, a short distance east of the city's downtown core. It has been drawing visitors to Northeastern PA since 2004.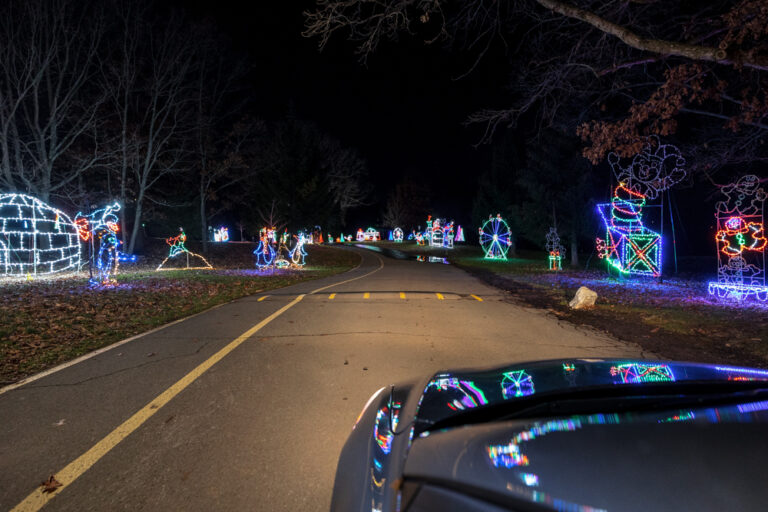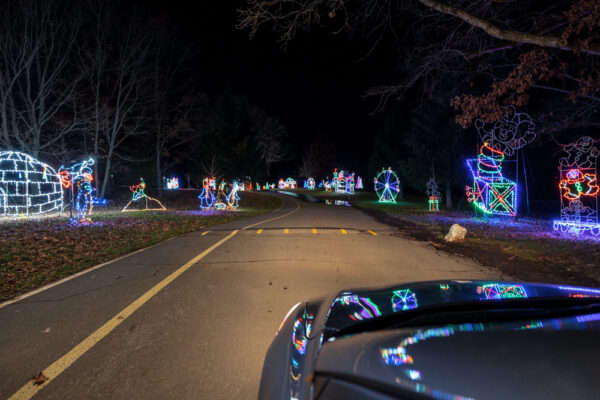 From mid-November through early January each year, this light show dazzles visitors with many fun, festive, and whimsical displays located along the eight-tenths of a mile route through the park. It is said that there are over 100 different scenes represented throughout the display.
The light show starts at the park entrance at the corner of Mulberry Avenue and Arthur Avenue, near the Everhart Museum. Since this is a free show, there is no gate or ticket window you have to pass through to start your drive. Just show up some time while the lights are on (nightly from 5-10 pm) and enjoy the show.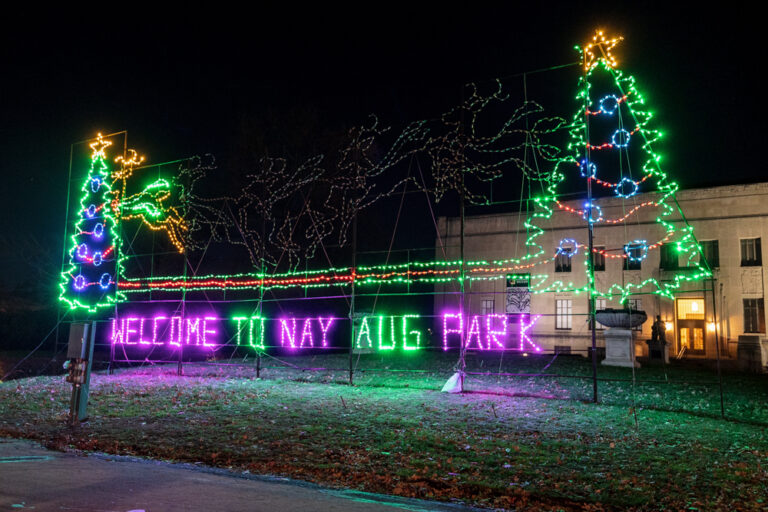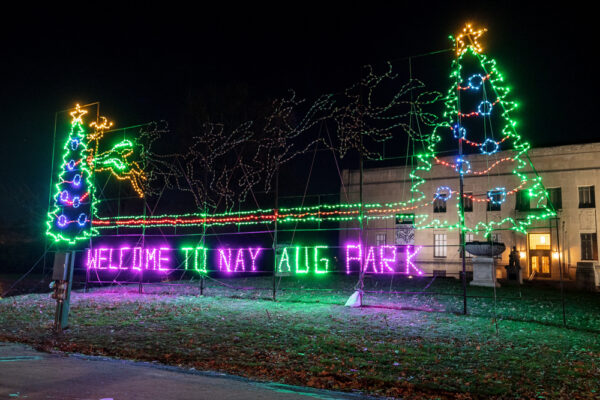 One of the great features of this display is that it has its own radio station (96.7FM). That means that you can listen to commercial-free Christmas music while driving through the show. That being said, the music isn't linked to the lights' movement at all, so you could listen to any music you wanted during your visit.
Many of the lights on display here are the type of things that you expect to see at a display of Christmas lights in PA, including things like Santa, elves, Christmas trees, and more. That's not to downplay them, as they are all quite nice, but they are the type of things that you'd see at any similar display in the area (though you'd be paying to see them if you went elsewhere).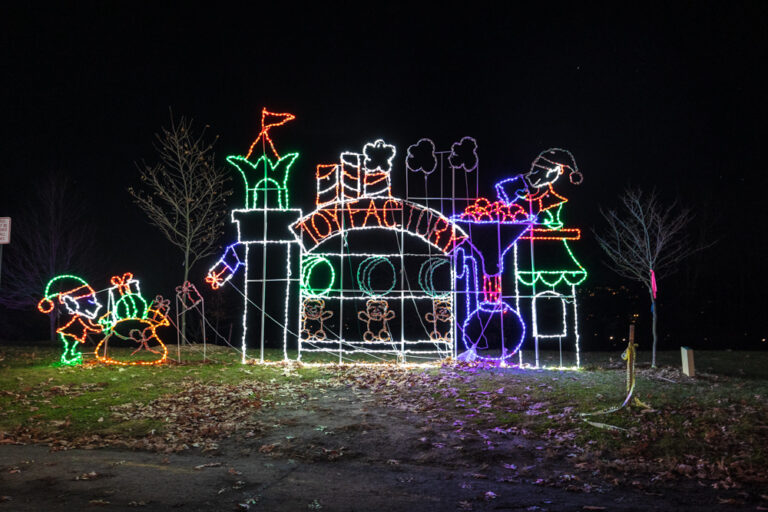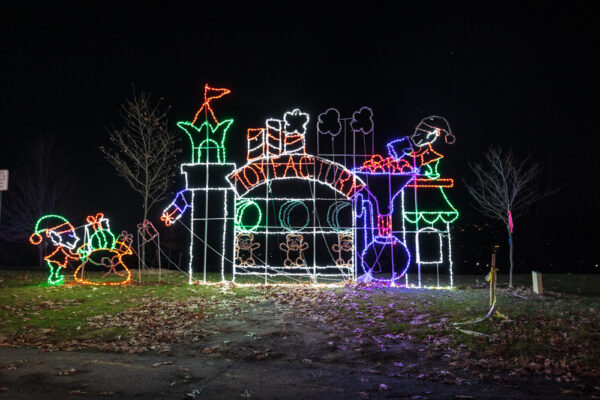 There are exceptions, however, such as the rather large light that is identical to the Electric City Sign atop the Scranton Electric Bank Building. This display really adds a lot of local flair to this light show, and it's neat to see a replica of the sign up close.
In addition to that, attractions in the park, such as the former zoo and the treehouse, are lit up for this festive event, as well.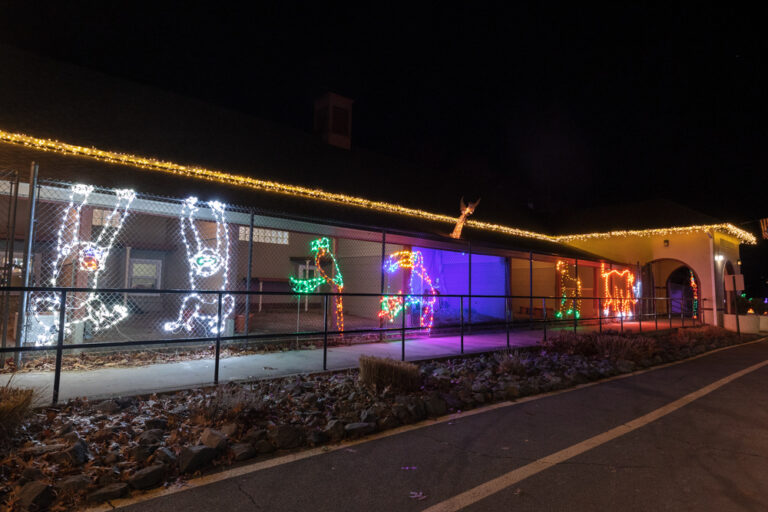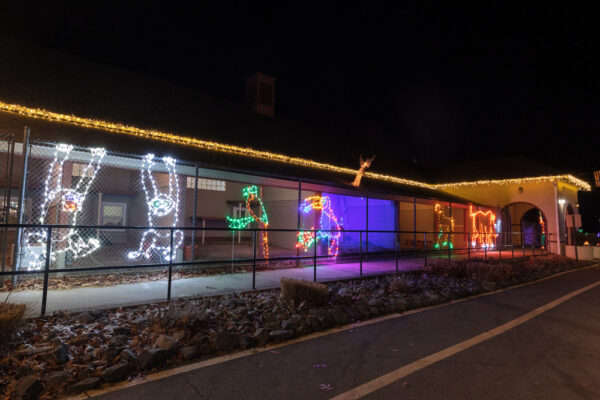 Another great aspect of the light show here is that it is almost entirely within a wooded area. This means that the show feels intimate, without a ton of empty space in the background or seeing other cars driving through the show.
In fact, if you don't have a car immediately in front or behind you, you could easily feel like the only car enjoying this great show.
In addition to driving through the light show, there are several other activities you can participate in during Scranton's Holiday Light Spectacular.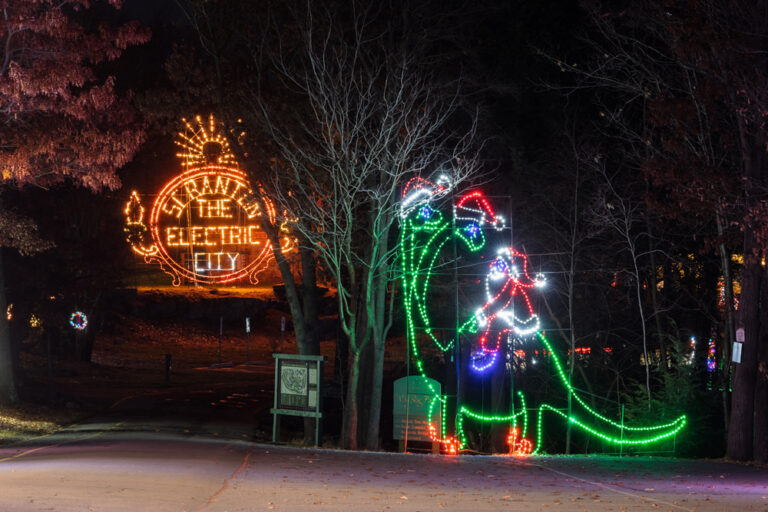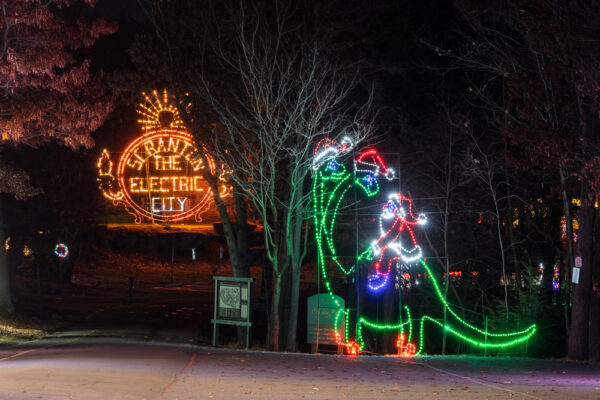 On select nights, horse-drawn carriage rides are offered for $5 per person. There are also activities like visits with Santa, a concession stand, and more on select evenings.
It's also worth noting that while the display is free, you do have to drive through an area with volunteers accepting donations to help fund the park and its maintenance, including light shows for later years. So, if you're able to bring a few dollars to drop in the bucket, I'm sure it's appreciated.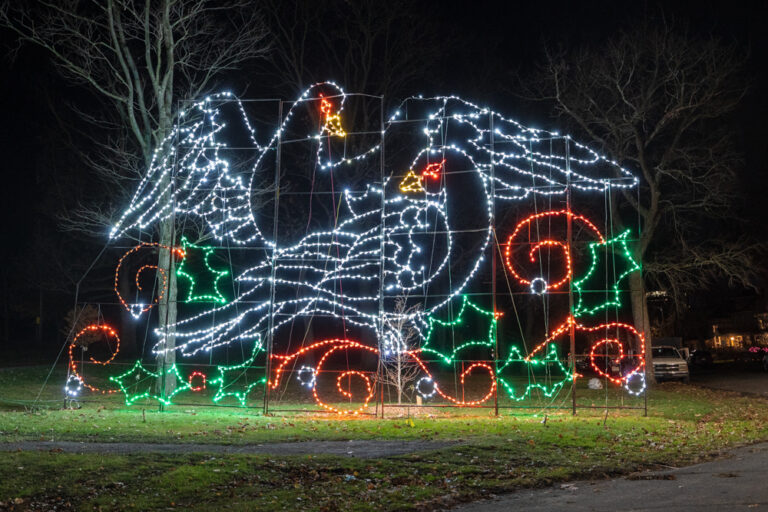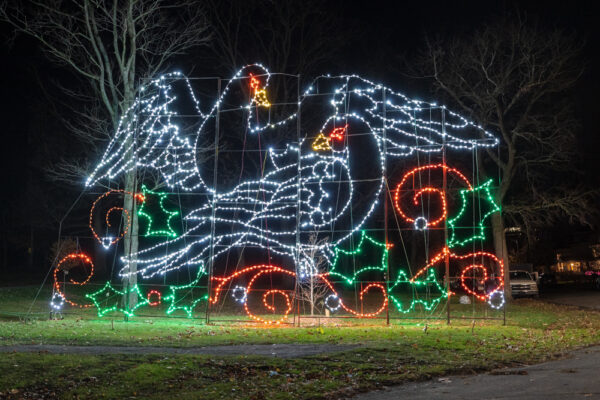 Ultimately, the Holiday Light Spectacular in Nay Aug Park is a great way to get some festive holiday cheer without breaking the bank. And, despite being free, it really is a great display of Christmas lights that's worth checking out during the season.
In 2022, the Holiday Light Spectacular is open from November 18 through January 7, 2023. It is open every night from 5-10 pm. The entrance to the lights can be found at the following address: 1901 Mulberry Street, Scranton, PA 18510.
Looking for more things to do in the Scranton area? Check out the Electric City Trolley Museum, the Anthracite Heritage Museum, and Choke Creek Falls.