Please do your best to limit your travels around PA during this time. If you decide to travel, please check the status of the places you are going. Some places around the state are temporarily closed or have changed their hours. We will not be updating individual articles to note these changes. Stay safe and wear a mask!


I've traveled all throughout Pennsylvania, and I'm not sure that I've visited many places that are seemingly more out of place than Columcille Megalith Park near Bangor, PA, in the very northern reaches of the
Lehigh Valley
.
This privately-owned park features a series of large rocks that have been stacked in ways reminiscent of ancient Celtic practices. In fact, one of the highlights of the park is a series of rocks placed in a way reminiscent of a smaller Stonehenge.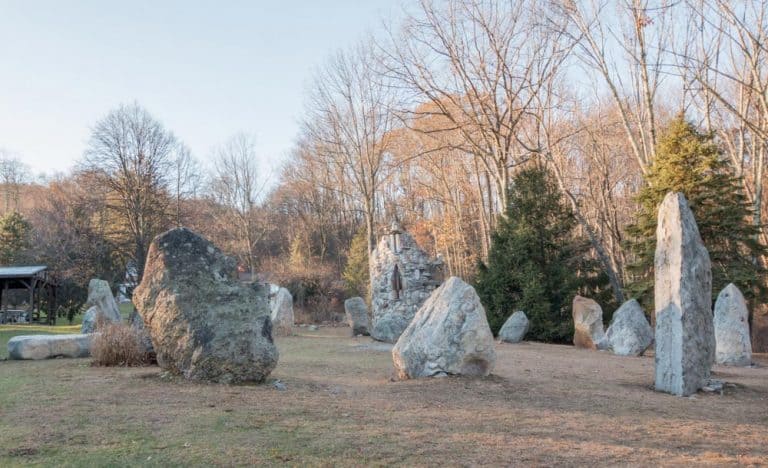 Columcille Megalith Park traces its roots back to 1967. It was during a trip to the Isle of Iona, a small island off the western coast of Scotland, that William H. Cohea, Jr. had a dream atop the island's tallest mountain, Dun I.
Disclosure: This article may contain affiliate links. We will make a small commission from these links if you order something at no additional cost to you.
In his dream, he was surrounded by standing stones. As the park's website says, "As they came closer, he saw them with tattered, ragged garments. When they were right upon him, they looked down at him. He was horrified, then felt only love from them."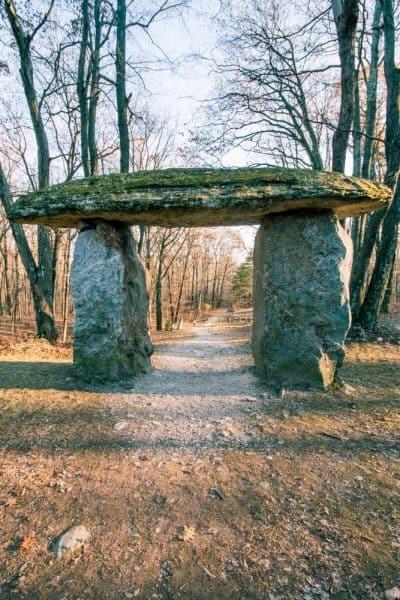 Moved by this dream, Cohea returned to the United States and, in 1975, purchased the land that would become Columcille Megalith Park.
The name of the park comes from two places. St. Columcille was a 6th-century monk from Ireland. A contemporary of St. Patrick, St. Columcille built monasteries in Ireland before crossing to the deserted island of Iona and turning it into the foundation of Celtic Christianity.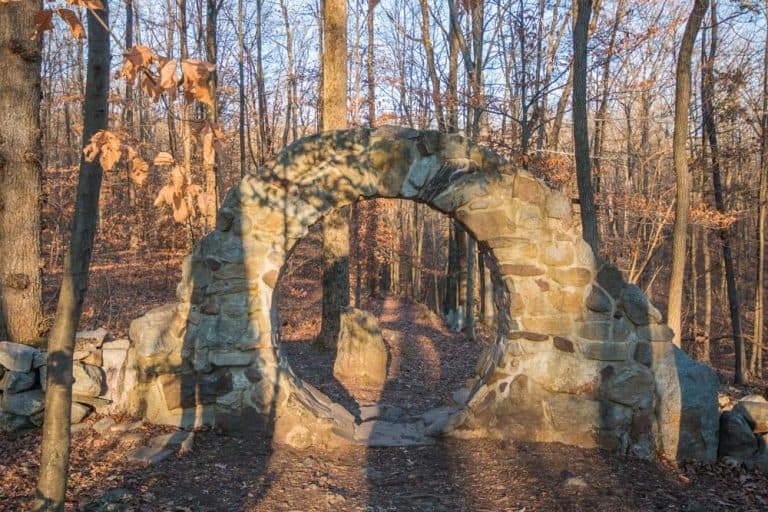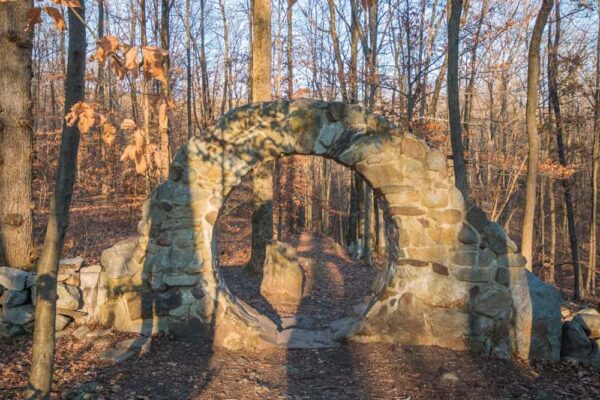 The second word, megalith, simply means a large stone that forms all or part of a prehistoric monument. In this way, the park honors the founder of Celtic Christianity and the prehistoric monuments the area is known for.
Today, there are nearly 100 stone monuments around the park. These stones come from both the park itself as well as a shale quarry a few miles down the road. The stones range in size with the largest one rising 20 feet out of the ground and weighing roughly 45 tons!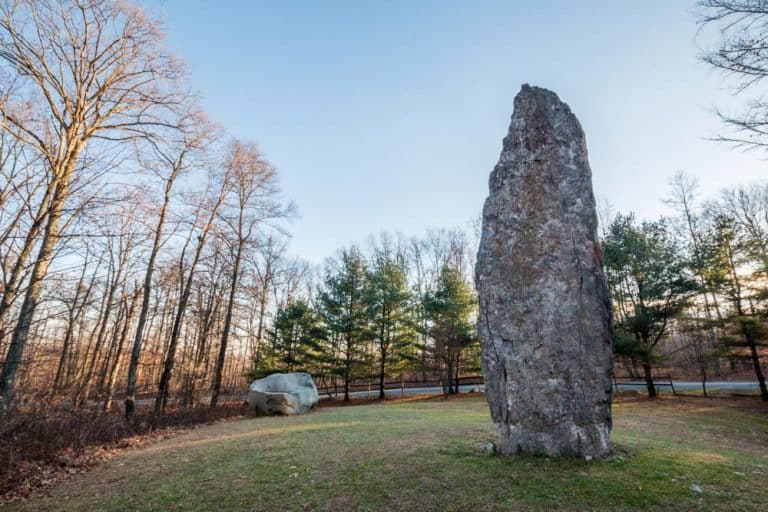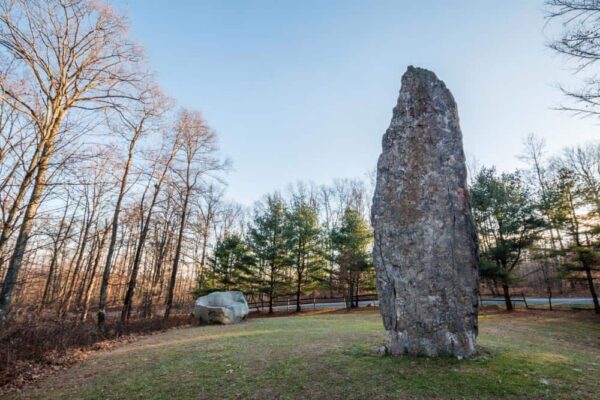 The park features wooded hiking trails that pass between the 20 monuments in the park. A map of Columcille Megalith Park is located near the entrance offers a bit of guidance of where to head, though with only a bit of detail.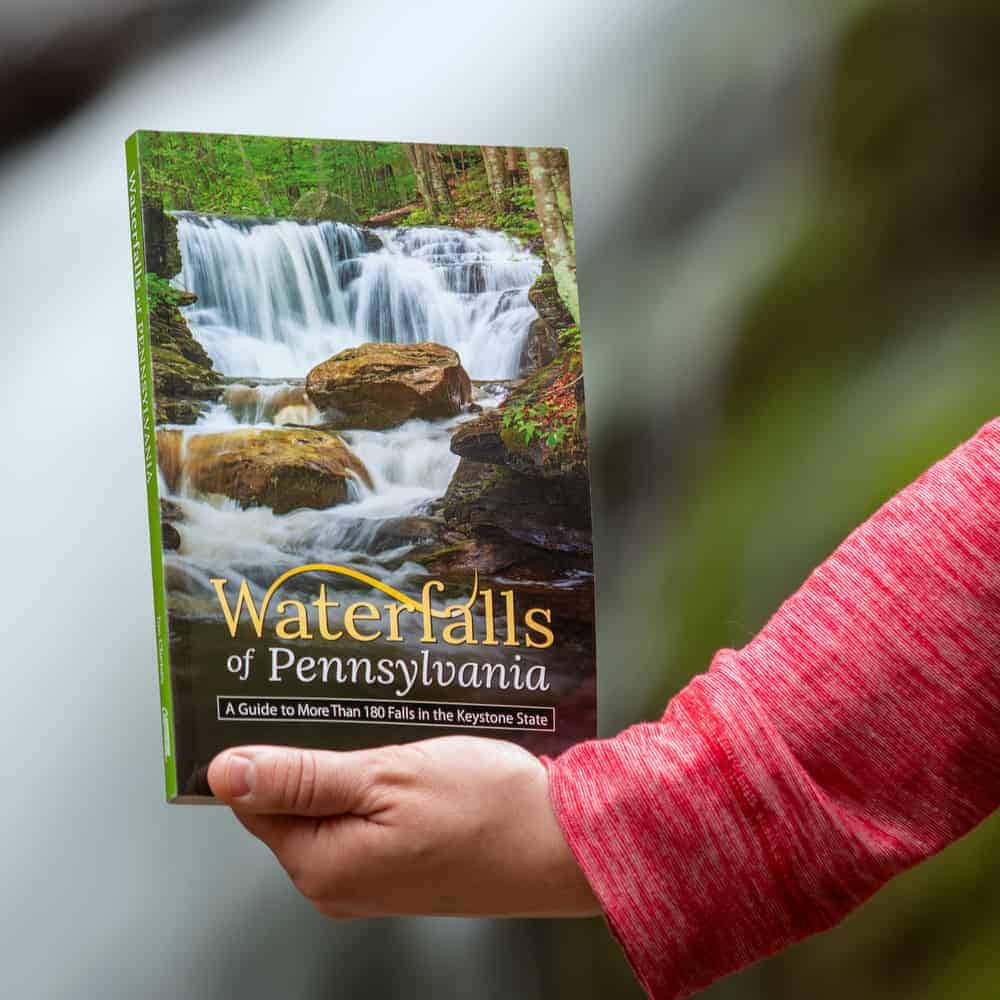 "Waterfalls of Pennsylvania" by Jim Cheney
If you love PA waterfalls, you won't want to miss this brand-new waterfall book from Jim Cheney, author of Uncovering PA, featuring more than 180 great waterfalls. Order it now on Bookshop.org or Amazon.
If you want to make sure you see as much of the park as possible, it might be a good idea to take a picture of this map to help guide your trip. However, if you are just looking to enjoy the beauty of the park and see what you come across, the hiking trails are easy enough to follow, though completely unmarked.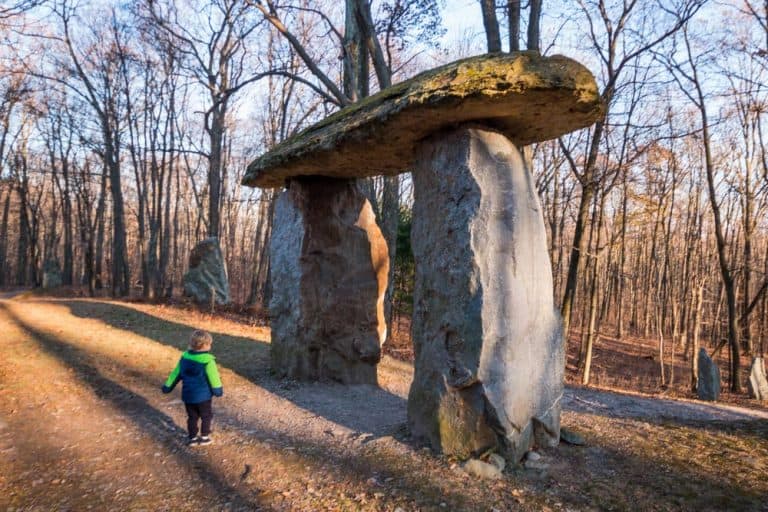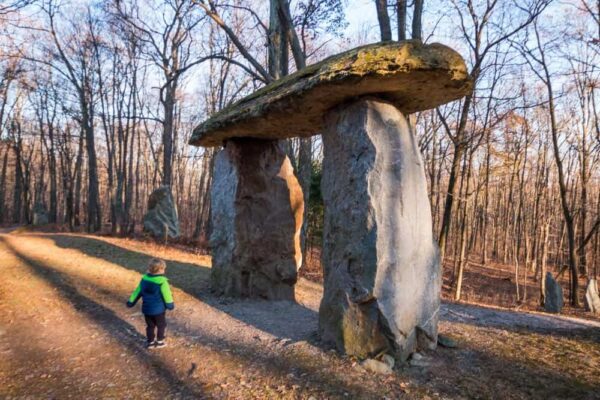 The megalith that's often referred to as "America's Stonehenge" is located in an open area adjacent to the small parking lot for the park. This circle of large stacked stones is quite impressive and worth taking a few minutes to explore.
This area is also home to the open-air St. Oren Bell Tower which visitors can enter.
Nearby, St. Columba Chapel is the park's only enclosed building. If the door is unlocked, take a peek inside and appreciate both the beauty and the craftsmanship that went into creating this structure.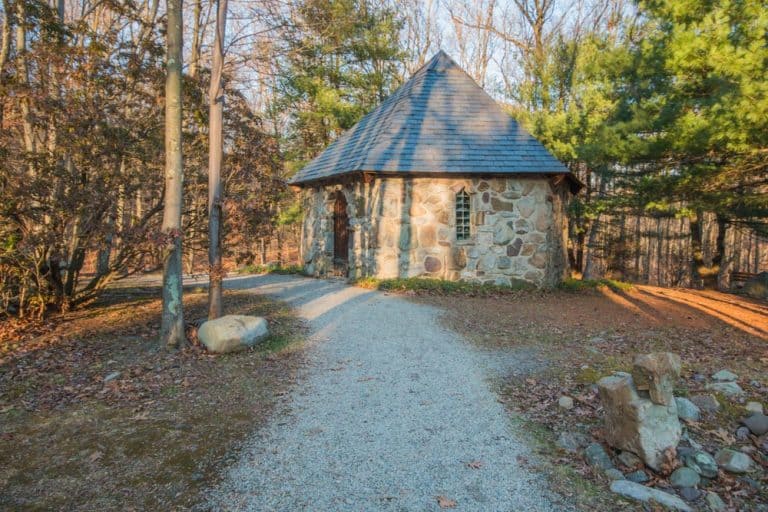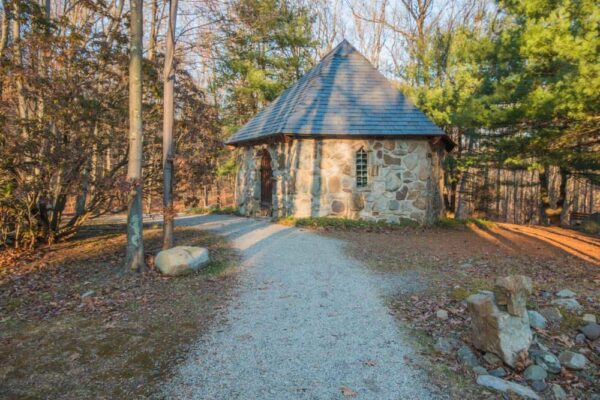 The rest of the stacked stones are scattered throughout the park and have fanciful names like the Sacred Women's Site and Mount of Dun I.
While walking through the site remember that this park is not only impressive, but is also a spot for mystery and spirituality. Because of this, make sure to be respectful as you marvel at the beauty of Pennsylvania's Stonehenge.
Where is Columcille Megalith Park?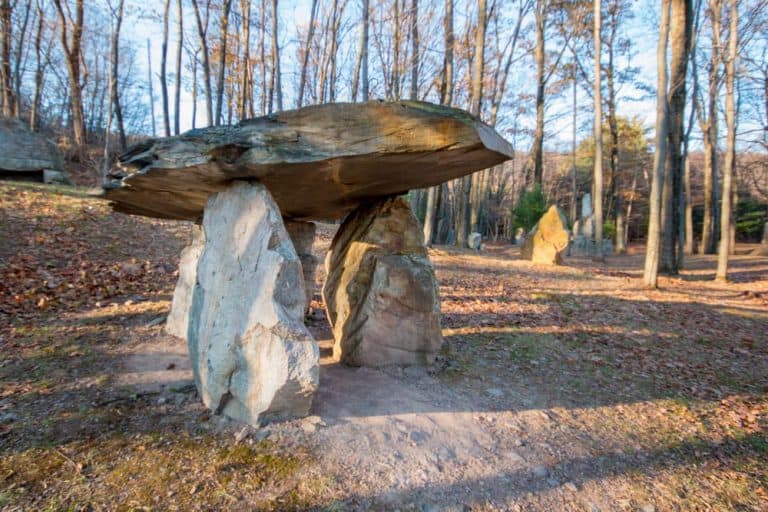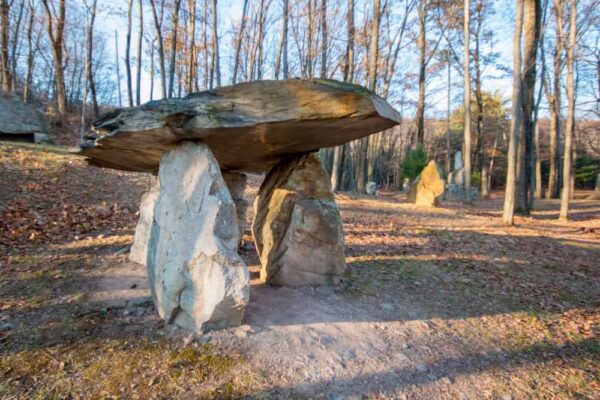 Columcille Megalith Park is located in northern Northampton County near Bangor, PA. The closest large community is Stroudsburg. While it's technically located in the Lehigh Valley, it's often considered one of the top things to do in the Poconos.
The entrance to the park can be found at the following coordinates: 40.926263, -75.201164. There is a small parking area adjacent to the main entrance.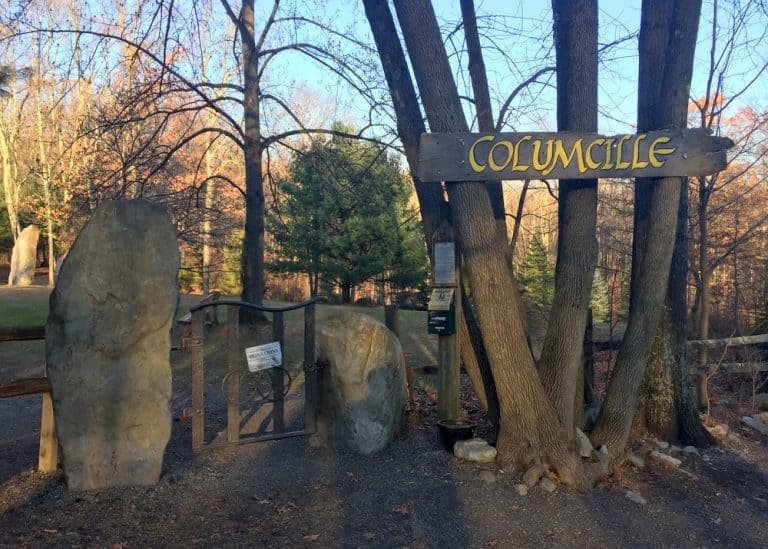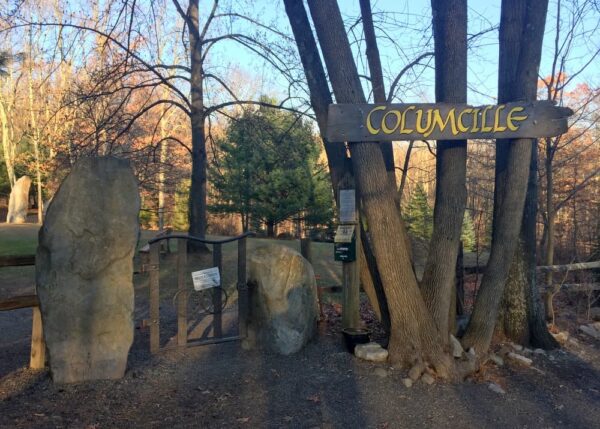 As a reminder, Columcille Megalith Park is a private park. Please be respectful of this spiritual site. The park is open daily from dawn to dusk.
For more information, visit the park's website.
If you are looking for more things to do in the area, the park is near the Fox Gap access area for the Appalachian Trail. It's also located near the waterfalls of Slateford Creek.
Also, check out these spots where you can explore the world without leaving PA.
[Click here for information about how to use the coordinates in this article to find your destination.]
See map for other area attractions.