Disclosure: This article may contain affiliate links. We will make a small commission from these links if you order something at no additional cost to you.
Erie is a great family destination, thanks to the city's great beaches and history. If you are looking for even more family fun, expERIEnce Children's Museum in Erie, PA is a great choice.
expERIEnce Children's Museum is located in downtown Erie, just around the corner from the Erie Art Museum. For over 20 years, it's been a great place for kids in northwestern PA to have fun and learn more about the world around them.
The museum consists of three floors of activities, as well as an outdoor play space. While it's not as large as other nearby spots like the Children's Museum of Pittsburgh or the Buffalo Children's Museum, it's still a great place for kids 8 and under to explore.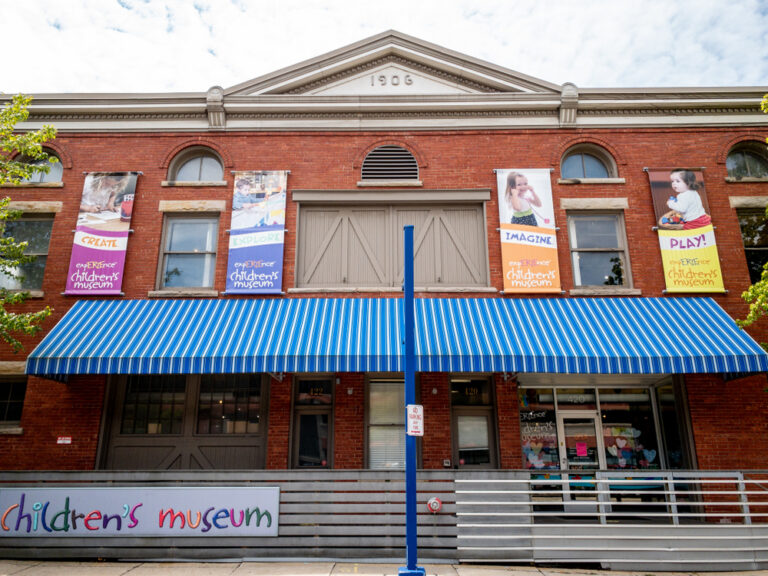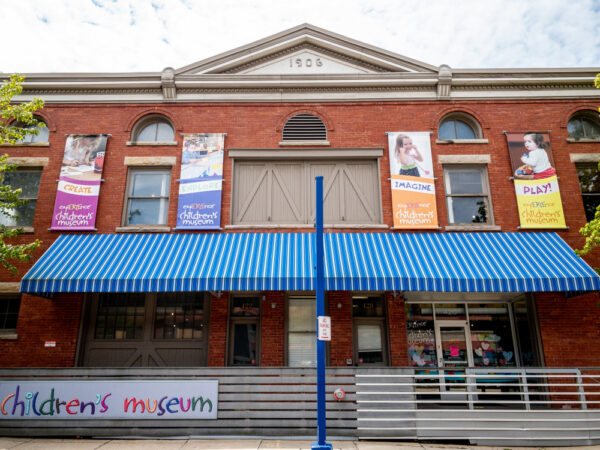 After entering the expERIEnce Children's Museum, kids have a wide range of play options on the first floor. This area is known as the Explore Floor.
The most obvious feature when you enter is the large water table in the center of the room. This features typical things like plastic boats and dividers, but also some unique elements like heat-sensitive fountains and rubber ducky slides.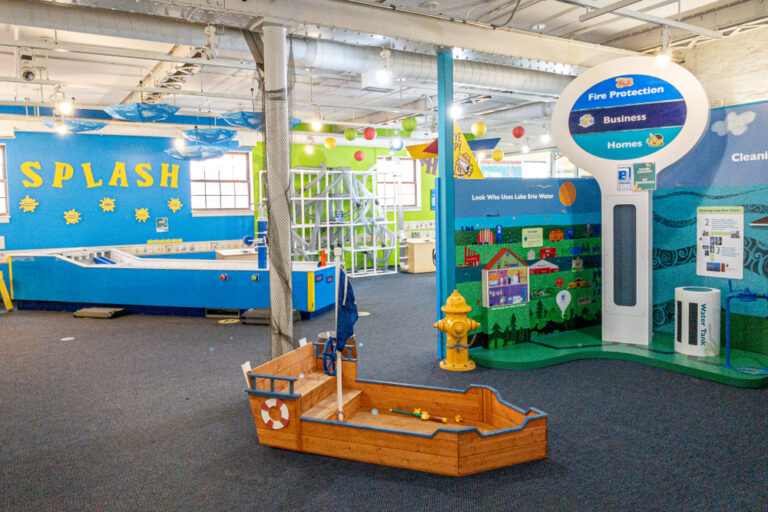 This floor also featured a really unique cave that my young kids loved to explore. Small lanterns are provided, though not needed, to make checking it out even more fun.
Inside, there is information about geology, archeology, and paleontology to interest older kids and adults. Kids can even exit via a small slide if they want.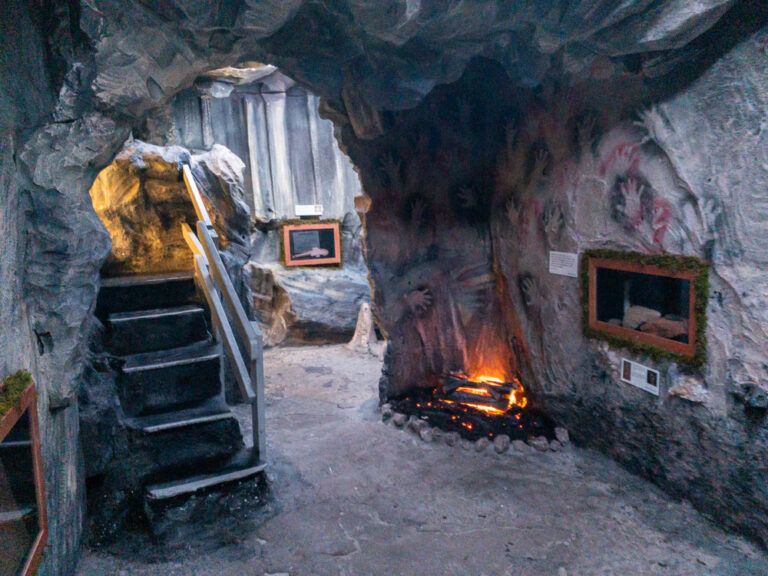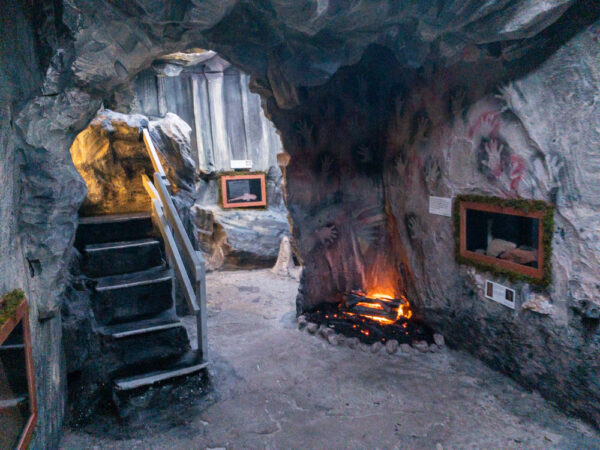 The second floor of the museum is the Imagination Floor.
On this floor, there are even more great places for kids to play and to use their imagination. These areas range from a stage for performances to a pizza shop and a model railroad.
On the second floor, my kids really enjoyed the small, but fun Wegman's grocery store. This area includes some very realistic food, small shopping carts, and even a working conveyer belt and register.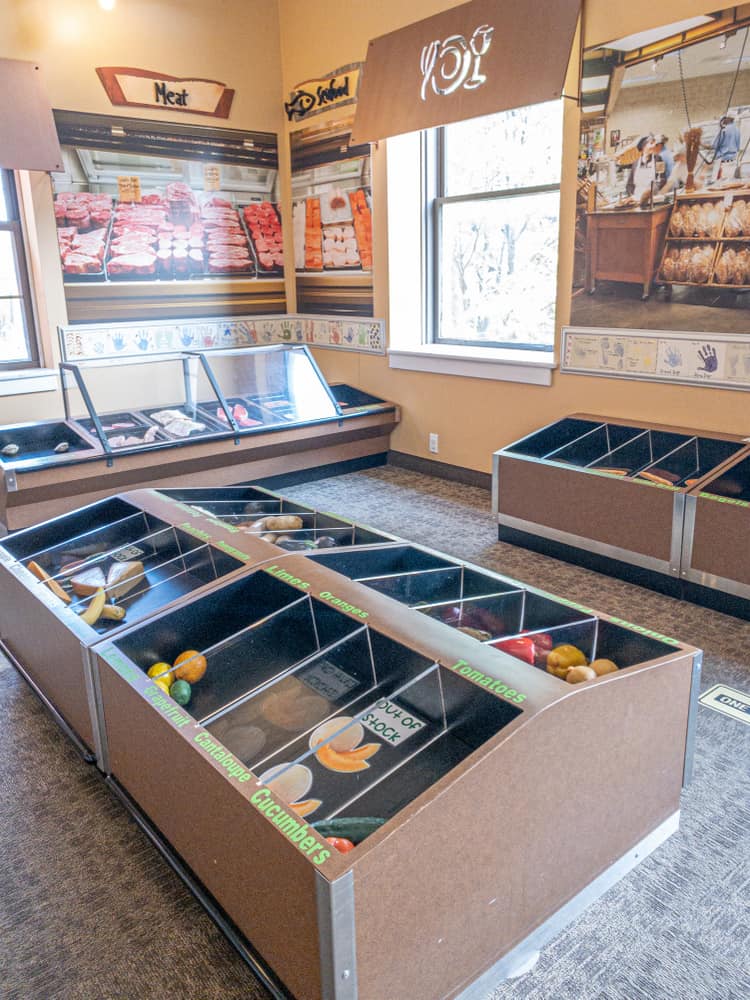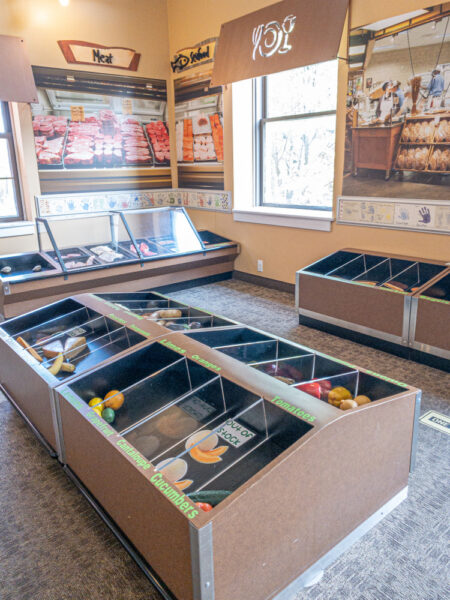 Another fun area was the doctor's office. While many children's museums have a doctor's office or hospital of some kind, what made this area unique was the giant Operation game, something I don't recall seeing in any of the other children's museums I've visited.
This is a really fun and unique way for kids to learn about their body parts, and even I had fun trying to play the large version of this classic game.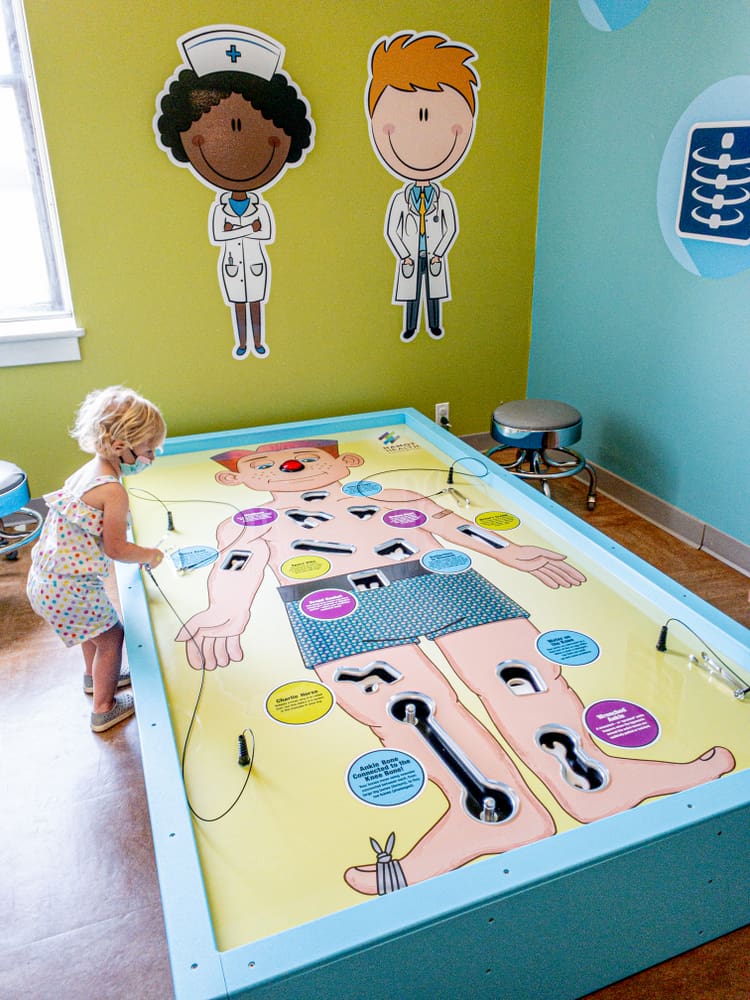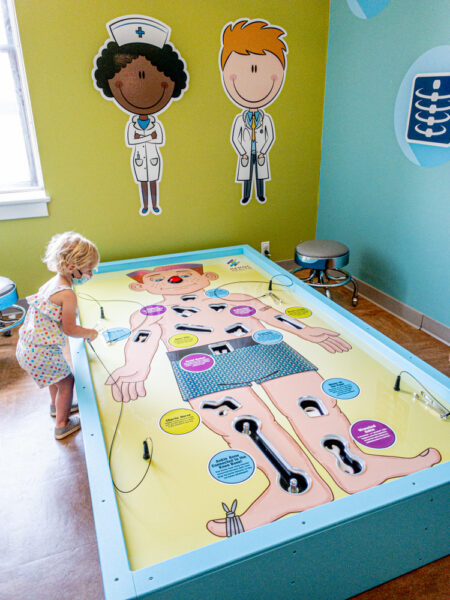 It's also worth noting that scattered throughout the first and second floors of the museum are hands-on science areas where kids can learn more about the world around them. These add a nice extra element and are designed in a way that kids will enjoy.
Just off of the first floor, there is an outdoor space for kids to play. This area doesn't include normal outdoor playthings like swings and slides, but instead more imaginative things for kids to play with.
My children especially enjoyed the fun musical instruments that you could hit to make different sounds.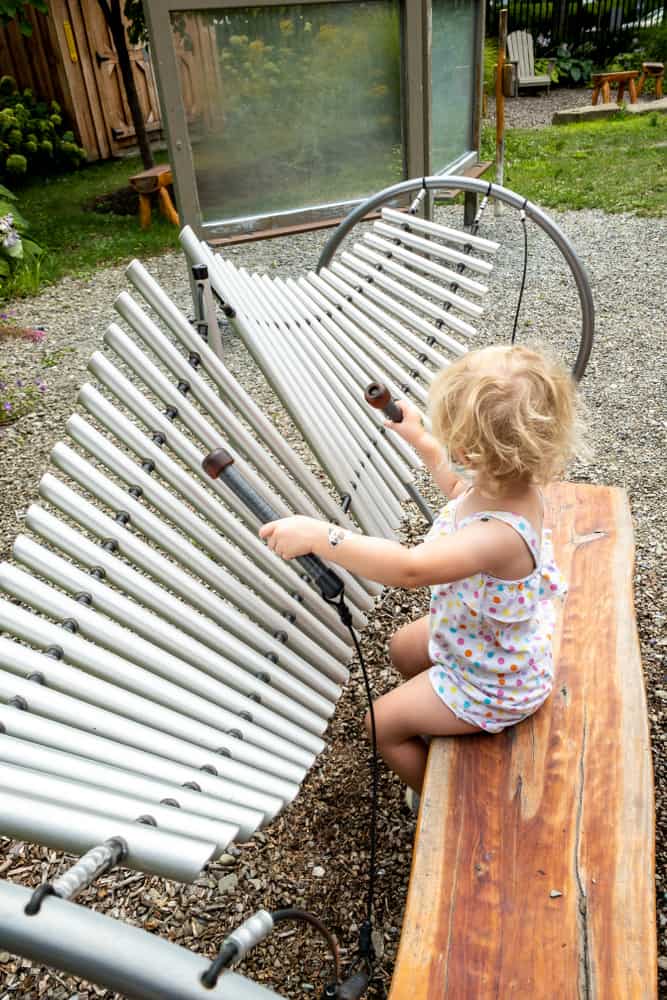 The expERIEnce Children's Museum also features a basement area known as the Creativity Floor. Unfortunately, during my visit, this space was closed, so my family and I were unable to experience it.
However, from looking online, it appears this space contains an art space, more scientific activities, and an area specifically designed for babies and toddlers. Hopefully, we can visit again soon to check out this area.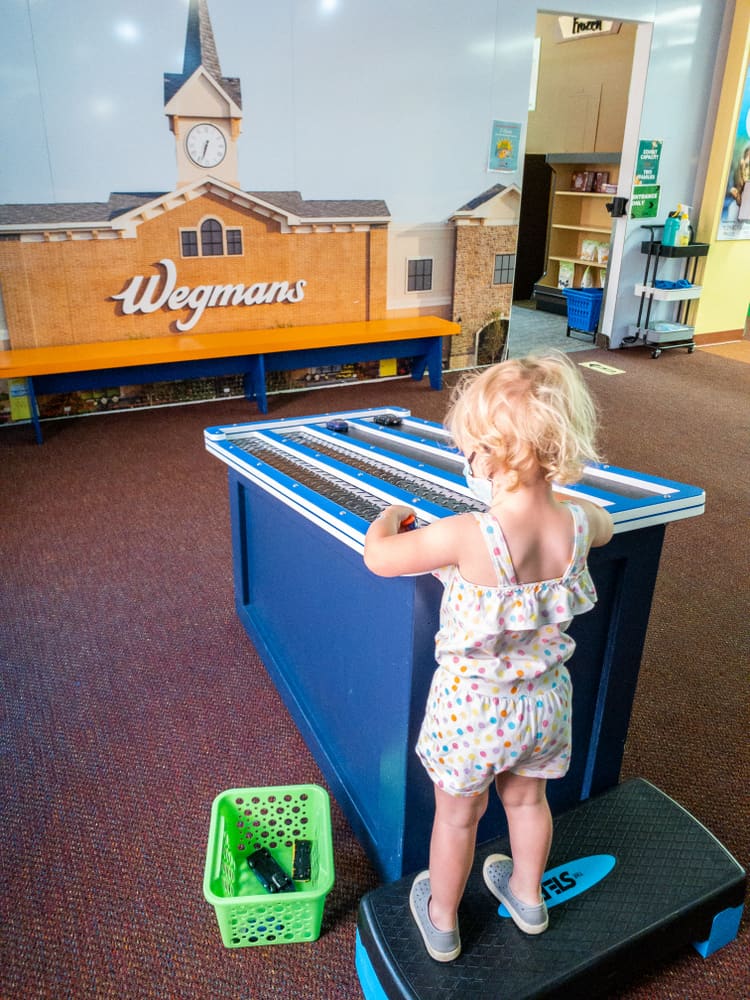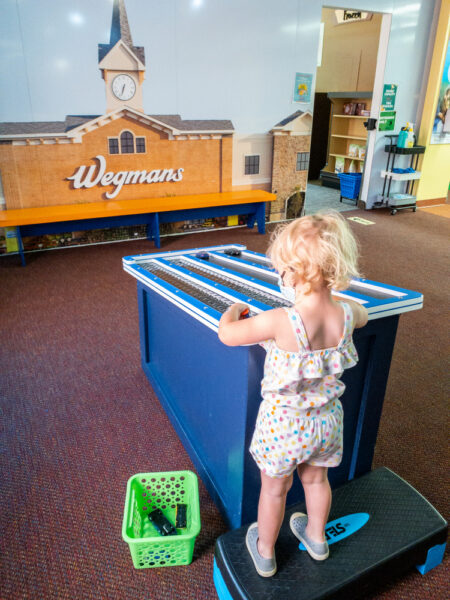 Overall, my kids had a ton of fun at Erie's children's museum. While it's not as large as some I've visited, the displays here are very well done and there's a lot of variety to ensure that every young kid (and even the parents) will find something fun to experience.
So, whether you are looking for something to do on a rainy day in Erie or simply want to get away from the wonderful beaches of Presque Isle for a few hours, don't miss the expERIEnce Children's Museum.
Looking for more great things to do in Erie? Check out the Erie Zoo, the Erie Maritime Museum, the Erie Seawolves Baseball Team, and Waldameer Amusement Park.
---
expERIEnce Children's Museum
Hours: Monday-Saturday: 10am-5pm, Sunday: 1pm-7pm

Closed Tuesdays

Cost: $10

Website: ErieChildrensMuseum.org

Address: 420 French St
Erie, PA 16507
See map for other area attractions.
---