Disclosure: This article may contain affiliate links. We will make a small commission from these links if you order something at no additional cost to you.
Northeastern Pennsylvania is filled with many great waterfalls, some of which aren't well known even to area residents. One such spot is the waterfalls on Paddy Run in Shickshinny, PA.
Shickshinny is a small borough located on the banks of the Susquehanna River in Luzerne County, PA. The western and southern edges of the community are surrounded by State Game Lands #260, which is where you'll find this hidden gem.
There are two decent size waterfalls on Paddy Run that you can see during this 2.5-mile hike. Since Paddy Run is a smaller stream, you'll definitely want to visit during periods of higher water or shortly after a big rainfall. Otherwise, the waterfalls might not look that impressive.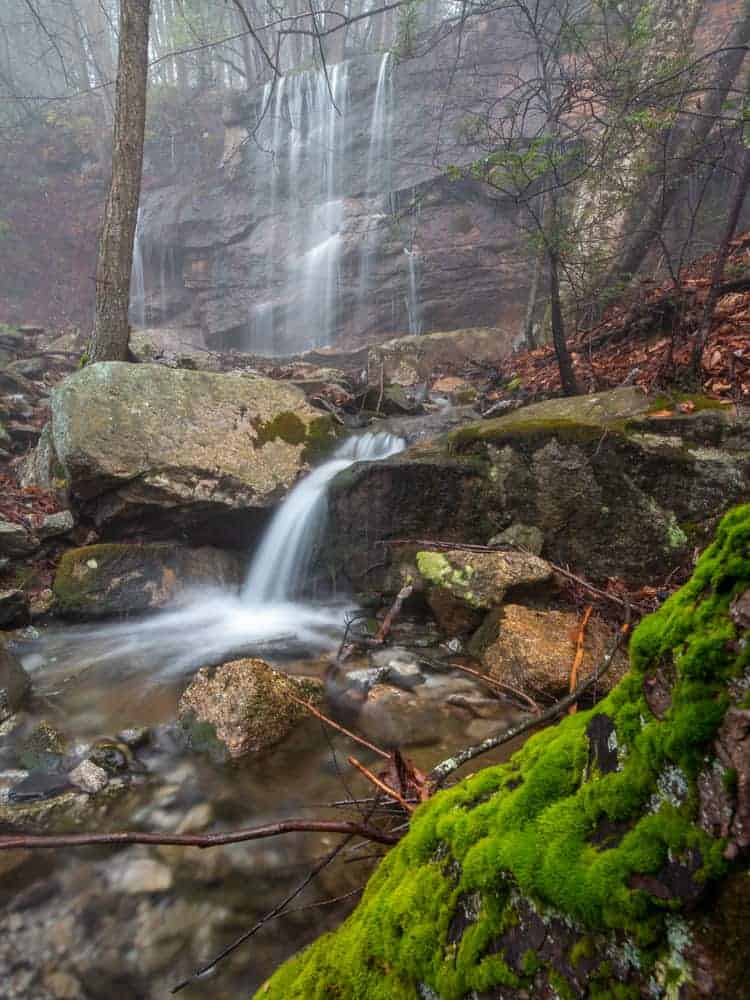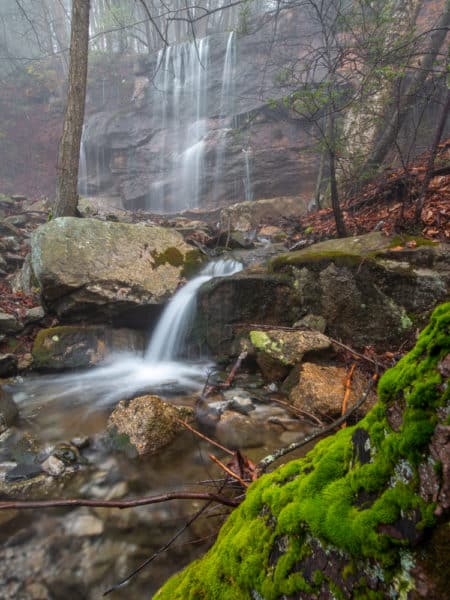 This hike is a combination of hiking along a forest road and off-trail hiking. Most of the off-trail portion follows Paddy Run downstream and is relatively easy (as far as off-trail hiking goes), but it's a good idea to hike this area with someone else and carry a GPS in case you get turned around.
The hike starts out from the same parking area as Little Shickshinny Falls, which is well worth the short hike to see if you've never been there before.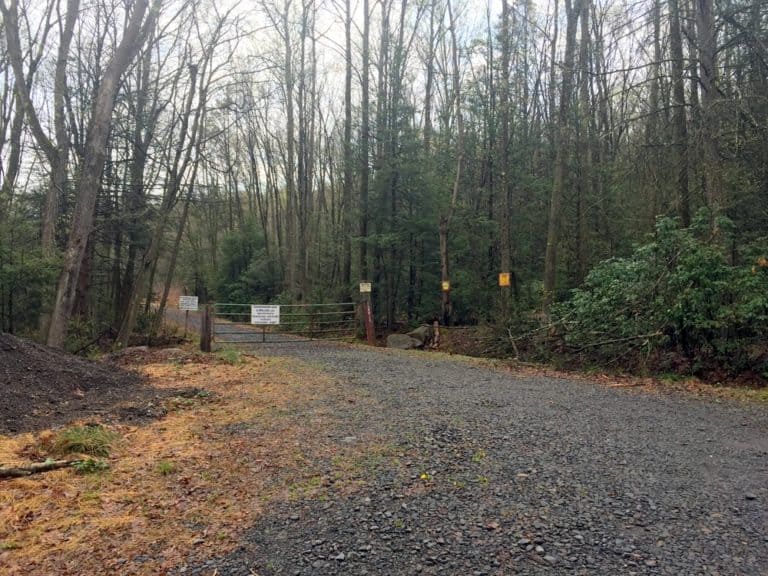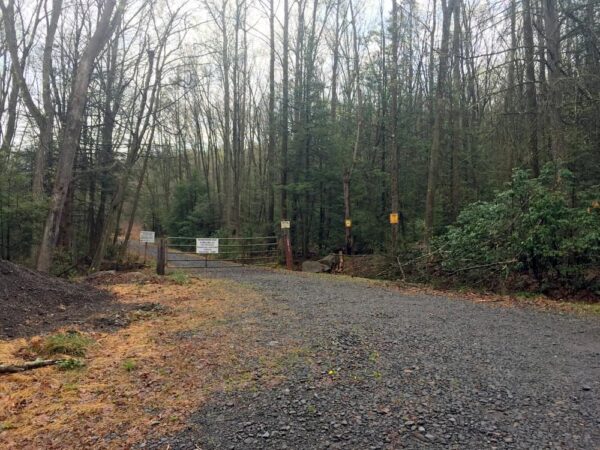 From the parking area, cross the road and follow the forest road beyond the gate. This is an access road for work vehicles, so make sure to use caution while following the road as traffic can sometimes be on it.
After a little less than half a mile of hiking, you'll reach a clearing. Pass through this and continue straight back into the woods. Soon, you'll come to a small bridge over Paddy Run.
This bridge is very sketchy, and I wouldn't recommend crossing it. Only use it as a reference point during your hike. Instead, find a way across the narrow stream at creek level.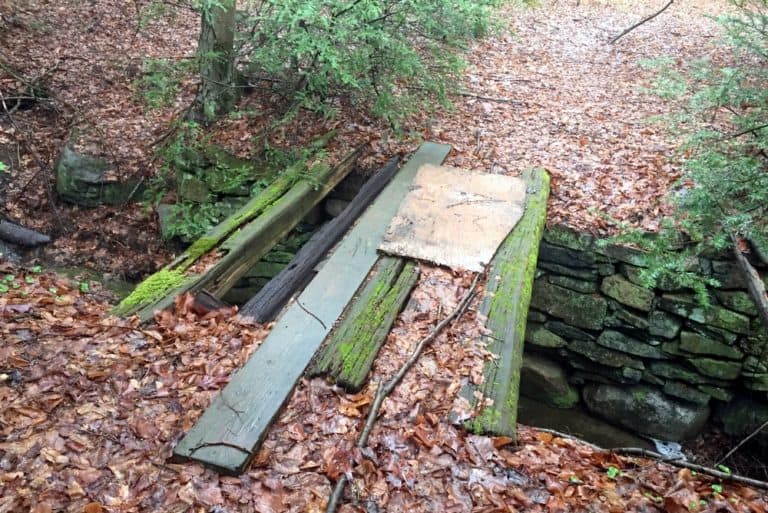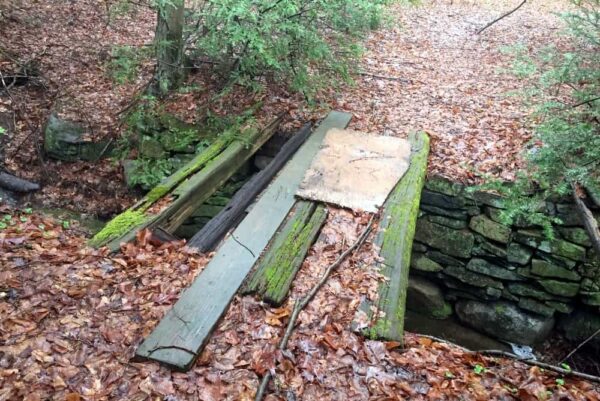 After crossing the stream, you'll have to pick your way downstream without a trail. Fortunately, the woodland is fairly open and this doesn't pose a huge challenge as long as you don't lose sight of the creek. While conditions might vary when you visit, I stayed on the same side of the creek the entire way down to the waterfalls.
After hiking for about a third of a mile, you'll come to the uppermost of the two waterfalls on Paddy Run.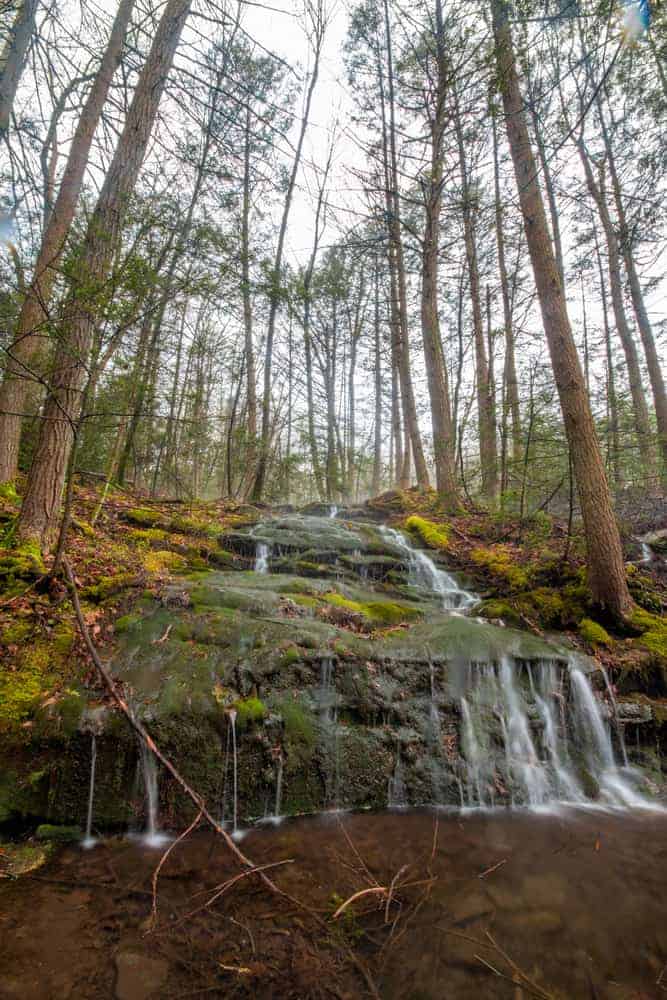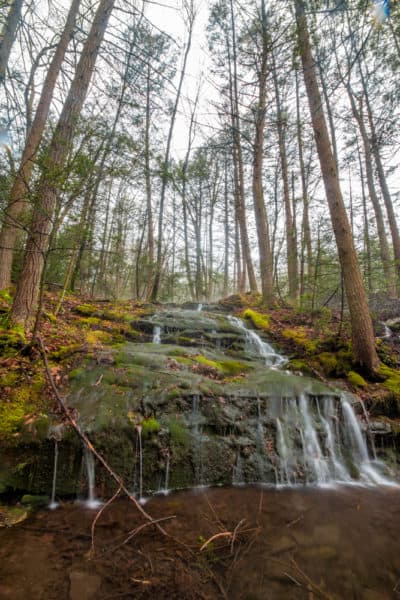 This waterfall is a fan waterfall that is roughly eight feet in height. The water slides down the face of the falls here and creates a rather beautiful scene when it is flowing well. However, it rarely has much water, and even when the main falls further downstream is flowing pretty well, this spot can be a bit underwhelming.
Continuing further downstream, the terrain begins to get a bit steeper as you head towards the main waterfall on Paddy Run. Just before you reach the waterfall, you'll reach a somewhat steep hill that you'll want to use care when navigating down.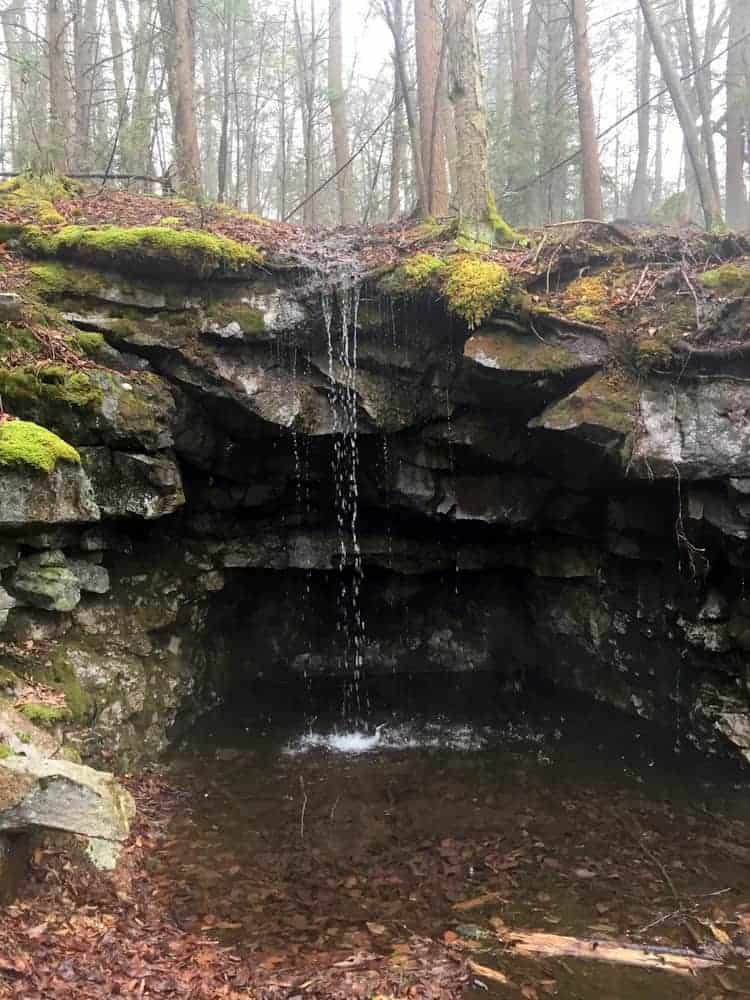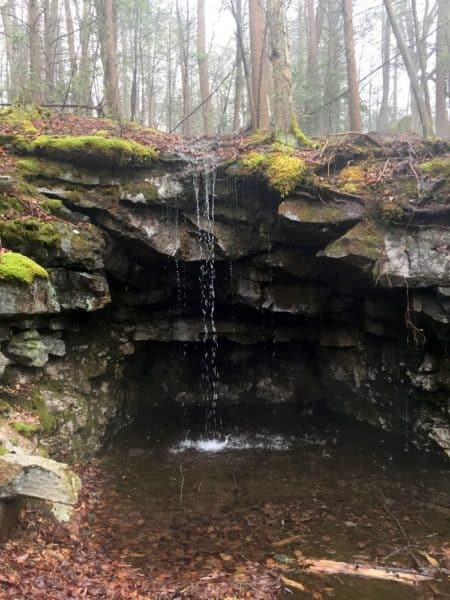 The hillside levels out as you reach the base of Paddy Run Falls, which should be on your left.
Paddy Run Falls is a unique waterfall in that the stream falls drops straight off of a sheer rock wall that has weathered to have a very rectangular look. In some ways, it reminded me a bit of Hector Falls in western PA.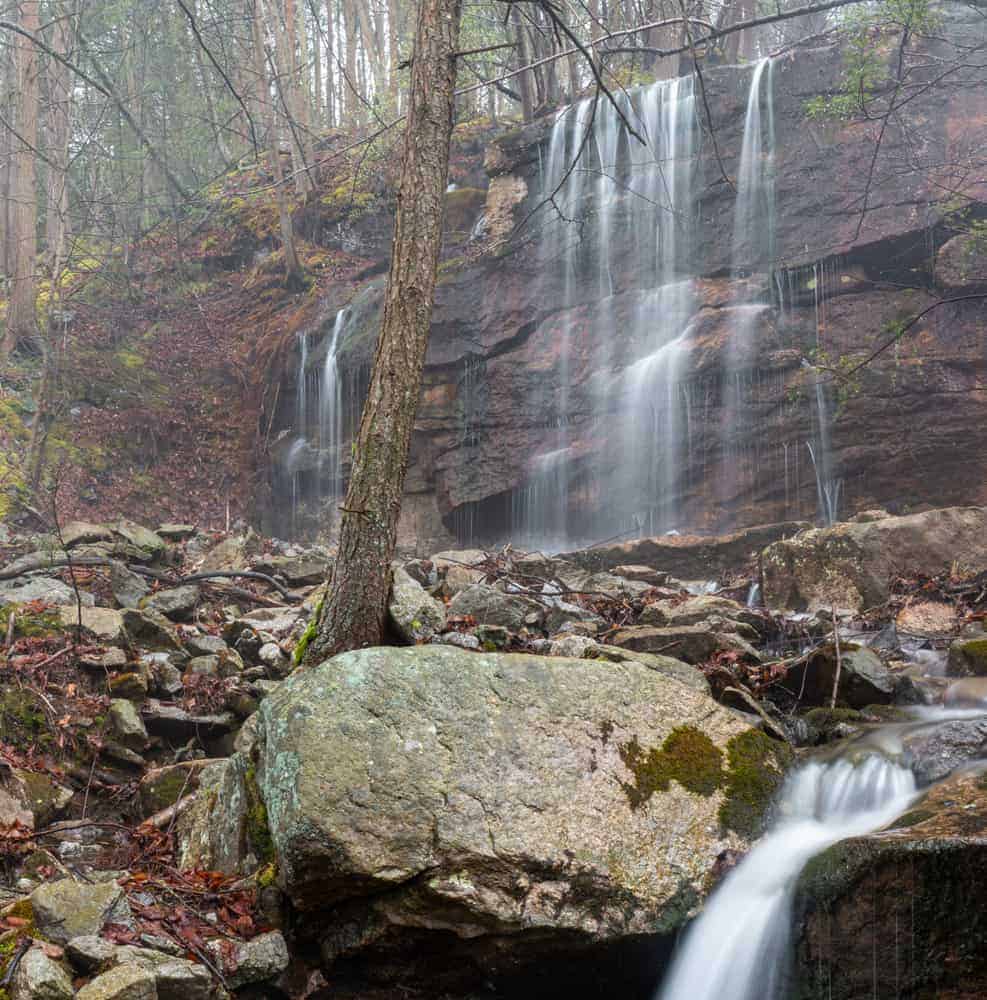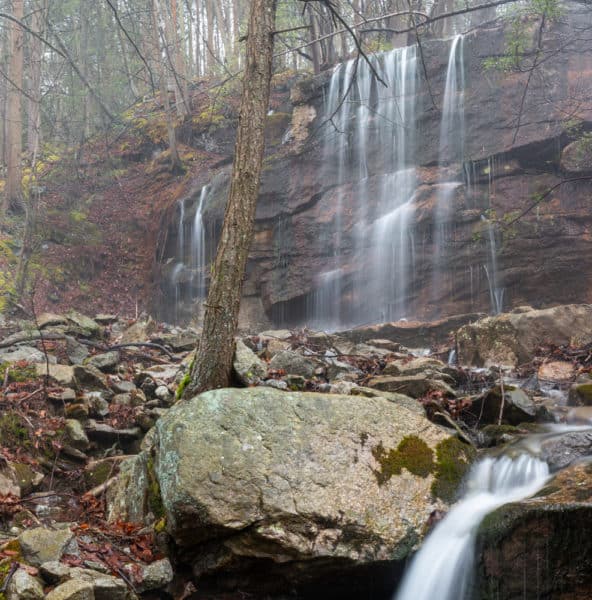 While Paddy Run Falls is only about 10-12 feet in height, its unique shape and the fact that it's rarely visited make it a spot that's worth taking the time to see.
Once you are finished visiting Paddy Run Falls, it's time to head back up the way you came to return to your car.
You may notice that there is a trail just downstream of Paddy Run Falls. This trail leads down to the intersection of Route 11 and the Route 239 bridge over the Susquehanna River.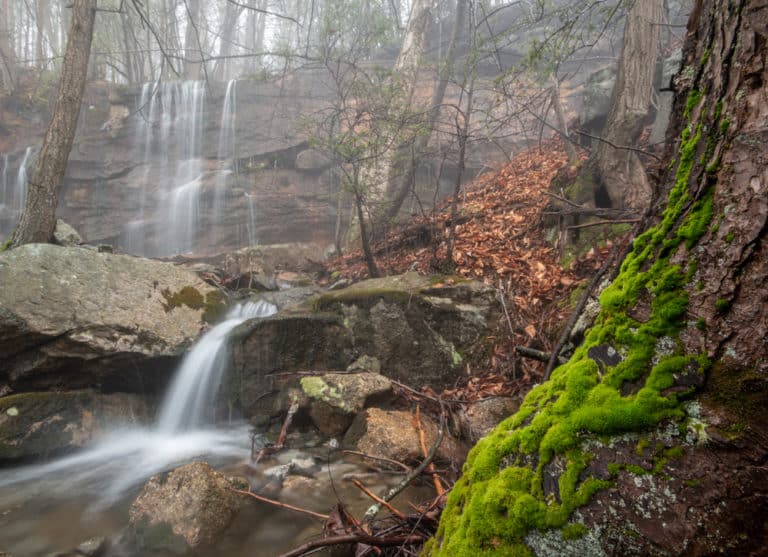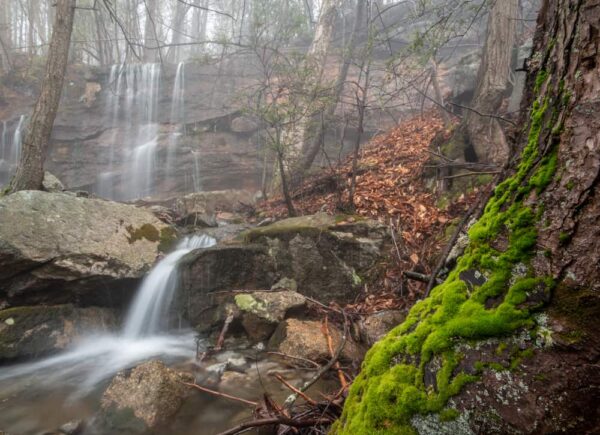 While this is likely a much faster way to access the base of Paddy Run Falls, the land around the roadway is private property, so only head down the trail to the road in the event of an emergency.
Overall, Paddy Run Falls is far from the most impressive waterfall in the region. However, if you are looking for a unique waterfall that very few others have seen, this is a spot you definitely won't want to miss.
How to Get to Paddy Run Falls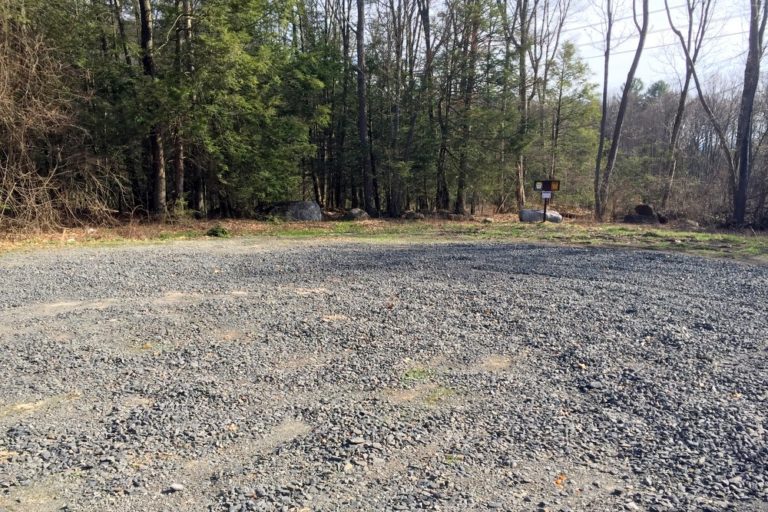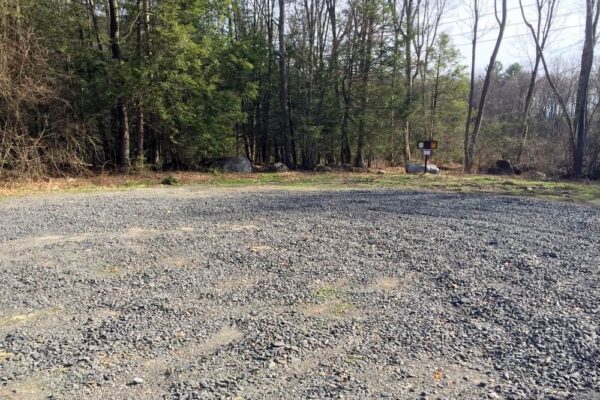 The parking area for Paddy Run Falls is a state game land parking lot that can be found along Shickshinny Valley Road in Luzerne County, PA at the following coordinates: 41.147964, -76.169825.
From this parking area, cross the road and follow the gated dirt road directly across from the parking area.
Continue straight across the large clearing half a mile into your hike and pick up the obvious dirt trail. In a short distance, you'll reach a small bridge over Paddy Run. Cross the bridge and head downstream to the falls.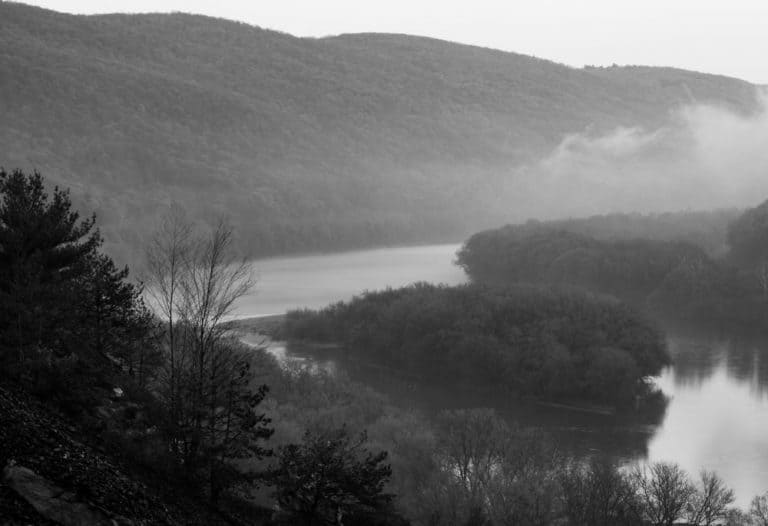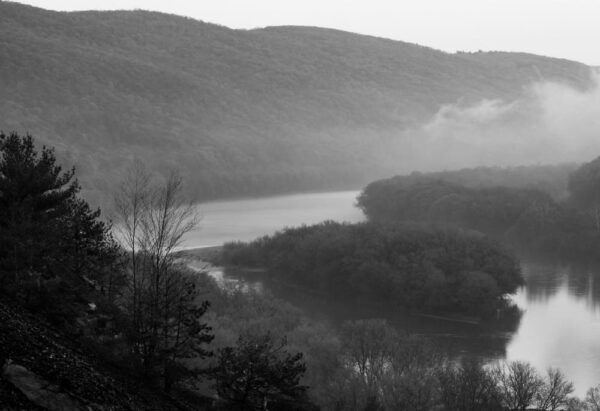 For those that use coordinates, you'll find the clearing at the following coordinates: 41.145346, -76.163973.
The bridge over Paddy Run can be found here: 41.144349, -76.163231.
Paddy Run Falls can be found at these coordinates: 41.146278, -76.151278.
Looking for more things to do in the area? Check out Concrete City, the covered bridges of Columbia County, and Adams Falls in Ricketts Glen State Park.
[Click here for information on how to use the coordinates in this article to find your destination.]