Disclosure: This article may contain affiliate links. We will make a small commission from these links if you order something at no additional cost to you.
One of the things I love about traveling around Pennsylvania is the local foods that can be found in various corners of the state.
While you can find them elsewhere, everyone knows that the best cheesesteaks are in Philly (or the best pizza in Philly), the best pierogies can be found in Pittsburgh, and the best shoofly pie is from Lancaster County. To this list, you might want to add Old Forge pizza. After all, Old Forge is the "Pizza Capital of the World."
Located just a few miles outside of Scranton, the borough of Old Forge has just 8,000 residents within its three-square miles. However, with more than 15 pizza cafes located within the borough's borders, it is truly a pizza lovers dream.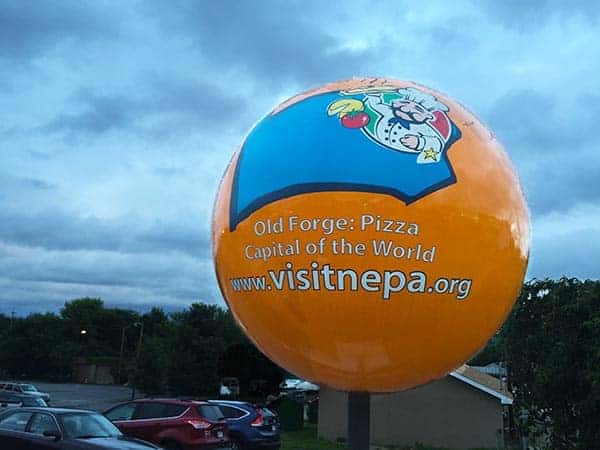 To be perfectly honest, I hadn't heard of Old Forge pizza before being invited to try it out. However, never one to turn down pizza, I was excited to see what all the fuss was about.
With so many pizza cafes within walking distance of each other, a pizza crawl is a great way to explore the many tastes of Old Forge. My guide for this foray into Old Forge was Bob Mulkerin, the mayor of Old Forge. Mulkerin started off by explaining one major difference between Old Forge pizza and regular pizza: terminology.
There are two main types of Old Forge pizza: red and white. Red pizza is more like your traditional pizza, though with a crispy and airy crust and a light amount of sauce. White pizza on the other hand is like a calzone and garlic bread got together and stuffed themselves with cheese.
When ordering pizza, you don't order a slice, you order a cut (just like Altoona-Style Pizza in Blair County or Beto's Pizza in Pittsburgh). And, instead of a pie, you order a tray. To do otherwise is a surefire giveaway that you aren't a local.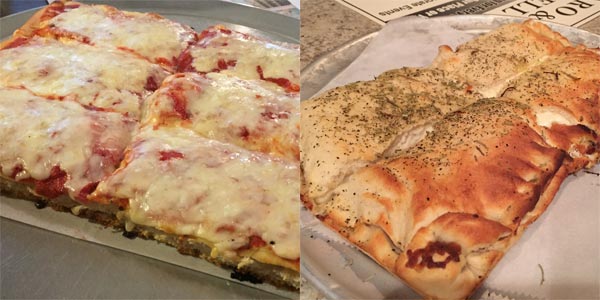 Our first stop of the evening was at Salerno's. As we did at all four of our stops during the pizza crawl, we ordered several cuts of both red and white.
To be perfectly honest, the red pizza looked a bit like the pizza I remember from my high school cafeteria. However, it only took one bite to tell me that it tasted nothing like my high school pizza. In fact, it tasted quite different from the type of pizza you'd find at the borough's lone Dominos Pizza.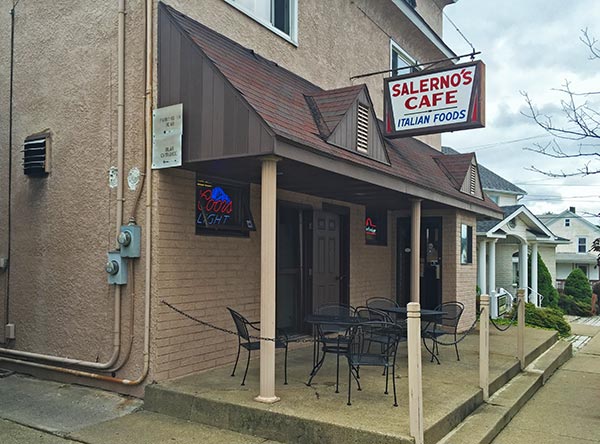 Next, I tried the white pizza. The garlicy bread that encrusted the cheesy interior was much more dense than the red pizza, and not at all what you think of when you think "pizza." Nevertheless, it was quite delicious, and I was excited to see what the rest of our stops had in store.
As we moved through Old Forge, Mayor Mulkerin told me a bit more about the history of Old Forge and its famous pizza. Old Forge was once a booming coal town, and many of the families in the town had all immigrated from Felitto, Italy, a small town near Naples.
In the 1930s, Ms. Ghigiarelli would make pizza for the mine workers who played cards in her home, but had no round baking dishes. Instead, she used a rectangular tray, along with the ingredients she had available, and Old Forge pizza was born.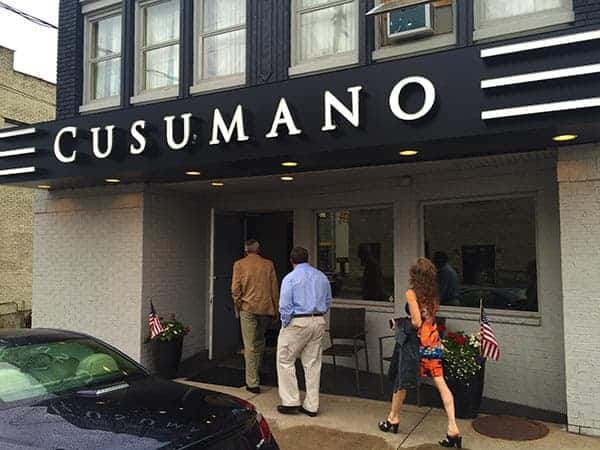 Our next stop on the tour was Cusumano, a more upscale restaurant along Main Street.
Here, we once again ordered cuts of both red and white. While waiting for our pizza, Mulkerin casually mentioned that, according to local lore, the hit on Jimmy Hoffa was approved from inside this restaurant. I was surprised how different the pizza tasted here. My cut of red was crunchier, with a sweeter sauce, while the white had onions on top, which added a nice bit of flavor.
Our next stop, Arcaro and Genell, had a cheesier red, and their white had a pleasant pepper and rosemary flavor added to the crust. Like Cusumano, Arcaro & Genell restaurant in Old Forge, PA felt like the kind of place you might go for a nice night on the town.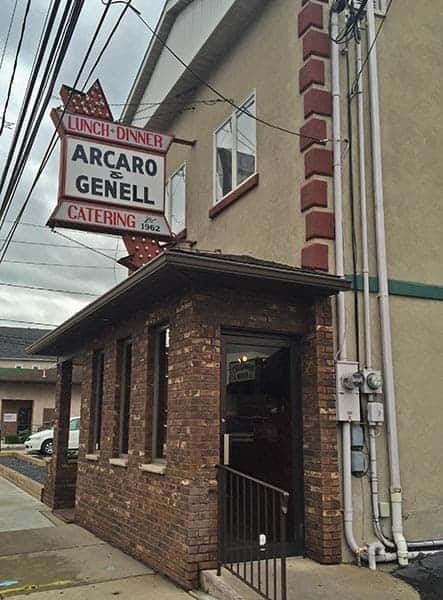 Our final stop of the evening was across the street to Revello's, the number one ranked pizza cafe in town.
While waiting for our pizza, I learned a bit about the community of Old Forge.
Despite there being so many pizza cafes in such a small area, they don't really compete against each other. While locals do have their favorites, you won't see restaurants competing on their taste. In fact, they've even been known to share ingredients when another restaurant is in need.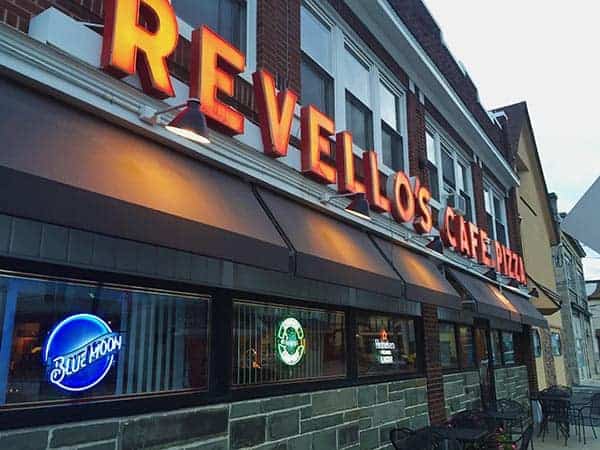 And, truthfully, they don't need to compete against each other. Come to Old Forge on a Friday or a Saturday night, and you'll be lucky to find a parking spot, let alone a table. It's not uncommon to see people walking from restaurant to restaurant trying to see if anyone has somewhere for them to eat.
However, that doesn't mean that when people come back to the area, they don't have their chosen restaurant. Back in 2008, while competing for the Democratic nomination, Hilary Clinton, who had spent part of her childhood in the Scranton area, came for a few cuts of pizza at Revello's Cafe Pizza in Old Forge, PA.
Unlike the other pizza cafes we had visited, Revello's felt like a 50s diner and the walls were plastered with local photos, some of which even featured the owners of other local pizza cafes. The red pizza here was saltier than the others that I had tried, and had a very thin, crunchy crust, while the white tasted just as delicious as it had at the previous three stops.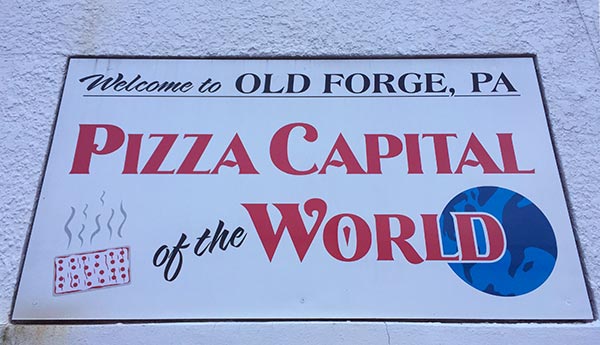 On the side of Revello's is a small mural that proclaims Old Forge to be not only the pizza capital of the U.S., but the "Pizza Capital of the World." Sure, it might be a self-declared title, but the spirit of togetherness in the town, combined with their delicious and unique pizza, left me no doubt that this was a very fitting title.
If you find yourself looking for a unique place to eat while in the Scranton area, there's no doubt that you should take the time to visit the fantastic borough of Old Forge for a few cuts of the famous Old Forge pizza.
Note: My dining experience in Old Forge was courtesy of the Lackawanna County Visitor Bureau. However, the opinions expressed are my own.
Need a drink after all that pizza? Check out the Susquehanna Brewing Company. Or walk it off at the Steamtown National Historic Site, Falling Springs Falls, or a Lackawanna Coal Mine tour.