Disclosure: This article may contain affiliate links. We will make a small commission from these links if you order something at no additional cost to you.
A mall in downtown Scranton probably isn't the first place you'd think to look for an aquarium, but that's exactly where you'll find the Electric City Aquarium & Reptile Den.
The Electric City Aquarium & Reptile Den opened to the public in 2018 inside the Marketplace at Steamtown (previously known as the Steamtown Mall), only a short walk from the popular Steamtown National Historic Site and Electric City Trolley Museum. The aquarium occupies 20,000 square feet of former retail space on the mall's first floor, a short distance from the Scranton welcome sign from "The Office", which is on the mall's second floor.
And, despite the unusual location, this is a fabulous space for those that love fish and reptiles.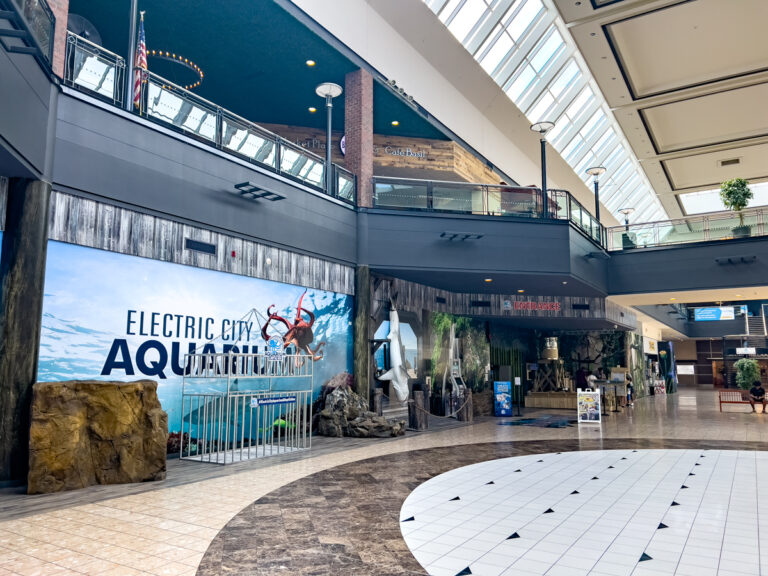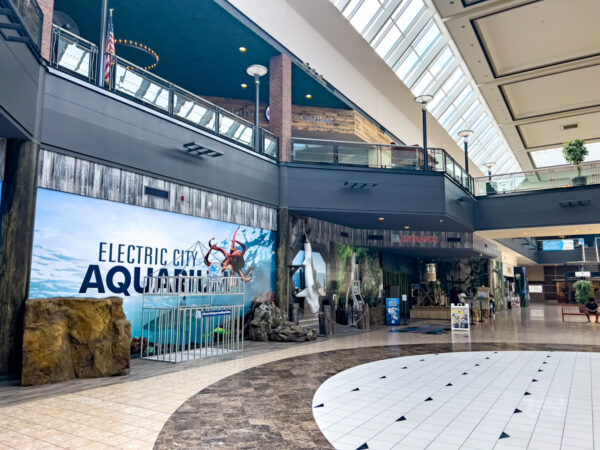 The Electric City Aquarium isn't difficult to find once inside the mall thanks to the fun and colorful design on the wall outside of the space. There's even a shark cage that you can stand inside to get a photo.
After purchasing a ticket for the aquarium, you'll start your visit by walking through their Reptile Den.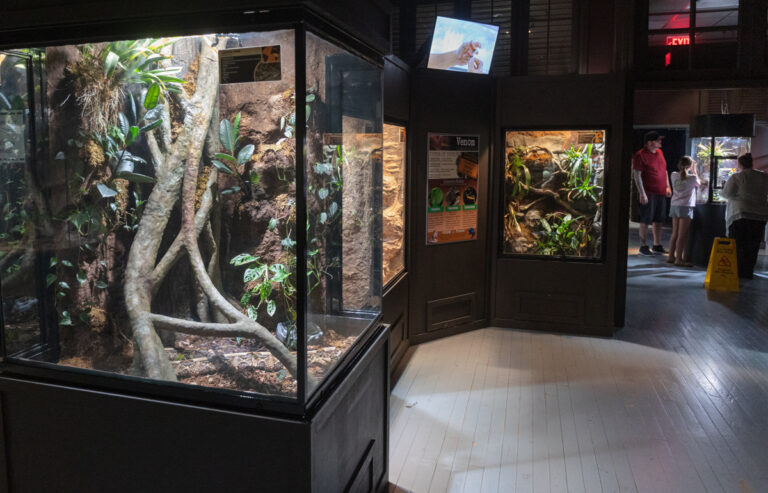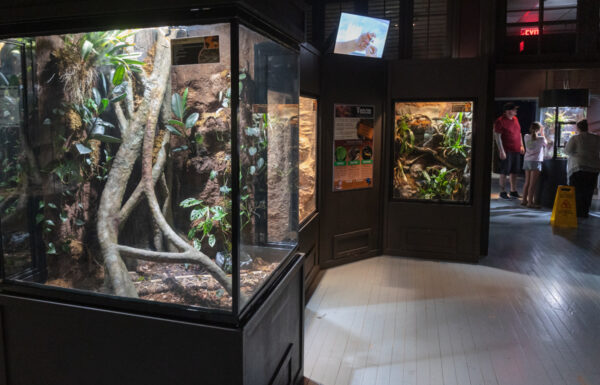 The reptile den consists of a good number of mostly small tanks housing a variety of reptiles including many types of frogs, snakes, and even some small alligators and monitor lizards. There are also some non-reptile animals mixed in such as a toucan, an armadillo, and an Asian leopard cat.
There is a path that winds its way through this space and, as you pass each enclosure, you can use the signage here to read more about the animals on display in each space. There are also some really fun interactive elements here that my kids enjoyed using.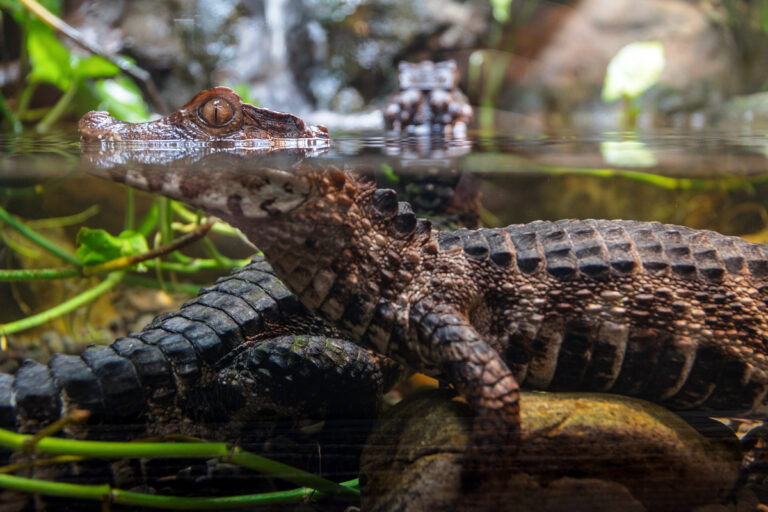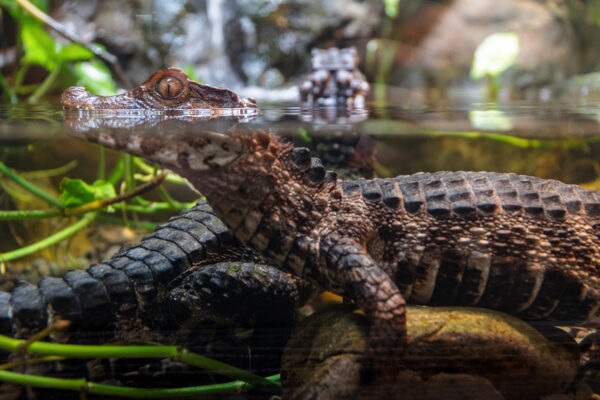 Given that this isn't an overly large space, I was impressed with both the quality of the enclosures and the variety of animals on display here. This is definitely a well-done wildlife attraction.
Once through the Reptile Den, you'll enter the aquarium space. Given that the aquarium is in a mall, I was impressed with the size of some of the tanks here. In fact, one of them is big enough to hold several medium-sized sharks.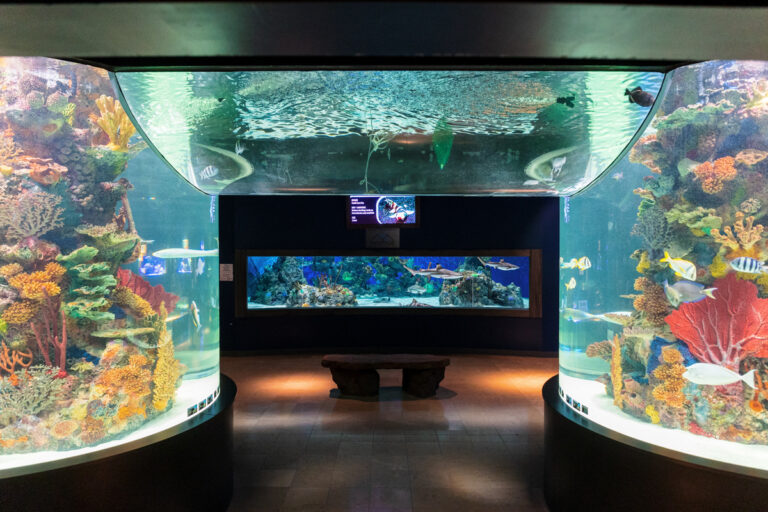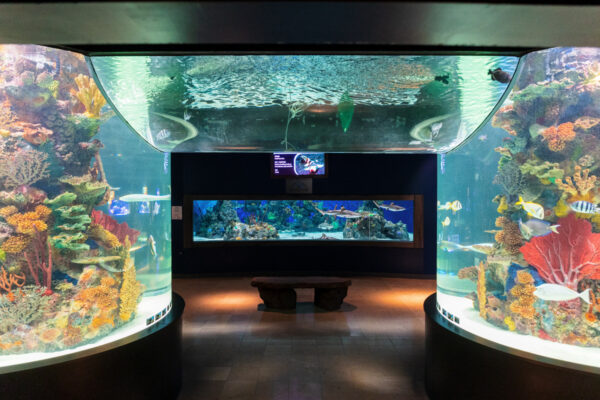 There are a large number of tanks spread throughout the space, which allows the Electric City Aquarium to showcase a wide variety of species of fish from all over the world. I especially enjoyed their electric eel display, which seems like a necessity for an aquarium in the Electric City.
There is also a large touch tank where, at select times of the day, you can touch stingrays and horseshoe crabs. Sadly, my family's visit didn't coincide with their schedule, but I guess this just gives us a reason to go back.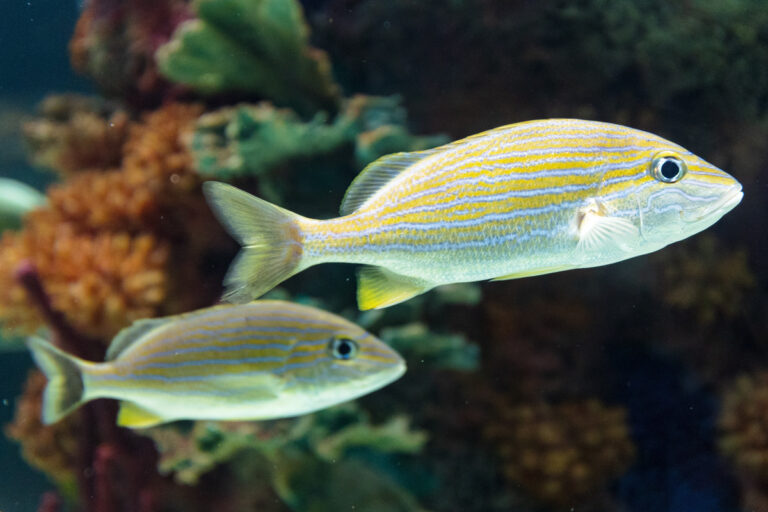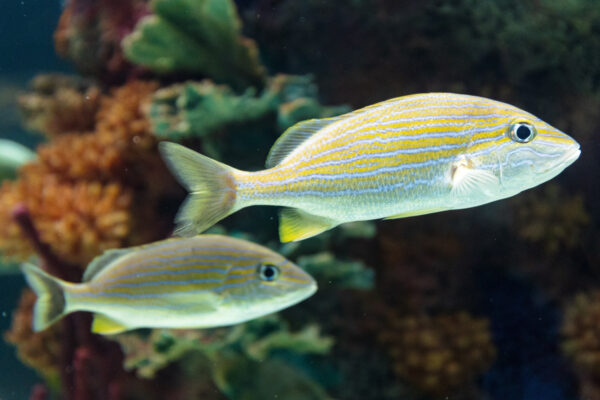 Speaking of daily events, there are a variety of educational talks offered throughout the day, and, on weekends, you can watch as they feed some of the larger animals in the collection including the sharks and alligators.
I also really enjoyed the Electric City Aquarium's collection of jellyfish. Watching these creatures is mesmerizing, and there are some really neat tanks here to look at during your visit.
The variety of the tanks here is really quite impressive and, when visiting, you are surrounded by tanks, each with different fish to enjoy. Even cooler, several of the tanks allow you to walk through them and look up at fish swimming over your head.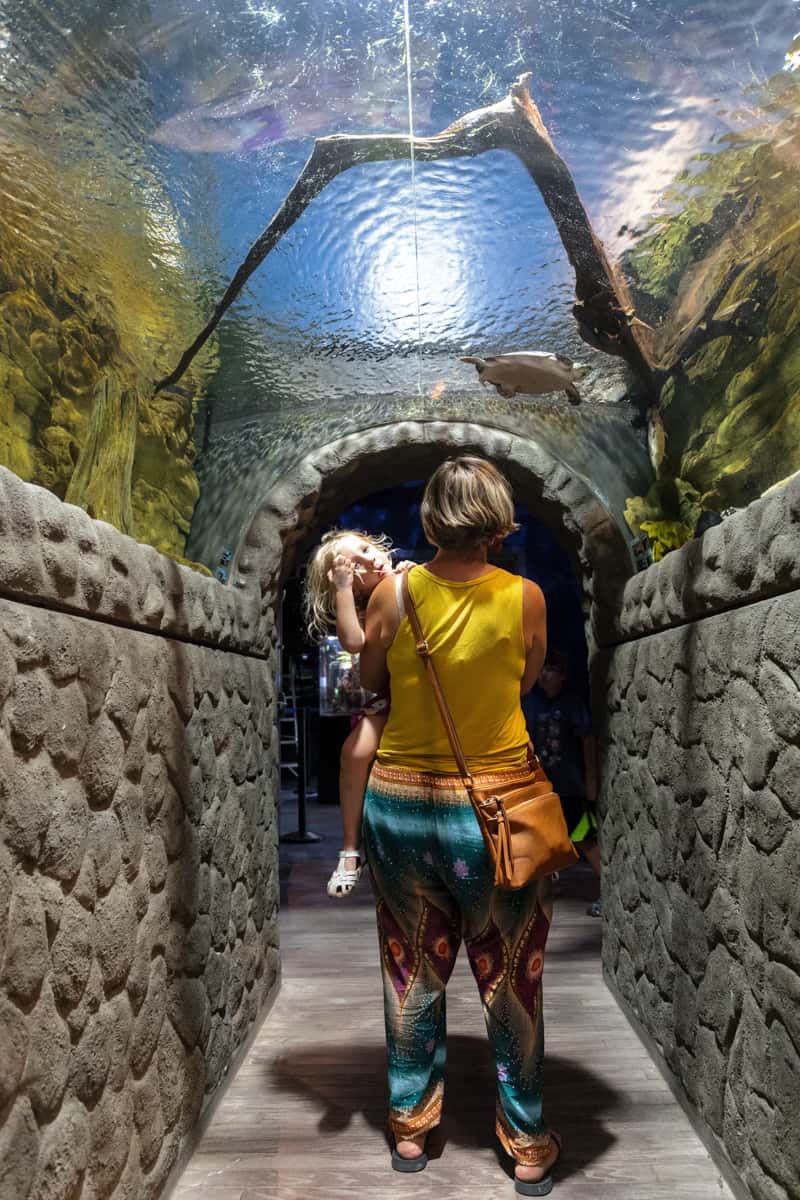 Overall, my family and I had a really fantastic time at the Electric City Aquarium & Reptile Den in Scranton. Not only is this one of only two aquariums in Pennsylvania (The other being at the Pittsburgh Zoo and Aquarium), but it also features some other great animals to see during your visit.
It's worth noting that this spot feels like one that could get crowded quickly despite the large number of tanks. Because of this, I recommend trying to visit outside of peak visitation hours. However, there are other perks, like special feedings, that you can only do when the zoo is likely to be busy, so it's a trade-off either way.
All that being said, the next time you are exploring this corner of northeastern PA, or if you're looking for a fun stop while traveling I-81, make sure to visit the Electric City Aquarium & Reptile Den in Scranton.
Looking for more places to visit nearby? Check out Nay Aug Falls, Seven Tubs, and the Tunkannock Viaduct.
---
Electric City Aquarium & Reptile Den
Hours: Daily: 11a-6p

Cost: Adults: $20.95, Kids: $16.95

Website: ElectricCityAquarium.com

Address: 300 Lackawanna Ave
Scranton, Pa 18503
See map below for other area attractions.
---