Disclosure: This article may contain affiliate links. We will make a small commission from these links if you order something at no additional cost to you.
There are few places in eastern Pennsylvania that I enjoy exploring more than the McIntrye Wild Area. Part of Loyalsock State Forest in Lycoming County, this lightly trafficked area is home to some seriously amazing hidden gems. One of these is Dutchman Run Falls.
Dutchman Run Falls is located north of Williamsport near Ralston, PA and shouldn't be confused with another Dutchman Falls along the Loyalsock Trail in Sullivan County.
While there are many hidden waterfalls in this portion of Loyalsock State Forest, including the waterfalls of Miners Run and Hound Run Falls, Dutchman Run Falls is more challenging to reach simply because it requires following a very overgrown trail in addition to making your way up a stream.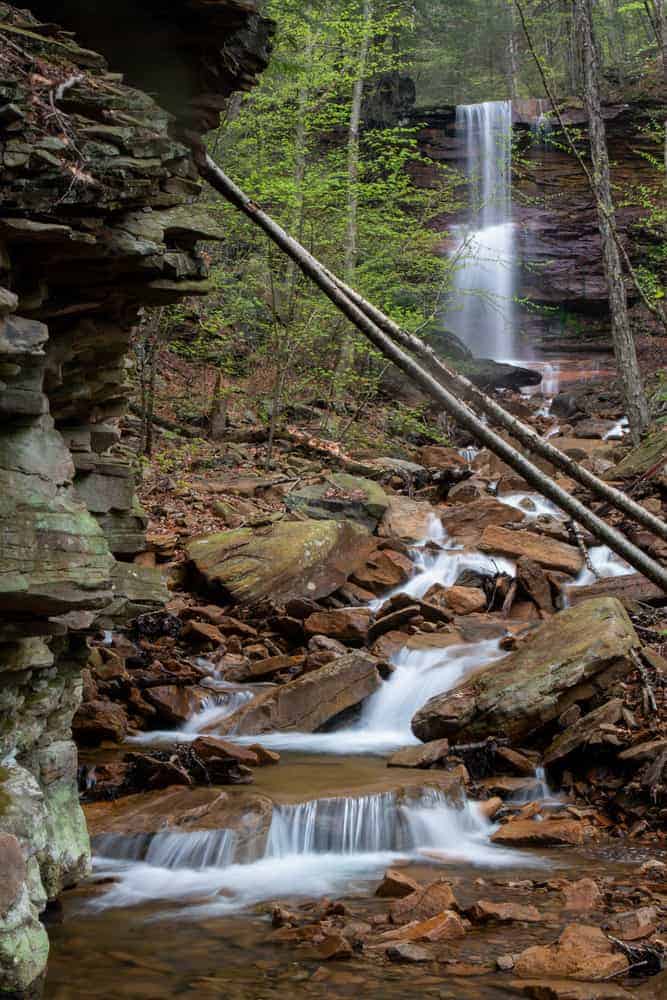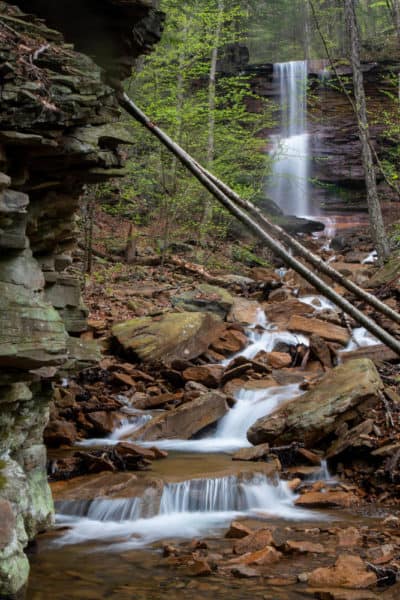 However, those that make this challenging hike are rewarded with the chance to see one of the tallest and most isolated waterfalls in the region.
The parking area for the hike to Dutchman Run Falls is located on your left immediately after crossing Lycoming Creek from Ralston, PA on Thompson Road.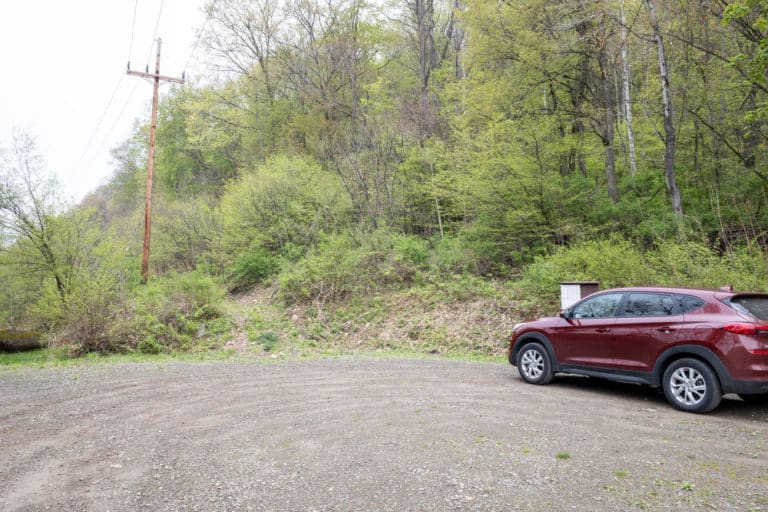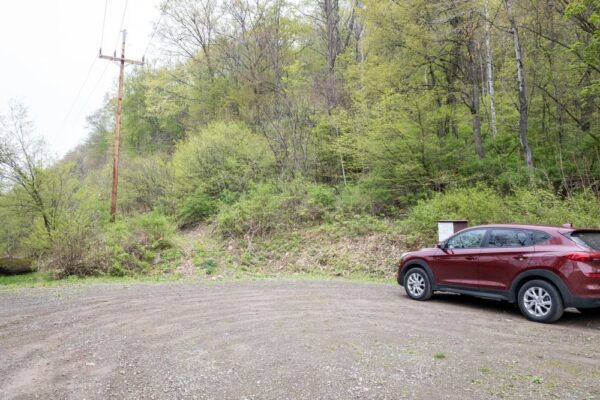 The parking area is large enough for several cars and can be found at the following coordinates: 41.507002, -76.951219.
From the parking area, follow the old grade to your left away from the road. This was once a railroad track that helped to bring coal out of the mountains and to market in the second half of the 19th century.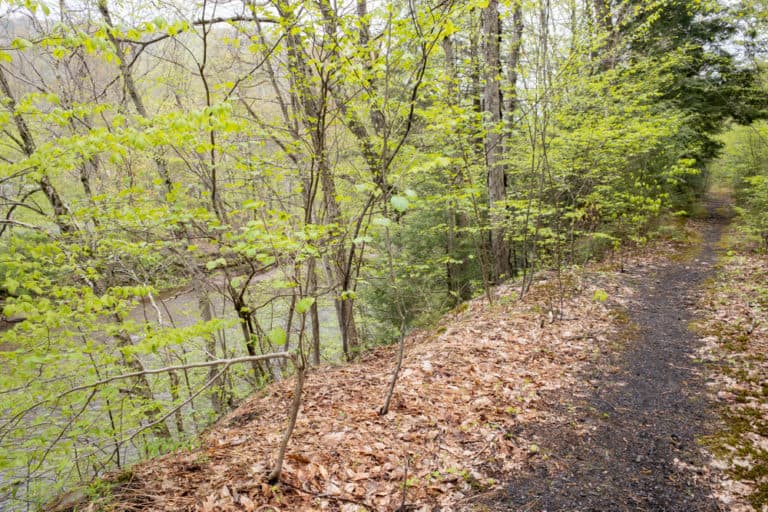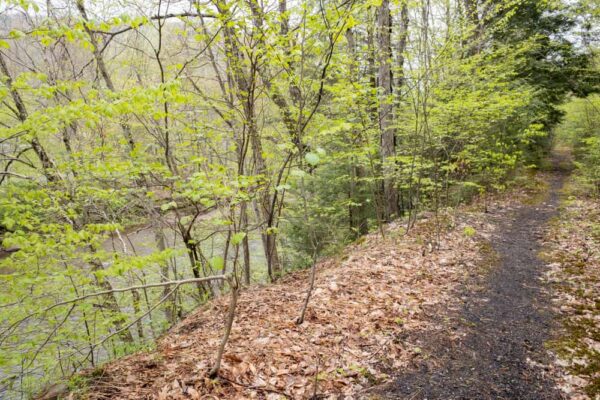 This operation was part of the McIntyre Coal Company and worked in conjunction with the Williamsport and Elmira Railroad. Interestingly, the McIntyre Coal Company was founded by Jervis Langdon, the father-in-law of author Mark Twain.
Along the trail, keep your eyes open for remnants of this industrial past as they can be frequently seen while hiking in the area.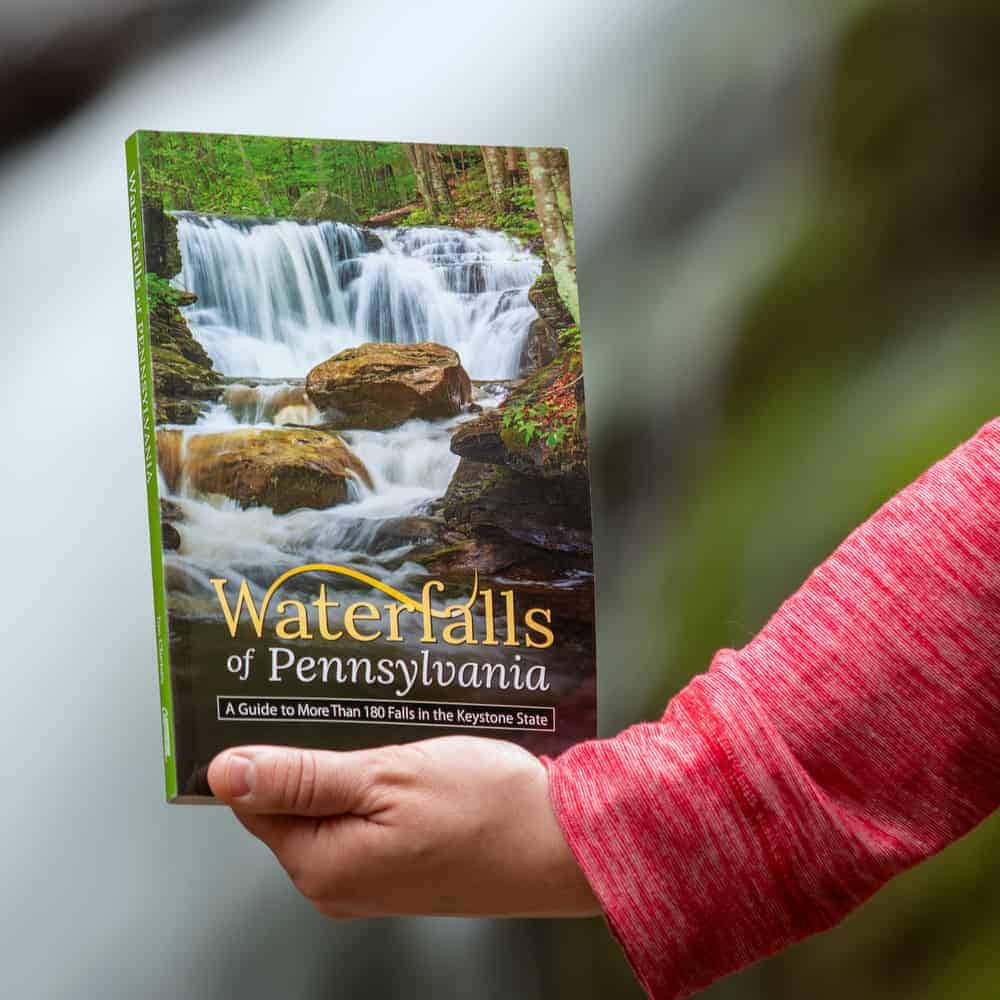 "Waterfalls of Pennsylvania" by Jim Cheney
If you love PA waterfalls, you won't want to miss this waterfall book from Jim Cheney, author of Uncovering PA, featuring more than 180 great waterfalls. Order it now on Bookshop.org or Amazon.
The old railroad bed starts out as a nice trail and passes along the banks of Lycoming Creek. After about 0.5 miles, power lines intersect the trail. The trail becomes very overgrown, so pick your way along the power lines as best you can.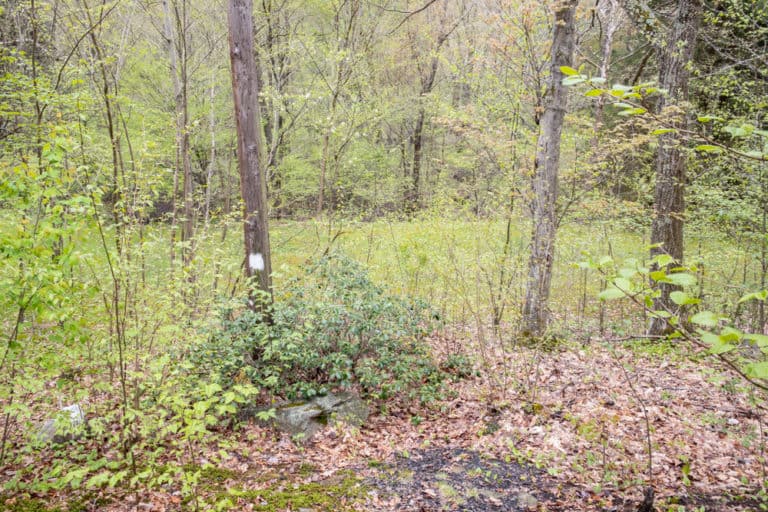 The trail then skirts the edge of the state forest coming within a few dozen yards of a home as it winds its way through the woods. It's very overgrown in this area, though it was fairly easy to follow the trail if you kept your eyes open.
Nevertheless, it would be easy to get turned around here, so I highly recommend having a GPS of some kind while hiking this trail.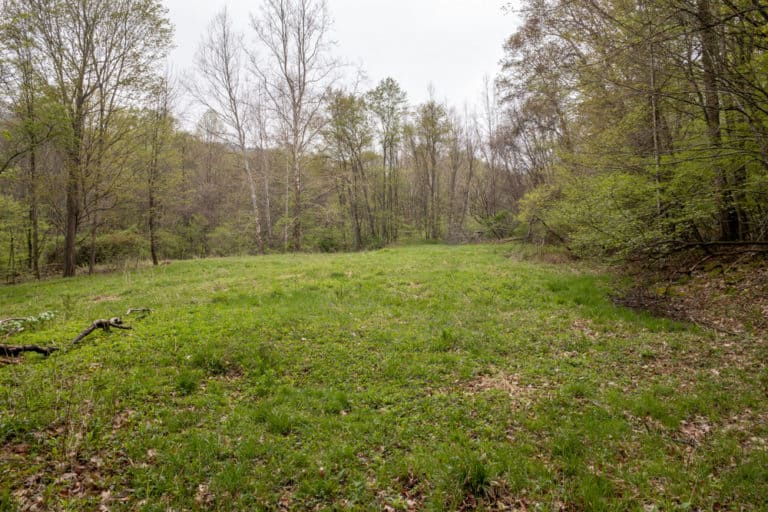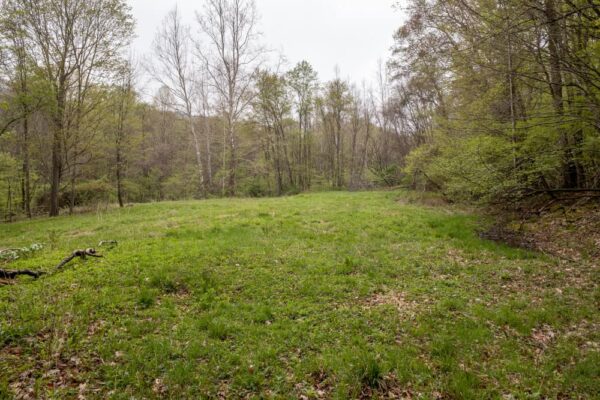 Approximately one mile into the hike, you'll come to a large clearing. Hike through the clearing and continue into the woods for a short distance.
You will notice the stone foundations of a building here, which are kind of interesting to check out. Given how many people lived and worked in these woods, it's amazing how well the area has been reclaimed by nature in the last 150 years.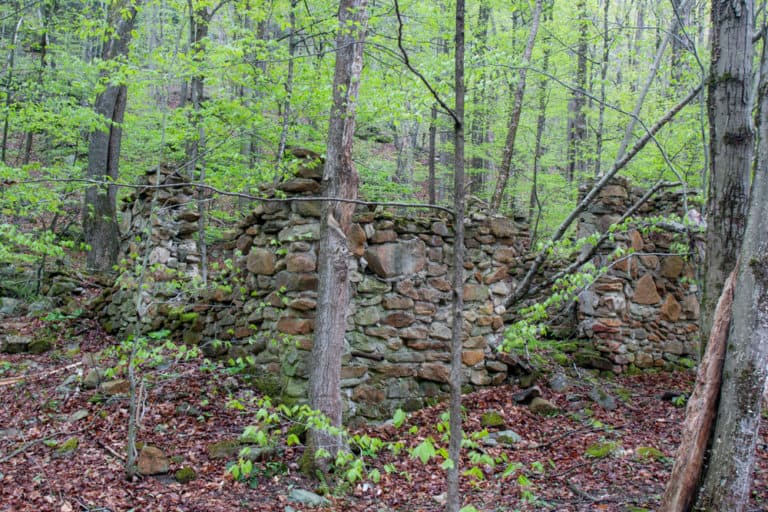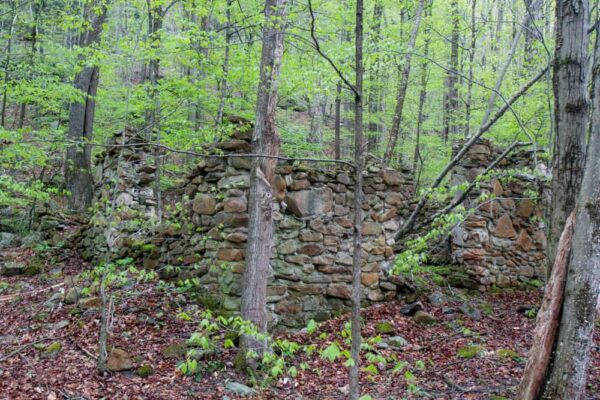 A short distance after passing through the clearing, you will come to Dutchman Run, the first stream on the hike. From here, turn right and pick your way as best you can upstream for about a quarter-mile to the base of Dutchman Falls.
This part of the hike isn't any more difficult than any of the rest of the hike you've completed so far, but use caution as the area around the stream can be slippery in places.
After about a quarter-mile of hiking up Dutchman Run, you'll come to Dutchman Run Falls. All told, the hike to the base of the waterfall is about 1.5 miles one-way.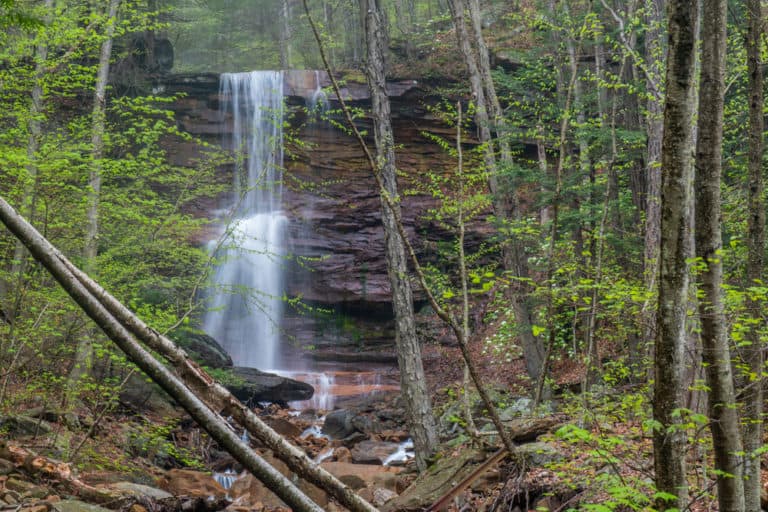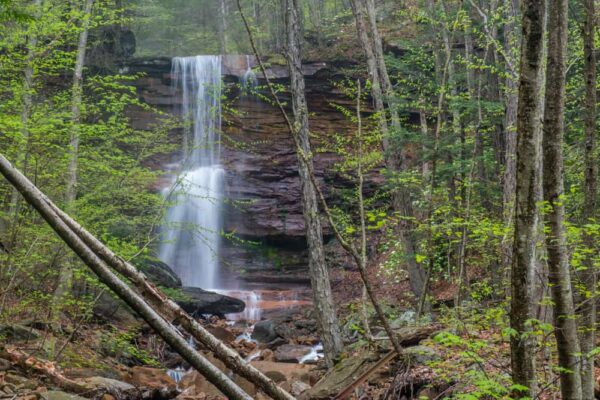 This waterfall is impressive and is one of the tallest in the area. My best guess is that it's about 25-30 feet in height, making it one of the tallest waterfalls in the McIntyre Wild Area.
Dutchman Run Falls can be found at the following coordinates: 41.525167, -76.948944.
It's worth noting that there are a few more waterfalls upstream of this main waterfall on Dutchman Run. However, due to an approaching storm, I was forced to turn around at the base of the main waterfall.
While I would have loved to have continued upstream to see the other waterfalls, it's always important to know your limits, especially when you are hiking so far off-trail.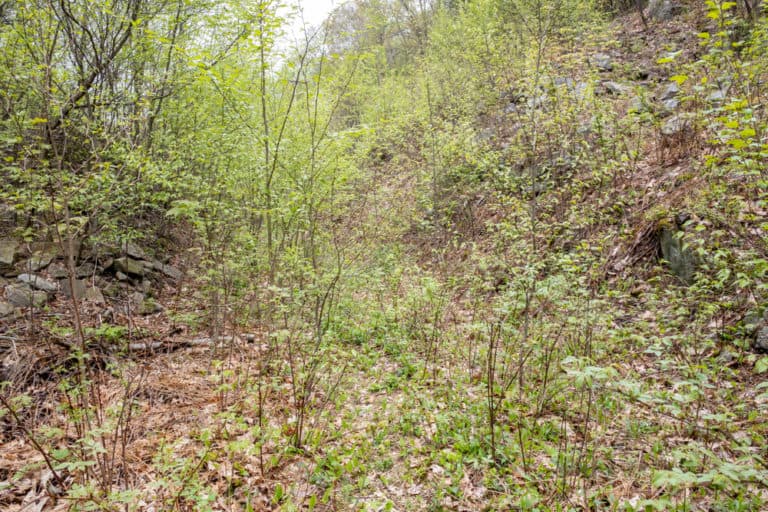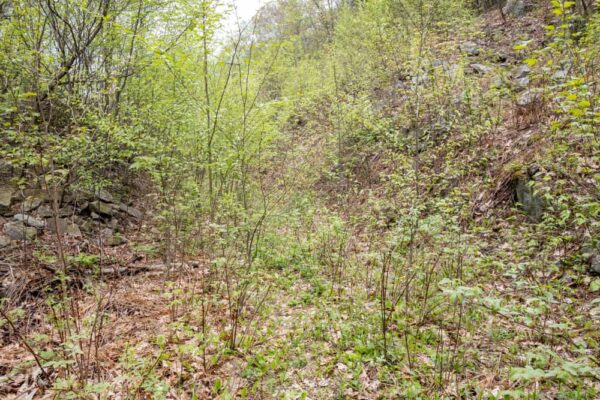 If you too are ready to head back, simply retrace your steps along the overgrown trail back to your car.
Without a doubt, Dutchman Run Falls is one of the hidden gems of the McIntyre Wild Area. If you are looking for an incredible waterfall to visit where you are unlikely to see anyone else, this is definitely a great spot to check out in northern Lycoming County.
Looking for more places to visit in Lycoming County? Check out the waterfalls of Rock Run, the covered bridges of Lycoming County, and Jacoby Falls.
[Click here for information on how to use coordinates to find your destination.]