Disclosure: This article may contain affiliate links. We will make a small commission from these links if you order something at no additional cost to you.
Despite its mountainous terrain, there are very few Allegheny National Forest waterfalls. In fact, I only know of four waterfalls of any size in this 500,000-acre expanse of land. I've previously written about Hector Falls, Pigeon Falls, and Bent Run Falls, and today, we'll talk about Logan Falls.
Logan Falls is located about 20 minutes outside of Marienville, the largest community in Forest County, Pennsylvania. Despite this being one of the most remote waterfalls in all of Pennsylvania, it's actually fairly easy to find if you know where to look.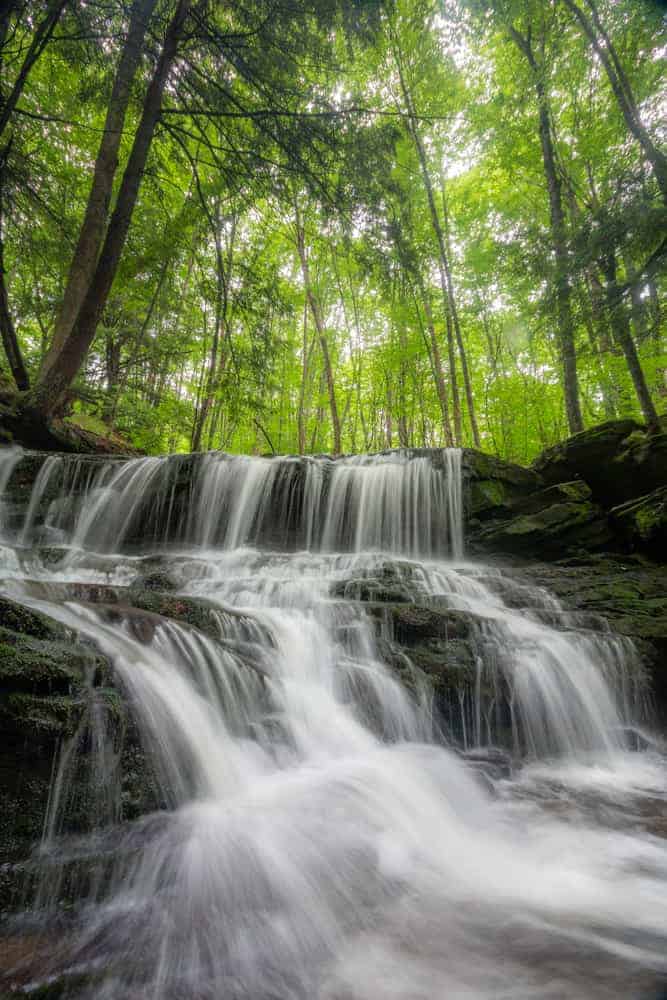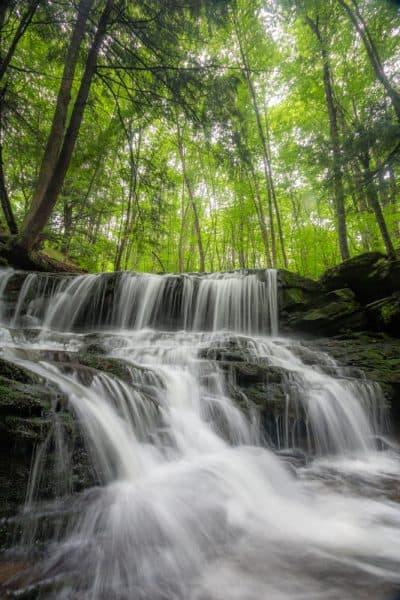 A 10-mile drive northwest of Marienville, the last third of which is on fairly well-maintained dirt roads, will bring you to the small parking area for Logan Falls. This parking area can be found along Coal Bed Run Road at the following coordinates: 41.584621, -79.159588.
The roads to the parking area were a bit rutted in places, but I was able to drive a standard car to the parking lot without any issues in June 2018. Just make sure to drive carefully so you can avoid potholes, and almost any type of vehicle should be able to make the trip to this waterfall in the Allegheny National Forest.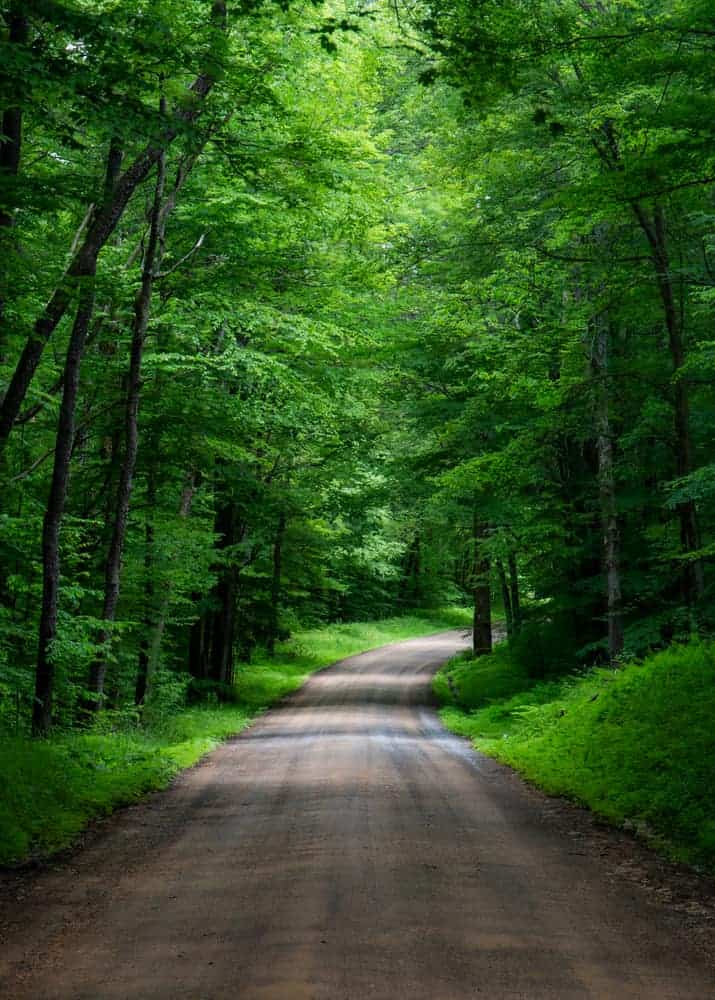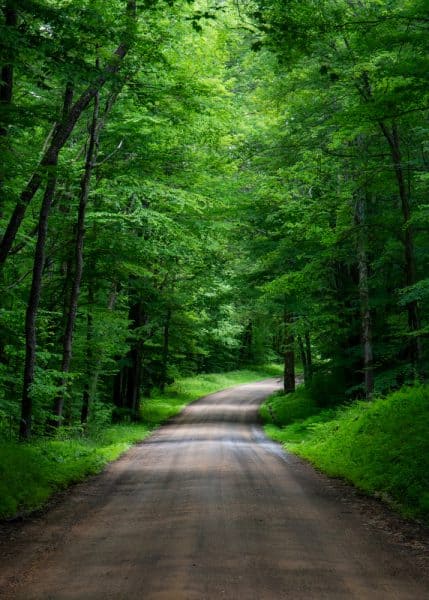 From the parking area, an unmarked, but obvious trail leads down to Logan Falls. This trail is a third of a mile long, and while it's not blazed at all, it's very easy to follow, though somewhat overgrown in places.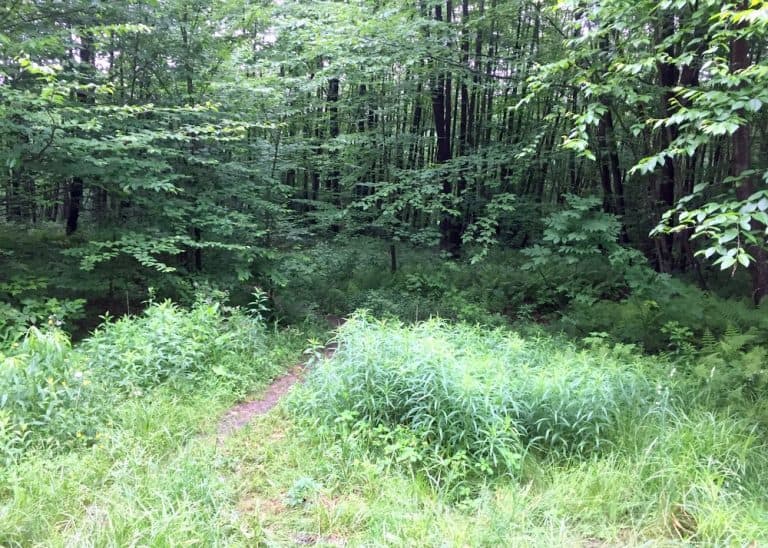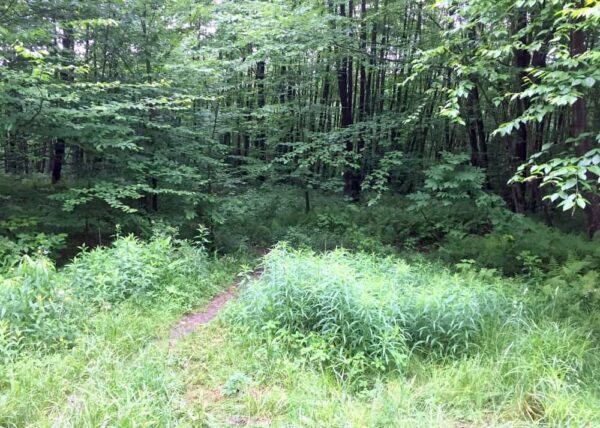 The trail is relatively easy but does lose about 200 feet in elevation on the way to the waterfall, so it's a bit more difficult on that way out. Along the way, the trail passes some massive boulders that are covered with moss. If you visit during the summer months like I did, this area of the forest is almost impossibly green.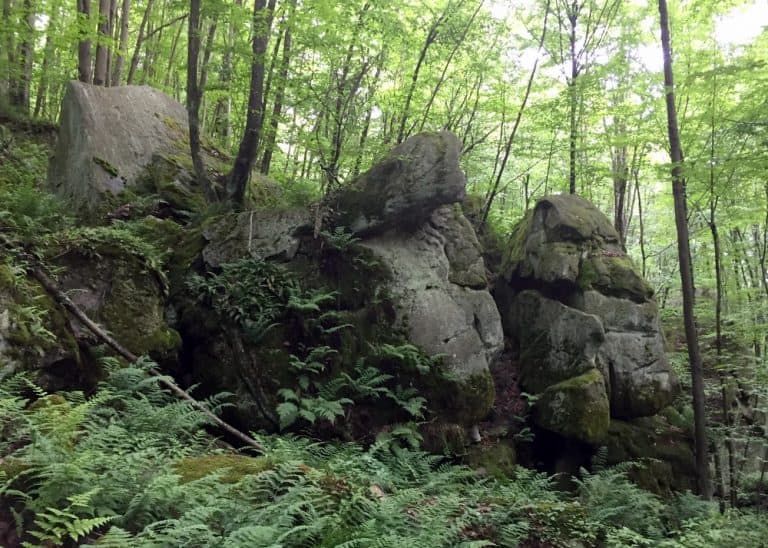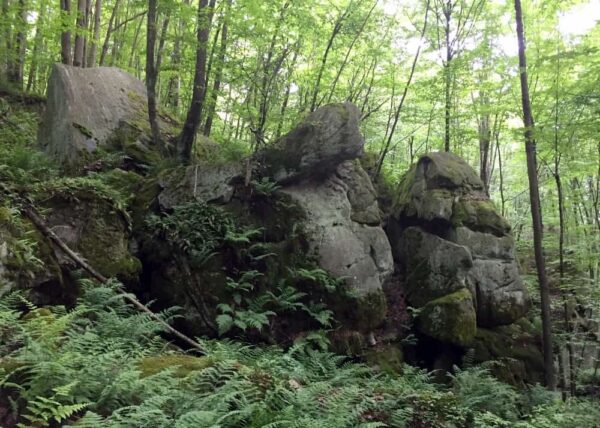 Logan Falls is a roughly 12-foot waterfall in Allegheny National Forest along Logan Run. While not tall, the setting deep in the woods and the shape of the falls make it a very beautiful spot to visit. It can be found at the following coordinates: 41.588400, -79.158317.
While the trail seemed to continue downstream from Logan Falls, I didn't take it as a quick look a topographic map told me that there was unlikely to be any more waterfalls downstream. However, I'm sure the creek is beautiful in its last mile before it reaches Tionesta Creek.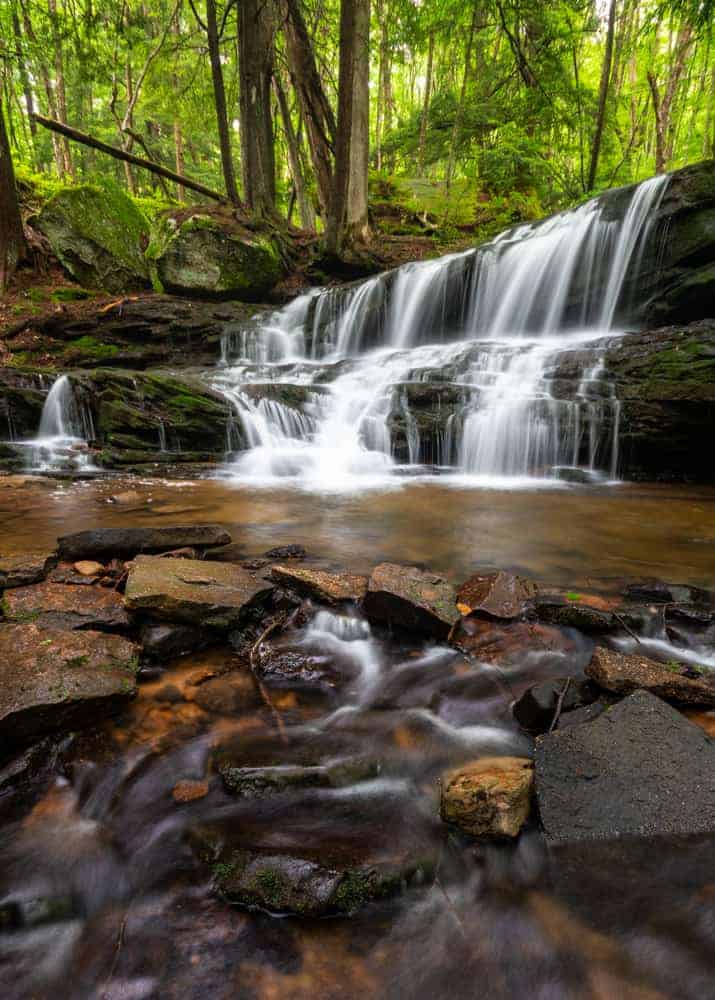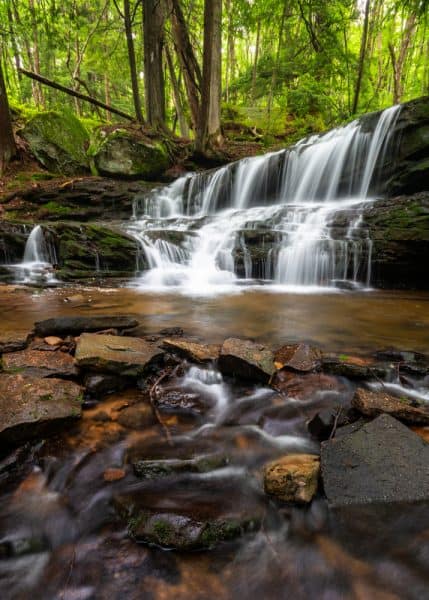 Despite Logan Falls being time-consuming to reach and not very tall, it's an incredibly beautiful spot in the Allegheny National Forest. This Pennsylvania waterfall is definitely one you won't regret visiting.
Notes About Visiting Logan Falls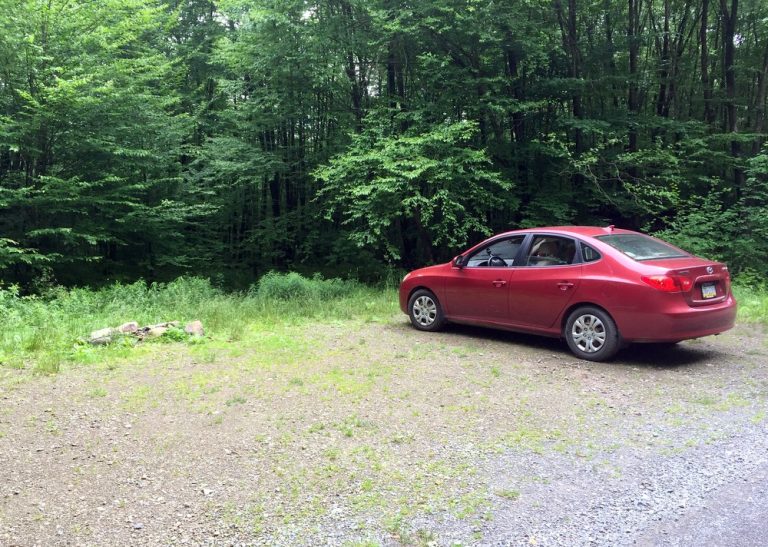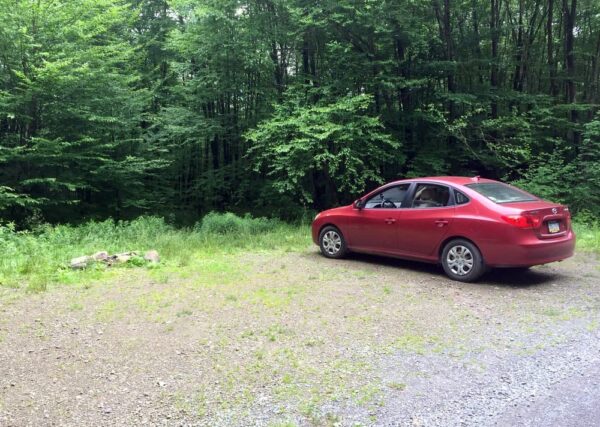 Logan Falls is easiest to reach from Marienville, but can also be reached from Route 666 to the north. However, I've only ever accessed it via North Forest Road to Coal Bed Run Road, so that's the only way I can vouch as being doable in a standard car without four-wheel drive.
As always, conditions can change and use your best judgment as to the safety of reaching Logan Falls as this area is very isolated.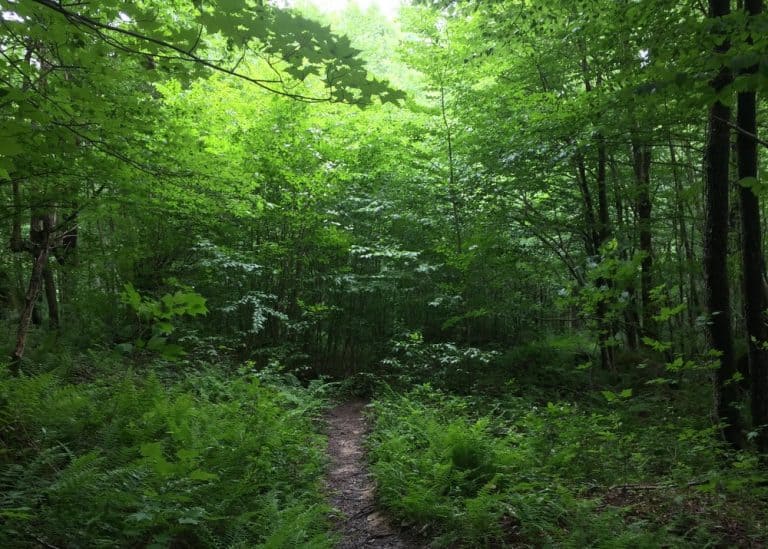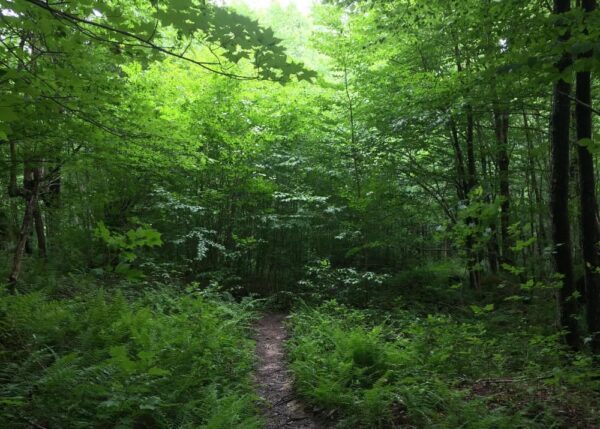 Looking to explore more in the area? Check out Sherman Memorial Lighthouse, Cook Forest State Park, and the best of Route 6.
[Click here for information on how to use the coordinates in this article to find your destination.]
See map below for other area attractions.