Disclosure: This article may contain affiliate links. We will make a small commission from these links if you order something at no additional cost to you.
Without a doubt, Potter County is one of the most isolated parts of Pennsylvania. However, there are also a ton of fun spots to check out here, especially if you enjoy the outdoors.
Unfortunately, this isolated setting can make it difficult to find somewhere to spend the night. However, the county is home to several state parks with campgrounds, including Ole Bull State Park.
I recently decided to go camping at Ole Bull State Park when I was in the area to go hiking and enjoy the beautiful nighttime sky. The campground at Ole Bull State Park made a perfect base of operations for my stay.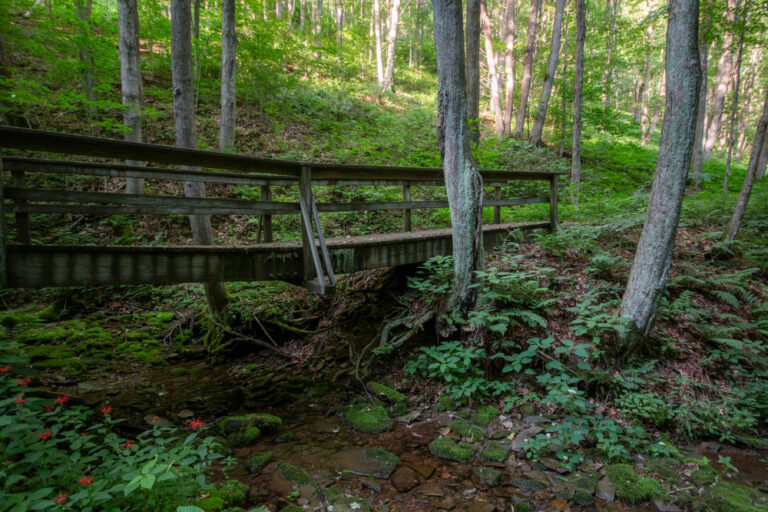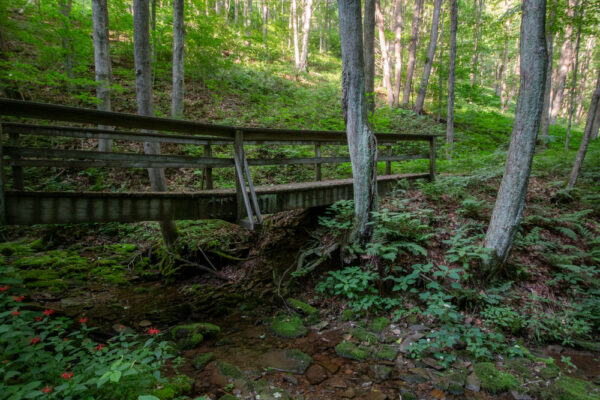 Ole Bull State Park is located in southern Potter County near Cross Fork, PA. The land was originally purchased as a Norwegian colony by renowned violinist, Ole Borneman Bull in the mid-19th century. However, the colony failed and very little of it can be found today.
The park is bisected by Kettle Creek with one part of the campground on each side of the waterway. There is also a small beach and several miles of great hiking trails in Ole Bull State Park.
In total, there are 77 campsites at Ole Bull State Park between the two sides of the campground. 54 of these sites provide electric hookups for RVs, making this a great campground for RVers. While tents are allowed in these spots, you do pay more for these sites, so I'd recommend booking one of the 23 non-electric sites if you are just bringing a tent.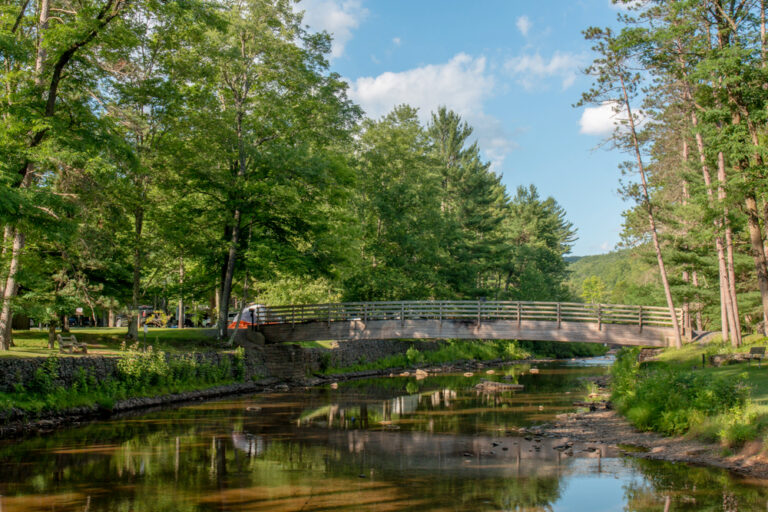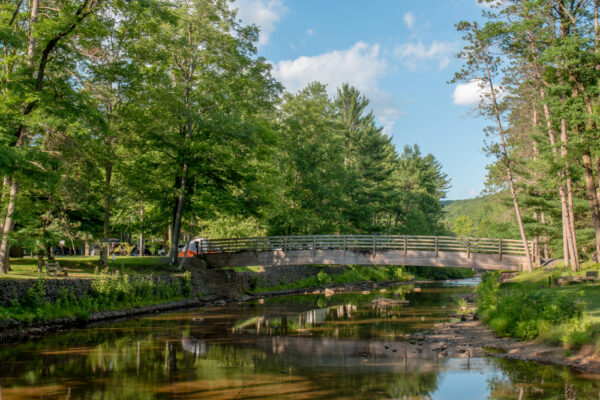 Each campground area has its own character and benefits, so which side you want to stay on is up to your personal preference.
The lower number spaces (1-30) are located on the same side of Kettle Creek as the park office. These spaces are fairly wooded and all of them allow pets. From this area, there is direct access to the Beaver Haven Nature Trail. There is also a bathhouse and a playground for kids.
The opposite side of Kettle Creek features a slightly larger camping area and is where I stayed when I visited. These are spaces numbers 33-81.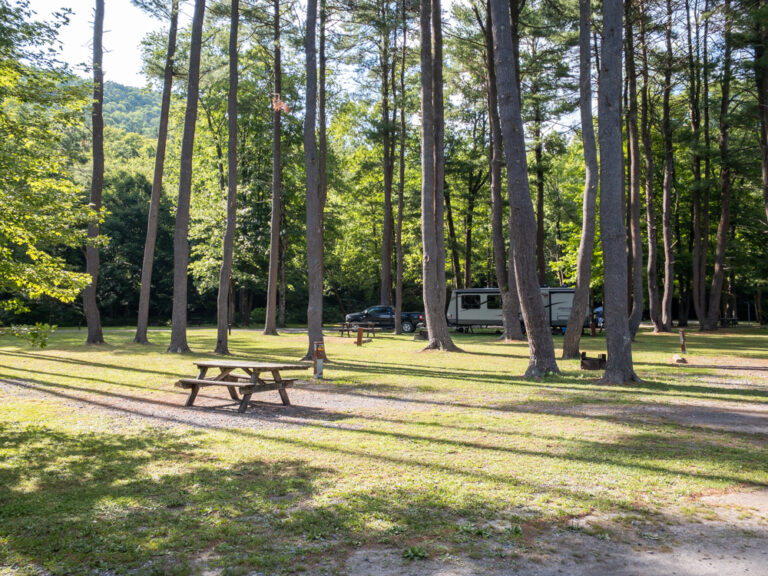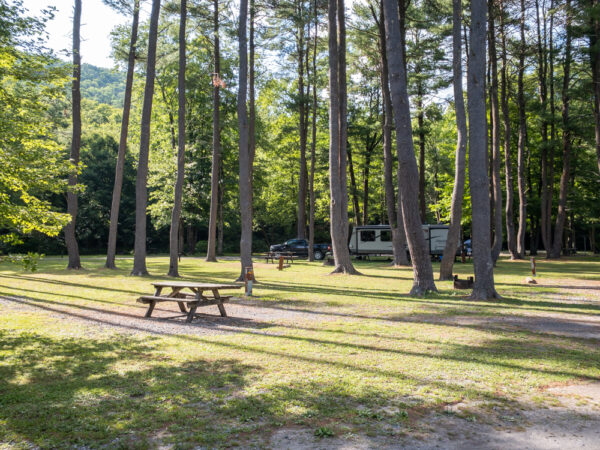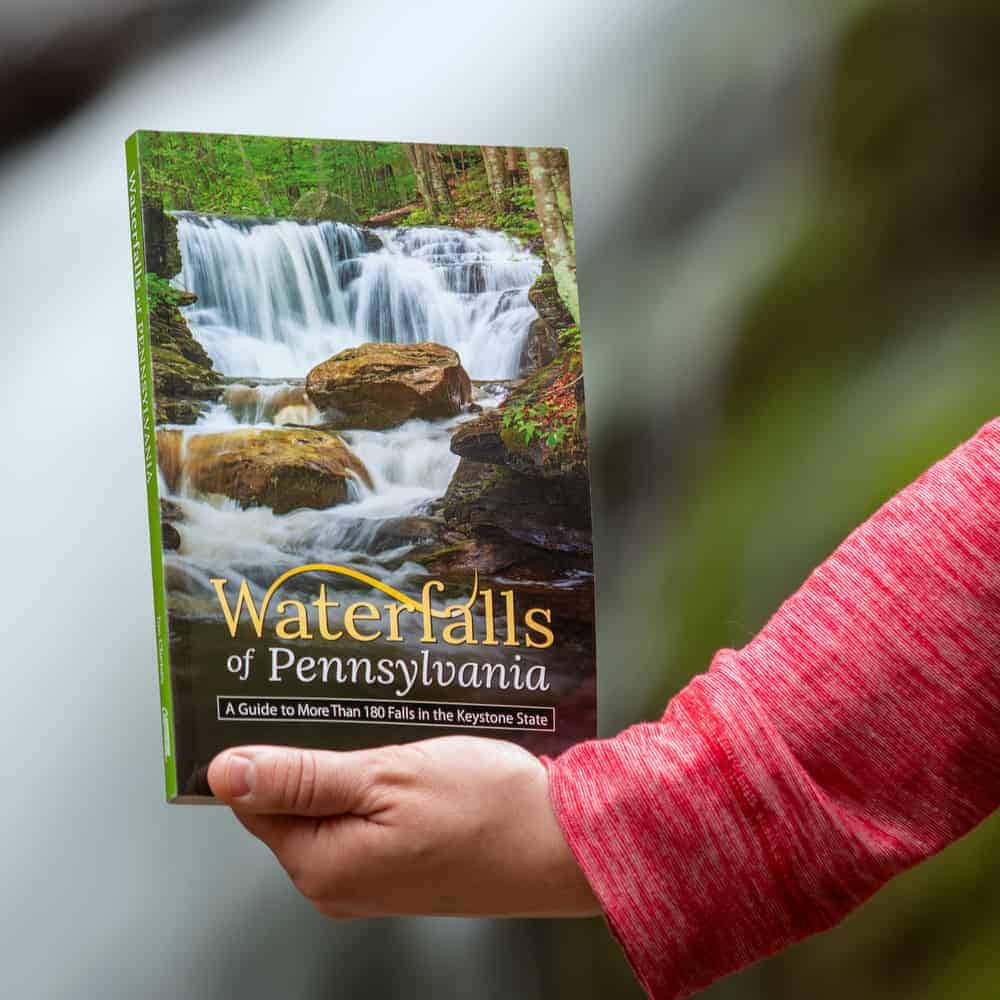 "Waterfalls of Pennsylvania" by Jim Cheney
If you love PA waterfalls, you won't want to miss this waterfall book from Jim Cheney, author of Uncovering PA, featuring more than 180 great waterfalls. Order it now on Bookshop.org or Amazon.
The spots here aren't quite as shaded, but many spots do have some shade. This side also has a bathhouse and a playground but does not allow pets. There is also closer access to the park's more difficult trails such as the Castle Vista Trail and the Daugherty Loop Trail.
It is also here where you'll find the park's beach along Kettle Creek. Some of the spots here are actually within a few steps of the beach (which may be a plus or a minus depending on your preferences). Some spots on this side also provide more direct access to the fishing areas of Kettle Creek, a popular spot for trout fishing.
This close proximity to the creek does mean that some of the spots can be a bit soggy when it's wet. If you are concerned about this, book a spot a row or two away from the creek.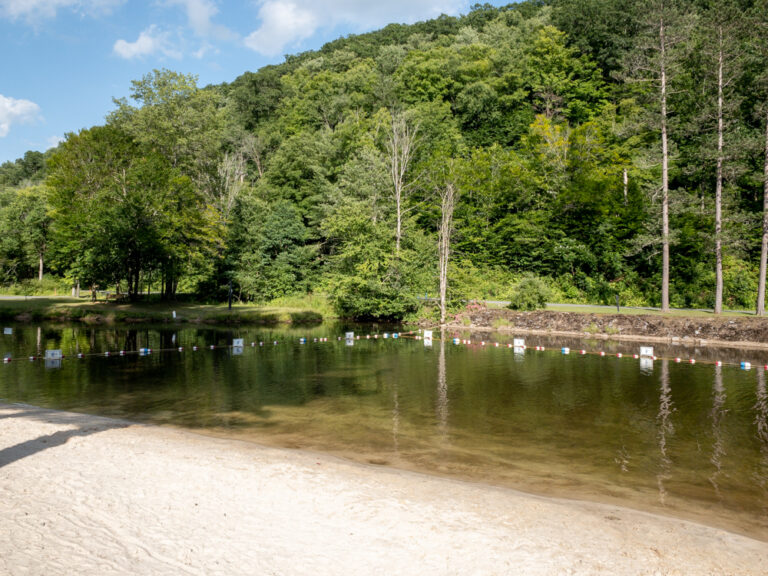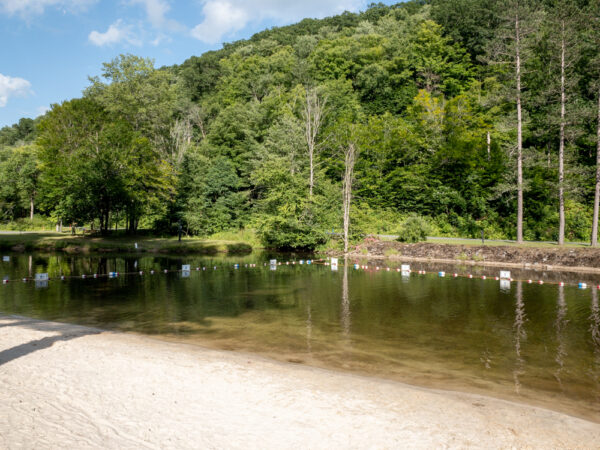 Overall, the campground here is very clean, and I found the provided picnic tables and fire rings to be in good shape at the spots I checked out. The bathrooms are also in good shape and feature hot showers, unlike some other nearby state park campgrounds.
Another great highlight of Ole Bull State Park is the nighttime sky. If you are lucky enough to visit on a moonless night, you can see thousands upon thousands of stars. You can see even the Milky Way with your naked eyes. This is definitely a fantastic spot to go stargazing.
That being said, while this is a great area to see the nighttime sky, it isn't quite as good as stargazing at Cherry Springs State Park, which is located a 20-minute drive from the park. While that park also features a campground, it fills up quickly and doesn't have showers or any hiking trails, so Ole Bull State Park is a great alternative place to pitch a tent or park your RV if you have come to see the stars.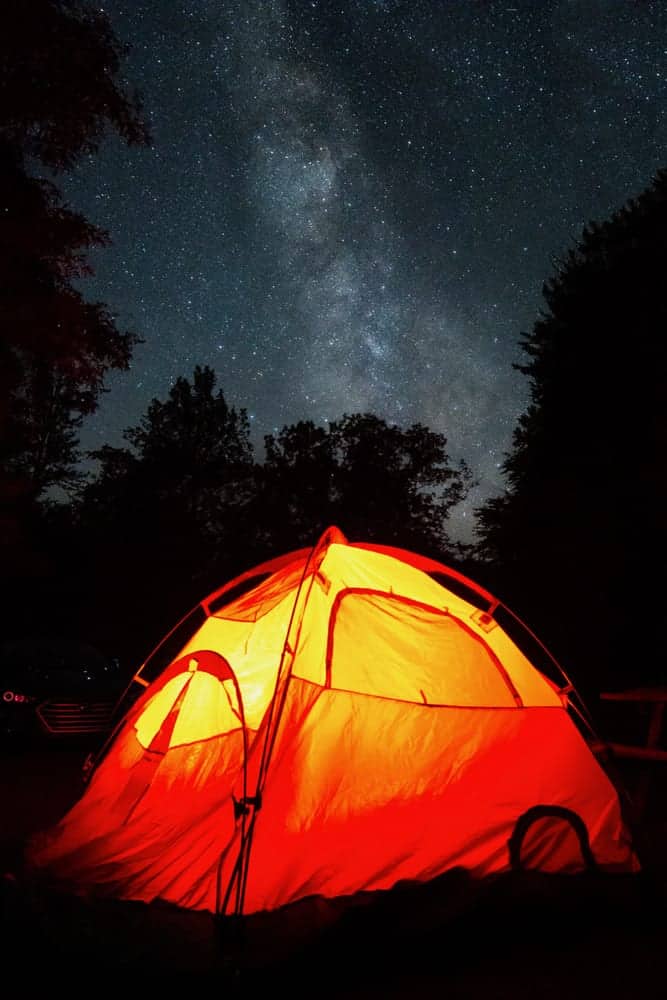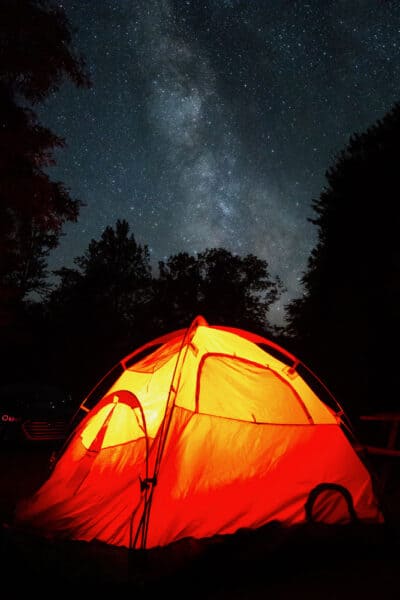 Another note about the stars. An advantage of booking one of the spots on the far side of Kettle Creek is that the lack of trees in some of the spaces makes it possible to stargaze from your campsite or within a few steps of your tent/RV. If seeing the nighttime sky is a priority for you, this makes a good reason to book one of the campsites between #72-79.
If I had one negative aspect to camping at Ole Bull State Park it's that the campsites are a bit too close together, even compared to some of the other state parks I've camped at. While this isn't the busiest campground, it can fill up on popular weekends, and you won't have that much separation from your neighbors.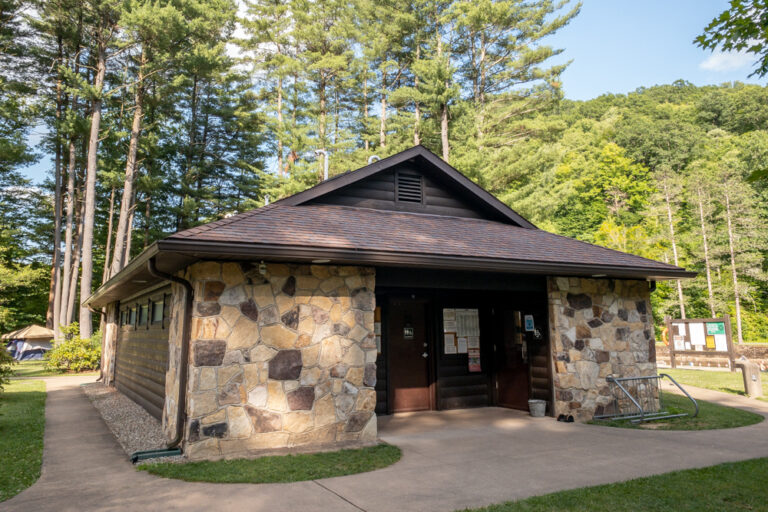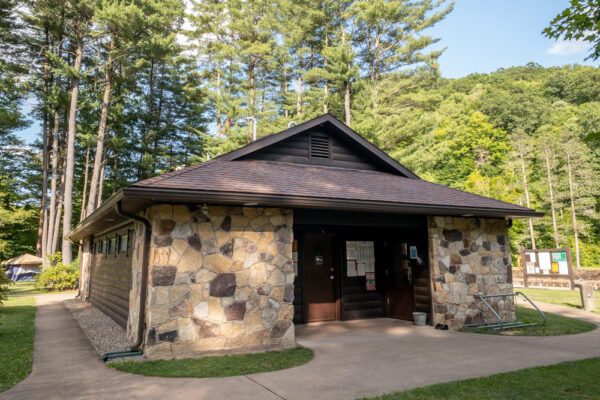 Despite this, Ole Bull State Park is a great spot to go camping if you are exploring the beauty of Potter County and the Pennsylvania Wilds or simply want to get away from it all for a bit.
Reservations for camping can be made up to 11 months in advance online. However, except for weekends or times around holidays, there are often plenty of spots available for last-minute bookings, either online, over the phone, or even by simply showing at the park (It's a good idea to check online to make sure there are plenty of spots available before just showing up at the campground, just in case).
Or, if you'd rather stay somewhere else, there are a few nearby options on Airbnb. You can also find a small number of hotels and bed and breakfasts on Booking.com.
Looking for more things to do nearby? Check out the ruins of Austin Dam, the Coudersport Ice Mine, and Hyner View State Park.