Disclosure: This article may contain affiliate links. We will make a small commission from these links if you order something at no additional cost to you.
Just half a mile from the Ohio border, Quake Falls, also known as Quakertown Falls, might be the westernmost waterfall in Pennsylvania.
Located along Falling Spring Run, this area used to be known to a small community as Quakertown, since several of the first residents were Quakers. I've heard that there are a few ruins and gravestones in the surrounding woods but didn't come across anything myself.
While Quaker Falls is located less than 100 yards from the road, its location in a deep, forested gorge makes it impossible to see. In fact, I'm sure nearly every driver along that road passes by oblivious to the beauty that exists mere yards from their car.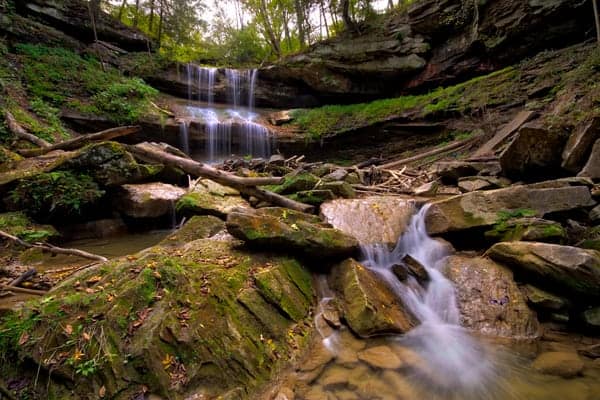 The waterfall itself is roughly 40 feet tall and falls in two drops, thanks to a large shelf in the middle of the drop.
Other than possibly Buttermilk Falls in Indiana County, I can't think of any other waterfall in Pennsylvania that looks anything like Quaker Falls. The waterfall also had a very green plunge pool beneath it. I have no idea if this is a natural coloration to the water from plants or the result of industrial runoff, but it added another unique and beautiful touch to the falls.
While it is located close to the road, getting down and back up from Quaker Falls is a bit tricky. There are several narrow trails down the hillside, but none of them are especially easy. However, if you can negotiate the somewhat difficult hike and climbing over some of the fallen trees at the waterfall's base, this one is well worth the trouble to see.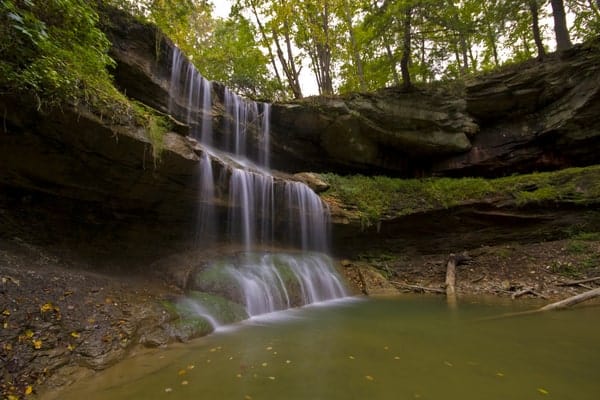 After checking out the waterfall, I decided to venture downstream to see if there was anything else worth seeing.
Movement was challenging at times, thanks to debris along the creek, but I followed the creek for several hundred yards. In the end, I didn't see anything of note, though it was a very beautiful hike and well worth the effort simply to see the beauty of the area.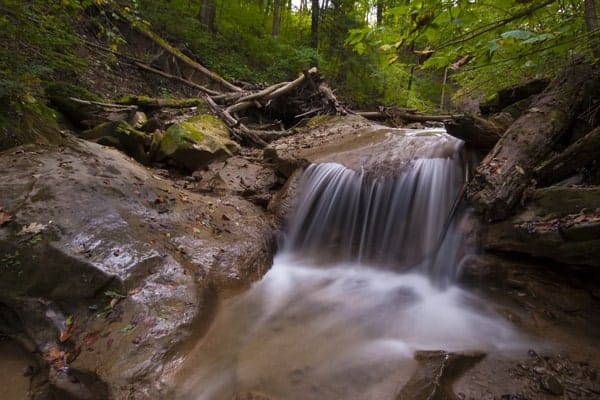 How to Get to Quaker Falls
For several years, Quaker Falls was closed to the public. However, as of October 2021, the waterfall is once again open and is the focal point of the newest park in Lawrence County, PA.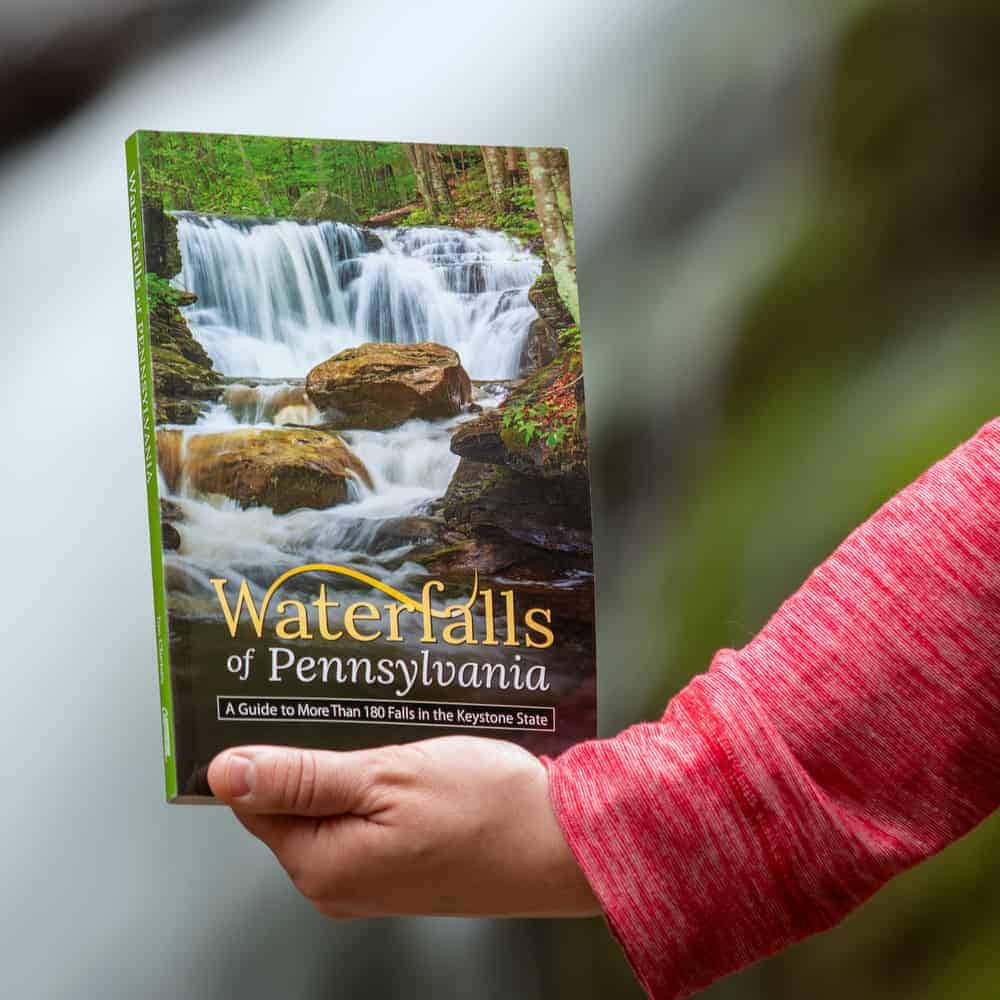 "Waterfalls of Pennsylvania" by Jim Cheney
If you love PA waterfalls, you won't want to miss this waterfall book from Jim Cheney, author of Uncovering PA, featuring more than 180 great waterfalls. Order it now on Bookshop.org or Amazon.
A parking area for the waterfall can be found at roughly these coordinates: 41.021520, -80.510349.
There is a nice view of the waterfall from the parking lot, or you can hike down the unimproved trails to the base of the waterfall. Once I have a chance to visit this new park, I'll update this article with more information.
If you're looking for other nearby waterfalls, consider Big Run Falls, Hells Hollow Falls, Springfield Falls, and Buttermilk Falls, which are all just a short drive away.