Disclosure: This article may contain affiliate links. We will make a small commission from these links if you order something at no additional cost to you.
When I'm traveling with my family, I'm always on the lookout for fun and easy things to do with my kids. It was this reason that led us to the Li'l-Le-Hi Trout Nursery in Allentown.
The Li'l-Le-Hi Trout Nursery is located south of downtown Allentown on the edge of the Lehigh Parkway and just down the road from the Museum of Indian Culture (which is a great spot to visit before or after checking out the nursery).
This is actually one of the oldest continually-operated trout nurseries in the country, having been open along the banks of the Little Lehigh Creek since 1883. In the past, this nursery was even larger in size and has been operated by both the state and private individuals.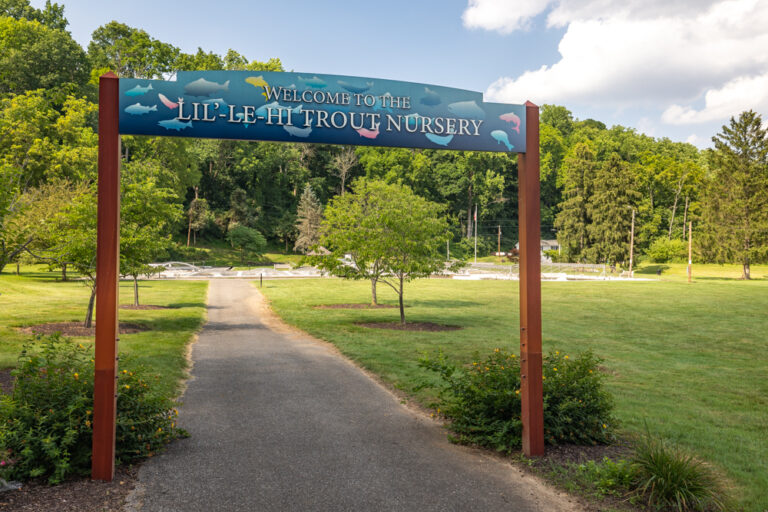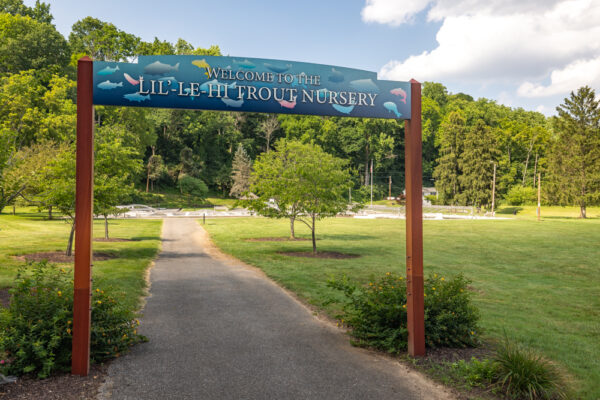 Today it is run by several local organizations with support from the state and is committed to helping support fishing in the Lehigh Valley.
Currently, the Li'l-Le-Hi Trout Nursery features 15 large tanks to house thousands of fish that range in size from fingerling trout to a selection of trophy trout that are on display for visitors to enjoy.
The nursery's location in a beautiful park makes it a great place to walk around and feed the fish. Even better, it is totally free to visit the nursery.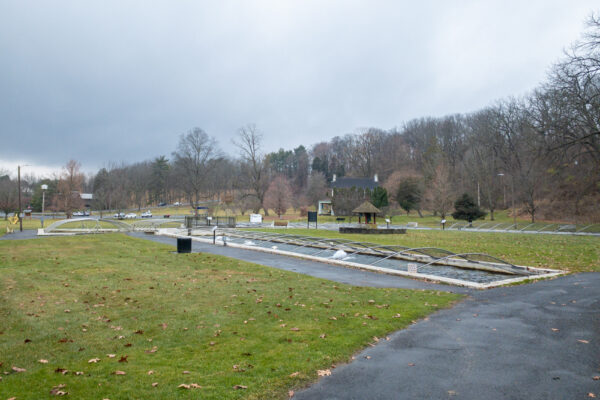 Over the years, I've stopped by the nursery on several different occasions simply because it's an easy-to-reach spot and it's a nice little place to stroll around on a beautiful day.
The Li'l-Le-Hi Trout Nursery tanks sit a little less than 100 yards from the parking area with a flat paved path leading up to them, so there should be no accessibility issues here unless you can't walk that far.
The tanks here are all below ground level, which makes them easy to see into for the most part, but it does mean that you have to watch younger kids closely so they don't fall into the tank or the netting.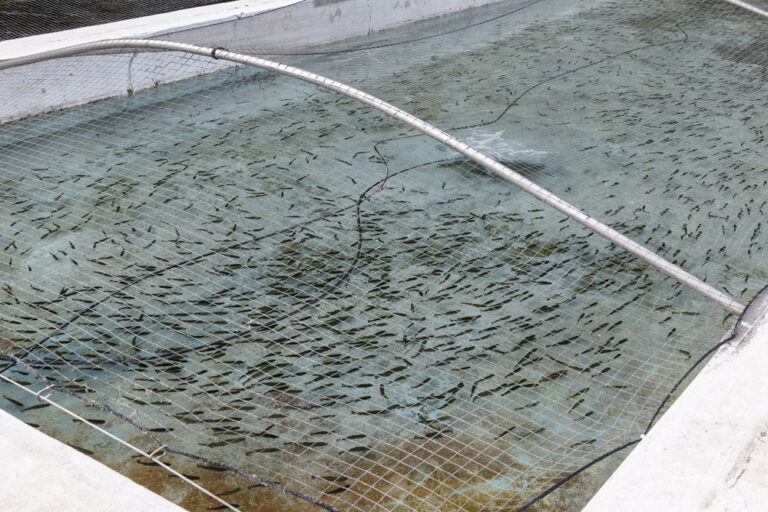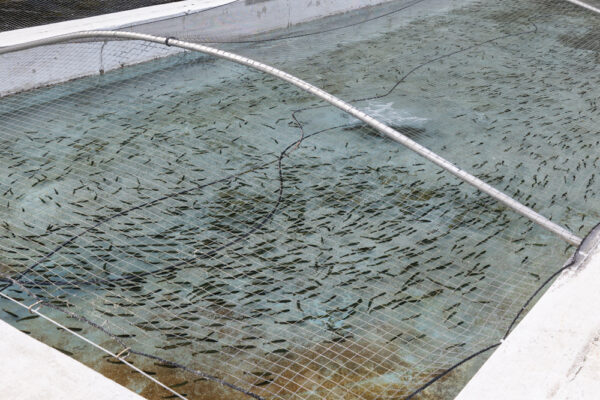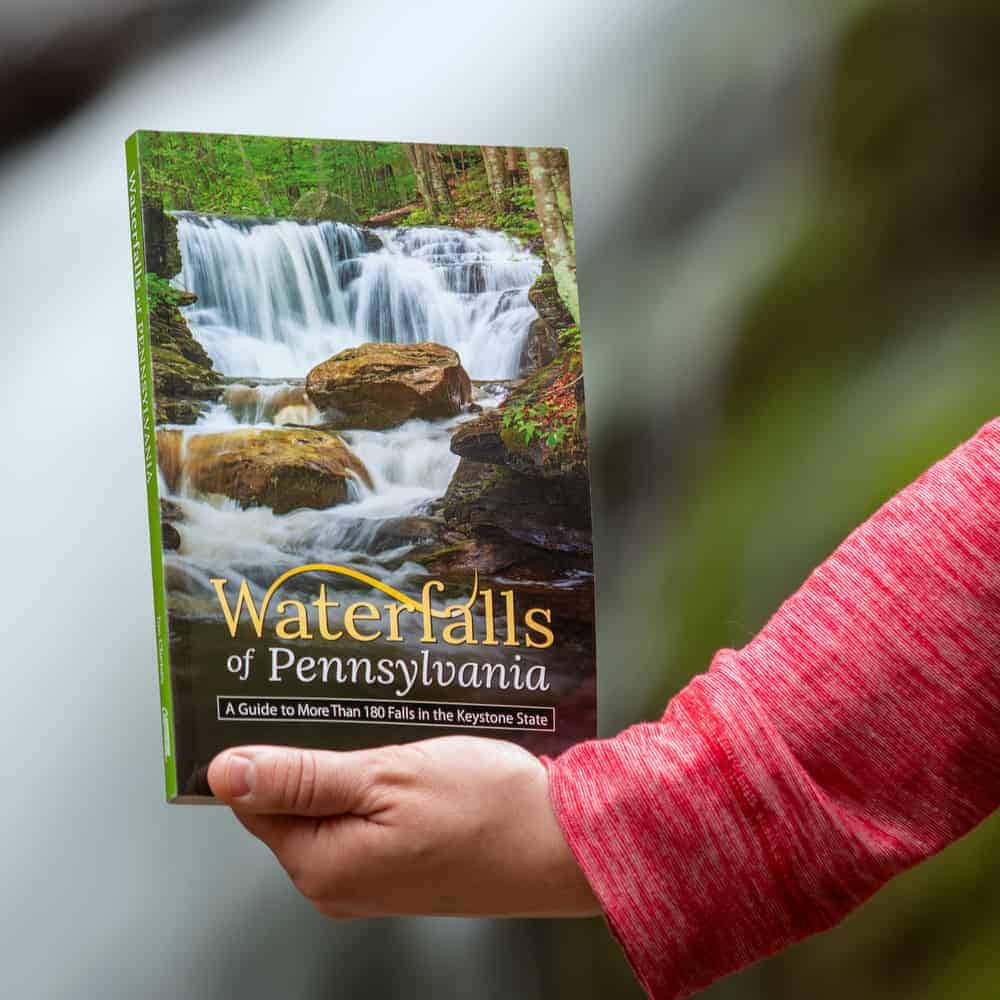 "Waterfalls of Pennsylvania" by Jim Cheney
If you love PA waterfalls, you won't want to miss this waterfall book from Jim Cheney, author of Uncovering PA, featuring more than 180 great waterfalls. Order it now on Bookshop.org or Amazon.
Speaking of netting, all of the tanks are covered in it to keep birds from eating too many fish. While this makes it a bit harder to see the fish, it's definitely worth that trade-off to make sure the fish here can grow to a releasable size.
Around the area, there is signage that tells about the history of the Li'l-Le-Hi Trout Nursery, how trout are raised, and the differences between the varieties grown at the nursery. This signage definitely makes the site more interesting and really helped me to appreciate this spot.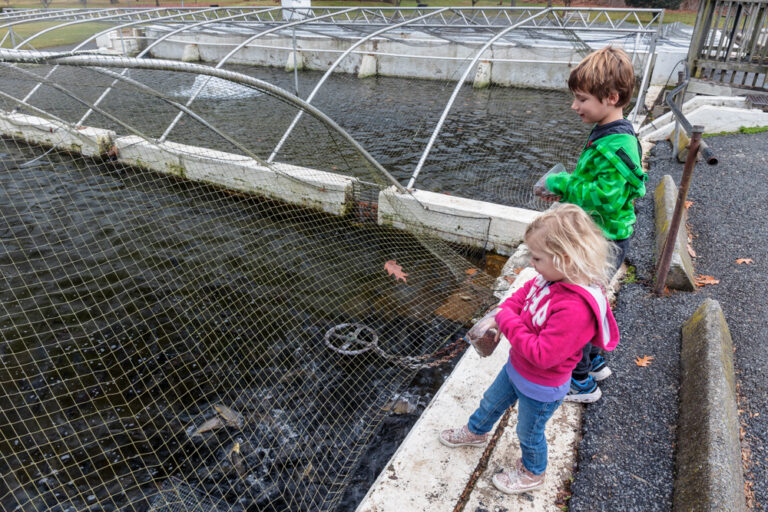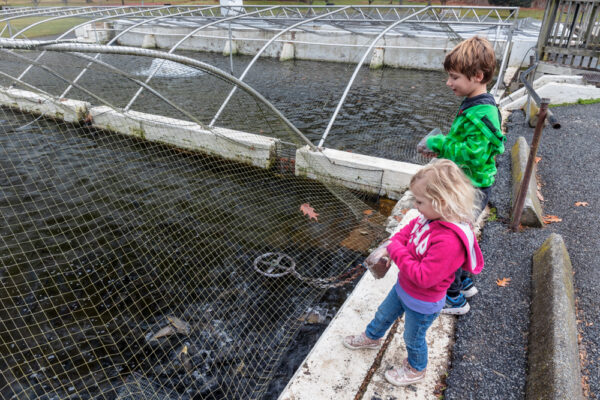 If you want to feed the fish, there is a fish food vending machine near the building at the back of the nursery near the creek. A nice size bag of food only costs a dollar, so it won't break the bank if you want to feed the fish. (Note that the food is obtained from a vending machine that only accepts coins and dollar bills.)
What's great is that the fish have come to expect food from visitors, so even if you don't have any, there's a good chance that the fish will swim near you as you approach. Just make sure to note the signs on the tanks that tell you which fish aren't supposed to be fed food.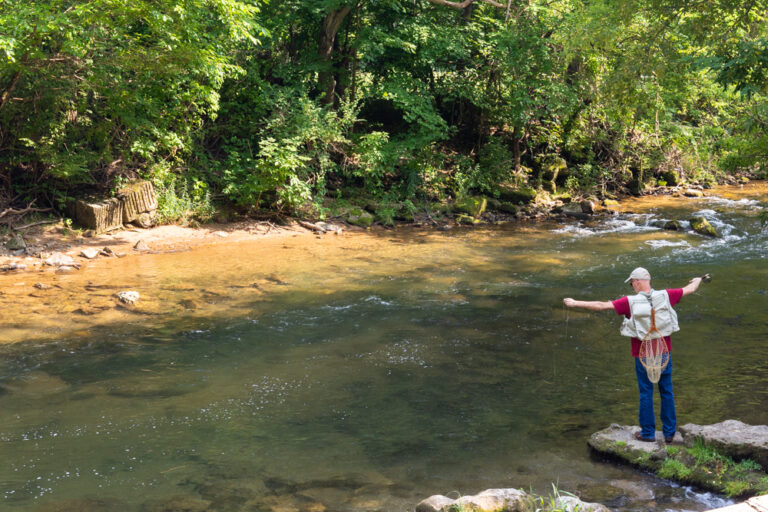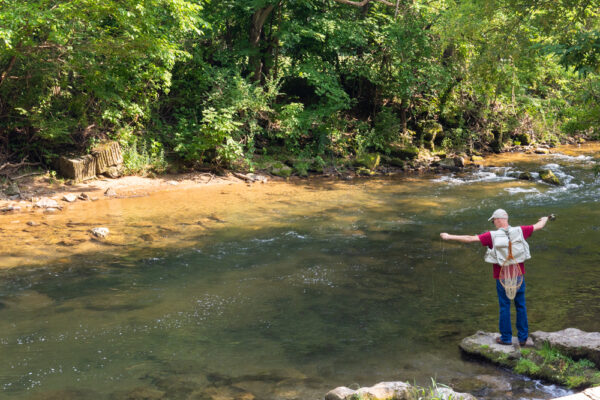 In addition to the nursery, it's fun to take a few minutes to check out the banks of the Little Lehigh Creek. If you are visiting on a nice day during the season, you are likely to see people fishing here.
This spot is popular for flyfishing and it is said that this creek has more trout per mile than any other waterway in the state. That makes it a great spot to throw in a line when visiting the area.
It's worth noting if you do decide to fish here, that the section of the creek by the nursery is designated flyfishing only and only for catch and release. And, rather obviously, there are signs indicating that fishing in the nursery's tanks isn't allowed.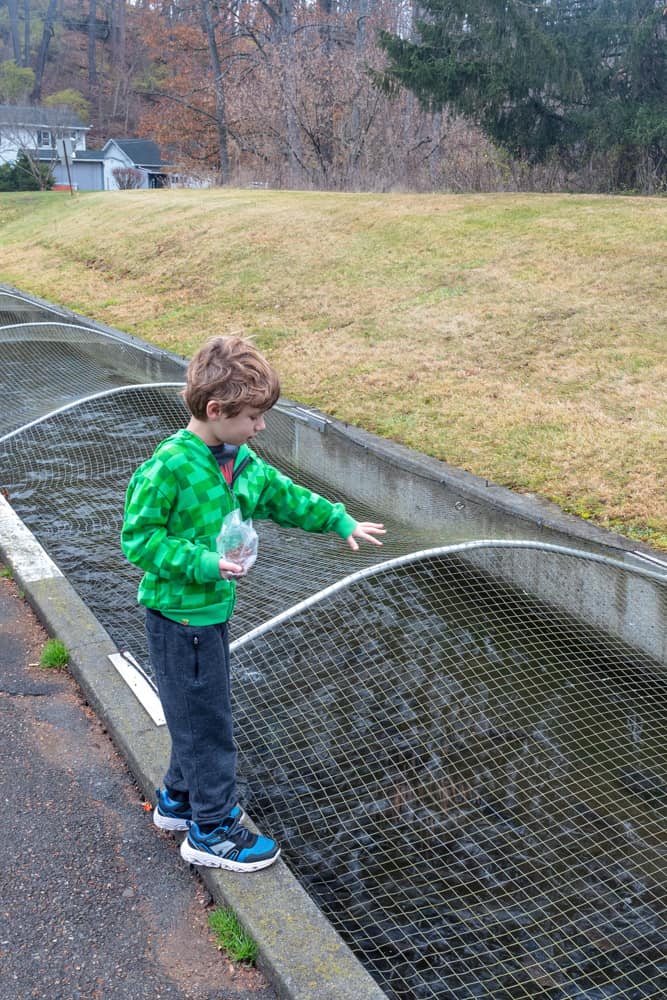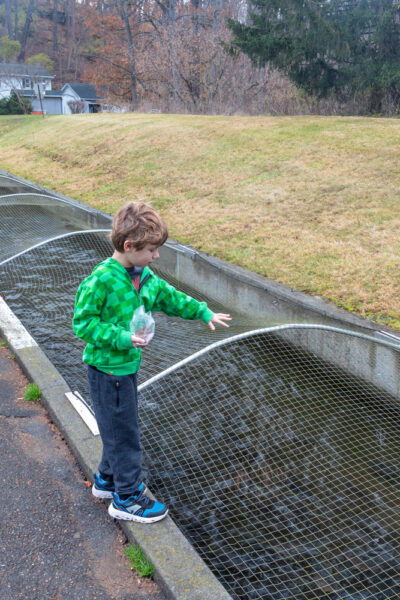 Overall, the Li'l-Le-Hi Trout Nursery in Allentown is a really neat spot to check out, and it's especially popular with younger kids. So, if you are looking for a nice area to go for a short walk and learn about a little considered aspect of outdoor recreation, this is definitely a spot that you won't want to miss when looking for things to do in Allentown.
The Li'l-Le-Hi Trout Nursery can be found at 2901 Fish Hatchery Rd in Allentown, PA. It is open every day of the year from 7 am to dusk.
Looking for more places to visit nearby? Check out the covered bridges of Lehigh County, the Da Vinci Science Center, the Hassen Creek Nature Trail, and Lost River Caverns.