Disclosure: This article may contain affiliate links. We will make a small commission from these links if you order something at no additional cost to you.
While I love exploring the natural beauty of Pennsylvania above ground, I also really enjoy it when I have the chance to explore the state's below ground beauty. So, I was excited when I finally had time to check out Lost River Caverns.
Lost River Caverns is located in Hellertown in Northampton County, Pennsylvania. It is only a few minutes drive from both Bethlehem and Allentown, making it easy to reach from anywhere in the Lehigh Valley.
The caverns were discovered in 1883 during limestone mining in the region and quickly became a popular spot for locals to explore. In 1929, the land was purchased with the goal of turning the site into one of PA's show caves. And, in 1930, the site was opened to the public.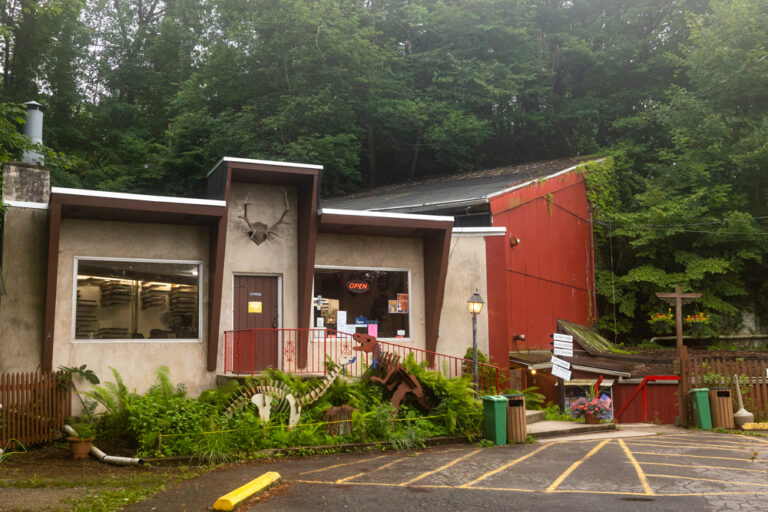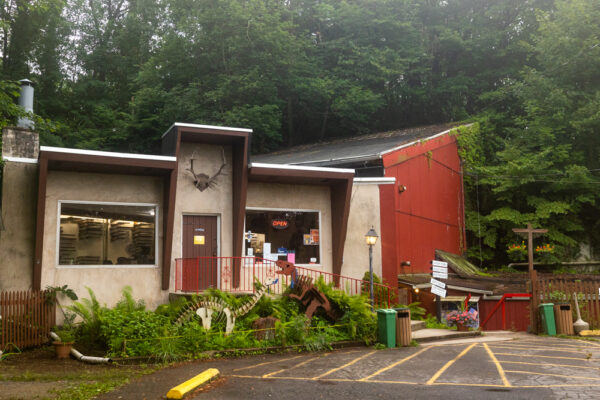 Interestingly, in the nearly 100 years of the cave's commercial existence, it's been owned by a single family.
Today, visitors can take tours of Lost River Caverns year-round and explore this beautiful underground world and the other attractions that can be found here.
Tours start from the cavern's visitor center, which is home to its rather large gift shop and a small museum.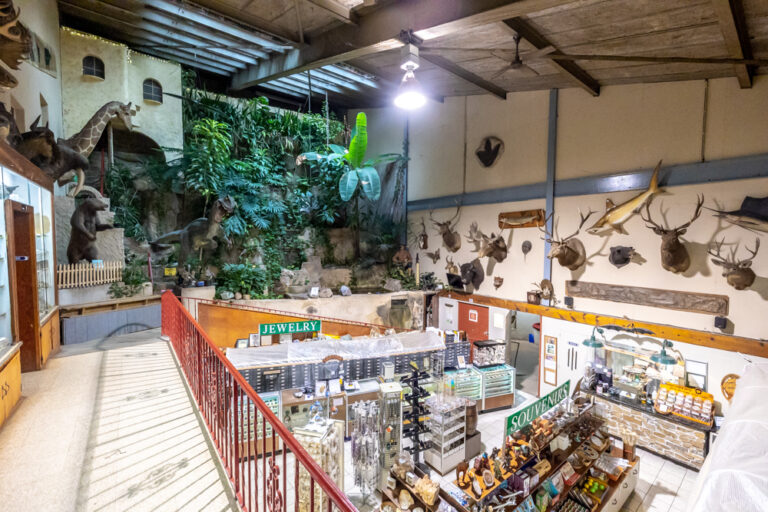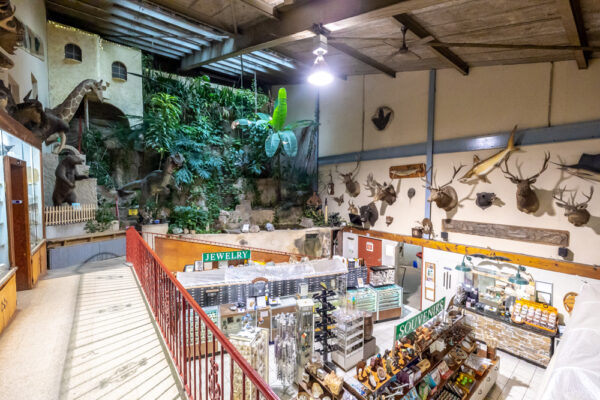 The museum is known as the Gilman Museum and features a large collection of geological samples from around the world, fossils, antiques, and more. The museum also has a nice collection of antique weapons dating back to the 17th century.
Checking out the museum's display cases is a great way to pass a few minutes while waiting for your tour to start. If you have more time to wait you can also hike their short nature trail, try panning for gemstones, or enjoy the picnic area across the street from the parking lot and visitor center.
It's worth noting that this museum area is a bit dated-looking, and the back wall with plants and various animals, including a T-rex, makes the place look a bit cheesy. However, look past that as the items in the display cases are interesting and the cave itself is quite fascinating to tour.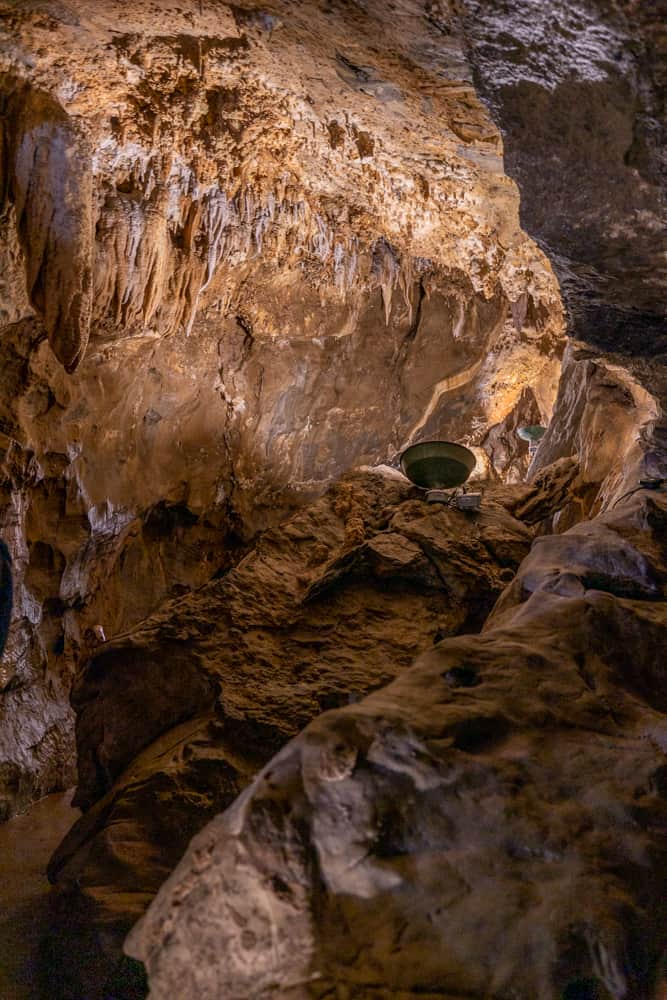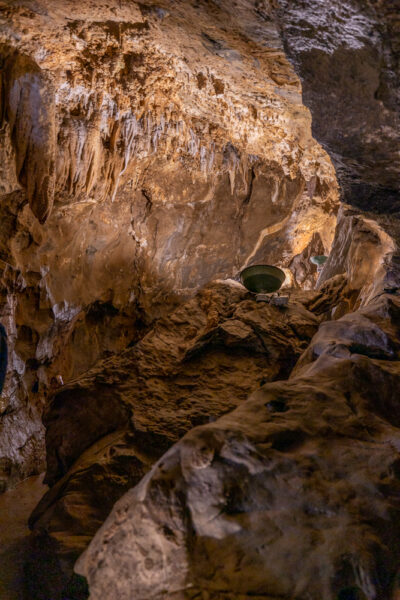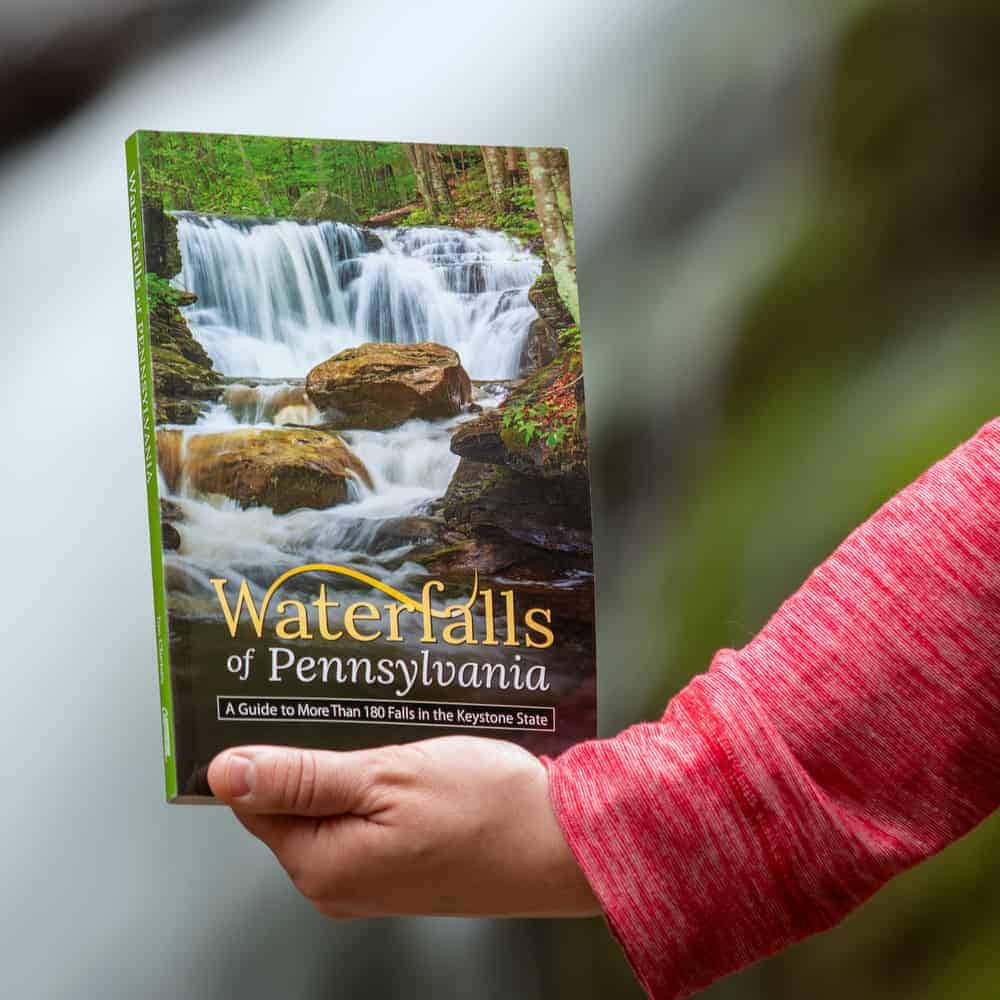 "Waterfalls of Pennsylvania" by Jim Cheney
If you love PA waterfalls, you won't want to miss this waterfall book from Jim Cheney, author of Uncovering PA, featuring more than 180 great waterfalls. Order it now on Bookshop.org or Amazon.
Tours of Lost River Caverns take about 35-40 minutes and cover about a quarter-mile of underground passageways. They leave from a door adjacent to the plant-covered wall at the end of the building.
The highlight of the tour is seeing what's known as the Lost River. This waterway, which really is more like a small stream than a river, is visible in various spots and can be heard in even more places throughout the cavern.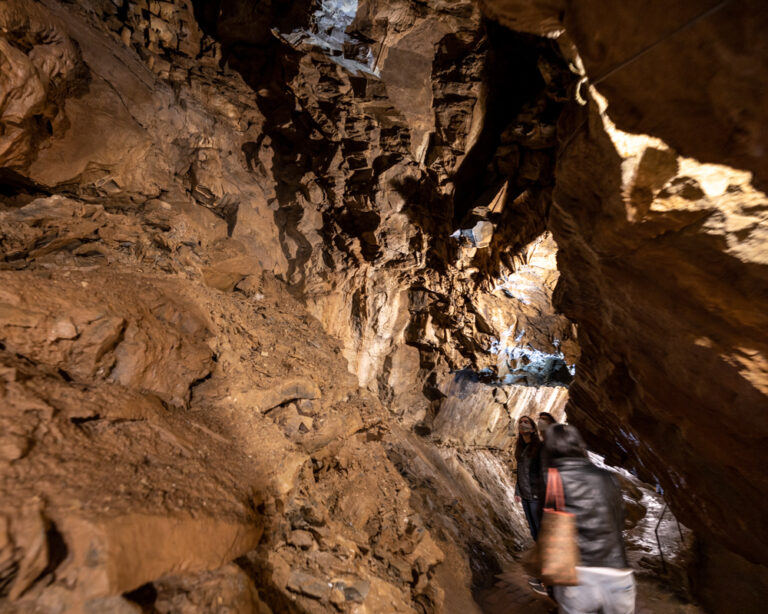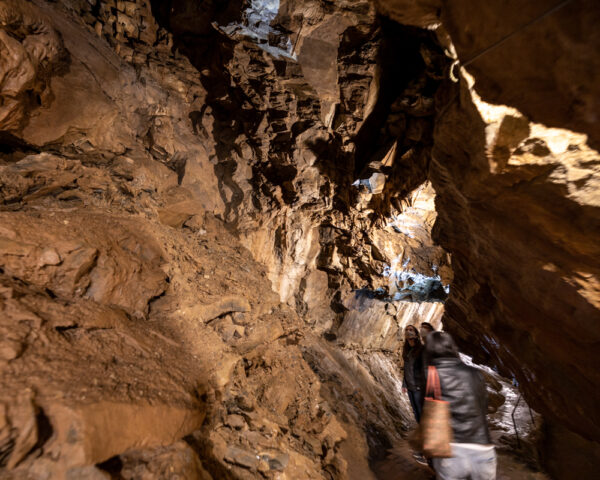 The name comes from the fact that both the source and the outlet of the waterway have never been discovered, despite several attempts having been made over the years to track where the water comes out of the ground. That means that it could be an entirely underground river system or just that the outlet has yet to be found.
There's a lot more beauty to be seen here than just the lost river. However, unlike many other caves in PA that I've visited, there aren't a significant number of formations within Lost River Caverns, such as those found at nearby Crystal Cave or at Woodward Cave.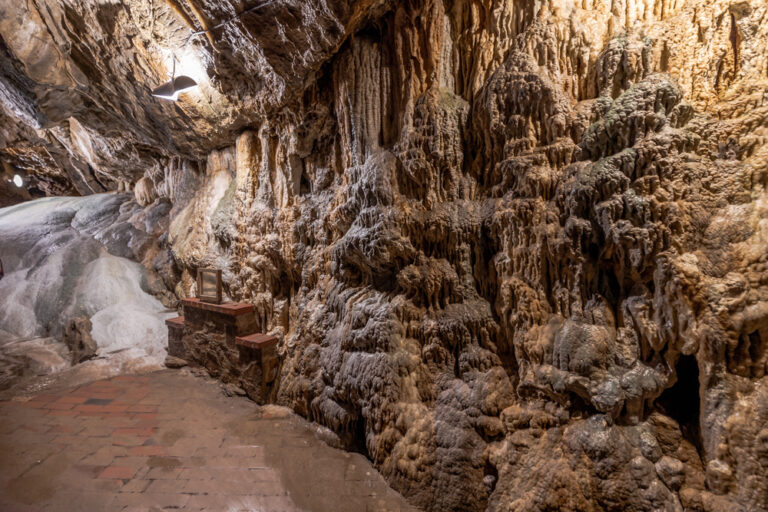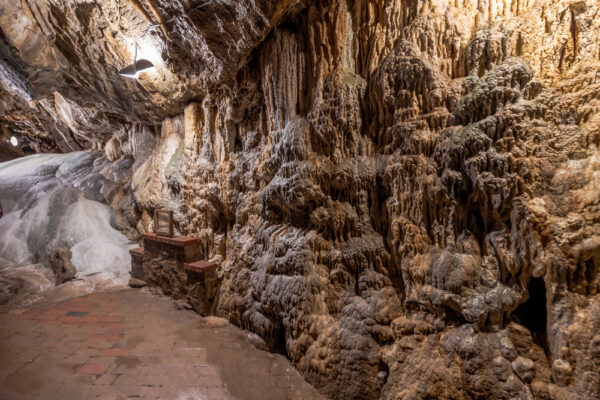 This is, in large part because the cave is said to only be around 250,000 years old and to have been carved by the river's waters. However, don't fret, as there are some formations to be found within the cave, especially flowstone.
This flowstone is especially evident in the large room known as the Chapel. This room, as the name implies was used as a chapel for many years and over 100 couples go married underground in the cave. Before that, it was used by locals as a dancing area due to its cool and constant temperatures.
As you walk through Lost River Caverns, guides point out many of the geological features of the cave, including the few beautiful formations that are present within it. There are even some fluorescent rocks in the cave, something I can recall only seeing at one other cave in PA: Black-Coffey Caverns near Chambersburg.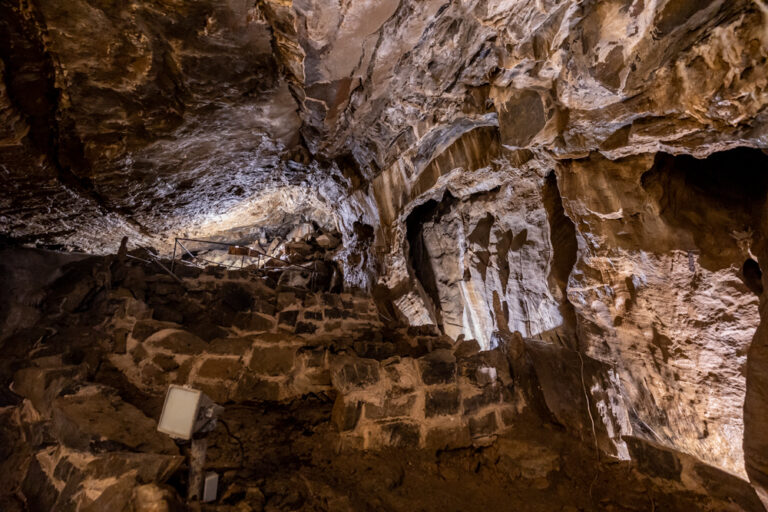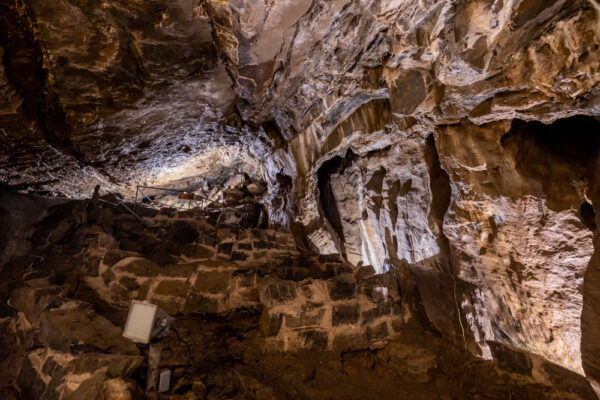 Overall, Lost River Caverns was a really fun spot to visit. While it's not quite as big as some caves I've visited in PA and it doesn't have a ton of formations, the chance to see the lost river within the cave, to learn about its unique geological history, and to explore a beautiful underground world makes this a neat spot to check out even if you, like me, have seen the state's other commercial caves.
So, the next time to are looking for things to do in the Lehigh Valley, make sure to check out Lost River Caverns.
Note: Advanced tickets are recommended and can be purchased on their website. A sweatshirt is recommended when visiting because the cave is a constant 52 degrees. Shoes with good traction are also a good idea as the ground is typically wet.
Looking for more places to visit nearby? Check out the National Museum of Industrial History, Ringing Rocks Park, and the National Canal Museum.
---
Lost River Caverns
Hours: Daily 9a-5p
Open until 6p Memorial Day – Labor Day

Cost: Adults: $14.50, Children: $9.50

Website: LostCave.com

Address: 726 Durham St
Hellertown, PA 18055
See map below for other area attractions.
---