Disclosure: This article may contain affiliate links. We will make a small commission from these links if you order something at no additional cost to you.
When I first found out that The Little Museum in Cameron County, Pennsylvania, didn't have an address, I started to question whether I should make the trip out to visit it. However, I'm glad I did. It might be called The Little Museum, but there is a lot of awesomeness contained inside its small confines.
The Little Museum is the museum for the Cameron County Historical Society. Located in a Depression-era schoolhouse, one of only two of its style to still exist, the museum sits a few miles outside of the tiny county seat of Emporium, along a two-lane road that runs through some of the state's most inaccessible wilderness areas.
From the outside, it's the kind of place you would drive by without even thinking twice. However, to do so would be a major mistake for anyone who appreciates history.
In many ways, The Little Museum isn't that dissimilar to any of the county historical society museums in Pennsylvania. Much of the exhibit space features items of local interest or tools from local industries. However, one of those local industries is the electronics manufacturer Sylvania.
Now one of the world's most well-known electronics companies, Sylvania started in 1924 in nearby Emporium. Housed in the museum are many original electronics produced during Sylvania's early years as well as some of the military equipment that they made during World War 2.
One thing that I love about historical society museums is that they often give me ideas for future exploration, and the Little Museum was no exception. Near the display on Sylvania is a photo and information about a mysterious ram's head carving that's located nearby.
Little is known about this carving except that it has been there since at least the 1880s. Many scientists have examined it over the years, but there is no consensus on when it was carved, why it was carved, or even what animal it is. The Little Museum features just enough information to whet your appetite for another adventure.
However, as interesting as the displays on Sylvania and the ram's head carving are, they pale in comparison to the area dedicated to local celebrities.
There are two rather well-known people who hail from Cameron County: silent movie star Tom Mix, and World War 2 General Joseph McNarney.
The museum features a small area dedicated to Tom Mix, one of the world's first cowboy movie stars. Mix stared in over 250 movies during his time and was a huge star in Hollywood. The museum features a small collection of memorabilia from his life. There once was a large museum dedicated to Mix in his birthplace, but it shut down in 2002 because of declining attendance.
The most influential person to come out of Cameron County was General Joseph McNarney. As one of the highest ranking generals during World War 2, McNarney served directly under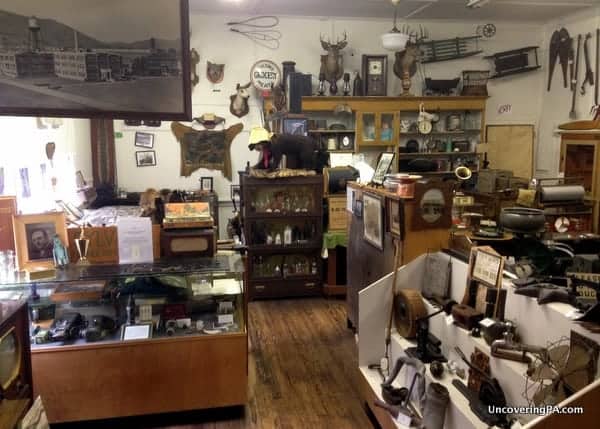 Dwight Eisenhower during the war. After the war, McNarney served as the head of Allied forces in Europe and as the military governor of Germany.
Because of his importance, The Little Museum dedicates a large amount of space to his life. The museum is fortunate enough to have many of his personal effects, including his military medals from the war and his Air Force ID card, the first one ever issued.
The museum also has several interesting pieces that McNarney collected over the years including a plate from Hitler's personal train, some of Hitler's letterhead, and, randomly enough, a piece of fabric from the Wright Brother's plane.
I've traveled a lot around Pennsylvania over the last year and have been to some rather obscure destinations. However, I think The Little Museum has to be one of the most off-the-beaten-path places I've visited. What it shows is that fantastic things can come in small, out of the way packages.
So, the next time you're looking for something to do in the Pennsylvania Wilds, The Little Museum is worth the drive for sure.
Note: My visit to The Little Museum was arranged by the museum. However, the opinions expressed in this article are my own and were not subject to review.
Looking for more places to visit nearby? Check out Hyner View State Park, the abandoned jet bunkers in the Quehanna Wild Area, Wykoff Fun Falls, and the Elk Country Visitor Center.
---
The Little Museum
Hours: Wednesday, Saturday, Sunday: 1pm-4pm
Memorial Day to Mid-October

Cost: Donations Appreciated

Website: CameronCoHistorical.wixsite.com

Address: No Address
Coordinates: 41.414313, -78.195452
See map below for other area attractions.
---