Disclosure: This article may contain affiliate links. We will make a small commission from these links if you order something at no additional cost to you.
Hidden away in the woods near Wilkes-Barre is one of the most incredible ghost towns in Pennsylvania: Concrete City.
Concrete City is a collection of 20 duplex homes made entirely of concrete in present-day Nanticoke, PA. These homes were constructed in 1911 by the Delaware, Lackawanna and Western Railroad (DL&W Railroad) for the employees at the companies Truesdale Colliery. (The DL&W would later go on to use concrete to construct the famous Tunkhannock Viaduct in 1915.)
The concept of concrete housing was a new idea that was heralded by many, including Thomas Edison, and the homes were designed in a, at the time, new type of architecture known as the International Style.
At least one other Concrete City was constructed in Pennsylvania. It is located in a still residential neighborhood in the southwestern PA community of Donora.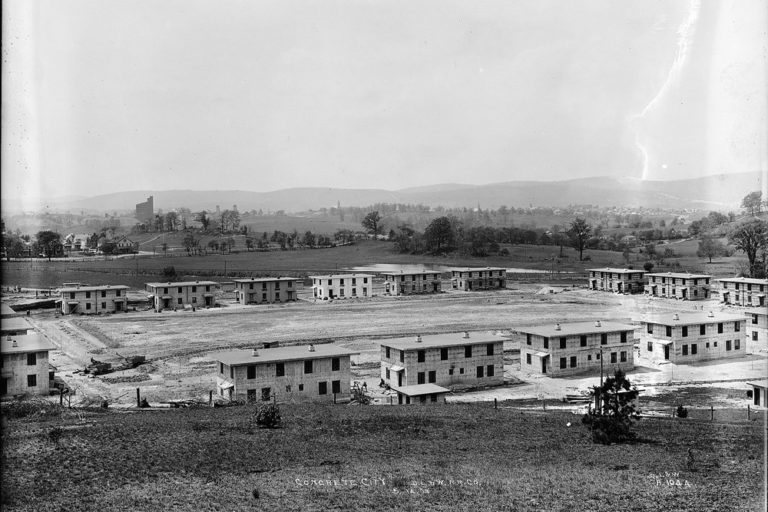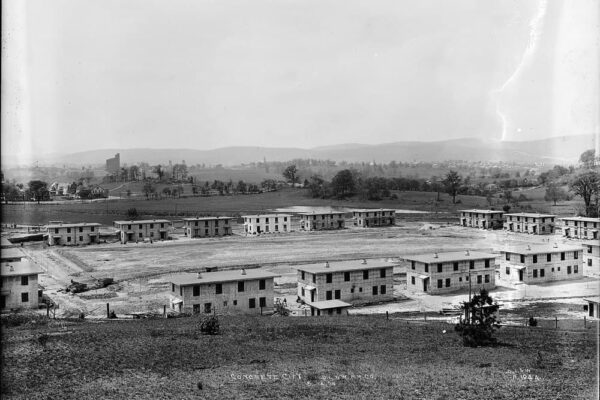 The homes in Nanticoke's Concrete City were all identical and laid out in a rectangle with six houses on the long side and four on the short side.
In the middle, there was a large central courtyard that had a swimming pool, a baseball field, electric street lights, sidewalks and more. Thanks to the modern building techniques used in the construction of the homes, each poured concrete duplex could be completed in a single day.
Designers of the community called it the "Garden City of the Anthracite Region."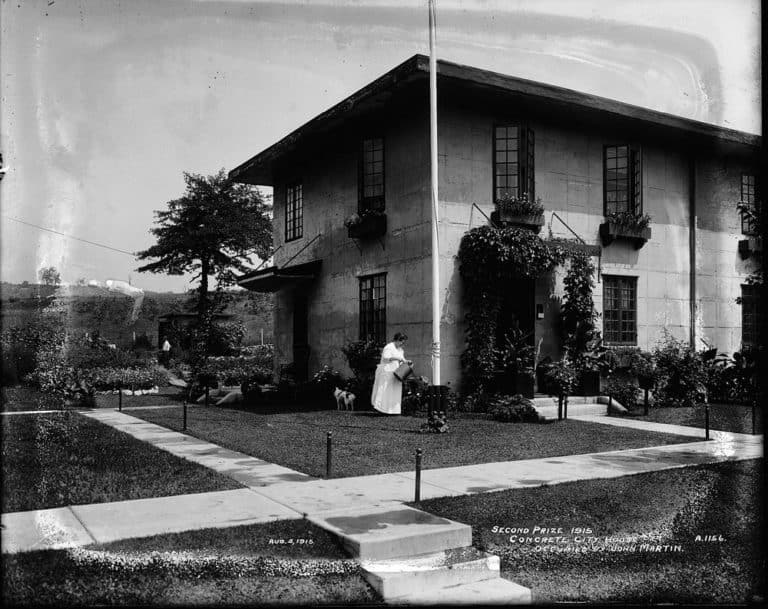 The houses in Concrete City were a hot commodity and only 40 of the Truesdale Colliery's 1,700 employees were able to move into the village. Those that were lucky enough to be chosen were high-level employees, and it was required that English be their first language, which would have excluded many employees in the Anthracite mining industry who were first-generation immigrants.
Those who were chosen received a four-bedroom house that had two levels and a basement. There was also a concrete outhouse for each home in the backyard.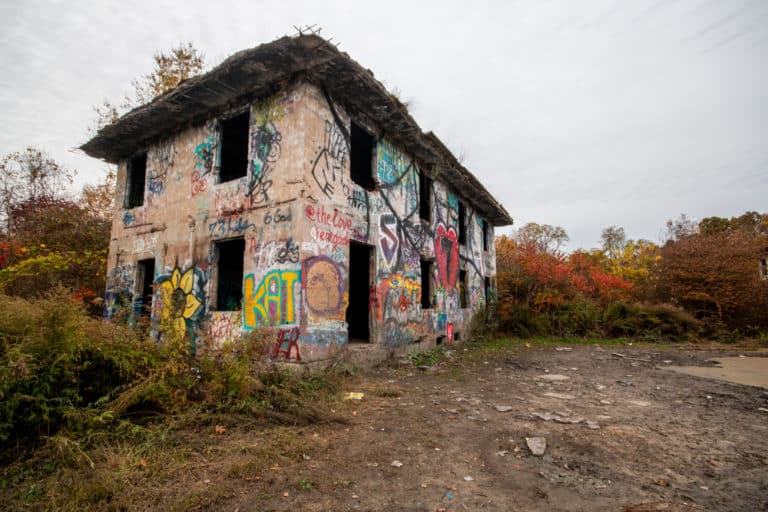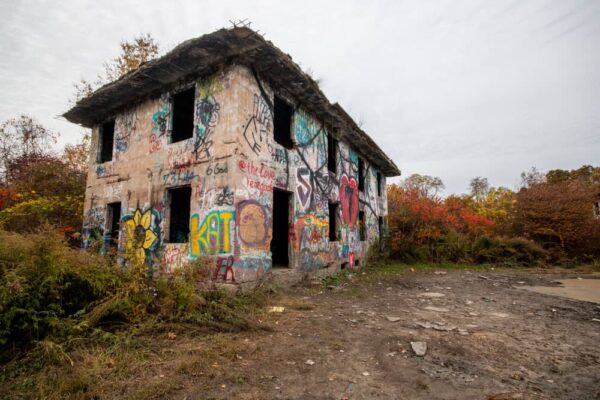 The story of Concrete City was shortlived, however. Problems soon cropped up with the homes being both wet and drafty, especially in the winter, making them an unpleasant place to live. The concrete also made installing a needed sewer system for the outhouses virtually impossible.
In 1924, just 13 years after the homes were built, Concrete City was abandoned.
The Glen Alden Coal Company, who had taken ownership of the homes from the DL&W Railroad, tried to demolish the homes but gave up after 100 sticks of dynamite failed to significantly damage one of the homes.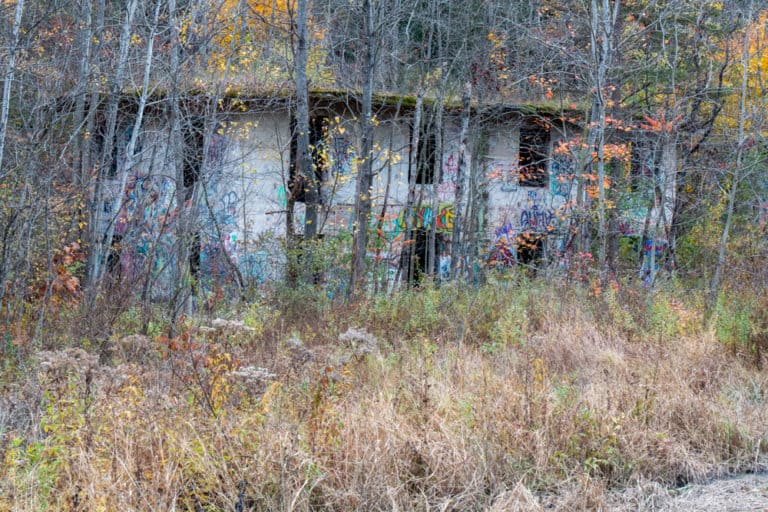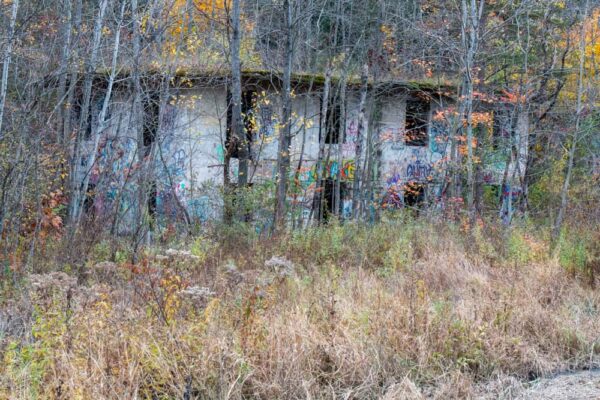 Today, Concrete City sits on the edge of Nanticoke a short drive from Wilkes-Barre and is an incredibly interesting place to explore.
While no signs point the way, the land where Concrete City sits is owned by the City of Nanticoke. This land has been used in the past for firefighter and police training. However, recognizing its historical significance, there is a push to preserve the remarkably intact ruins of these homes.
Access to Concrete City is via an old dirt road off of Front Street on the southeastern outskirts of Nanticoke. The path to the ruins is totally unmarked but wide and easy to follow. There's more information about how to find the entrance to Concrete City at the bottom of this article.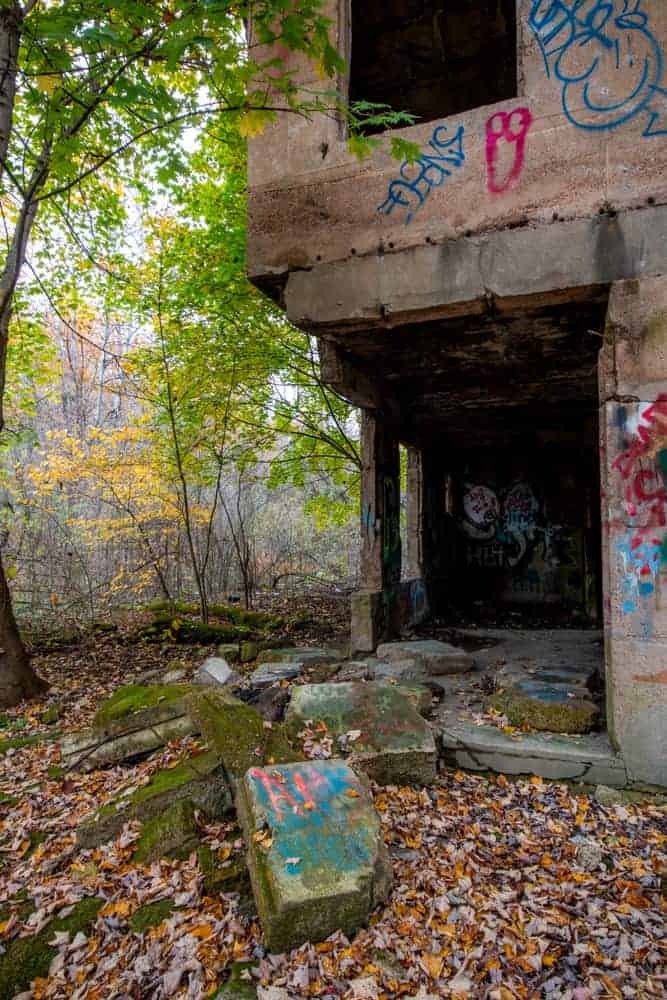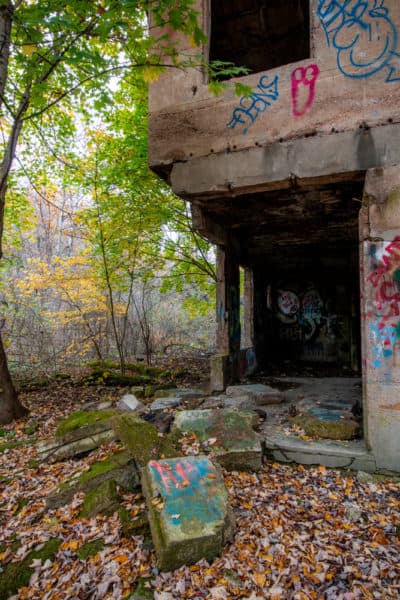 The easiest access to Concrete City will put you in the northeastern corner of the rectangular-shaped community. The land here is very overgrown, but there are enough visitors that there are some defined paths between many of the homes.
The central courtyard area of the community is fairly open and the remnants of roads can be seen and followed. However, the roadways are heavily rutted and parts are more shallow pools of water than they are dirt paths.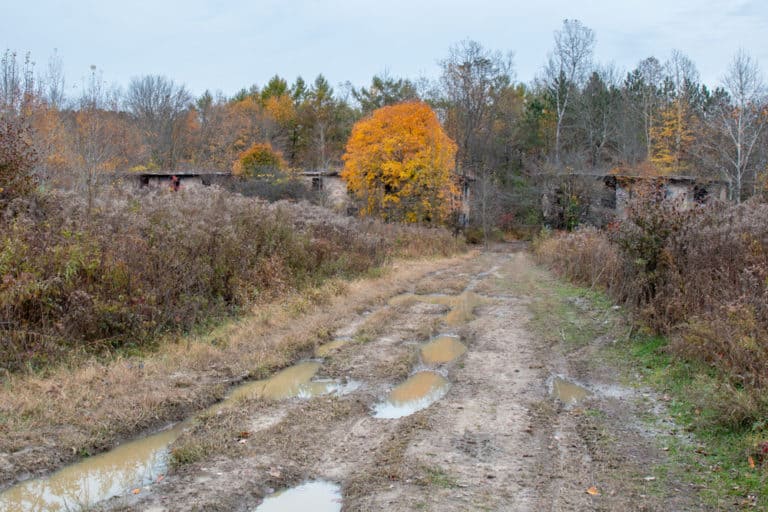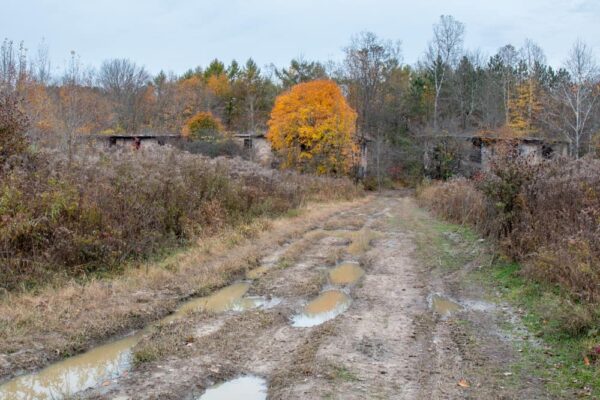 Nevertheless, picking your way through the area around Concrete City isn't overly difficult, but it does require some care.
While Concrete City is a ton of fun to explore, the negative here is that every home was built identically. That means that essentially, every home looks more or less the same on the inside unless they have sustained some damage over the years.
Damage is most noticeable along the row of four duplexes in the north of the site (where you enter if you follow my directions below). Here, there was one home where a giant hole had been created between the two sides of the duplex. There was also a home where the entire back corner support had fallen away at some point.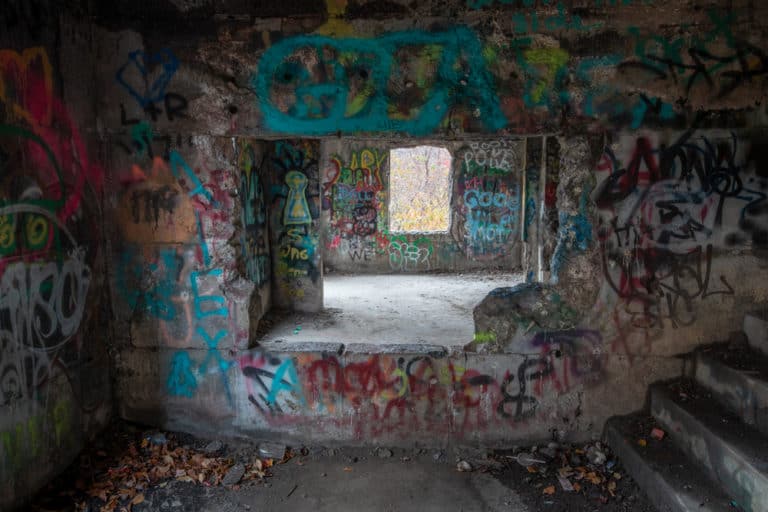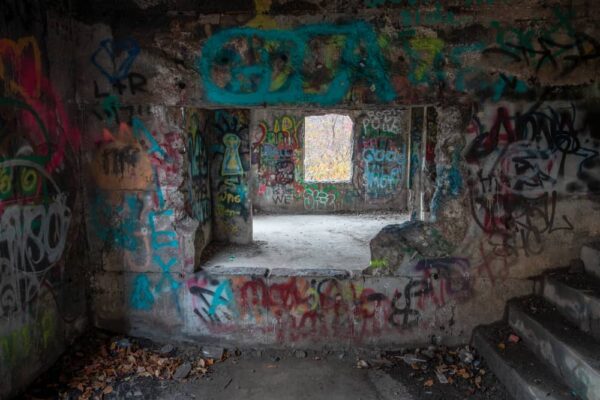 Both the interior and exterior of the homes are filled with graffiti. Sadly, this isn't the artistic type of graffiti and it is more the coarse language variety. Nevertheless, it does add a bit of interesting character to the home, and I must admit I spent some time checking out what had been put on the walls.
Each of the homes is open and it's easy to go inside each unless the entrance has been overgrown.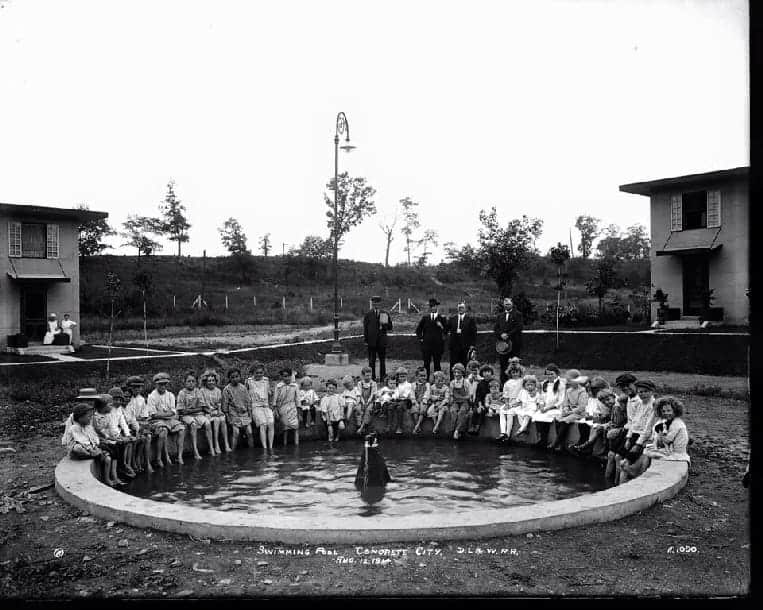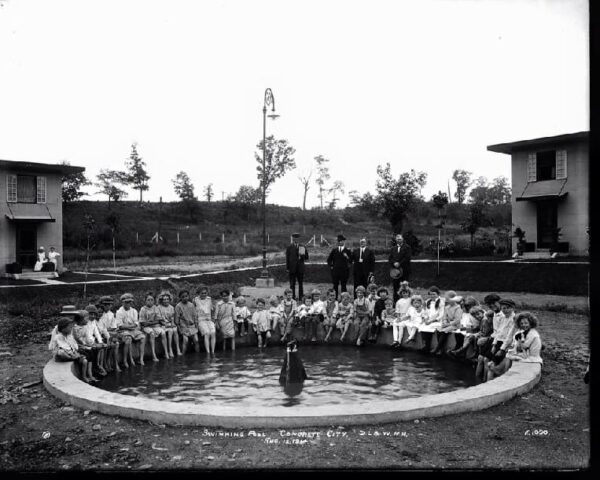 The first floor of each home consists of three rooms: a living room, a dining room, and a kitchen. However, everything has been stripped out of the homes, so all that you'll see is a concrete shell and modern trash left by those that don't respect the history of the site.
Don't expect to see household furnishings like you can at Yellow Dog Village in western PA.
Each home also has an upstairs and a basement. Since I wasn't fully confident in the structural stability of the homes, I opted to not go upstairs. As for the basements, I was alone and they were very dark. I've seen enough horror movies to know going down was a bad idea.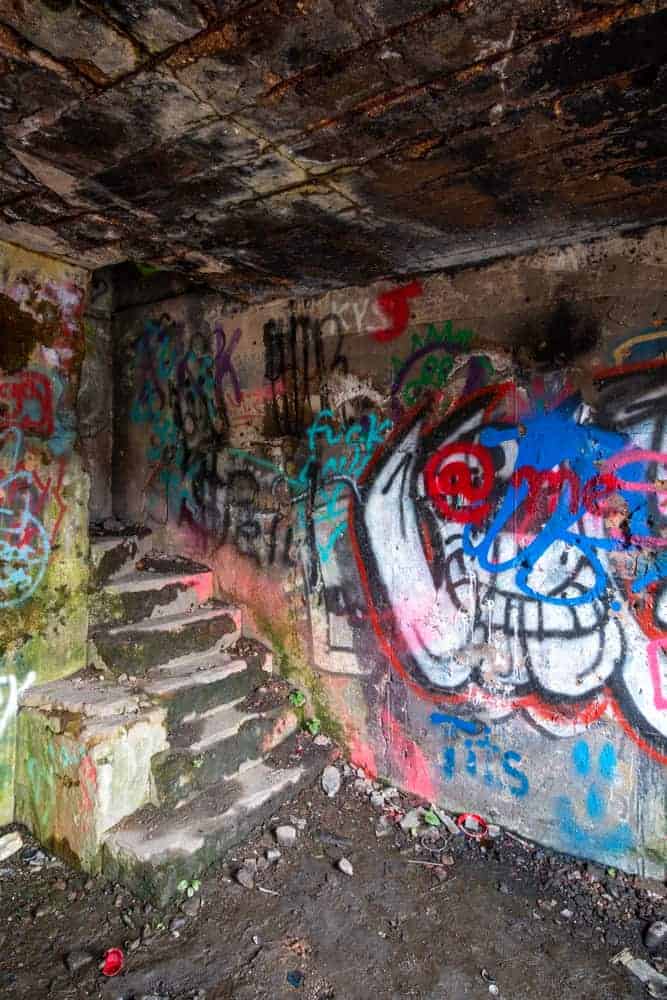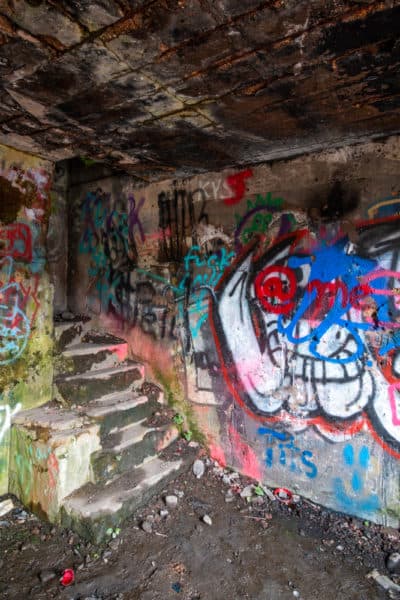 While I only entered about a third of the duplexes in Concrete City in Nanticoke, I feel fairly confident in saying that they are all pretty much identical, and there's no need to spend time entering every single home in this decaying village unless you really want to.
However, Concrete City is still an incredibly interesting place to explore. If you enjoy exploring spots like Centralia, the Abandoned Pennsylvania Turnpike, or the many other abandoned places in PA, you are sure to love checking out Concrete City in PA.
How to Get to Concrete City in Nanticoke, PA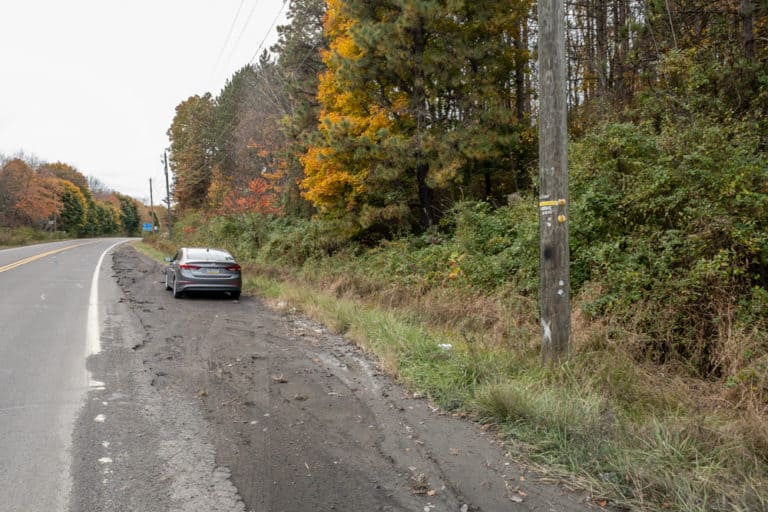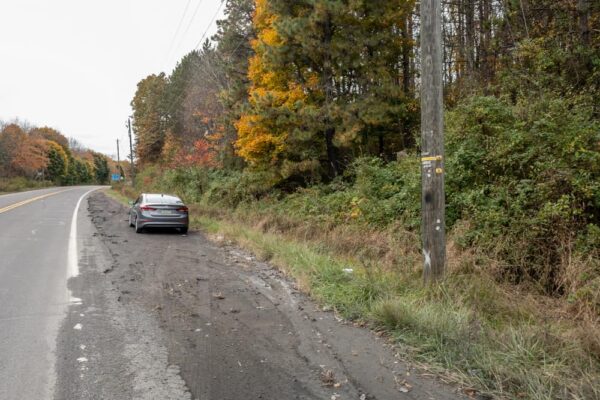 Concrete City is located in the southeast corner of Nanticoke, a roughly 15-minute drive from downtown Wilkes-Barre, PA.
To visit, park along Front Street at the following coordinates: 41.186939, -75.974001.
While it might be possible to drive up the road and closer to Concrete City, I wouldn't recommend it as the road is narrow, rutted, and covered in trash.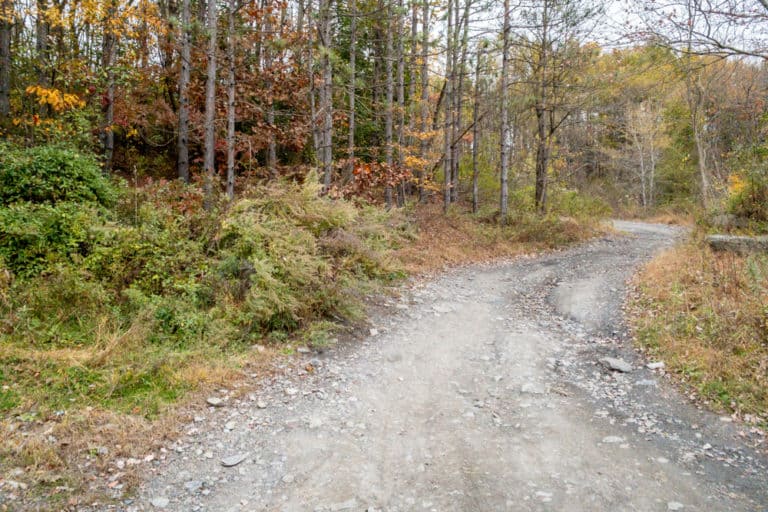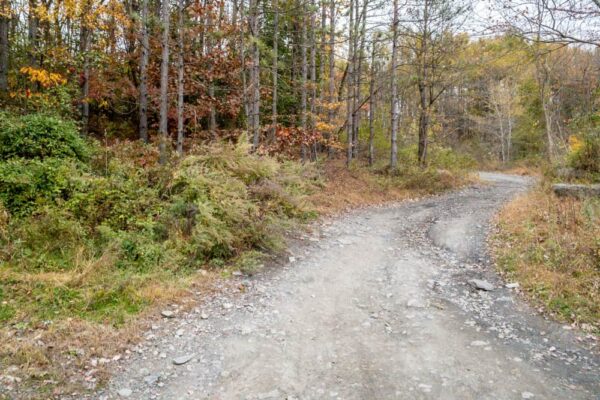 From the parking area above, follow the old dirt road on the north side of Front Street. This road has a slight curve as it heads uphill. This hill is short, though, and the trail soon levels out.
Continue walking along this old dirt road for about a third of a mile to the back corner of Concrete City where you'll be able to walk right into the village on a flat and established path.
This entrance point can be found at the following coordinates: 41.190043, -75.975617.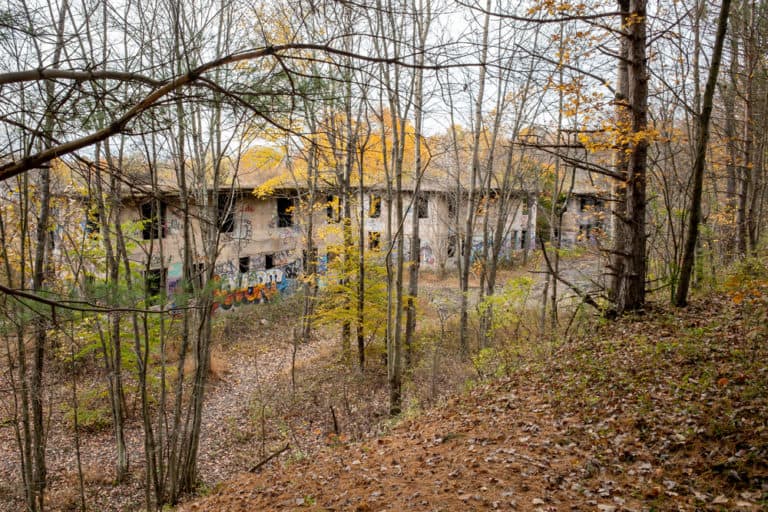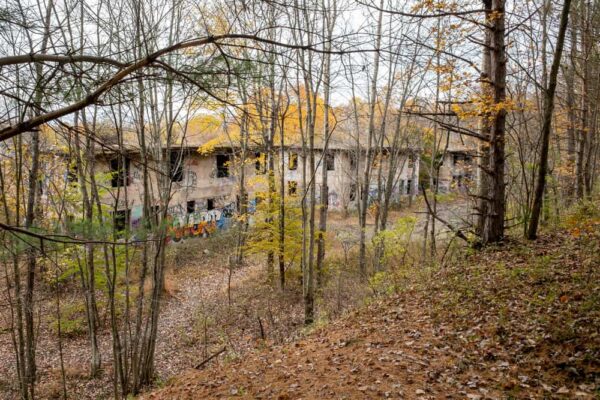 About halfway to my recommended spot to enter, you'll see several of the buildings on your left, but they are down a steep embankment and walking a little further down the road is a much easier spot to access Concrete City from.
Are You Allowed to Visit Concrete City in PA?
I would be remiss to not address the legality of visiting Concrete City. To be honest, I've been aware of this spot for years but didn't visit until recently because I was unsure of the situation here.
However, after looking at Luzerne County property tax records, I discovered that the entirety of Concrete City and the path I've mentioned in this guide are located on land owned by the City of Nanticoke.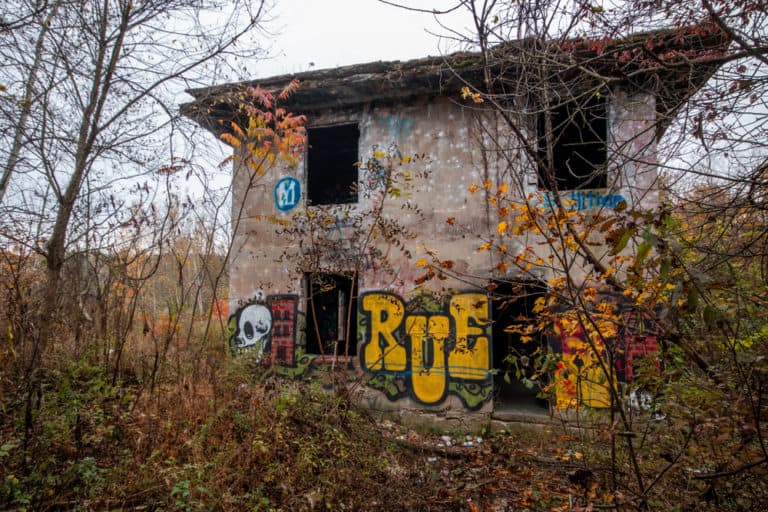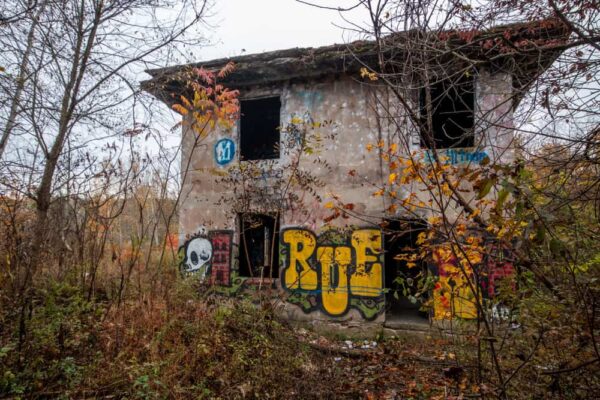 During my visit, I saw no "No Trespassing" signs or anything similar indicating that I wasn't allowed on this public land. It was also very clear that others frequently visit due to the amount of trash in the area.
If you opt to do visit Concrete City, you do so at your own risk. Given the crumbling structures here and the amount of trash, it is inherently unsafe to explore this site.
In the future, should any "No Parking," "No Trespassing," or similar signs show up in the areas mentioned, please respect them and do not visit this spot. (Also, should that happen, please contact me and let me know.)
Lastly, Concrete City is a historic spot and preservation efforts are ongoing. Please visit this area respectfully and leave it cleaner than when you left so that others can continue to enjoy exploring it in the future.
Looking for more places to visit nearby? Check out Little Shickshinny Falls, Seven Tubs Recreation Area, and Forty Fort Meeting House.
[Click here for information on how to use the coordinates in this article to find your destination.]