Disclosure: This article may contain affiliate links. We will make a small commission from these links if you order something at no additional cost to you.
I've visited hundreds of craft breweries in Pennsylvania and beyond, but my visit to Sango Kura Sake Brewery in the Poconos was a first for me as I'd never been to somewhere that produced sake.
That is, in part, because Sango Kura is the first and only sake brewery in Pennsylvania. And while this is the sort of spot you might expect would be located in Philadelphia or Pittsburgh, it's actually located in the small town of Delaware Water Gap in Monroe County, PA, just steps from where the Appalachian Trail crosses the Delaware River and into New Jersey.
Having spent several weeks in Japan and having tried authentic Japanese sake and food in the country, I was excited to visit Sango Kura. However, I was also a bit skeptical that an establishment like this would have those authentic flavors. Fortunately, I was very pleasantly surprised by what I uncovered here.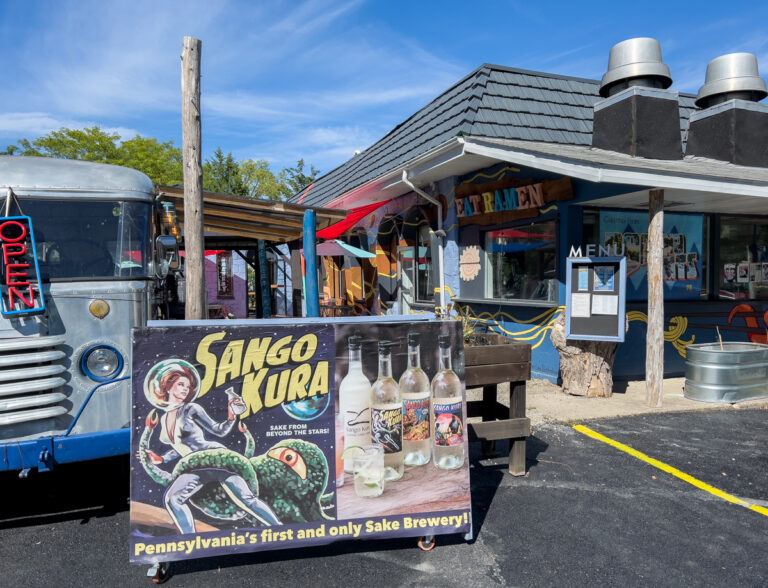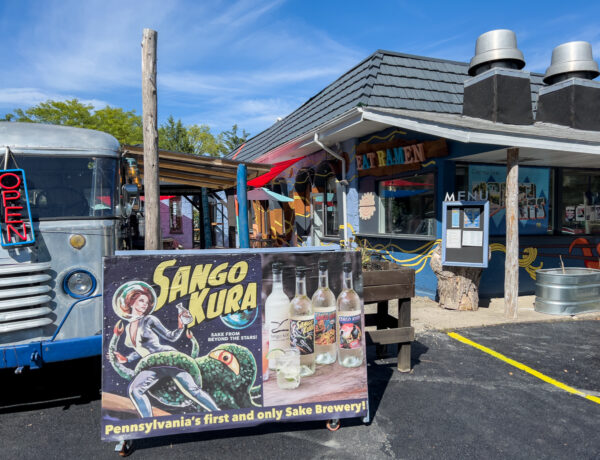 Sango Kura is not a sake brewery. They are also a full Japanese restaurant with a great mix of dishes (Though, it's worth noting that they don't have sushi). That makes this a great spot to stop for a full meal, as well as a sampling of sake.
Sango Kura Sake Brewery opened in 2018 and is the creation of Monroe County native Jay Cooper, who created many of the food recipes and is the head brewer.
By happenstance, I had a chance to talk to Cooper during my visit, though he didn't know I was planning to write this article. I really enjoyed his story of living in Japan and his desire to bring the authentic flavors of Japan back to his hometown.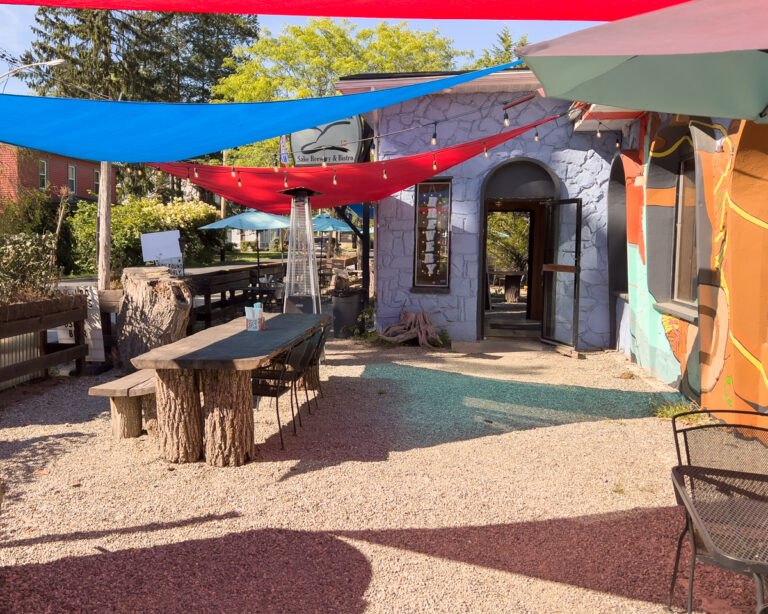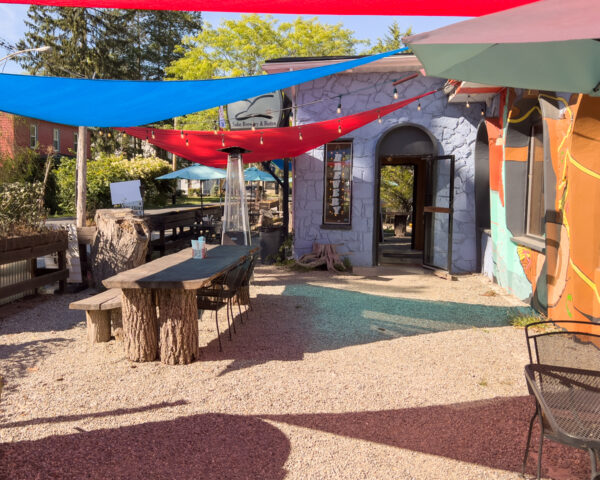 Having personally lived in South Korea for a few years and having tried my hand at brewing makgeolli, a Korean alcoholic drink somewhat similar to sake, I found his story to be quite fascinating.
The first thing I noticed when I visited was the decor of the building. They have done an excellent job turning a former Greek diner into something that has a lot of fun Japanese touches and feels like a great mix of the Poconos and Japan. There is both indoor and outdoor seating, so there is a lot of room to spread out here.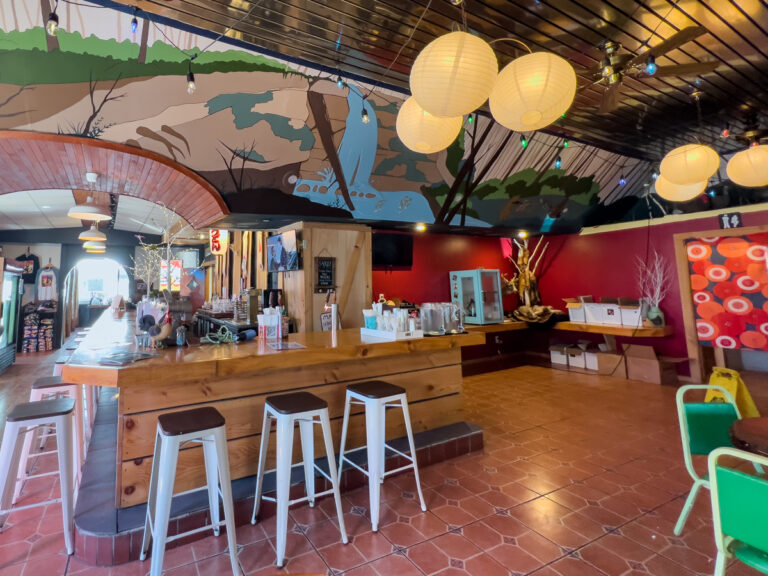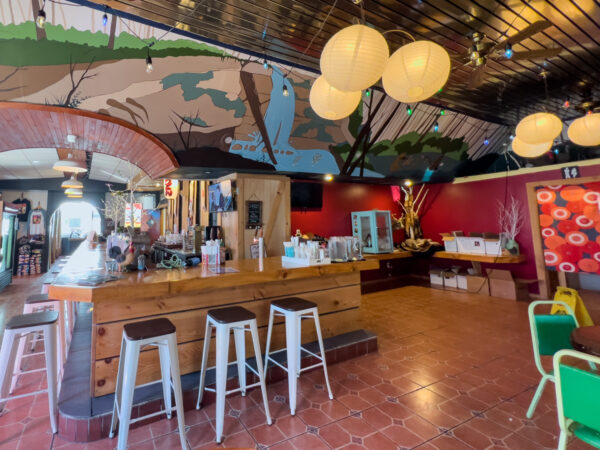 Sango Kura brews its sake right on the premises, and, at first glance, the facility doesn't look much different from the many craft beer breweries in the Poconos. However, look closer, and you'll notice the giant rice cooker, which creates the base for the sake.
If you've never had sake before, it has many similarities to wine in the way that it is drunk and the alcohol content, but the process of making it more closely resembles beer brewing.
Wanting to try a variety of their eight different sakes, I opted to get a flight, which gave me a chance to try four different styles. I chose the Junmai Ginjo, Taruzaki Cedar, Dry Hopped, and Barrel Aged Bourbon.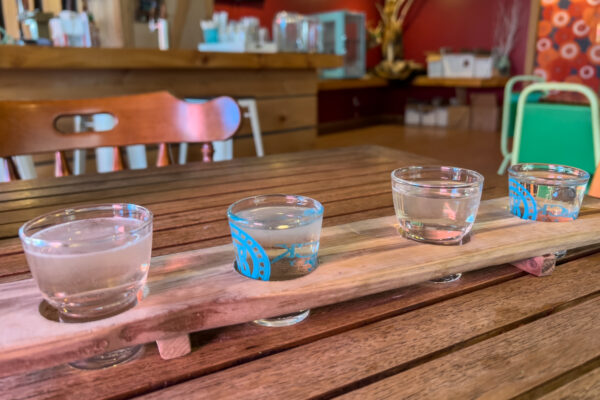 I was incredibly impressed with how smooth and delicious each sake was. And, while you can certainly get better sake in Japan, the ones here are surprisingly authentic considering that they are brewed by two white guys in small-town Pennsylvania.
Of the four, my personal favorites were the Junmai Ginjo (which was their most basic and traditional style) and the dry hopped. In fact, I liked them so much that I splurged on a bottle of both to bring home.
Totally inconsequential to this review, but I absolutely love the design of the labels on their bottles. Definitely a lot of thought and creativity went into making them.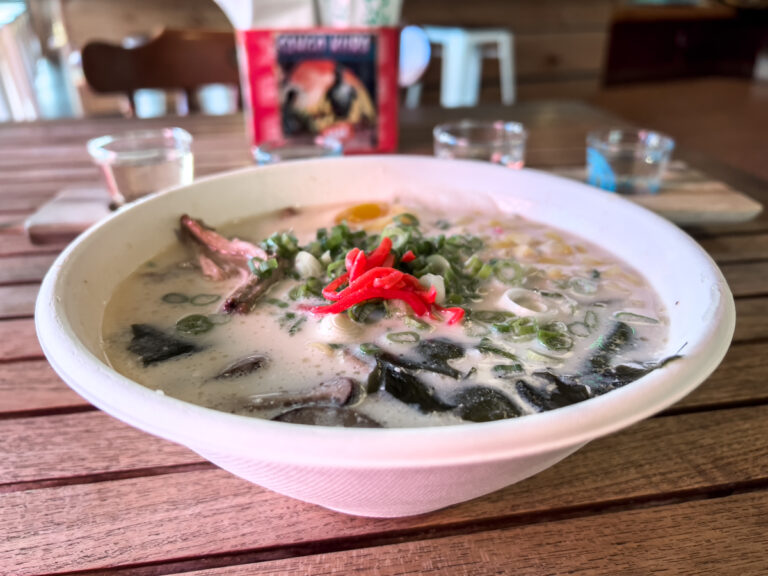 In addition to the excellent sake, I had to try some of the food here. I would have loved to have gotten more to eat, but since I was by myself, I only had a chance to try the Tonkotsu Ramen, which is made from pork bone marrow.
This is my favorite style of Japanese ramen, and I've eaten it at many different restaurants in both Japan and the United States. To be honest, I was incredibly impressed with the quality of the bowl of ramen that I got. The flavor of the broth was fantastic, and the house-made noodles had just the right texture.
Like the sake, you can get a better bowl of ramen in Japan, but you'd be hard-pressed to find a much better bowl anywhere else in Pennsylvania (And, I've tried a fair number of the offerings around the state).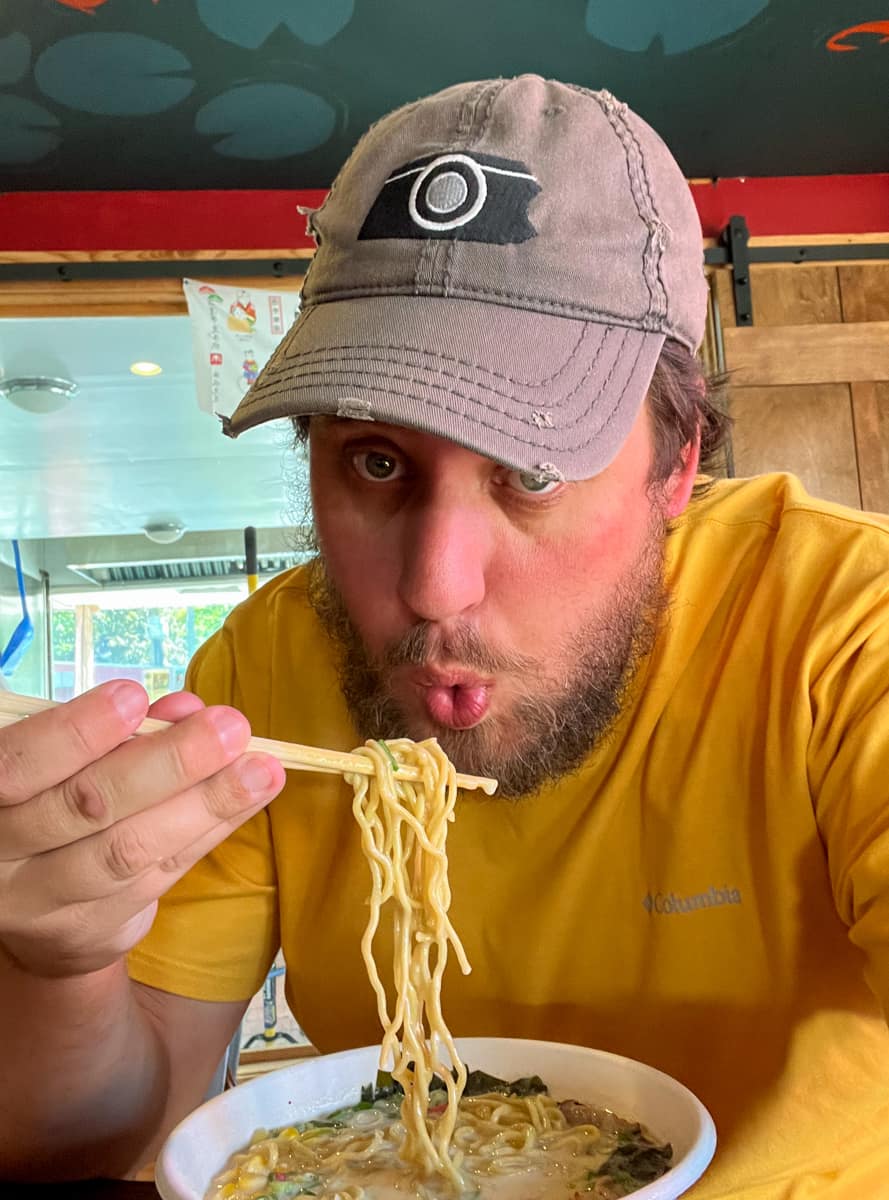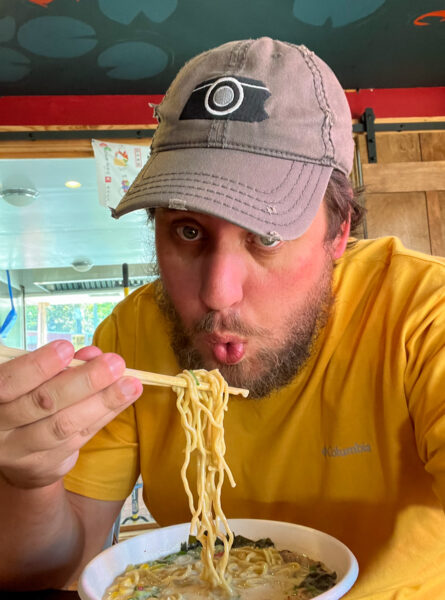 Overall, I loved my visit to Sango Kura Sake Brewery, and if it wasn't located 2.5 hours from my house in Carlisle, I would definitely be a regular, both for their excellent sake and their fantastic Japanese food. Sadly, I'll just have to settle for visiting when I'm passing through the Stroudsburg area.
All that being said, if you love Japanese food or simply want to try something unique in Pennsylvania, definitely make plans to check out Sango Kura Sake Brewery.
Looking for even more places to visit nearby? Check out the best waterfalls in the Poconos, Columcille Megalith Park, and the waterfalls of Slateford Creek.
---
Sango Kura Sake Brewery
Hours: Thursday-Sunday: 2p-9p

Website: SangoKuraSake.com

Address: 39 Broad St
Delaware Water Gap, PA 18327
See map below for other area attractions.
---