Disclosure: This article may contain affiliate links. We will make a small commission from these links if you order something at no additional cost to you.
Pennsylvania is a state known for its historical superlatives. Whether it's being home to the first US Capitol, the first oil boom in the world, or the oldest brewery in America, there's a lot of history to be uncovered around the state.
However, Pennsylvania is also home to another historical superlative that I was surprised to recently learn: the oldest still-existing guitar maker in the world!
That's right, C.F. Martin Guitars located in Nazareth, Pennsylvania, is not only one of the most respected acoustic guitar makers in the world but also the oldest guitar company in the world.
Christian Frederick Martin immigrated from Germany to New York City in 1833, and being trained as a guitar maker, decided to start his own company in America. However, Martin never really grew accustomed to the city, and moved his family to Nazareth, PA, in 1838 because it reminded him of his homeland of Saxony.
Over the next 175+ years, the company built by Martin grew in both size and reputation through five generations of owners. Today, the company is one of the most respected guitar manufacturers in the world, with hundreds of popular musicians proudly strumming Martin Guitars on stage. And, while some of the processes have changed, a significant portion of the work is still done by hand in their Nazareth, PA, factory.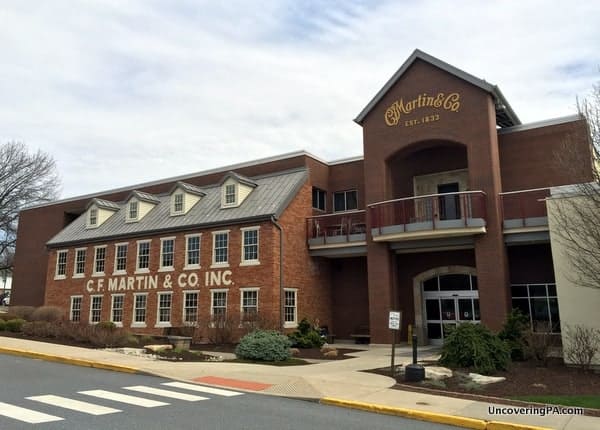 Because of this great history, I knew I had to check out the Martin Guitar factory tour during a visit to the Lehigh Valley.
While you once were able to walk up and hop on a tour (as I was able to when I visited), you are now required to book tickets in advance on their website.
Tours are limited to 8 people, and even on a weekday in mid-April, my tour was full, so you may need to reserve tours a few days ahead of time, even out of season.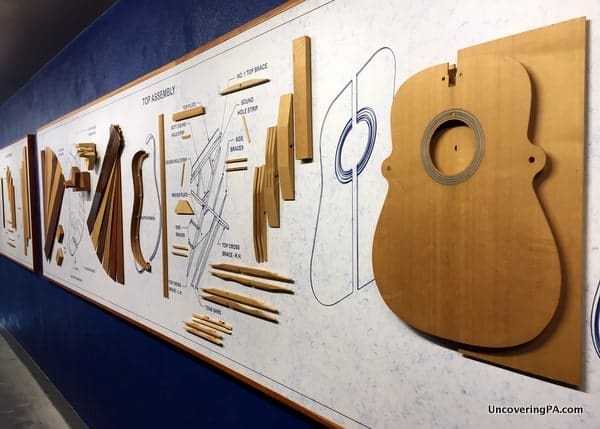 I've been on a lot of factory tours in Pennsylvania. Some let you go directly on the factory floor, while others require you to watch from above through windows, far from where the product is being made. I was excited to find out that the Martin Guitar tour walks you right through the factory.
In fact, the Martin Guitar factory tour doesn't just let you go on the factory floor, but lets you get very close to the artisans hand-crafting the guitars. In fact, there were a few times that we were so close that I almost felt uncomfortable. I'm sure it takes a while to get used to visitors so closely inspecting your work.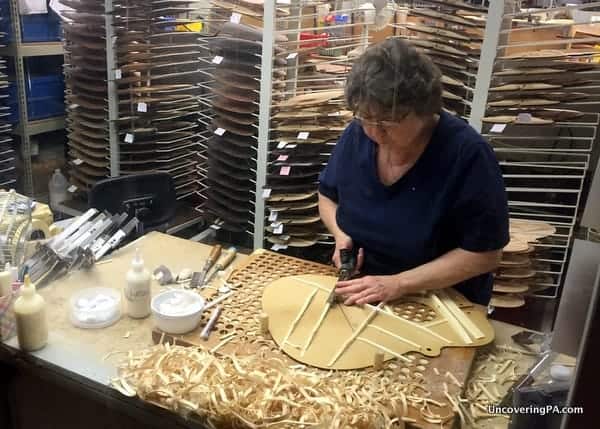 The tour of the Martin Guitar factory takes you through the entire process of making the guitars, from cutting out the pieces of wood (which is the one part of the process seen from afar) to the guys who string and test each guitar. Yes, Martin employs people who are responsible for playing each guitar to make sure that it's ready to leave the factory.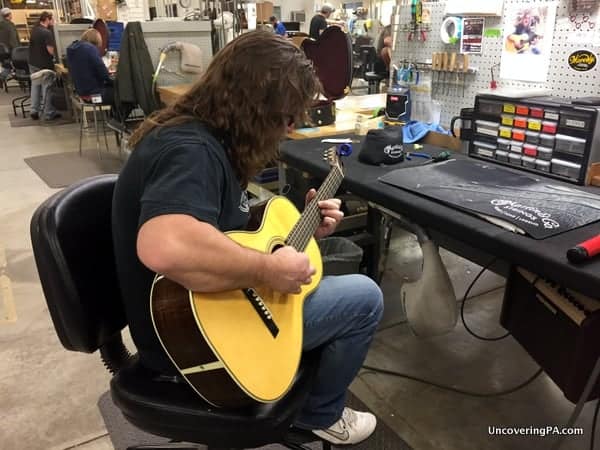 While on the tour, signs and even demonstration pieces are shown to give you a better understanding of the 300 steps in the making of a Martin guitar.
Tours of the factory are very detailed and can last anywhere from 45-90 minutes, depending on the guide and the number of questions from the group. Tours of the factory are typically led by either long-time employees or retired employees who really know all aspects of making these beautiful instruments.
It was amazing to visit the factory and see the amazing craftsmanship that goes into each guitar. Even though I'm not a guitar player, I thoroughly enjoyed my visit to the Martin Guitar factory. This is definitely one of the best tours I've done at any factory anywhere, and I'd highly recommend it to anyone.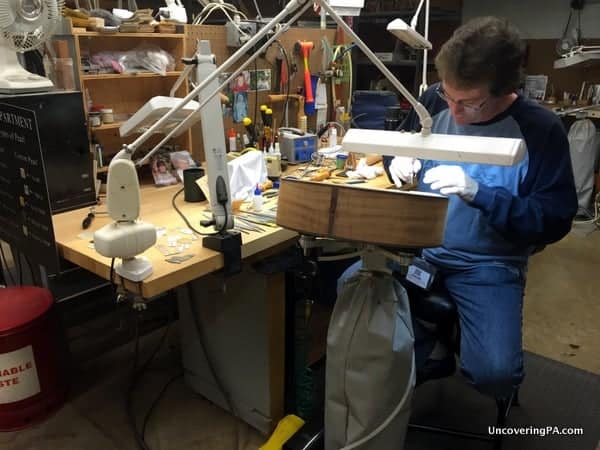 During your visit, make sure to save time either before or after your tour to check out the small Martin Guitar Museum just off the main lobby.
The museum has a great collection of guitars from every era of production, dating all the way back to the first days of the company. While it would have been nice to have seen guitars that were owned by some of the many famous artists that use Martin guitars, the museum is still a great way to understand how the guitar has changed throughout the years.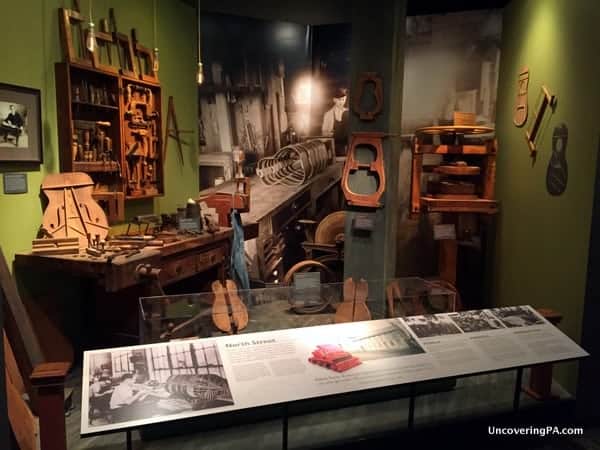 There is also a small gift shop in the lobby for anyone looking for a souvenir from their visit.
For guitar players, make sure to find the somewhat hidden Pickin' Parlor, which features several Martin guitars that you can play, but not purchase, while visiting. Be warned, however, that playing one of these guitars will likely make you want to spend your entire savings on one of these beautiful instruments.
Whether you are a guitar player or not, I highly recommend a visit to the Martin Guitar Factory tour to see how these amazing instruments are made.
---
Martin Guitar Factory Tours
Hours: Monday-Friday: 10a-2p
Tickets must be reserved in advance

Cost: $5

Website: MartinGuitar.com

Address: 510 Sycamore St.
Nazareth, PA 18064
See map for other area attractions.
---