Disclosure: This article may contain affiliate links. We will make a small commission from these links if you order something at no additional cost to you.
When you think of chocolate in Pennsylvania, there's a good chance that Hershey's comes to mind (unless you are from certain parts of Lancaster County and think of Wilbur's). However, if you're from Erie, there's a good chance that chocolate to you means Pulakos.
George Pulakos opened his first chocolate shop in Erie in 1903. Pulakos had just moved to the city after selling his candies from a pushcart in Philadelphia. Quickly, Pulakos Chocolate became a local favorite and eventually expanded to four locations in the city.
In 1971, Pulakos moved their chocolate production to the corner of 26th and Parade Street in Erie, where it remains to this day. Inside this facility, little has changed in the last four decades. In fact, little has changed since the day the first store opened over a century ago.
Walking through the facility, I saw equipment that seemed right out of a depression-era photograph. Much of the equipment in the building is between 60 and 80 years old, but some pieces still remain from Pulakos first day of production in 1903.
The Pulakos factory isn't a large production facility where robots and automation do most of the work. Instead, much is still done by hand. Candies are still boxed by hand (think a real life version of "I Love Lucy") and large trays hold cooling chocolates. Even more impressive is the fact that Pulakos makes 95% of what they sell right in downtown Erie.
Behind the scenes tours are offered of the Pulakos Chocolates' factory by appointment during the week. I was unfortunate to have visited at a time when they were not producing chocolates, but still felt that I got an interesting look into how the candies are made.
As interesting as the tour was, however, I was most excited to sample the chocolate.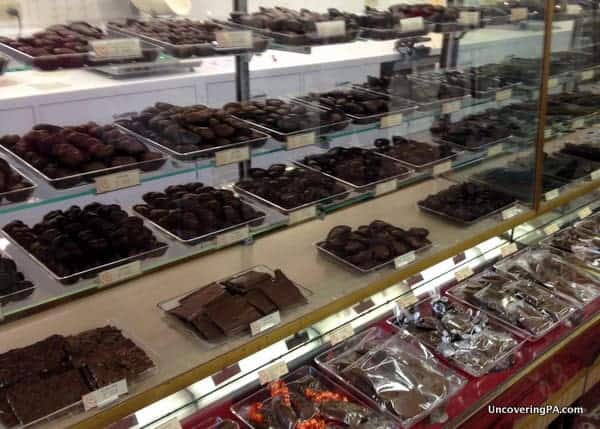 From the moment I stepped into Pulakos Chocolates in Erie, I knew that I was in for a fantastic experience. Just as their factory hasn't changed much over the years, their store still retains the feel of an old candy shop. Chocolates fill the old counters, each piece looking more delicious than the next.
During my visit, I got to sample Pulakos famous chocolate-covered sponge taffy candy and their chocolate-covered strawberries, both of which were simply amazing. I quickly realized that it was a good thing that I didn't live in Erie, because, if I did, I would spend all my money buying chocolate. It really was that good.
So, the next time you are in Erie, take the factory tour at Pulakos Chocolates. Not only will you get to see the inner workings of a candy factory, but you'll also get to try some pretty amazing chocolates.
For more information about visiting Pulakos Chocolates and taking a factory tour, visit their website.
Note: My visit to Pulakos Chocolates was hosted by the facility and Visit Erie. However, as always, the opinions expressed are my own and were not subject to review.
Looking for more to do in the area? Check out the Erie Art Museum, Daffin's Chocolate Kingdom, a kayaking around Presque Isle State Park, and Erie's great wineries.
See our map for other area attractions.