Disclosure: This article may contain affiliate links. We will make a small commission from these links if you order something at no additional cost to you.
If you've been reading this site for a while, you might have noticed that I don't regularly offer hotel or restaurant reviews. That's not to say that I haven't stayed or eaten at some fabulous places during my travels around the state, but a quick search of sites like Yelp or Trip Advisor will give you all the information you need to know about the best lodging and dining options in an area.
So, unless something is really special and worth traveling for, I don't feel like I can add much to the conversation.
However, Wapiti Woods in Elk County really was one of those unique experiences worth sharing.
From the moment I stepped onto the grounds of Wapiti Woods, I knew I was in for something special.
I was warmly welcomed into the home/reception area by the owner, Steve, to go over the details of my stay. He told me that the 10 cabins at Wapiti Woods are all located along the Bennett Branch of Sinnemahoning Creek at the bottom of the hill meaning that I would have some privacy, but still be close by in case I needed anything.
Driving down to the cabins, I wasn't exactly sure what to expect. Would they be a bit rustic or would they be more of a glamping (glamorous camping) experience?
The cabins sit together among the woods, mere steps from the river that runs along the property. While you certainly couldn't say that the cabins are isolated from each other, they are certainly spread out enough to give you a sense of privacy.
Stepping inside the cabin, I was quite impressed by the interior.
The two-person cabin had not only a comfortable bed, but a fully-equipped kitchen, a couch, a fireplace, and a whirlpool tub. The furnishings were comfortable, but still retained the feeling you'd expect from a mountain cabin. The kitchen was an especially nice surprise and really helped because the closest restaurant is about five miles away.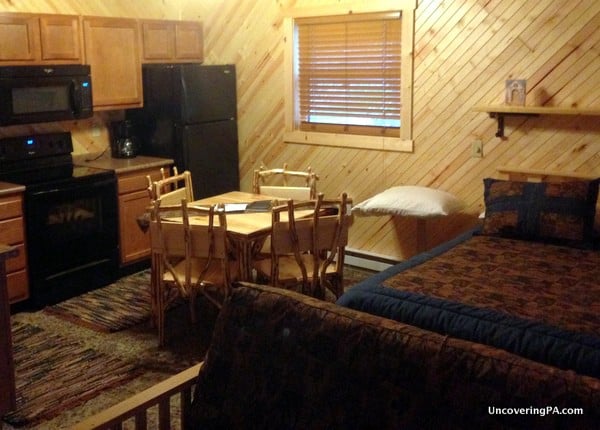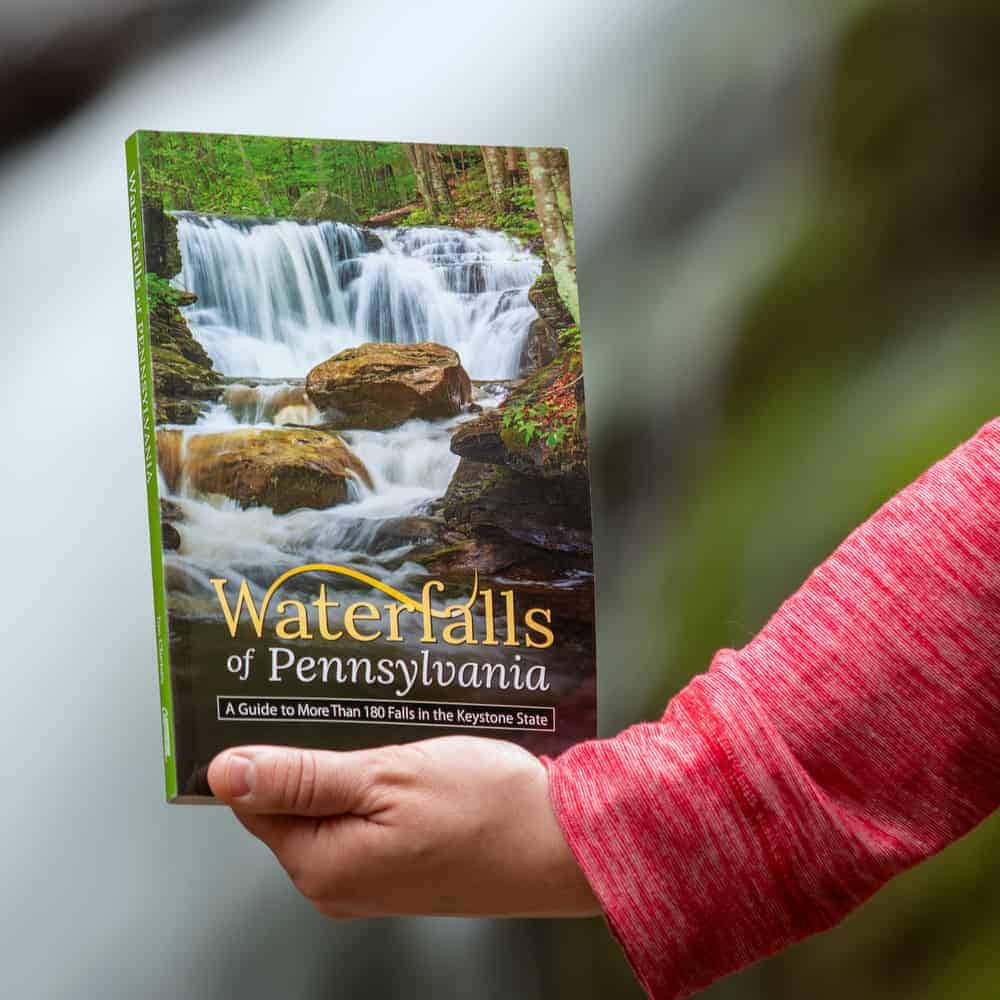 "Waterfalls of Pennsylvania" by Jim Cheney
If you love PA waterfalls, you won't want to miss this waterfall book from Jim Cheney, author of Uncovering PA, featuring more than 180 great waterfalls. Order it now on Bookshop.org or Amazon.
Outside, each cabin has a porch swing as well as a fire pit and picnic table. Firewood is provided, which is a nice touch.
In addition to the creek that runs through the property and is seasonally stocked with fish, there is also a 3/4 mile rail trail that can provide a nice walk. If you are looking for the comforts of home, there is a communal cabin that features a media room with a small TV and VCR, a place to wash clothes, and brochures of things to see and do in the area.
Speaking of things to do in the area, it's worth noting that Wapiti Woods is quite far from civilization. However, they are located only about 15 minutes from the Elk Country Visitor Center in Benezette and about 25 minutes from the city of St. Marys.
Of course, the grounds surrounding Wapiti Woods are so peaceful that you might not want to leave.
Honestly, there really wasn't much that I didn't like about Wapiti Woods, and I wouldn't hesitate to stay there again.
As someone who prefers cities to the countryside, I really enjoyed that I felt like I was getting close to nature without having to rough it. Because of that, Wapiti Woods could be a great compromise for those that want to explore the outdoors, but aren't thrilled by the idea of camping or rustic cabins.
If you want more information on staying at Wapiti Woods check out their website or read reviews on TripAdvisor. You can also find other nearby places to stay on Airbnb.
Note: My stay at Wapiti Woods was hosted by the owners. However, the opinions expressed are my own and were not subject to review. By using the affiliate links above, we make a small commission at no cost to you.
Looking for more nearby places to check out? Check out our articles on the Marion Brooks Natural Area, Table Falls, and Straub Brewery.
See map below for other area attractions.