Disclosure: This article may contain affiliate links. We will make a small commission from these links if you order something at no additional cost to you.
I've visited many fantastic Pennsylvania State Parks, and without a doubt, one of my personal favorites is Hickory Run State Park.
Hickory Run State Park is a 16,000-acre park located in Carbon County in the Pocono Mountain region of the state. This forested park is one of the most popular in the region thanks to its great natural beauty and the easy access to it from I-80 and I-476. And there are so many great things to do in Hickory Run State Park that you'll definitely want to plan a trip to this fantastic spot.
Here are a few of my favorite spots to check out while I'm visiting the park.
The Boulder Field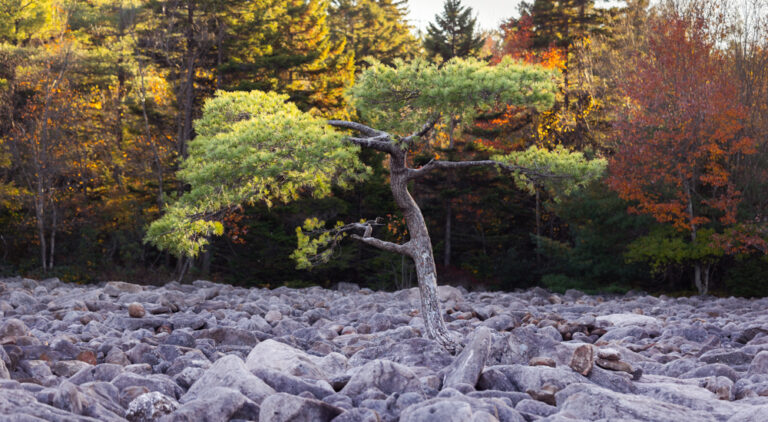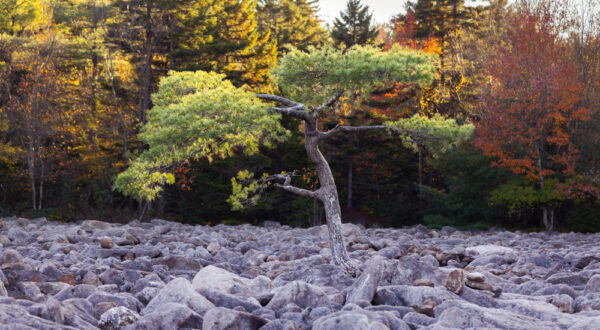 There are many beautiful boulder fields in Pennsylvania, but the one at Hickory Run State Park is extra special.
This boulder field is about 16 acres in size and spans nearly 1,800 feet at its widest point. It is said to be the largest boulder field of its kind in all of the Appalachian Mountains. It is also one of only 27 National Natural Landmarks in PA.
Visitors can either hike or drive to this field and then walk out onto it and explore its incredible beauty.
Hawk Falls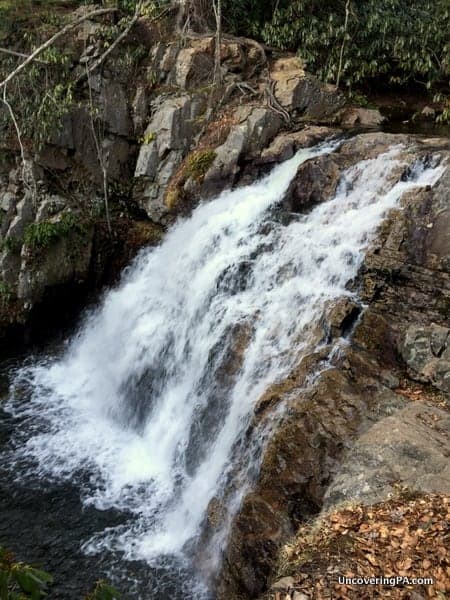 In the southeastern corner of the park, you'll find Hawk Falls. At about 20-25 feet in height, this is far from the largest waterfall in the Poconos, but it is still an incredibly scenic spot to visit.
Hawk Falls is located about half a mile from a large parking lot along Route 534 (and directly across the street from the trail to the Boulder Field). It can be easily viewed both from the top of the waterfall and from near the base.
If you want to explore the area further, a series of trails winds its way through the Mud Run Natural Area downstream of Hawk Falls.
Shades of Death Trail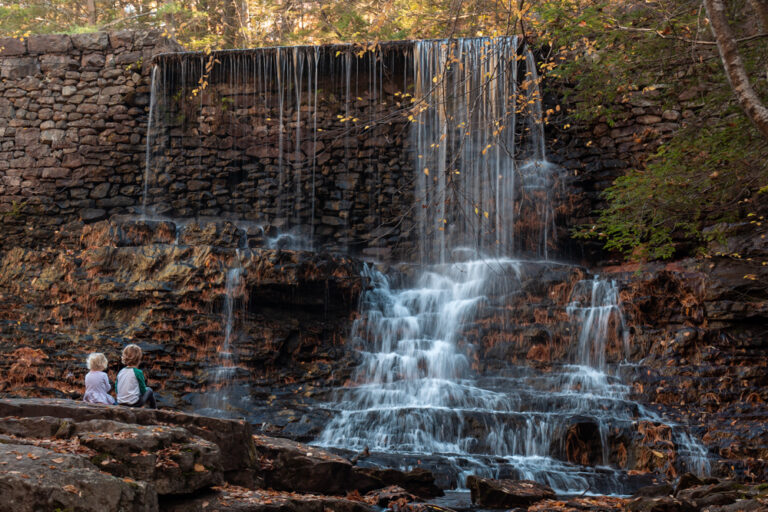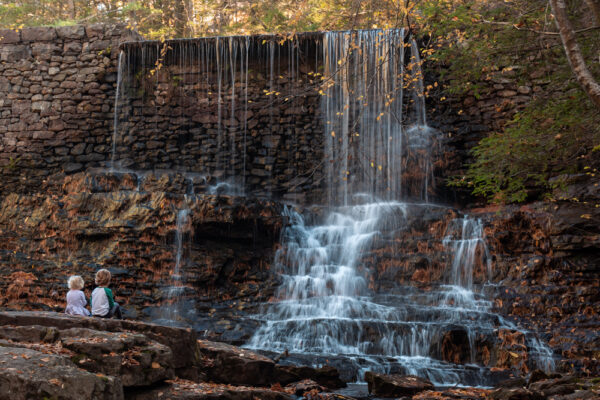 There are many great trails in Hickory Run State Park, but none are as much fun to hike as the Shades of Death Trail.
This trail runs a mile from near the historic chapel to the park office. Along the way, it passes two dam waterfalls, as well as several natural cascades. There are also two small ponds and some neat rocks to climb around.
Don't let the name fool you, my kids did this trail without difficulty, and it's definitely among the best things to do in Hickory Run State Park.
Chapel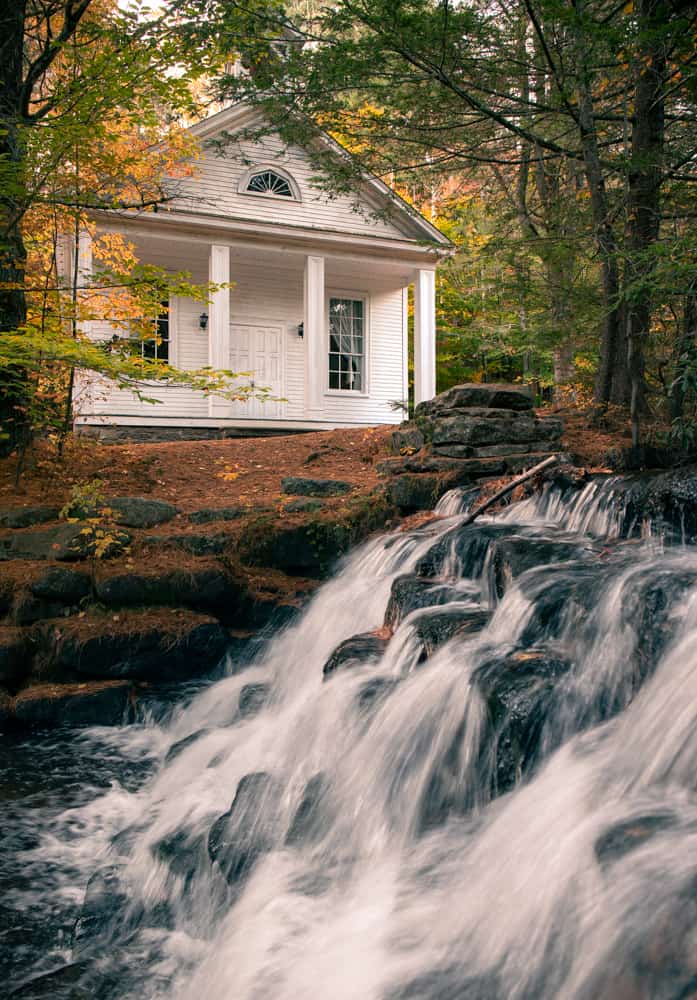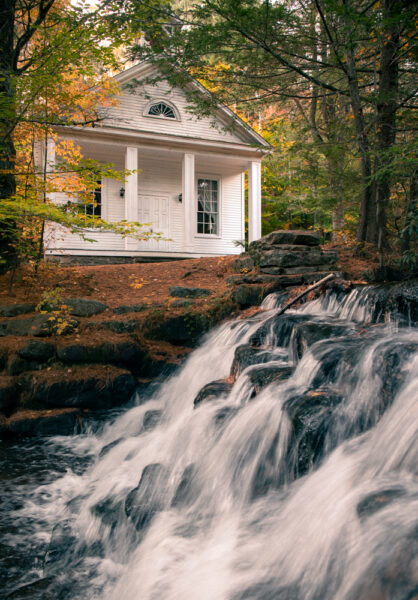 There might be no more picturesque building in a PA State Park than the Chapel in Hickory Run State Park.
While it's hard to find information on its history, it is the only building left in that park from the long-gone lumber town of Hickory Run. This town thrived in the mid-1800s but was quickly abandoned after a large fire in 1875.
Today, the chapel can be rented for special events, like weddings, but is also simply a beautiful spot to sit and enjoy. There are even several scenic dam waterfalls directly in front of it.
Sand Spring Lake Beach
If you're visiting the park in the summer months, go for a swim at Sand Spring Lake.
The lake features a sandy beach and a swimming area along the northern end of the lake that is open from late May through mid-September of each year. While there are no lifeguards on duty, there is a nearby concession stand that is open during the summer if you need some refreshments while visiting the area.
Saylorsville Dam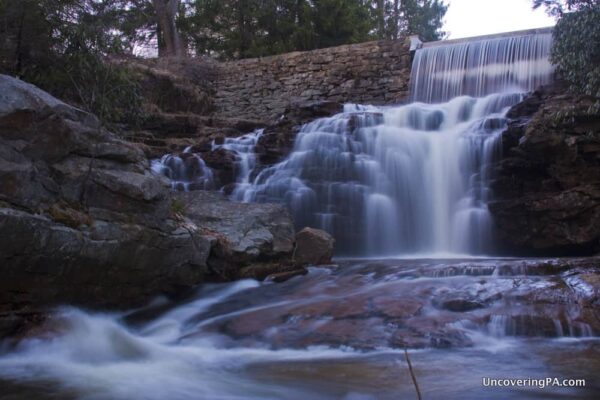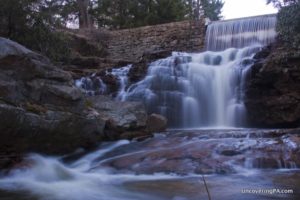 Saylorsville Dam is one of several large but very natural-looking dams along Hickory Run. This dam, like the others, was built in the 1800s to harness the creek's power, likely for the area's sawmills.
This dam is located along a one-way road that closely follows Hickory Run and passes through one of the least visited corners of the park.
Parking is available nearby for those that want to walk to the bottom of this beautiful spot.
Fordway
I've visited the majority of state parks in PA, and I can't recall any others that officially have a stream crossing on one of the park's roads. However, if you are driving the one-way road downstream of Saylorsville Dam, you'll come to this unique spot.
The Fordway is marked on the park's map and consists of a concrete roadway that's not elevated over the stream, meaning that you'll have to drive right through the water.
While this usually can be done in a regular car, if water levels are higher in the park, it might be best to consult with a park ranger before tackling this part of the road.
What are your favorite things to do in Hickory Run State Park? Lets us know in the comments below.
Looking for more things to do nearby? Check out the town of Jim Thorpe, the waterfalls of Lehigh Gorge State Park, and Eckley Miners Village.