Disclosure: This article may contain affiliate links. We will make a small commission from these links if you order something at no additional cost to you.
I've visited hundreds of amazing small towns in Pennsylvania, but few are as charming as Jim Thorpe, PA.
Jim Thorpe, PA is located in Carbon County in the Poconos region of the state. It was originally known as Mauch Chunk and was one of the first coal boom towns in the United States. However, in 1954, the town changed its name to Jim Thorpe to honor the great athlete of the same name who is now buried on the edge of town.
Today, there are many fantastic things to do in Jim Thrope, PA ranging from peaceful shopping to historical sights and adrenaline-pumping adventures. Without a doubt, there is definitely something for everyone to enjoy in the town known as the "Switzerland of Pennsylvania".
When to Visit Jim Thorpe, PA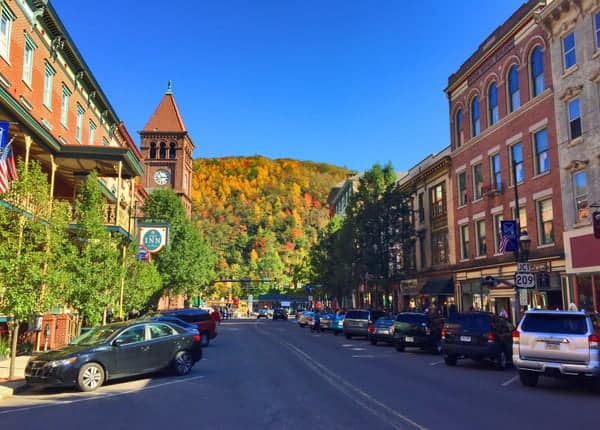 Jim Thorpe is a beautiful small town, but it is also one of the most popular destinations in PA. Because of this, it's worth giving some thought to when you visit.
Weekends in Jim Thorpe can often feel more like a trip to Disney World than a stroll through a quaint small town. However, because there are so many great things to do in Jim Thorpe, you are unlikely to have trouble finding something to do even if it is crowded.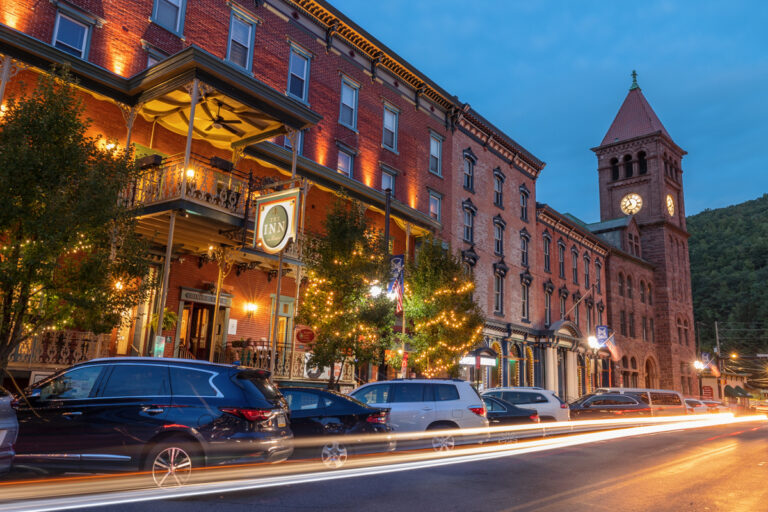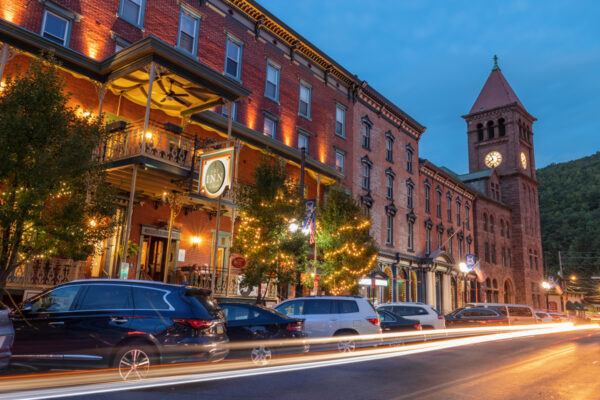 Parking, on the other hand, can be difficult to come by, especially on weekends in October (when it's a great spot to see fall foliage in PA) and during the holiday season. (The large municipal parking lot on Route 209 is your best parking option.) Because of this, I definitely recommend visiting on a weekday if you can.
Regardless, if you stay the night in town, things calm down significantly in the evening and early morning, meaning you can really experience the quaintness of the town quite easily. The bottom of this article has a few suggestions for places to stay the night.
Things to Do in Jim Thorpe, PA
Lehigh Gorge Scenic Railway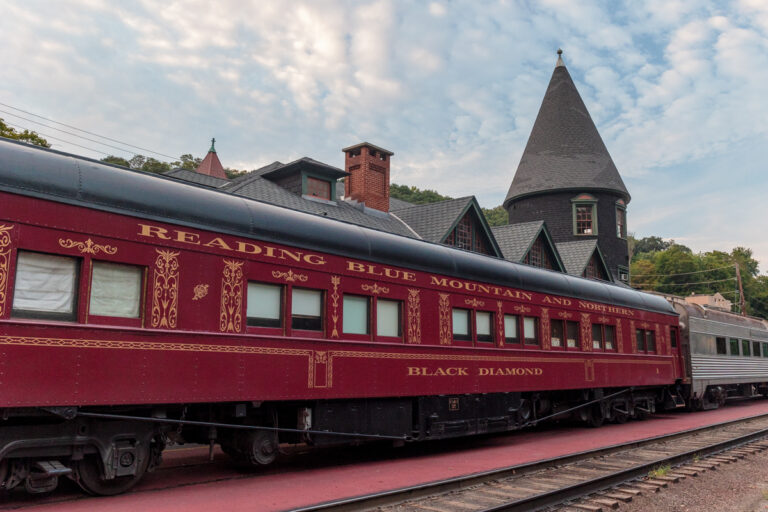 There might be no attraction in Jim Thorpe that's more popular than the Lehigh Gorge Scenic Railway.
This train leaves from the historic Central Railroad of New Jersey train station at the northeastern end of town near the Lehigh River. While there are a variety of excursions you can take, the most popular options are their daily sightseeing tours, which are either 45 minutes or 70 minutes in length depending on the season.
The train ride offers a great way to explore the banks of the Lehigh River upstream of town.
Old Jail Museum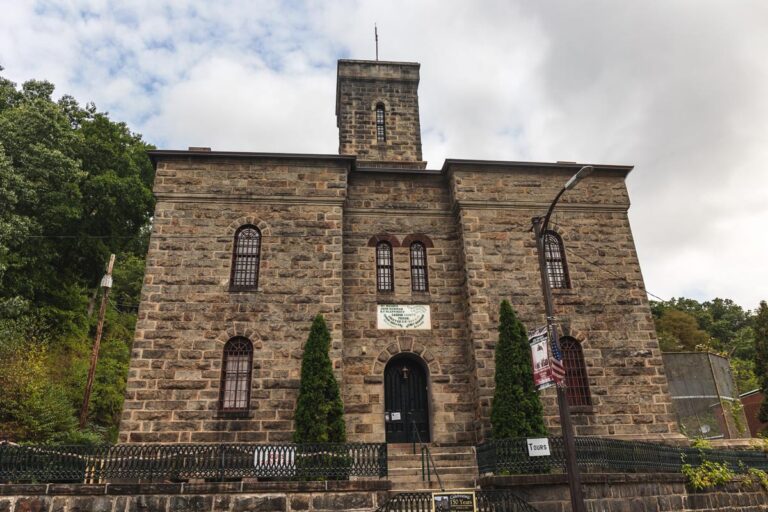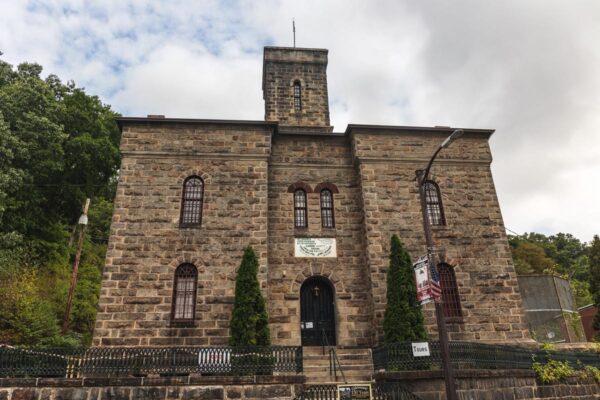 Located on the opposite end of town from the train station, you'll find another popular spot in Jim Thorpe: the Old Jail Museum.
Long known as the Carbon County Jail, it served the community from 1870 until 1995. Within the walls, several of the famous Molly Maguires were hung, and some say that the handprint of one can still be seen on a cell wall.
Tours take you through the solitary confinement area, the main cell block, the warden's quarters, and more. In the fall, they also run popular ghost tours after dark.
Jim Thorpe's Grave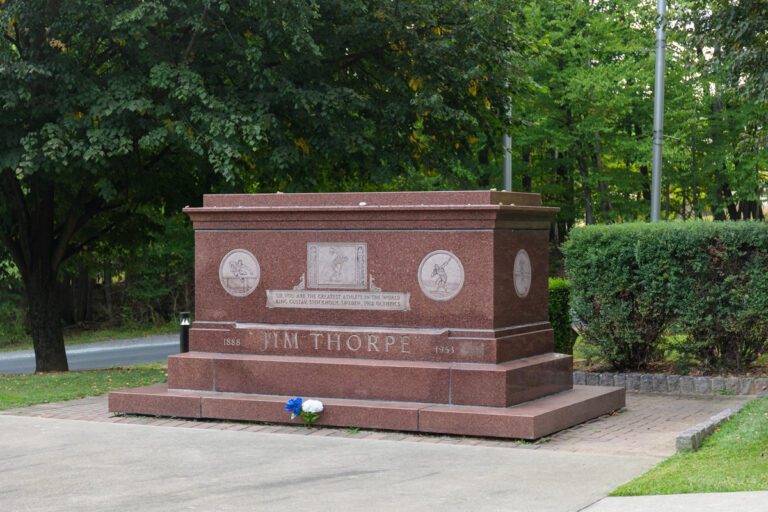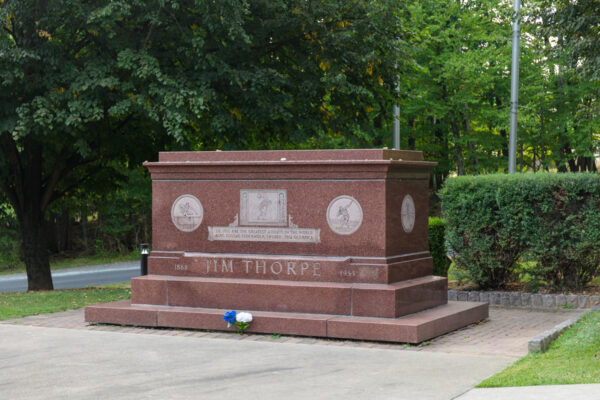 While world-renowned athlete Jim Thorpe spent much of his childhood at Carlisle, PA's Indian Industrial School, he is never known to have visited Carbon County. Still, in an attempt to revive the area's tourism, the community reached an agreement with Thrope's wife to bury him in town if it was renamed after him.
Today, Jim Thorpe's grave can still be found on the outskirts of town about two miles from the main downtown area. The grave is quite well done and features several statues of Thorpe. The signs around the grave offer good information about Thorpe's life, though they could use some refurbishment as they are getting a bit hard to read.
Asa Packer Mansion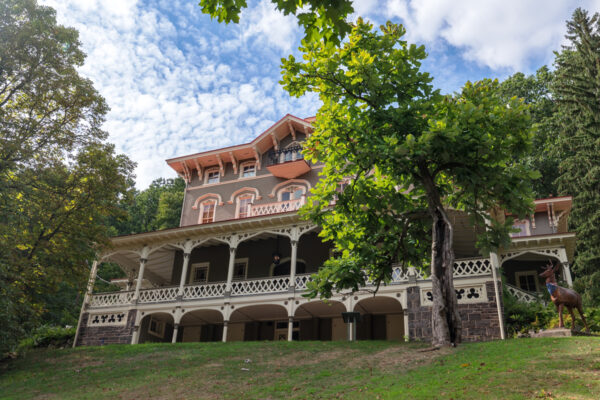 The Asa Packer Mansion sits on a hillside on the edge of town and is one of the top things to do in Jim Thorpe, Pennsylvania.
This was the home of Asa Packer, owner of the Lehigh Valley Railroad and the founder of Lehigh University, and was constructed in 1861. Since 1956, this Italianate villa home has been open for tours, with most of its original furnishings and decor intact.
The home's main chandelier was copied exactly for use in the film "Gone with the Wind" due to its incredible design.
Downtown Shops and Restaurants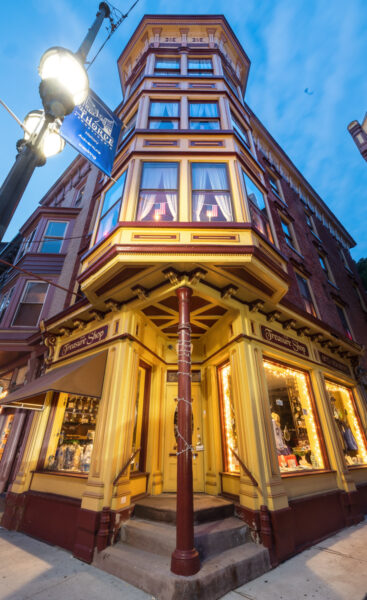 No visit to Jim Thorpe is complete without taking the time to explore the downtown area and the many great shops and restaurants along Broadway and Race Street.
The shops here feature great art, antiques, and much more, and you are sure to find at least a few shops that will interest you.
Jim Thorpe is also known for its many great restaurants, and while getting a table on a busy weekend can sometimes be an issue, you won't regret sitting down for a meal here. I've enjoyed great food from Stone Row Pub and Eatery, Molly Maguire's Irish Pub, Woods Ice Cream, and Donerds Donuts, but there are many more great options spread throughout town.
Mauch Chunk Museum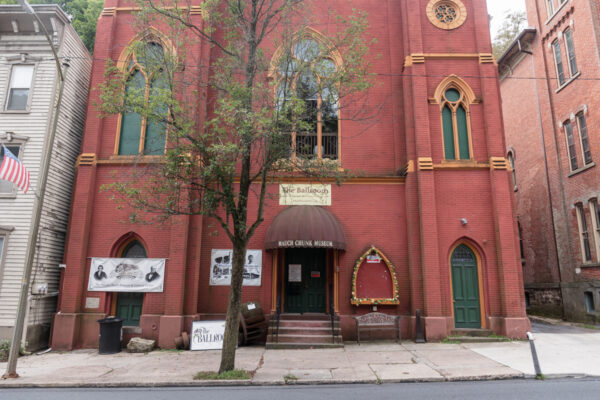 If you want to learn more about the history of Jim Thorpe/Mauch Chunk, the best spot to visit is the Mauch Chunk Museum.
This museum is located within a historic church and offers a wealth of information about the region from its Native American past through the present day. The working models of the early dams on the Lehigh River and the Switchback Railroad are very detailed and do a great job showcasing the area's history.
There are also displays related to the area's great hiking, famous mansions, and Jim Thrope (the man). And make sure to not miss the museum's excellent film.
Turn Hole Tunnel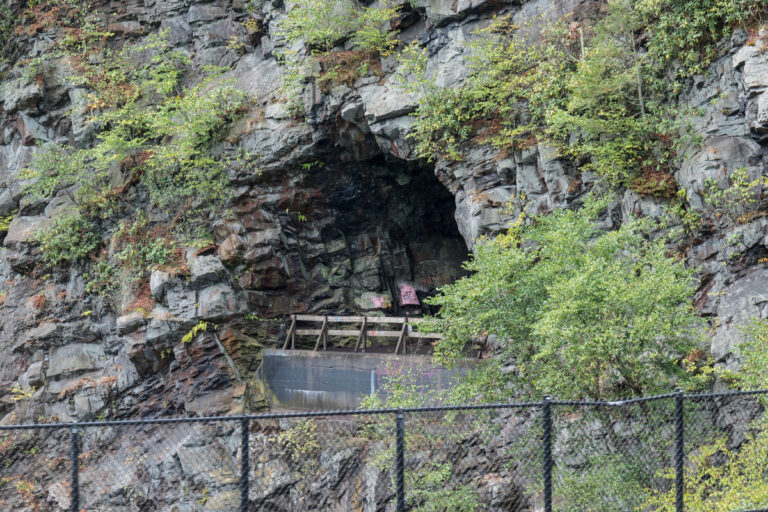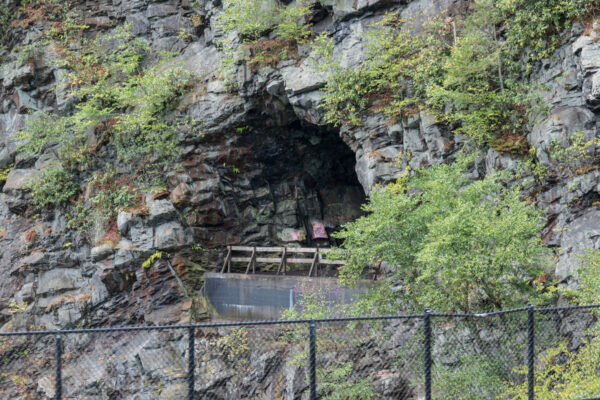 Located a few miles upstream on the Lehigh River, you'll find the amazing Turn Hole Tunnel.
This abandoned railroad tunnel was built by the Lehigh Coal and Navigation Company and was in use from 1866 until 1956. Today, visitors can carefully walk through this 400-foot tunnel until it ends at a fence overlooking the bridge piers and the Lehigh River.
While the interior of the tunnel is now closed to visitors, you can still see it from both ends, and it's worth a quick stop while you're in the area.
Bright Path Brewing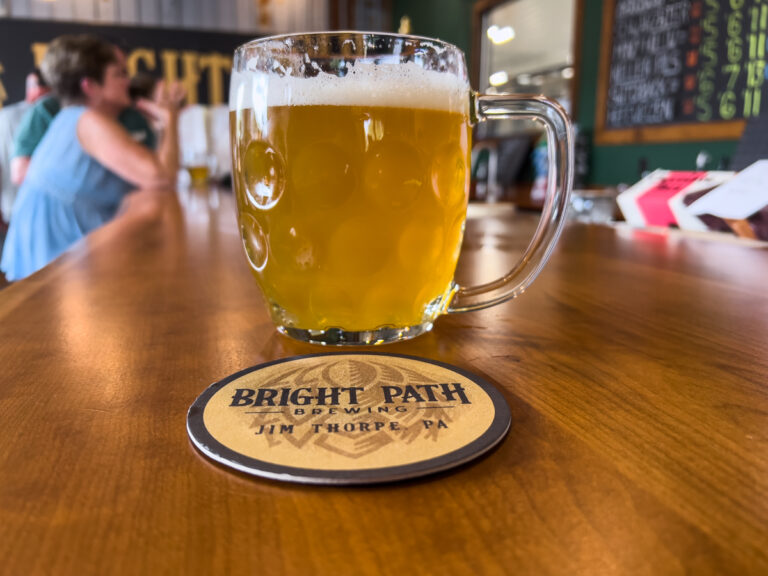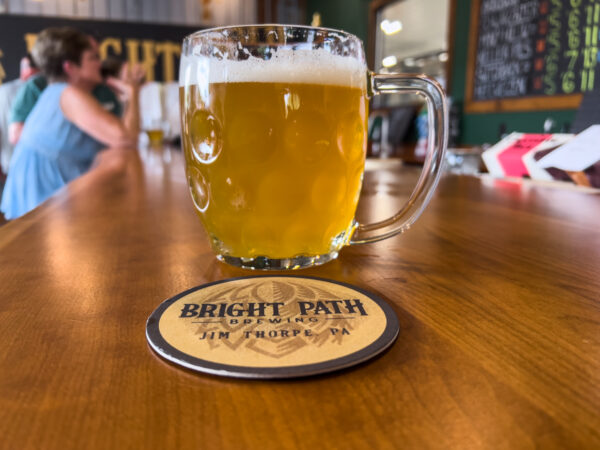 While there are many great breweries in the Poconos, Bright Path Brewing is Jim Thorpe's only craft brewery. Located outside of the main downtown area near Jim Thorpe's grave, this spot is worth the short drive from town to check out.
Bright Path Brewing features a beautiful and airy taproom, and, during my visit, had 10 beers on draft, including a larger variety of lagers than many other breweries in PA that I've visited.
Interestingly, I think this might be the only brewery I've visited in the state that offers their beers in liters instead of ounces. If you are feeling thirsty (and not driving), get a full liter of your favorite beer.
Switchback Railroad Trail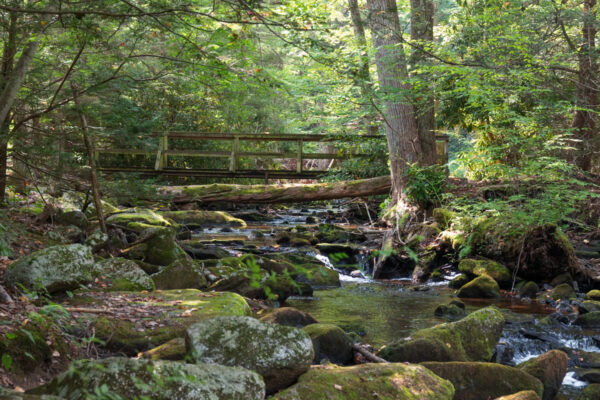 The Switchback Railroad has had a lot of iterations: first as a way to move coal from the mountains, then as one of the most popular tourist attractions in the country (and the first roller coaster), and today, as a great hiking trail.
The Switchback Railroad Trail extends for 18 miles from Jim Thorpe to Summit Hill, where the original coal mines were located. The railroad tracks are long gone, though you can still see some remnants from its past along the trail.
If you are looking for a hike in the Jim Thorpe area, this is definitely a great choice.
White Water Rafting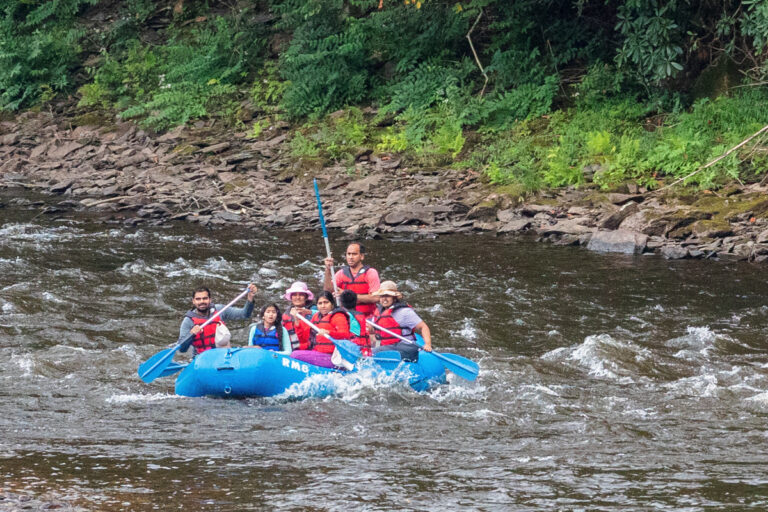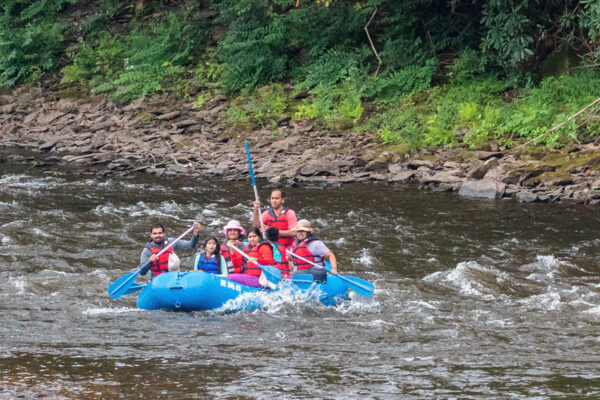 The Lehigh River in Carbon County is one of the most popular spots to go white water rafting in Pennsylvania, and on a busy weekend, you'll see many people rafting down the river, especially if you head into Lehigh Gorge State Park.
There are several outfitters that offer rafting on the river with Jim Thorpe River Adventures being accessible from in town.
River trips last several hours, and depending on the route taken and the river conditions can range from Class 1-3 rapids. Some trips are even tame enough that younger kids can take the trip as well.
Number 9 Coal Mine and Museum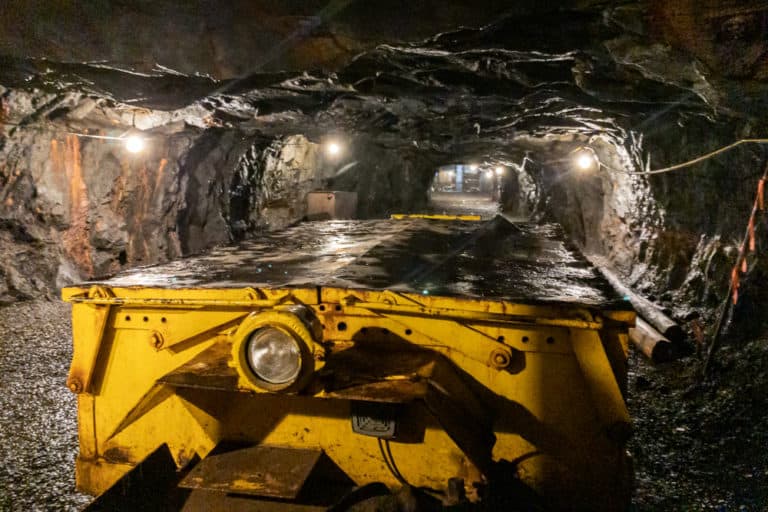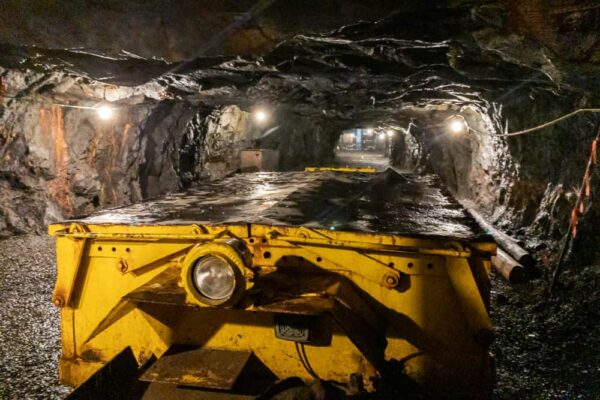 Jim Thorpe owes its existence to the coal mines in the mountains west of town, and the Number 9 Coal Mine and Museum is a great spot to visit if you want to learn about the area's rich history with anthracite coal.
This mine was the longest-running anthracite coal mine in the world operating from 1855 until 1972. There are miles of tunnels here, some of which extend as far as 800 feet below the earth's surface.
Visitors can ride a historic car into the mine and learn more about what it was like to work underground, and the impact of anthracite coal on this region, the country, and the world.
Cave Falls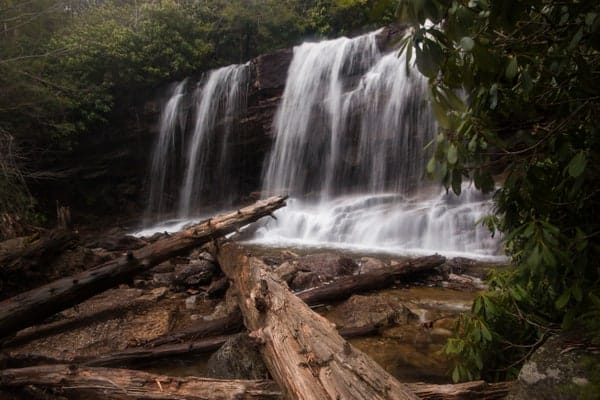 For over 100 years, Glen Onoko has been drawing visitors to its majestic waterfalls just upriver of Jim Thorpe. Sadly, most of the gorge was closed to visitors a few years ago (Don't get me started…), but the uppermost of the three waterfalls, Cave Falls, can still be reached via a different trail that remains open to the public.
This waterfall is at the top of the mountain and can be reached via a two-mile loop trail that also passes by a couple of vistas.
Mauch Chunk Lake Park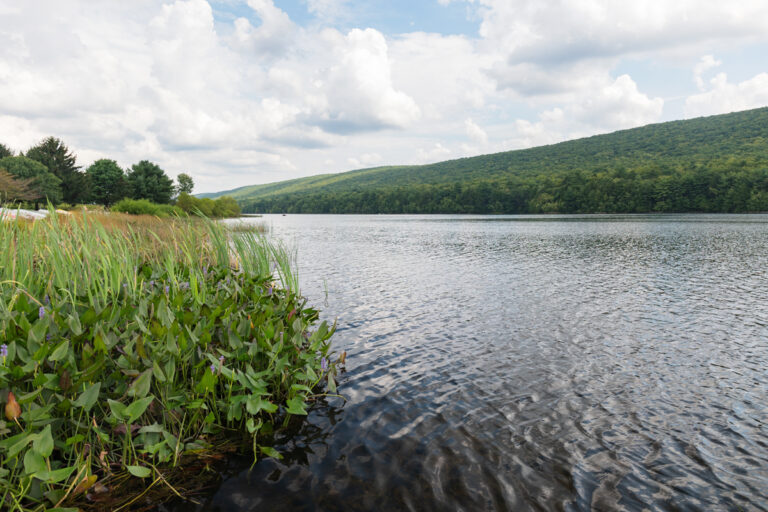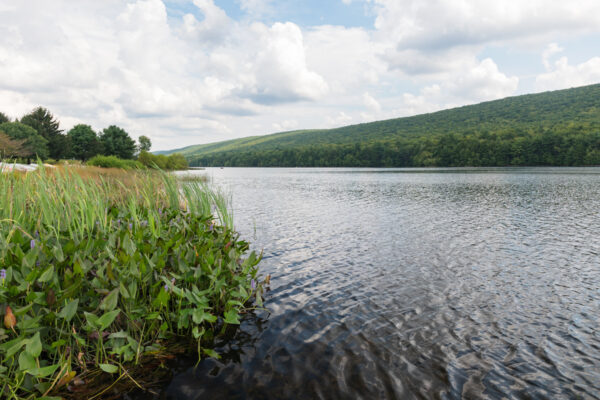 Located west of downtown Jim Thorpe, you'll find Mauch Chunk Lake Park.
The park is centered around a beautiful lake that is home to a popular beach during the summertime. There are also several miles of hiking and biking trails, including the aforementioned Switchback Railroad Trail.
Those with watercraft can also put them in on the lake and enjoy the sights of this beautiful spot.
Muggle's Mug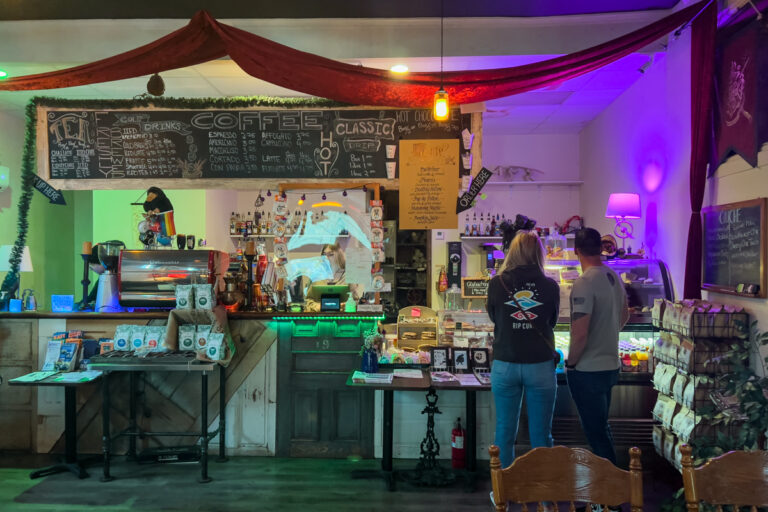 Muggle's Mug is definitely one of the most unique coffee shops I've visited in PA because this is a Harry Potter-themed coffee shop.
Stepping in, it definitely feels as if you've entered a wizarding world thanks to some great decoration within the space. Many details are set up to make you feel comfy, and you can even curl up and watch a Harry Potter film on the constantly running movie screen.
Both the drinks and food here are quite tasty, and you can order drinks like Butterbeer, Mandrake Maple Draught, and Pop-Up Potion.
D&L Rail Trail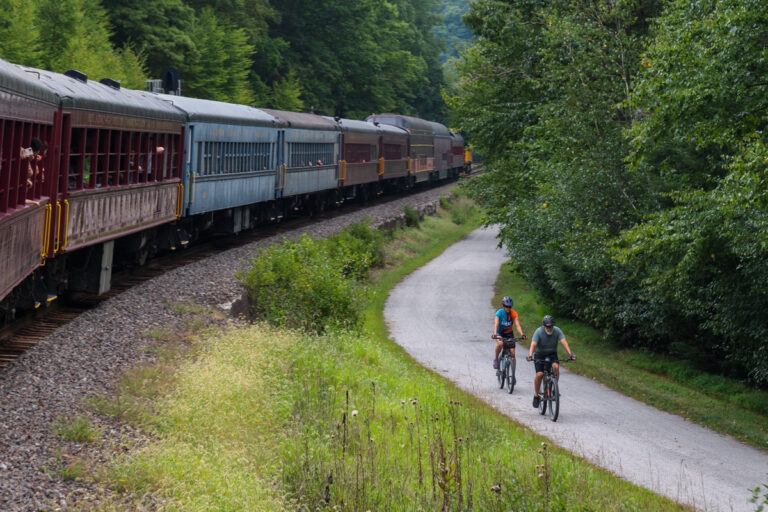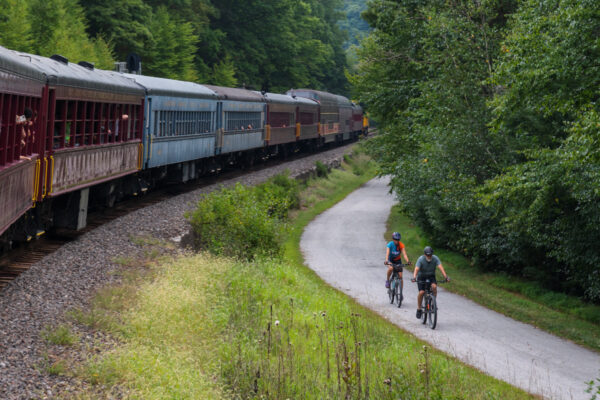 The D&L Rail Trail is a fantastic walking and biking path that follows the Lehigh River along an old train bed through Jim Thorpe.
Eventually, this trail will be 165 miles from Wilkes-Barre to Bristol, PA, but today, a large portion of the completed trail extends from either direction centered on Jim Thorpe.
The most popular route is to bike upriver through Lehigh Gorge State Park, with more than 20 miles of uninterrupted trail allowing you to bike to near White Haven, PA. On select days, the Lehigh Gorge Scenic Railway runs biking excursions that allow you to take the train upriver, and then bike back down the trail.
Stabin Museum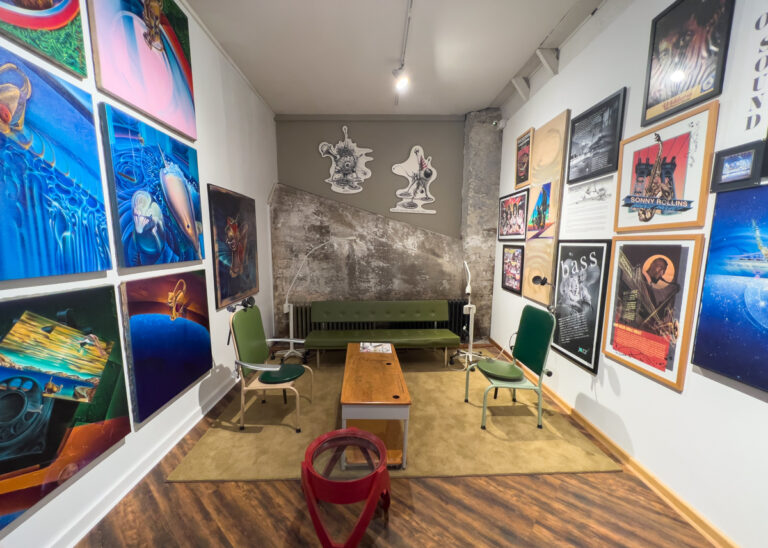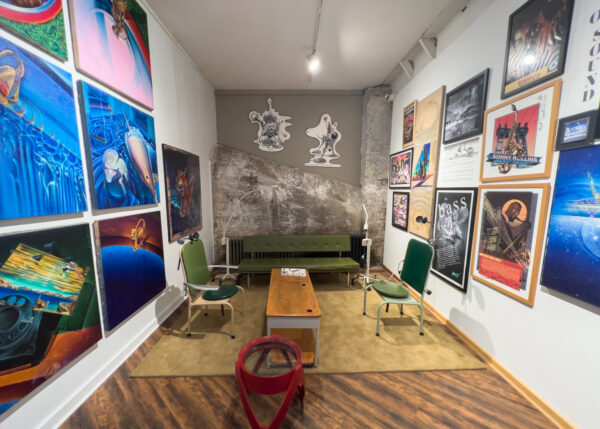 The Stabin Museum is located on the outskirts of town, but it's worth the distance to check out one of my favorite things to do in Jim Thorpe, PA.
This museum features 10,000 square feet of gallery space highlighting the work of artist Victor Stabin. Even if you, like me, haven't heard of Stabin, if you appreciate fantastic art, you are sure to love this spot.
The walls of the museum are lined with Stabin's unique and varied art, as well as a lot of signage that tells the story of these amazing pieces of work. There is also a jazz bar and restaurant on site for visitors to enjoy.
Beltzville State Park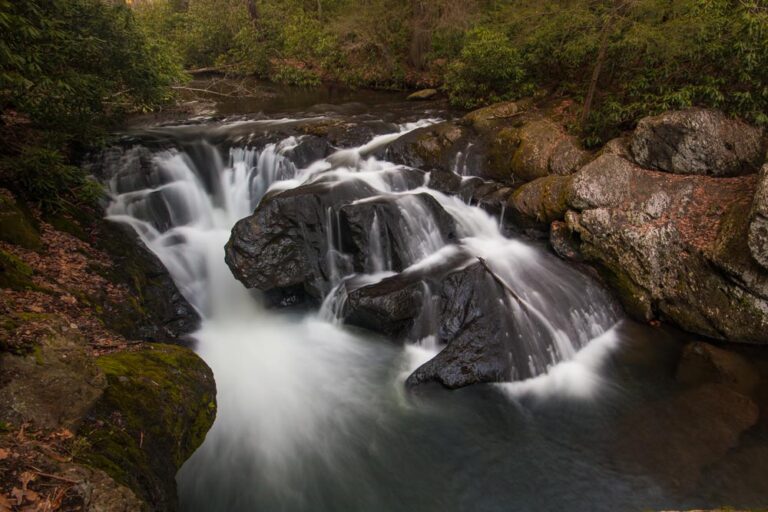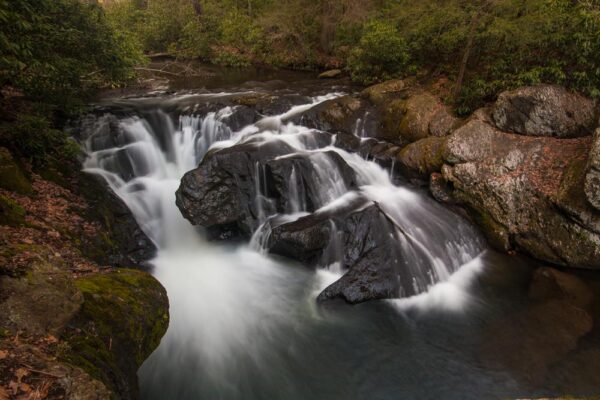 Beltzville State Park is located a short drive from Jim Thorpe and is one of the region's most popular outdoor destinations.
This nearly 3,000-acre park features a large lake with a fantastic swimming area. There are also several miles of hiking trails, including one that goes to the popular Wild Creek Falls, as well as one of the two covered bridges in Carbon County.
Harry Packer Mansion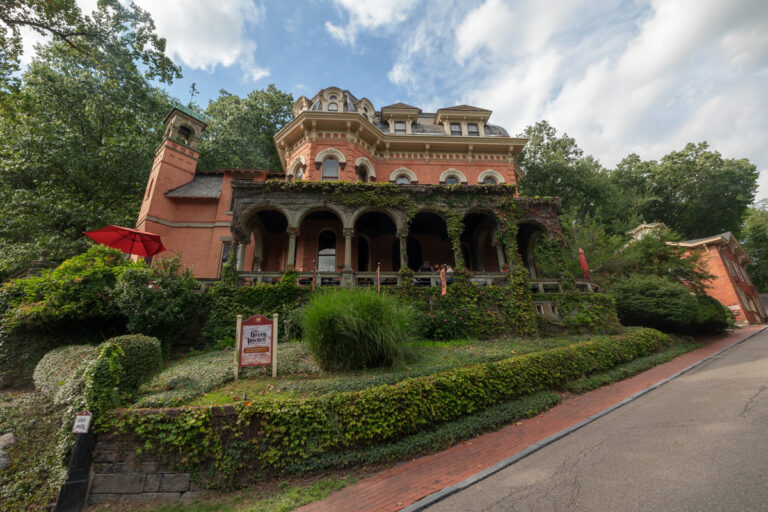 The Harry Packer Mansion is located next to the Asa Packer Mansion (Harry was Asa's son) and is just as grandiose as the latter. And, if this mansion looks familiar, that's because it was the inspiration for the Haunted Mansion at Disney World.
While the mansion isn't open for tours, it is a great bed and breakfast if you are looking for somewhere to spend the night. You can also visit on select Friday evenings for the Libations Lounge for a chance to peek inside.
Even if you are unable to go inside, it's also worth walking over just to check out the home's beautiful exterior.
Flagstaff Mountain Overlook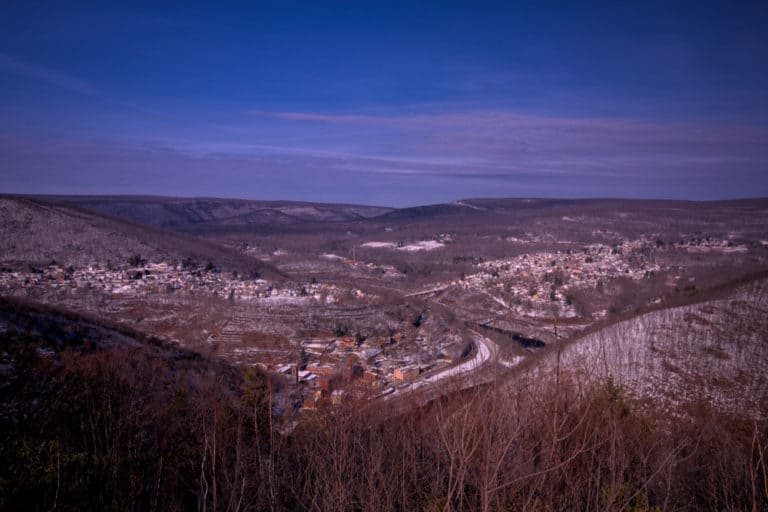 Flagstaff Mountain Overlook offers a phenomenal view over both the town of Jim Thorpe and the surrounding forested hillsides. In fact, from the vista, you see little other than the town and trees.
This overlook is quite historic, having been the site of a popular dance hall and park during the town's heyday in the late 19th and early 20th centuries. Today, it's a much quieter spot, but the views are still phenomenal.
Hickory Run State Park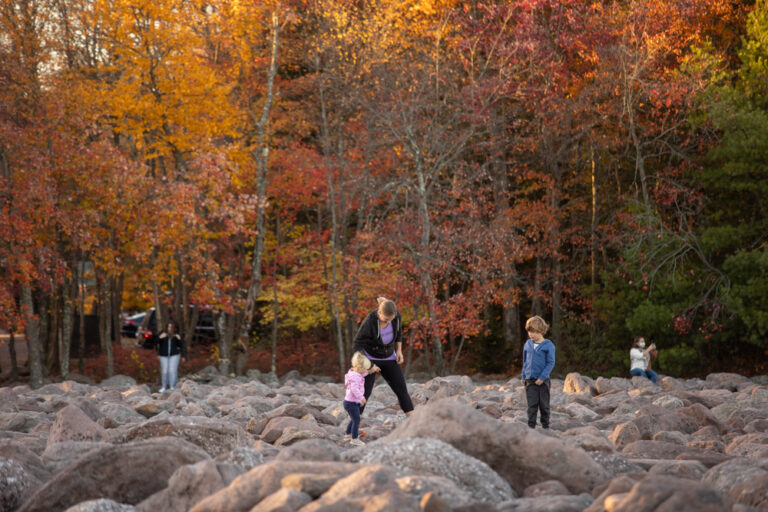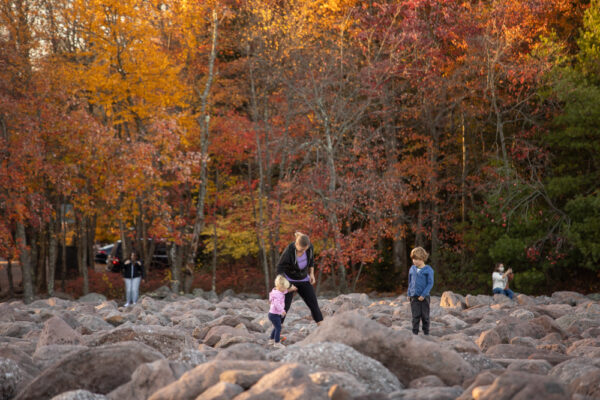 There are a lot of great parks in the Poconos, but there might be none better than Hickory Run State Park, which is only about 30 minutes from Jim Thorpe, PA.
Hickory Run is nearly 16,000 acres in size and features some incredible hikes, a beautiful waterfall, vistas, and much more. Highlights for me include the fantastic boulder field, the Shades of Death Trail, the historic chapel, and Hawk Falls.
Mauch Chunk Opera House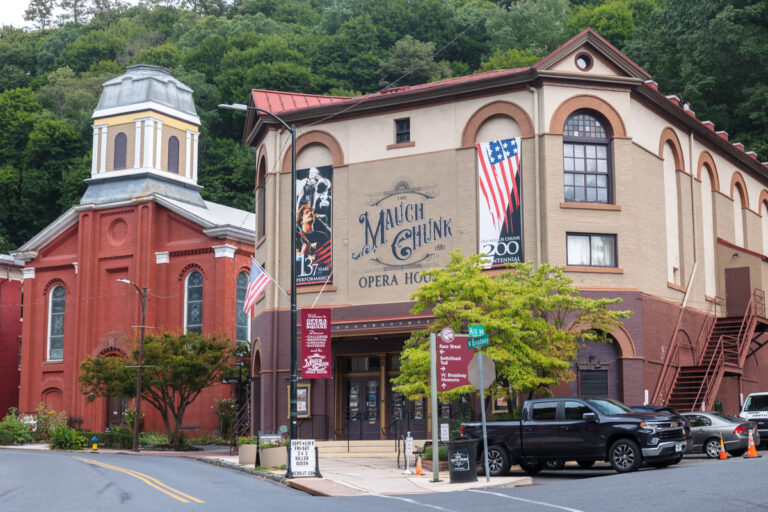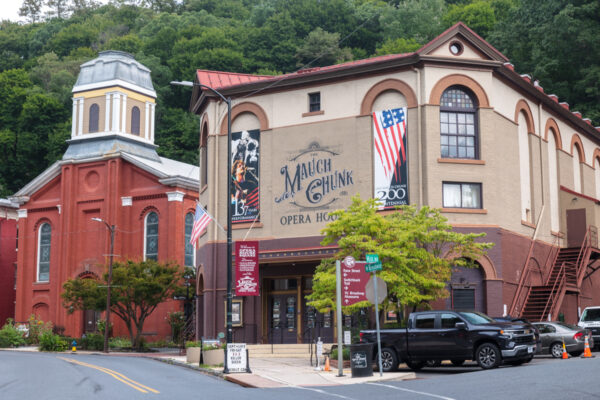 If you want to see a show, the Mauch Chunk Opera House is a great choice.
This historic theater was completed in 1882 and was one of the first vaudeville theaters in the country, hosting acts like John Philip Sousa, Al Jolson, and Mae West. After being used as a warehouse and left abandoned for many years, it is now open once again and hosts acts from throughout the country.
Where to Stay in Jim Thorpe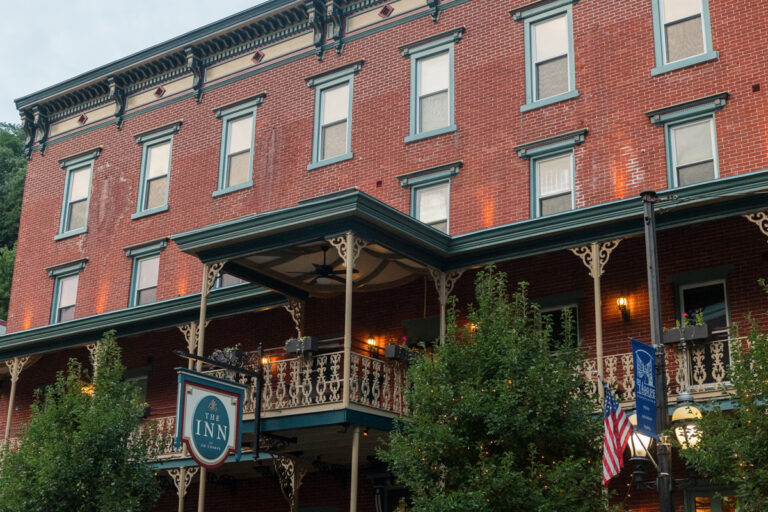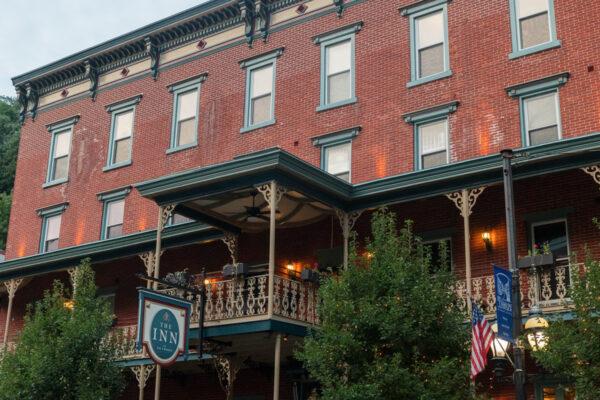 There are many spots to stay in Jim Thorpe, but all the properties in town are either small hotels or bed and breakfasts.
Probably the most well-known spot is the Inn and Jim Thorpe, which is located right on Broadway and is a historic 19th-century hotel. The rooms here are completely modern, however, and this is a great central location to stay the night.
Another great option is the aforementioned Henry Packer Mansion, which is a bed and breakfast that is historic and an architectural wonder.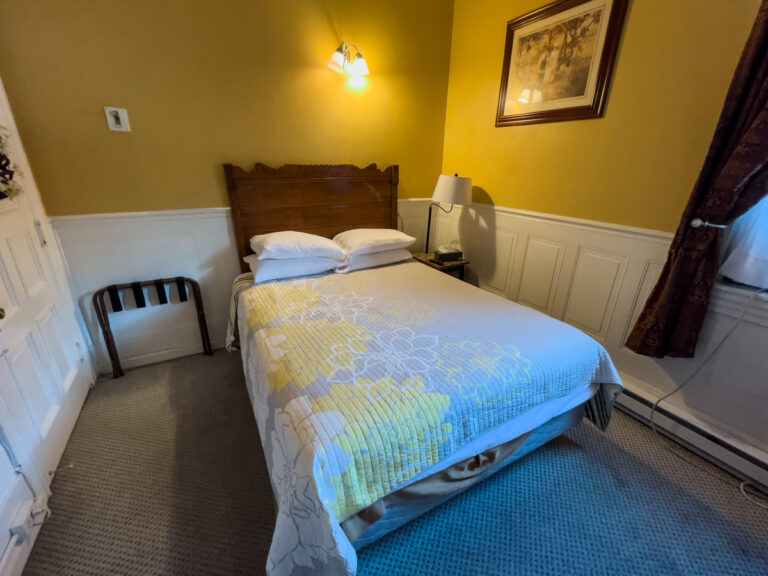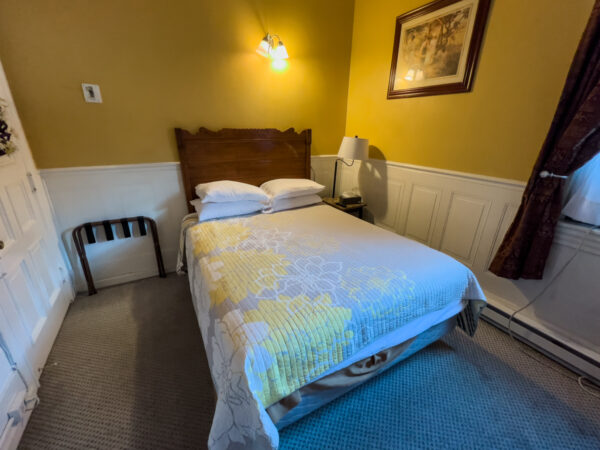 On the other hand, if you are just looking for a basic place to stay, Hotel Switzerland is located right in town above the Molly Maguires Irish Pub. The rooms here are basic but clean and in a great location. Just note that not all rooms have private bathrooms.
There are also many other bed and breakfasts, as well as some nearby chain hotels that can be found on sites like Booking.com.
What are your favorite things to do in Jim Thorpe, PA? Let us know in the comments below.
Looking for more things to do nearby? Check out the best waterfalls in the Poconos, the top things to do in Allentown, and Bake Oven Knob.