Disclosure: This article may contain affiliate links. We will make a small commission from these links if you order something at no additional cost to you.
It's hard to believe that 2016 has come and gone, but now that 2017 has begun, I thought I'd take a look back at some of my favorite photos of 2016. During the year, I visited at least one destination in 40 of Pennsylvania's 67 counties. While traveling, I took thousands of photos and have been sharing at least one new photo a day on the UncoveringPA Facebook and Instagram pages.
From December 1-31, 2016, I shared my 31 favorite photos of the year. Narrowing the list down to 31 was a major challenge, and I'm excited about how many great shots I was able to take during the year.
This past year was UncoveringPA's third full year in existence, and it's become a bit of a tradition to count down my favorite photos of the year each year. If you want, you can visit these links to see my favorite 2014 photos and my top 2015 photos, my favorite photos of 2017, and my favorite photos of 2018.
Fortunately, while I still like some of those shots, I feel like my photos from 2016 are much better than those I have in the list. Because of this, I'm very excited to see what great new photos I'll be able to share with you in 2017.
So, take a few minutes to see my 10 favorite Pennsylvania travel photos of 2016 and read a bit of the story behind the photos. Should you like the photos and wish to purchase a copy for your home, I've included a link under each photo to where you can buy it. All of the profits from photo sales go directly towards the cost of bringing you more great content on UncoveringPA.
#10 – Sunrise over the Benjamin Franklin Bridge in Philadelphia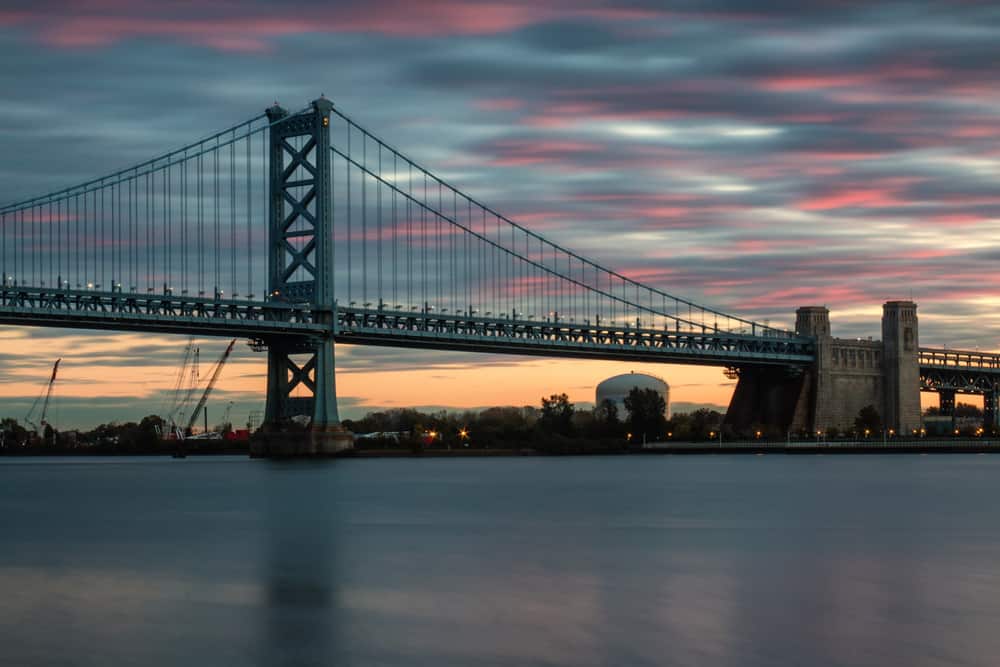 Purchase this photo here
I took this shot of the Benjamin Franklin Bridge which spans from Philadelphia to Camden, New Jersey, during an October sunrise. I was visiting the city for two days to do a photography project for Visit Philly, focusing on the city's hidden nature. Three photos taken during that trip made my top 31 photos of 2016, and several more just missed the cut, making those two days my best photography trip of the year.
I'm definitely a night owl, so getting up for sunrise is always a bit of a challenge for me. However, seeing as I so rarely spend the night in the city, I decided to bite the bullet and wake up for sunrise. Boy, am I glad I did.
On a photography note, I've been asked several times in the past how I got the clouds to look like that. To achieve the blurred cloud effect that you'll see in some of my photos, I use a 10-stop neutral density filter on the front of my lens to take very long exposures. This is similar to the one that I use (Affiliate link), but you can find less expensive options out there as well.
#9 – Packsaddle Covered Bridge in Somerset County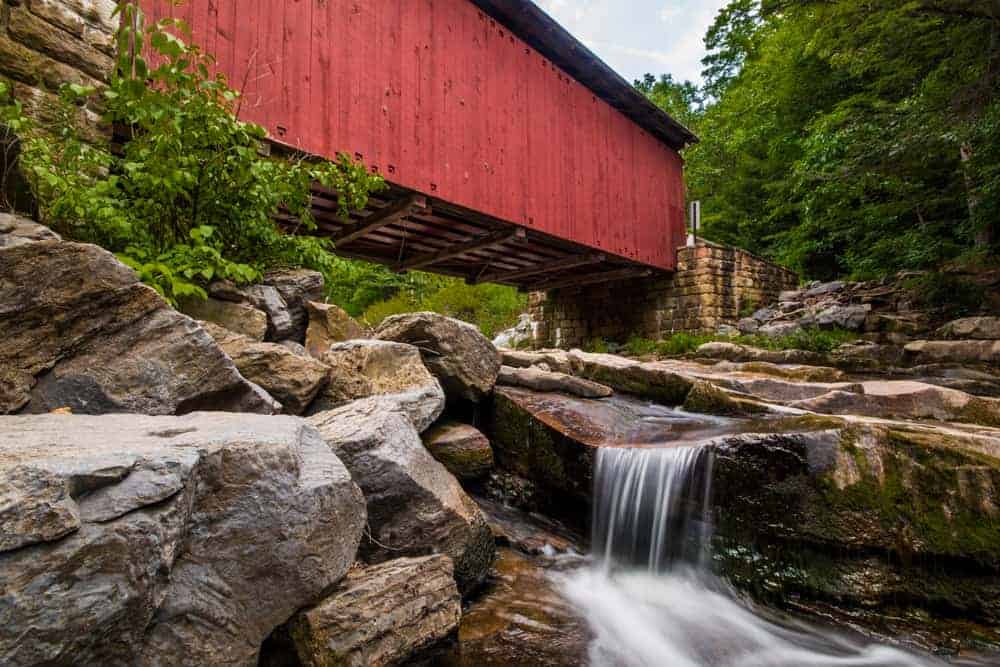 Purchase this photo here
Ever since the first time I saw a photograph of Packsaddle Covered Bridge in the Laurel Highlands, it was near the top of my places to visit in Pennsylvania. That's because, out of the more than 200 historic covered bridges in the state, Packsaddle is the only one that has a natural waterfall directly underneath it.
I finally had a chance to visit this beautiful bridge in late July of this past year. While that is far from the ideal time to visit a waterfall, I wasn't about to pass up a chance to see it for myself.
As expected, there wasn't much water flowing under the bridge during my visit. However, there was just enough to set up this shot at an angle I would never be able to reach when water levels are higher. I can't wait to visit this bridge again when there is more water underneath it.
#8 – Wissahickon Gorge in Philly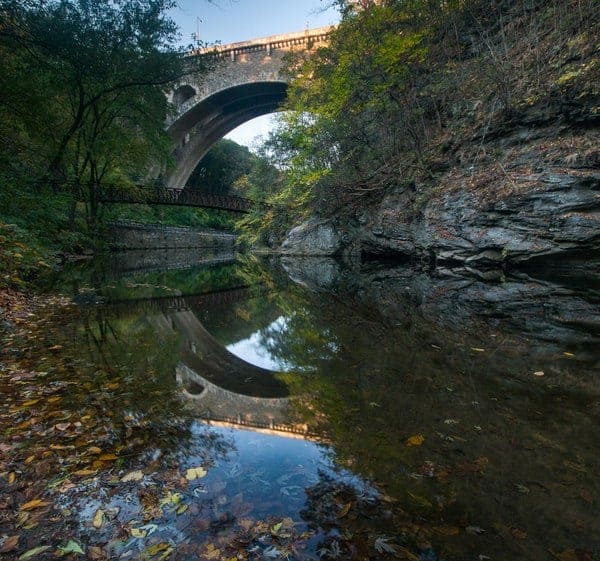 Purchase this photo here
This is the second of my photos from my trip to Philly in October to make the top 10. During the trip, I was highlighting the city's many great opportunities to get into nature, and this certainly fits the bill. Located in the southern reaches of Wissahickon Gorge in northern Philly, this photo was taken below where the Henry Avenue bridge crosses the creek far below.
What's not seen in this shot is the rush hour traffic that is located less than 100 feet over my shoulder. While much of the gorge feels very removed from the city, you certainly can't forget about the urban landscape in this part. However, this beautiful scene, made even more beautiful by the early morning light, is certainly worth seeing for yourself, even if the traffic is providing a bit too much background noise.
#7 – Sunset at the Reading Pagoda in Berks County
Purchase this photo here
The Reading Pagoda was another site that had long been on my Pennsylvania bucket list, and 2016 was the year that I was finally able to cross it off. Having lived in Asia for 2.5 years, I have a tendency to be drawn to anything Asian in Pennsylvania. The Reading Pagoda, which is designed to look like a traditional Japanese pagoda, certainly fits that bill. You can read more about the Reading Pagoda here.
I actually visited the Reading Pagoda twice in 2016, and this photo was taken during my second visit. Truthfully, when looking at my photos, it's pretty hard to take a bad photo of this amazing building and its view over downtown Reading. I could have probably put two or three other photos of the pagoda in my top 31, but decided to limit myself to just one.
#6 – Philly Skyline at Sunset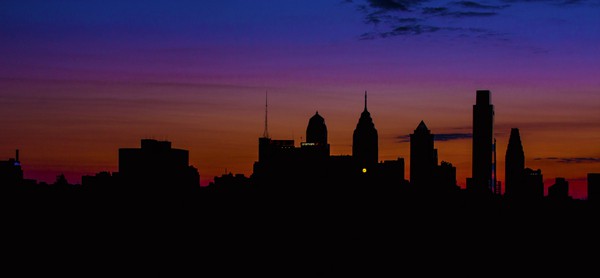 Purchase this photo here
This is the third and final photo of Philadelphia in this top 10 countdown. Unlike the first two, however, this photo was not taken in October. Instead, it was taken during my other visit to Philadelphia in April of 2016.
The #10 photo in this countdown was of the Benjamin Franklin Bridge, and this photo was taken from the Benjamin Franklin Bridge. There is a walkway along this bridge that allows pedestrians and bicyclists to travel over the Delaware River. While it closes from a few minutes after sunset to a few minutes before sunrise, it's still possible to get some nice sunset shots from here throughout the year.
I love how the amazingly beautiful colors of the sunset are behind the silhouette of the city, with just the clock on Philadelphia City Hall lighting up the scene.
#5 – Pennsylvania State Capitol in Harrisburg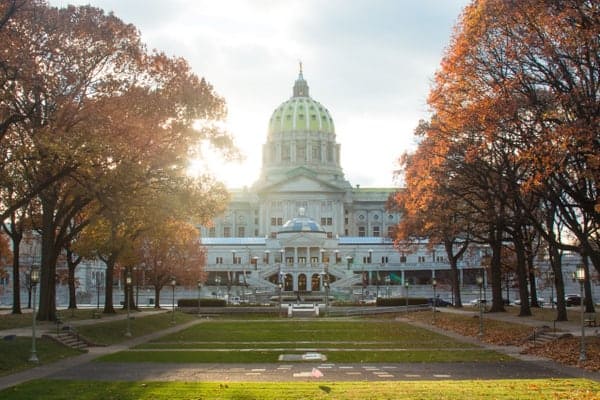 Purchase this photo here
There is probably nowhere in Pennsylvania that I have more photos of than the Pennsylvania State Capitol building in Harrisburg. I live only about five minutes away from the building and have to pass it every time I go to the UncoveringPA office in the city.
Because of its proximity and beauty, I probably took photos of the capitol building at least once a month in 2016. However, this shot, which was a bit impromptu, was my favorite of the building in 2016.
Most shots of the capitol are from the front. However, now that some refurbishment projects have been completed on the backside of the building, it makes for a great place to get photos at sunset. I took this shot on a very cold and windy November day while looking for new subjects in the city. While I've shot photos of the capitol with the fountain several times this year, I hadn't gone back into Soldier's Grove to get photos before.
#4 – Bethlehem in Black and White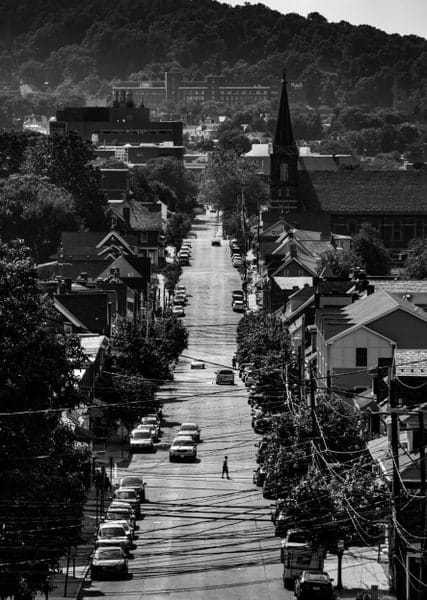 Purchase this photo here
This photo of Bethlehem is a bit unlike any other shot in this countdown. While most of my shots focus on tourist attractions, this photo was taken facing away from a tourist attraction, and the story of how I got there is rather interesting.
In August, I was planning my trip to the Lehigh Valley and was looking for unique places to get photographs of the city. On the same day that I was planning my shots, Bon Jovi released a new music video for his song, "This House is not for Sale" (Watch the video here). Several scenes from the video were shot from a cemetery overlooking the old Bethlehem Steel mill. I instantly had to figure out where the shots were taken from.
My quest led me to a hillside overlooking Bethlehem in the middle of St. Michaels Cemetery. While there, I got some nice shots of the steel mill, but my favorite shot was an impromptu shot looking down 5th Street from the top of the hill.
#3 – The Skyline of Pittsburgh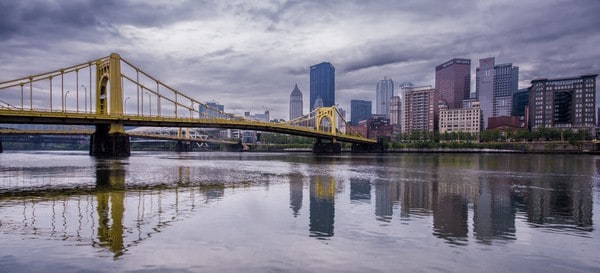 Purchase this photo here
I visited Pittsburgh twice in 2016 and had many great chances to shoot photos during my visits to this amazing city. Of all the photos that I got, this shot of the skyline and Roberto Clemente Bridge from the North Shore Trail is my favorite.
I took this photo while out shooting sunrise with J.P. Diroll (if you don't know his work, you should). We were both disappointed at the lack of sun in our sunrise, but the clouds were interesting enough to make for some nice photos.
It's no surprise that a photo of the Pittsburgh skyline made this list. In fact, a photo of the Roberto Clemente Bridge was my number one photo of 2015. I definitely can't wait until I can get back to Pittsburgh and photograph even more of this beautiful city.
#2 – Waterwheel Waterfall in the Poconos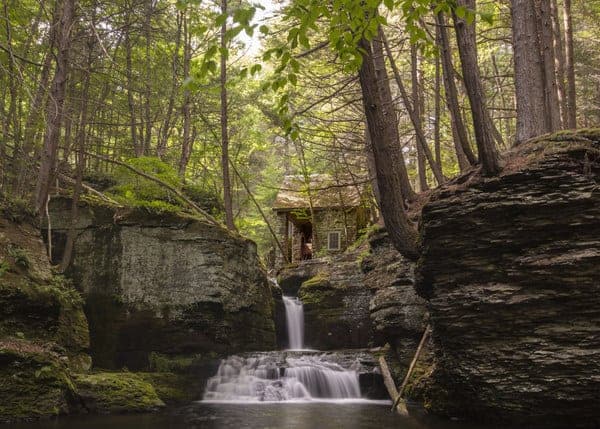 Purchase this photo here
This waterfall was another location that I'd heard about for a while, but finally had a chance to see for myself in 2016. Hidden deep in the Delaware Water Gap National Recreation Area, this waterfalls features a historic building that still houses its original metal waterwheel. Because of the sensitivity of the building and the fact that the area is often closed by the National Park Service, I've decided not to release its exact location.
What I can tell you, however, is that it takes more than a mile of hiking to reach here, often on very overgrown trails. Should the park service more regularly open this part of the Delaware Water Gap, this is definitely a place to check out.
#1 – Little Round Top Sunset in Gettysburg
Purchase this photo here
After spending a day in Gettysburg visiting a few museums and preparing for my October photo walk in the city, I decided to stay downtown to get some sunset shots. While shooting, I got some nice shots, including another photo that was in the top 31 countdown on Facebook. However, seeing that it was shaping up to be a nice sunset, I decided to hightail it over to Little Round Top on the Gettysburg Battlefield.
I arrived at the top of the hill just as the sun was dipping below the horizon. Knowing I didn't have much time to find a shot, I quickly looked around before finding this prominent statue of Brigadier General Gouverneur Warren. I had just enough time to get out of my gear and capture this amazing shot before the color started to leave the sky.
It may have been an impromptu shot, but sometimes that can work out really well.
I hope you enjoyed my countdown of my 10 favorite Pennsylvania travel photos of 2016. As a reminder, you can see my favorite photos of 2014, my favorite photos of 2015, my favorite photos of 2017, and my favorite shots of 2018 by clicking the links.